The Absolute Domination for Full Combo Finish
In LoveLive! School Idol Festival rhythm game, there is a type of Event in which you need to go on in the series of three songs at once in one play. This is considered to be one of the type of Events, for me, which is difficult to grind, especially if you are not familiar in playing in higher difficulties, like Expert and Master difficulties. In this post of mine, I am going to show to you the basic mechanics, and some tips on how to grind efficiently in Medley Festival. Alright, let's start!
MEDLEY FESTIVAL: THE CLASSIC AND THE REVAMPED
As mentioned in the intro of this post, you shall be needing to play at least three songs in a medley or series.
In the previous versions of this Event, there is an early version of it, in which you need to play three songs in a same attribute. And each song can be played in a different difficulty. When these songs are chosen, the player must finish it in order to gain some Event Points in this Event. The Event Points gained is dependent to the result of your live show play, such as the Score Rank and Combo Rank made. The higher the ranks of your Score and Combo, the higher Event Points that you can gain.
Besides grinding in the Event for more Event Points to sustain higher ranks in Event Points Ranking, players must need to play some certain songs — a good song combination in order to score higher for Total Medley Score. And that is, in order to place higher in the Score Rankings of the Medley Festival Event.
As of present, more features has been added in this type of Event, which include higher and insane difficulties, and the random 'Encore' chance. Those can be discussed more when you continue reading this post below! Ready?
MEDLEY FESTIVAL PARTS
This list shows the parts that you can expect to encounter in a typical Medley Festival Event in LLSIF. You can use the list links below to jump to that part! Don't forget to click or tap the Back to top link in order to return here in this home list.
These were loosely based from the parts in Episodes 23, 24, 33, and 42 of School Idol Festival Journal Log.
Songs and Difficulty Selection
In order to start playing in this Event, you just have to select some songs and their respective difficulties. For the songs in a medley, you can choose to play one song, or even two or up to three songs. After that, you have to choose difficulties for each song, whether you could play the easiest, or the hardest and insane difficulties! The consumption of your LP is determined on the difficulties of the songs that you have chosen. Remember that you cannot undo your songs and difficulties selection once you have confirmed selecting them.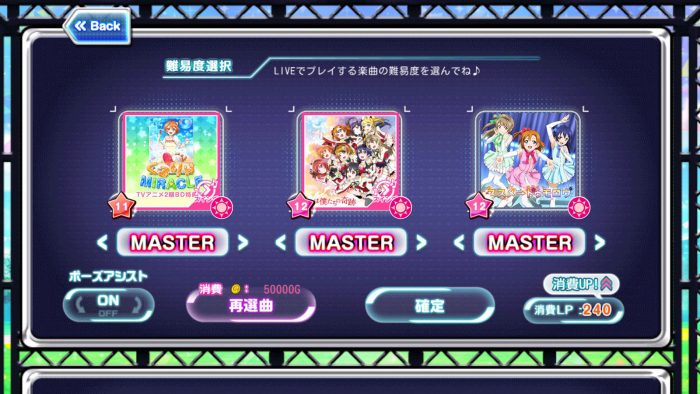 At the time when you have chosen or selected on how many songs that you can play in a medley, the screen shall give you some random songs (One attribute per Medley Live Show play). You can choose to "re-pick" the set of songs, if you don't seem to like the lineup of songs that appeared (or even looking for some better songs to score higher). It costs you Gold (G's) to re-pick those songs, and you have only 10 times to do it per Medley Live Show play, so use them in a right time!
Live Show Buffs
Live Show Buffs, or in the sense that it is called as Live Show Special Effects, are used during the Medley Festival Event. It allows you to receive some support buffs, when you play during a Medley Live Show play! The buffs shall include at least 7 of them: Increased Gold Achievement Rewards, Skill Chance Up, Event Points Acquisition Increase, Perfect Tap Score Ups, Increased EXP, Perfects Support, and Guaranteed Support Buffs.
Increased Gold Achievement Rewards allows you to increase the chances of receiving some Gold Item Rewards upon completing a Medley Live Show play. Gold Item Rewards may contain R members, and some other resource items like Scouting Tickets and Skill Up Cards.
Skill Chance Up buff can likely increase the Skill Activation Chance rates of your members' Skills in your team. Very useful if you are running a team filled with Score Up characters, especially if you are aiming for a higher score rank.
Event Points Up can increase your Event Points gained when you successfully completed a Medley Live Show at a fixed rate.
Perfect Tap Score Up is essential for your team, especially if your team is consisting of Perfect Locks (with Trick SIS items), and some Skills which progressively increase your Tap Score when you reach higher combo counts.
Increased EXP can allow you to gain more EXP (Experience Points needed to increase your base Player Rank) at a fixed rate.
Perfects Support can then give you at least 5 Perfects Protection buff when your Medley Live Show begins. Those Perfect Supports can be consumed for at least 5 notes. And their purpose is to turn any notes, which resulted in a GOOD or BAD hits, into PERFECTs. Somehow, it can be useful, especially if you are matching up against a difficult, MASTER difficulty song. While it can't save you from breaking your combo chain by MISSes, it can save you from breaking your combo chain in between the song due to BAD or GOOD note hits.
And finally, the Guaranteed Support Buffs can allow you to receive a random Live Show Support buff, when you are about to begin to play that song in a medley. If you play three songs in a medley, then these Support Buffs shall appear first before you begin playing the songs each!
Basically, there are tips on how to use them properly, during your Medley Festival Event grinding. You can read them later in that part!
Medley Missions
The Medley Missions are a new feature in Medley Festival. While the early versions of Medley Festival Events don't still have this feature, this new feature can allow you to win additional rewards (and some random Live Show Buffs) when you successfully completed them!
On the middle versions of this Event, you can do Medley Missions up to Level 25. As of the current version, you can do up to the maximum of 35 Medley Mission Levels.
As detailed in the JP Side Highlights of SIF Journal Log Episode 33, there are at least three different variants of Medley Mission Levels that you can encounter, especially if you have reached Medley Mission Level 35. Variant objectives, such as reaching at least 500 Greats, or even reaching more than 500 Perfects within the Medley Live Show, can be rotated and be repeated, once you have reached the peak of the Medley Mission Level. Also, the maximum Medley Mission Level is only mandating you to play 3 songs in a medley, and at least two songs in MASTER difficulties.
Depending on the outcome of your Medley Live Show results, you can either clear or fail a Medley Mission. If you have failed that mission within a given number of attempts, you shall be demoted by one level of your Medley Mission. Also, you shall fail that Medley Mission Level if you don't clear it within a given time or duration!
There are tips in which you can read later on how to maintain your Medley Mission Rank, without even letting it to get dropped or demoted.
Encore
Encore (Encore Time) is an another feature of Medley Festival, wherein you can get to play another song. Call it as The Bonus Stage!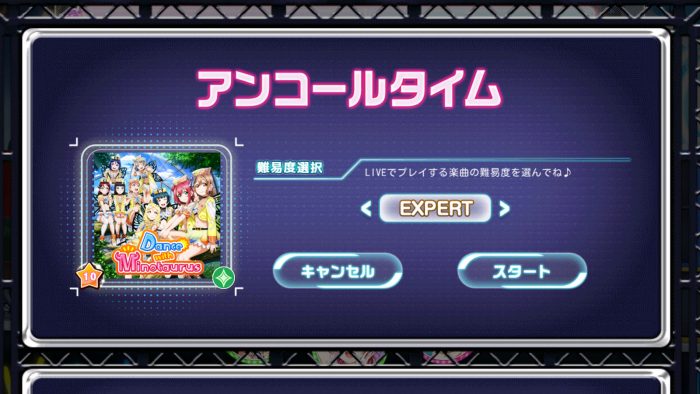 Encore usually ensues on a certain chance when you had finished the songs in a medley. You can always choose to do this bonus stage and clear it, or not.
The purpose of the Encore chance is really to fill out the missing total combo counts of your songs in the medley, when it happens that you got a Combo Break on the midway of any of the songs. And that is your only way in order to achieve your desired Combo Rank, if it happens also that your current total combo counts don't meet the Medley Mission Level objective.
And to remind you from the start, the score made within an Encore cannot be included in your total Medley Score made, in which your total Medley Score made is counted in the Score Rankings. For example, your total Medley Score is at 7 million, and your Encore Score is at 2 million. Your Encore Score is not counted and included towards the total Medley Score made within your Medley Live Show play.
Random Player Support Buffs
The Player Support Buffs only trigger or activate on a given chance, just before a song begins. They can be either from your Friends List, or even some other random players around.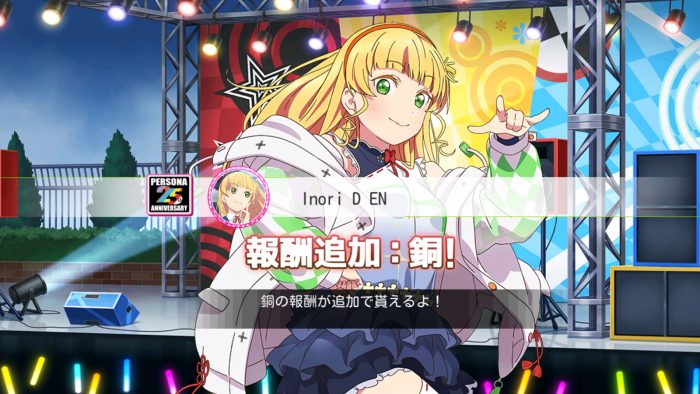 Some Support Buffs can increase the advantage of getting higher Skill Activation Chances, Perfect Tap Score Ups, and the other occasional boosts, such as the Increased Event Points Gained.
If you have the Guaranteed Support Buffs turned on in your Live Show Buffs before you begin a Medley Live Show play, they shall be likely to always appear before you begin every song. And finally, they don't appear when you do an Encore.
Some Tips!
Basically, for new players around who were trying to play with this Event, there are some useful tips of mine that can be used in order to grind and progress efficiently in Medley Festival! Experienced players would recommend some newbies to play on at least EXPERT difficulty to start on.
Remember to always set your LP usage consumption to x4 at all times when you play in this Event to grind faster. If you don't have enough LP to cover the LP Usage needed (You need 240 LP when playing on either EXPERT or MASTER difficulties), you just need to increase further your Base Player Rank (By playing on lower difficulties or setting your usage multiplier to lower setting). And for some tips further, please do read these below to continue!
1. Choose some combination of songs that are easy for you in any difficulty.
Number one is just a tip that you should play some songs that are easy for you to finish and land a Full Combo Finish. Especially, if you are in a peak of the Medley Mission Level (Level 35), you should start choosing some songs that you can seem to land easily with a Full Combo Finish. And that is, in order for you to maintain your current Medley Mission Level!
In Medley Mission Level 35, you should land a Combo Rank A or above (Full Combo Rank S), have three (3) songs in a medley, and with at least two (2) songs in MASTER difficulty. As mentioned in the Medley Missions part, there are at least 3 variants of Medley Missions per level, which shall include landing at least 500 Perfects or more.
You can always do the re-picking of songs, if you do seem that the lineup of the songs are brutally difficult for you. Some of the noted brutal songs, when they were selected in MASTER difficulty, are PSYCHIC FIRE (BiBi, μ's), Hajimari Road (Aqours 1st Years), and some other similar songs that have a very difficult note maps (i.e. Maze Sekai (AZALEA) and After School Navigators (Nico-Rin-Pana Unit)). You can choose to select that song in the lineup, given if you can play it on a lower difficulty, along with the other two MASTER difficulty songs that you can seem to land a higher combo counts on them. And that is the only way in order to clear that given Medley Mission in just one play!
And as mentioned in my SIF Journal Log Episode 33, you should take an hourly rest, if your fingers and thumbs can't take the pain and overfatigue due to excessive MASTER difficulty plays. Basically, being not in good condition or even feeling tired can just prevent you to make higher combo counts on any song in MASTER difficulty.
2. Aim for Sky-High Score Early!
If you are aiming for a higher Score Rank on every Medley Festival Events, you must choose three songs that have the highest total combo count! These good combination of three songs in a medley can allow you to score higher, and be placed higher in the Score Rankings of this Event! And to remind you again, Encore Scores don't count in the Total Medley Score.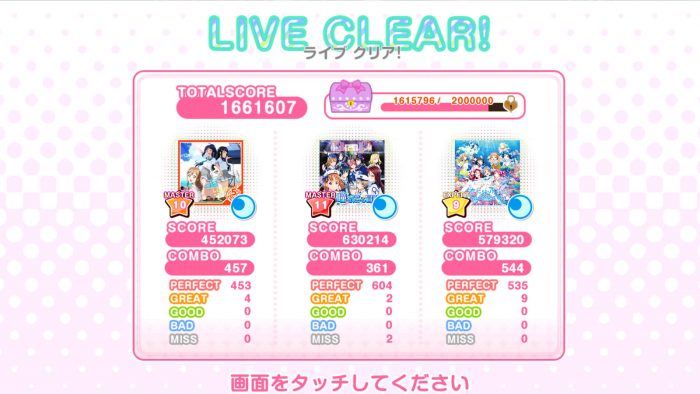 Assuming that these song combinations in a medley are of MASTER difficulty, you shall have to play them in order to score higher! But then, try watching out for your Stamina, especially if you are using a team without any Healing Skills (except if you have equipped accessories that can heal you at a little chance when your Skills failed to trigger). And never use any of your Love Gems if you fail in between the song!
And as mentioned in the tip header, you should aim early for a higher score when you are still in a lower Medley Mission Level! And that is, when you have sustained it, then you shall be having no problems later when you are already at the peak of the Medley Mission Levels!
3. Take Advantage with the Support Buffs!
To continue the previous one above, you should play and take advantage with the Support Buffs that you are receiving when your song starts! And that is, you can use them in order to score higher! Some buffs, which shall include the Perfect Tap Score Ups and Skill Activation Chance Ups, can help you! Of course, you shall be using them according to the kind of team that you are using right now!
Be sure to take them as advantage when you do live shows in this Medley Festival. Some buffs can allow you to gain additional Event Points, as well as some additional EXP when you managed to complete it!
And finally, either you get demoted by one level in the Medley Mission Level (by failing) and you cleared it to go back to that level, or if you repeat the same Medley Mission Level, you can receive some random Support Buffs as rewards (When you are at the peak of the Medley Mission Level)! These Support Buffs as rewards can allow you to have some 5 additional Perfects Support, or some other such buffs that can increase your EXP gain when you successfully cleared your current Medley Live Show.
4. Out of 7 Live Show Buffs, Only Use 6 of Them!
As stated from my part from the SIF Journal Log EP42, you shall have to use only six (6) Live Show Buffs before beginning your Medley Live Show! The following paragraph coded below is taken from that said Episode.
Why only 6 and not all 7? Basically, the first effect is very costly and the chances are also low for you to get a Gold reward after you complete the medley. If you are aiming for higher score, activate the Perfect Tap Score Up, Skill Chance Up, and some Perfects Support, if you are always prone on breaking your Combo Chain, due to your Perfect Lock Skills that are failing suddenly. Meanwhile, the EXP, and Increased Event Points are especially important if you want to grind more Ranks in the Event. And finally, the Support Members effect shall aid you also when you try to aim for higher score! Just pray for some Tap Score Ups buffs to appear, especially if you are facing your meta song!
5. Grind for Bond Points to Unlock a Side Story!
Whether you managed to clear (or even fail) the Medley Missions, you can gain Kizuna (Bond) Points afterward. I am just telling you this because I can consider this already as a tip when grinding in Medley Festival Events. Basically, you are grinding with the Event alone, without any friends playing with your side at the same time. But then, you can actually use this kind of Event, so that you could have enough time to max-out the Bond Points of your existing SR members, or other rarities that you don't ever use in your members stable! And that is, you can unlock their Side Stories, and you can get one (1) Love Gem if you finished reading them! And to spoil, maxing out Bond Points of your members (Only can be applied to members who weren't idolized or maxed out of their Bond Points yet for the first time) can allow you to grind for more free Love Gems, in which you can use them to scout in some Limited Box Scouting banners!
So far, these were the only tips that I can give to you, for now. The rest of them should be your own discovery when you play in this Event!
THE END
And that is all for my guide in this Event! Just remember to participate or grind in this Event, if you want to get some awesome rewards, such as the featured Event UR and a Secret SSR member, Scouting Tickets, past Event SR members, and many more! They were important and relevant to your team's strength, as well as having them in order to scout new URs!
Just always remember that you should take a break or rest in between, so that in order for you to play properly and be more focused if you really wanted to land an FC finish on some harder songs!
And that is for my guide and tips in this Medley Festival Event in LLSIF. I hope you have enjoyed reading! See you in the next future topics and cheers!