The Absolute Victory
A victory is something that you celebrate when you finish your goals or missions. It is something you celebrate when you defeat your very own worst problems in life, whether it is a boss enemy from a video game or even some of the most difficult stages that are indeed impossible to pass. So, you are victorious because you had finally finished the very difficult part of the game that you are playing. Not only that. It is because you also successfully made your revenge over your defeat in your last play.
Right now, we are celebrating victory, and we are also celebrating the 33rd Episode of IDS segment, the School Idol Festival Journal Log! Alright, let us not make this any longer and let's begin this Episode!
CONTENTS
PRE-EPISODE HEADLINES
As usual, we got some truckload of headlines and highlights encountered in the School Idol Universe! It is because of some recent livestreams that happened during the past days before this Episode was published! What are those? Please read more below to find out!
Aqours 5th Anniversary Animation PV Single
【☀️CD情報☀️】#Aqours 5周年記念アニメーションPV付きシングル「smile smile ship Start!」が3月31日(水)に発売?

試聴動画も公開中❗️
⏩https://t.co/DVQjlGe7g9

是非予約してゲットしてくださいね✨#lovelive pic.twitter.com/ylhGEjFjf8

— ラブライブ!シリーズ公式 (@LoveLive_staff) February 21, 2021
As part of their ongoing 5th Anniversary Project, Aqours shall release a new animation PV Single. The title of their PV single is called smile smile ship Start! and it shall be available on most music stores in Japan nationwide this March 31, 2021. The preview of this animation PV single is available on YouTube. Feeling excited? Go watch it whenever you can!
Hanamaru Kunikida's Birthday
Also, coming right up next week is Zuramaru's birthday! That's her nickname, by the way! Hanamaru Kunikida's birthday shall be celebrated on the 4th day of March, every year! Be sure to celebrate her birthday with some associated hashtag in Japanese kanji! I shall write a birthday message to her, and it shall be included in the next week's Episode! Look forward into it!
【☀️CD情報☀️】
3/4(木)発売「LoveLive! Sunshine!! Kunikida Hanamaru First Solo Concert Album 〜おやすみなさん!〜」のジャケット&試聴動画を公開❗️
新曲「あこがれランララン」を含む全16曲収録✨
ご予約をお忘れなく❗️https://t.co/6bHj7b9oQW#lovelive #Aqours #国木田花丸 pic.twitter.com/otEK9Z9Gqg

— ラブライブ!シリーズ公式 (@LoveLive_staff) February 15, 2021
In line with her birthday, her First Solo Concert Album CD shall be also released! The sub-title is 'Oyasuminasan!' and it includes a total of at least 16 songs of her solo versions! In fact, they can be previewed already on YouTube!
Don't forget that her birthday campaigns are also present right now in the LLSIF rhythm game! You can check it out by continuing to read this Episode!
LoveLive! Superstar!! TV Anime Announced
?ラブライブ!スーパースター!!?

TV放送最新情報発表?⚡

2021年7月よりNHK Eテレにて
TVアニメ放送開始予定?

放送開始まで約5ヵ月?
楽しみに待っていてくださいね?#lovelive #Liella pic.twitter.com/Jk8bmsPRTH

— ラブライブ!シリーズ公式 (@LoveLive_staff) February 22, 2021
As announced at their previous livestream last Monday, they had announced the airing date of the most-awaited TV Anime Series in the LoveLive! Universe!
The Yuigaoka School Idols, called as Liella!, shall be having their very first TV Anime series broadcast! LoveLive! Superstar!! shall be airing starting on July 2021, on NHK ETV. Look forward into this! I shall be gradually giving you some updates with regards to this one — maybe in the other Episodes!
Also, expect some upcoming campaigns and Events in the LLSIF rhythm game, and in ALL STARS, to commemorate this TV Anime!
'Nijigasaki Shuffle Fes Live' Overseas Streaming
【?Overseas?】
"Love Live!Nijigasaki High School Idol Club Shuffle Festival in School" will be streamed at the same time for overseas.
Ticket information has been released!https://t.co/kWn1brOXdK#lovelive

— ラブライブ!シリーズ公式 (@LoveLive_staff) February 22, 2021
The Nijigasaki High School Idol Club: School Shuffle Festival live performance shall be held on March 20 and 21 (weekends), 2021, at Pia Arena MM, in Yokohama, Japan.
Apart from people who purchased ticket lotteries via Blu-Rays of the TV Anime Series, people overseas can watch this live performance via with their respective streaming platforms that are available per region.
You can refer more for details by going to the link given in the embedded Tweet above!
And that's it for our headlines today! Today, our victory celebration is not yet done here! Right now, what are the happenings that occurred in the past week, and this week on the LLSIF rhythm game? Please read this Episode until the very end!
JP SIDE HIGHLIGHTS
There are surprises this week, since we got some new stuff incoming soon in the JP Side! But then, we should be also watching out for the incoming 8th Anniversary Celebration campaigns in School Idol Festival rhythm game! Please read below to continue.
【ラブライブ!スクフェス】

Round 4 Live Arena: Twin Chocolates are Not Enough

Whoops. That's was too close to defeat me in the final stage.

Expect things to go hard especially if your opponent has Skill Chance-reducing items!#lovelive #スクフェス pic.twitter.com/6iIqVkNy9c

— いのりどんず (INORI DONZ NETWORK) (@InoriDONZ) February 21, 2021
By the time when this Event is ending in just less than 5 days, I tried my best to finish and complete all of the 50 Special Sessions in the Live Arena! I got some struggles in navigating some songs, like PSYCHIC FIRE in MASTER difficulty, and I am always breaking my combo in the mid-parts of the songs. My equipped LA Skill items has helped me to win and pass through hard stages, though. On the last stage (50th Special Session), I was able to navigate the song very well without damaging too much. But then, the consequence when breaking my combo chain often is that my Score is always lower than my Rival's target score! In the end, I managed to steal the win by the number of LA Skill Items equipped in my team!
That's right, I had finished 4 days early before the February 25th deadline. That's good, for me.
Right now, I got another Nijigasaki UR as a prize! And right now, I am waiting for the next Live Arena Event to come out next week, after the ongoing Medley Festival Event in the Aqours Side!
【ラブライブ!スクフェス】

?Valentine's Day Live – Part 2?

Round 26 Medley Festival: Feelings on a Gem

Event UR: Chika
Scouting: Dia and Mari

Another EXP x 5 bloodbath Event, just like the concluded Companion Match in the Global Side… ?#lovelive #スクフェス pic.twitter.com/nAaFOxg7ND

— いのりどんず (INORI DONZ NETWORK) (@InoriDONZ) February 19, 2021
Round 26 Medley Festival has been started since February 20th, a day after the previous Episode has been published. And yep, it shall last for at least 8 days, since it is falling on a month of February that has only 28 or 29 days.
The featured Event UR to be obtained from this Event is Chika, and the URs to be obtained by scouting are Dia and Mari. Secret SSR to be obtained in this Event also is You Watanabe. Use them as Yell Units (Cheer Unit Members) to increase your Event Points acquisition, especially if you are playing on Master difficulties! And also, use them in order to place yourself higher in the Event Points Ranking!
This is going to be the first part of the highlight, since this Event is lasting for at least 8 days.
Basically, this is just the same Medley Festival that I previously played before on the µ's Side. Since this is on the Aqours Side, it shall be a different highlight and experiences of mine encountered.
For the highlights of this Event, you must play MASTER difficulty in all three songs in a medley to achieve your total potential score in order to place yourself higher in the Score Rankings! Choose also the songs in MASTER difficulty that has very high Combo Counts! Notably, songs like Kinmirai Happy End, Bokura no Hashittekita Michi wa…, and Kimetayo Hand in Hand in Smile attribute medley, can give you your potential high score if you are using your powerful Smile attribute team! You can do this on the other attributes as well — just choose a song that has higher Combo Counts, and try scoring higher using your powerful teams that correspond to each attributes in a medley! Just remember to watch out your combo chain, though, since getting lower Combo Count Chain can easily lower down your score! And finally, take advantage of the powerups along your way before a live show in a medley starts! They can increase your members' Skill Chances, Tap Score power, and getting additional Event Points!
There are a total of 35 Medley Missions that you can do within this Event! When you reached at the peak, it shall just loop there! But then, there are at least three different variants of Medley Mission Levels that you can encounter! For Level 35, for example, you must land at least 500 Greats or above, or even reaching at least more than 500 Perfects in three song rounds in a medley! And then, you must achieve at least Combo Rank A or above (close to Full Combo) if you want to clear frequently this peak Medley Mission Level! And that peak level requires you to play at least 2 different Master songs in three song rounds in a medley!
If you fail twice on some higher Medley Mission Levels, you will be demoted by one Level! Also, failing to clear that Medley Mission Level on a given time or duration will fail you immediately and you will be demoted also, so be careful! But then, if you are aiming for a higher score in order to survive in the Score Rankings, you must struggle to reach that higher score. Eventually, you may have to fail that Medley Mission if in case you are doing that Score Attack thing, if you have to. Just a rule of mine: Don't play too much MASTER songs all at once, if you feel that your fingers and thumbs can't take the agonizing pain and overfatigue anymore. In this process, you shall never know that you are missing many notes too often. When that happens, please rest for at least one hour.
I know that I may be slacking off in this Event due to the fact that this Event is my very worst and my least played Event in my School Idol Festival gaming ever. So what happens if I slacked off in this Event? Will I be dropped out to Tier 2 for the first time, and have my Tier 1 victory streak in Aqours Side Event to be broken? This Event is just ending in 2 days from this Episode. Just tune-in to my Twitter account as I am going to give my final results of my progress in this Event, as well as posting it to the next Episode next week!
?Liella!「始まりは君の空」配信記念キャンペーン開催?

「ラブライブ!スーパースター!!」Liella!デビューシングル「始まりは君の空」先行配信記念キャンペーンを実施します✨

詳細はこちら⇒https://t.co/0vDDnyqOwr#lovelive #スクフェス pic.twitter.com/rvZ5zw97Tk

— 【公式】ラブライブ!スクフェス事務局 (@lovelive_SIF) February 22, 2021
The School Idol Saga still continues! That's right!
Starting on February 28, after the patch update and the ongoing Medley Festival Event, new songs shall be added to the Hits Sides! Liella!'s debut song, Hajimari wa Kimi no Sora, shall be surfacing as a playable song on the date mentioned on the first sentence of this paragraph!
Remember to also check out their campaigns related to this one, such as Login Bonus items, and some other limited timed Goals!
The journey of the Yuigaoka School Idols shall start here.
【ラブライブ!スクフェス】

To be included today in the SIFJL Episode!

Hanamaru's BDay Limited UR Scouting Boxes are up! They shall last until her birthday.

Note: Last Birthday UR in the set.#lovelive #スクフェス #国木田花丸 pic.twitter.com/R49he4PkQM

— いのりどんず (INORI DONZ NETWORK) (@InoriDONZ) February 25, 2021
Today, Hanamaru's box scouting is now up in this Side! It shall be coming soon in the Global Side, and I hope that you have enough Love Gems and Scouting Tickets to scout for her new birthday limited UR! Show your love to Zuramaru for her birthday by scouting at her birthday UR boxes!
Take note that this one shall be the last limited UR along with the Aqours set of Birthday Limited URs of 2020. Next month shall be a new set of Birthday Limited URs of Aqours, starting with You Watanabe this coming April!
GLOBAL SIDE HIGHLIGHTS
As usual, while we wait of the time for this Global Side to be merged soon in the JP Side, we got some remaining campaigns and Events to be finished first! Please read below to continue!
The Server Merging: What to Expect (Continued)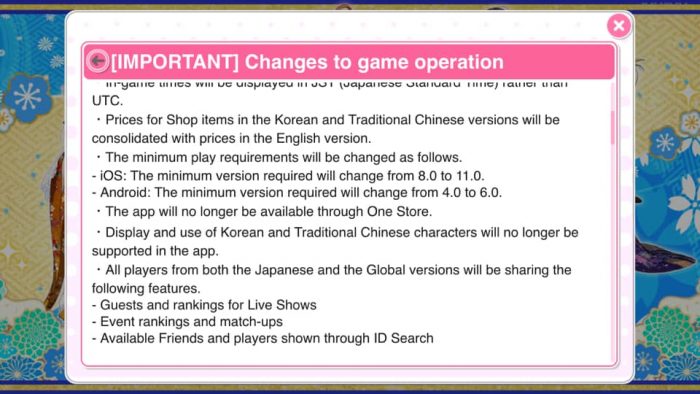 Previously, we had talked about on the first two things on what to expect to encounter in the upcoming server merging of the Global Side of LLSIF! Right now, let us talk about the another two! Read more to continue!
3. Events are Happening Now at the Same Time as in JP Side
So then, all of the unfinished and pending upcoming Events in the Global Side shall never be happening again once the server merge starts. This may include Events that occurred last November 2020 up to January 2021. Basically, we can't encounter those anymore in the future.
So then, anything happened in the JP Side shall be also happening in the Global Side at the same time and period. Also, this includes Scouting (i.e. Birthday Scoutings) and some other side campaigns!
4. Be Prepared for Adjustments!
This may include adjustments, which shall affect the ranking brackets in Events! And also, several adjustments shall be made in some other Events, like the group scores in every Companion Match Events! Finally, expect some players that are indeed more powerful and better than you and others! And that is a Party!
Round 21 Challenge Festival: It Begins! Cheerleader µ's!
【LoveLive! SIF】

? A Start of my Face-Turn? ?

Round 21 Challenge Festival: It Begins! Cheerleader μ's!

Previously: Start Up! μ's Cheerleaders!#lovelive #LLSIF pic.twitter.com/n73HA4VSYB

— いのりどんず (INORI DONZ NETWORK) (@InoriDONZ) February 25, 2021
Today, this Challenge Festival shall be happening in less than 8 hours from now at the time of this published Episode! And it shall be occurring after the hourly maintenance, that's right.
This Event is now on the favor of µ's. Event UR to be obtained is Kotori, and the URs to be acquired from Scouting are Nozomi and Hanayo. Be sure to play harder to get more Event Points and get all of the reward items, and place higher in the rankings to get more and better reward items! Good luck and be victorious!
So then, further highlights and experiences about this Event shall be included next week! Please look forward into it!
SIFACHM Limited URs and Its PS4 Game!
Right now, limited Scoutings are also ongoing in this Side! And in fact, they are serving as the 'countdown Scouting campaign' for the upcoming PS4 Game based from Square Enix's LLSIF arcade cabinet video game! Its release date was getting closer and closer. So then, we expect something more of these in the succeeding days to come until its official public release!
Related: LoveLive! SIF Arcade Game Gets PS4 Home Version
The LoveLive! School Idol Festival – after School Activity – Wai-Wai! Home Meeting!! or SIFACHM is based from the original arcade cabinet (AC) video game by Square Enix. This PlayStation 4 port of this AC game shall be released in Japan on March 24, 2021.
【LoveLive! SIF】

These SIFACHM 3rd Years Limited URs shall be disappearing later at 5pm JST! Grab them while you can!#lovelive #LLSIF pic.twitter.com/dOhnnodn2d

— いのりどんず (INORI DONZ NETWORK) (@InoriDONZ) February 25, 2021
Most of these limited Scoutings are using the Stamp Card Scouting! So, it is recommended to have at least a high or substantial amount of Love Gems in order to get your desired UR! The tenth Stamp basically can guarantee you at least one random UR from the featured banner! Good luck!
LLSIF TIP OF THE WEEK!
The LLSIF Tip of the Week is this! Please read below!
Join in Events to get some members, items, and other powerups useful for your team!
【ラブライブ!スクフェス】

LLSIF Tip #7

Join in Events to get some members, items, and other powerups useful for your team!#lovelive #スクフェス pic.twitter.com/ftMx8TKshb

— いのりどんず (INORI DONZ NETWORK) (@InoriDONZ) February 24, 2021
Basically, one of the reasons why I am kept playing in this game is because of tons of Events that are occurring within the game! I am going to explain this further!
You must indeed join in Events in order to get new members for your team, as well as some items and other Scouting items that you can get right away! Those members may be less powerful than the actual URs, but then they can still be useful in serving them as your 'placeholders' if it happens that you haven't got any good and powerful URs from Scouting! But that doesn't really mean that they are a substitute already! You can temporarily use them if you don't have a good UR yet.
Also, you must often join in Events in order to get some powerup items, such as items that can increase temporarily your EXP and Bond Points gain! You can get also some useful items, like Scouting Tickets and Love Gems, in which you can use them to scout for new members!
And finally, playing hard and placing yourself in a higher rank means more and better rewards! So, it is important to play and place yourself higher in the standings to prove your strength, as an LLSIF rhythm gamer! Fight hard and play for your honor!
Everything must move on. Let's move on to the next Episode!
Now that we all have these in place. And what we have experienced today, and in the past, it should be now set aside! Right now, instead of being stuck with our past, we should move on to the time where our true future awaits!
It is basically just the same as I am telling you to look forward into the next Episode of School Idol Festival Journal Log. Remember to tune-in weekly so that you could have an idea of what's happening today in the School Idol Universe! Cheers and thank you for reading! Anything that has happened today after this Episode was published shall be included in the next week's Episode!
See you next time and cheers! Happy weekend!
Back to Episodes Archive | Return to Home Page