A Gift to Give
We shall talk about gifts, or what we call presents, in other term. Gifts are something that we give or receive between other people and us. They are something special, and it declares no monetary value. No monetary value means that we could send and receive them for free. No matter what these gifts are, they can be physical, virtual, or even spiritual.
This week, we talk about giving gifts to someone. Who is your special someone who is very dear to you? You can give that gift to him or her! And then, not just only your dear special someone, but you can also give it to your friends, family, and relatives, too! So then, don't worry about your expenses. In fact, you can give and send as many gifts as you like to people around you!
So then, gift-giving is important, especially if the Christmas is coming near in just few days from now. But how about we receive gifts? We can talk about this next week.
For now, Christmas, as well as the New Years Eve, is just around the corner, and this year 2020 is about to end. The last weekend events this month are considered to be the 'endgame' of year 2020. Let us now begin the 23rd Episode of Inori-D Station's weekly blog post segment, the School Idol Festival Journal Log!
CONTENTS
Starting today and in the succeeding Episodes, to make navigation of this Episode to be easier, I shall be making 'Jump to' links! If you are going to look for a particular highlight, you can go click or tap that link so that it can jump you right away to that part of the Episodes!
PRE-EPISODE HIGHLIGHTS AND HEADLINES
Talking about the highlights… From now on, I shall include the word 'headlines', since it serves as a news before an actual Episode begins! Alright, let us go to the headlines: What has happened recently in the School Idol Universe? Read more below to find out!
LoveLive! SIF AC Home Version for PS4 Release Date Confirmed
LoveLive! School Idol Festival -after school ACTIVITY-waiwai!
Home Meeting!! To be distributed through PlayStation4 on March 24, 2021! 8 songs & 3 outfits to play for free ✨free base version ✨https://t.co/pYJzpuxXkx#lovelive pic.twitter.com/BLiMlsEKj0

— ラブライブ!シリーズ公式 (@LoveLive_staff) December 6, 2020
Last October, after the recent conclusion of the 'Part 1' of Aqours Online LoveLive! paid live streaming series, the PS4 port home version of Square Enix's LoveLive! SIF AC game is revealed. The title of the game is LoveLive! School Idol Festival -after school ACTIVITY- Wai-Wai Home Meeting!!, and it is based from Square Enix's arcade cabinet (AC) version of the game itself. It uses the same elements from the original AC game. The game is still under development, and it has been recently previewed and streamed at their previous recent video stream on YouTube, featuring the VAs of the LoveLive! characters, or School Idols rather.
Related: LoveLive! SIF Arcade Game Gets PS4 Home Version
The game is expected to be released on March 24, 2021, exclusively for PlayStation 4 consoles. Square Enix also confirmed that the English version of the game shall be released on other countries or regions. Pre-orders of the physical copies, which include illustration art books, add-on costumes (serial codes) via vouchers, and the physical copy of the game itself, are now going on.
Finally, some campaigns which shall commemorate the game's pre-release announcement shall be highlighted later in the JP Side of LLSIF! So please continue reading this Episode!
Nijigasaki Special Live: School Shuffle Festival
【ライブグッズ情報】
ラブライブ!虹ヶ咲学園スクールアイドル同好会 校内シャッフルフェスティバルのオフィシャルグッズ事前通販を本日18時より開始いたしました??
受注期間は12月13日(日)23:59まで!
皆様お忘れなく✨通販サイトはこちらから!→https://t.co/GFvBhaot1K#lovelive #虹ヶ咲 pic.twitter.com/7iozIP9FZY

— ラブライブ!シリーズ公式 (@LoveLive_staff) December 4, 2020
Nijigasaki High School Idol Club announced recently at their previous livestreams (also in their weekly pre-Anime live streams) that they shall be doing this 'special' live performance event this coming Spring 2021! The title is (simply add the NijiGaku long title on it at the front) School Shuffle Festival, or in the sense I call this the 'Shuffle Fes' or 'Shuffle Live'. So basically, what is this? Read this transliterated synopsis below to learn more!
Sometimes as a rival, sometimes as a companion, I work every day with my own feelings in me.
Nijigasaki High School Idol Club.
Every member cherishes their own feelings as School Idols.
A rival or companion, they are important because…
I want to know them more a lot.
I want to find you, whom I never met you yet!
These girls exchange with their own songs that they had sung, and perform them.
And that is, in order to communicate with each others' feelings.
"Hey, which song would you like for me to sing?"

Transliterated from: http://www.lovelive-anime.jp/nijigasaki/sp_splive.php
This is going to be a history-changer in the LoveLive! Series! Based from above, these girls would perform their own songs, and they exchange it with each other. So then, we can see these School Idols performing these songs coming from another School Idol (i.e. Setsuna Yuki's CHASE! shall be performed by Ai Miyashita, and so on)! In fact, this shall change the history of LoveLive! Series! Also, this shall be a part of their LoveLive! ALL STARS game's first anniversary.
I am just wishing for Kasumin (Kasumi Nakasu) to perform Starlight (originally by Karin Asaka) on the stage! Yeah, just kidding, haha.
This special live by Nijigasaki High School Idol Club shall be held at Pia Arena MM, in Yokohama, Japan on March 20 and 21, 2021 (weekends). Official live goods and merchandise are now up for preorders! Also, lottery entry tickets for the Day 1 and 2 of this performance can be obtained by buying the Blu-Ray Volumes 1 and 2 of the Nijigasaki High School Idol Club TV Anime series, to be released on sale soon!
First Solo Concert Album Series No. 4: Dia Kurosawa
【☀️CD情報☀️】
2021年1月1日(金・祝)発売の「LoveLive! Sunshine!! Kurosawa Dia First Solo Concert Album ~WHITE FIRST LOVE~」ジャケット画像&新曲「Perfect SEKAI」を含む試聴動画を公開?
ご予約をお忘れなく❗️https://t.co/5RI5yBXNwC#Aqours #黒澤ダイヤ #lovelive pic.twitter.com/44zQSJiDXf

— ラブライブ!シリーズ公式 (@LoveLive_staff) December 9, 2020
And lastly, but not the least, we got some information with the upcoming fourth album in the First Solo Concert Album Series! The featured is none other than Dia Kurosawa! It has been revealed since the last Aqours livestream last Wednesday, just two days before this Episode was published! I had given a headline about their upcoming livestream since last week!
This album of Dia Kurosawa shall be released on her birthday, January 1, which is also the date of the New Year's Day (Day 1 of year 2021)! The title of her featured song in the album is Perfect SEKAI, and the other songs included in that album were previewed on YouTube since the past days after the Wednesday Aqours livestream! Be sure to look forward on her album, if you were well-dedicated for her! Because she won't let you run away once you are in her zone.
So then, we are now done with the headlines! That was long! Anyway, putting now these aside, we shall now moving to the weekly highlights! What are the things encountered in the past weekend, and this week on LoveLive! School Idol Festival rhythm game? Read more to find out! Please read this Episode carefully until the very end! Here it goes!
JP SIDE HIGHLIGHTS
So far, there are lots of highlights encountered in this side! What could be are those? Unless you read them, you cannot find out what they are! Please read the next one below to continue!
Nijigasaki High School Idol Club TV Anime Campaign – Episode 10
【ラブライブ!スクフェス】

NijiGaku Anime – Episode 10

Same content, but in the login bonus this week, the first and last days were replaced with Love Gems!

Wait until 4am JST/UTC+9 to get another Nijigasaki SSR Exchange Ticket!#lovelive #スクフェス #虹ヶ咲 #ニジガクアニメ pic.twitter.com/tOtudboROs

— いのりどんず (INORI DONZ NETWORK) (@InoriDONZ) December 5, 2020
In the Episodes one until Episode 9 of the TV Anime, you can receive the Nijigasaki SRs of these nine girls, two of each from every Episode! This time, the Episode 10 shall be replacing the Days 1 and 7 of the Login Bonus campaign with Love Gems! Login in all of the days to receive all of these items!
And for those who missed a day or more of their login streak while the TV Anime is airing in the past weeks, I feel sorry for them. Since missing one day would never allow you to get the last Login Bonus reward on the 7th day per Episode campaign, there is less to zero chance that you can get them ever again. The exclusive nine NijiGaku SR girls can only be obtained via serial codes when you buy their TOKIMEKI Runners album. Of course, there is only one random girl per album, so getting them all is really luck-based, just like Scouting. And since I assume that those unused serial codes have been expired, there is no way to redeem these ever again. Yeah, and those nine NijiGaku members from the TOKIMEKI Runners album are only of SR rarity, but they are definitely the hardest to find and to acquire!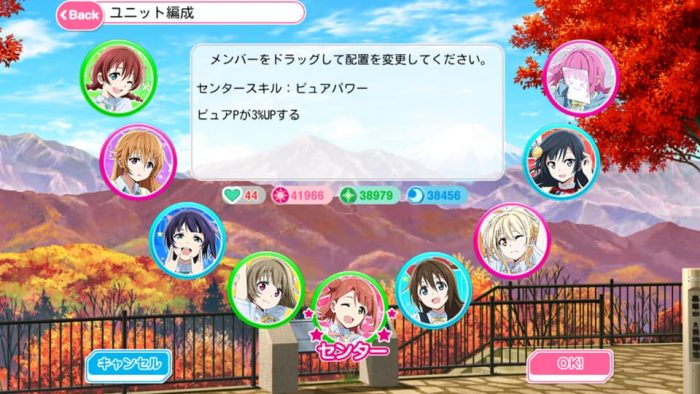 And for the completion of my NijiGaku Anime SSRs, I had completed them since last week. I had acquired all of their SSRs by exchanging using the exchange tickets that I am getting by logging in to my LoveLive! ALL STARS account in the JP Side, as well as having the ALL STARS game linked to my LLSIF JP Side account for a long time since the game was released.
【ラブライブ!スクフェス】

Cleared all Goals for NEO SKY, NEO MAP! Expert difficulty! ???#lovelive #スクフェス pic.twitter.com/NuepziY2sl

— いのりどんず (INORI DONZ NETWORK) (@InoriDONZ) November 28, 2020
And finally, don't forget to play NEO SKY, NEO MAP! on your B-Sides! If you are aiming to clear all of its song goals now, be sure to do it right away before it disappears on the 26th of December, which I believe is the date of the final episode airing of NijiGaku Anime!
Round 25 Medley Festival: Our Hearts as One
【ラブライブ!スクフェス】

Finally, a MedFes Event, after 8+ months.

NEXT EVENT, µ's SIDE

Round 25 Medley Festival: Our Hearts as One

Event UR: Eli
UR Scouting: Nico and Honoka

Check out also the upcoming Part 2 of SIF Music Festival Campaign in RT!#lovelive #スクフェス https://t.co/ELsyvV50Q8 pic.twitter.com/xOFxkKeR1C

— いのりどんず (INORI DONZ NETWORK) (@InoriDONZ) December 4, 2020
The next Event is not a Companion Match, nor a Score Match, or even not a Challenge Festival! Since December 5, it has been started then. Also, that time, it is the comeback of the long-lost regular Event in SIF! It is none other than… the Medley Festival! Since December 5, it is the comeback of the very hardest Event to grind on with Event Points, after more than 8 months of its inactivity! Right now, it has came back with MASTER difficulty level included!
The featured Event UR to be obtained by grinding in the Event is Eli Ayase, and the Secret SSR to be obtained is Rin Hoshizora. URs to be obtained by scouting is Nico Yazawa and Honoka Kosaka. And returning Event SRs can be acquired by grinding in the Event, also!
【ラブライブ!スクフェス】

You will be the king of SIF.#lovelive #スクフェス pic.twitter.com/AtKhG7MSzT

— いのりどんず (INORI DONZ NETWORK) (@InoriDONZ) December 5, 2020
Expect things to go harder now in this 'resurrected' Medley Festival Event. Since there is now MASTER difficulty available in selection, expect also some difficulties in landing Full Combo finish in some songs. Since choosing a higher difficulty means more Event Points, and also if you are not frequently landing an FC finish to all of the three song rounds, you are likely to gain little Event Points than usual. And also, mind your total score if you are aiming for Tier 1 position bracket in the Score Rankings. Basically, in order to achieve your maximum potential score, you just have to player MASTER difficulty with higher max combo count on all three medley song rounds! And that is the only way in order to survive in the Score Rankings if you are aiming for Tier 1 position bracket!
Right now, I am currently not going for Tier 1 in this Event. And since it is a µ's Event, I can eventually slack off, since the ongoing Events in other games (ALL STARS Global and JP Sides and LLSIF Global Side) are also ongoing, and they shall be finished at the same time and date.
What is going to happen if I keep slacking off with this Event, given that it is in a µ's Event Side? You can find it out soon as I am going to give final highlights and results of this Event next week! And this Medley Festival Event shall end in just 4 days from this Episode!
Round 2 Live Show Arena: Sirius Looks so Serious
【ラブライブ!スクフェス】

Round 2 Live Show Arena: Sirius Looks So Serious

As of today, 16 out of 50 Special Sessions has been cleared.

Tip: You can alternate with the ongoing Events, so that you can immediately max-out your Tension Gauge!#lovelive #スクフェス pic.twitter.com/jWAqfNfCLd

— いのりどんず (INORI DONZ NETWORK) (@InoriDONZ) December 8, 2020
Meanwhile, as the MedFes is still on-going, Live Show Arena Round 2 is also on the run! Be sure to do about at least three Live Show Arena activities (Both Live Sessions and Special Sessions) daily to receive Rank Up Jewel items! And use them to increase your base Player Rank! Having higher Player Rank means more LP, more Friends List slots, and more MASTER song play attempts!
Yep, this is going to end at Christmas Day, on December 25. Be sure to place higher in the rankings, as well as reaching the Royal Expert Category, in order to receive an Event UR Kasumi Nakasu, and other more rewards! I am going to give highlights at this one gradually, since the end date is quite very far from now. Maybe in the next other Episode, I shall do!
SIF AC Wai-Wai! Home Meeting!! Pre-Release Campaigns
?スクフェスAC わいわい!Home Meeting!! 発売日決定記念!ログインボーナス第1弾?

12/10(木)までの期間中ログインすると毎日ラブカストーンがゲットできます❤
ぜひログインしてくださいね✨#lovelive #スクフェス pic.twitter.com/IGVA3ZUiID

— 【公式】ラブライブ!スクフェス事務局 (@lovelive_SIF) December 7, 2020
As seen and headlined in the Pre-Episode part above, there is also an ongoing campaign which shall commemorate the game's pre-release announcement!
Login on one time to receive the SIFACHM Title! Receive login bonuses, such as Love Gems, within this campaign!
There is also limited scouting present during this campaign! Shown below are the current ones right now, and they are all ending later tonight! Next ones to appear soon are of different school year! Look and read below for more!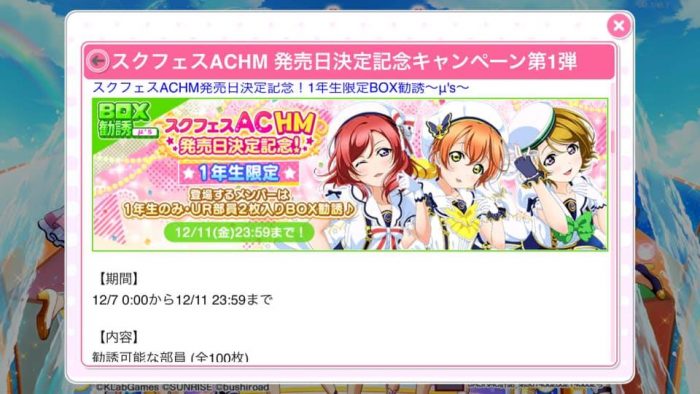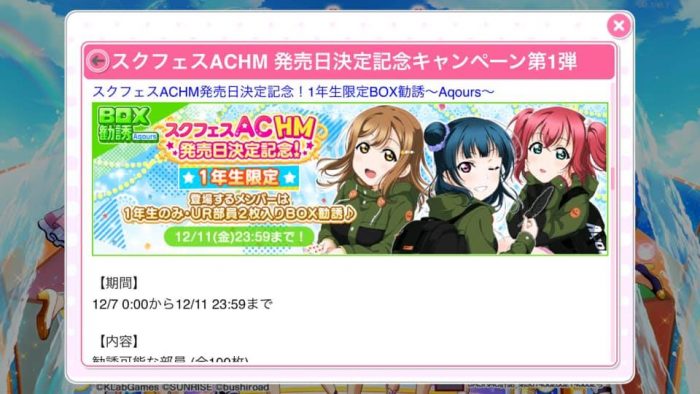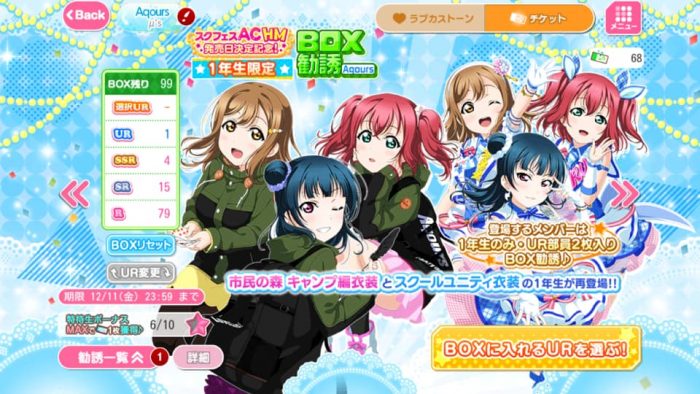 Be sure to scout these girls if you are in need of their powerful and unique Skills which are relevant to your current teams' builds! And that is in order to score higher and to score efficiently, so that you could place yourself higher in the Score Rankings on every Events!
Basically, further more of this one shall be highlighted next week!
GLOBAL SIDE HIGHLIGHTS
Meanwhile, there is not much of highlights encountered in the Global Side. But then, there is only one Event in which it has made me busy throughout the previous weekend and this week! Read more below to find out!
Token Collection Event: AZALEA's Route!
That's right! Today is the last day of this Token Collection Event! Basically, if you had read the last Episode where I had grinded too hard on the JP Side, at the previous Token Collection Event, this was just almost the same as this!
Previously, when this Event was on the JP Side, at the Episodes 4 and 5 of this segment, I had finished it with a Tier 2-2 standing finish. This time, when there are no live show modifiers, like modified EXP gain, present in this Event, it is not considered to be a bloodbath Event, where it is not difficult to grind, and your rank is not drastically decreasing.
But then, I had never landed any FC finish with this featured Token Event song, despite that I had already cleared it for more than 60 times (I landed an FC finish on this one in my JP Side, previously as highlighted at Episode 5). But no matter what the odds are, I should defend my Score Rankings! It fact, I am just about 200 ranks away to be dropped from Tier 1 Score Ranking position! I can do this! Fight!
【LoveLive! SIF】

As of today, this is my current Event Points Rank standing. This is something that I could avenge my loss in the JP Side. Will I prevail and claim the Tier 1 spot for the first time in the Global Side?#lovelive #LLSIF pic.twitter.com/nI3V3JGlAv

— いのりどんず (INORI DONZ NETWORK) (@InoriDONZ) December 9, 2020
This Token Collection Event shall be ending today, in just less than 8 hours from now in this post! In the JP Side, also in this same Event, I had finished with a horrible Tier 2-2 defeat. Will I prevail this time?
Next Upcoming Event: µ's Side?
Next week shall be another Event! But this time, it shall be on the µ's Side! Based from the order of Events done in the JP Side, I bet the next one shall be a Score Match Event! And yes, it shall occur on December 18 (also the publishing of the 24th Episode) next week! Look forward into it!
Global Version Exclusive Campaign?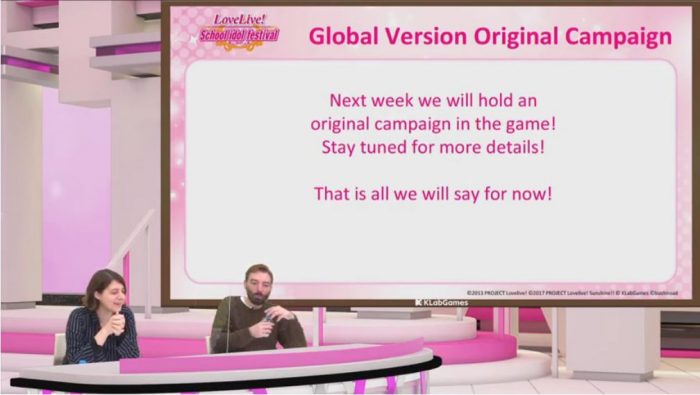 What could be that exclusive campaign which shall happen soon on the Global Side of SIF, as seen in the KLab Games Station Episode 191? Who knows? Maybe at their next Episode livestream, they shall announce it, along with the upcoming Event (as mentioned in the highlight above)! Therefore, this one shall be occurring along with the next Event on December 18, next week! Yep, and I am looking forward to that one!
Gift-Giving Successful! Where's my Gift? Next week?
You had sent your gifts to your special someone. But then, you haven't receive them yet. The only thing that you can do is to wait, and it takes patience!
We got 14 days left before Christmas, and 21 days left before this year 2020 ends! Everything's in place, and we are excited! What could be the events and announcements to be encountered this time after this Episode was published, this coming weekend, and next week? Only the future and the Heavens above know. We shall find out next week on the next Episode of School Idol Festival Journal Log!
See you next week and cheers! Happy weekend!