EPISODE 38: Komari's Special Mission
In order for Takayoshi to master his rhythm game skills, and to beat Hyoshiro next time, he must go in the farthest north in Japan, where he is in a search for a martial artist to train him.
Meanwhile, the rest of the Idol Chasers are having their own, separate missions, as they were assigned to them by Saki. And now that they were separated from each other, this is where they need to prove themselves as Idol Chasers, in order to beat their enemy, the Black Lace Ribbons!
Sho has finally finished his mission as an Idol Chaser! Mission Success! And then, it's finally Komari's turn to do her mission!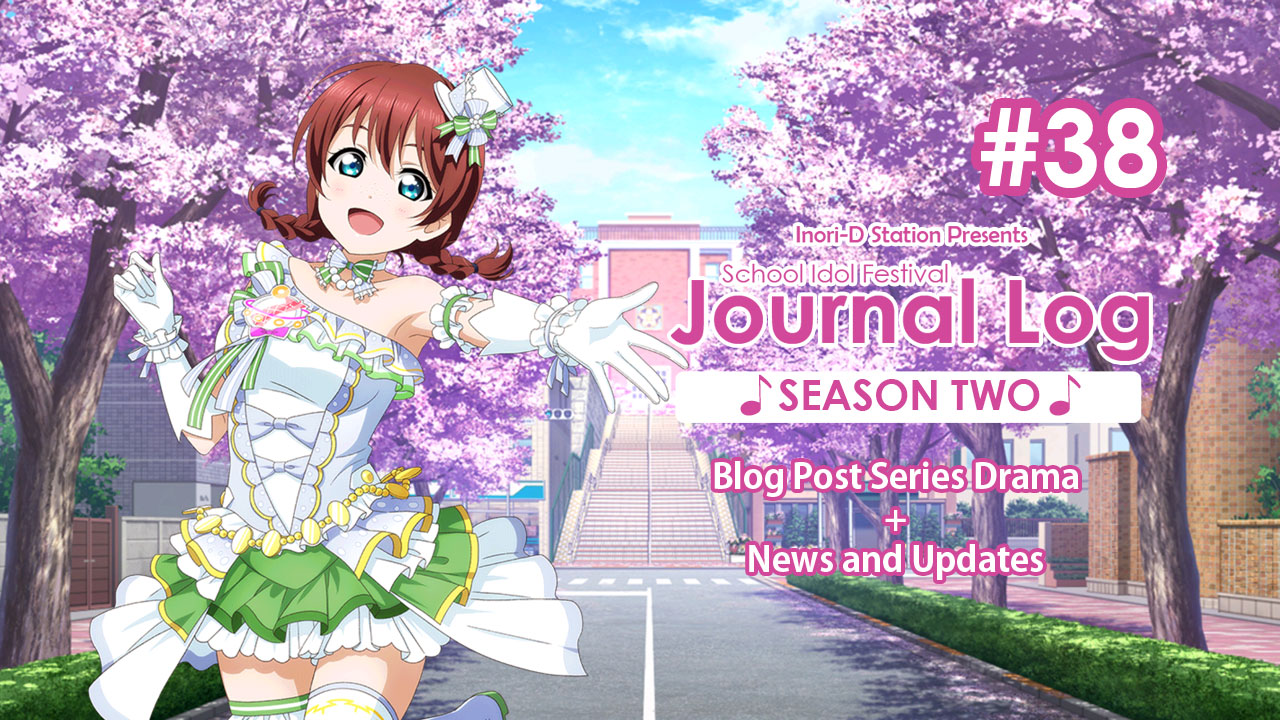 STORY EPISODE
In Hakodate, at Kougi's training dojo, Takayoshi is already getting used to Kougi's regular training regimen. He is also doing the regular stretches and the usual "balancing sessions".
Soon enough, Takayoshi was able to master his own speed, agility, and tenacity. And for a special test from Kougi to him…
"This could be your last, special training, in order to master your timing."
"That special test…"
"That's right! You just have to punch the boards in the center without destroying your accuracy! You just need to do at least 30 of them in order to pass, and you have only 27 seconds to do that!"
"27 seconds… And all of them should be at the center…"
"Don't tell me that you are surrendering because you can't do it! And your hard training will just be a waste if you give up."
"Of course, Idol Chasers like me never give up! Alright, I am going to finish this special test!"
"Very well. Now, start!"
Gen was looking at Takayoshi's training. And he said silently to him, "Just don't let your own emotions break you down, Takayoshi! Just clear up your mind, and let everything flow around you!"
And so, Takayoshi was able to break the boards with holes in the center without messing up with the accuracy. On the last two boards that he is about to punch and smash, will he able to land a perfect accuracy finish?
And back at Tokyo, Komari is all set on her solo mission. She is tasked to spot any delinquent group of people who were about to disrupt a live performance of a certain School Idol Group. She was able to recall Saki's mission notes to her.
"Komari Ohara, this is your mission as an Idol Chaser. I want you to go to a certain place within Tokyo. There are reports that a certain group is planning to ruin an upcoming live performance of a certain School Idol Group. I will be giving you some details later upon at your departure."
And that time when the Idol Chasers have dismissed their meeting, Komari and Saki were the ones that left in the meeting room.
"What could be the exact details about my special mission, as an Idol Chaser?" asked Komari.
"Like I said, you just have to stop those bad people who were about to disrupt a live performance of a certain School Idol Group," replied Saki.
"Okay, I know now. Is that Event a School Idol Festival? And where is that Event going to happen?"
"That School Idol Festival Event is going to happen in an open area between the cities of Harajuku, Aoyama, and Omotesando. And that Event shall be done around early afternoon."
"Okay, got it. I wondered on why those such people wanted to stop that School Idol Festival Event from happening?"
"According to the social media posts, this gang group is somehow consisting of both men and women, and they are showing their hatred towards School Idols."
"Hah… I think those were the Black Lace Ribbons' goons."
"Not really, and they don't know about the Black Lace Ribbons either."
"Okay. It looks like I am ready to take this mission!"
"Good luck, Komari Ohara. I hope that you will succeed in this mission!"
And that flashback of hers has been ended.
Komari is now geared up, with her wireless earpiece on her left ear has been equipped. Now, she is heading to that venue where that School Idol Festival Event shall be held.
At the venue, some various School Idol Groups have been invited to perform in this Event. It seems that the audiences are very excited to see their favorite School Idol Groups in action!
And then, this unknown group of people have disguised themselves as students in uniform. Little by little, they took down the people who were organizing this event, including the people who control sounds and music.
Komari finally arrives at the scene. And then, she knocks down one of the bad guys there.
"It looks like I am really too late to save this School Idol Festival Event from getting a disaster. Now, what am I going to do next?"
And then, suddenly, an armed woman has came near at Komari and said, "You had joined the Idol Chasers, and yet, you can't do anything to save the Event from disaster?"
"Maya Ellen!"
"I will show to you on how an Interdimensional Policewoman should fight! I am going to —"
"Wait, Maya! We can't just use violence to stop those bad guys! There is still a way to stop them!"
"And what comes into your mind in telling me those, Komari?"
"Just trust me, Maya. I got an idea! I just need to go to that stage platform to distract everybody!"
"Alright, I am going to find those guys and prevent them from getting any closer to those School Idol Groups!"
"It's been decided! I just need to buy some time."
And so, Komari and Maya did their "Operation School Idol Rescue".
The time has come and the Event is already starting. And the audiences are beginning to worry because the Event is not yet starting due to a delay.
And then, Komari made her presence to the stage platform.
"Ehem… Hello everyone! We are really sorry to tell you that…"
At the backstage, the School Idol Groups from various schools and regions are ready to perform. And then, a group of men have surrounded these mindless School Idols.
"Sorry, but your show is cancelled!" said the Thug Guy A.
"But then, let us to have your service, please!" said the Thug Guy B. "We are going to give you lots of money!"
And then, the School Idol Groups are beginning to panic, and they were all scared. But not until Maya has entered the scene.
"Is this really your tactic in order to give them some more money, while taking their chastity away as an exchange? How cruel."
And then, the thug group has set their own target of focus to Maya.
"Hold it! Wait up!" She said. "Is it more cruel when you hit a woman like me out of the blue?"
The guys stopped as they wait for Maya's another sentence.
"Girls and women do really exist in order to be loved and to be nurtured by men. They are not like animals nor weapons that can be used by yours for war!"
The Thug Guy has said, "We ain't using violence, at least! We are just wanting pleasure!"
"If guys like you can't hit women and girls," said Maya. "Then the women and girls can really hit you so bad for being rude and cruel!"
Maya did a kick attack to the thug's lower crotch, and the thug is in pain!
The other thugs who have surrounded the School Idol Groups are trembling with fear. And then, the girls did the same attack to the thugs.
And finally, on the stage platform, Komari made her final speech and said, "Fellows, let's make our dreams come true together!"
And then, the audiences have clapped their hands together on Komari.
Finally, the School Idol Groups have entered altogether on the stage platform along with Komari. And also, Maya has joined them on the stage.
"At last!" says Komari, "People, are you ready to party?"
"And now, let the School Idol Festival Event begin!" said Maya.
The MC can't believe that her lines have been stolen by those two. But then, she recalled that Maya told her that there is danger incoming. So, she decided to switch places with Maya for her safety.
And so, the School Idol Festival Event has begun, and various School Idol Groups have performed.
HEADLINES
Last week, things were on fire with their announcements! But then, will it be just the same as in this week?
With the Liella! Anime SEASON TWO has come into a conclusion, what are some other highlights that were spotted and encountered during this week? This is the Headlines.
μ's UPDATES
Eli Ayase's Birthday!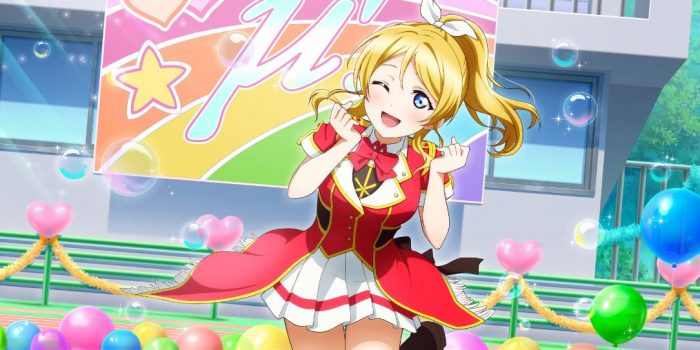 Eli Ayase is a cool-type student council girl who is always prepared at anything. She could do it for the sake of her friends, especially μ's.
While she is voiced by Yoshino Nanjo, her birthday is celebrated every 21st of October.
And make sure to scout on her new Brilliant Jewelry UR on her Birthday Scouting Banners, along with her past Birthday URs, only on LLSIF when it is available! Show some love! And there would be a "paid background", in which it is included along with some Paid Love Gems from the Shop — only within her Birthday Campaign!
Somehow, I won't be having my birthday message for Eli this time around. It is due to the fact that I will be on my publishing break next weekend! Sorry, Eli…
Liella! Updates
Anime SEASON TWO Season Finale Review!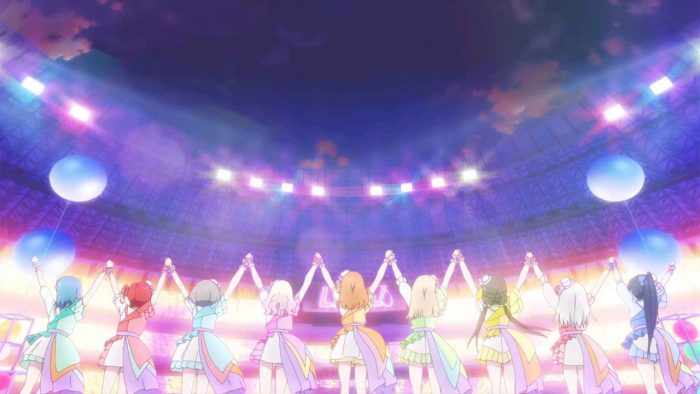 Enjoy and witness the tearful season finale of Kanon Shibuya and her cohorts!
But then, their adventures in the vast space of dreams are not yet over! Please do check the next headline after this!
Anime 3rd Season Announced!
Following the Season Finale, and a livestream, a 3rd Season has been announced at the end!
Liella! Livestream (October 27, 2022)
There would be an upcoming Liella! Livestream, which shall be hosted on the next two weeks from this Episode. It shall be hosted by Liyuu (Keke), Naomi Payton (Sumire), Nagisa Aoyama (Ren), Nozomi Suzuhara (Kinako), and Akane Yabushima (Mei). That livestream shall be commencing at October 27, 2022, at 8:00 pm JST.
Tune-in to get some latest announcements regarding with their merch, entertainment live (WE WILL!! 3rd Live Series), game content updates, and many others! And then, what else shall be announced here? Will they be revealing finally this time their upcoming song single for the LLSIF rhythm game? Who knows!
Other Updates
Virtual School Idol Announcement Video
Remember the team announcing the new "Virtual School Idol" series or franchise previously a long time ago? They previously announced that their activities shall start at September 2022, which is kind of late. But now, they have finally awakened, and this one shall be materializing soon as part of the LoveLive! Series.
On October 16, 2022 (Sunday) JST, at 9:00 pm, they shall be releasing a teaser video containing the announcements about this Virtual School Idol thing. Yep, and that shall be premiered on YouTube!
Stay tuned until the premiere.
---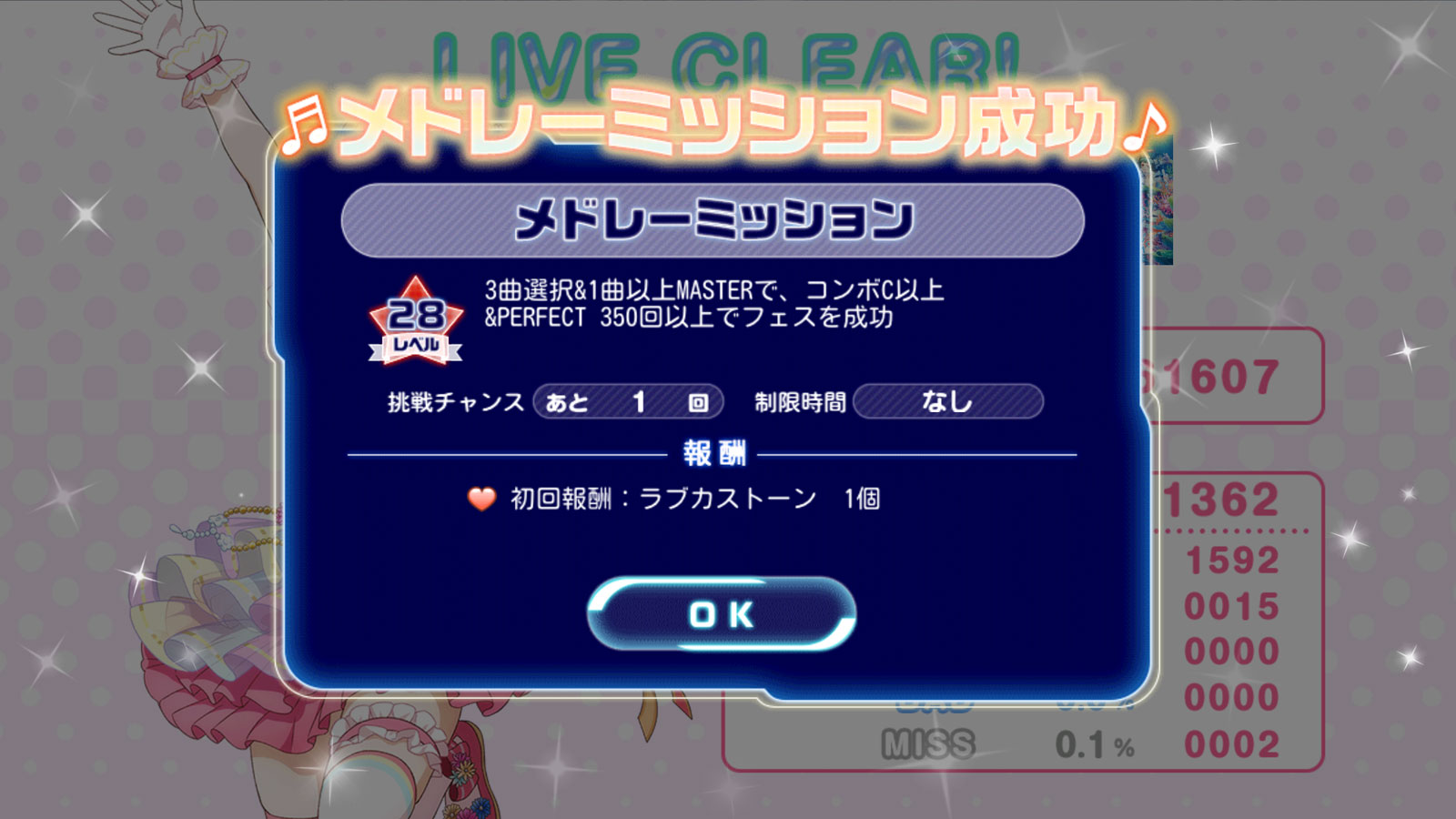 LLSIF HIGHLIGHTS
As the Event is near to its conclusion, so does to the new things that are appearing in this game!
Speaking of SIF2, that was the game in which is very new and different from the LLSIF rhythm game. Will it be changing the course of history, soon?
And speaking of the LLSIF Highlights, what are the things encountered in the past few days, and in the last weekend? Stage Start!
Incoming New Songs!
You already know the drill, right?
Every 15th of the month, there is a new song to be added on the Nijigasaki Hits Side! Guess what could be that song to be added later?
And also, when the Anime SEASON TWO has been finished airing and streaming, so does to its TV Anime Event Campaigns that are also ending soon! The B-Side songs within the Liella! Side (The songs featured within the TV Anime SEASON TWO, LoveLive! Superstar!!) shall be removed after November 15, 2022 JST. Have some time to play along with these songs, and to land some Full Combo Finishes to their EXPERT difficulties!
And then, the remaining songs featured in the TV Anime SEASON TWO shall be playable right after the Medley Festival Event and patch update. And be sure to check them out once they are up in the Liella! B-Sides!
Round 33 Medley Festival (Final)

This is my final update with this Event! Let me give you some highlights!
So then, this is where I had used up some "real cash" here, in order to purchase a Live Support Pass. It allows me to play with some MASTER songs for an unlimited number of times, and to have some unlimited auto plays in Live Sessions in Live Arena. But aside from that, I had gained an option to skip my live show results whenever I could finish successfully a live show play, whether in Events, or in any play modes!
In order to gain an ability to skip live show results after your play, you can do this by going to Menu, and then choose Live Show Settings. Just scroll into that option screen until you find the " Skip Results" option! And that only appears when you have subscribed to your monthly Live Support Pass, which can be purchased from the Pass Shop, located at the top-left of your Home screen!
Of course, as I had mentioned in the previous paragraph above, I had subscribed to my monthly Live Support Pass, since just before this Medley Festival Event has begun.
And what's the perk of subscribing to the Live Support Pass? Of course, you can really skip your live show results, and to help you to grind faster for Event Points, and to place higher in the Events! Rather than you just wait for your results to finish because of your million-score overflow (When it's Medley Festival), you just need to skip the results and to grind faster! It is really recommended to purchase this paid monthly pass, if you wanna grind faster and efficient, but not required if you are not fired up well in grinding for higher Event Points rank.
Let's go back to my highlights! For this one, this would be just an average difficulty, especially when I knew already on how to deal with those difficult MASTER songs. Especially, when I had reached beyond Medley Mission Level 34, I am just going to play with only two MASTERs and one EXPERT song. And it is also stated in my G&T post that you should play only with some songs in higher difficulties that are easier for you to finish and to land FC finish. And also, it's no longer fun to play whenever you are tired, and you are unable to land an FC finish to any songs, irregarless whether it's EXPERT or MASTER.
And don't forget to land your very best score in order to place yourself higher in the Score Rankings of this Event! Basically, you should have done that when your Medley Mission Level is too low yet.
Cool attribute songs can be notorious here, in terms of notes formation and timing difficulty. Just be aware of your Total Combo Counts, and make sure that you can reach Total Combo Count Rank A at the end, especially when you are playing MASTER in all three songs! Missing at the middle of any songs might eventually end you up in failing a Medley Mission Level in process, so be careful.
Some songs to watch out, for me, are usually coming from Cool attributes. Namely, Humming Friend, Thrilling One-Way, WATER BLUE NEW WORLD, and My MAI TONIGHT, are some to name few in MASTER difficulty. Others, like Hajimari Road (Smile), Sakura Bye Bye (Pure), and Kimetayo Hand in Hand (Smile) are also included. If you are going to play them as meta songs on MASTER difficulty, in order to place higher in the Score Rankings, just play them safe.
This Event is ending soon, in just few hours from this Episode. Event Report post on my Twitter account shall be posted later! And this ends my highlights for this Event!
Setlist Event: Fan Festival 2022 – Aqours Collection
This one shall start once the Event and patch update has been finished. And it shall be tagging along also with the upcoming Liella! Setlist Event, which shall take place on the 20th of October, take note!
It seems that the Aqours Setlist Event shall be longer. So take yourself a time to challenge it, as well as to get higher Emotion Points Rank to get better rewards! And make sure to check out what lies within the Box Draw section!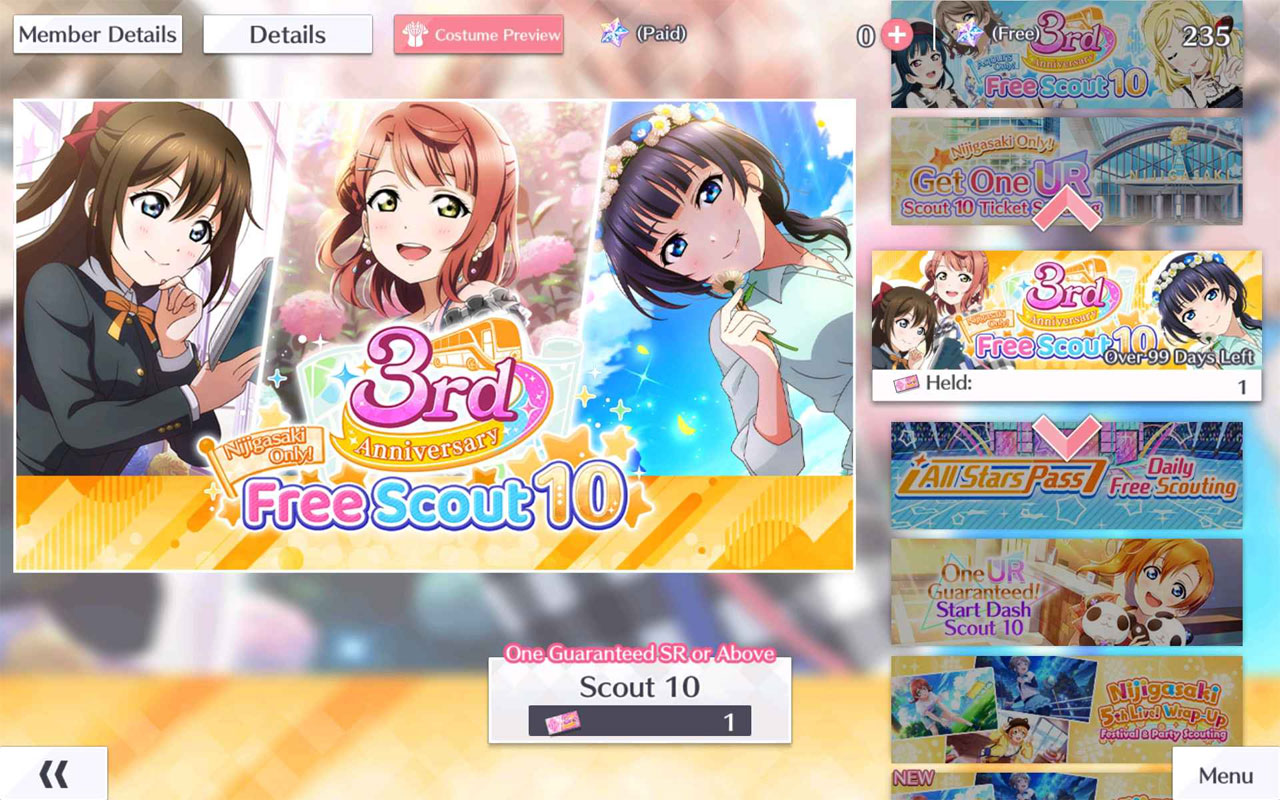 ALL STARS HIGHLIGHTS
And then, we are heading towards to the next chapter of the Main Story. This time, did my playing schedule actually had a significant effect towards my results of the recently concluded Exchange Event?
But then, I hope that there is something new for me to challenge, since the rotation of Events were just the same as usual as in the previous months.
And speaking of the highlights, what are the things encountered? S.I.F. !!
School Idol Channel Weekly Bulletin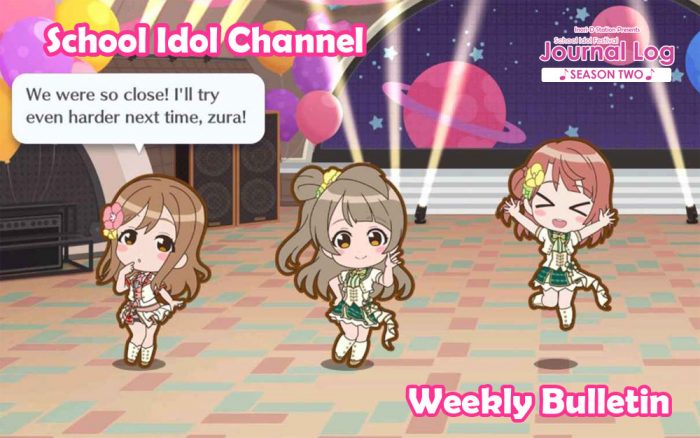 Find out on who are the girls that make it to the Top Ten spots!
And congratulations to Shioriko Mifune in getting her 2nd consecutive victory since before and after her birthday on October 5! And speaking of the rankings, otherwise, did your School Idol make it?
JP Side – #80
RANK #
SCHOOL IDOL
GROUP
AVERAGE CHEER POINTS
(RALLY POWER)
1
Shioriko
Nijigasaki
9,414
2
Kotori
μ's
4,969
3
Kasumi
Nijigasaki
4,605
4
Ayumu
Nijigasaki
4,446
5
Lanzhu
Nijigasaki
4,211
6
You
Aqours
4,095
7
Setsuna
Nijigasaki
4,044
8
Rina
Nijigasaki
3,847
9
Dia
Aqours
3,822
10
Chika
Aqours
3,735
Global Side – #67
RANK #
SCHOOL IDOL
GROUP
AVERAGE CHEER POINTS
(RALLY POWER)
1
Shioriko
Nijigasaki
12,684
2
Lanzhu
Nijigasaki
3,724
3
Setsuna
Nijigasaki
3,088
4
Eli
μ's
2,984
5
Kotori
μ's
2,946
6
Riko
Aqours
2,823
7
Ayumu
Nijigasaki
2,775
8
Mari
Aqours
2,545
9
Maki
μ's
2,506
10
Rina
Nijigasaki
2,487
It looks like my presumption for the future changes in the School Idol Channel Rankings (from the previous Episode, where the Rally Points are doubled) is wrong. In fact, it is just an event campaign where it is really possible to get as much as twice of the Rally Points gained when you use items that can increase your own Rally Power. And going back to the results above, they are indeed back to normal again.
And make sure to switch to Eli Ayase's channel next time, since she is more likely to be in the top one rankings next time.
The rest is quite obvious. See you on the next weekly bulletin issue of School Idol Channel Rankings!
EXCHANGE: GO! Passionate Cheer! (Final)
This Event has been ended since yesterday, placing me only on Silver Tier Rank on both Voltage Score and Event Points.
Okay, highlights. Ever since Sweet Eyes from the Nijigasaki Side has appeared as a difficult Expert song, I haven't touched that song yet (My JP Side was the first one to clear it.). And then, assuming that some of my School Idols were already buffed and upgraded, I had tried landing a Voltage Rank S finish on that song without any Guest members used. All other than No Brand Girls, I had somehow taken a grind on Voltage Score Ranks by just playing those featured songs. And then, I had forgot to take on and to challenge on the new featured song on the Nijigasaki Side (To appear on a Main Story Chapter next month).
And of course, as usual, my ranking is sloppy here, due to the fact that I am lazy in grinding after all. But then, I had managed to get the Event UR, as well as the other 2 Event SRs from the Exchange Shop, just before this Event ends.
And this ends my report and final highlights for this Exchange Event!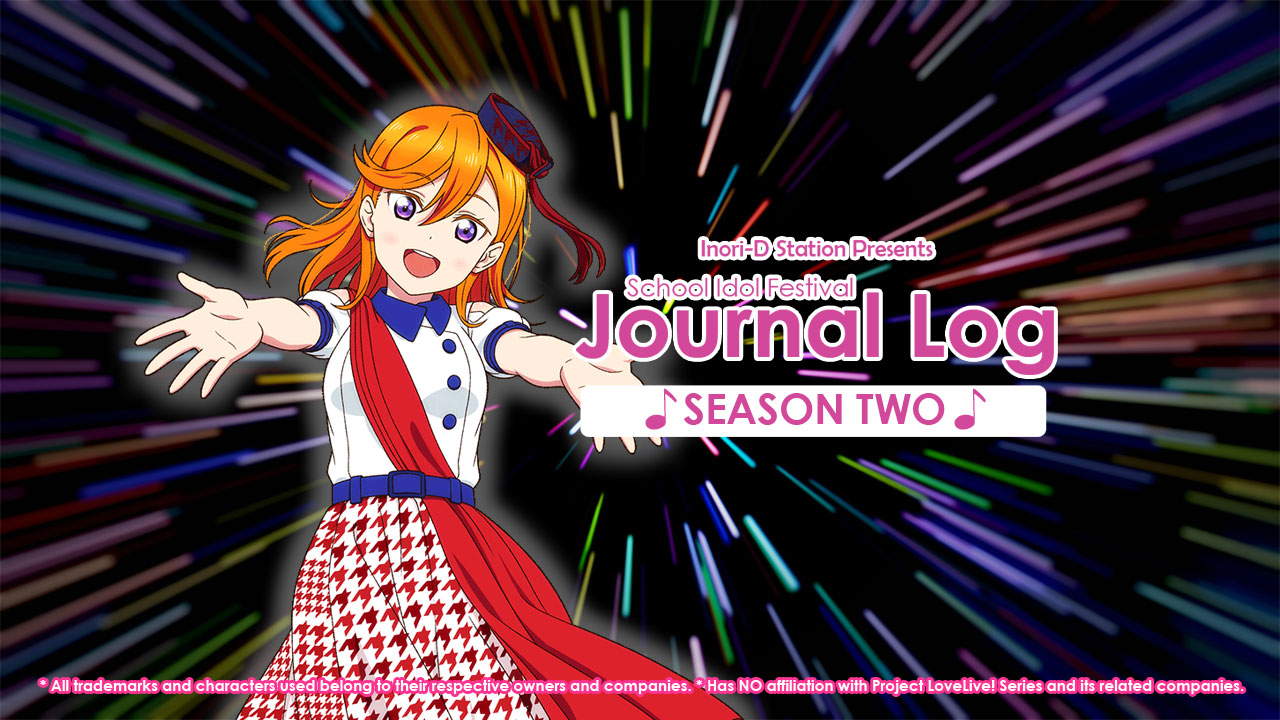 STORY EPISODE (EPILOGUE)
Later evening, Komari and Maya finally talk, while standing on the bridge looking at the lights of the vehicles.
"It seems you are well-suited to be an Interdimensional Policewoman than me, Maya Ellen. No questions asked, because you have proven it!"
"Thank you, Komari Ohara, for acknowledging me."
"You are indeed welcome! But then, our battle against those Black Lace Ribbons is still ongoing!"
"You are right. In fact, we are currently monitoring that group."
"Maya, when the time comes, there would be chances that… I am needing your help."
"My help? Definitely, I shall be there to help you, when the time comes in the future."
"I am an Idol Chaser, and I am keeping to follow those School Idols until the very end! And at the same time, I am destined to protect those precious dreams and smiles of these School Idols!"
"Can we call it a mission success now?"
"Yep. Stage Clear for Idol Chasers like me!"
"I guess my work here is done. Good luck, and be careful on your future missions, Komari!"
"So as do yours, Maya! See you next time!"
And then, the two have parted ways.
Komari then looks at the Charm Item that her mother has given to her. And she said, "Time will always come, and we shall be meeting again, my dear mother!"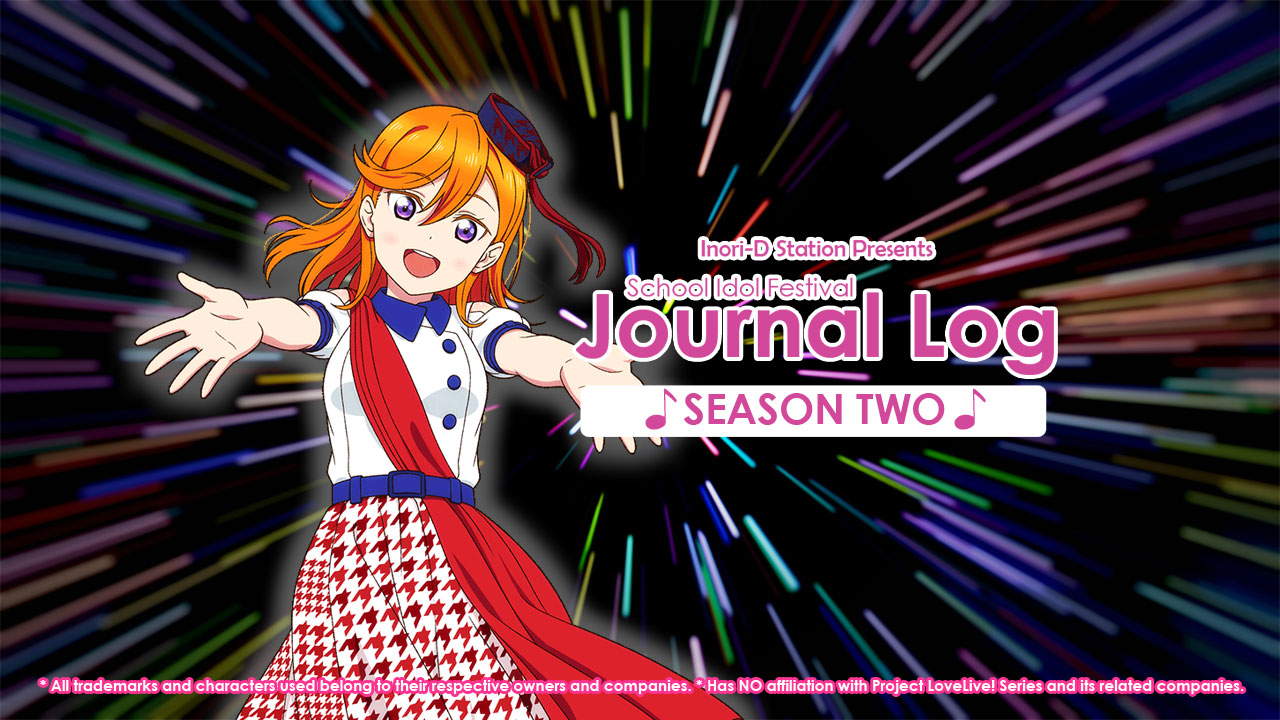 NEXT PREVIEW
IMPORTANT ANNOUNCEMENT: Next Episode will be published on October 29, 2022 (Saturday).
As an individual, you had finally known and found out your true identity — on what or who you are. And then, how about your true parents who did their best to raise you up, and in order to be the best that you can be, and to learn from their own morals and values? But then, you might find out their hidden secrets on what they had been hiding away from you all along. Will you ever be shocked about that truth?
Next time on SIF Journal Log SEASON TWO, "Takayoshi's Family".
Now, let us make our dreams come true together!
RETURN TO MAIN PAGE BACK TO HOME PAGE