EPISODE 35: Aika -School Dropout-
In order for Takayoshi to master his rhythm game skills, and to beat Hyoshiro next time, he must go in the farthest north in Japan, where he is in a search for a martial artist to train him.
Meanwhile, the rest of the Idol Chasers are having their own, separate missions, as they were assigned to them by Saki. And now that they were separated from each other, this is where they need to prove themselves as Idol Chasers, in order to beat their enemy, the Black Lace Ribbons!
Other than Takayoshi and Gen, the first in line is…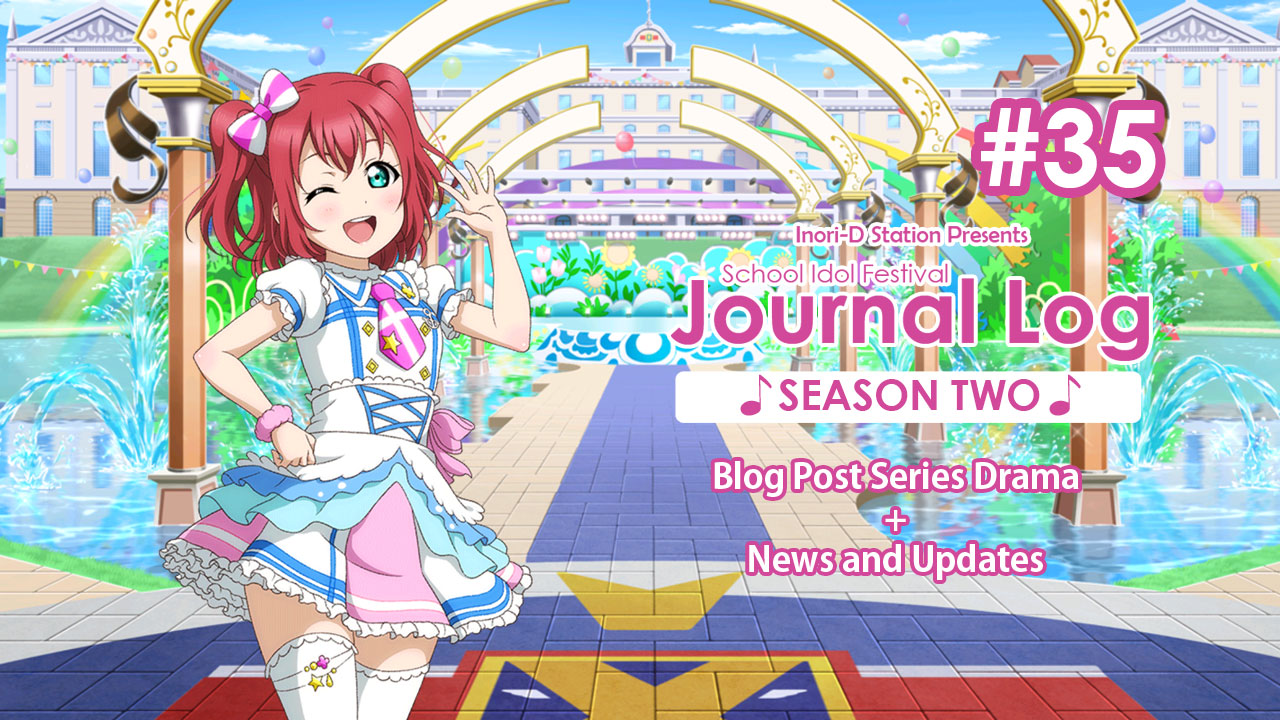 STORY EPISODE
In just a day later, Takayoshi and Gen were finally at Hakodate.
"So this place…" said Takayoshi. "This place is very cold!"
"It is really advisable to wear some coat while wandering around the town," said Gen.
"Alright, let us find that place where Kougi Haneda lives!"
"It is a fact that you were excited and nervous at the same time. Let's go!"
And so, they begin to move.
One day, Aika is just sitting alone on her chair, while seeing other students around her. That time, she was sad and no one is talking to her.
Aika Tenkuji is once a high schooler in Chitosebashi High School. At all times, she was sitting down and always looking at the windows.
And then, she said, "Who really am I? I had lost my confidence in meeting and talking to anyone."
Hour by hour, the classes are going on. Nobody except her teacher is talking to her.
And then, her teacher asked Aika and said, "Can you please explain between reality and fiction?"
"Yes!" replied Aika with a nervousness in her face. "The difference is…"
And then the people around her are looking at her.
With those faces, Aika is beginning to escalate with her fear. And when they bit laugh at her, she was being engulfed with embarrassment. And when her teacher is trying to ask her for an answer, Aika has closed her eyes. And finally, Aika has awaken from her sleep.
"That dream…" said Aika. "I don't want to go back to that place anymore!"
And then, Aika checked her calendar schedule on her device. She was being reminded about a local convention which is happening today. And that time, she remembered Saki's words from yesterday.
"Aika Tenkuji. There is an Event which is taking place tomorrow at a stadium center around Tokyo. It is a convention where they showcase artworks and other Doujinshi made by indie artists. And then, there would be a contest there, where you could also showcase your costumes! You can join that contest and win, if you have to! Just make sure that you could use your charm points and appeal in order to win!"
And so, she packed up her things, took bath and changed clothes, and she started moving to that venue.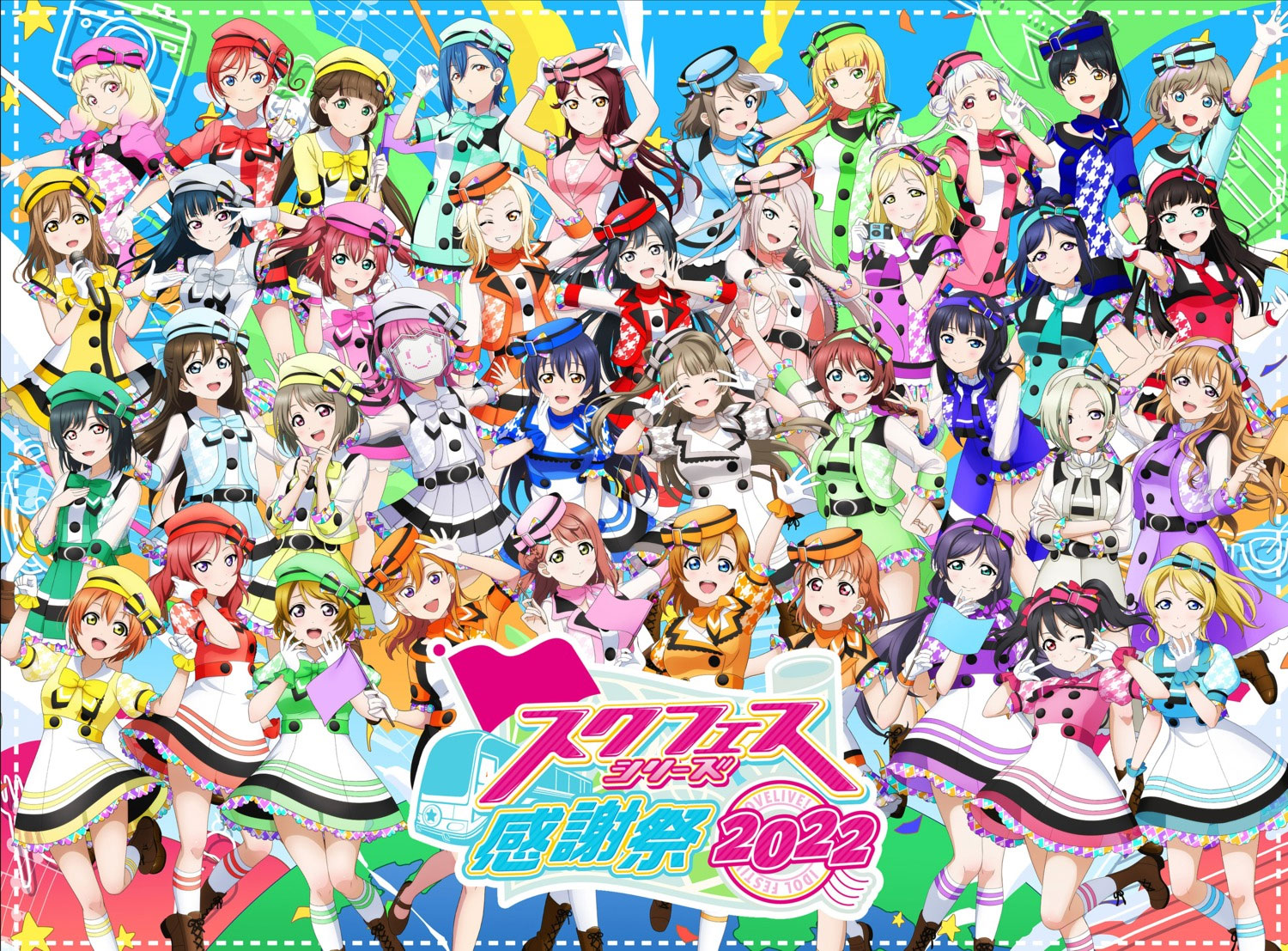 HEADLINES
Finally, this is the weekend that we have been waiting for, as LoveLive! fans! The SIF Series Thanksgiving 2022 Event is now on, in just few hours from this Episode! Are you excited to hear some latest news, and some spine-chilling announcements from them?
This time, in other news, what are some things which were spotted during the past weekend, and in this week on the LoveLive! Universe? Here are some of the top stories and updates encountered during the past days!
Aqours Updates
Happy Birthday, Riko and Ruby!
---
Alright, let's greet them, though it's pretty late, with some Birthday Messages!
Riko Sakurauchi and Ruby Kurosawa,
Your first names begin with an "R", and both of your colors are almost matching. I really think of you two as "tandem in pink", rather than treating you individually as single entity.
Riko, you have become well an endearing idol for your fans and followers. And you are growing even more beautiful, when it comes to your own appeal and charm.
Ruby, you were just like a kid from yesterday. You are now also becoming more mature, just like your big-sis, Dia. And your endearing song makes you the never-the-same-person than before. Just continue on who you are, so as long as you don't squish others' feelings!
Thanks, Riko. Because of you, Chika has become powered up than ever! And to Ruby, thanks also because Chika's words have totally influenced you, telling you to keep on and to not give up yet on your goals!
Happy Birthday, to you two, Riko and Ruby! We fans really love you so much!
And be sure to check out their newly released albums within the Aqours Third Solo Concert Album Series! They are now also available on some music streaming platforms, like Spotify!
Nijigasaki Updates
"Nijiyon Animation" TV Anime Shorts Coming in 2023
At the end of their Nijigasaki 5th Live! Series Next TOKIMEKI Day 2, they had announced stuff there as expected. This shall include this one, as labelled above!
Nijiyon Animation is based from the 4-panel comics, also named as "Nijiyon". Plot is quite predictable here, because it has something that is quite accordingly similar to some other "slice of life" genre Anime shows! Think of it as Kagami Yoshimizu's Lucky☆Star Manga Series!
And based from the caption, it shall be labelled and aired/streamed as "shorts" TV Anime series. Yep, something that could last up to only five (5) minutes per Episode, or some equivalent!
This TV Anime shorts is now on production, and it is scheduled for January 2023 release. Stay tuned at their feeds for more information!
Web Page:
https://www.lovelive-anime.jp/nijigasaki/niji4anime.php 
Liella! Updates
Anime SEASON TWO Episode 9 Review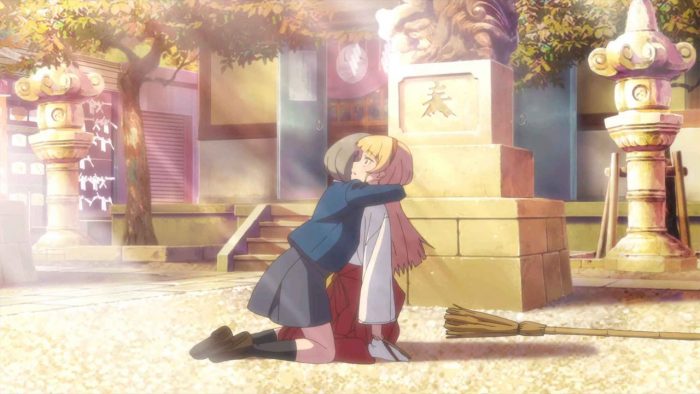 SumiKeke duo pair wins!
Liella! Livestream (September 25, 2022)
Right after the things announced in the SIF Series Thanksgiving 2022 Event and its series of livestreams, we got one more blow before the final weekend of September is finally over! Catch up Team Liella! in their upcoming livestream! Tune-in to get latest info (About their recent "release event" of their TV Anime albums and stuff!) and other updates!
And also, they are going to have a tie-up program with their web radio segment, the "Liella! Radio", which is streamed every Tuesday nights! They are going to read some fan letters and impressions on their recent radio broadcast!
This livestream shall be hosted by the entire Liella! cast, and it shall be streamed tomorrow night at 9:00 pm JST! It shall be available on YouTube and other related streaming networks!
---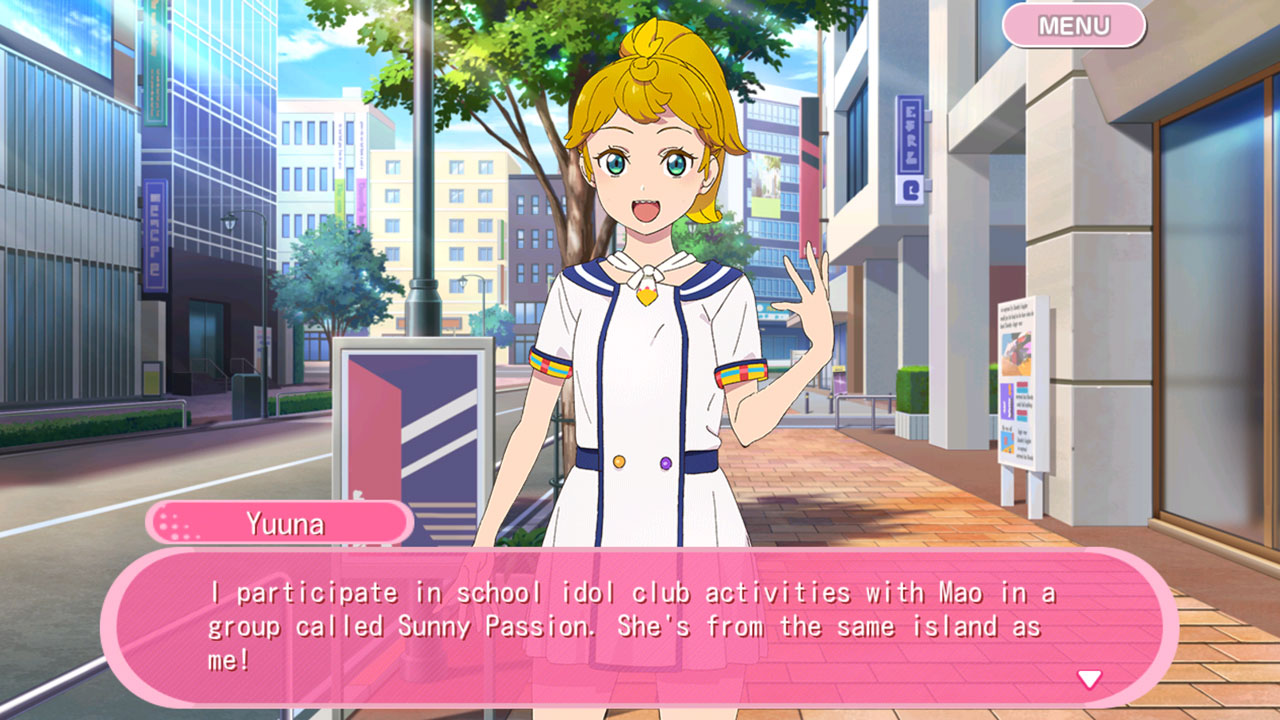 LLSIF HIGHLIGHTS
There are three things to watch out for here. First. The first-ever Limiteds from the Liella! First Years are released, thus they shall be appearing on the old-fashioned Honor Scouting draw (Festival Scouting). Second. A B-Side song has appeared in the Aqours side, which is the B-Side track from their BANZAI! digital trippers single. And third. The new Setlist Event has some new hidden MASTER songs of Liella! to play and challenge!
Read the rest of the details by further reading this highlight or part! Stage Start!
New Liella! Limiteds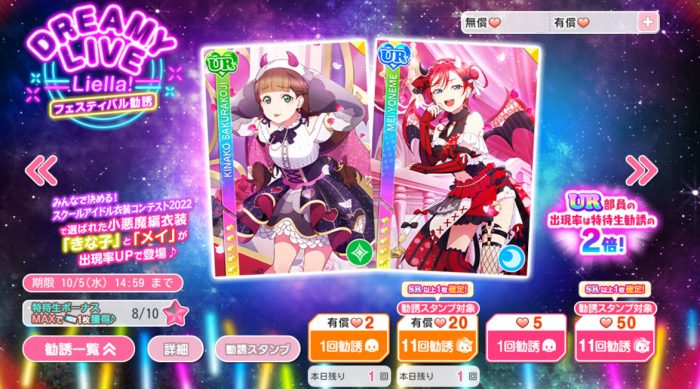 And finally, the new Limiteds of Liella! has finally surfaced! The costumes shall be using the "Little Devils" costumes, where people have submitted their own works for that previous contest! And then, expect for the other Liella! members to appear on that same costume, really soon, on the future succeeding months!
So then, are your Love Gems and Tickets enough to pull at least one of them from this banner? Make sure to scout for them, if in case you wanna need them for your own meta team!
It seems that their Skills Power outputs are kind of strong, just like those G2-Tier URs! And their Center Skills are at 12-9 (Base + Member), in which I am calling them as Limiteds, from now on!
B-Side Song!
And then, since the start of the Setlist Event (to be highlighted next after this), this limited song has appeared on the Aqours B-Sides for a limited time! Check it out, and as well as to challenge it!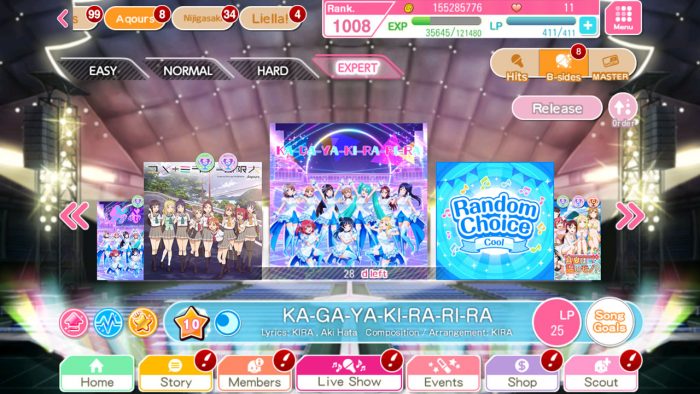 Song Title
KA-GA-YA-KI-RA-RI-RA
Attribute
Cool
Combo Ranks (EXPERT)
Rank C (107)
Rank B (178)
Rank A (250)
Rank S / FC (356)
Available Until
October 20, 2022 JST (B-Side, Aqours)
Setlist Event: SIF Autumn Festival Vol. 1 ~Liella!~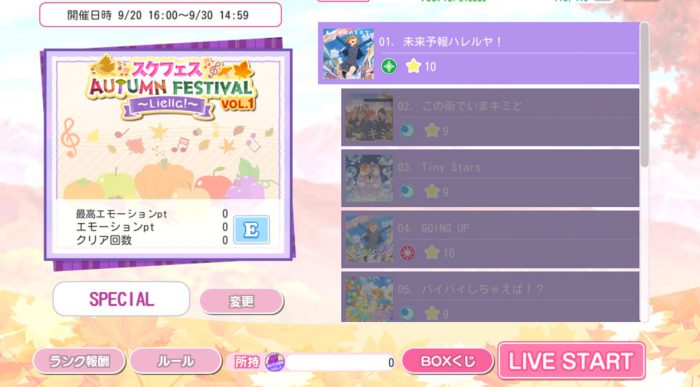 ---
Did you know that the Setlist Event is the only Event where you could get as many Support Member Cards as you can? Those Support Member Cards are used to increase your current URs' Skill Levels!
And aside from that, there are some songs in Liella! faction within the Setlist Event that have MASTER difficulty! Can you find out what are those songs that have MASTER difficulty, when you set your course to Special difficulty? And those songs that have such difficulty can be added in the near future, so be prepared!
Can you name, find, and play that new song that will only appear in this Setlist Event, in which it can't be likewise found in your Liella! Hits or B-Sides yet?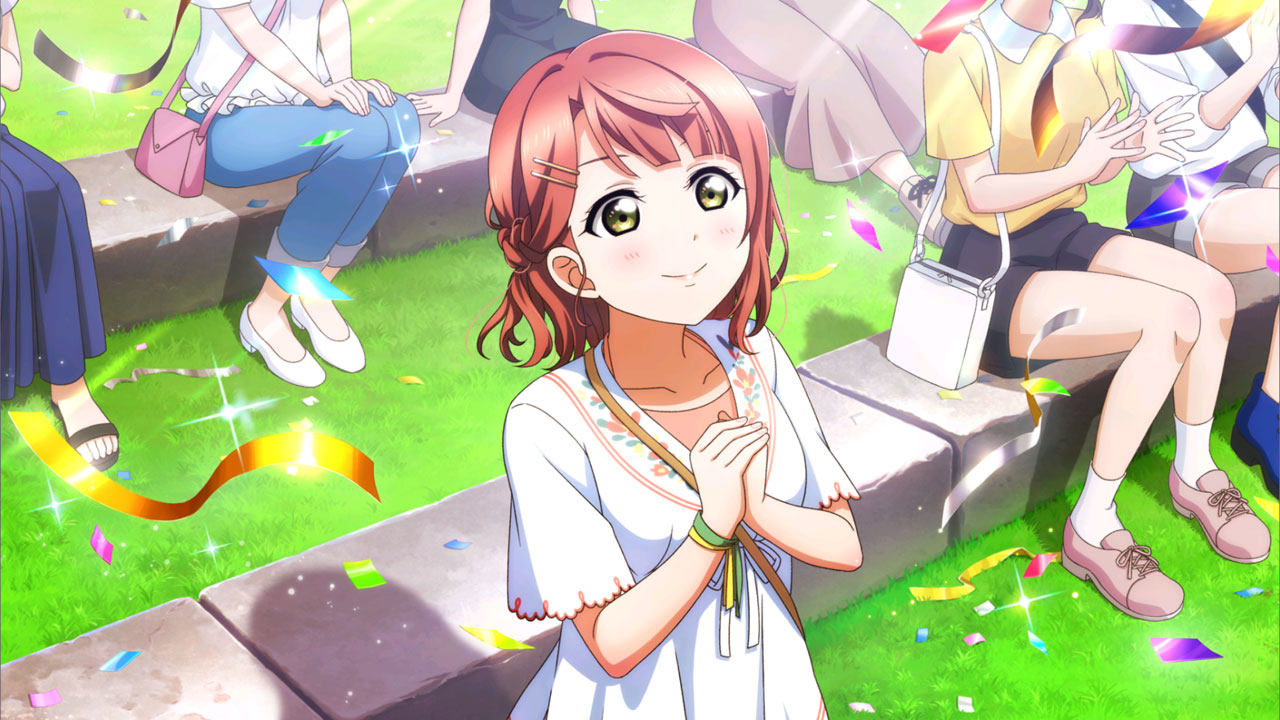 ALL STARS HIGHLIGHTS
3rd Anniversary is just around the corner! In fact, we shall be finding out the fate of this game by tuning-in to the livestream series, notably the SIF Series Thanksgiving 2022!
Speaking of the third anniversary… That's right! In fact, we are just moments away in having the "Season 4" of the game's Main Story! Find out the other news and updates by reading further in this highlight!
S.I.F. !!
3rd Anniversary Countdown Trilogy III: Free Scouting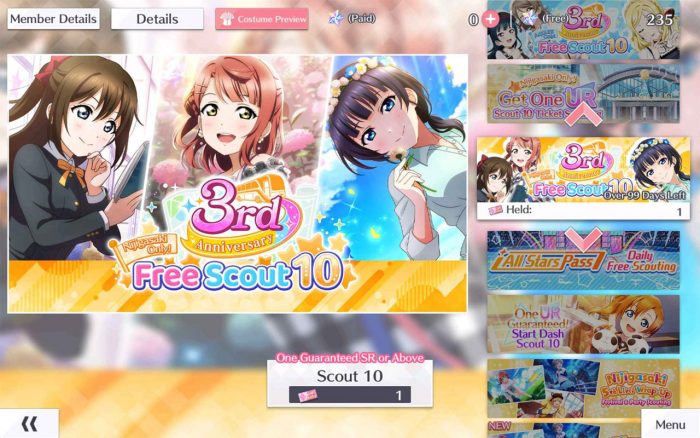 In order to get this Free Scouting Banner, you should get some Free Scouting Tickets, which were acquired from Login Bonuses, as seen and documented in this highlight at Episode 33.
So then, you waited for at least a week in order to get that item in order to scout for some URs that you don't even have yet! So then, will this one be your chance in order to get some URs that you have missed?
It maybe more than being unlucky here, since you might be just drawing a duplicate member instead! But then, don't still lose your will, since if you are aftering with some upgrades here, then use it to gather up some items that can drastically increase your School Idols' maximum stat levels, and such equivalent!
But wait! Though that you might be using up your Free Scouting Tickets, who knows that there might be more, when the game celebrates finally its birthday on the 26th?
And this is the final part of the 3rd Anniversary Countdown Trilogy Series in ALL STARS Highlights. But then, it doesn't mean it's over though.
School Idol Channel Weekly Bulletin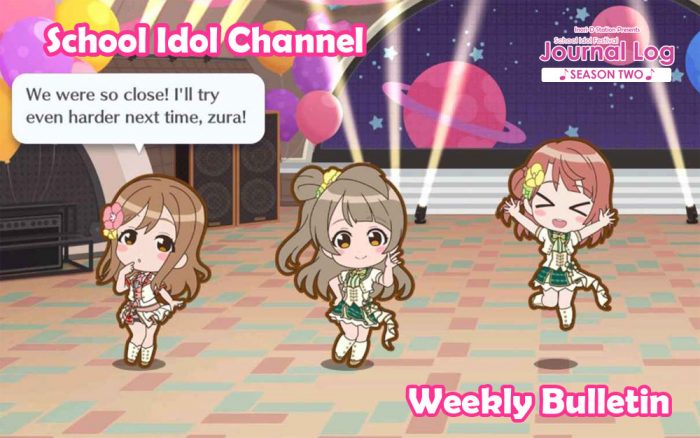 The burgundy red-haired girl wins! Ehem… And did you know that it was her birthday, at the time when the ranking period has finished?
Speaking of the channel rankings, did your girl make it to the top ten this time?
JP Side – #77
RANK #
SCHOOL IDOL
GROUP
AVERAGE CHEER POINTS
(RALLY POWER)
1
Riko
Aqours
47,097
2
You
Aqours
8,301
3
Maki
μ's
8,078
4
Kotori
μ's
7,697
5
Setsuna
Nijigasaki
6,924
6
Ayumu
Nijigasaki
6,554
7
Kasumi
Nijigasaki
6,296
8
Umi
μ's
6,268
9
Dia
Aqours
6,074
10
Eli
μ's
6,052
Global Side – #64
RANK #
SCHOOL IDOL
GROUP
AVERAGE CHEER POINTS
(RALLY POWER)
1
Riko
Aqours
25,190
2
Ruby
Aqours
7,391
3
Eli
μ's
6,590
4
Kotori
μ's
6,291
5
Dia
Aqours
5,583
6
Maki
μ's
5,518
7
You
Aqours
5,434
8
Mari
Aqours
5,037
9
Setsuna
Nijigasaki
5,020
10
Kanata
Nijigasaki
4,814
In the JP Side, Riko got TWICE of the amount of cheer points or Rally Power from the Global (EN) Side. Well, you know that the fans in the JP Side are really "hardcore" fans of Riko Sakurauchi. So then, will the next birthday girl, Ruby Kurosawa, shall be having almost the same amount as Riko next week? If the cheer points have bursted up to 50,000 in the JP Side, then Ruby shall be the more hardcore here than Riko!
And this ends the School Idol Channel Weekly Bulletin! Tune-in next Episode for the newer one!
STORY: Our Holiday Record (Final)
This Event has been finished since September 22, 2022, in just two days before this Episode was even published. I had finished this Event with a Silver Tier Rank finish, again.
Here is my rundown of my progress below!
When I had acquired some featured SR and UR rewards from this Story Event, I just put them into my Skipper Team, and then I had only used my Skip Tickets to grind for more Event Points to catch up for higher ranks, and to get more reward items.
Rather than ending in a usual penultimate month end, it has ended earlier due to the fact that it has started earlier due to the preparations of the upcoming SIF Series Thanksgiving 2022 Event.
I didn't have enough time to check out other things, other than Event grinding, such as clearing out some unclaimed rewards from my Presents Box.
And so, my standings are still the same, except the fact that it is not sloppier anymore than before.
3rd Anniversary SBL Series I
This upcoming Event is commencing tomorrow. And then, it can somehow tie up to the upcoming livestream, which is scheduled on the Day 2 of the SIF Series Thanksgiving 2022! So then, if you are lucky enough to get inside the room with the livestream hosts on Sunday, then consider yourself as lucky!
I don't know if the joining shall be involving the Global (EN) Side. And then, their livestream is somehow only dedicated for the players in the JP Side, though. But then, don't lose hope when they announce that the Global Side players might join, too! For now, think of it as for the JP Side only in the upcoming livestream.
See your in-game notifications and/or Help about the rules on how to play in this SBL Event!
Featured songs are on the embedded Tweet above. And there would be at least three parts of it, I think?
As usual, when this Event is almost finished, final results shall be posted on to my Twitter account, and on the next Episode! Look forward into it!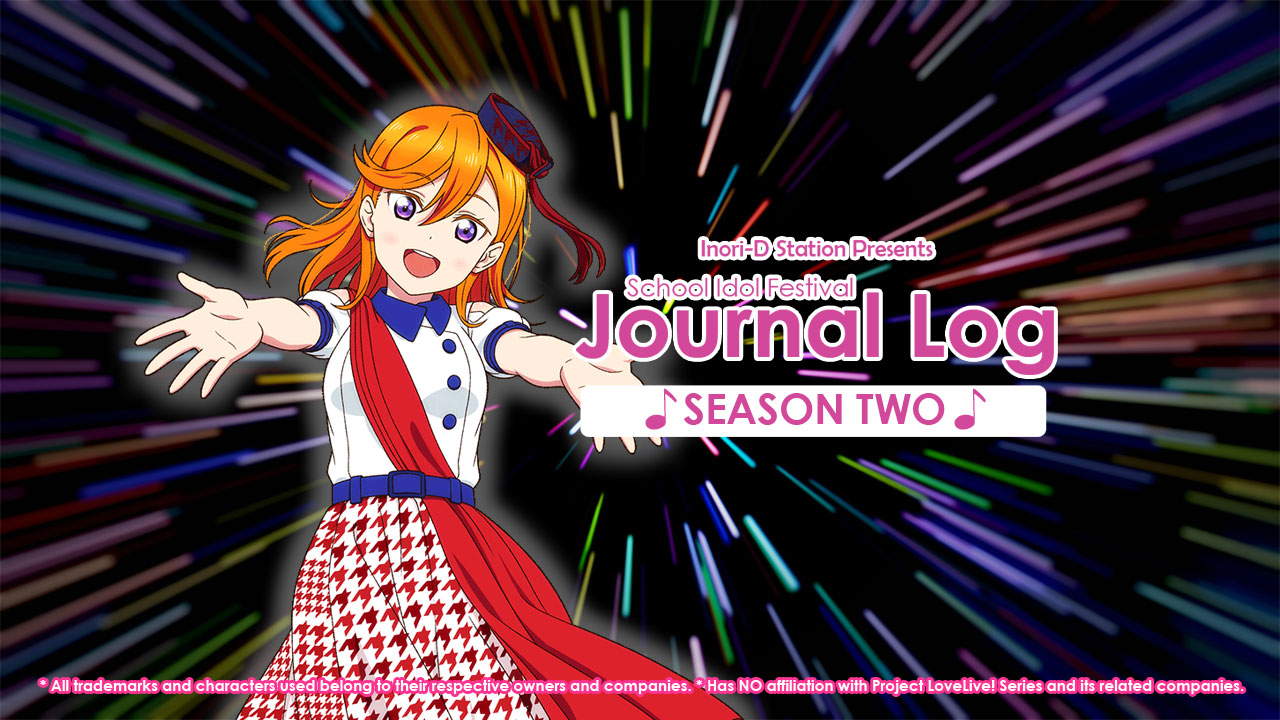 STORY EPISODE (EPILOGUE)
On a stadium around Tokyo, Aika has arrived. She then falls in the queue while waiting for her turn to go inside.
When she has entered the venue, this is where she got a space where she could rent it. She then displayed all of her costumes as exhibits.
There are people who had came at Aika's booth. And there are words which are spoken, in whispering.
"Wow, those costumes are so cute and beautiful!"
"I wanna buy them!"
"I am sure that this girl is a well-talented person."
"Wait a minute… Was this girl a student from Chitosebashi High School? Was she a dropout? What is she doing here?"
And then, the two high school girls coming from that said school came at Aika's booth to visit.
"Hey, Aika! How are you?"
"It seems we aren't seeing you in school in a while. What has happened?"
Then, Aika replied to the two girls, "Yeah, and I don't want to go back to that past either. I just wanted to move on".
"But then, how about your studies?"
"You won't be able to get a brighter future if you don't want to go back to school!"
"Well, I have finally found my future as well. In fact, I just wanted to continue of who I am, and what really is the purpose of my dreams!"
"Okay, just good luck to your future activities."
"Aika, someday, you can become a School Idol."
When Aika has heard that after the two girls have left, she then looks at her Charm item that Kotori has gave to her. And so, she started to realize that moving on is her only option.
And then, at the stage platform, not far away from Aika's booth, an MC has stood here making her opening remarks.
"Welcome to our yearly DoujinCo! In this Event, we shall be showcasing some stuff, like Doujinshis, indie video games, and many more! And be sure to tune-in later, since we shall be featuring a contest, wherein contestants should wear their hand-made costumes! And they shall be performing right away here in this stage! And that shall happen later afternoon at 3:00 pm JST! Registration is now on, and the winner shall be winning a greater prize! Good luck to those who would be joining! See you there on the stage!"
And so, the registration has begun. That time, Aika is still deciding if she can join or not. Finally, she said, "Not only I join because I wanted to win and to prove myself. It is because… I wanted to have fun and to enjoy my life as myself. In fact, I am just like a School Idol."
Aika then registered her name, and she joined with that contest.
Later on, as she walks back, this is where she encountered the Black Lace Ribbons members, El and Aru.
"So, Aika from the Idol Chasers, are you going to join on that contest, too?"
"My sister and I shall be joining, and we will be winning!"
"Of course, I shall be joining on that contest!"
"Well, it is really time for us on who's the best!"
"We shall be waiting for you at the stage! Don't lose to us, Aika!"
"Definitely not! I am gonna show you who's the best out there!"
Finally, the twins, El and Aru, have left.
"I know that those twins will never cause trouble, though that they were members of the Black Lace Ribbons. Well, time to be on the stage to show on who really I am!"
And from the far distance, a person in long dress is looking at Aika. It was none other than Kotori and said, "Oh, it seems Aika is in trouble. It looks like I have to help her this time."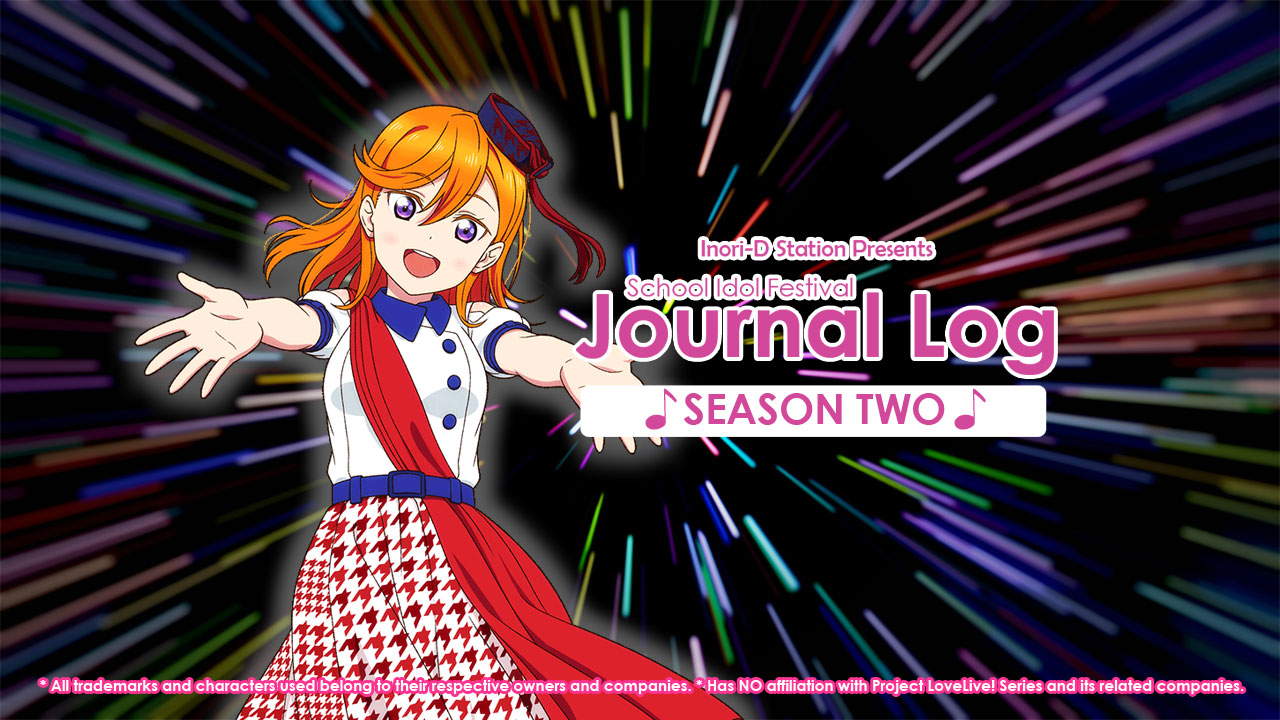 NEXT PREVIEW
When your rivals have joined a contest, and they invited you to join, what could be your response? Are you going to accept their challenge, or will you just run away?
You are a loser, if you decline their challenge! But then, it is not about winning! It is about having fun, and to prove yourself on who really you are!
Next time on SIF Journal Log SEASON TWO, "Aika on Stage".
Now, let us make our dreams come true together!
The Bonus Stage
"Here we go, the new us!"
Will they able to find out their reason why they wanted to achieve their dreams, and win? Along with those four new girls, they are fated to perform together in one big stage.
And so, their stories still continue… In the other side of the countless stars.
"Aim for the win!"
LoveLive! Superstar!! SEASON TWO!
Every Sunday at 7:00 pm JST, on NHK E-TV Network in Japan!
Check your local Anime licensors per country or region for the time and availability!
LLSIF TV Anime in-game campaigns now going on!
Official Website:
https://lovelive-anime.jp/yuigaoka/ 
RETURN TO MAIN PAGE BACK TO HOME PAGE