EPISODE 34: Hyoshiro's Older Sister
The National Tournament Finals has come into conclusion within the Fan Thanksgiving Festival event at Shinonome Academy Campus. Takayoshi is defeated by the unbelievable skills of Hyoshiro, who is the still the reigning champion.
After all a while, the Black Lace Ribbons have appeared, and the long-time rivalry between Saki and Mikako has been crossed once again. And so, the Black Lace Ribbons have left the Idol Chasers with a defeat, putting them on Takayoshi's hands.
And then, this girl, named as Jun Kiriyama, appears at Takayoshi and the Idol Chasers. What can she tell to others about with her brother?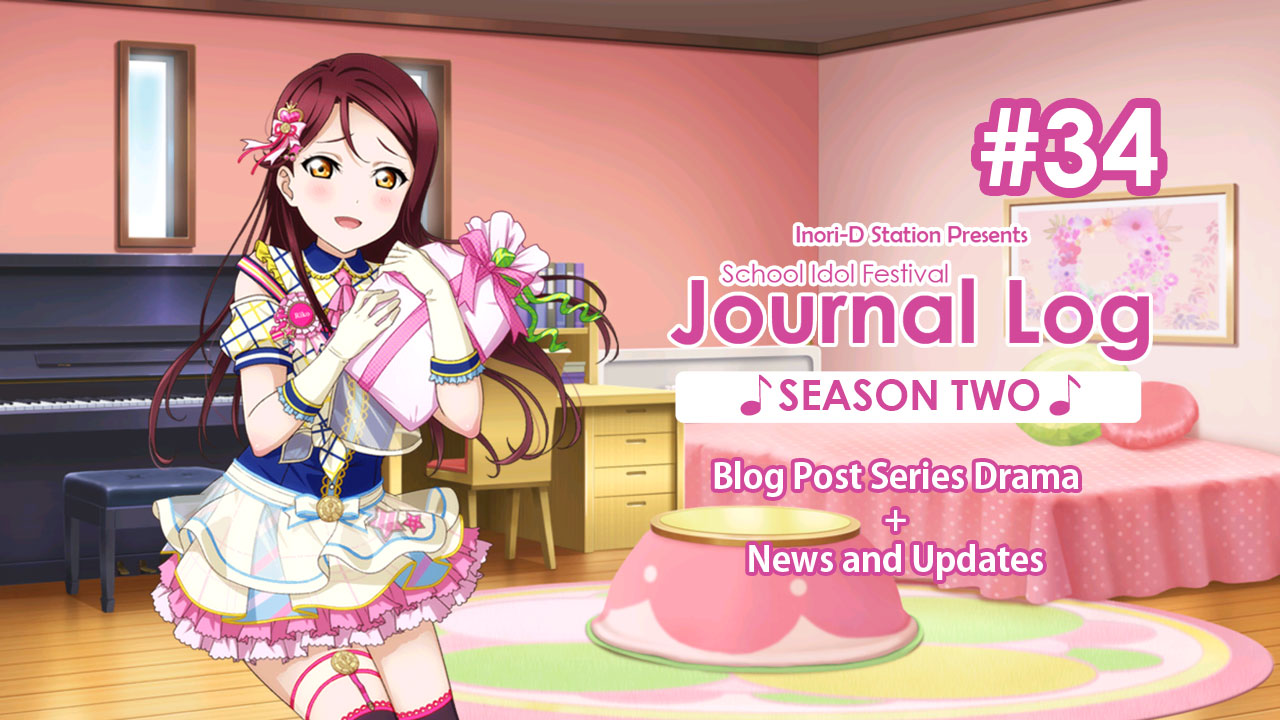 STORY EPISODE
"I am used to be an Elite Player of the SIF rhythm game in the past," said Jun. "In fact, I am also used to be a champion in the past when I was young."
"I see," replied Takayoshi. "You had been training him every day to become the very best."
"It seems we can further talk about this, when we can able to finish this Fan Thanksgiving Festival Event until the end."
"It seems so. Let's finish this Event, and then we can talk!"
Chiharu adds in and said, "That's right! I have to watch Haruka's exhibition live performance with her group! Let's go and watch her live performance!"
And so, the Idol Chasers and Jun decided to watch that live performance, until the time when the Fan Thanksgiving Festival has ended in the evening.
Back in the Idol Chasers HQ, the Idol Chasers are talking with Jun Kiriyama. Takayoshi makes his talk first with her.
"So you came because you wanted to talk about your brother, Hyoshiro."
"You joined that National Tournament because you wanted to win, right?"
"Not really. In fact, I am just going to play there because it's fun, and I wanted to prove myself that I am also a great rhythm game player like him."
"Is that's so? And then, why do you want to win in the National Tournament?"
"It is because… I had finally realized my own reason why I wanted to win. And that is… I just wanted to help the other people who wanted to achieve their small dreams."
"What an answer! In fact, that response is good. But unless you got some skills that can match with my own brother, your chances of winning is just too far to achieve."
And then, Saki adds in to the conversation and said, "So how could my dear son Takayoshi able to master the art of playing harder songs in the game that he is playing?"
"Your son, Takayoshi, can master well by landing more Perfect Hits," replied Jun. "He just needs more mastery in accuracy in hitting faster notes, without even using Perfect Lock tricks."
"Is there anybody that can teach him on how to hit the notes properly?"
"Hyoshiro used to be under me, and he trains under me. Do you want to know the story about Hyoshiro, my own brother?"
"Sure. We are eager to listen."
And then, Jun told them about her past with Hyoshiro.
"I used to be a champion in the past. Until, Hyoshiro decided and wanted to play along with me. He said that he wanted to be a champion, just like me. So then, he starts playing that game, and I had become a trainer for him. Hyoshiro was able to navigate on some harder songs, especially the swipe MASTER songs. I had been training him hard every day, and training him also to master the art of getting more Perfect Hits, without relying too much on Perfect Lock Skills. It is the matter of fact that balance is important when playing a rhythm game, and I also told him that patience is necessary in order to gain total victory. And that time, when he has qualified in the National Tournament Finals, he was well prepared, and he used everything that he has learned from me. Hyoshiro become a champion finally, and he has finally tasted his very first championship win."
Jun continued speaking.
"At the night after the National Tournament Finals, something has entered Hyoshiro's mind, in which it has finally changed him forever. That time, he challenged me into a match. And the one who got the most number of Perfects in a MASTER song play shall be the winner. I can't really reject his challenge because I am his older sister, and a mentor. And so, I had accepted his challenge. In the end, he got more Perfect Hits than mine, and I had finally lost to him. And then, this is where Hyoshiro finally changed the way that he is right now, and he always joins in some National Tournament Finals per year, and he was always included in the Final Top Four spots of the championships. And also, he always gets his championship victories every year, including the present right now."
And finally, Jun continued to finish her story.
"I had finally talked to Hyoshiro face-to-face for the last time. When he said that he wanted to win more championships, this is where I could never be able to talk to him, ever since he has left me behind. Hyoshiro is no longer the same brother that I used to know him from the past. He has totally changed. His pride and arrogance are the ones that can only control him to win more championships per year."
And this ends Jun's stories about Hyoshiro.
"Hyoshiro got some issues in the community, where he is just belittling other players," said Takayoshi. "And he has took everything away from me, which included my two friends, Mitsu and Seiba."
"Takayoshi," said Jun. "If you really wanted to beat Hyoshiro, then you just need to train."
"If only you could be able to train me, then I can face Hyoshiro again next year in the Finals!"
"Maybe you can ask me that. Unfortunately, I had retired in playing SIF."
"Oh man, this really makes me sad."
"I was once trained by this known SIF player, who used to be also a martial artist. Maybe you could find that person instead."
"Who's that person?"
"He was once a top player in the SIF game, and he goes in the Player Name, Omegamira. Yes, I had been trained by that person. His real name is Kougi Haneda."
"Kougi Haneda… Omegamira… I see. I had been seeing him usually topping in the rankings of the last in-game Event last month. Maybe I know this person."
"If you could find that person, try to train yourself with him."
"Thank you, Jun. We promise that we shall definitely be bringing back your brother! In fact, he was currently now a member of the Black Lace Ribbons that we Idol Chasers are currently facing against."
"Thank you also, Takayoshi. Please be safe and bring my brother back!"
Lierre then used her Digitariel to scan for some info about Omegamira, also known by his real name, Kougi Haneda.
"Kougi Haneda used to be a top player in some in-game Events in SIF, but never participated in any national tournaments or championships. In real-life, he was a martial artist, who teaches martial art techniques to his students. But then, on the last Event last month, it was his last play, and he never played SIF ever since."
"In other words, a retired SIF player, isn't it, Lierre?" answered Takayoshi.
"You are correct, Takayoshi, indeed. He retired because he has finally realized his own future. Sometimes, moving on is just the only option if you wanted to explore yourself more in this world."
"So then, it's really time for me to train, and to come back and rise up again! I have decided, and I wanted to train under him!"
"And that might be an only chance, if you wanted to beat Hyoshiro in the next National Tournament Finals next year!"
"It's been decided. I will go to that place and train!"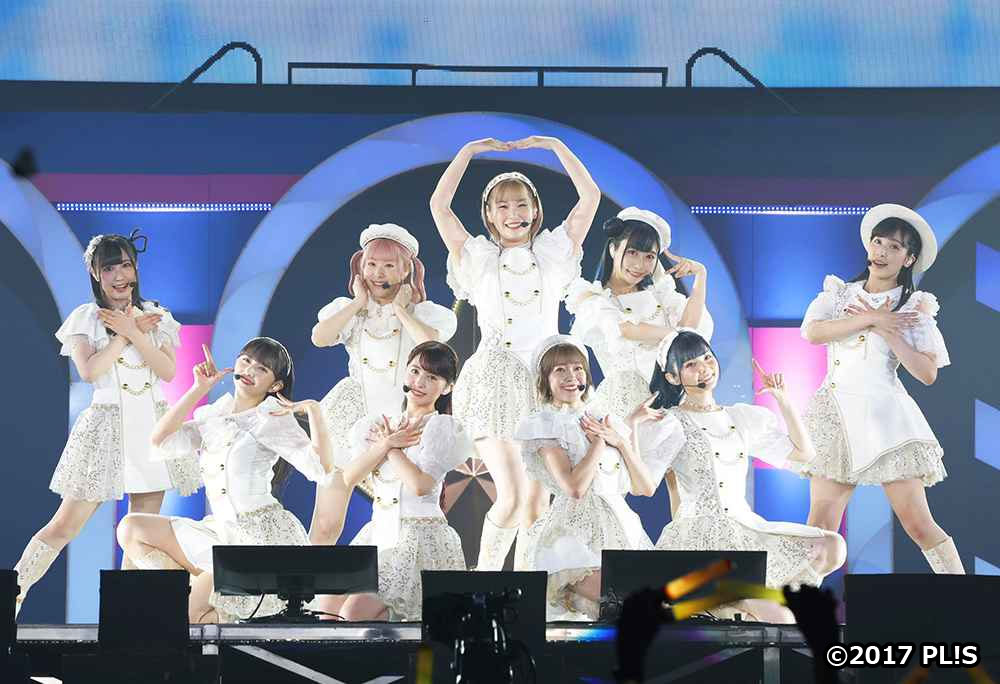 HEADLINES
Next weekend is coming closer with a surprise! The SIF Series Thanksgiving 2022 is just around the corner! What else does it awaited the LoveLive! fans?
And finally, it's the final stretch for the Nijigasaki Girls in their final stop with the Part 2 of their 5th Live! Series, the Next TOKIMEKI! And then, be prepared for some surprising announcements from them at the end!
Speaking of the Headlines, what else are spotted here during the week?
μ's UPDATES
Happy Birthday, Kotori Minami!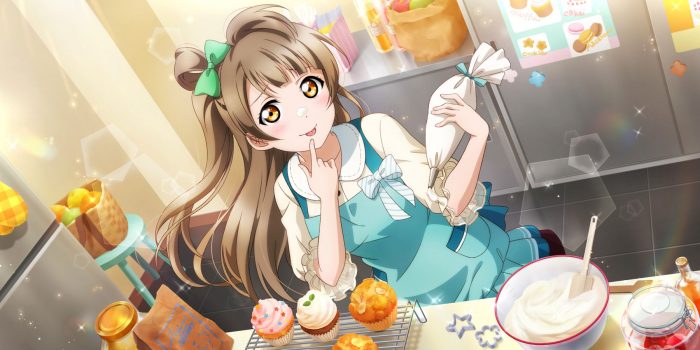 Let us do some birthday message for Kotori Minami, whose birthday was celebrated last weekday! There is no time to waste!
Dear Kotori,
Your voice is a sweet as a candy. Nope, you are even more sweeter than a sugar!
In fact that you have been appearing in some Episodes of my ongoing Story Episodes right here, you have taught some of the characters some good manners — some values and qualities that a typical School Idol should have.
For my message to you, you are a good girl, and you are setting a good example that girls should dress up properly, and be more feminine. At the same time, you are teaching your girls to show up their own appeal and charm, so that they could hook up more of their fans when they become idols!
Happy Birthday, Kotori Minami from the Legendary School Idol Group, μ's! We are indeed missing you a lot, and we love you!
Aqours Updates
Riko & Ruby Birthdays (Message Next Episode)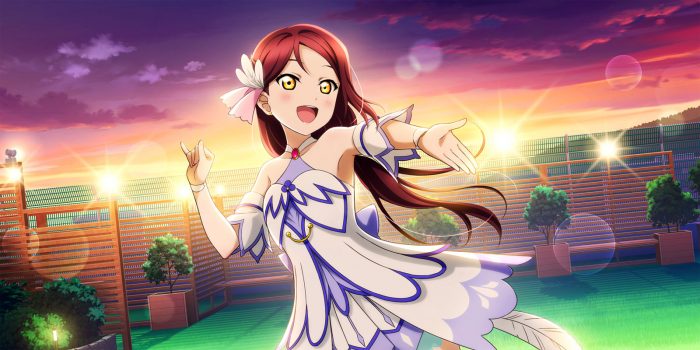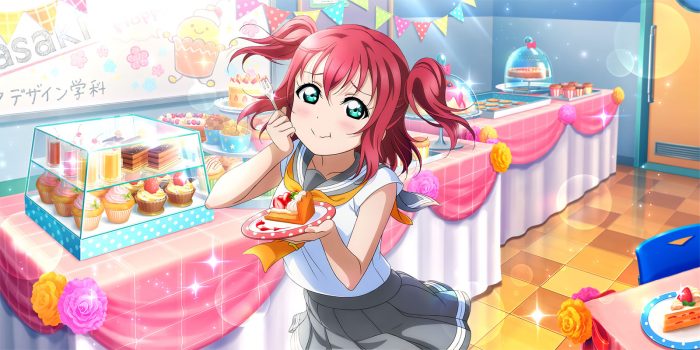 Next Episode, I shall be including the Birthday Messages for Riko Sakurauchi and Ruby Kurosawa! What could be my messages for them this time?
And also, don't forget to scout on their respective new Birthday Limiteds on LLSIF, as well as their new limited Paid Backgrounds! Recently, I got the limited paid backgrounds of these two lovely girls! And I am really planning to collect all of those limited paid backgrounds, only in the Aqours Side!
And finally, be sure to check out their upcoming new albums, in their Third Solo Concert Album Series! Likewise, their featured songs, the Minamo ni Piano and Ai Kotoba, can be previewed already on YouTube! The scheduled release of their albums shall be on their respective character birthdays.
Nijigasaki Updates
TODAY: Nijigasaki 5th Live! Series (Part 2)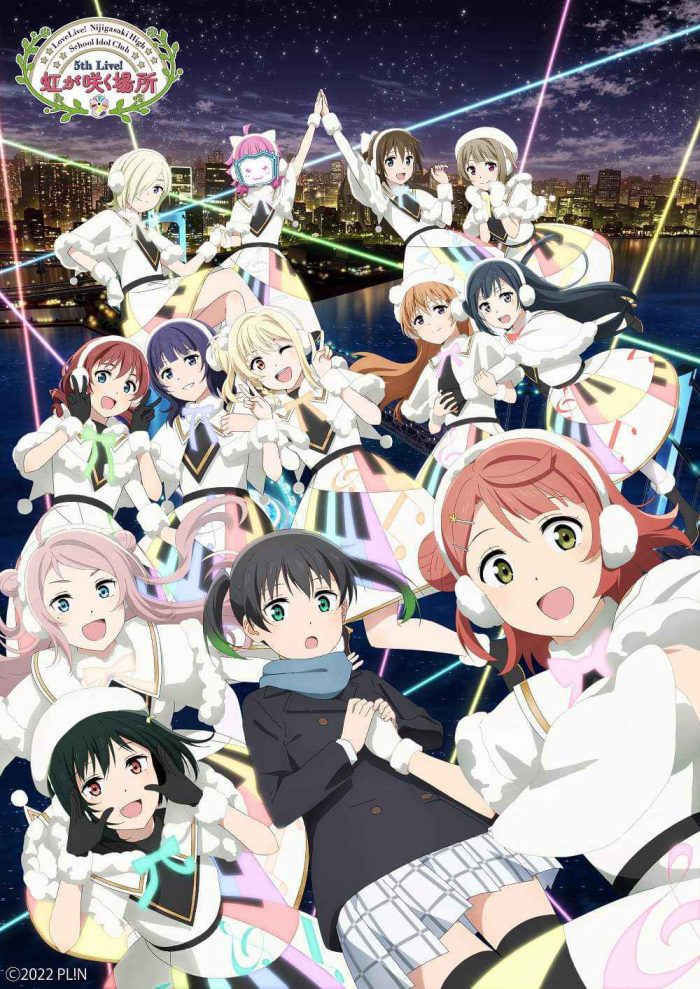 Today is the Day 1 of their 5th Live! Series (Part 2), Next TOKIMEKI. You can still catch up in buying your e-ticket for the paid live stream, if you haven't yet!
Make sure to watch it, or you could even watch for the Day 2!
After this live performance, there would be some announcements, so stay tuned on that stream until the very end!
And there would be also in-game campaigns in the LLAS game to commemorate it. Make sure to login in ALL of the days to receive all of those items!
Enjoy your final weekend with the Nijigasaki Girls!
And finally, as I have said, watch out for their big announcements at the end of their 5th Live! Next TOKIMEKI Day 2!
Liella! Updates
Anime SEASON TWO Episode 8 Review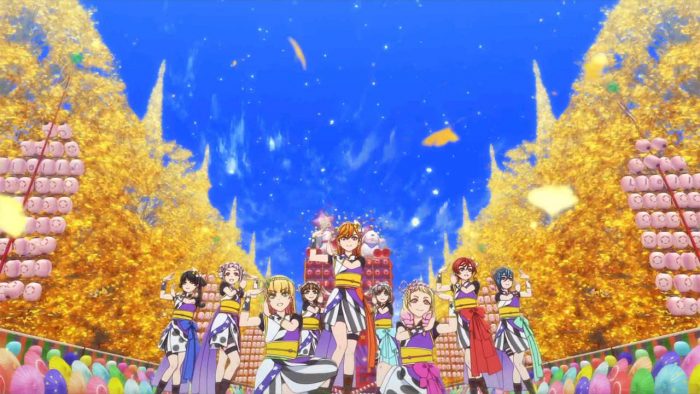 The featured song in this Episode above is now a playable song in the Liella! B-Sides on LLSIF! Be sure to check that one out!
Other Updates
SIF Series Thanksgiving 2022 Schedule Details (Part 4 of 4)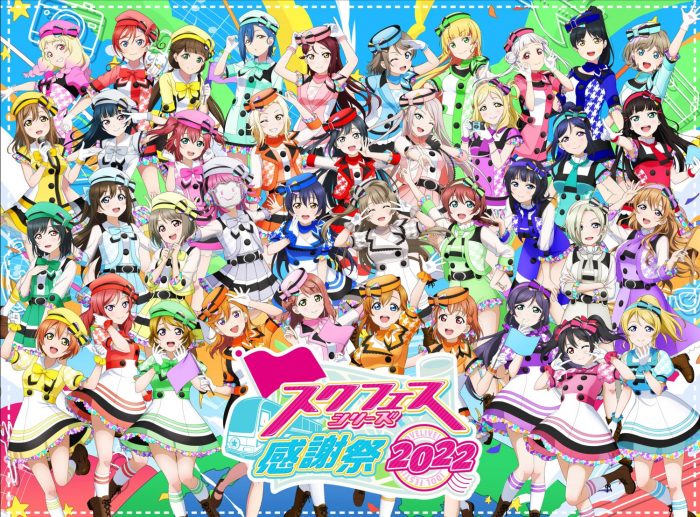 This Event is close to happening next weekend! Brace yourselves for some surprises and announcements! Indeed, this is the fourth and the last part of the schedule details! Please read more below for some details!
Day 2 – Livestream No. 5 of 5
Closing Remarks & Announcements
Date and Time
September 25, 2022 (Sun), 5:00 pm JST
Hosts
Aguri Onishi (Ayumu)
Akina Homoto (Lanzhu)
Sayuri Date (Kanon)
Aya Emori (Natsumi)
In the last part of the program or event, they shall be talking about their thoughts on the program or event itself, lasting for at least almost a decade! And then, what awaits on the other side of the LLSIF game's 9th Anniversary?

And be sure to be also prepared, since they might host a Rhythmic Carnival match at anytime, just like last year's SIF Series Thanksgiving 2021!
And aside from that all along, they are already teasing us with a countdown timer, leading to the fate or future of the SIF Series itself! This is something for us to figure out what lies in the last part of their major announcements!
To be continued… In the SIF Series Thanksgiving 2022!
And this ends my details of their program or event! Thanks you for reading the program details… In English! And then, we shall be seeing ourselves in the next weekend — in the livestream series! Stage Start!
Official Page:
https://lovelive-sif-fes.bushimo.jp/2022/ 
---
Stay tuned! Because we shall be back for more with LLSIF and ALL STARS Highlights! Please read this Episode until the very end!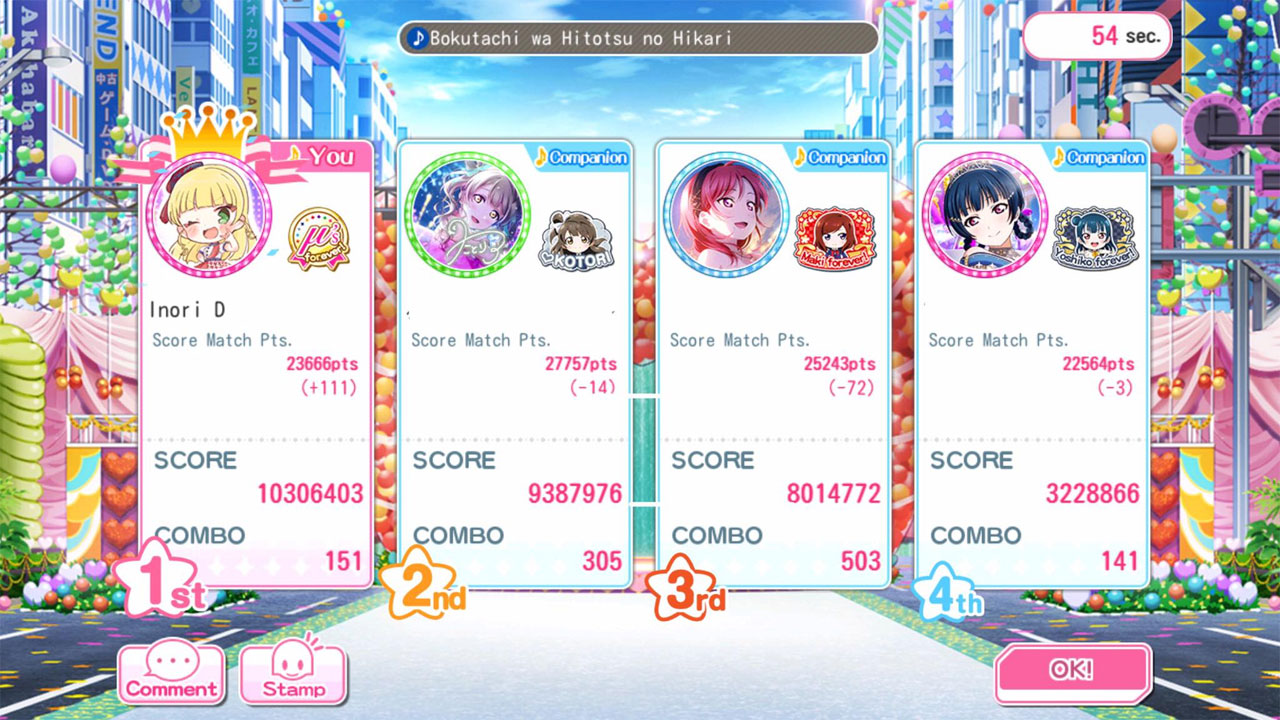 LLSIF HIGHLIGHTS
As mentioned in th Headlines above, something surprising is awaiting for the LoveLive! fans. When the countdown timer in their website is just getting thinner, what can you expect in the future for this game?
And then, more Limiteds and more songs have appeared in between. Make sure to read this part to find out what's really happening during the week! Stage Start!
Some Songs Now Available For Play!
New songs have appeared in your Songs library! One is a permanent Hit Side Song from the Nijigasaki Side (New songs are released every 15th of the month), and the other is a temporary B-Side song in the Liella! Side, which shall become a Hit Side song in the future! Read the tabulated info below for details per song!
Song Title
Zensoku Dreamer
全速ドリーマー
Attribute
Cool
Combo Ranks (EXPERT)
C (149 Combo)
B (247 Combo)
A (346 Combo)
S (494 Combo)
Available as a permanent song in the Hits Side in Nijigasaki Side, since September 15, 2022 JST (after patch update).
Song Title
Chance Day, Chance Way!
Attribute
Smile
Combo Ranks (EXPERT)
C (137 Combo)
B (228 Combo)
A (319 Combo)
S (455 Combo)
Available until November 15, 2022 JST (After LoveLive! Superstar!! SEASON TWO's Final Episode airing date).
Be sure to check them out, as well as to play with them!
Round 53 Score Match (Final)

The Score Match battle is really intense! In fact, just using your meta team alone can really drive you higher in the SMP rankings. But still, I got no match with some other rivals who got greater scoring power. And then, placing lower in the ranking results after every play can drastically decrease my SMP, even if I am playing on a lower difficulty.
At the last minutes of the Event, I was trying to bargain for another 1,000 SMP, in order to beat my previous record of over 26,000 SMP in the previous Score Match Event. But then, due to the nature of time, and some random players playing during the late night, I decided to not play further. And then, I had noticed that some of my friends in my own ranking block has stopped playing. And that is, in order to not let their higher-earned SMP to be jeopardized when it suddenly decreases due to their unwanted series of defeats in ranking results after the live show play.
But then, around in the early morning, I decided to give it an another go — in about 3 rounds in the lower difficulty (notably Technical difficulty). And after that, I just stopped playing and grinding until the Event has been finished in its duration period. However, the consequence is that my Event Points Ranking is gradually decreasing, from around 290, it become at around 360-ish, in just 24 hours.
For the songs, I also tried playing on the MASTER difficulty zone. I got no problem in navigating some harder songs, except on PSYCHIC FIRE, in which it needs my concentration in order to pass. There is a time (When the Event begins) that I failed a Score Match play at the last stretch or slide of that song. So then, when playing harder songs, it is best to warm up by playing the easiest one first, before jumping to the harder part.
Meanwhile, at the time that the Event is almost ending, I tried climbing up the ranks by using my JP Side. I was able to get the featured UR and SSR rewards. I decided to bargain and try to grind it up to the Gold Tier Rank (Rank 1 – 1000 bracket) in Event Points, but then my time is insufficient and I really didn't make it. But then, I already did that since a long time ago, in the last year's Icon Collection Event (featured song is DREAMY COLOR), where I was able to place into the Gold Tier Rank with both of my account sides.
This Event has been finished, placing me with a Gold Tier Rank in both SMP and Event Points.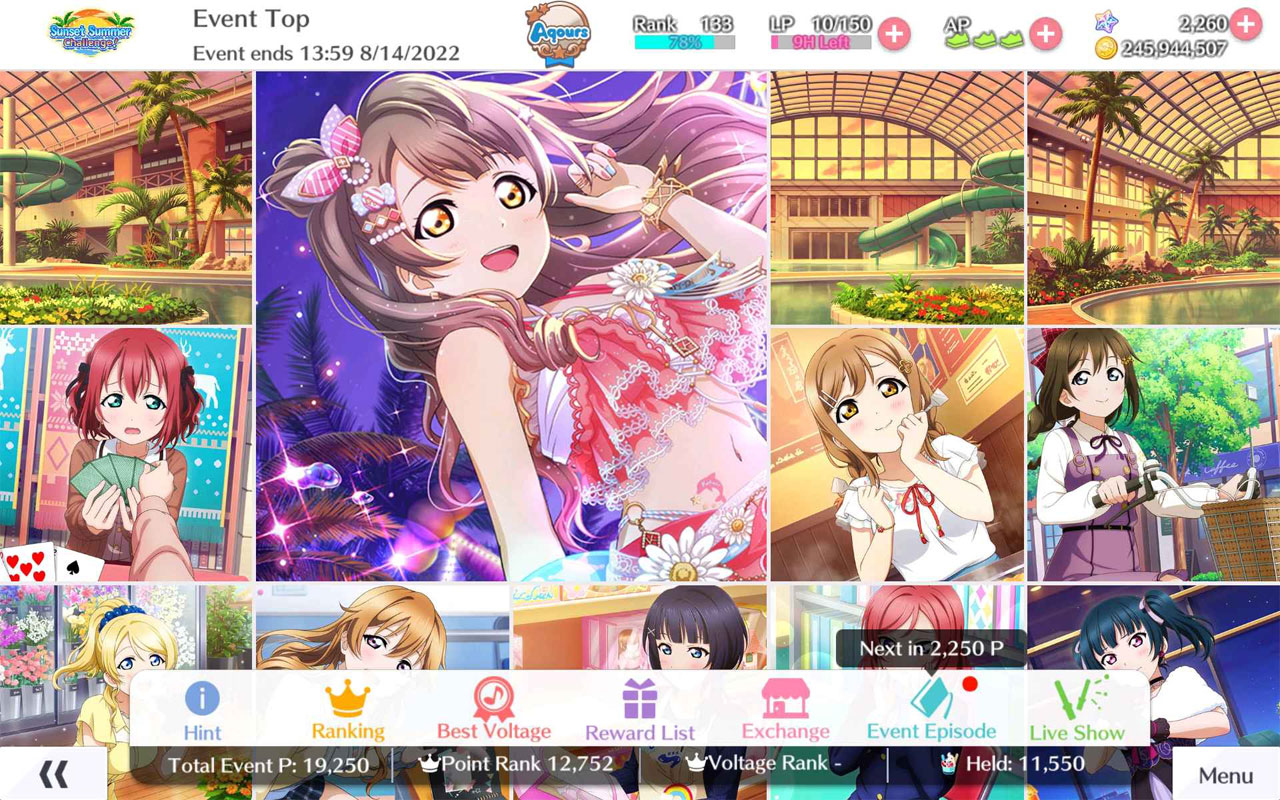 ALL STARS HIGHLIGHTS
So then, aside from the Nijigasaki 5th Live! Commemoration Campaigns (Login Bonus items), there are also campaigns that would commemorate the game's 3rd Anniversary! And right now, we are eager to expect on what is going to happen to ALL STARS, when everything shall be announced, when the countdown timer has been expired!
More exciting news are to be expected in the future. And then, what are the highlights that were encountered in this Episode? Here comes the LLAS Highlights! S.I.F. !!
School Idol Channel Weekly Bulletin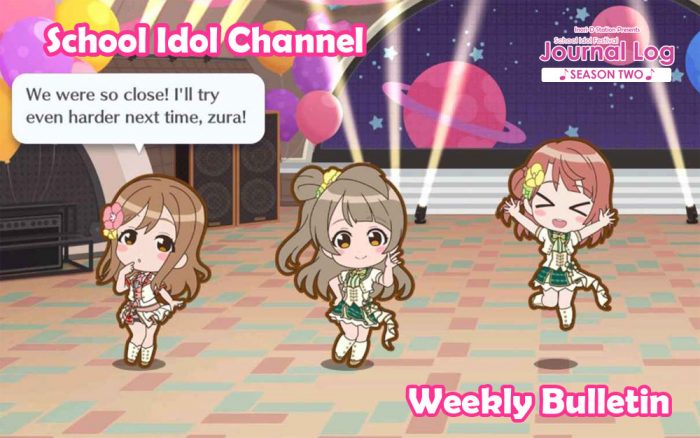 Kotori Minami, as predicted, has won in the rankings, due to her birthday!
If you are not in her channel, did your girl's channel make it to the top ten? Find out in this weekly ranking issue!
JP Side – #76
| RANK # | SCHOOL IDOL | GROUP | AVERAGE CHEER POINTS |
| --- | --- | --- | --- |
| 1 | Kotori | μ's | 25,582 |
| 2 | Shioriko | Nijigasaki | 6,972 |
| 3 | Setsuna | Nijigasaki | 5,872 |
| 4 | Umi | μ's | 5,810 |
| 5 | Kanan | Aqours | 5,530 |
| 6 | Eli | μ's | 5,344 |
| 7 | You | Aqours | 5,323 |
| 8 | Ayumu | Nijigasaki | 4,977 |
| 9 | Chika | Aqours | 4,969 |
| 10 | Riko | Aqours | 4,891 |
Global Side – #63
| RANK # | SCHOOL IDOL | GROUP | AVERAGE CHEER POINTS |
| --- | --- | --- | --- |
| 1 | Kotori | μ's | 24,606 |
| 2 | Setsuna | Nijigasaki | 5,268 |
| 3 | Shioriko | Nijigasaki | 5,086 |
| 4 | Eli | μ's | 4,067 |
| 5 | Kanan | Aqours | 3,989 |
| 6 | Mari | Aqours | 3,589 |
| 7 | Umi | μ's | 3,546 |
| 8 | Ayumu | Nijigasaki | 3,530 |
| 9 | Riko | Aqours | 3,444 |
| 10 | Karin | Nijigasaki | 3,406 |
So then, you already know on who's the girl to top next time, don't you? Riko Sakurauchi shall be the next here, and after her, it shall be Ruby Kurosawa! Take note!
Or, you can do the solo grinding technique in the channel rankings of your School Idol, as written in Episode 32, if in case you don't want to grind along with the channels of the girls who were about to celebrate their birthdays!
And that's it for this week's School Idol Channel Weekly Bulletin!
3rd Anniversary Countdown Trilogy II: Dream Live Parade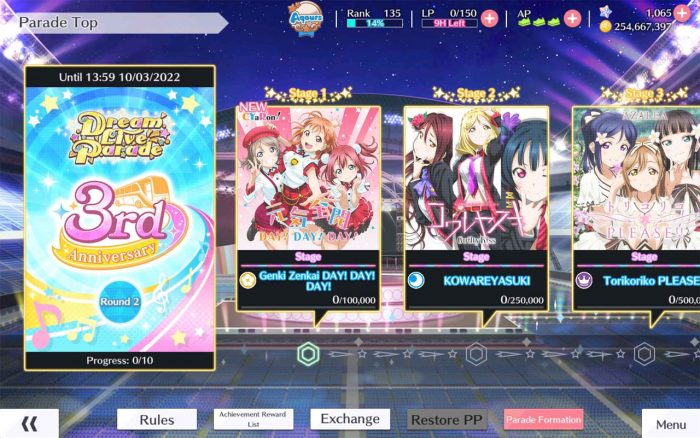 As part of their 3rd Anniversary Celebration Campaign Event, there would be a special Dream Live Parade (DLP) Series Event! And this DLP Series Event has been started since September 5, 2022, and shall last for almost one month until October 3, 2022, at 2:59 pm JST!
Refer to this tabulated list below for the dates of appearance of each!
| | |
| --- | --- |
| Round 1 | September 5, 2022 JST (Ongoing) |
| Round 2 | September 12, 2022 JST (Ongoing) |
| Round 3 | September 19, 2022 JST |
| Round 4: Next TOKIMEKI! | September 26, 2022 JST |
All School Idols shall receive +2 more Parade Points (PP) Bonus on these four DLP Series above.

All of these shall last until October 3, 2022, at 2:59 pm JST!
Refer to your in-game notifications or "Help" of your game on how to play on this DLP Event.
Enjoy playing on these while getting some DLP Tokens in order to exchange for something strong!
[JP Only] Azul Claro Numazu Collab Costumes (Login Campaign)
Login everyday consecutively (Don't miss more than 1 day of login) during the campaign period to receive all of the nine (9) costume tickets of the Azul Claro Numazu Collab with Aqours! You can use them to exchange with the limited-time collab costumes of the said football group.
Unfortunately, this login campaign is only available for players in the JP Side. Sorry, Global (EN) fans!
EXCHANGE: Joy on a Moonlit Night (Final)
This Event has been ended, finishing me with a Silver Tier Rank on both Event Points and Voltage Score. And did I mention in some previous Episodes that my JP Side is omitted from my future Event Report Tweets?
Yeah, at least I had played properly, and my ranks aren't as sloppy as in the previous Exchange Events that I had played. I just need to put my acquired Event SRs and URs into my "Skipper" team, especially when I use Skip Tickets when I play to grind for more Exchange and Event Points.
I had only played "Kinmirai Happy End" as being the one of the featured songs in the Voltage Score Rankings. I can really somehow climb higher ranks here, though that my Voltage Score output is not very good as it seems.
So then, this could be my end of my Event Report summary. But wait, my Event grinding is still not over. In fact, the Story Event has just started, in two days since the Exchange Event has ended! Read the next highlight below!
STORY: Our Holiday Record

For some reason, due to the game's upcoming 3rd Anniversary Celebration, this Story Event has commenced and started earlier than usual. Therefore, the grinding has started ever since!
Refer to these members to appear in this Event in this tabulated list below! And put them into your "Skipper" team to increase your Event Points gain!
RARITY
CHARACTER
OBTAINED FROM
EVENT POINTS INCREASE
GAINING RATE
UR
Hanayo Koizumi
Kasumi Nakasu
Scouting
+ 100 %
SR
Hanamaru Kunikida
Scouting
+ 50%
UR
Dia Kurosawa
Event Points Rewards
Event Points Ranking (Event's End)
+ 30% (+50% Maximum)
SR
Karin Asaka
Nozomi Tojo
Event Points Rewards
Event Points Ranking (Event's End)
+15% (+30% Maximum)
Featured characters in this Story Event shall gain 10% Event Points Increase Gaining Rate.
This Event shall be running for a very short time (about a day shorter than usual). And that is, they are indeed preparing for the game's 3rd Anniversary Celebration on September 26!
And for my Event Report and progress in this Event, it shall be written on the next Episode!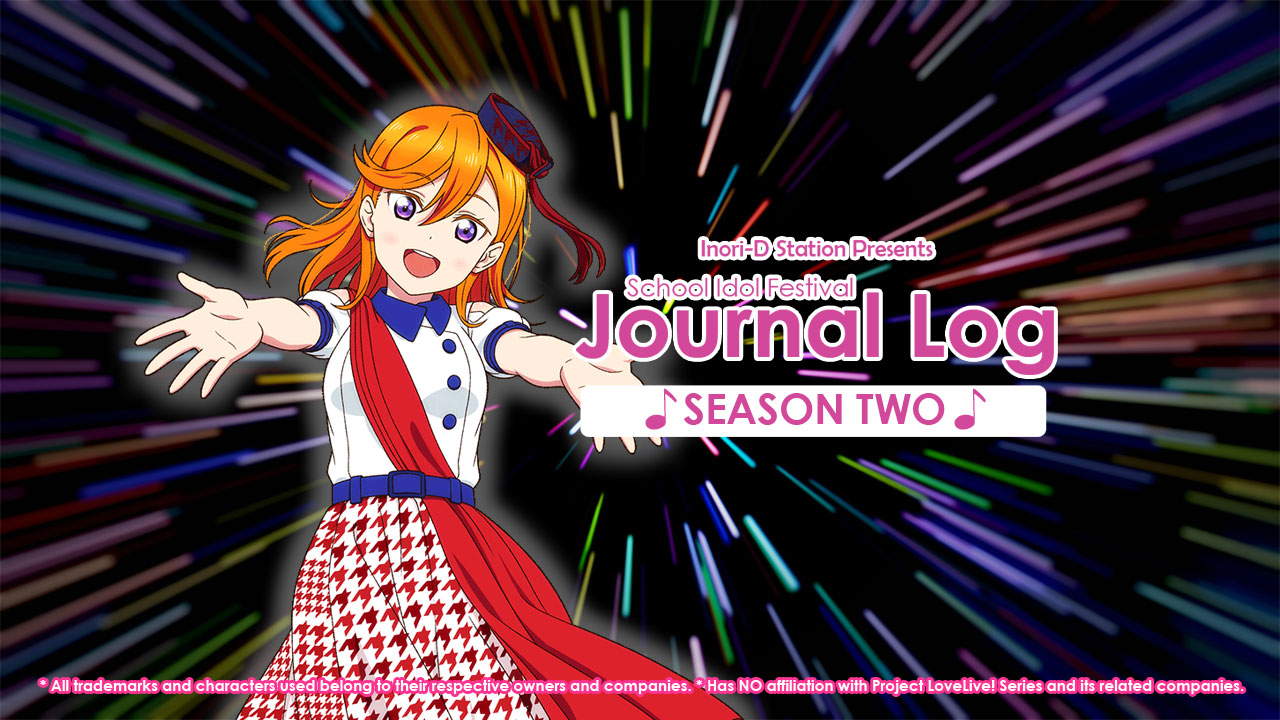 STORY EPISODE (EPILOGUE)
A few minutes later, Saki has planned a new mission for the Idol Chasers. This time, it shall be divided, since Takayoshi shall be on a vacation trip to train.
"Idol Chasers. I know that the Black Lace Ribbons might not be attacking us. However, we should be all prepared at any time, at any place. For now, we got some multiple missions to do."
And so, Saki give them on what to do, and they were divided according to groups.
"Takayoshi and Gen shall be going in the farthest part of Japan, in Hakodate, in Hokkaido. Lierre told me that it is the place where Kougi actually lived."
And then, she continued.
"Aika Tenkuji. There is an Event which is taking place tomorrow at a stadium center around Tokyo. It is a convention where they showcase artworks and other Doujinshi made by indie artists. And then, there would be a contest there, where you could also showcase your costumes! You can join that contest and win, if you have to! Just make sure that you could use your charm points and appeal in order to win!"
She continues to give out more details.
"Komari Ohara, this is your mission as an Idol Chaser. I want you to go to a certain place within Tokyo. There are reports that a certain group is planning to ruin an upcoming live performance of a certain School Idol Group. I will be giving you some details later upon at your departure."
And then, she gives out mission details for Sho.
"Sho Ukiya. I know that you may be a first-timer, but I hope that you could succeed in your mission that I am about to give to you. Don't worry, this mission is very simple and will not give you some headaches. You just need to escort a School Idol leading to the airport due to her scheduled flight to UK. That isn't hard, is it?"
Finally, she talks with Chiharu and Lierre.
"Chiharu, you should go back to your usual schooling days, and don't forsake your academics. Just don't over-exert yourself. And Lierre, just keep an eye on Chiharu and others, and you should watch out on when those bad rivals would attack and distract us!"
And so, Saki finally ends the mission details briefing to the Idol Chasers.
And then, when the day of the morning has came, they are all ready for their mission.
"Guys, I would be away in a while," said Takayoshi. "I promise that I would be back stronger!"
"Senpai, you promise that you would be back soon from your training!" said Aika.
"Taka-Bro. See you soon, and good luck with your training in Hakodate!" said Sho.
"Just don't stress yourself!" said Komari. "Just act cool and be always patient!"
"I shall be accompanying you in your way to Hakodate to train," said Gen. "I am just around if there is something wrong."
"Takayoshi…" said Chiharu. "We will be missing you a lot! Remember that we are Idol Chasers! And you are still an Idol Chaser, right?"
"I guess it's time to proceed with our separate missions!" said Saki. "No matter how far we are, we are still standing together as one — with our own Bonds in our hearts!"
"It's time to go on to our own roads," said Lierre. "In the end, we shall be meeting altogether, again!"
Finally, Saki commands them, "Idol Chasers, Stage Start!"
They replied, "S.I.F. !!"
And the fact that the Idol Chasers were now separated at each other, this is where they started to do their separate missions, while Takayoshi being away in a while to train himself with a person that he is looking for just in order to improve with his rhythm playing skills.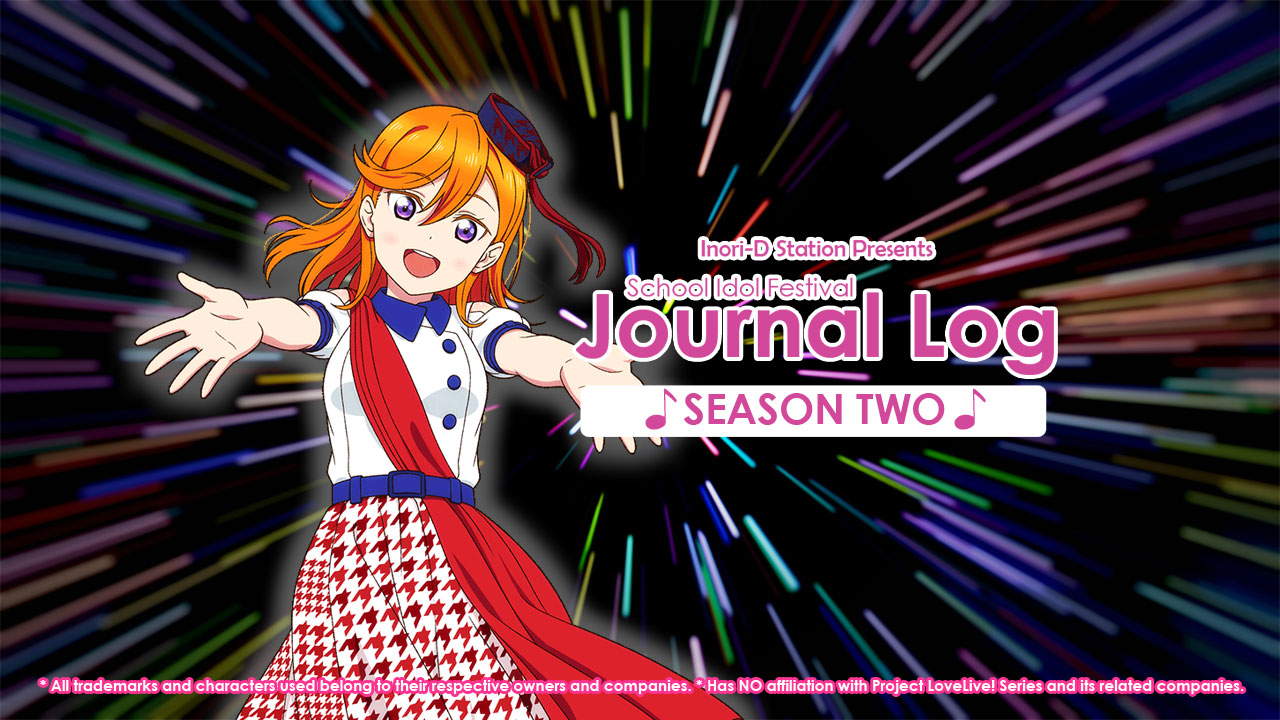 NEXT PREVIEW
As Takayoshi is out to travel to the farthest part in Japan, along with Gen, in order to train, the rest of the Idol Chasers are having their own separate missions.
The character for the next Episode is Aika Tenkuji! And she used to be a high school student of that school before? What was the reason behind with her dropout from that school?
Next time on SIF Journal Log SEASON TWO, "Aika -School Dropout-".
Now, let's make our dreams come true together!
The Bonus Stage
"Here we go, the new us!"
Will they able to find out their reason why they wanted to achieve their dreams, and win? Along with those four new girls, they are fated to perform together in one big stage.
And so, their stories still continue… In the other side of the countless stars.
"Aim for the win!"
LoveLive! Superstar!! SEASON TWO!
Every Sunday at 7:00 pm JST, on NHK E-TV Network in Japan!
Check your local Anime licensors per country or region for the time and availability!
LLSIF TV Anime in-game campaigns now going on!
Official Website:
https://lovelive-anime.jp/yuigaoka/ 
RETURN TO MAIN PAGE BACK TO HOME PAGE