EPISODE 32: Secret Talent
Friends and rivals may work and win together. But sometimes, they clash at each other to see who's the best.
The Idol Chasers are currently facing this new enemy in the darkness. This rival in the darkness is hopping from timeline to timeline, and their disturbance is the reason on why did they want to stop them.
This known enemy group, or likewise, the enemy in the darkness, who shows hatred towards School Idols, are called as… the Black Lace Ribbons.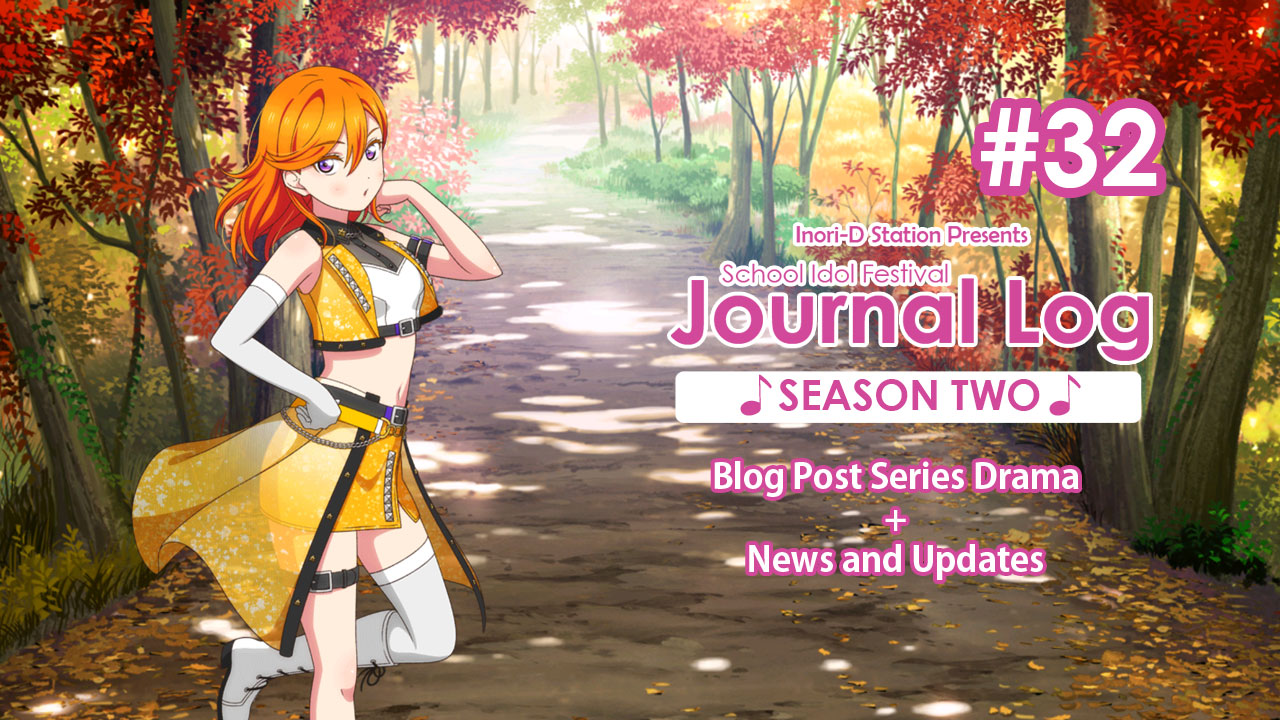 STORY EPISODE
Inside the auditorium, the four finalists have been finally revealed on the stage. And then, the announcer (MC) makes her opening sentences!
"Today, these four finalists shall be competing for the championship! Who could be this year's champion this time around? Will Hyoshiro, a.k.a. Hyogane, be able to snatch another championship title? Who knows that this new player might be dethroning this reigning champion this time? We shall be finding out, soon!"
And so, the MC announced the players, and they all positioned to their seats.
"Welcome the 4th Finalist… His player name is Crossaber!"
The audiences just clapped their hands.
"Our third finalist is… His player name is Mi-Kun!"
Some audiences clapped their hands, while others gave their loud cheers!
"And then, this year, he shall be competing for the first time in the finals! His player name, please welcome! Takamin!"
And then, this is where the audiences intensely clapped, and they cheered greatly for this person! And the Idol Chasers are there cheering for him, who is actually Takayoshi Kitagawa!
"And finally, the unstoppable champion! Will he able to snatch another championship title? Give your cheers to this player, Hyogane!"
However, the audiences gave him a "boo" cheers to him instead, and Hyoshiro doesn't mind about it, though.
And so, the players are now set for their final championship showdown! The MC told them about the mechanics of their championship.
"This championship shall be divided into three rounds! On each round, there would be at least three songs to play. And all of these songs are of their MASTER difficulty! The players should clear all of the three songs in order to advance to the next part or round! And each round, only one player shall be eliminated! And that happens when that player got the least number of Perfects accumulated on all three songs per round! So then, you are automatically be qualified if it happens that you landed a Full Combo Finish. However, still, if you got the lowest number of Perfects accumulated at the end of the rounds, you will be eliminated! And so, the final third round shall be consisting of only two players! Are you ready? Good luck to all of you!"
The audiences are cheering out loud, especially when the Idol Chasers are also cheering for Takayoshi.
"Go, Taka-Bro! You can win this!" said Sho.
"You can do it, Takayoshi!" said Chiharu. "Do your best!"
"Senpai! Fight!" said and cheered Aika.
Gen is just silent, as he is observing Hyoshiro's aura. And he said, "His aura is different. I can feel that Takayoshi can't able to win against him! But then, I don't know about the uncertainty that Takayoshi is going to win, also."
"Man, don't ever lose to those two punks!" said Komari. "Just remember to be cool at all times!"
Takayoshi can feel the cheers of his friends from the distance. And then, he said, "Thank you for the cheers, guys! Right now, I have to win this!"
And then, he looks at the Charm item that Chika has given to him. Finally, her words have finally reached his feelings and he said, "Chika, is this the path of your dreams that you have been talking about? Well, let's make our dreams come true together!"
Finally, Hyoshiro is looking at Takayoshi. And he said, "This opponent of mine isn't to be underestimated though. In fact, I must need to be just careful. I must fight to defend my honor!"
And from the far distance, not far from the crowd, a girl is standing watching their tournament finals which is about to start. She has the same color of eyes as Hyoshiro. Who could be this girl?
Outside of the Shinonome Academy campus, Lierre finally saw the entire school being enclosed with a transparent, purple barrier. And then, she received call.
"Lierre," said Saki. "It is really pointless to stay up there waiting for nothing. Return back to the HQ. We are going to do our Operation Surprise to the Black Lace Ribbons!"
"I understand. I guess it is the time!" said Lierre and she heads back to the HQ.
At the Idol Chasers HQ, they are talking about their so-called surprise operation against the Black Lace Ribbons.
"So then, how are we going to get inside the school with that purple barrier surrounding the campus?" said and asked Saki.
"Don't worry about it, Mrs. Kitagawa," said Rika Kamiya. "In fact, I and Lierre have created a remote Warp Portal, in which it is actually linked from the school's laboratory up to your HQ."
"I see! So then, we can actually get there without having to break through to the barrier!"
Finally, Lierre said, "It seems we need to get there now. Let's go now, before it's too late!"
And back at the Shinonome Academy auditorium, the four finalists are ready, and the announcer has announced the three MASTER songs.
"The first round songs are… NO EXIT ORION, Angelic Angel, and After School Navigators! Good luck!"
The first round is now underway, and the players started playing! Crossaber (Seiba) is doing well in the first two songs, but not until the third song, which is difficult to his fingers. Mi-Kun (Mitsu) is just playing cool, and he doesn't mind about getting a miss nor breaking his combo chain. Meanwhile, Takamin (Takayoshi) is just falling somewhere in the middle, while breaking his combo chain in between before the chorus part. But then, he ain't letting his guard down, and he tries his best to get as many Perfects as possible! And finally, Hyogane (Hyoshiro) got three straight Full Combo Finishes on all songs!
The first round has been finished, and the player who got the least number of Perfects is…
"Crossaber! He got the 4th place, so he is eliminated from the championship!" said the MC. "Takamin got 3rd place, Mi-Kun got 2nd, and still our reigning champion, Hyogane, got the first place!"
When Seiba got eliminated, he talks to Takayoshi and said, "Good luck in winning. But then, watch out for the Black Lace Ribbons to appear later!"
"Thanks. And we are really expecting them to come here already!"
"Don't go easy on the second round, especially on Mitsu, who is on his serious mode."
And so, Seiba walks out from the stage.
And then, it's the second round of the championship. The MC has announced the three MASTER songs to be used!
It's the month of September, and the heated summer is almost ending! Although that their summer is ending, there are lots of announcements coming from them to be headlined in this part later!
Find out by reading the Headlines per School Idol Group!
---
And that's it for the Headlines in this Episode!
Don't close your web browser yet, since the LLSIF and LLAS Highlights are next!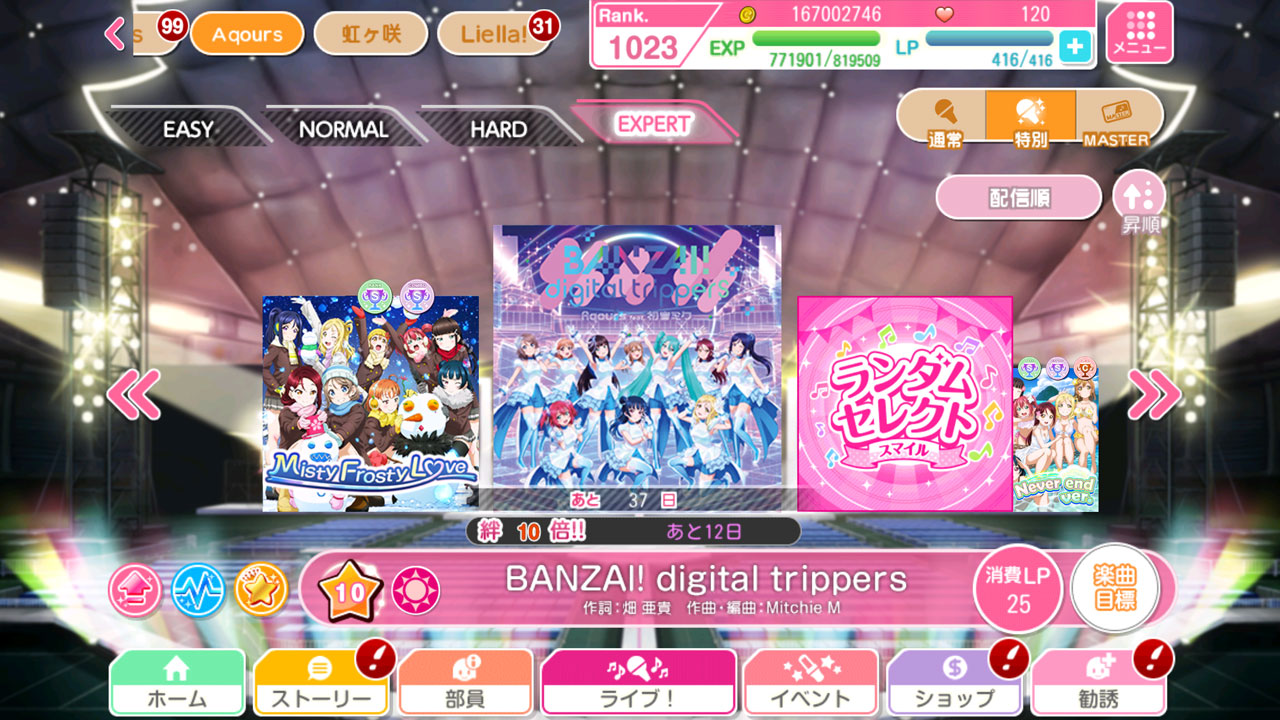 LLSIF HIGHLIGHTS
A new month has been started! Which means, new Live Arena, and an incoming μ's Event which shall take place on the 5th of September!
So far, what are some important, key highlights to spot here in the LLSIF rhythm game? Stage Start!
Round 23 (Season 4) Live Arena
Another monthly Live Arena has begun. This time, can you finally beat all of the 100 Session Floors, given that you have formed and devised a new meta team?
Guide here.
And be sure to reach at least EXPERT or ROYAL EXPERT Category in order to win UR Shizuku Osaka! It seems that the reward UR is kind of powerful than before.
New Limited B-Side Songs!
Since after the end of the month of August 2022 (after patch update), at least three (3) new playable songs have been added to your B-Sides for a limited duration! They are available in all difficulties except MASTER.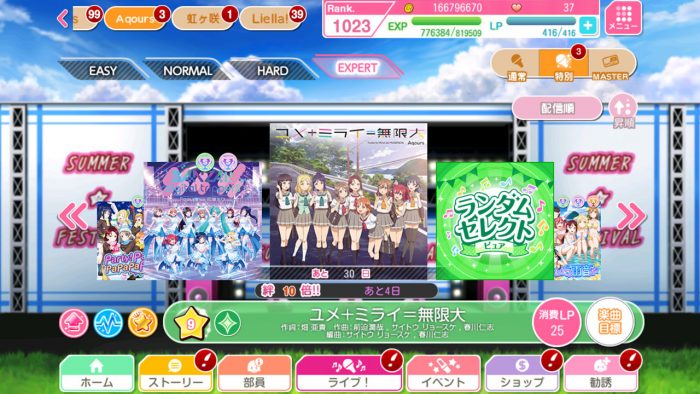 Song Title / Group Side
Yume to Mirai de MUGENDAI / Aqours
ユメ+ミライ=無限大
Combo Ranks (EXPERT)
130 (Rank C)
216 (Rank B)
303 (Rank A)
432 (Rank S)
Attribute
Pure
Availability (B-Side)
August 31, 4:00 pm until September 30, 2022, 11:59 pm JST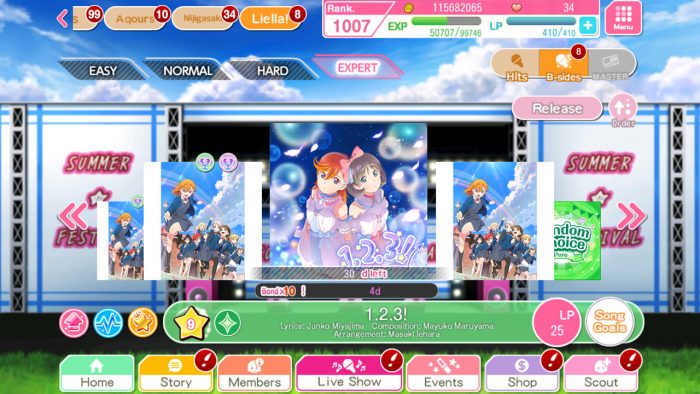 Song Title / Group Side
1.2.3! / Liella!
Combo Ranks (EXPERT)
124 (Rank C)
207 (Rank B)
290 (Rank A)
413 (Rank S)
Attribute
Pure
Availability (B-Side)
August 31, 4:00 pm until September 30, 2022, 11:59 pm JST
Song Title / Group Side
Vitamin SUMMER! / Liella!
ビタミンSUMMER!
Combo Ranks (EXPERT)
140 (Rank C)
233 (Rank B)
327 (Rank A)
466 (Rank S)
Attribute
Smile
Availability (B-Side)
August 31, 4:00 pm until November 15, 2022, 11:59 pm JST
Try challenging these new songs!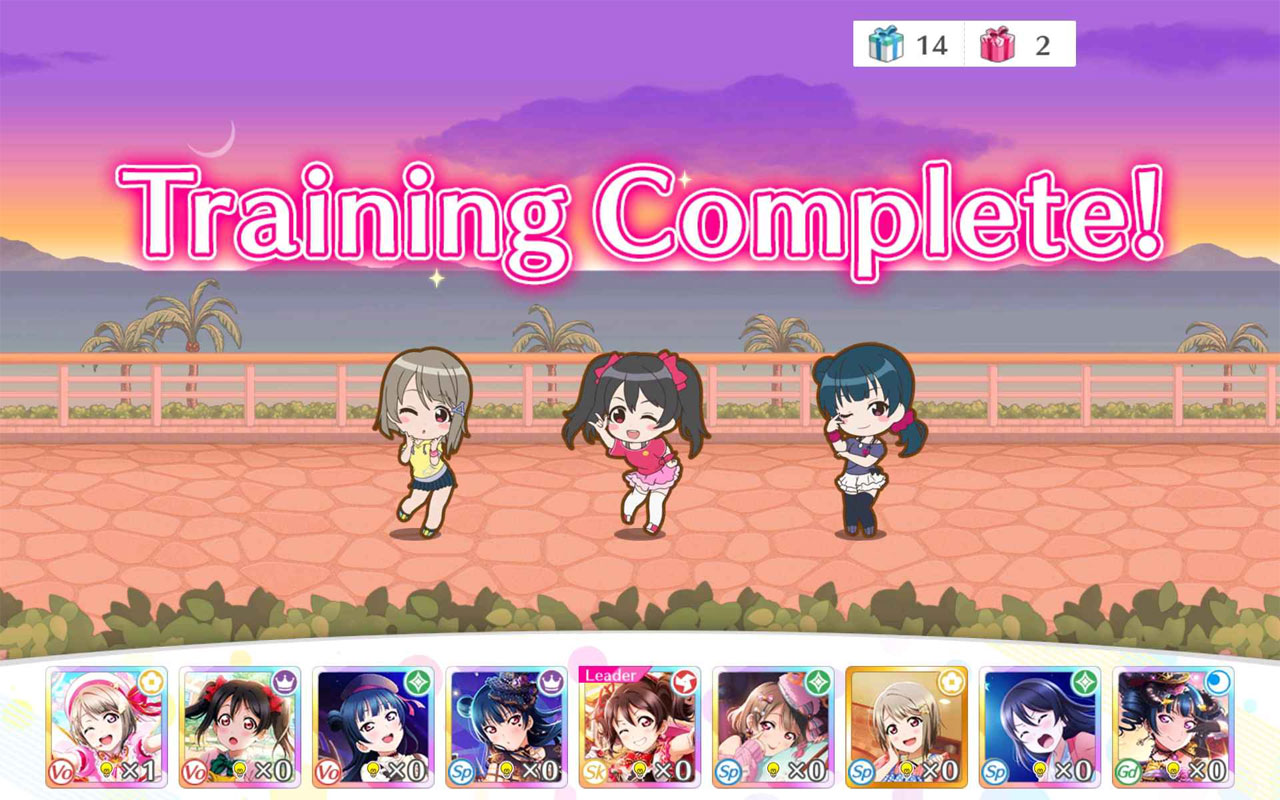 ALL STARS HIGHLIGHTS
LLAS is basically changing my regular routine. So, in order to adjust for my current tasks, my JP Side needs to appear less frequently from my progress and Event Reports! And that was announced previously from my last Event Report Tweet, in the results of my last Story Event grind!
Other than that, what are the other highlights spotted here? S.I.F. !!
School Idol Channel Weekly Bulletin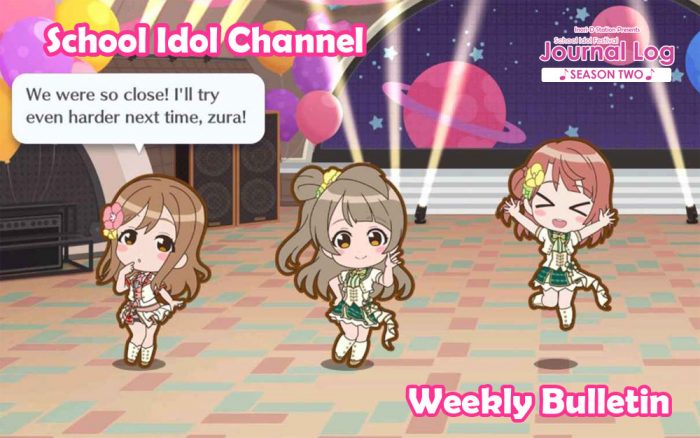 Alright! In this recent weekly bulletin issue, I had tried grinding up for higher ranks for real! This time, did I secure my top spot within the channel of the girl that I had joined?
Otherwise, did your best girl make it to the top ten spots overall?
JP Side – #74
RANK #
SCHOOL IDOL
GROUP
AVERAGE CHEER POINTS
(RALLY POWER)
1
Eli
μ's
6,998
2
Mari
Aqours
4,441
3
Emma
Nijigasaki
4,061
4
Kanan
Aqours
3,984
5
Shizuku
Nijigasaki
3,817
6
Dia
Aqours
3,437
7
Nico
μ's
3,229
8
Setsuna
Nijigasaki
3,216
9
Kotori
μ's
3,174
10
You
Aqours
3,017
My Channel Ranking with Chika is 20, with an in-channel ranking of 693.
Global Side – #61
| RANK # | SCHOOL IDOL | GROUP | AVERAGE CHEER POINTS |
| --- | --- | --- | --- |
| 1 | Eli | μ's | 6,264 |
| 2 | Mari | Aqours | 6,012 |
| 3 | Setsuna | Nijigasaki | 4,383 |
| 4 | Shizuku | Nijigasaki | 3,876 |
| 5 | Kanan | Aqours | 3,859 |
| 6 | Emma | Nijigasaki | 3,750 |
| 7 | Nico | μ's | 3,588 |
| 8 | Kotori | μ's | 3,447 |
| 9 | Kasumi | Nijigasaki | 3,438 |
| 10 | Riko | Aqours | 3,210 |
Channel Ranking with Chika is 17, while the in-channel ranking for her is 1.
At least, in the Global Side, I had made Chika happy. Thus, I have landed a Rank 1 finish on her in-channel rankings!
How did I manage to do this such trick in order to score a Rank 1 position in her channel? Definitely, this tip of mine can really help you in achieving this!
So then, all you have to do is that you can pick any School Idol Channel that you like to join. If you think that School Idol can't even reach the top 10 spots overall, then it's your chance to grind up for some Rally items (by Training). Then, gather them up as many as you can. Once you have gathered enough of them, then you can use them all for the final blow finish!
But then, in order to do this trick, make sure that you have enough AP Recovery Tickets, and you should need at least 300 of them in order to stay at the top!
Also, you must do the daily 100 Rally Points bonus when you do live shows (e.g. Kanan is your channel partner, then you must have a party or team which consists of Kanan only, then play or skip). That 100 Rally Points bonus, when you play or skip live shows, can be done every cooldown reset, at 12:00 pm JST, during the ranking period only.
And finally, landing a very high Voltage Score on a featured Channel song can likely increase more of your Rally Points, and you must remember that!
And going back to the weekly bulletin result, Eli and Mari got their first and second places respectively on both server sides. Kotori and Setsuna duo still remained in the overall top ten, so no questions asked.
And definitely, next week, Kotori shall be the first in line to dominate here, since her birthday is coming near! Refer to this tabulated list for more info! Change to these School Idol Channels, when their birthdays are near!
| SCHOOL IDOL | BIRTHDAY | DATE TO CHANGE CHANNEL |
| --- | --- | --- |
| Kotori Minami | September 12 | September 5-6, 2022 JST |
| Riko Sakurauchi | September 19 | September 12-13, 2022 JST |
| Ruby Kurosawa | September 21 | September 19-20, 2022 JST |
Mark the Schedules! They are the next in line to dominate the top spot!
And also, I had received some reports that the featured songs for the School Idol Channel Rankings have been updated and changed with some new set of songs! So far, the JP Side has begun with this change, since Round 75 onwards! And these shall be coming soon to Global Side!
And this ends the highlights and reports in the School Idol Channel Weekly Bulletin!
STORY: A Midsummer Night's Hopes (Final)
It looks like I have given it all. But then, my adventures in the LLAS world is not yet over! And the Event has been ended, placing me with a Bronze Tier finish in the JP Side, while Silver Tier in my Global Side.
And that time when the Event is running, I was busy grinding for Rally items by going into Training Mode a lot of times. That was in line with my recent finish with the School Idol Channel Rankings.
And then, as I had said previously in the previous Episode, my grinding routine for Events in LLAS shall be changed from now on. If you had read the replies within that embedded Tweet above, then you shall find out!
To summarize the replies, my JP Side is out from my regular Event Report calculations, when every time an Event is finally finished. But then, my JP Side is still active, due to the fact that I must also record and tally everything what was happening in the rankings of the School Idol Channels there.
And so, starting on September 2022, JP Side is no longer included in my Event Report Tweets. Only my Global (EN) Side shall be the active one to be recorded in some future Event Reports.
And this ends my highlights with this Event!
Round 27 SBL
This Pre-Event is now on-going! Do you have what it takes to snatch any SBL Awards?
Refer to this list below for the songs to challenge!
μ's / Dancing Stars on Me!
Aqours / KOKORO Magic "A to Z"
Nijigasaki / Eternal Light
Please refer to your in-game rules on how to play in SBL.
So then, as stated and noted from the previous highlight above, only my Global (EN) Side shall be participating. If ever my JP Side is participating, then my results shall be excluded from my next Event Report Tweet.
And as usual, my final results shall be posted on the next Episode!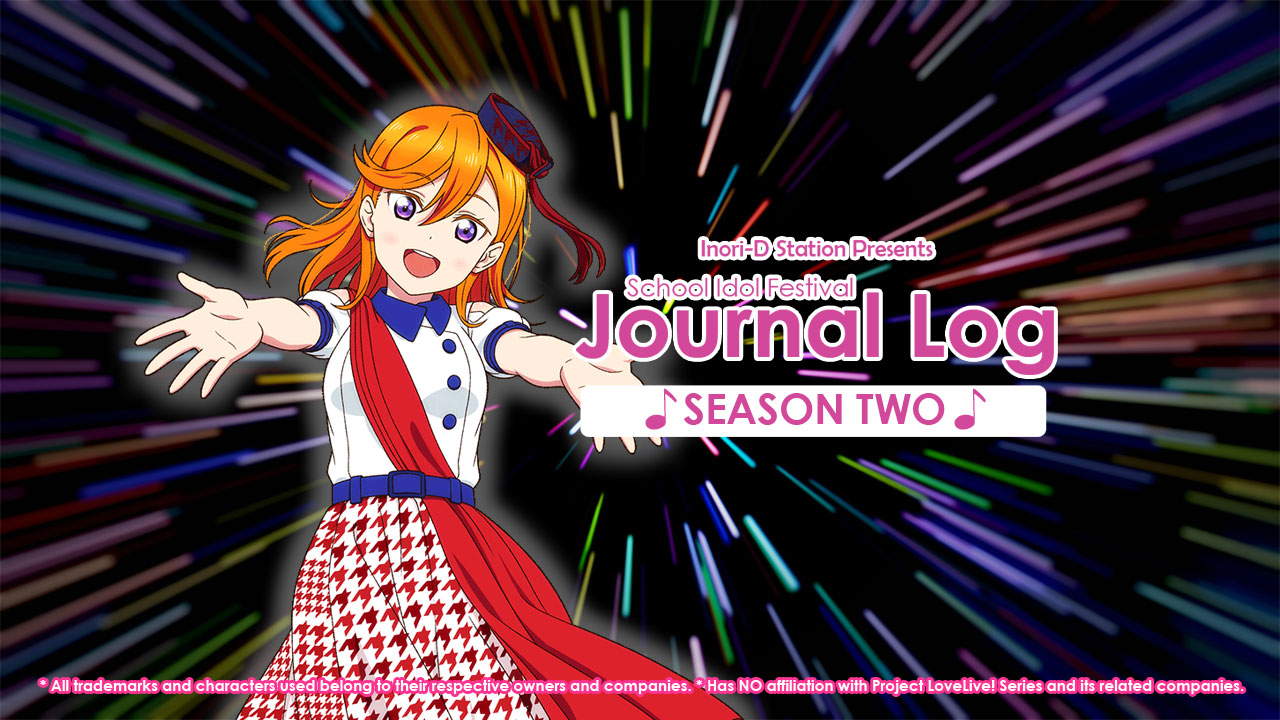 STORY EPISODE (EPILOGUE)
"The songs are… Braveheart Coaster, Amazing Travel DNA, and New Romantic Sailors! Let the second round of the competition begin!"
The second round is underway! And as usual, Hyoshiro is seemingly getting more Perfects than any of his two opponents who are playing.
And so, before the third MASTER song went into play, Takayoshi remembers the conversation before with his mother, Saki.
"I am going now, Mom," said Takayoshi.
"Just have fun and be cool at all times," said Saki. "Just remember that you shouldn't pressure yourself in a time like this."
"I am just still not enough, do I? I can't even still land a Full Combo Finish on any harder MASTER songs."
"Oh… And then, I know about it. Just always remember that there is no Secret Talent to achieve victory. Winning in a championship finals is just like winning in a typical LoveLive! Event competition."
"Secret Talent… There is no secret talent to achieve it. But then, what else can I do?"
"There is no such secret talent in order to win things. Remember, the only secret is in you… Yourself."
"Me… Myself?"
"That's right, my dear Takayoshi! And that is why I had successfully won the LoveLive! Finals at the time when I was a School Idol. It is because I had found my answer to why I wanted to win."
"Your answer to the question on why you wanted to win?"
"It is because… I wanted to help the weak people, and to help them in order to make their dreams come true! And that is my answer to that question!"
"I see… Now, what I must find out is the reason why I wanted to win."
"My dear Takayoshi… Whatever the result is, whether you win or lose the championships, just always don't lose the fun factor in you! Losing doesn't necessarily mean it is the end of yourself. Just have fun and give them all you got!"
"Thanks, Mom."
And then, the two hugged each other.
And back to the reality, the third MASTER song has started. Takayoshi has given everything he got, and he successfully landed a Full Combo Finish to that song.
The second round has been ended. And the last player who is going to be eliminated is…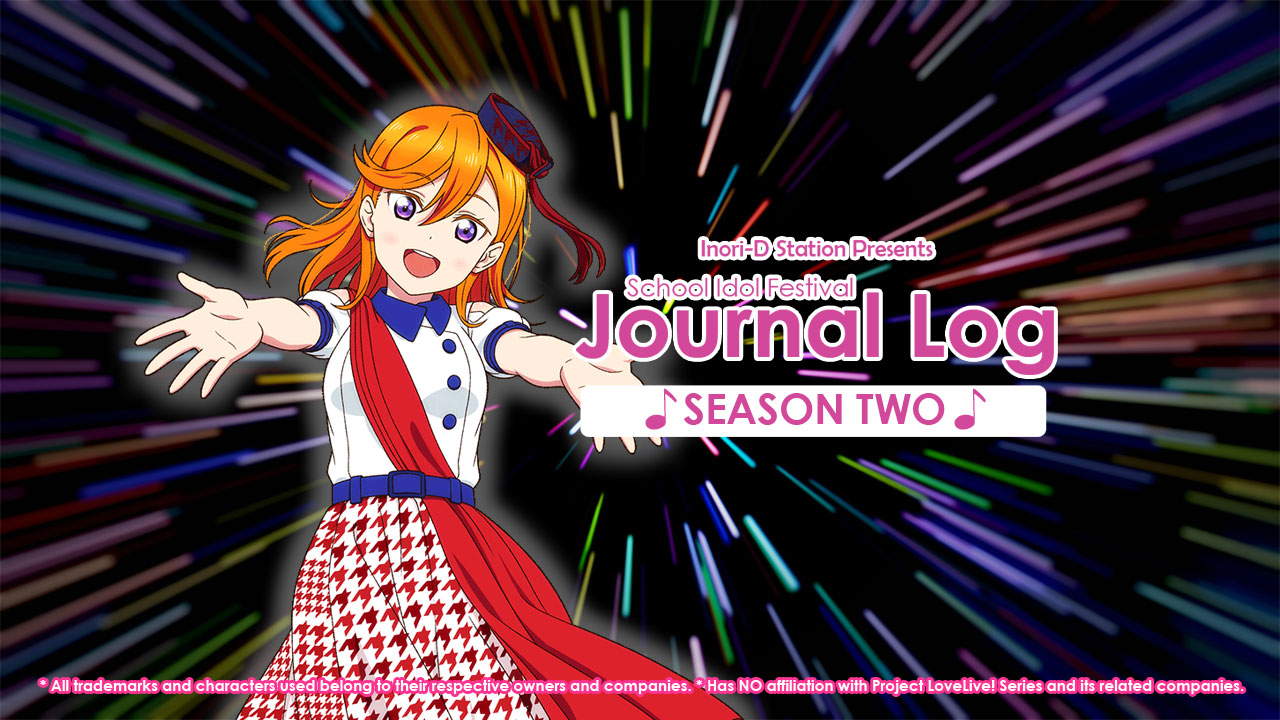 NEXT PREVIEW
You have given on what you got in order to stand out and win. Basically, just doing your own best is still not enough.
When you have experienced defeat, can you feel the frustration? Despair? Does it mean that it is the end of yourself? This is where everything should fall apart together. In fact, this could be the time that every individual should reflect for themselves.
Next time on SIF Journal Log SEASON TWO, "The Crossroads of Defeat".
Now, let's make our dreams come true together!
The Bonus Stage
"Here we go, the new us!"
Will they able to find out their reason why they wanted to achieve their dreams, and win? Along with those four new girls, they are fated to perform together in one big stage.
And so, their stories still continue… In the other side of the countless stars.
LoveLive! Superstar!! SEASON TWO!
Every Sunday at 7:00 pm JST, on NHK E-TV Network in Japan!
Check your local Anime licensors per country or region for the time and availability!
LLSIF TV Anime in-game campaigns now going on!
Official Website:
https://lovelive-anime.jp/yuigaoka/ 
RETURN TO MAIN PAGE BACK TO HOME PAGE