EPISODE 26: Parody Universe
There are the group of people who were the followers and supporters of these lovely School Idols. They buy ranging from character figures, merchandise, and other items like plushies — a way on how they give love and support to them! Because of these people, the legacy and the continuity of School Idols are still continuing to become popular.
This group of people is called as, Idol Chasers.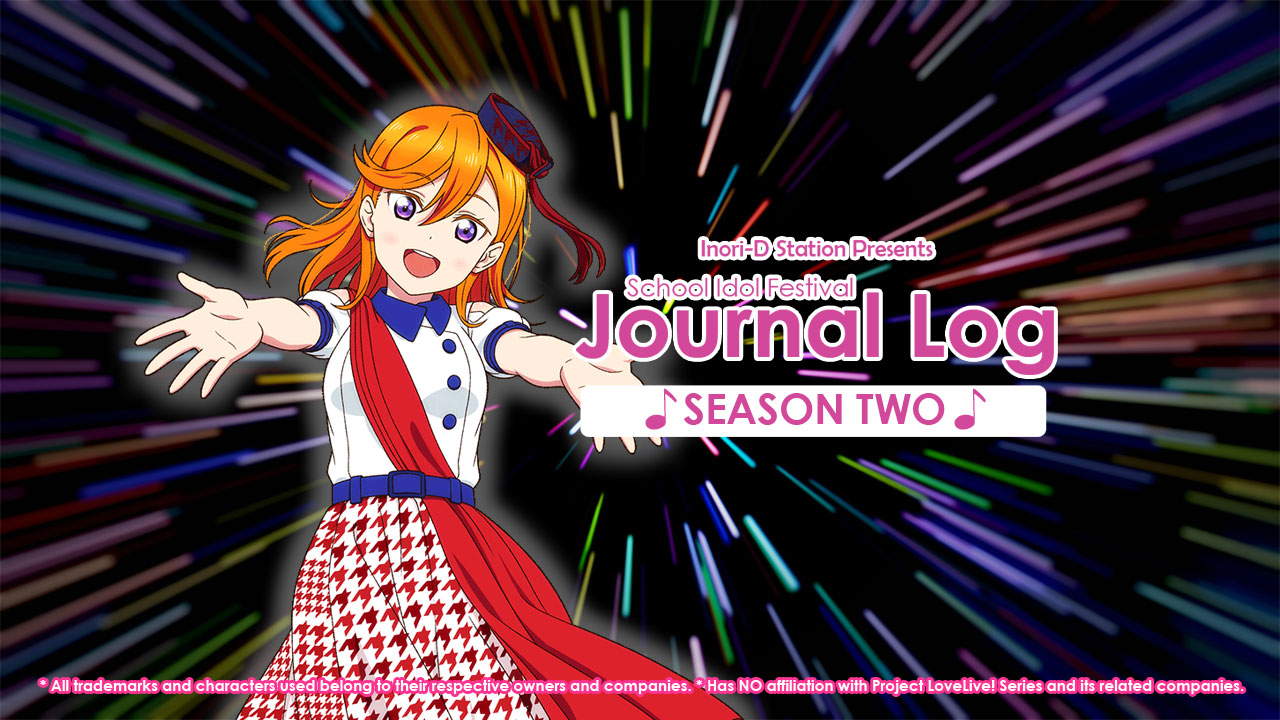 STORY EPISODE
One day, a high school girl student from Touoh Academy was on her way home from school. When she can't decide on what to do on her extra time, whether to go shopping or to go home and do homework, her time shifted suddenly from day to night. Also, the elements and structures around her has changed, too.
She felt something strange and said, "This isn't right. The surroundings around me has changed! I can't tell if I am taking the right path anymore!"
When she looked at the clock of her smartphone, it is suddenly changing randomly in its numbers. Knowing that the time is already distorted, she is now worrying.
"Oh, a fresh, young high school girl!" A group of men has surrounded her from nowhere.
"Um, boys…" said the Touoh Girl Student. "You were too close…"
And then, this is where the boys have grabbed and kidnapped the girl. She was screaming for help, but no one is around to help her.
At that place, not very far from the location where the girl got kidnapped, is where any impossible scenes and events were done. And what's this? Even some School Idols and groups are walking along with boys and men, dating with them? What a strange world. In fact, this known dimension is already called as the "Parody Universe" — a strange, yet mysterious universe which all imaginative things, whether good or nightmare are there.
And one day, in the maid cafe HQ, known as the Idol Chasers HQ, Saki is looking at the group picture. She sees herself along with the Idol Chasers and the School Idol Group, Aqours.
Takayoshi was on his own room, which is located at the second floor of the maid cafe. He was playing on his rhythm game.
"Hmm… Am I going to scout on this banner?"
Leaving him undecided, the scene has changed and he was no longer standing on his room, but on a room hotel. And then, a girl in a white robe has entered in the room.
Slowly, the girl is going closer to Takayoshi and said, "Are you going to touch me? Or to kiss me?"
"What the?" asked and said Takayoshi, "You may be looked like Riko Sakurauchi, but…"
"Well, I may be looked like her. I am just only different with hair color, which is brown."
"Okay, it looks like I have decided. I am going to press the Scout 11 button now."
When he said that sentence, the girl disappeared from him, as well as turning back the surroundings to normal. And Takayoshi was standing on his room again.
"Strange. Am I dreaming or what? But then, at least, I got this new UR Riko with autograph sign now."
Komari suddenly surprises Takayoshi and said, "Good thing you have broken the spell! Thank goodness, you are safe!"
"Spell?" asked Takayoshi "What did you mean that I have broken it?"
"That's the question that I needed to answer! In fact, a lot of people have gone missing already!"
"What? They are gone missing?"
"The question is… How did you manage to break out from the spell?"
"I am just playing with my rhythm game, and I can't decide whether to scout or not. And then, suddenly, my surroundings have changed, and a beautiful girl suddenly appeared in front of me. When I have finally decided to scout with 50 Love Gems, the girl suddenly disappeared, and I am finally back into this place! And that's what happened, so far."
"Hmm… You play, you can't decide, you got transported… Then, you have decided, and you returned back… I got it now!"
"So, what are your findings now, Komari?"
"You got transported to that strange world, if you think that you are undecided on something. And if you have thought something that can make you decide, then you are transported back into this world!"
"I see! The fact that I saw my surroundings changed, and I saw that girl in front of me is that when I become undecisive in scouting the banner with 50 Love Gems that time! So which means, if you got yourself undecided then…"
"That's right. We are transported to that parallel universe."
"For now, we have to warn the others, before it's too late!"
"I guess so. Let's go now, Takayoshi!"
And then, they started moving.
They first looked around in the maid cafe for the other Idol Chasers members. It seems that they can't find anyone.
"No way," said Takayoshi. "Even my mother… I can't find her!"
"I can't even feel the presence of the School Idol Oracle here, either."
"So which means… Chiharu and the others are…"
"I guess we need to check on them, too. Especially with the other two, Aika and Sho…"
Next, they moved to Chiharu's house. But then, they saw nobody there, especially Chiharu.
Finally, they went to the apartment building where Aika and Sho lived there. They first went to Sho's place.
"It seems it's locked," said Komari. "I guess we need to breakthrough the door!"
"Alright, here we go!" said Takayoshi as he and Komari were about to run and break through with the apartment unit door.
When Takayoshi felt that the door is slightly opening, he tried to stop his first running step suddenly. However, Komari wasn't able to stop her first running step immediately, when she didn't notice the door opening. Sho finally shows up, only to be bumped and fell into the floor with Komari.
"Are you okay, Sho?" asked Komari.
"I am definitely fine!" replied Sho. "And those things… They are soft."
"Huh? Stop embarrassing me with that words!"
"Oh, sorry of what I have said! I am quite surprised because you and Taka-Bro are here suddenly! Are we going to have a party or something?"
Takayoshi adds in the conversation and said, "We got some major problems here. It's a long story. Can we stay inside for a moment, please?"
Sho then invites Takayoshi and Komari inside his room. And then, Sho talks with Takayoshi and Komari.
"I understand now. That's why I can't even see Aika on her room anymore, and her unit door is unlocked!"
"And we must need to avoid making undecisive thoughts! Otherwise, we would end up in that strange parallel universe!"
"But then, how are we going to rescue them?"
"I am just creating some good logos for my website projects, until I got transported to that world when I can't even decide on which logo should I use! Good thing that I got back here in my room, somehow, safe, at the time that I have thought of a choice!"
"Well, are we going to that parallel universe in order to save Chiharu and others?"
"So then, are we really going there to rescue them? If that's the case, then we —"
Suddenly, their surroundings finally changed. From Sho's room, it become something like an abandoned room with cracks in the walls. And Sho, Takayoshi, and Komari have noticed it.
"Yikes! It looks like we have become undecisive in our thoughts!"
"I think we are in this world, too. We guess it's the time."
"Let's go guys! Let's find Chiharu and others!"
And so, they started moving.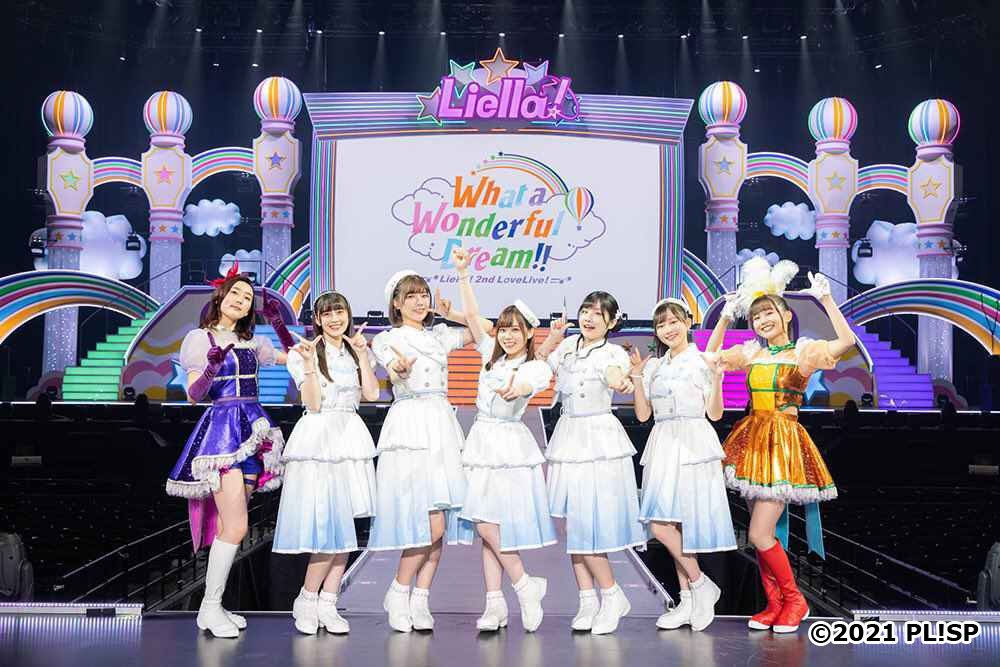 HEADLINES
LoveLive! Superstar!! SEASON TWO is now airing and streaming! So then, we are facing a whole new challenge here… And we are in the 3rd cour of the 2nd Season of this segment, or otherwise the blog post series!
What are some other surprises here, which in fact we are already resting from that long battle? But then, when we have squashed that problem, then another problem escalates!
In other sentence, what are some headlines and updates to look upon in this Episode?
μ's UPDATES
Happy Birthday, Nico Yazawa!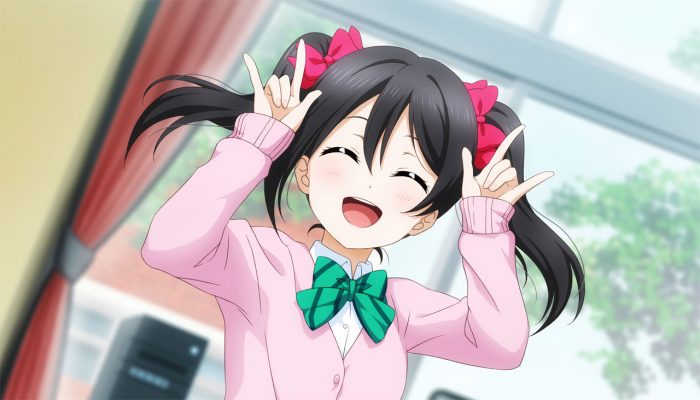 Though that I am late for the birthday celebration, she got someone to celebrate her birthday! It's… Yohane! And you can read it later at the Aqours Updates!
Alright, let's read!
Dear Nico,
Sing and dance with a smile, isn't it? And being the best is your style, do you?
Many fans, including some celebrities (and some wrestlers) have done the "Nico-Nico-Nii" chant in order to honor you! And in fact, that move has totally marked the hearts of everyone in some parts of the world.
Basically, don't be mad at your fans if your expectations don't ever met. Keep smiling and have fun, because you were singing and dancing for your fans. And remember that most of your LoveLive! Fans shall never forget you, along with the other members of μ's.
Happy birthday, dear Nico Yazawa from Team μ's! We fans love you!
Aqours Updates
Happy Birthday, Yoshiko "Yohane" Tsushima!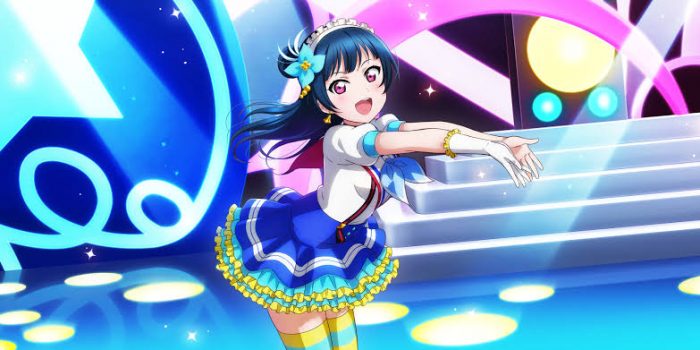 My birthday message for Yohane is pretty late by a week, due to a Special Episode last weekend (That time, I was in my publishing break!)! But then, it is really my time to tell Yohane my honest words to greet her for a birthday!
Alright, let's read!
Dear Yohane-sama,
I was pretty late in celebrating with a birthday message (Also in the previous season where I didn't make it in celebrating) for you. But at least, I had made it, rather than nothing!
The announcement of the "Yohane Anime" is basically your birthday present from the team. And you are probably crying in tears now.
You can be always sweet and dear, and remember that the fans would never leave you behind until you are still standing on the stage. Whatever your future endeavors are, just keep up the pace and keep following it on where it shall lead you to.
Good luck with your upcoming Anime Series, the "Genjitsu no YOHANE -SUNSHINE in the MIRROR-"!
Happy birthday, dear Yoshiko "Yohane" Tsushima! We fans love you so much!
And be sure to check out her newly released album in the Second Solo Concert Album Series! It is now already available in Japan music stores, and in some music streaming platforms, like Spotify!
Numazu Jimo-Ai Matsuri
There are at least two parts of the live event. One is a radio show, and the other is a two-day live and fan meeting event (also for Aqours Club members/subscribers as well).
The radio show event shall be hosted by Shuka Saito (You-chan), Aika Kobayashi (Yohane), and Ai Furihata (Ruby), and it shall be commenced on August 11, 2022 JST. There are at least two parts of the radio show.
Meanwhile the Aqours Club Activity Live and Fan Meeting Event shall be held on at least two (2) days, at Kiramesse Numazu, on August 13-14, 2022 JST. Hosts shall be different from both days, so attending in both days is necessary, if you are in Japan.
All of the Aqours cast, except Anju Inami (Chika), shall be present on both parts of the Numazu Jimo-Ai Matsuri event.
Stay on their feed, if there are changes in this upcoming Event!
Event Page:
https://www.lovelive-anime.jp/uranohoshi/sp_jimoai2022.php 
Aqours Third Solo Concert Album Series
So then, in this Episode, the Team Aqours has introduced the new set of album series to be released soon in the next two weeks!
The subtitle is, THE STORY OF "OVER THE RAINBOW". And the first in line is Chika Takami, which is scheduled to be released on her birthday on August 1. This shall be the same format as in the previous Solo Concert Album Series, with their albums being released per character in their respective birth dates! You already know the drill, right?
Chika's album art cover has been revealed and seen on the previous Aqours Livestream (dated on July 19, 2022, at 8:00 pm JST), and her featured song was also previewed along with the other music tracks on YouTube!
So then, I am going to highlight this again on the next Episode, since her birthday is just only two weeks away!
Nijigasaki Updates
Nijigasaki 5th Live! Series Where the Rainbow Blooms
As headlined in the previous Episode 25, Team Nijigasaki shall be having their upcoming live performance series this coming September 2022. Their live performance series shall be happening on at least two venues around Japan, in two consecutive weeks.
The title is (pretty long) LoveLive! Nijigasaki High School Idol Club 5th Live! Where the Rainbow Blooms.
The schedules are well tabulated in the previous Episode 25. So, you can look for it, on the Nijigasaki Updates, from that mentioned Episode!
Let's see on what else they could be announcing soon, since there would be an upcoming livestream of theirs, which shall be tackled later on this update!
Official Page:
https://www.lovelive-anime.jp/nijigasaki/sp_5thlive.php 
Another Unit Live Series Coming Soon?
It seems that they had their "partial" official page up in their website. It contains their upcoming "Unit Live" series, which shall be happening around January 2023, next year! I wondered what could be it?
Maybe their upcoming livestream next week can solve that question! Next highlight!
Nijigasaki Livestream (July 28, 2022)
I wondered on what they shall be talking about in their upcoming livestream? But then, would it be their answer to the questions headlined above — Their 5th Live Series, as well as their "undocumented" Unit Live in January 2023?
This upcoming livestream next week shall be hosted by some of the Team Nijigasaki girls, namely Aguri Onishi (Ayumu), Akari Kito (Kanata), and Moeka Koizumi (Shioriko). And it shall be happening on YouTube and on other related streaming networks, on Thursday, July 28, 2022, at 8:00 pm JST!
Tune-in to get latest info about their upcoming live events, merchandises, in-game content updates, and many others!
Liella! Updates
LoveLive! Superstar!! SEASON TWO Episode 1 Review!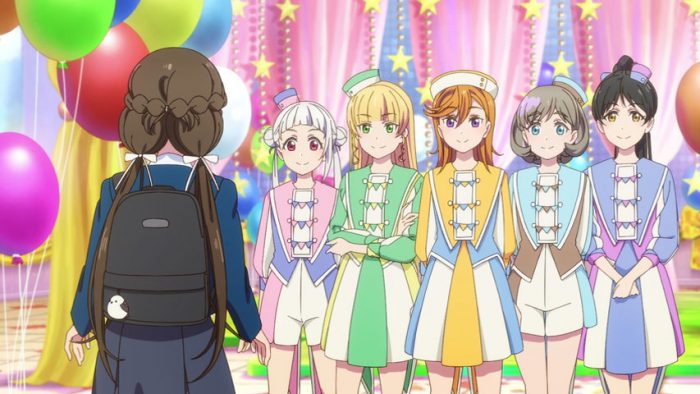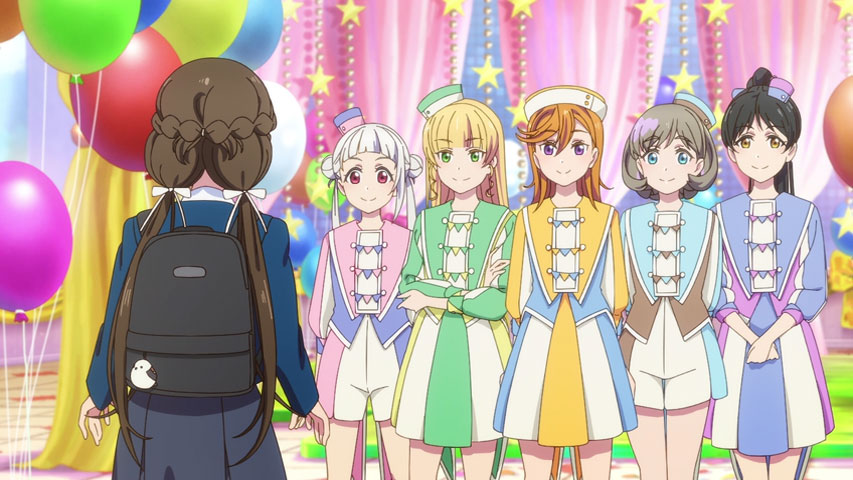 The First Episode Premiere was really a blast! In fact, fans like me aren't able to wait. And Kinako is so darn cute and sweet…
From this time on, until it is finished airing, there would be Episode Reviews included in every Episodes in this highlight!
NOTES: NHK E-TV releases this Anime first early in their TV network, every Sundays at 7:00 pm JST. Meanwhile, overseas Anime licensors can get this Anime in at least two (2) days from its original broadcast in Japan. So which means, there would be new Episodes primetime every Tuesdays (Monday nights in US/EU territories) of the week! US/EU can get it first, followed by other regions, in just few hours after the US/EU release.

Episode Reviews of mine, meanwhile, shall be released within 16 hours from the US/EU release.
---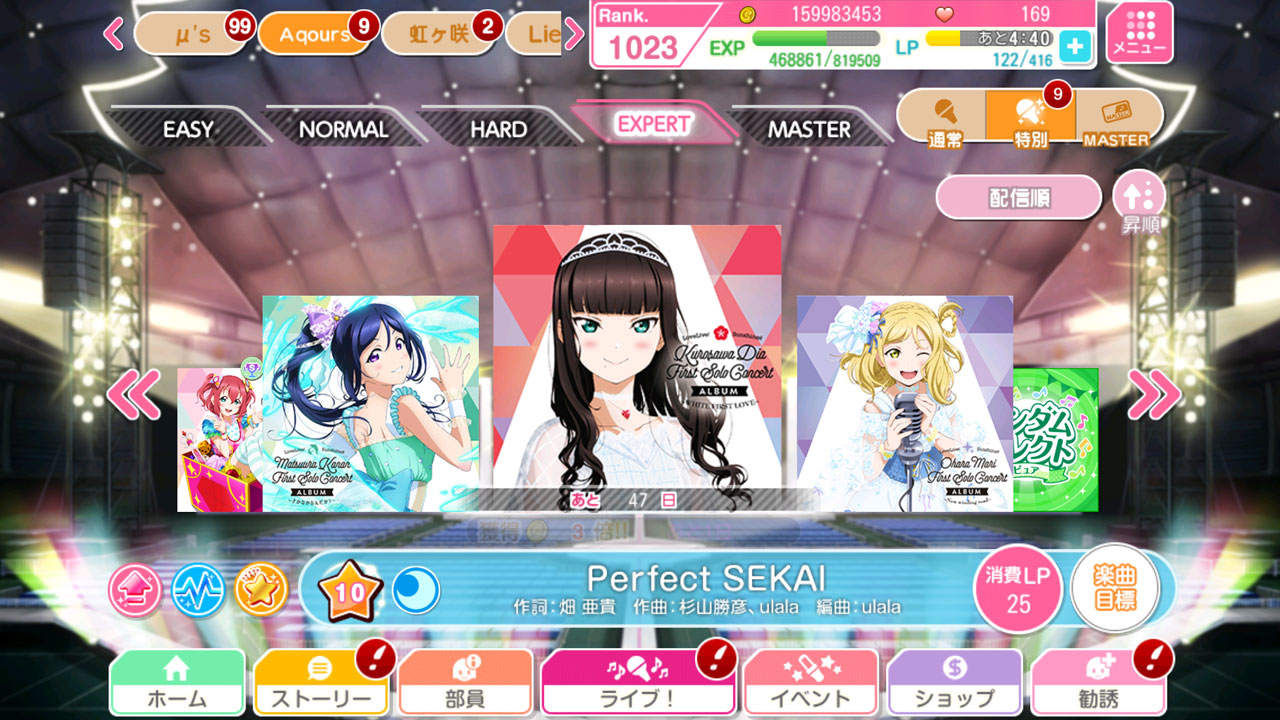 LLSIF HIGHLIGHTS
So then, when the Events schedule formats have been changed so far, so does to my regular routine in grinding for the Events! As my monthly break isn't over yet, and shall last until the end of July 2022, I am already preparing for my great return… Soon.
In LLSIF, what are the things that were encountered recently? In fact, I had already not participated in the last Event, thus ending me with a DNP result. Stage Start!
Events Schedule Change
Since last month, the dev team has announced that there would be changes in the schedules of the Events. So then, instead of the usual 5 and 20 (first and second half) monthly Events, it was then downsized into only one Event per month.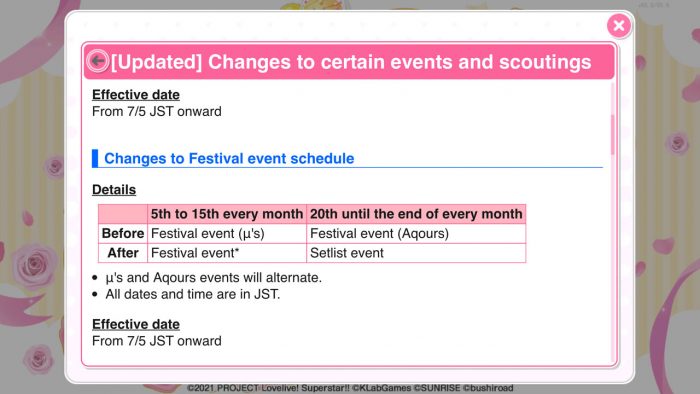 The last Event (Medley Festival) in μ's Side has occurred last July 5-15, 2022, which basically means it is the last Event of the month. Therefore, the next Event shall take place on August 5-15, 2022, and that time, it shall be in the favor of Aqours Side. And based from the picture above, the Events shall alternate with the active School Idol Groups, every month.
And so, the second half of July shall be replaced with a new Event, called the Setlist Event. Please do read the next highlight!
Setlist Event: SIF Summer Festival Vol. 1 feat. Liella!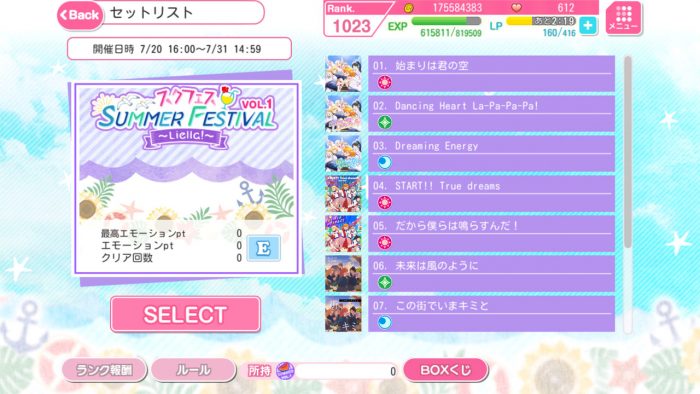 From this time on, it shall be now recorded and be included on my highlights, as a regular Event!
This is a Setlist Event. You just have to gain higher Emotion Points, in order to get a certain amount of Love Gems, when the period ends!
Read my Guides and Tips Post Here!
It is in the Liella! Side. So then, there would be at least one song, which is somehow not heard before in your current songs library in SIF. Be sure to check it out and find out on what could be that exclusive song within the Setlist Event!
And then, some songs can't be found yet in your Liella! B-Sides. So then, you just have to play through with them without practicing!
This Setlist Event shall last until when July 2022 ends! And make sure to grab everything that you can grab before the duration period ends! Good luck, and have fun!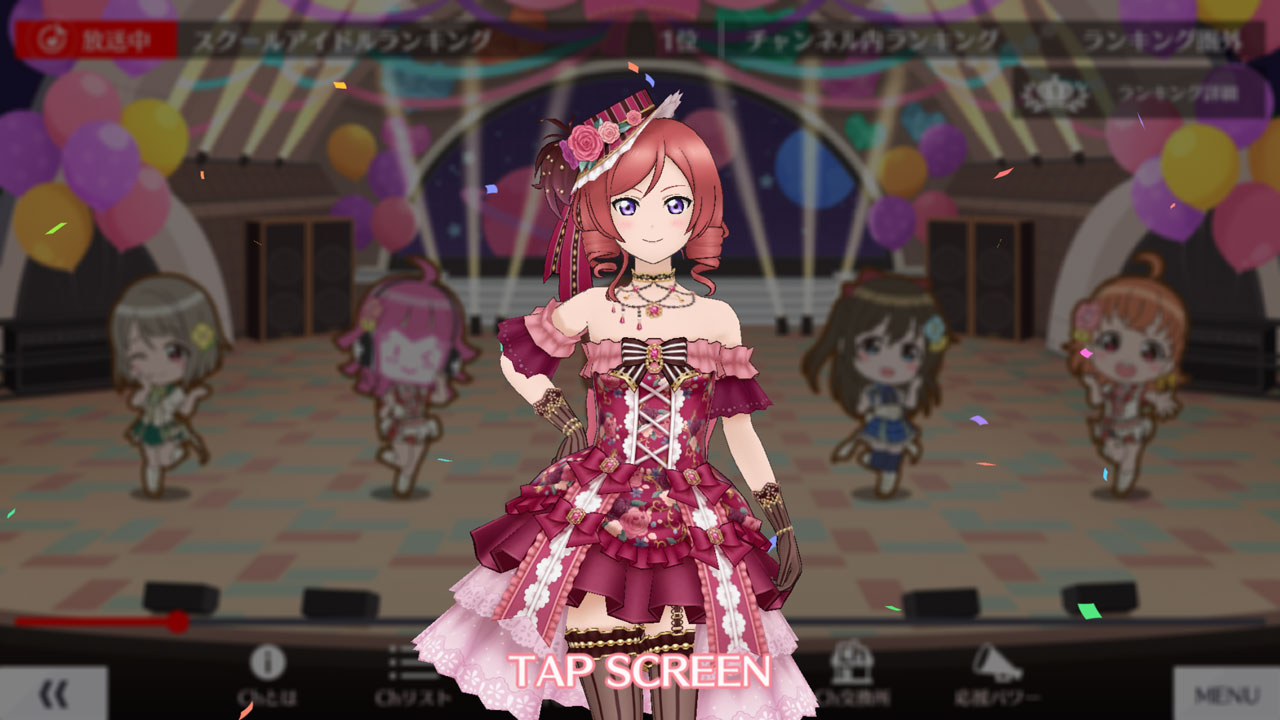 ALL STARS HIGHLIGHTS
So then, another Event has started. What are the things to look out in this highlight? Basically, we could expect to encounter some in-game campaigns soon, which shall commemorate the Nijigasaki High School Idol Club's upcoming 5th Live in September.
Otherwise, what are the things that were encountered in this Episode again, in the ALL STARS game?
S.I.F. !!
EXCHANGE: Link Across the Milky Way! (Results)
This Event has been ended since last week, thus ending me with a Bronze Tier finish in the JP Side, while Silver Tier finish on the Global (EN) Side. And then, both of my accounts have ended up with a DNP finish on Voltage Score Ranks.
Okay, let's have an overview or report with this Event!
In the past days, and in last week, I wasn't able to play too much on this Event, due to the fact that I had been busy doing my house chores, especially when we recently moved into a new house! At the same time, there is no home Wi-Fi connection, and I am really stuck in using my own mobile Internet connection to play. I had been facing a very hard time when connecting and logging in to the game, especially if there is an incoming patch update, which is occurring mostly at every 3:00 pm JST. There is one time that I am almost losing my login streak here, since I had logged in to the game very late at night, and some random patch update just budges in.
Overall, in the last day of the Event, I had done everything that I could, which includes grinding harder to get more Exchange Tokens, in order to get the featured Event UR and SR rewards. And I didn't have enough time to grind for Voltage Score Ranks.
And that's it for my Event Report post in this Episode!
STORY: Summer, Sea, Training!
NOTES: The contents in the JP Side shall be just the SAME as in the Global (EN) Side. Therefore, both of the sides shall be ending their Events, also on the same date duration.
This Event has been commenced since yesterday, and you can now start grinding for higher Event Points Rank to get some better rewards! Skip Tickets are your best weapons here.
Refer to this tabulated list for some information regarding URs and SRs to be obtained, as well as their corresponding Event Points gain acquisition rate!
RARITY
CHARACTER
OBTAINED FROM
EVENT POINTS GAIN ACQUISITION RATE
UR
Kanan Matsuura
Event Points Rewards
+30% (+50% When Upgraded/Idolized)
SR
Ai Miyashita & Kasumi Nakasu
(Colorful Dreams! Colorful Smiles!)
Event Points Rewards
+15% (+30% When Upgraded/Idolized)
UR
Hanamaru Kunikida
Shioriko Mifune
Scouting
+100%
SR
Maki Nishikino
(A song for You! You? You!!)
Scouting
+50%
The rest shall be having a +10% Event Points gain acquisition rate, so as long as any character who is present within the featured Story Episodes in the Story Event.
So, you already know the rules, right? Just use those given characters, put them into your current team, and grind harder as quickly as you can!
Let's see if I could play harder this time around. So then, my final highlights and results (and Event Report) shall be given via on my Tweet post on my Twitter account! And that shall be also included on the next Episode! Look forward into it!
School Idol Channel Weekly Bulletin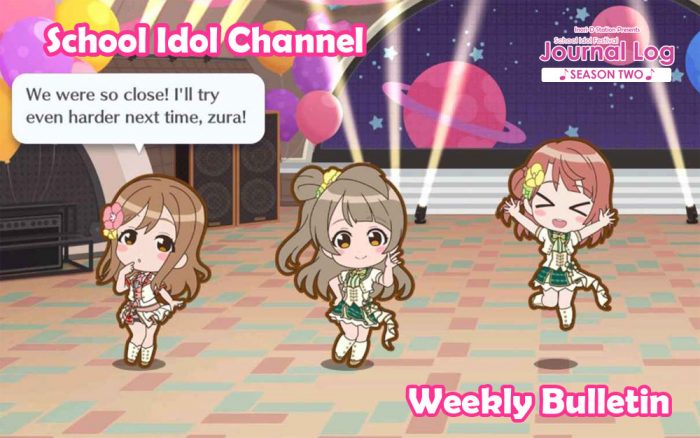 Yohane got her two-straight winning streak! Her last channel ranking result got her in the Top One position! Will you ever try to kiss her on the forehead as a praise for her doing a great job?
Otherwise, who else made it to the Top Ten Rankings? Check it out!
JP Side – #68
| RANK # | SCHOOL IDOL | GROUP | AVERAGE CHEER POINTS |
| --- | --- | --- | --- |
| 1 | Yoshiko | Aqours | 10,551 |
| 2 | Ruby | Aqours | 3,886 |
| 3 | Setsuna | Nijigasaki | 3,699 |
| 4 | Kotori | µ's | 3,694 |
| 5 | Eli | µ's | 3,516 |
| 6 | Nico | µ's | 3,513 |
| 7 | Kanata | Nijigasaki | 3,501 |
| 8 | Riko | Aqours | 3,238 |
| 9 | Shizuku | Nijigasaki | 3,211 |
| 10 | Kanan | Aqours | 3,178 |
Round 67 Result is omitted last week, due to a Special Episode. Yoshiko (Yohane) won the Top One Rank with an average cheer points of 11,328.
Global Side – #55
| RANK # | SCHOOL IDOL | GROUP | AVERAGE CHEER POINTS |
| --- | --- | --- | --- |
| 1 | Yoshiko | Aqours | 13,435 |
| 2 | Eli | µ's | 3,540 |
| 3 | Kotori | µ's | 3,004 |
| 4 | Setsuna | Nijigasaki | 2,806 |
| 5 | Kanan | Aqours | 2,765 |
| 6 | Mari | Aqours | 2,753 |
| 7 | Riko | Aqours | 2,724 |
| 8 | Rina | Nijigasaki | 2,719 |
| 9 | Shizuku | Nijigasaki | 2,522 |
| 10 | Kanata | Nijigasaki | 2,472 |
Round 54 Result is omitted last week, due to a Special Episode. Yoshiko won in the rankings with an average cheer points of 9,121.
Setsuna and Kotori, as usual, retained their dominating Top Ten winning streaks.
Basically, after Nico Yazawa got her win in the next weekly bulletin, then it's Chika Takami's turn to grab her Top Ten Victory once more!
And to remind you from the start, as you read this today, switch to these School Idol Channels because they were more likely to be in their Top One positions next time! You can do that when the ranking period is over!
Refer to this table below!
| Date to Switch School Idol Channel | Character | Date of Her Birthday |
| --- | --- | --- |
| July 26, 2022 | Chika Takami | August 1 |
| August 2, 2022 | Honoka Kosaka | August 3 |
| August 9, 2022 | Setsuna Yuki | August 8 |
These were the girls that were predicted to be in the Top One Rankings, in the succeeding School Idol Channel Ranking periods!
That date next to the characters is the time that you can have in order to switch to that School Idol Channel before the ranking period starts! Good luck and have a fun experience!
And that's it for the School Idol Channel Weekly Bulletin! See you next Episode!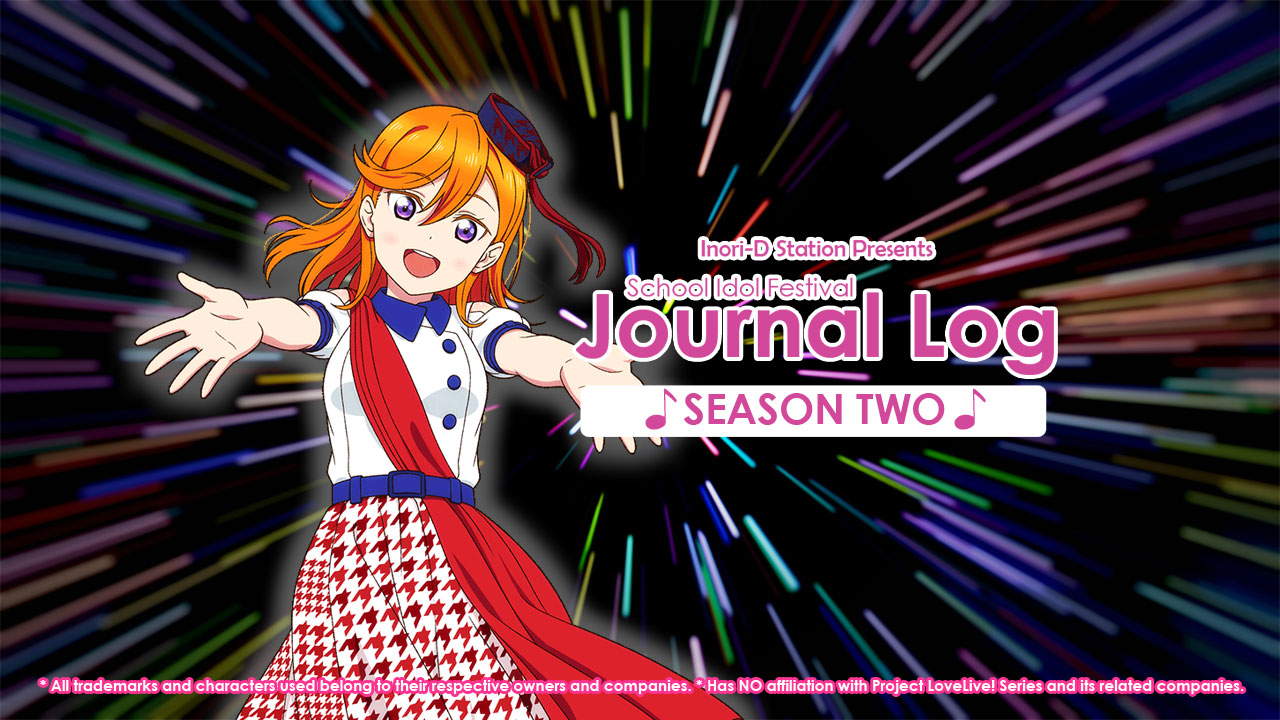 STORY EPISODE (EPILOGUE)
Meanwhile, Chiharu and Lierre are walking around the alley. And then, while walking, they talk.
"Lierre, I wondered on how we could get out in this place."
"It seems I can't use my teleportation powers here."
"But then, I am just writing my own lyrics for my own song, and this just happened."
"No idea whatsoever. But then, I believe that we got here in this place because we are undecisive that time."
Finally, Takayoshi, Sho, and Komari have found Chiharu and Lierre. And they have met.
Now that they are together, Chiharu, Lierre, Takayoshi, Sho, and Komari are talking now at each other.
"It seems you guys are also trapped here, too."
"Most probably, this was only the Black Lace Ribbon's evil schemes. Who else could ever do this thing?"
"You're right! They are even inviting us to meet them!"
"I think this would even cause up more problems if we don't do something about this parallel universe!"
"Well, we are all here because of our undecisive thoughts! I think we should think of something that we could all agree on!"
And then, Chiharu have noticed something fishy. She then tries to go to the city square to check out what's happening. And she was surprised of what she is seeing right now.
"No way… A School Idol is dating with a guy? And the other groups are trying to act as… Something else? What is happening?"
Lierre tries to look at the place where Chiharu is looking right now and said, "Most probably, it is not just an ordinary parallel universe."
And then, the others are looking around as well.
And finally, Lierre said, "This world is called as the Parody Universe, where the scenes and events were just 'parodies' from their original world and stories counterpart. Yep, everything can be possible by just imagination."
Suddenly, a girly scream was heard from somewhere. Sho then said and asked, "Wait… Was that Aika's screaming voice?"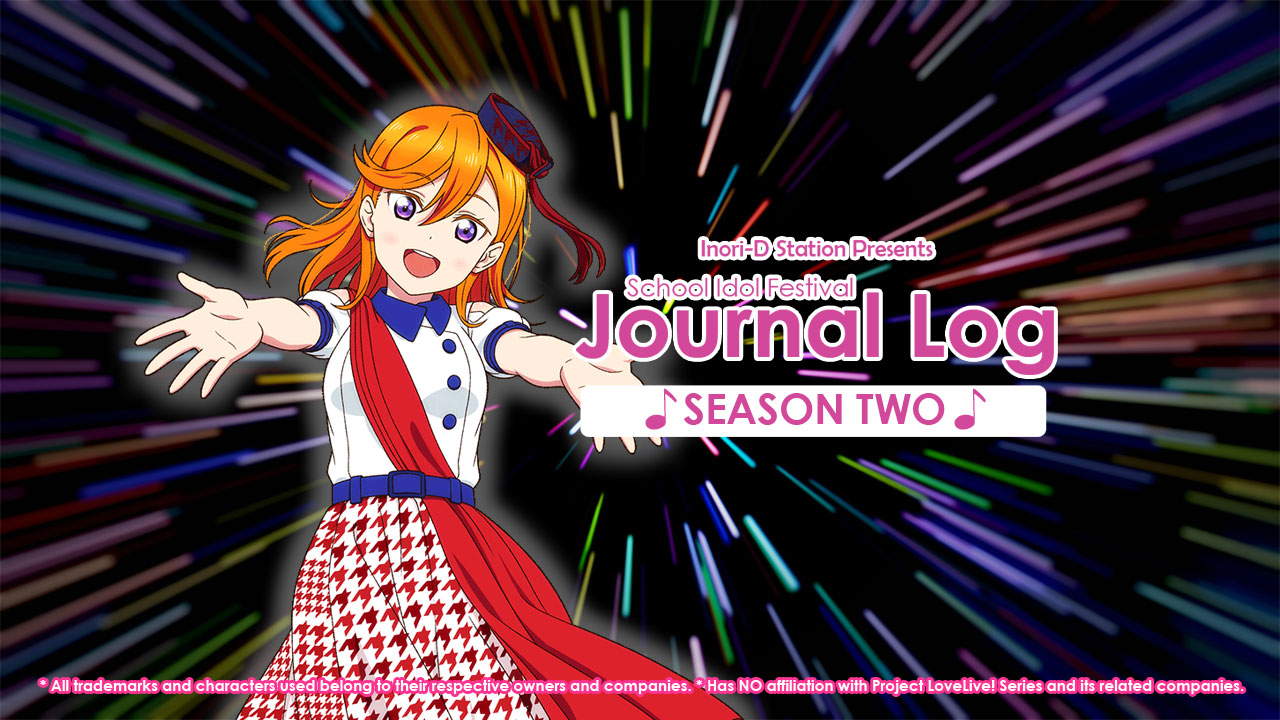 NEXT PREVIEW
Some School Idols have their own imagery, in which it could define their own selves. But then, it doesn't really mean that they are very good people, though! Sometimes, their own true colors are coming out, especially if they are seemingly finding out that they aren't really standing out with their own appeals anymore.
Next time on SIF Journal Log SEASON TWO, "Negative Colors".
Now, let's make our dreams come true together!
The Bonus Stage
"Here we go, the new us!"
In this second season, Kanon and the other four girls of the original "Liella!" are in their sophomore years. In their next semester of their schooling in the Yuigaoka Girls' High School, they have met the four new girls, who were in their new fresh years.
What else awaits them? Will they able to find out their reason why they wanted to achieve their dreams, and win? Along with those four new girls, they are fated to perform together in one big stage.
And so, their stories still continue… In the other side of the countless stars.
LoveLive! Superstar!! SEASON TWO!
Every Sunday at 7:00 pm JST, on NHK E-TV Network in Japan!
Check your local Anime licensors per country or region for the time and availability!
LLSIF TV Anime in-game campaigns now going on!
Official Website:
https://lovelive-anime.jp/yuigaoka/ 
RETURN TO MAIN PAGE BACK TO HOME PAGE