Are we heading to the Dark Chapter now?
Training days are over, and people well got enough time to practice and prepare for the new level, or otherwise the new normal of School Idol Festival. Therefore, we are about to enter into its dark chapter right now! Welcome to the Episode 7 of my gaming public diary of LoveLive! SIF, the School Idol Festival Journal Log!
Pre-Episode Highlights
That's right, the happenings right now is somehow spine-chilling, and in fact it is filled with thrills! First and the most, Aqours got some stuffs to release at the end of August. These shall include below.
【☀️CD情報☀️】
8/26(水)発売「Aqours CLUB CD SET 2020」に収録される5周年プロジェクトテーマソング『JIMO-AI Dash!』の試聴動画を公開❗️発売まであと2週間?お楽しみに✨https://t.co/gZrQLTMst8#lovelive #Aqours pic.twitter.com/FOWgpgb12l

— ラブライブ!シリーズ公式 (@LoveLive_staff) August 12, 2020
JIMO-AI Dash! is the title of the Aqours' song to be released in their newest Aqours Club CD 2020 album. It is their fourth Aqours Club CD set to be released as part of their Aqours 5th Anniversary Project Celebration Campaign. Release date is confirmed and it is scheduled for an August 26, 2020 release in Japan music stores nationwide, and some digital music stores. Its music track has been previewed on YouTube these past days. So then, in the School Idol Festival game, expect some celebration campaign events, like login bonuses, as well as this limited song to appear in the B-Sides of the game, to commemorate the release of this Aqours Club CD Set soon!
So then, let's go to the highlights!
JP-Side Highlights
ROUND 44 SCORE MATCH: The Struggling Grind
【ラブライブ!スクフェス】

From Rank 458 to 500, real quick.#lovelive #スクフェス pic.twitter.com/z6TuezhigP

— いのりどんず (INORI DONZ NETWORK) (@InoriDONZ) August 11, 2020
The Round 44 Score Match is still on the run, and it is now running towards its end duration. It is expected to end tomorrow after maintenance.
During the Score Match itself, the EXP x 10 live show modifier is also present. This Event is considered to be a 'bloodbath battleground' because after you collected all of the Event Point rewards (600,000 Event Points), you will continue to play until it is over. EXP x 10 is an opportunity if you want to increase your Player Ranks up high in the sky! At the same time, you will have to grind harder in the Event to place yourself higher in the Event Points rankings. Remember that unlike the previous old days, you must be in the Rank 500 position to get yourself a Tier 1 Ranking. Otherwise, you will get a Tier 2, or a lower ranking if you don't play hard. Also, you will not just grind because of Event Points, but the Score Match Points are the ones to watch here. Since getting a losing streak will gradually decrease your Score Match Points, and you will be placed lower in the Score Match Points Ranking, thus resulting to either Tier 2, or lower bracket Tier Rank. Which is now a must in every Score Match Events, you must defend your Score Match Points ranking and be victorious!
I also got a hard time in getting my lost Score Match Points back. Everytime I lose, I lost more Score Match Points. This is due to the fact that I am either always placed with the same players that I have already been played with (whether Elite, whalers, or F2P players), or even using a same team that I have used in playing with some songs of the same attribute (more likely I am using the same weak team per round and that's why I keep losing). I can luckily defeat some other players by using my powerful Aqours-only Smile team, especially if I am playing on Masters. There are times that I can lose as well. And the players in the JP-side are indeed, insanely powerful.
There is only one advice that I can give when grinding in Events like this, especially if some live show modifiers, like the EXP x 10 are present. Don't empty more than you consume. Do you know what that means? It means, take a break in playing if you are playing more than the intended hours. It is because when you do, you will eventually collapse without warning and your mind will go blank! Yeah, and it has already happened to some few players out there before, and some of them die on the spot. There are other people or fellow of mine who grind without even resting or sleeping. Don't be like them. In fact, people like them are just wasting their few seconds of their precious moments of their lives. That's all, and say no more.
The 'KIMINO KOKORO WA KAGAYAITERUKAI?' LIMITED URs
Also ongoing are the limited URs Scouting events. These are part of their ongoing Summer Vacation Campaign Event, as I mentioned them in the previous Episode 6 of this segment. Scout these URs and add them to your growing collection stable, as well as using their Skills to excel in scoring capabilities!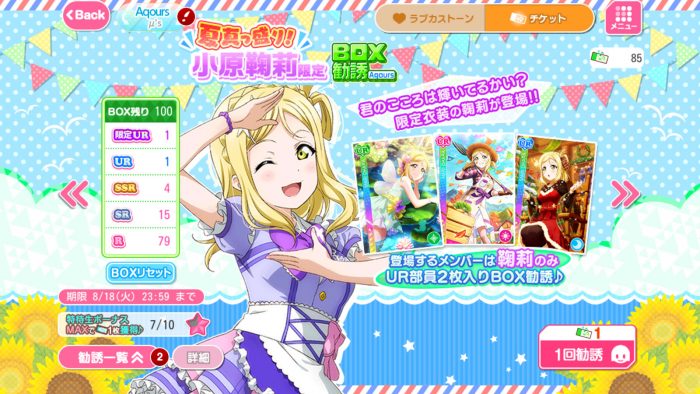 Hanamaru and Mari Limited UR box scoutings are currently ongoing today! Meanwhile, Ruby is expected to appear last later evening or midnight Japan time. Make sure you don't miss them if you want to scout!
UPCOMING PARTY UR: Yoshiko and Riko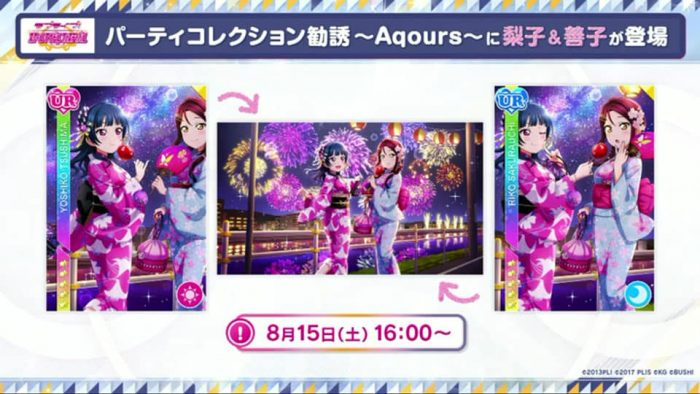 And finally, expect for the new Party UR set, Yoshiko and Riko, to arrive when the Score Match Event ends tomorrow after maintenance. This could be the collection for Yohane and Riko fans to enjoy! Look forward to it!
AND THERE'S MORE!
And as mentioned in the pre-Episode today, expect the 'Aqours Club CD SET 2020' campaign event to be announced and be commenced soon next week! Stay tuned to their official Japanese website and their official verified Twitter account for some further announcements!
Global Side Highlights
Not much of a highlight, but today, after this episode was published, we are ready to face the dark chapter! But before that, read the succeeding paragraphs below!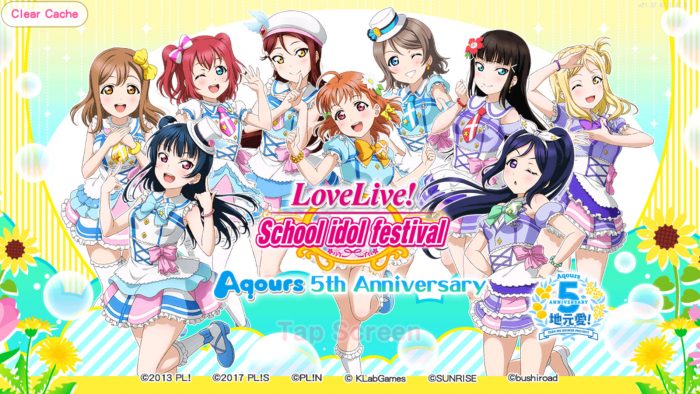 Remember the 'Kimino Kokoro wa Kagayaiterukai?' URs that appeared in the JP-side? In this splash screen, what can you see is the actual. In the next few days or more, expect to have them appeared in the Global Side. So then, prepare your Scouting Tickets and Love Gems for these UR set!
Remember to also scout in the sub-units limited box scouting, if you have to! You might get a useful UR with its skills relevant to your current team build, and can aid you in your scoring capabilities!
TOWARDS THE TIMELINE OF SIF: ALTERNATIVE FUTURE?
Surprisingly, we are not yet heading towards the dark chapter of School Idol Festival. Do you know why? Read the succeeding paragraphs below.
【LoveLive! SIF】

Seriously? An Event previously made is going to have a re-run? We teleported back to 2019, then. ???‍♂️#lovelive #LLSIF pic.twitter.com/msrGdUdvAy

— いのりどんず (INORI DONZ NETWORK) (@InoriDONZ) August 13, 2020
What's this? Does that mean we are heading back to the past? Are we having a time teleportation here? As announced yesterday, the next Event shall be a Companion Match. This will feature two SRs again, You and Mari.
【LoveLive! SIF】

In relation to the last Tweet of mine, they were featured in the last Round 7 Companion Match, at that time, a 4 SRs Event.

Taken last July 13, last year.#lovelive #LLSIF pic.twitter.com/Q6EPdEWSxV

— いのりどんず (INORI DONZ NETWORK) (@InoriDONZ) August 13, 2020
As seen in the Tweet above, the two SRs, You and Mari, were previously introduced in the previous Round 7 Companion Match last July 10, 2019, at that time a 4 SRs Event. It seems we are truly not heading yet into the dark chapter of SIF. Instead, we are expecting reruns of the past Events skipped in the Global Side! Looks like we are expecting some other Events, like the Score Match Event, to rerun here!
So then, expect some other surprises in which will occur later in the Global Side, just right after this Episode was published. We are heading towards into the different future, because the present timeline has been altered. The present timeline to the future will eventually disappear, and therefore, we are stepping towards to the timeline which will lead to another future. It usually happens, at some movies or TV Series in which I have previously watched.
After that, what's next? End of Episode 7!
And that's it for this Episode this week! Just I thought, not all things will go as planned. But then, we must accept the fact that the present timeline is really changing, and it depends on the situation arising on different elements, such as the ongoing COVID-19 pandemic happening around today. With this such fate is changing gradually, we do not know what is going to happen next!
So then, thank you for reading this Episode today! We shall see each other again in the next Episode! Cheers and see you next week for the another Episode of School Idol Festival Journal Log!