Episode 1 Log!
Welcome to the very first episode of my segment here in IDS, the School Idol Festival Journal Log!
So then, I shall be dividing this episode, as well as the succeeding episodes in the future, into two parts. Since I am playing on both JP (Japan) and Global versions of the game, I shall be covering them both! So then, on each branch (server), I shall be covering of what has happened during that time. I can tell what happened by giving out some screenshots!
So, let's begin, shall we?
JP Side Highlights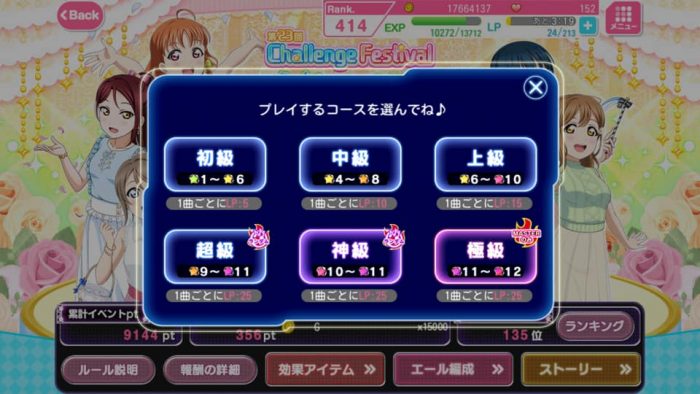 The Challenge Festival Round 23 has commenced last June 20, 2020, and has lasted until June 30, 2020. Instead of the usual 2 Event SRs featured, it will feature 7 Event SRs this time. Two of them in which you can get by placing higher in the Event Point Rankings, while the 5 of them can be acquired by getting them as rewards by getting more Event Points. In this time forward, this Challenge Festival Event now has new features. In the previous Challenge Festival Events, you can play in four different difficulty modes. However, in the newer ChaFes event, you can play up to six different difficulty modes. Two new difficulty modes, the 'God' and 'Ultimate' difficulty modes, can now be played. God difficulty mode consists of Level 10-12 songs (Random Expert and selected Master difficulty songs), while the Ultimate difficulty mode consists of most of the Master songs (Level 11-12). Yep, and this could be a whole new challenge to everybody, as part of the game's 7th Anniversary milestone!
So then, aside from that event that time, there are also celebration campaigns that commemorate the Aqours 5th Anniversary. And so, they have limited scouting per character per day. This is what we called the pickup scouting, in which certain characters within that day will have increased appearance rates when you scout them. Also, a limited song on the B-Side is available for a limited time!
There shall be changes in the Party URs, or likewise there are adjustments. Starting after the maintenance on June 30th, 2020, those adjustments shall be made. For the adjustments, it shall be the Center Skill adjustment.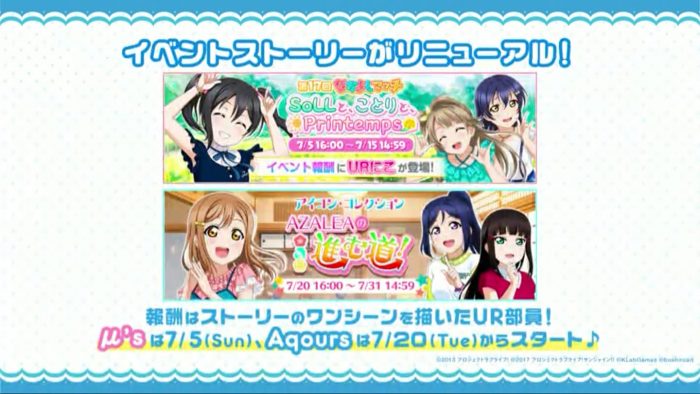 As seen in the last livestream commemorating the Aqours 5th Anniversary last June 29, it is announced that the next two Events will occur in the month of July! Starting this month, it is indeed that we shall have Event URs, along with the Event SRs to be obtained from Event rewards!
Global Side Highlights
On the other hand, the Global side has made some celebration campaigns, such as limited box scouting, and some occasional Event Missions (Goals).
【LoveLive! SIF】

Can't imagine that I can even land a score which is close to two million, thanks to the Skill Up Chance buff.#lovelive #LLSIF pic.twitter.com/sh2c4y1ASM

— いのりどんず (INORI DONZ NETWORK) (@InoriDONZ) June 27, 2020
Medley Festival is also on-going that time, and so far, we are fast approaching to the major update in which will occur very soon once the remaining events and UR/SSR members were finished and made available.
【LoveLive! SIF】

Double UR on Aqours side, an achievement made for the first time in 3 years!#lovelive #LLSIF pic.twitter.com/QlJ5hMqVss

— いのりどんず (INORI DONZ NETWORK) (@InoriDONZ) June 30, 2020
By that time also, there is Free Scouting existing on both factions! You can use this opportunity to scout for some URs and SSRs! But then, if your team is strong enough, you can use their seals (can be gained by practicing) to idolize another UR or SSR in stable!
See You Next Episode!
And that is for this first episode! There are still more to expect. Well, covering something like this is kind of hard. But with hardwork and perseverance, I can do this!
See you in the next episode of School Idol Festival Journal Log… Next week! Cheers~