Some tips and tricks to use!
In this post, I am going to talk about the tips and tricks on how to sew your own Nendoroid Doll clothes! Actually, this was in my mind for a very long time! The purpose really was to help my fellow Nendoroid Doll fans and lovers out there to make them be inspired to make theirs!
1. Tip: Plans Your Designs Very Well!
One way to sew your Nendoroid Doll clothes effectively is to plan your pattern output in advance! You can do so by measuring around the body parts, or you can use the measuring reference guide given in their official website. The next part is to create some outline of your design, in which you are seeing everyday in Anime, or likewise elsewhere! Then, you can put them in your design! Just remember that not all designs are made perfectly, as if they have limitations when it is fitted to the doll body!
2. Tip: Look for inspirations/references!
Another tip is to look for some inspirations in which you can see around SNS (social networking service), Anime show that you are watching, or many others. Then, you can integrate that in your Nendoroid Doll clothes design!
My very own tip here is that you can use them as reference. But that doesn't really mean that you can really entirely copy that clothes design for your Nendoroid Doll. What does that mean? Of course, you have to create your own clothes out from that design that you had referenced or had inspiration with.
How about copyright issue? Just remember that if you are going to copy that certain design from Anime series that you have seen, just don't sell them online, but keep them by yourself. You may post them online for viewing or photography purposes only.
3. Tip: Buy and Use Pattern Books!
It is very hard to create Nendoroid Doll clothes from scratch. However, there are tutorials, as well as video tutorials from YouTube, out there to help you in your construction!
But then, there are pattern books in which you can buy online and use them for your own creations! Good Smile Company released a pattern book recipe so that people who had bought and owned a Nendoroid Doll can create their own clothes for them!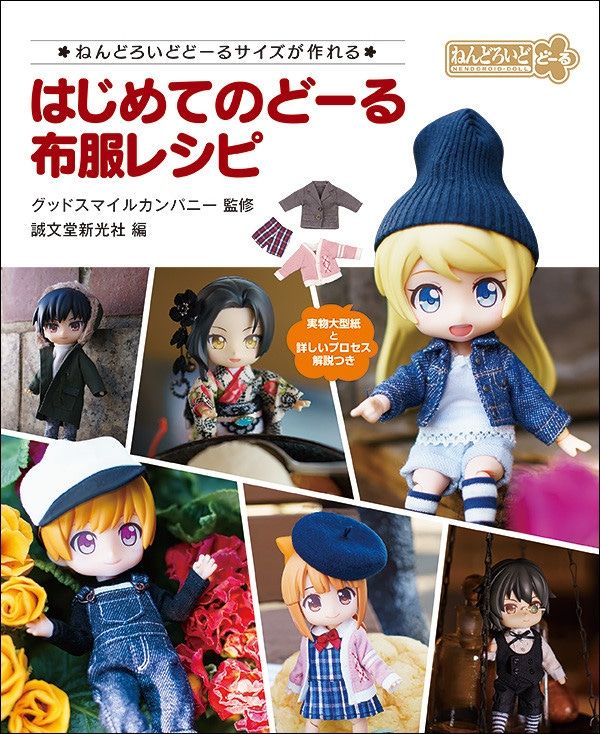 I had bought a downloadable digital copy (PDF) of this book on Etsy, an online shop for hobbies and crafts. So then, I can use this book to have some ideas to create new clothes!
There are other pattern books in which you can use also, such as the pattern books for the Obitsu 11 Doll (another doll line). Those patterns can also be used on Nendoroid Dolls! Whatever line of small dolls it is, you can use them so as long as their sizes seem to fit. Just remember to scale them to your Nendoroid Doll's sizes!
4. Tricks: Remix Your Existing Patterns!
Aside from inspirations on looking for designs, I had also tried remixing, or likewise combining my existing patterns that I made! Some tricks, such as putting laces on the skirt, or even extending the lower part of the upper shirt, thus turning it into an extended skirt, are examples!
Whenever you get an inspiration somewhere, you try looking at your existing patterns. Then try mixing and combining them based on what you just saw. And that is, with this technique or trick, you can create a new Nendoroid Doll clothes pattern out from the existing patterns that you have used!
There are lots of combinations and possibilities. Always remember to preserve your original patterns for future reference. Also, remember that some of your remixes have limitations when it comes to fitting, just after you have constructed it. When it does, just don't forget to edit and resize.
5. Trick: Use your old clothes!
Hey, what did you got, Zuramaru? Some old and used clothing in which I can use for NendoDoll clothing projects? How sweet. ? Thanks!#lovelive #国木田花丸 #ねんどろいどどーる #goodsmile pic.twitter.com/SBGqpVOLga

— D.I.V.E. ~人形統合視覚興奮~ (@codenamedive) February 5, 2020
One way to create your own Nendoroid Doll clothes is to use your own old clothes, or likewise the clothes that you don't ever wear anymore. And that is also the way in order not to spend more of your money for the clothing supplies. But then, just make sure that the old clothes that you are using are still durable or clean, or in the sense that the fabric is still durable. For the accessories like beads or satin ribbons, it is really advisable to buy them if you really need them. For satin ribbons or other thick ribbons, just remember to fold or resize them, if it they seem to be big or out of scale. Don't worry, you can resize them later when you try to do your NendoDoll clothing project.
Ending Words
Just remember that there are references out there, as well as inspirations for you to use in order to create your own Nendoroid Doll clothes. I had worked from scratch, but I know that there are ways in order to ease you to work from scratch.
Also, remember to always not give up the good fight, as mentioned in my previous post. Just in order to sew NendoDoll clothes correctly, you have to be patient very well. And finally, work diligently and be persevere.
Thank you very much for reading and see you next time on the next topic!