Scalper Mania Madness!
Post updated, as of September 24, 2022.
Cosplay Mania 2022 is scheduled on October 1-2, 2022, at SMX Convention Center, Manila, Philippines.
Featured cover image was taken during the past Cosplay Mania 2018.
While the upcoming, most anticipated Anime convention event in the Philippines is just a weekend away (from the time of this post), several posts on SNS platforms, whether coming from Facebook, Twitter, or such, are containing contents which is related to ticket sales.
Last September 4, 2022, the team from the group CosplayPH has announced that they are no longer selling tickets, whether online or on-site, anymore because the maximum number of tickets allotted for the event has been already sold out. And that is, they are still following some guidelines with regards to the holding of mass-gathering events, even though that the coronavirus pandemic doesn't seem to slow down yet. The team, however, had implemented the "No Ticket No Entry" policy, for people who don't have any tickets purchased for their upcoming event. At the same time, upon announcing this has also angered many people in social media.
After that such announcement, this is where the scalping of event tickets has begun.
In just few weeks ago (before this post), several people in social media in both Facebook and Twitter are posting their Cosplay Mania 2022 tickets for sale (HINT: Use their official hashtag #CosplayMania2022 on either Facebook or Twitter). Some people are desperate for some little money, and they do really sell it higher than the original price. And there are some people who are willing to give away their tickets for free (something like a "promo" or giveaway campaign. or some equivalent).
Below are some screenshots or photos (Swipe left or right):
Some people in the comment section of this post are somehow advertising and posting their "scalped" tickets for sale.
TIP: If you are using Facebook to view all comments, just change the filter from "Most Relevant" to "All Comments".
However, not all people are happy about ticket scalping before the event itself. Several thoughts from other people are seen, like this screenshot below: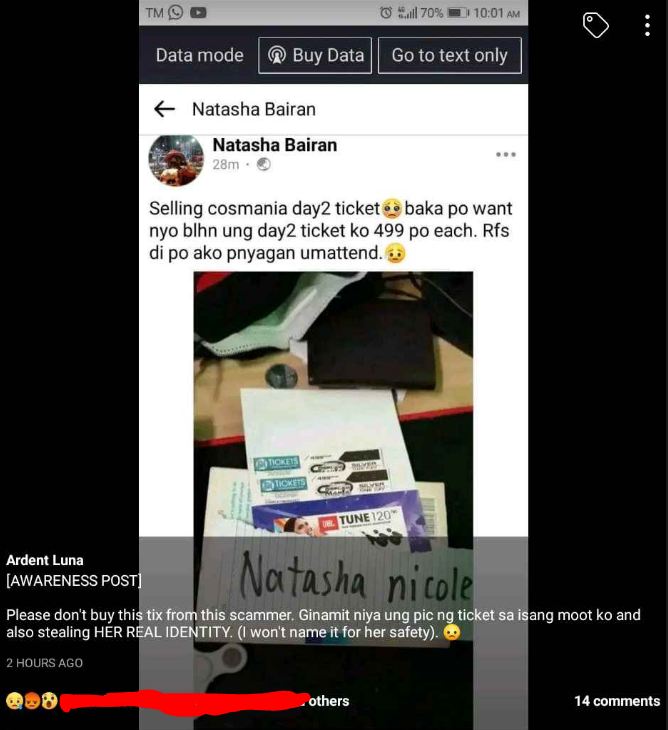 Inori-D Station has currently contacted Cosplay Mania Event Page (Facebook), asking them about this matter. However, the staff ain't responding to my messages, as of this post. (Updated since September 24, 2022)