The Endgame Live Performance of Year 2021
Last time, we had reviewed and summarized on what has happened during the Aqours DREAMY CONCERT 2021 last December 2021! This time around, we shall be talking about the happenings during their Countdown LoveLive! live performance during the New Year's Eve, last December 31, 2021! Let us not delay further, and let's get started!
CONTENTS
SONGS AND STAGES LIST
STAGE PART
SONG TITLE/SEGMENT
NOTES
PROLOGUE STAGE
Hajimari wa Kimi no Sora
TOKIMEKI Runners
with Shioriko, Mia, and Lanzhu
DREAMY COLOR
MC (all cast)
Liella! leaves for costume change
Contest Segment #1
LIELLA! STAGE
START!! True Dreams
Dakara Bokura wa Narasunda!
MC and Quick C&R
Nonfiction!!
Day1
Watashi no Symphony
Starlight Prologue
NIJIGASAKI STAGE
Kaika Sengen *
Short version
Ketsui no Hikari
Short version
Audrey *
Short version
Meccha Going!
Short version
MELODY *
Short version
Märchen Star
Short version
WONDERLAND *
Short version
Dokipipo☆Emotion
Short version
Fire Bird
Short version
Aion no Uta
Short version
I'm Still…
Short version
Queendom
Short version
MC and Quick C&R
L!L!L! (Love the Life we Live)
Short version
Contest Segment #2
AQOURS STAGE
WATER BLUE NEW WORLD
Aozora Jumping Heart
Dance with Minotaurus
MC and Quick C&R
Fantastic Departure!
Mirai no Bokura wa Shitteru yo
Contest Segment #3
MAIN EVENT STAGE
LoveLive! Series Radio Segment (Podcast)
Featuring Rina, Ruby, and Keke VAs.

Comes intervally right after every each of the next songs below (Except for the third song, where the MC and year 2022 countdown celebration will ensue afterward).
Shooting Voice!! (feat. Liella!)
Miracle STAY TUNE! (feat. Nijigasaki)
not ALONE not HITORI (feat. Aqours)
MC and Year 2022 Countdown
LIVE with a smile!
Ending Remarks
Nijigasaki High School Idol Club group only performs the "short-sized" versions of their own songs in their songs setlist, while most of them are well-integrated with their corresponding MVs from the LoveLive! ALL STARS game. Only four songs from this group (with asterisk (*) marks) don't have an official ALL STARS MV. The three parts of the Contest Segments, acting as "Intermission" parts, are results from the recent survey event made by the LoveLive! Series team, before this Countdown LoveLive! event has taken place.
SUMMARY!
Alright, let's have a rundown in this live performance event!
The event starts, and the name cards and their milestones have appeared on the big jumbotron screen! It started first with Liella!'s Hajimari wa Kimi no Sora, followed by TOKIMEKI Runners and DREAMY COLOR songs. It was then followed by their MCs and an "Intermission" segment (see table).
During the Liella! Stage part, they had blasted us with the songs from the TV Anime series. There are some songs that I had never heard before, including the ones that are included as "B-Side" songs coming from the respective outro song albums (i.e. Day1 and Watashi no Symphony). Their live stage performance ends, after they had performed Starlight Prologue.
The live performance event is getting more exciting, when the Nijigasaki Stage is the next in line right after Starlight Prologue! After the name cards on the jumbotron screen has finished appearing, the stage part starts with Ayumu's VA's song, the Kaika Sengen.
As you could notice, the rest of the songs (see table) right after Kaika Sengen (also this song is short-sized) are all of their "short-size" versions! It means, they had used some MVs from the LoveLive! ALL STARS game! In my opinion, this is in order to minimize their longer duration in standing on the stage. And mostly, they have the most number of songs performed than in any of the two other School Idol groups!
After Nijigasaki, things are heating up when the girls of Aqours are the next ones to perform on the live stage! And finally, they are donned in their WATER BLUE NEW WORLD costumes, also with their same song title as their costume! And as usual, the returning songs from their concluded DREAMY CONCERT 2021 has appeared in their songs setlist! Their Aqours Stage part has ended when they had performed their last song in their songs setlist, and as well as ending it with the third contest segment that acts as an Intermission segment.
And then, it's time for the… MAIN EVENT!
Afterwards, it begins with an another segment! That segment is a web radio (podcast) styled segment, where it is mostly and notably coming from the known LoveLive! Series All Night Nippon (ANN) Web Radio series! The title is Countdown LoveLive! ~Radio with a smile!~
Right after each of the next songs (see table), this podcast segment shall ensue. After the last song, not ALONE not HITORI, an MC segment shall ensue. And finally, the Countdown Event shall take place.
The Main Event Stage still continues right after the Countdown Event, and a "Happy New Year 2022" greeting has been done.
After the New Year's Eve greetings (and also celebrating Dia Kurosawa's birthday in the Aqours Side), it has finally concluded when they had performed altogether the song, LIVE with a smile!, followed by their ending remarks, just before they say, "Arigatou Gozaimasu!" in the end.
Right after the end of the paid stream, a bonus footage has been included, which included also the messages from the actresses themselves, whether in voices or in hand-written messages!
REVIEW!
Let's head on to the review — the last part, yet the longest one! I hope you guys can still read!
So then, we are generally getting a "Part 2" of the all-star live performance event, where it features mostly all of the School Idols from various groups and factions. Right in this Countdown LoveLive! Event, it features all of the groups (except Saint Snow), only replacing the "Legendary School Idols" with Liella! School Idols.
And then, due to the fact that I ain't listening too much songs, especially from the Nijigasaki and Liella! sides, I can hardly recognize some of their songs. Especially, if it is coming from the B-Sides of some albums, I can't just tell the title of the song by just hearing the melody and tune (and lyrics!). Notably, I could hear them first by the sound and melody. And then, I use a music-streaming app (i.e. Apple Music or Spotify), and I go to their artist profile. And I just browse in their library, and I open and play some songs from the B-Sides of their respective albums and singles. Once identified, I can able to find out on what is that title of that song that they had played during their live stage performance!
Next part. For my own observations in every members of every School Idol Groups, let's have a rundown!
For Liella! School Idols. I really like the fact that they are able to maintain their voices and movements, even right after their series of live tours recently (notably, their First Live Tour Starlines Series). Nothing too much to comment here, except when they are able to interact with the other members coming from other groups (like height comparing lol).
For Nijigasaki. The fact that this group was only able to perform the short-sized versions of their respective songs is not only because they are having more songs to perform than in any of the two groups. I think they are going to be caught up in the new year countdown celebration before they could even finish all of their 13 songs in their setlist! My observation with Ayumu's VA (Aguri Onishi) has made me thought up of a conclusion that she is like singing a song in a karaoke box machine (noted for the highness of the melody pitch that Aguri can almost reach). But then, what you had seen from her previous live performance (Nijigasaki 1st Live) isn't the same again as in the present. In other words, she has improved, a bit, in singing her song, Kaika Sengen. While the songs mentioned (see table above) are well-integrated with the respective MVs from the LoveLive! ALL STARS game, there is at least one song for me, in which it was for the sake of the safety features of their live performance! For the MV of Kanata Konoe (title is Märchen Star, a song from the Just Believe!!! album), instead of a moon prop being suspended with lifting stage cables, the moon prop is just placed on the stage platform itself. And that stage platform is moving upward, as if it is like floating to the top. And it is really up to the producers to manipulate that scene angle, as if it is like floating, instead of being suspended with stage cables! For my final note, during the song, MELODY, the actress herself just only do simple dance movements while holding her mic stand. It is because of her ongoing health issue, in which her staff told the LoveLive! team that she must only do limited movements. In short, no heavy choreographic movements for this actress, who voices as Setsuna Yuki. The rest are just doing the usual way, especially when they had performed their song, Love the Life we Live (see table), for the first time ever in this live performance. That song is only short-sized, and that song shall also appear in their upcoming 4th Live.
And finally, for Aqours, my only School Idol Group that I had been following ever since from their very first live. What can you see them from yesterday is still the same as in this Countdown LoveLive! Event. They are now the "Senpai" of any School Idol Groups that appeared before them. Ever since when they had performed with μ's from the past couple of years, it seems that all of the authority has with them. And now, they continue to traverse within the universe of School Idols. Nothing to say about this group, since I already knew them, ever since I started to explore in the LoveLive! Universe, and by becoming a fan since 2016 (notably after the first season of the Aqours Anime).
After the School Idols part, let's head on to the last part of this review!
I am very thankful, since they were able to perform their newer songs live, coming from at least two (2) of their newer albums. The first album features all School Idol Groups, Aqours, Nijigasaki High School Idol Club, and Liella!, and it contains at least three songs, one song for each group. And the other album is their "feature" song for their Countdown LoveLive! live performance. And then, these songs were eventually available as "limited" playable songs in the LLSIF rhythm game for a limited special Event!
Just when after they had celebrated in the New Year's Eve, as well as concluding the live performance with their featured song, I can feel that an another year has been passed. And right after their ending remarks, as well as saying "Arigatou Gozaimasu" in the front of the crowd, we could able to see some of their messages, whether in voice or in hand-written messages! Just don't let yourself be sad and frowning because they are already gone from the live stage. And then, I can't stop myself laughing very hard, especially on the 'three comedians' of the Nijigasaki group.
It seems that I can feel that I am a bit slowly moving away from my youthful days as a LoveLive! fan. But soon enough, it shall fade away slowly from my interests, as time and years pass by. I can only notice that when some of my friends within my group or circle are slowly disappearing from existence. But then, as the year passes, the stories, as well as their own legacies, shall still continue in ages. It is a fact that it shall still continue, so as long as there are many fans around them, who can keep to follow and support them.
And to end this review, let's just hope that these School Idols could do something new, aside from singing and dancing along for us just to make us happy. Especially, if the ongoing pandemic is still dominant for over two years, there are always times that School Idols can perform for us. When their time has finally come, what if it is our turn already to sing and perform for them? I just hope that they could not just perform for people who were fans. I am just really hoping that they could even help those people who were being victimized by the natural calamities, as well as some other calamities that caused their big business to close down. And that is basically my own New Year's Resolution for the LoveLive! Series (as seen from my embedded Tweet above).
And so, the year 2021 is finally finished, and we are heading towards the another timeline or milestone of the LoveLive! Series Universe. Will it be a year in which we could finally witness a new history, or will it be an another year where the history shall only repeat itself?
Basically, the saga continues, and what awaits on the other side of the countless stars is something that we never see before.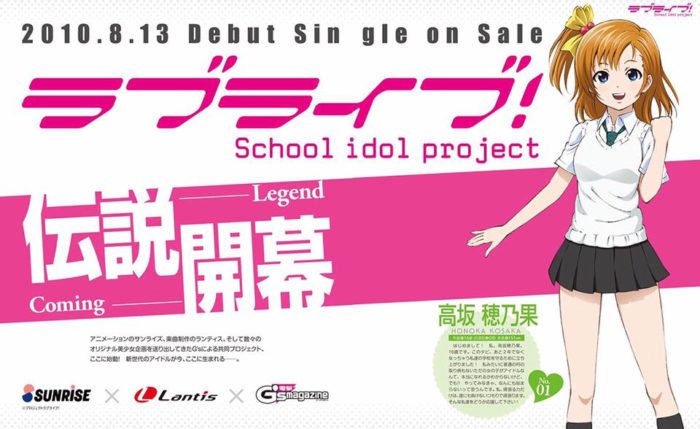 About LoveLive! Series
The LoveLive! Series is a Japanese Anime multimedia project. This was produced by the collaborating companies, the Japanese Anime music label Lantis, animation studio Sunrise, and Dengeki G's Magazine, a magazine by ASCII Media Works (KADOKAWA Group label).
This project began somewhere in 2010 and it starts as a multimedia project, where it introduces female high school characters who were grouped and formed a band together. This project was dubbed as the 'School Idol Project'. The girls will produce music and singles, as well as making a full music animation video out of that music.
Cover image used belongs to the Project LoveLive! Series and its groups. The image is slightly modified for optimization, and is used for illustrative purposes only. All such written info and summary are accurate from the actual live performance itself.