Philippines Movie Piracy Continues.
Just few hours before the second fan's screening of the top-grossing Anime film in Japan, the Demon Slayer: Kimetsu no Yaiba the Movie – Mugen Train, to be screened in Philippines this weekend, there are ongoing leaks or even 'camcorded' versions of the movie being uploaded online. They were either uploaded or seeded in torrents, or even illegally streaming the movie via Facebook Lives.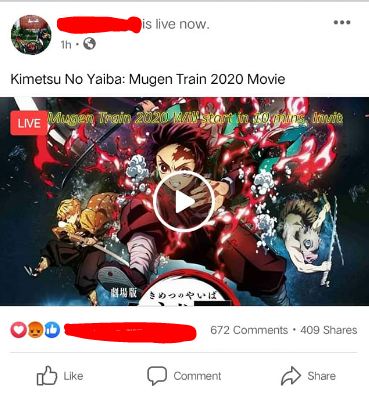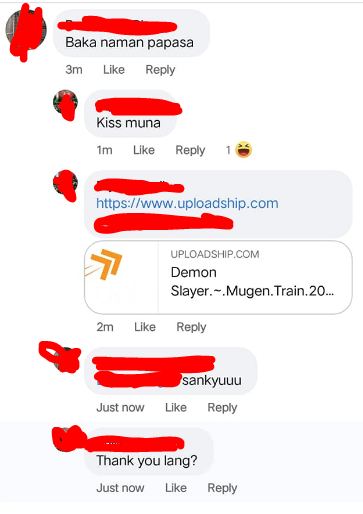 This was last seen today by my friends in my network, and I see it as well. I had seen those screenshots and other evidences that a certain Facebook user has illegally uploaded that said movie online via an unknown file-sharing website. To add up some damage, he did really stream illegally the movie online via Facebook Live. He also did invite and tag his friends network as well.
Southeast Asian and Singaporean Anime Licensor, ODEX Private Limited (also in its Philippines division), announced via with their Facebook post that recording the movie via camcording means is a criminal offense, and violators may face fine and penalties which can reach over more than 50,000 PHP per violation.
Republic Act (RA)10088 also known as the "Anti-Camcording Act of 2010", prohibits and penalizes the unauthorized use, possession, and or control of audiovisual recording devices for the unauthorized recording of cinematographic films and other audio-visual works and or their soundtracks in an exhibition facility, providing penalties therefore and other purposes.

Republic Act (RA) 10088, or known as the Anti-Camcording Act of 2010 in the Philippines – https://www.officialgazette.gov.ph/2010/05/13/republic-act-no-10088/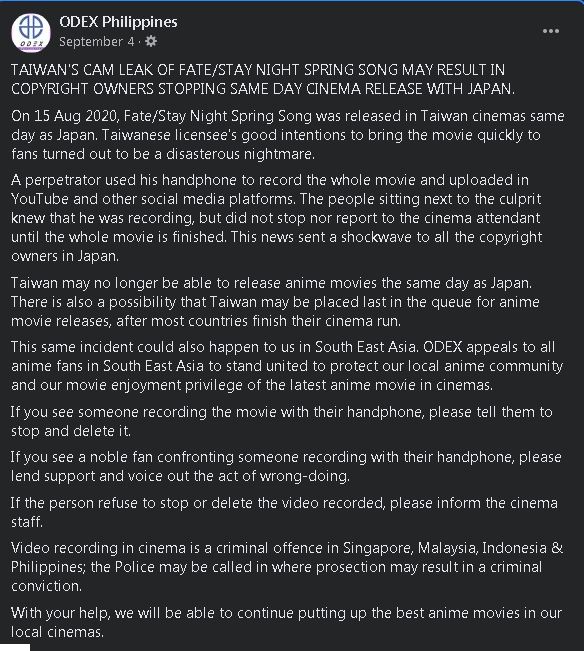 Not only the Demon Slayer movie screening in Philippines has been a victim of camcording piracy, but on other countries as well. The recent illegal camcording incident has happened since August 15, 2020, in Taiwan Anime movie screening of Fate/Stay Night Heaven's Feel Movie: Spring Song. That Anime movie was screened in theaters, same day as in Japan. But then, an unsuspecting individual has camcorded the movie, thus resulting into leaks and illegal live streams. That incident has caused the entire country to be may be placed in last in screenings. And the worst part is that they may be banned in screening Anime movies. What do you think? Basically, one mistake from one of us shall be the mistake of all of us.
Going back to the topic, the illegal uploader may continue to upload and stream that movie in the future, as posted from his Facebook account.
The second fan's screening of the Demon Slayer Movie shall take place this weekend, and most fans of that series were excited. But then, if this leak continues to surface, then many Anime fans would decrease in going to cinemas, and they may never support and watch the movie. So basically, if that happens, there will be no more Anime films to be screened here in Philippines, as well as in other countries who were facing also this same incident.
劇場版「鬼滅の刃」無限列車編、公開45日間で観客動員 2053万2177人(興行収入 275億1243万8050円)と、大変多くの方にご覧いただき、心より御礼申し上げます。皆様それぞれの日々の中で、本作を楽しんでいただけていれば幸いです。今年も残り1ヶ月、引き続き、ご自愛下さい。#鬼滅の刃

— 鬼滅の刃公式 (@kimetsu_off) November 30, 2020
The Demon Slayer: Kimetsu no Yaiba the Movie – Mugen Train is already at the top-spots of the Japan box office with at least 27,512,438,050 yen (approx. 12,673,044,100 PHP), as of November 30, 2020, as reported by its official Twitter account. Currently, it has been placed at the top-spots also, dethroning Titanic from its second position in the Japan box office, as reported by Crunchyroll.
About the Demon Slayer Manga and TV Anime Series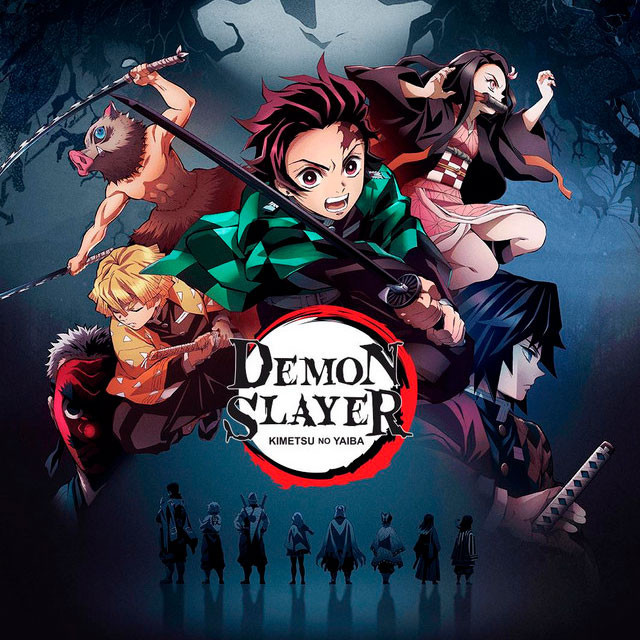 Demon Slayer, or in Japan called as Kimetsu no Yaiba, is a manga series created by Koyoharu Gotouge around 2016. The manga was serialized under Shueisha publishing label, in the Weekly Shonen Jump Magazine (along with popular titles like Dragon Ball Super, One Piece, Dr. Stone, My Hero Academia, and more). The manga run for at least 23 volumes, as of May 18, 2020.
The television Anime series of the said manga has been aired in Japan around April 2019 until September 2019 with at least 26 episodes. A featured theatrical Anime film has been also produced and released in Japan cinemas on October 16, 2020.
The story is about Tanjiro Kamado who became a demon slayer after his family got murdered, and his younger sister, Nezuko Kamado, turned into a demon. He is on his quest to find a cure to his younger sister's demon curse. They become a part of the Demon Slayer Corps, a secret society where they do missions and war against humans who become demons. Those demons they battle are eventually humans who sold their humanities in exchange for greater power and desires.