Part 2: School Idol Festival Adventure
Previously, I had talked about the introduction on how I got to know the LoveLive! Universe, and how did I become an official fan. Also, I talked about on how did the TV Anime of that series has made an influence to me. In summary, my mind begs me to go follow the series for more of its enjoyment and excitement.
In the Part 2 of this blog post special, I shall talk about the feature game of the series itself, the LoveLive! School Idol Festival. Step in to the Live Stage!
Introduction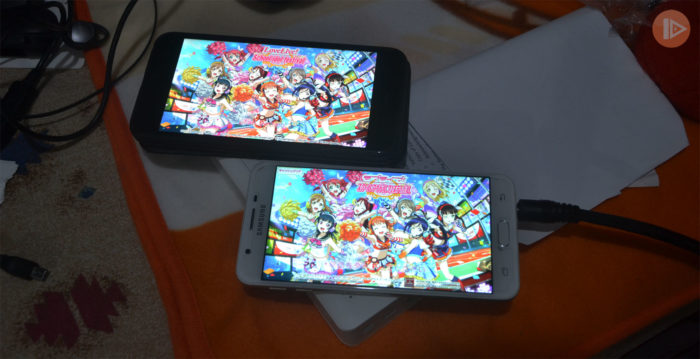 LoveLive! School Idol Festival is a rhythm game created and developed by KLabGames. It was published by Bushiroad (Bushiroad Mobile or Bushimo) in Japan around April 15, 2013, just days after the airing of the original LoveLive! School Idol Project Part 1 Anime series. A Global Version of the said game was released around May 12, 2014 and was published by KLabGames, who developed the game itself. The game has collaborated with several video games published by other gaming companies, as well as other companies, such as convenience stores, theme parks, trading card collections, and more!
The World of School Idols
Since the title of the game, LoveLive! School Idol Festival, is too long to mention, let me just abbreviate it into an acronym! Let me call this LLSIF!
While the story of the game is based loosely from both LoveLive! (µ's) and LoveLive! Sunshine!! (Aqours), the game introduces you into a rhythm-action-type game. Aside from just being a 'rhythm game', you are given characters, called the School Idols (member units), and you will enhance their potential power and skills by practicing them. You can use some items to idolize (transformation or change costume) in order to unlock their skill slots and to increase their maximum level and bond points cap.
【LoveLive! SIF】

This is the only Kotori UR that I have in my Global Branch account.

Happy Birthday, Birdy! ??#lovelive #LLSIF #南ことり誕生祭2019 pic.twitter.com/cg0lj4avLx

— いのりどんず (Inori Donz Network) (@InoriDONZ) September 11, 2019
【LoveLive! SIF Global】

All Skill Slots opened! So far, my first UR member to have all slots opened.#lovelive #LLSIF #高海千歌 pic.twitter.com/nHiwrvdETE

— いのりどんず (Inori Donz Network) (@InoriDONZ) July 22, 2019
When after a live show play has been completed, Bond (Kizuna) Points are given out. The number of Bond Points given out will depend on the song's difficulty, and also it will depend on the total Combo Chain count and Score Ranking that you just made after a live show. If a member's Bond Points were maxed out afterwards, you will unlock her Side Story. For every Side Stories completed, you will get one Love Gem, despite of her rarity.
There are featured, original characters which were present in LLSIF only. They were designed by various illustrators and artists.
Eventually, to note, some of these original characters were used for the newly-created game, the LoveLive! School Idol Festival ALL STARS.

They were originally named as the Perfect Dream Project or PDP, and somehow they were used in the new game, which is recently released.
Gameplay
【ラブライブ! スクフェス】

Boken Type A, B, C!! is now playable on the B-Sides! Go check it out! It will be available until September 29 Japan Time.#lovelive #スクフェス pic.twitter.com/5rN5VLUHmO

— いのりどんず (Inori Donz Network) (@InoriDONZ) July 25, 2019
In the 'Live Show' mode, there are songs to choose to play. You can play that song in five different difficulties (Easy, Normal, Hard, Expert, and Master). You can switch the group faction mode by choice (µ's, Aqours, or a 'future group' to be added soon in the future update). While the four primary difficulties are available, only one difficulty is added on the other mode side. We call it the 'B-Sides'. To explain further, you can switch between 'Hits' and 'B-Sides', two of them for each group faction. The difference is that Hits contain only four difficulties, and they were unlocked one-by-one by progressing through the Main Story mode of the game, or it shall be given periodically based from your current Rank (Player Level). While the B-Sides also feature four primary difficulties, the Master difficulty setting is there. B-Sides also feature songs available for a limited time duration, and it will also include newly-released songs which came from announcements and some feature livestreams. Also, 'daily songs' are available to play on that mode, and they will rotate based on the time of day.
Also, the Live Show mode allows you to play the songs in Master difficulty which was released and featured previously. You will spend a Live Ticket for every single Live Show play on that mode, and you will use all of them up if you try to play there continuously. It will be restored when the daily login bonus time is already available. The number of Live Tickets, in which you can use to play previously-featured Master songs, will depend on your account's Rank or Player Level.
Member Scouting
The game also features the 'Gacha' style member scouting. You will spend items and the virtual game currency, the Love Gems, to scout for a new School Idol.
There are many types of scouting. The default one is the Honor Scouting, where you will choose to scout for one or to scout 11 of them. Scouting 11 members will guarantee you at least 1 SR rarity. The N and R rarities are obtained through Regular Scouting, in which you will use your Friend Points to scout. They were also sometimes obtained through any completed Live Show play. There are other types of scouting, aside from the two mentioned above. This will also include the Limited Boxes (100-member scouting where you will spend a certain amount of Love Gems or Scout Tickets to guarantee you at least one UR), and occasional Step-Up Scoutings (you will spend less to successive amount of Love Gems per step). Other scouting types, like which is not mentioned, are the Free Daily Scouting, Collaboration Event SSRs Scouting box, and more.
【LoveLive! SIF】

Sacrificing my Event Point tier ranking to save Love Gems to 155. Am I able to make it through to Chika Takami's birthday? I shall find out in the next days.#lovelive #LLSIF pic.twitter.com/z6bAwDegrI

— いのりどんず (Inori Donz Network) (@InoriDONZ) July 27, 2019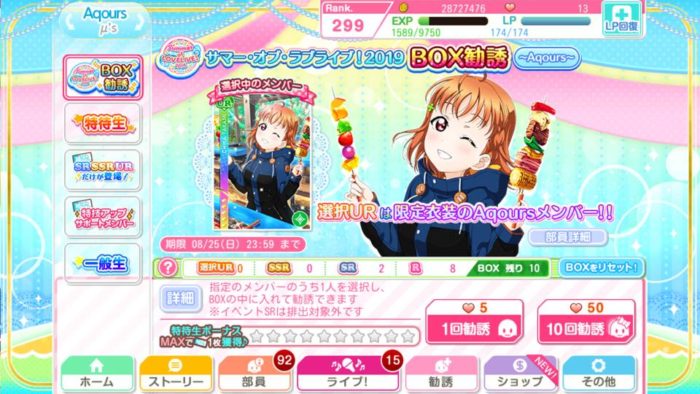 There is also a Blue Scout Coupon Scouting, in which you will use Blue Scout Coupons (obtained by scouting and maxing out the Honor Scouting bonus, or getting them though Seal/Sticker Shop) to scout a member of SR rarity and above. And there is another Blue Scout Coupon Scouting section, but this time, you will scout Supporting Members (they can't be used in your team for Live Show plays), in which they can be used to level-up, or even skill-level-up your current members in your stable.
"I will fight 'til my last breath while I am alive!"

That is the quote I uttered when I attempted to scout for an SR to complete the 25 SRs needed to idolize a UR. Well, my strategy has backfired and I got a UR instead.#LLSIF #lovelive #桜内梨子 pic.twitter.com/FdEOhXU7XE

— いのりどんず (Inori Donz Network) (@InoriDONZ) May 18, 2019
There are total of five rarities in which you can get in the game. They are N, R, SR, SSR, and UR. Some players are complaining about the rarities drop rate, especially on the UR rarity. It is sometimes very low or impossible to get. But for other players, they can easily draw one or more UR rarities in one scouting draw. The rarity drop rates were somehow a mystery, or sometimes vary per player who plays this game.
Click or tap the Next Page below to continue reading.