EPISODE 21: The Split Identity
Idol Chasers — These are the group of people who were the followers and supporters of these lovely School Idols. They buy ranging from character figures, merchandise, and other items like plushies — a way on how they give love and support to them! Because of these people, the legacy and the continuity of School Idols are still continuing to become popular.
---
Previously, Chiharu has rescued Lierre once again, after Gen attempted to kidnap her for once more. After all of that, Lierre has learned about Gen's past memories. She discovered that he was with the School Idol Group, Aqours, all along.
The mysteries are beginning to be unravelled little by little, as Lierre is about to make her next step in finding out Gen's true self.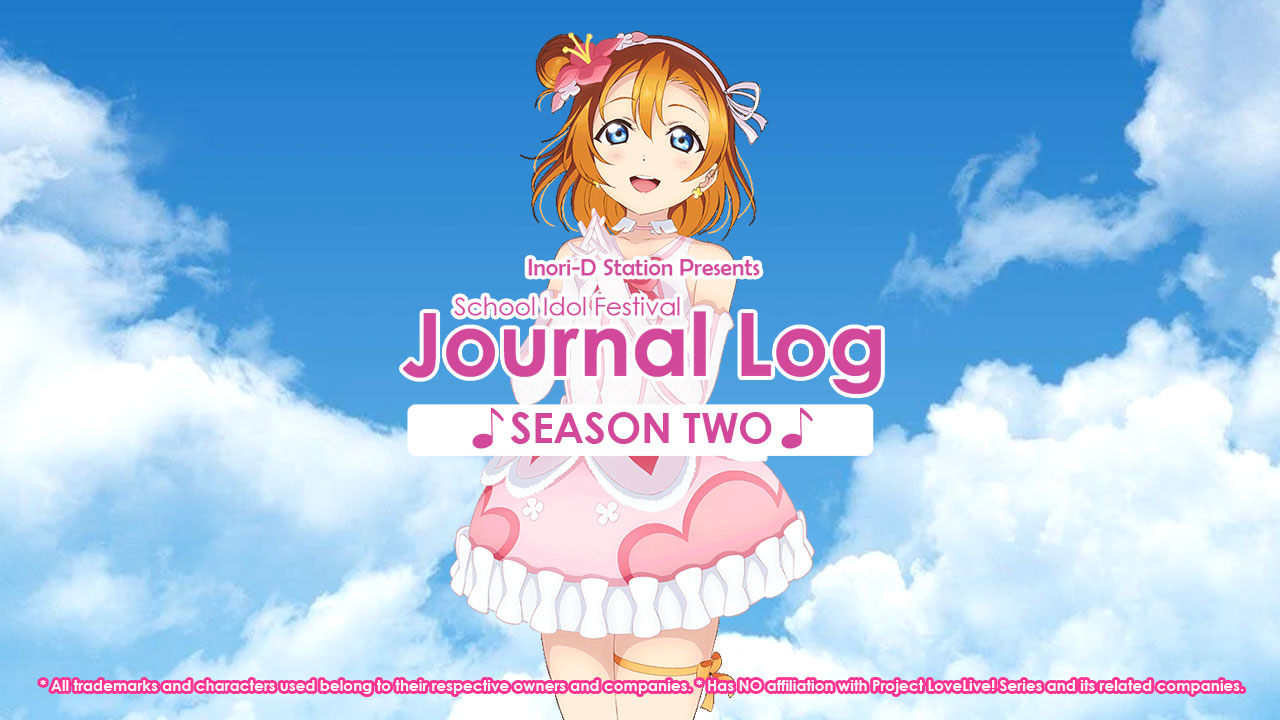 STORY EPISODE
The following day was very busy.
Takayoshi is cleaning the meeting room in the maid cafe, while Aika and Sho are taking their work shifts in the morning.
Chiharu, on the other hand, is on her classes listening to the teacher's lectures and lessons. And she is taking down notes on what her teacher is saying, and she knows that there would be a pop quiz afterward.
And finally, Lierre is just outside of the school grounds of the Shinonome campus. And while waiting, she is browsing with her digital tablet book and said, "I see. That's why Aqours can't perform lately because they were missing a member. And that School Idol who went missing is…"
Somewhere deep within the city, Gen is acting strange. He is always looking at his hands and said, "So then, who really am I?"
Back in the maid cafe in Akihabara, Saki is browsing with her smartphone, and she found out some news about Aqours' scheduled live performance this coming weekend. After that, she finally used her smartphone to do video call in order to contact Chika Takami from Numazu.
"Hello, Mrs. Kitagawa!"
"Chika, is this true that you are missing a member in Aqours?"
"Um… We are about to go with our scheduled live performance this coming weekend. But then, it seems that Riko is not yet returning back, and we are worried!"
"I see… I think it has something to do with the mysterious person, named as Gen Sakurauchi. He is claiming to be Riko's lost brother."
"Gen? What? I didn't even know him nor heard of him!"
"That's why me and my son are currently investigating this incident about your friend's disappearance! Don't worry, we are currently doing our best!"
"Thank you, Mrs. Kitagawa. We had talked about cancelling it instead. Dia is just finalizing the announcement to be posted soon, just few days before our scheduled live performance."
"Wait! I think there is still a way! Just hang on."
"I think you should be talking to Dia now. By the way, I have some chores to do! See you later!"
Chika then ends the video call.
And then, Saki said, "We can't just let Aqours to give up in their goals to do a live performance. There's still a way!"
It was already afternoon, and Chiharu was finally out from the school. As she was walking and strolling around, she stopped walking temporarily and she browses her smartphone. She then received a text message from Saki that she must go along with the Idol Chasers at the maid cafe immediately for a meeting.
"Okay, I had been hearing news that one of the Aqours members, Riko Sakurauchi, is missing recently," said Chiharu.
From a nearby spot, an ugly guy molester suddenly appears at the back of Chiharu, and she was frightened and surprised. And he said, "Wow, a cute and sexy school girl! I am going to grab you now!"
Suddenly, a mysterious girl with black hair intervenes and she kicks the ugly molester out from sexually harrassing Chiharu. And that girl said, "Oh man, you are just like a one-hour demon that appears in the sunset!"
"Why you?!" The molester guy stands up and he begins to lunge and attack the girl with black hair.
With ease, she was able to counterattack his moves, as if she is like doing martial arts. And in the end, he was totally beaten up.
And finally, the policemen came afterward and picked up the beaten-up ugly molester guy. They had arrested him, moved out and said, "Thank you for your cooperation!"
"Thank you for saving me!" said Chiharu.
"You're welcome, miss. It is my duty to save someone who is in trouble! And that's me, Tsuki Watanabe!"
"Ms. Tsuki…! You are…"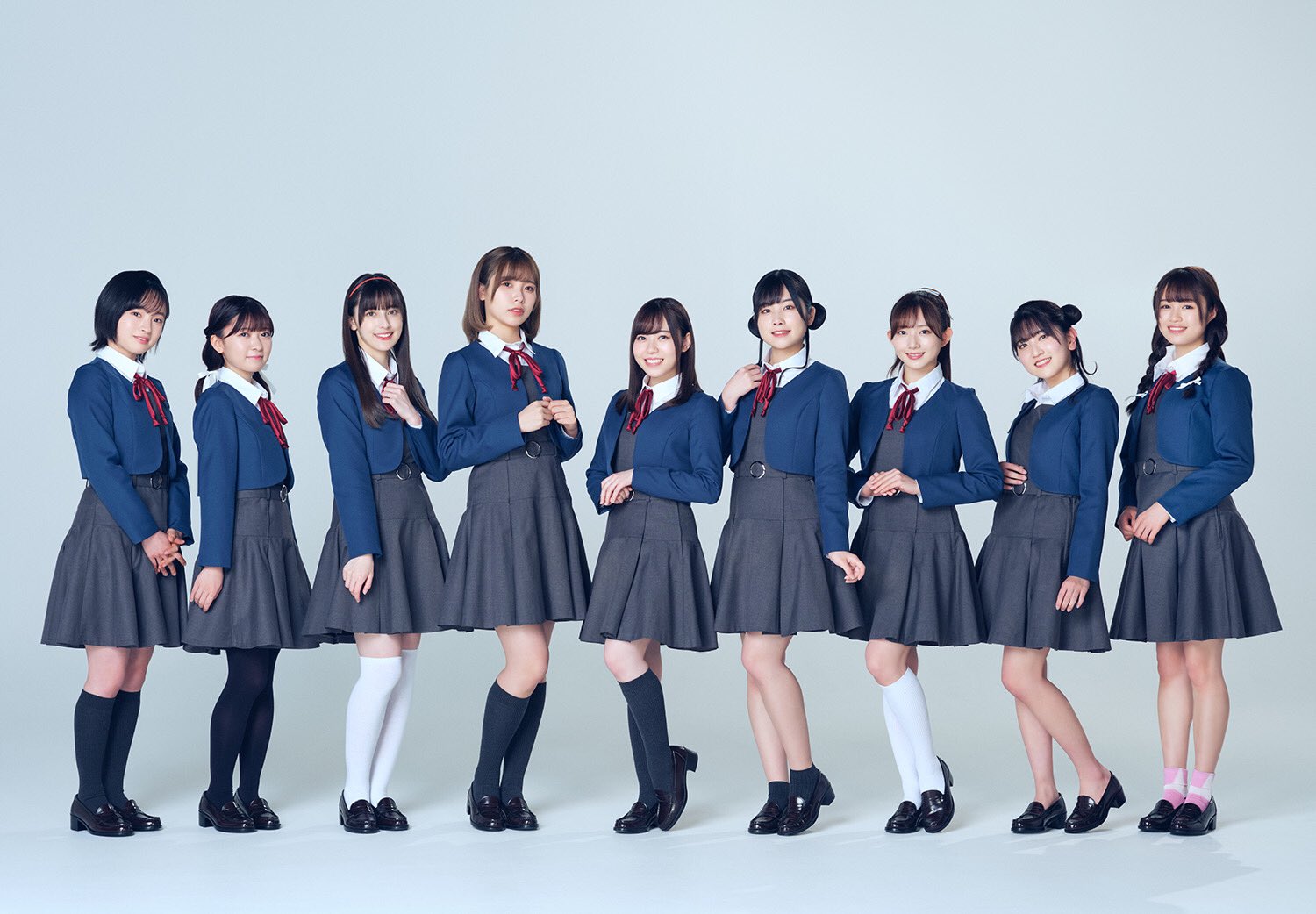 HEADLINES
June 2022 is the Liella! Month. Generally, we are in the second week!
And then, the road leading to the Liella!'s TV Anime Season Two is just only a month away! They had already released their official trailer video on their YouTube channel (also at the end of their finished Liella! 2nd LoveLive Part 3 live performance). You can check it out by going to The Bonus Stage part at the end of this Episode!
Aside from Liella!, what are some other important critical updates that need attention, or I mean the Headlines — some news and updates from the School Idol Universe?
Nijigasaki Anime SEASON TWO Episode 10 Review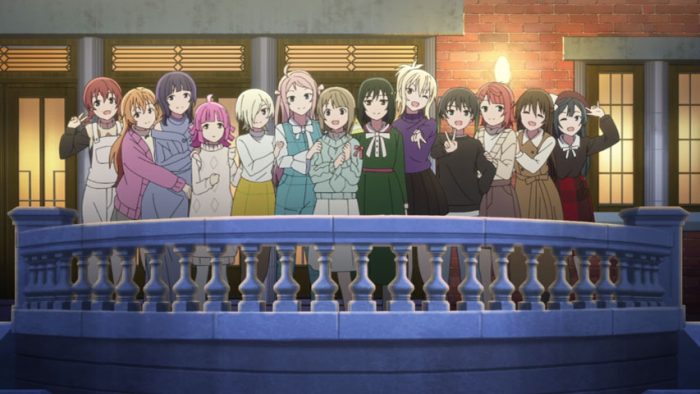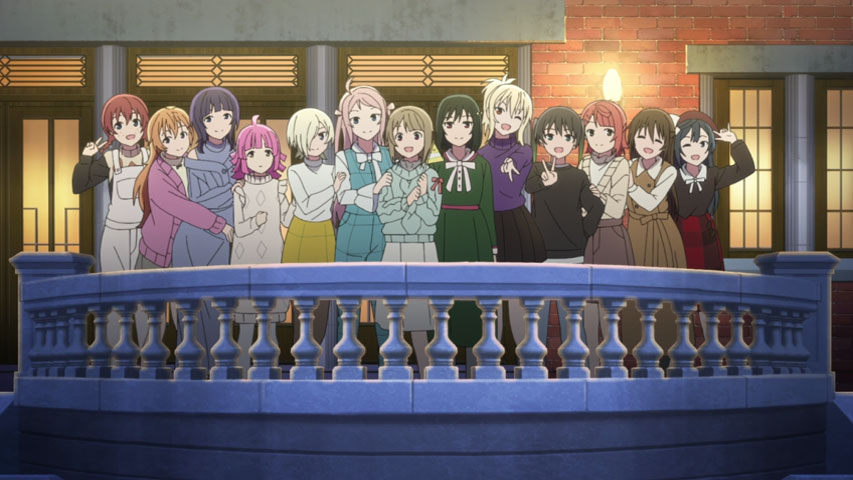 Actually, a "Filler Episode" for me here, despite it is a Kasumi Nakasu Episode. But then, what are my other impressions, so far, in this Episode?
Aqours Updates!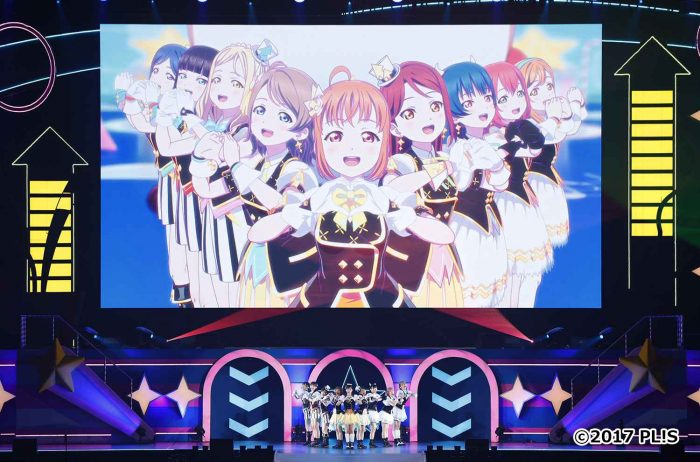 Finally, a truckload of updates coming from Team Aqours! So far, what are those? Find out by reading!
Aqours 6th LoveLive! – WINDY STAGE
\☀️本日まで☀️/

6/25(土)・26(日)開催#Aqours 東京ドーム公演

一般発売(2次抽選)の申込受付は
本日!6/7(火)23:59まで?

お申込はこちら?https://t.co/zL83dkaS1j

浦の星交響楽団として豪華メンバーも参加✨
是非遊びに来てくださいね♪#lovelive pic.twitter.com/hxvrtw5rPz

— ラブライブ!シリーズ公式 (@LoveLive_staff) June 7, 2022
To give you a heads up, this Event is taking place in just two (2) weeks away from this Episode! Though it is quite conflicting a bit with Liella!'s Live and Fan Meeting Tour Series Part 3, also on the same date range as with Aqours, we just hope that they announce paid live streaming soon! So far, as of this Episode, nothing is announced yet.
Will the Part 3 (WINDY STAGE) be their conclusion of their 6th LoveLive! Tour Series, since OCEAN STAGE and SUNNY STAGE last February and March 2022? Who knows that there would be an another major live performance to be announced soon in the future?
Going back to the Headline, this live performance shall be held on Tokyo Dome, in Tokyo, Japan, this June 25-26 JST. Everything is announced, so far by the team, which included the members of the "Uranohoshi Symphony Orchestra" band, in which they shall play in some parts of their live performance (notably in some instrumental or intermission parts). And what are the possible songs to appear in their upcoming WINDY STAGE live performance — Maybe the songs that appeared in their Anime featured film?
Stay tuned at their feeds for some further announcements!
Aqours Livestream (June 14, 2022)
☀️Aqours生放送☀️
Aqours浦の星女学院生放送!!!
次回日程が決定??

⏰日時⏰
6月14日(火)20時~
?出演?
諏訪ななか、斉藤朱夏、鈴木愛奈

開催目前の<WINDY STAGE>についてお話ししますよ♪
お楽しみに✨

お便りはこちらから?https://t.co/vubV1Z5Mgk#lovelive #Aqours pic.twitter.com/3P0RGt8NPV

— ラブライブ!シリーズ公式 (@LoveLive_staff) June 3, 2022
While their upcoming Part 3 of their live performance is just around the corner, be sure to tune-in to their upcoming livestream, also!
This livestream shall be hosted by Nanaka Suwa (Kanan), Shuka Saito (You-chan), and Aina Suzuki (Mari) this coming June 14, 2022, at 8:00 pm JST! It shall be streamed on their YouTube channel, as well as their other related streaming networks!
Be sure to tune-in to get latest updates regarding with their WINDY STAGE live performance (as noted in the sub-headlines above), their upcoming Aqours Club CD Set 2022 song (and PV?), and some others, like some content updates in the respective LoveLive! games! And don't forget about the Second Solo Concert Album Series of Yoshiko "Yohane" Tsushima here, which shall be revealed soon on their upcoming livestream!
Who knows of what other stuff that they might announce soon in their livestream? In other words, just tune-in to their livestream this coming June 14th!
Aqours Club CD Set 2022 Cover Illust. Revealed
☀️CD情報☀️
6/30(木)発売「ラブライブ!サンシャイン!! #Aqours CLUB CD SET 2022」のジャケットイラストを公開?
気になる曲名や試聴動画は6/14(火)20:00〜のAqours浦の星女学院生放送!!!にて解禁!
是非チェックしてくださいね?

店舗特典情報はこちら⏬https://t.co/PicUySQ52x#lovelive pic.twitter.com/5tIP4oocQL

— ラブライブ!シリーズ公式 (@LoveLive_staff) June 3, 2022
I didn't manage to include this last week, since my Headlines part is already full because of Liella!'s truckload of announcements! But then, I shall include this now, just in case if you aren't aware.
Their upcoming CD or Album, called the Aqours Club CD Set 2022, is scheduled to be released on June 30, 2022 (Release date is accordingly similar to DREAMY COLOR, also the song from Aqours Club CD Set 2021 last year). The cover jacket illustration is finally revealed since last week.
So then, according to the rumors that I had been hearing, this new song of theirs within this new Aqours Club CD Set shall be in a "live action" setting, similar to their DREAMY COLOR PV last year. So then, shall it be revealed soon during their Aqours Livestream (as noted above)?
Mari Ohara's Birthday (Message Next Week!)
So, are you excited for her birthday soon in just two days away from this Episode?
Make sure to scout for her new Birthday UR on the LLSIF game, if you are well dedicated for her birthday! Show some love!
【☀️CD情報☀️】
6/13(月)発売 #小原鞠莉 セカンドソロコンサートアルバムの店舗特典デザインを公開❗️

店舗特典⏩https://t.co/rVX5BhWd9a
試聴動画⏩https://t.co/R3ewZlBNOa

是非ゲットしてくださいね?#lovelive #Aqours pic.twitter.com/N5rZC7OfSd

— ラブライブ!シリーズ公式 (@LoveLive_staff) June 2, 2022
As highlighted last week, her Second Solo Concert Album shall be released on the same day as her birthday!
And then, my Birthday Message for her shall be written here next Episode! Look forward into that!
---
And that's it for the updates coming from Team Aqours! That was quite long!
TODAY: Liella! Live and Fan Meeting Series (Part 1)
So then, it is happening today, the Part 1 of the Live and Fan Meeting Tour Series of Liella! In fact, this is the first weekend out of the three in the series. This shall be the road leading to the TV Anime Second Season's First Episode!
Overseas paid live streaming has been announced since last week, and they are all taking the "second session" of every Days 1 and 2 of every Parts!
The Part 1 (Osaka) shall be happening today, at Orix Theater.
Meanwhile, the other schedules are tabulated below, and they shall be happening in the succeeding weeks!
| | | |
| --- | --- | --- |
| Part 2 – Tokyo | Tokyo Garden Theater | June 18-19, 2022 JST |
| Part 3 – Nagoya | NTK Forest Hall | June 25-26, 2022 JST |
If you had ordered your ticket for the paid live streaming, enjoy people! But then, for me, I would suggest you to take the Part 3 (Nagoya) Day 2, since most likely, they are going to reveal their stuffs there, such as revealing the "full trailer video" of the upcoming LoveLive! Superstar!! SEASON TWO Anime! Aside from that, their "3rd LoveLive!" Event shall be possible here. And then, what could be some other stuffs to be announced soon, without us knowing?
Find out by watching their upcoming Events in the succeeding weekends!
Happy Birthday, Nozomi Tojo!
【LoveLive! SIF】

お誕生日おめでとう、東條希ちゃん?

Nozomi, Happy birthday!#lovelive #スクフェス #LLSIF #東條希 #東條希誕生祭2022 #NozomiTojo https://t.co/q6BnQM5EES pic.twitter.com/ijk3sxLy7j

— INORI DONZ | Inori-D Station (@InoriDONZ) June 9, 2022
Let's give this girl a Happy Birthday Message!!
Dear Nozomi,
Your luck has totally blessed you. Not only that. It is because of your "spiritual friends" who are always around to protect you. Just include us, Idol Chasers, who were always protecting you and to support you in your future School Idol activities! You may be gone in the live stage, but then, you were singing and dancing spiritually in the hearts of everyone, and to other School Idols who were performing on the live stage!
Happy birthday, dear Nozomi Tojo! We fans love you very much!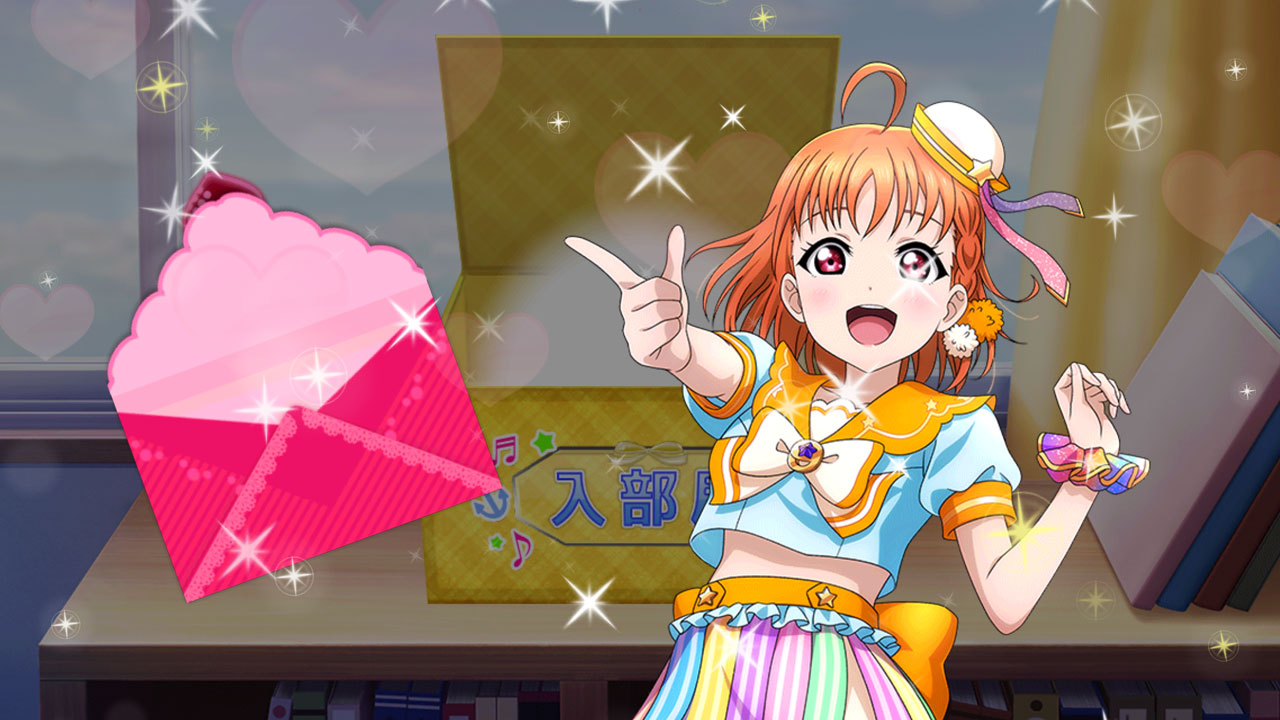 LLSIF HIGHLIGHTS
I am trying my best to hang on more in this one. Since the ongoing Icon Collection Event is still far from over, my other chores and errands won't even stop me from grinding higher ranks in this Event!
So then, we are in the "Month 3", or otherwise, the Final Part of the LLSIF 9th Anniversary Celebration Campaign. Let's find out what has happened recently during this week on LLSIF. Check it out by reading!
Icon Collection – LLSIF 9th Anniversary Month 3
【LoveLive! SIF】

LLSIF 9th Anniversary Month 3 (1st-Half)

<μ's> Icon Collection

Details and Event grinding report on #IDS_SIFJL_S2 this Saturday.#lovelive #スクフェス #スクフェス9周年 #LLSIF pic.twitter.com/f6E9E1RNT6

— INORI DONZ | Inori-D Station (@InoriDONZ) June 9, 2022
The Event has been started a long time ago since last week, and it shall end this Wednesday! Speking of the duration, it's still quite long from over, so I got more time to grind, and to catch up!
The Event URs to be acquired are the μ's Third Years (Eli, Nozomi, and Nico)! Be sure to use them as Cheer/Yell Units in order to drastically increase your Event Points acquisition rate! And also, the other Limited URs of μ's (the latest ones) can be more likely to increase your Event Points acquisition even more, so use that advantage to grind higher ranks!
And the Event Song to be used is "Wonderful Rush"! Actually, the dev team forgot to include the sign, "Song Melody", which in fact it is actually a song with "melodical accompaniment" notes formation, after all. And this was already implemented in the μ's Side, starting with their debut song, "Bokura no LIVE Kimi to no LIFE", in the past two years. And "Aqours" Icon Collection Event songs don't have this yet.
How to play in this Event? Simple. You must get icons from the live shows or songs that you are playing. Higher difficulties mean more icons to collect. And playing on either EXPERT or MASTER difficulties can give you the SAME icons amount (27 icons, to be exact, in normal LP usage). Just remember to NOT MISS ANY ICONS. Since missing them can eventually make you fall short in needing more icons in order to play the Event song.
When you have collected enough icons, you can use them to play in the featured Event song. Indeed, the LP X4 Usage multiplier is a must here, so that you could get more Event Points when you successfully finished that song, as well as landing a higher Total Combo Ranks up to Full Combo Finish! And finally, don't forget to land a very high score on that Event song on MASTER difficulty, in order to survive in the higher ranks in the Score Rankings!
For my Event grinding progress, I am just playing random songs, especially the limited B-Side Songs of Aqours (notably the First Solo Concert Album Series songs) in EXPERT and MASTER difficulties. I am just keeping in mind that I must always enable my LP X4 Usage at all times before playing any songs. And at the same time, I am maxing out the Bond Points of my unused SR and SSR members in my members stable. And then, while grinding for the Event song, I am alternating also with the Live Arena Event, in which I can play a Special Session there upon maxing out my Tension Gauge afterward.
Currently, as for this month, my JP Side account is now soloing the two Events, which also include the upcoming Aqours Event to be done on June 20-30, 2022 JST. And meanwhile, my EN Side account is currently resting, for now, while getting login bonus items with it.
This Event is ending on Wednesday, June 15, 2022, just four (4) more days from this Episode. Final details and report shall be included next Episode! Look forward into it!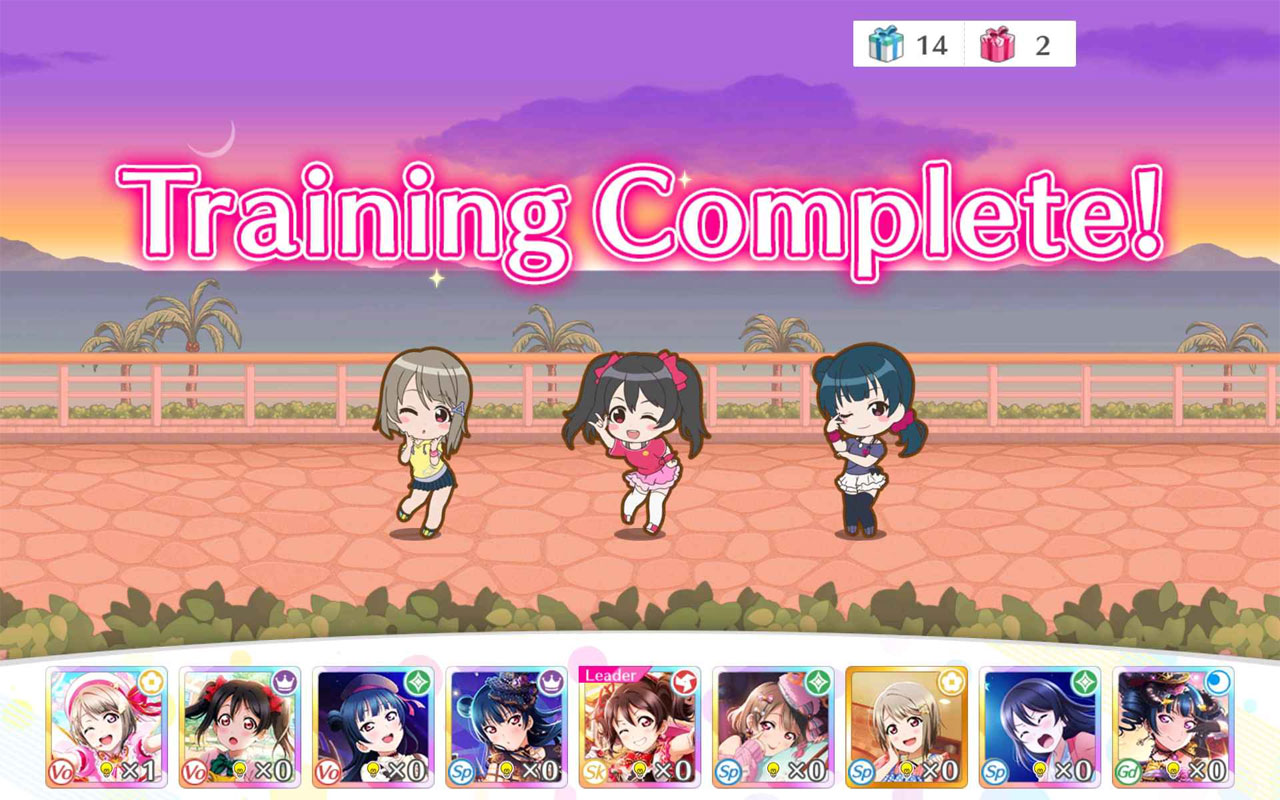 ALL STARS HIGHLIGHTS
"Ah man, here we go again," I said.
So then, another Event has commenced, and it shall end in a few days ahead next week.
My grinding power is not enough to sustain higher ranks, due to the fact that I ain't playing too much on both of my account sides now. But then, I already know the drill — Get some Event Points, and get every featured rewards without fail — like the featured Event UR and SRs!
So far, what could be my status in this game for this week? Find out.
School Idol Channel Weekly Bulletin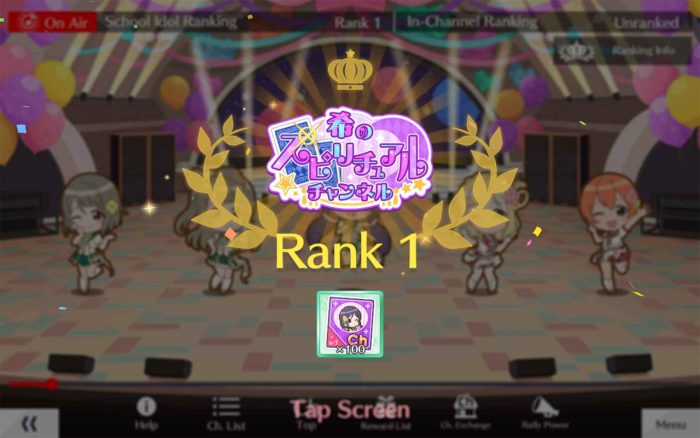 The girl whose birthday is still far to celebrate wins! I do really expected the outcome.
So then, did your best girl make it to the top, or did she flop?
JP Side – #62
| RANK # | SCHOOL IDOL | GROUP | AVERAGE CHEER POINTS |
| --- | --- | --- | --- |
| 1 | Nozomi | µ's | 13,559 |
| 2 | Mari | Aqours | 5,253 |
| 3 | Kotori | µ's | 4,262 |
| 4 | Emma | Nijigasaki | 3,784 |
| 5 | Shioriko | Nijigasaki | 3,604 |
| 6 | Setsuna | Nijigasaki | 3,457 |
| 7 | Shizuku | Nijigasaki | 3,441 |
| 8 | Kasumi | Nijigasaki | 3,425 |
| 9 | Yoshiko | Aqours | 3,399 |
| 10 | Eli | µ's | 3,336 |
Global Side – #49
| RANK # | SCHOOL IDOL | GROUP | AVERAGE CHEER POINTS |
| --- | --- | --- | --- |
| 1 | Nozomi | µ's | 7,763 |
| 2 | Mari | Aqours | 4,921 |
| 3 | Kotori | µ's | 3,622 |
| 4 | Rin | µ's | 3,390 |
| 5 | Kasumi | Nijigasaki | 3,190 |
| 6 | Yoshiko | Aqours | 3,094 |
| 7 | Maki | µ's | 3,067 |
| 8 | Shioriko | Nijigasaki | 3,055 |
| 9 | Kanan | Aqours | 3,039 |
| 10 | Shizuku | Nijigasaki | 3,036 |
No wonder that the next girl who would top is Mari Ohara, since the end date of the next channel rankings shall end at exactly on her birthday on June 13th. So then, expect Mari to win, not only once… But twice in a row!
See you on the next channel weekly bulletin!
Round 24 SBL (Final)
I can't seem to get any SBL Awards here. And then, I just only played a couple of times once per other day. Which means, I am also barely able to play in this pre-Event. The result is that I got a lower Total Voltage Score Rank in this one.
【LoveLive! ALL STARS】

? EVENT REPORT ?

<PRE-EVENT> Round 24 SBL

「Total Voltage Ranking」

JP: ❌ DNP
GL: ? 5,791 | 54,157,579 Vlt.#lovelive #スクスタ #LLAS pic.twitter.com/TDEW1W99jF

— INORI DONZ | Inori-D Station (@InoriDONZ) June 7, 2022
This Round 24 SBL has ended, thus only placing me in a Silver Tier Ranking bracket. My JP Side did not play on this one.
EXCHANGE: Hear the Sound of My Soul! (Highlights)
For my grinding progress with this Event, I haven't even starting to play yet. But then, I had promised to myself that I will get the featured UR and SR rewards! And aside from that, I must also target some featured songs in the Voltage Score Rankings!
Everything else here shall be up to me, if I really wanted to grind higher ranks in Total Event Points. But then, I should remember that I must save my Star Gems for later!
This Event is ending in a few days from this Episode! Final results and report shall be posted to my Twitter account, as well as giving it some details in the next Episode! Look forward into it!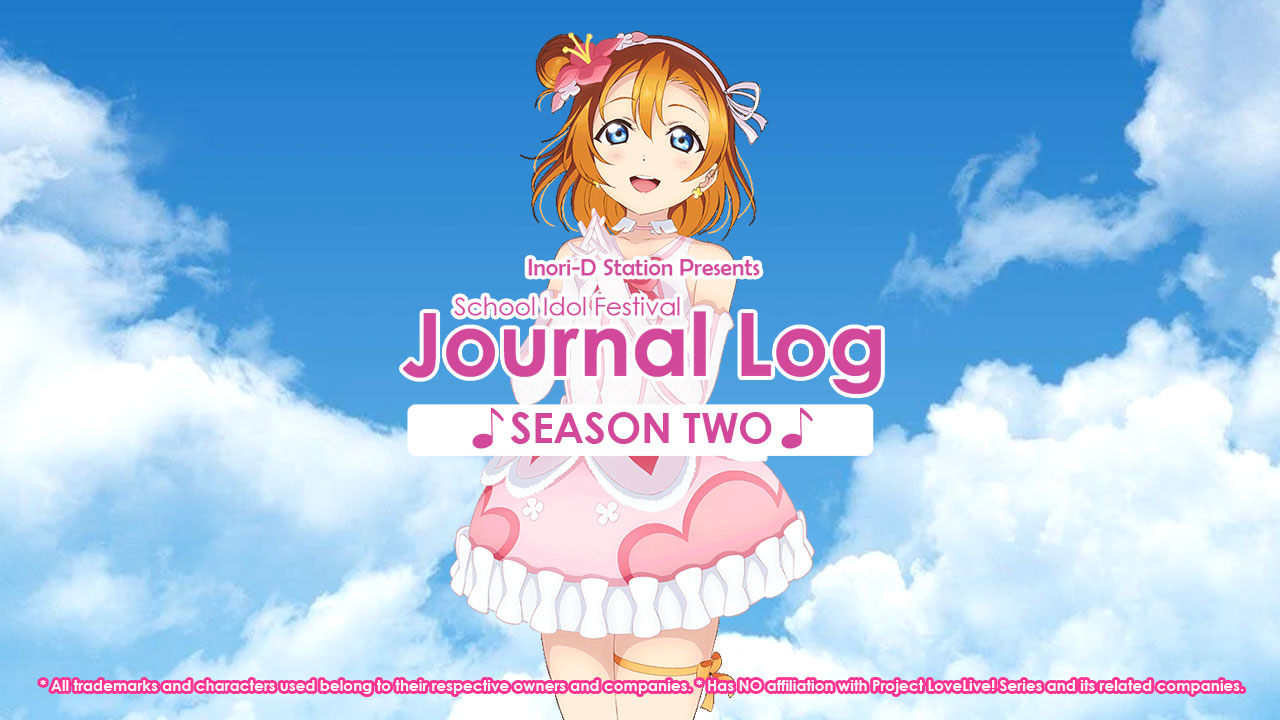 STORY EPISODE (EPILOGUE)
Lierre appears and said, "You are the other sister of You Watanabe, Tsuki, right?"
"Yep!"
And then, Chiharu, Tsuki, and Lierre are continuing their conversation.
"I had already heard the news that Aqours shall be cancelling their upcoming live show at anytime soon."
"Riko Sakurauchi is still missing and nowhere to be found."
"Absolutely, we got no idea on her whereabouts."
"What are we going to do now? Where could we find Riko?"
"Might be an impossible investigation case… But then, I am a witness on Riko's disappearance."
"Eh? Did you know?"
"Please tell us! Did you know about the man, named Gen Sakurauchi?"
"Something like that. But then, I am going to tell to you some of the small details that I had remembered when I saw it!"
And then, Tsuki Watanabe begins to tell Chiharu and Lierre about on the case of Riko's disappearance.
Later evening, at the back alleys of the city, Gen is standing alone. He was in a pile of garbage, until he sees a big mirror there. When he looked at the mirror, something has made him surprised. He is trembling with fear.
"No way… My reflection! Was this me after all the time?"
Gen was continuing to look at his hands while trembling with fear.
"I am… No… Who really am I?!"
On Gen's reflection in the mirror, he was actually Riko Sakurauchi — the little sister that Gen was actually looking for! It makes sense now that Gen is actually Riko himself.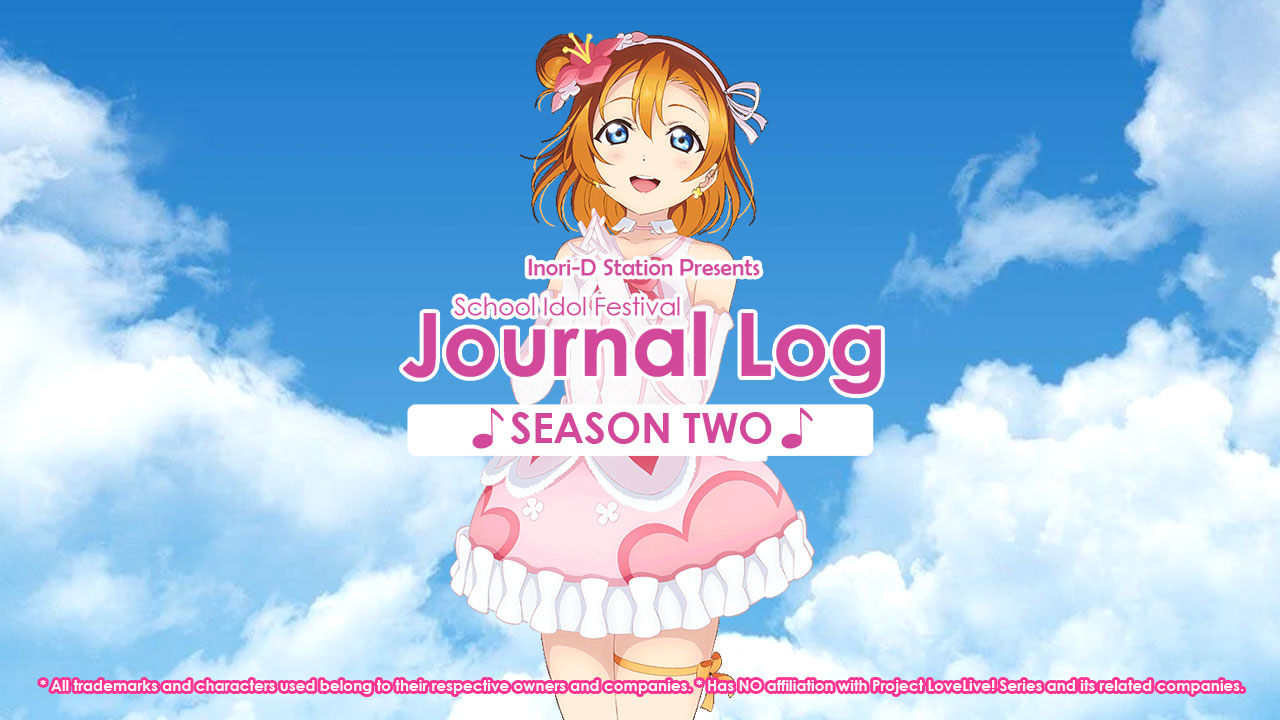 NEXT PREVIEW
As a School Idol Group, you could still perform on the stage in order to make your fans happy. What if that one of your members have issues in her health, or otherwise having a conflict of her schedule with an another Event? So then, you may be performing without that member on your side. However, your group isn't the same group anymore if she isn't present anymore both physically and spiritually on the live stage.
Next time on School Idol Festival Journal Log SEASON TWO, "Missing Riko".
Now, let's make our dreams come true together!
The Bonus Stage
In this second season, Kanon and the other four girls of the original "Liella!" are in their sophomore years. In their next semester of their schooling in the Yuigaoka Girls' High School, they have met the four new girls, who were in their new fresh years.
Their stories still continue… In the other side of the countless stars.
LoveLive! Superstar SEASON TWO!
Starts airing on July 17, 2022, on NHK E-TV Network in Japan!
Overseas streaming coming soon! Stay tuned at their feeds for more updates.
Official Website:
https://lovelive-anime.jp/yuigaoka/
RETURN TO MAIN PAGE BACK TO HOME PAGE