EPISODE 14: A Fan of School Idols
A few decades ago, there are a group of young girls who wished for their own dreams to come true. All they wanted is to make every people happy — These girls must sing their own songs and to touch and reach for their fans' feelings. They started from scratch and they were just ordinary high school girls who wear their cute and frilly costumes, and they dance and sing on the live stage. They are the School Idols!
There are some people who wished to follow their footsteps, until at the time that they disband or retire. They also give love and support to these School Idols, irregardless of genre or activities, by buying their official merchandise, CDs and home videos, and their character figures. These people had established their own group in order to follow and explore more of the world or universe of these School Idols and Groups. This group is called as the "Idol Chasers"!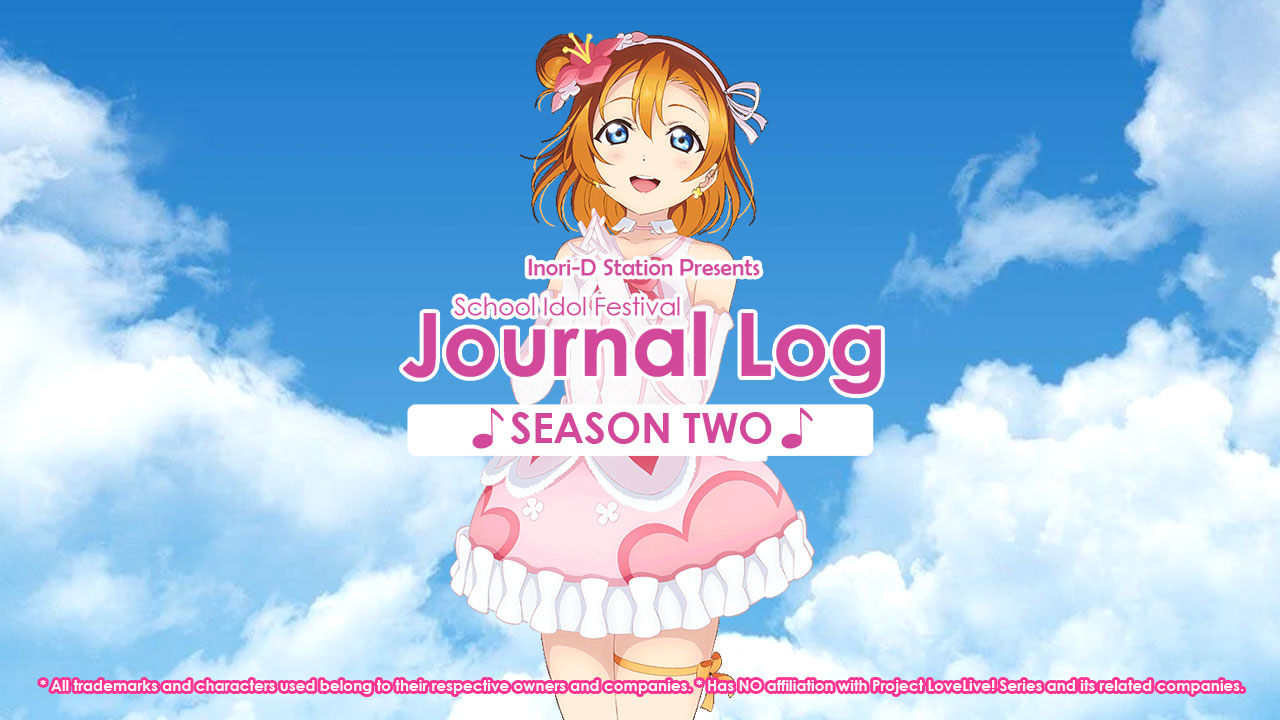 STORY EPISODE
In the early morning, Chiharu is fully packed-up. And then, she finally goes out from the house.
As she goes out from the house, she recalls the conversation with her mother and her little sister last night during their dinner.
At the time when she eats dinner with her mother and her little sister…
"The maid cafe staff has borrowed me for an overnight staycation trip!"
"Really? Was that a reward when you really worked very hard? That's great!"
"Big-sis! To where are you going?"
"I am going to Numazu City, in Shizuoka! My co-staff shall be going with me, too!"
"You know, I was wishing to go there someday. But then, that's your business trip, and we can't be able to go with you."
"Big-sis! Someday, let's go to Numazu! I wanna go to beaches! Or even pools!"
"Someday, Chinatsu…Right now, after this dinner, I shall be doing my bag checks! So that in order to make sure that I had brought everything before going out!"
"That's good! But my dear, please be careful in your journey!"
"Be careful, big-sis! Because getting lost in the sea is not funny at all…"
"Yeah, I remembered that. Alright! This could be my last dinner with you all!"
"Be careful and enjoy yourself, and with your staff, my dear!"
"Big-sis! Be careful on your journey!"
And this ends their conversation during that night.
Back to reality, Chiharu sees Lierre standing from the distance. And she comes closer to her.
"It seems you are getting tardy today," says Lierre. "What has happened?"
"Don't worry. I just check everything to make sure it's complete and safe!"
"Anyway, let us go to the maid cafe. They are waiting for us!"
"Alright! Let's go!"
When they had reached the maid cafe, they saw Takayoshi, Aika, and Sho waiting for them. And after that, they immediately head out, and they ride a train heading to Shizuoka prefecture.
It seems that the five people are quite silent when riding a train. In fact, they are sleeping, except for Takayoshi, who is just looking at the windows seeing various hills and other scenaries.
A few hours have passed, and they have finally reached Shizuoka prefecture, in Numazu City.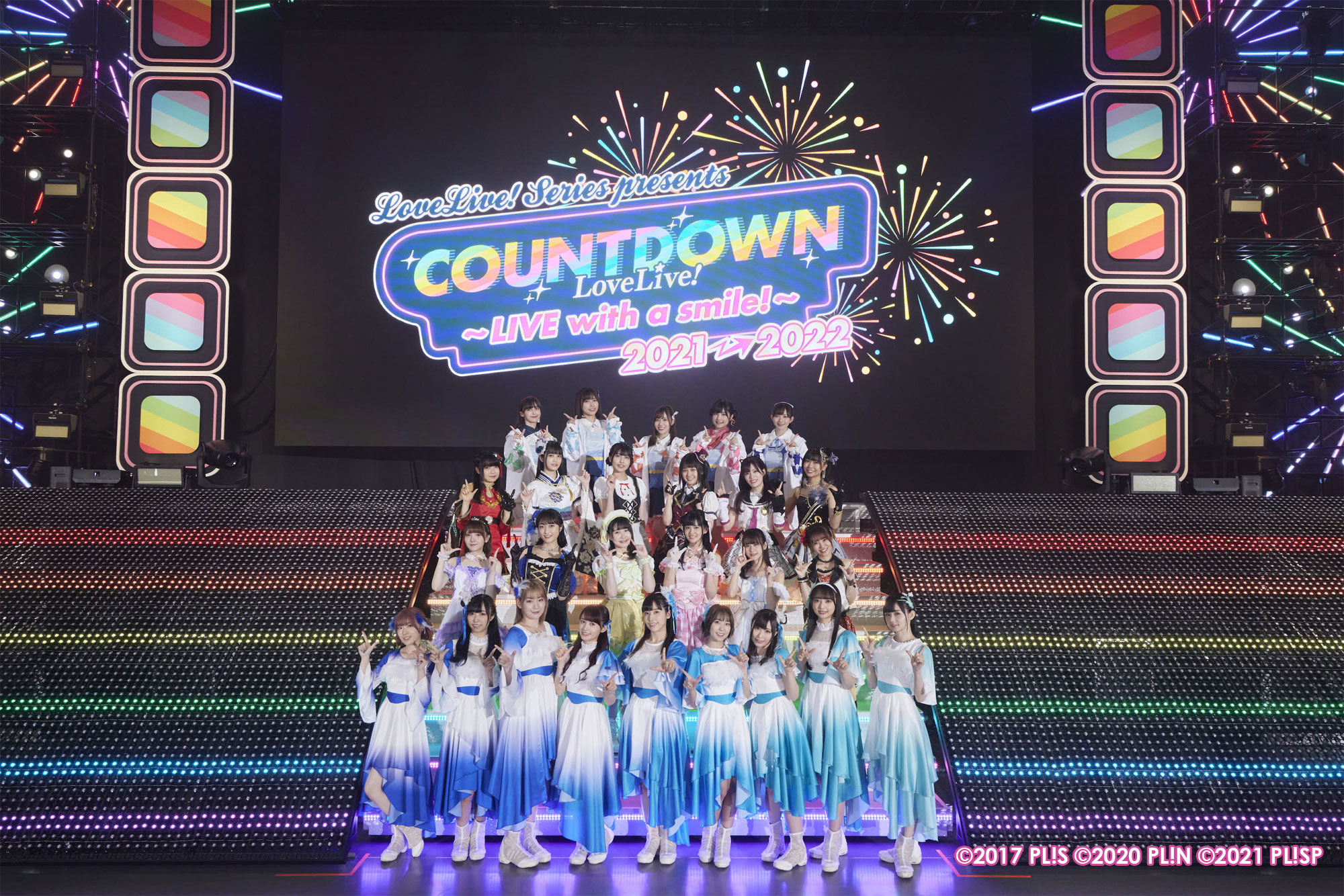 HEADLINES
We are finally back to our regular weekly publishing! This time, a lot of things have happened ever since it was out of the publishing in the past two weeks! Right now, welcome to the newest publishing schedule, and take that note!
Right as of today, what were the things spotted so far in this week? Check it out!
Happy Birthday LLSIF! And Thanksgiving 2022 Reveal!
✨スクフェス9周年新キービジュアル✨

スクフェス9周年の新キービジュアルを公開?
穂乃果ちゃん、千歌ちゃん、歩夢ちゃん、かのんちゃんの4人の新キービジュアルです!

ゲーム内でも後日登場予定ですのでお楽しみに?#lovelive #スクフェス pic.twitter.com/oKCk0b9ei0

— ラブライブ!シリーズ公式 (@LoveLive_staff) April 17, 2022
On April 15, 2013, LoveLive! School Idol Festival was released in Japan. Also, on that same date, last week, it marks the 9th Anniversary of that game! Happy anniversary (birthday)!
Through the years, when I started playing, LLSIF never fails to give excitement and enjoyment, through with its new content updates, such as new School Idols and URs, songs, and new ways to play in Events. An unforseen future is waiting up ahead on the other side of the stars. I can still follow their stories by just playing this game!
Make sure to check out the LLSIF 9th Anniversary Campaigns, in which they can be highlighted later on the LLSIF Highlights!
And also, the upcoming SIF Series Thanksgiving 2022 is already announced! Be sure to check it out!
Happy Birthday to These School Idols!
And then, last week, we have celebrated the birthdays of at least two School Idols! Who are those? Find out by reading! One is celebrated since April 17, and the other is 19!
You Watanabe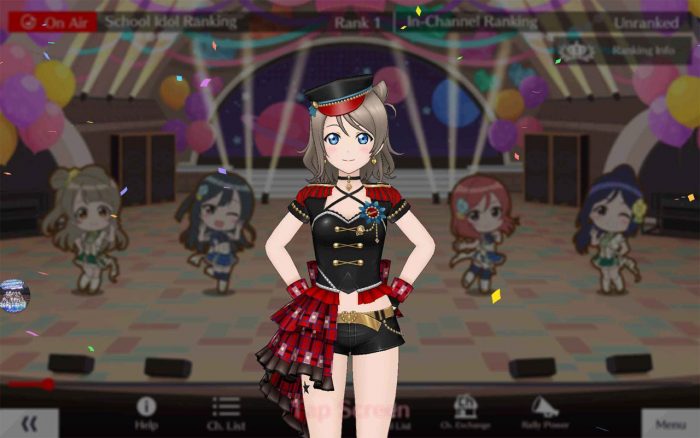 For this girl, let's celebrate by reading a birthday message for her!
Dear You Watanabe,
It's another year again, and I am here to celebrate again your birthday! Well, do you like sewing clothes? Basically, I am looking for some new ideas on my next clothes project for my "Nendoroid Dolls!" If you could help me think of an idea, then I can help you also in return!
Anyway, on my birthday wish for you, here it goes! Whatever obstacle comes into your way, just keep on and don't lose focus! You are definitely one of the Aqours sophomores (2nd Years) that considered to be my favorite, along with Chika and Riko. So then, keep up your pace, and stay healthy!
We love you, as fans, You Watanabe! Happy birthday!
And also, please check out You's new song in her latest album!
Maki Nishikino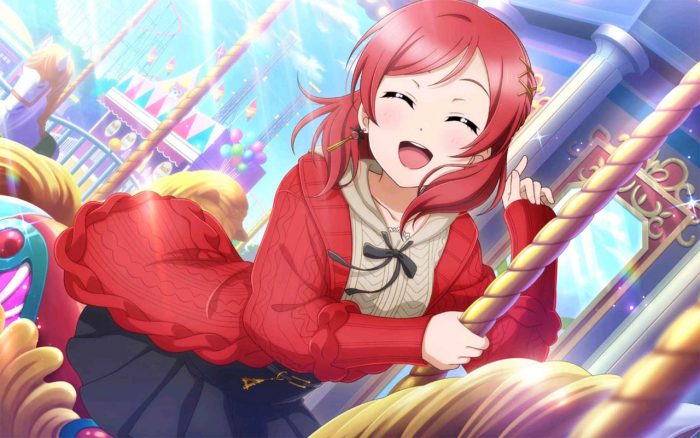 And also, this girl is celebrating her birthday, just two days from You Watanabe! Alright, let's read!
Dear Maki Nishikino,
Did you fulfill finally your wish in becoming a doctor? Or a piano composer, perhaps? Whatever dreams are you taking on, just be persevere and don't ever give up. What you love is basically your passion, and keep continuing to do that so people can really follow on what you are now.
Happy birthday, dear Maki Nishikino! We fans love you!
Nijigasaki Anime SEASON TWO Episode 3 Review!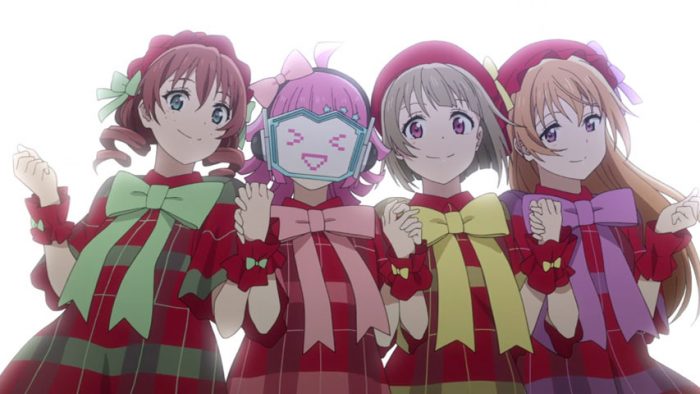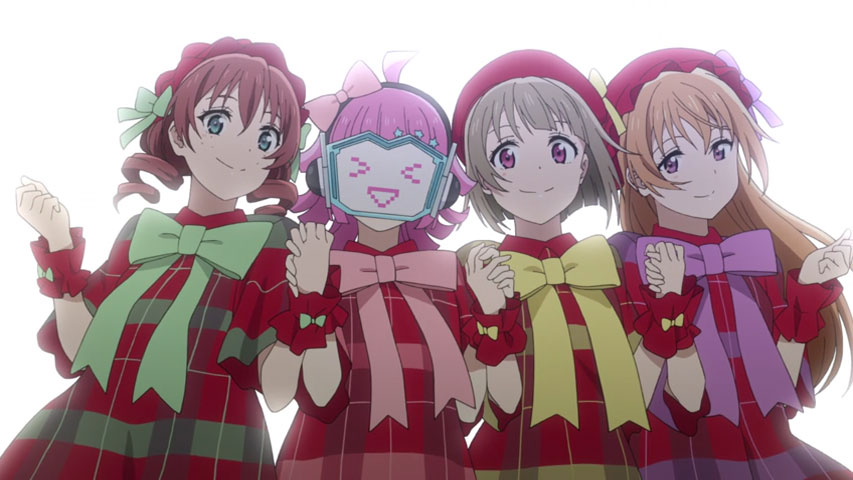 Right today, I am reviewing Nijigasaki Anime SEASON TWO per Episode! This Anime series has been aired and streamed since April 2, 2022 with its First Episode!
So far, what has happened in this Episode, and what are my reviews and impressions with it?
Read more here!
Also, be sure to check out the page for some list of Episodes, and some Episodes within the second season that I had reviewed here!
MTV Unplugged Presents: LoveLive! Superstar!! Liella!
「ラブライブ!スーパースター!!」#Liella!関連イベントのチケット抽選申込を受付中?
締切は4/24(日)迄!お忘れなく?

⏰5/27,28
MTV Unplugged Presents: LoveLive! Superstar!! Liella!https://t.co/VxtLcblUr0

⏰6/4,5
2ndライブ with Yuigaoka Girls Bandhttps://t.co/Gb31XyqKty#lovelive pic.twitter.com/pdseK1rBcX

— ラブライブ!シリーズ公式 (@LoveLive_staff) April 20, 2022
On the other hand, Liella! group has announced tons of stuff, which included their upcoming live performance next month, which shall serve as a "Prologue Live" to their 2nd Live Part 2 on June!
Liella! shall be teaming up with MTV (Music Television), in the segment program, called the MTV Unplugged! And did you know that MTV is an American-International TV Program?
Their upcoming live performance shall be held at Pia Arena MM, in Yokohama, Japan, this coming May 27-28, 2022. More likely, overseas paid streaming shall be announced soon, since MTV is an International TV program based in United States.
Otherwise, look forward into this one!
Official Page:
https://lovelive-anime.jp/yuigaoka/live/sp_mtv/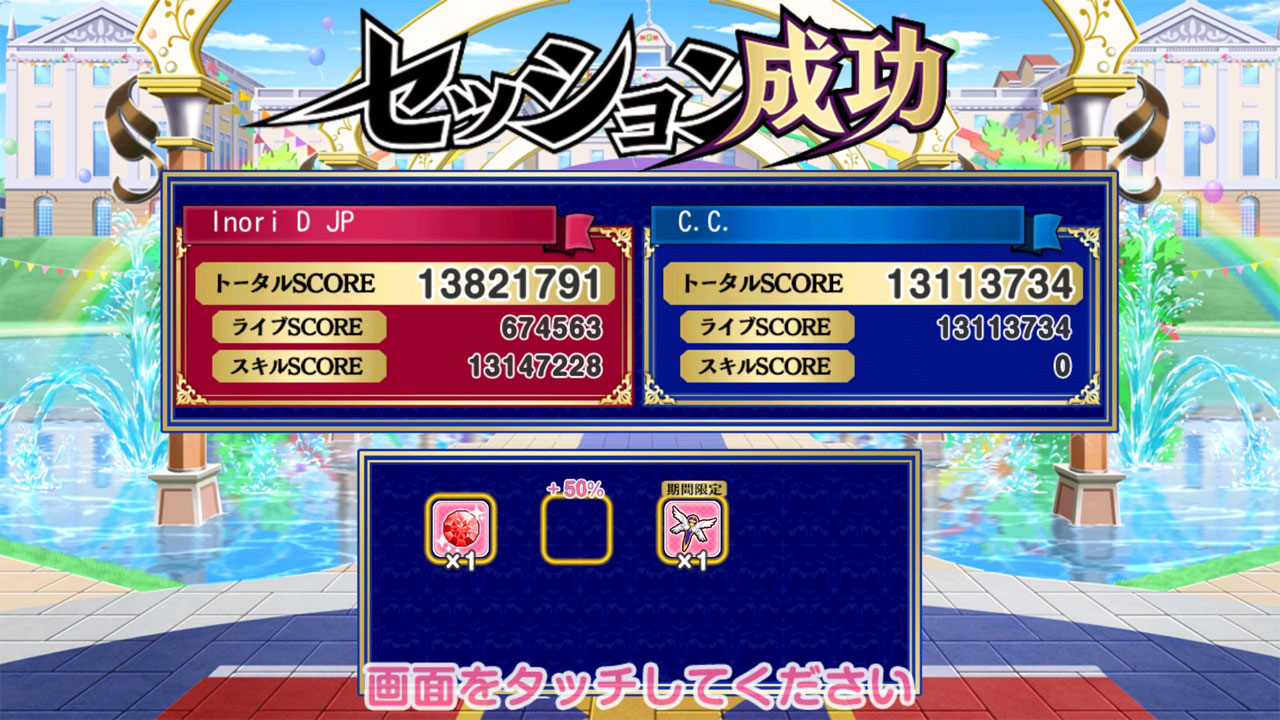 LLSIF HIGHLIGHTS
So then, we are almost at the peak or conclusion with the ongoing CODE GEASS Collab Event! And then, I had managed to complete the Part 1 of it in both of my EN and JP Sides! But then, my EN Side was able to barely complete the Part 2! As of today, my JP Side is fighting hard to clear all of the Special Sessions in Live Arena! Find out as I am going to highlight them in this Episode!
And on the other hand, the LLSIF 9th Anniversary Celebration Campaigns won't really allow us to break our Login Streaks! Otherwise, you won't be able to get the last item if it happens! In other words, don't miss a login.
Other than those above, what are the other things encountered, so far?
Round 33 Challenge Festival (Highlights)
So then, as part of their ongoing LLSIF 9th Anniversary, in which it shall last until June (That's 3 months long!), the Events shall be changing their formats, a bit. Such as that some rewards in the Score Rankings shall be added with some new items! And also, at least three (3) URs can be obtained from this Event! And did you know that I can predict that they shall be releasing these 3 URs format until June, until the 9th Anniversary Celebration Campaign period ends? This month shall be 2nd Years from each School Idol Group, μ's and Aqours. Most probably, they are going to release either 1st Years or 3rd Years next month! This is something to expect, and look forward into those!
Going back to the highlights, this Challenge Festival has started since April 5, 2022, and lasted until April 15, 2022, which also marks the LLSIF's 9th Anniversary. The Event URs that can be obtained from this Event are the μ's 2nd Years! Use these URs as Cheer Points Boost in order to grind higher ranks in this Event (Gives you at least 100% boost per Event UR character)! And also, the URs that can be obtained from the 9th Anniversary Scouting can more likely to give you more boost further!
And then, for my own highlights, I am just devising a new strategy in order to grind higher Event Points, and to stay in the rankings! I am just doing my Event Points Daily Quota to see on how much Event Points that I am grinding every day. When I found out my average Event Points that I need to stay on the top, then I must go with that certain amount, and that's the time that I must grind that given amount of Event Points before that day ends. And yes, I had did this before, and you can refer to my Twitter post in my Twitter account.
【LoveLive! SIF】

LLSIF 9th Anniversary Month 1 (1st Half)

? EVENT REPORT ?

<μ's> Round 33 Challenge Festival

Points: ? 315 | 8,632,762 pts.
Score: ? 2,710 | 8,191,472 scr. (Happy maker!)#lovelive #スクフェス #LLSIF #スクフェス9周年 pic.twitter.com/7RwGcITu13

— INORI DONZ | Inori-D Station (@InoriDONZ) April 15, 2022
While this Event is already finished, I am already grinding for an another Event (later in this highlight) which shall last until the end of this month. Unless if I won't even try to build this "trendy" meta team to score higher and to dominate in the Event Score Rankings, I am just going to have a hard time achieving it, and I would always end up in the lower rank bracket. Yep, this is something that needs my attention, too.
The Final Stretch: Round 18 Live Arena (Code Geass Collab)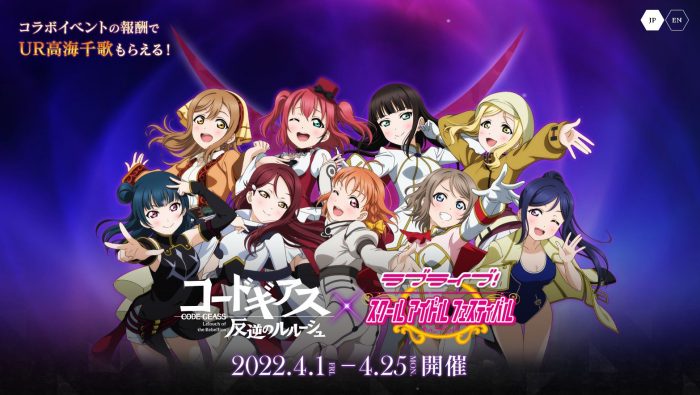 This collab event is ending soon, in just two days away from this Episode! Make sure to grind and fight hard in the Live Arena to finish it, as well as getting some CODE GEASS Collab URs! This is your last chance to take your last glance at these girls wearing C.C.'s costumes, and you can never get to see them again in the near future once it ends! Otherwise, scout them if you still don't have them in your members stable!
And also, make sure to finish the Live Arena on time, if you got motivated well! You must reach EXPERT or ROYAL EXPERT Category Class until April 25th in order to win UR Chika in her Ashford Academy uniform, as seen in the Code Geass Anime! Use this guide on how to survive, win, and to upgrade your LA SIS items here!
This is your final showdown with Nunnally and C.C. (and Lelouch) in the Live Arena. Be victorious and bring Aqours home!
LLSIF 9th Anniversary Campaign
So then, there are tons of exciting things to encounter in this wonderful celebration! Find out by reading below!
9th Anniversary Limited UR Scouting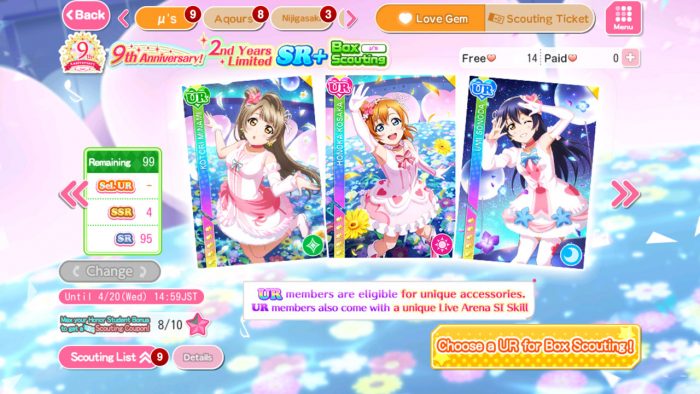 EXP x 10
The EXP x 10 Live Show Modifier allows you to gain more EXP, when you try to achieve higher Base Player Ranks! Good for those people who had reached at their Rank 1,000's. And this shall last until the 28th of April, in which it can tag along with the ongoing Medley Festival now (To be highlighted later)! So then, use this opportunity to gain higher Base Player Ranks, and as well as to increase your current maximum LP!
9th Anniversary Lottery!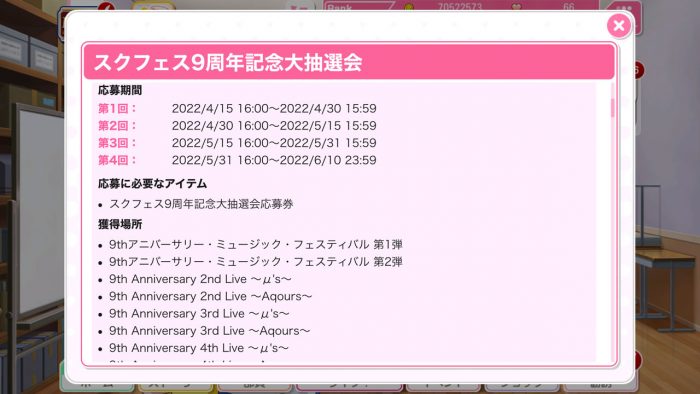 So then, there are at least four (4) parts of the 9th Anniversary Lottery! So then, take note of the dates on when these lotteries would occur!
Part 1: April 15 (4:00 pm JST, after patch update) to 30 (before the patch update, 3:59 pm JST)
Part 2: April 30 to May 15
Part 3: May 15 to 31
Part 4: May 31 to June 10
You can refer to the photo above for the time cutoffs!
For the acquisition of the item, called the 9th Anniversary Jumbo Lottery Tickets, you can get them by accessing the in-game banner, which is located at your home screen! You can also get them by playing in some mini-events, notably the Setlist Events!
The Setlist Events can be highlighted on the next Episode — It seems that we could get to have at least three (3) more sets incoming in the next succeeding weeks! So then, I am going to give you some details about it next Episode, and you should be looking forward into that!
Round 31 Medley Festival
So then, if we had µ's 2nd Years on the previous Challenge Festival Event, then we are going to have Aqours 2nd Years this time as Event Rewards in this ongoing Medley Festival!
【LoveLive! SIF】

LLSIF 9th Anniversary Month 1 (2nd Half)

<Aqours> Round 31 Medley Festival

To be detailed on #IDS_SIFJL_S2 this Saturday, along with the other past Event highlights!#lovelive #スクフェス #スクフェス9周年 #LLSIF #LLSIF_9th pic.twitter.com/l1pSd5kxkS

— INORI DONZ | Inori-D Station (@InoriDONZ) April 19, 2022
Use those three Event UR rewards as Cheer Points Boosters in order to grind for higher Event Points Ranking in this Event! Be victorious and finish this Event with higher Event Points amount!
Since this is a Medley Festival Event, you know the usual things to do, right? Then, read this guide on how!
Yep, this 2nd-Half of the celebration, Month 1, shall last until the 30th of April! I am going to give my own highlights, such as my Event Points grinding progress, in the next Episode! Look forward into it!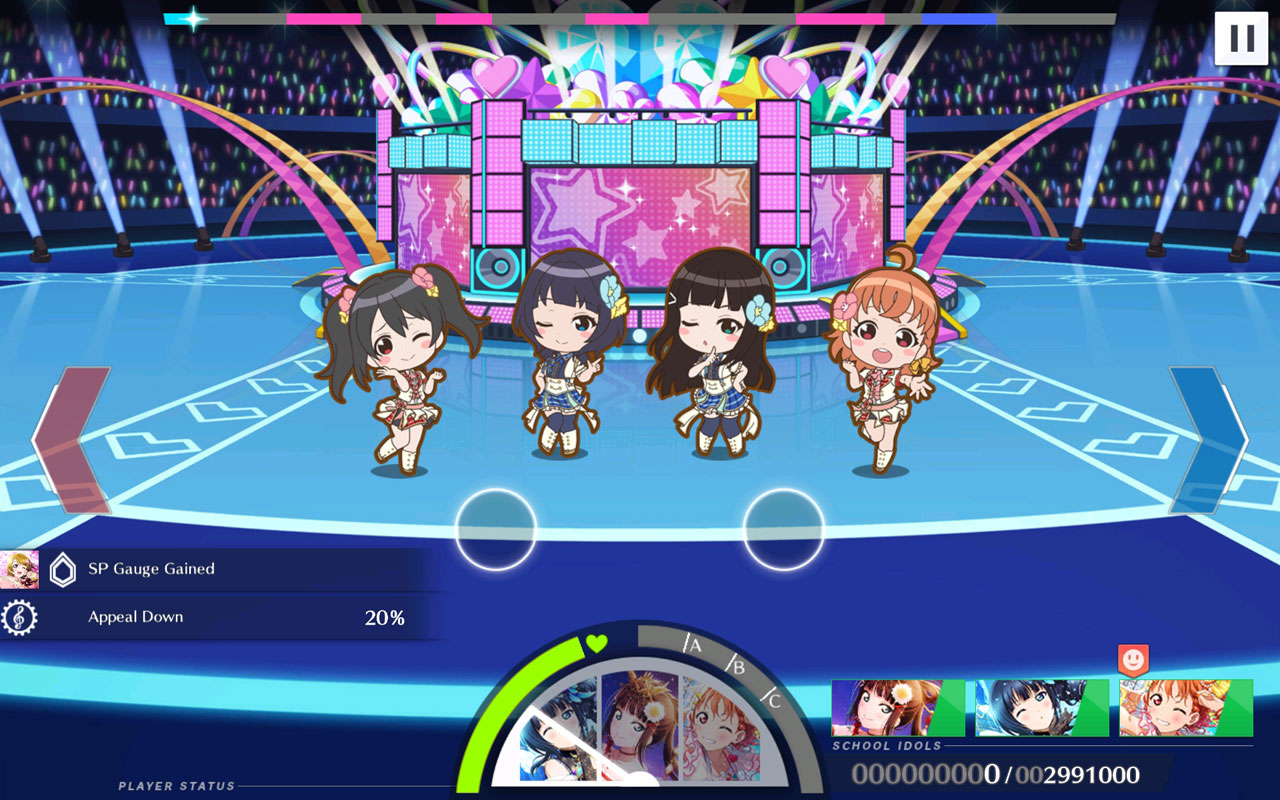 ALL STARS HIGHLIGHTS
While LLSIF is fully-loaded with its exciting 9th Anniversary Campaigns, such as Limited UR Box Scouting banners, and others, such as lotteries or some other equivalent, ALL STARS is also equipped with some exciting campaigns, like that TV Anime SEASON TWO concurrent stories and some Limited Scouting Banners!
Well, what were the other things spotted, so far in this Episode?
EXCHANGE: Fleeting Night Sakura (Highlights)
This Event has been ended last week, during at the time when SIFJL is off the publishing for at least two weeks!
In this Exchange Event, the Event UR is Riko Sakurauchi, and the Event SRs to be obtained and exchanged are Kanan Matsuura and Kanata Konoe.
LOVELESS WORLD, SKY JOURNEY, and Kaika Sengen were the Event Songs for the Voltage Score Rankings. Meanwhile, the song, "Just Believe!!! (12 Members Ver.)" was the song to be used in an upcoming Main Story Chapter next month in May 2022.
For the highlights on my own, it goes like this.
Since due to the ongoing campaign in LLSIF, so does to my half-absence to this Event. In fact, I had ended doing nothing, but skips. But then, I had barely snatched the Event SRs from the Exchange Shop, due to the fact that I ain't grinding seriously in this Event. And then, somehow, I had given those Voltage Score Ranking songs an attention. But, still, I had ended up in a very low ranking bracket.
【LoveLive! ALL STARS】

? EVENT REPORT?

<EXCH.> Fleeting Night Sakura

〈Points〉
JP: ? 34,755 | 91,025 pts.
GL: ? 8,650 | 96,000 pts.

〈Voltage Score〉
JP: ? 10,286 | 10,204,666 Vlt.
GL: ? 2,680 | 9,898,986 Vlt.#lovelive #スクスタ #LLAS pic.twitter.com/pI1Gd2tVnG

— INORI DONZ | Inori-D Station (@InoriDONZ) April 15, 2022
This Event has been finished since last week. JP Side absolutely can't do anything, and it has ended up in a lower Bronze-Tier Ranking, in both Event Points and Voltage Score. Global Side, on the other hand, got both Silver-Tier Rank on Voltage Score and Event Points.
TV Anime SEASON TWO Concurrent In-Game Stories!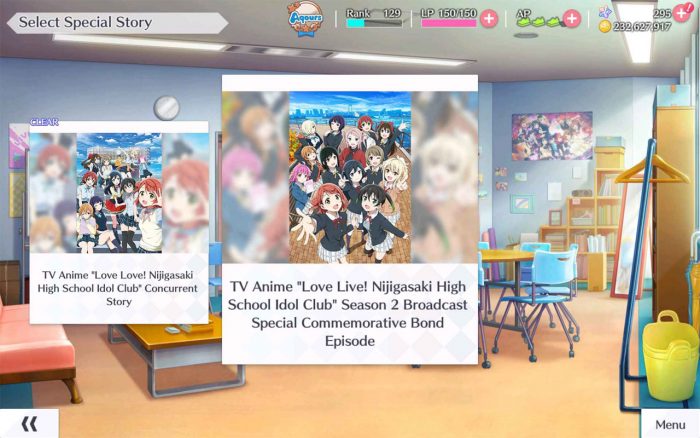 And right after each Episode is aired or streamed, the concurrent in-game stories are available and are updated weekly! Read these stories, and finishing them within a given clearance period will award you with some Star Gems and other items!
On the other hand, there are limited songs that shall appear in your song library! Those songs are coming from the TV Anime SEASON TWO, which include opening and ending themes, as well as some insert songs that shall appear on that Episode! Make sure to check them out, and clear those songs in all difficulties to get some Star Gems!
There are other parts of the campaign, such as allowing you to get at least 1 UR Scouting Ticket from the Login Bonus, once that Episode is airing or streaming soon!
STORY: Eggspressing Our Feelings
/
テーマ「イースター」
ストーリーイベント&ガチャ開催予告!
\

???たまごに込められた想い???

報酬 #桜坂しずく #園田海未 #天王寺璃奈
ガチャ #小泉花陽 #高海千歌 #ショウ・ランジュ

▼詳細(ガチャ開催は明日15:00から!)https://t.co/vT0mSRwTAS#LLAS pic.twitter.com/vJSzkTjwVx

— ラブライブ!スクスタ公式 (@LLAS_STAFF) April 18, 2022
This Event has been commenced since as of yesterday, and shall last until the 29th of April 2022!
Event members are as follows to be obtained from this Event:
UR Shizuku Osaka
SR Umi Sonoda
SR Rina Tennoji
Put them in your party formation, and then use Skip Tickets to get more Event Points! Scouting also on the Event-Featured URs and SRs from the Scouting can allow you to get even more Event Points acquisition rate! And then, using any characters featured in this Story Event can more likely give you additional Event Points acquisition boosts, too!
So far, this shall be the details of this ongoing Event on ALL STARS! My own highlights, such as my grinding progress, shall be tackled next Episode! Look forward into it!
School Idol Channel Weekly Bulletin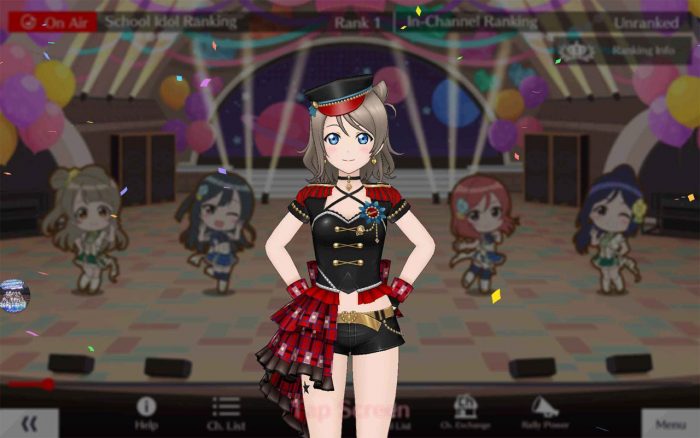 As usual, this one is included on each Episode, in this part! And the birthday girl wins! Maki is so close, yet not too close to win!
But then, did your best girl win the top ten this time around?
JP Side – #55
| RANK # | SCHOOL IDOL | GROUP | AVERAGE CHEER POINTS |
| --- | --- | --- | --- |
| 1 | You | Aqours | 21,016 |
| 2 | Maki | μ's | 8,786 |
| 3 | Kasumi | Nijigasaki | 3,868 |
| 4 | Setsuna | Nijigasaki | 3,751 |
| 5 | Kotori | μ's | 3,652 |
| 6 | Eli | μ's | 3,558 |
| 7 | Kanata | Nijigasaki | 3,492 |
| 8 | Kanan | Aqours | 3,474 |
| 9 | Shioriko | Nijigasaki | 3,462 |
| 10 | Rina | Nijigasaki | 3,424 |
Global Side – #42
| RANK # | SCHOOL IDOL | GROUP | AVERAGE CHEER POINTS |
| --- | --- | --- | --- |
| 1 | You | Aqours | 10,448 |
| 2 | Maki | μ's | 5,191 |
| 3 | Setsuna | Nijigasaki | 3,811 |
| 4 | Kanan | Aqours | 3,632 |
| 5 | Kotori | μ's | 3,433 |
| 6 | Kasumi | Nijigasaki | 3,205 |
| 7 | Kanata | Nijigasaki | 3,155 |
| 8 | Shizuku | Nijigasaki | 3,046 |
| 9 | Honoka | μ's | 3,017 |
| 10 | Ayumu | Nijigasaki | 2,919 |
As usual, the folks in the JP Side got twice the amount from the Global (EN) Side, in terms of Cheer Points. Setsuna and Kotori had still retained their dominating top 10 positions in any past SIC Rankings ever! And then, I can see that Maki shall be the next top one girl here, despite that her birthday is already finished! Therefore, it is time to make your revenge, Maki Nishikino! Go and fight!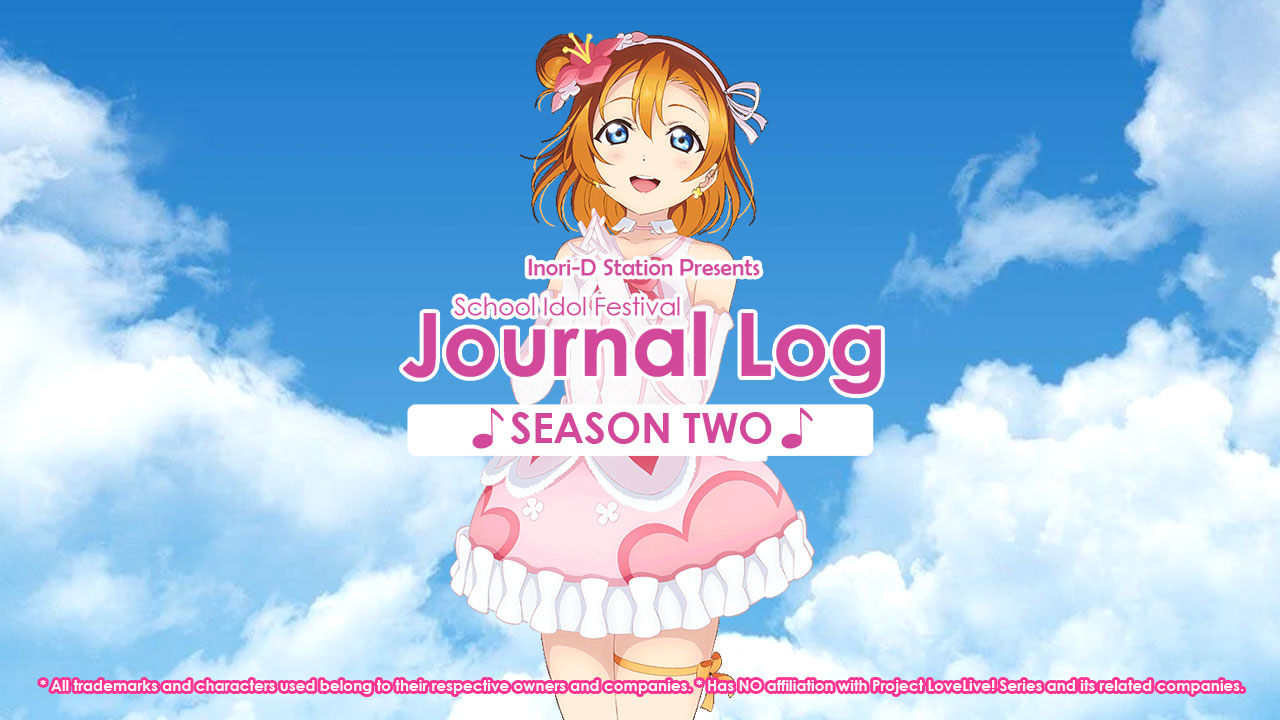 STORY EPISODE (EPILOGUE)
When they are out from the station, it seems that the party is starting to become more excited. And then, they continue to move forward.
A few hours later, they keep strolling in the streets untl they realized that they don't have any idea on where to go to bring the letter that Saki has gave to them.
Aika and Sho are now asking everybody some questions.
"Don't have any idea on where we should go?"
"I am very tired and I want to go somewhere to rest!"
Takayoshi replies to them, and said, "I don't know. It is just written as Mrs. Sakurauchi. But she didn't tell us about the address of the person that we are looking for."
Chiharu and Lierre then adds up into the conversation.
"Well, she has given us some details. And yet, she didn't really specify on which place in Numazu City we should go."
"It seems that she had forgotten that when she has briefed us during the meeting."
"Maybe, is she testing us on how smarter we are?"
"It seems. Maybe, it has something to do with the School Idol's…"
And then, a runaway thief is running towards the Idol Chasers after turning from the last curve of the path. Takayoshi noticed something different from the thief's face and eyes. So, he used his right foot in order to trip him of his run.
The thief got tripped on his run, and the bag that he is carrying with his hands got dropped.
Takayoshi picks up the bag and said, "Don't ever steal things from people. Or someday, you will face consequences!"
The thief is scared in his eyes, and he runs away afterward.
And then, they wondered on whose bag was it. And when Takayoshi has opened the bag, and saw the wallet there, he finally found out something.
"Guys, we need to go to this location! This wallet belongs to the person that we have been looking for!"
Afterwards, they started moving.
And when the afternoon came, they had arrived to the house where the person that they have been looking for has been found.
"Mrs. Sakurauchi! We had finally recovered your stolen bag from the thief!" said Takayoshi.
"Thank you. I was about to call the police for that situation," said Mrs. Sakurauchi.
"Don't worry. In fact, we are here because we are tasked to bring this letter to you!"
"A letter? May I see it?"
And so, Takayoshi handed over the letter to Mrs. Sakurauchi. And then, she opened it and she reads the letter, along with a picture in it. She was then glad and she remembered something.
"On a way back then, I was a fan of School Idols! Even my daughter now is a School Idol in the present."
And then, Chiharu joins the conversation with Mrs. Sakurauchi.
"Saki actually wrote a letter to you. In fact, she was thankful because you keep supporting her and her group until the very end!"
"That time, I keep supporting her until the very end, even though that they had lost to the last LoveLive! Finals before they had disbanded. Basically, they were the popular School Idols that time, and they were always dominating in the LoveLive! Finals every year."
"It is really true that Saki, Takayoshi's mother, is a real legend, isn't it?"
"Maybe. But at the time that they were already disbanded, they have left good memories in which it touches the hearts of everybody. And then, a lot of young girls and aspirants have taken and traversed the path of becoming future School Idols, just like my daughter."
"Is there any way we could talk to your daughter right now?"
"I think not. She is not here as of today. And right now, she isn't coming back yet as of last week. Somehow, I am worried for her."
"Missing? Strange, where did she go?"
"What I have known last is that she is currently busy with her friends, making their new song PV."
"I see. By the way, we are here to solve out the mysteries of the School Idols! We are…"
Takayoshi steps in and said, "Chiharu, stop! I think this can be up to here. I apologize, Mrs. Sakurauchi!"
"That's okay!" replied Mrs. Sakurauchi. "In fact, I am going to give this to your mother something before you leave."
And then, Mrs. Sakurauchi has given them an item in which Saki has requested in the letter.
"Here, take this big envelope. It contains also a photo, but bigger than the one that Saki has given to me."
And then, the Idol Chasers has thanked Mrs. Sakurauchi before they leave.
"Thank you very much!"
"Just be careful on your way home. It's getting too dark, by the way. Would you like to stay in our home, for the meantime, until sunrise?"
"No thank you, Mrs. Sakurauchi!" replied Takayoshi. "In fact, we can manage ourselves!"
"Once again, be careful everybody!"
And the Idol Chasers thanked her once again, and they left.
Mrs. Sakurauchi sees herself in the photo that Saki has given to her. She remembers herself that time as a supporter, or likewise, a fan of School Idols.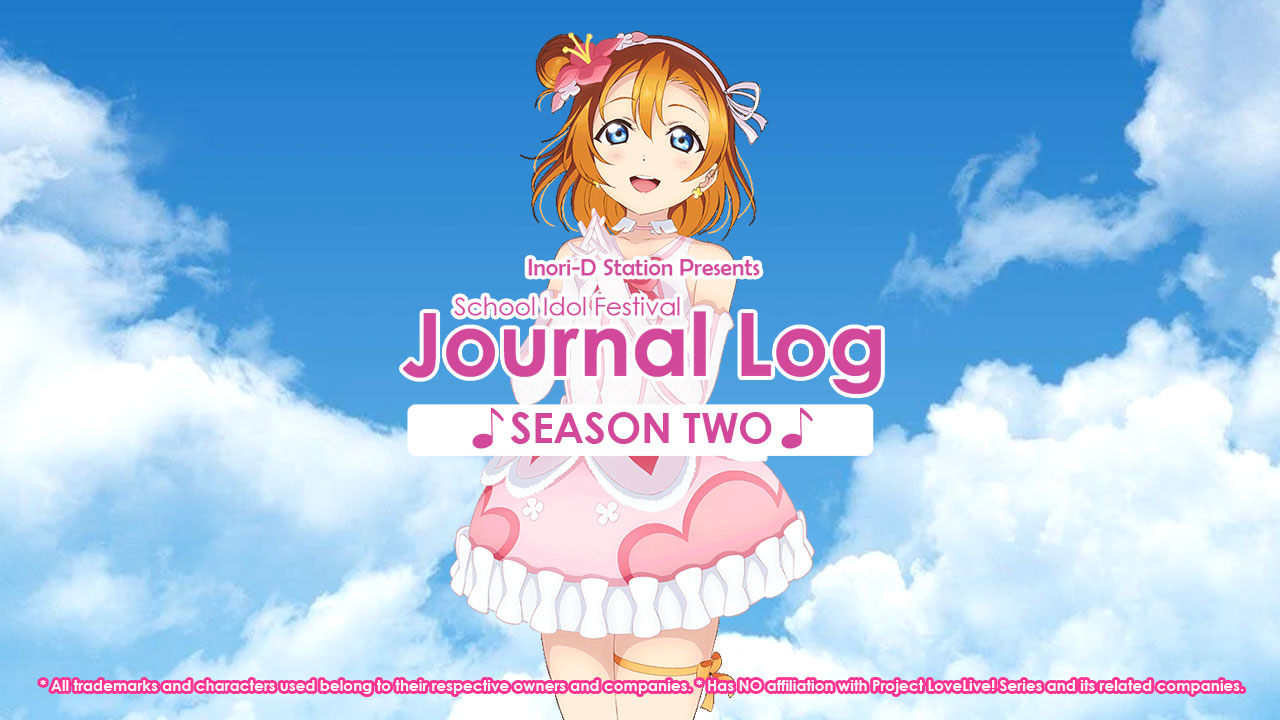 NEXT PREVIEW
The Idol Chasers have successfully delivered the item to Mrs. Sakurauchi. But then, it was already night, and they need a place to stay! Takayoshi, on the other hand, is unable to draw a new UR character in the rhythm game that he is playing. Will his last scouting draw in the game shall put him into a total defeat?
Next time on School Idol Festival Journal Log SEASON TWO, "Takayoshi in the Sea"
Now, let's make our dreams come true together!
The Bonus Stage
The girls of Nijigasaki are back in this second season! Shioriko Mifune, Mia Taylor, and Lanzhu Zhong are now added to the stable!
Once again, these girls are seeing each other — sometimes as friends or rivals everyday.
They all have one, common dreams! And that is, somebody like Yu Takasaki, can support these twelve girls in making their dreams come true!
And once more, they are chasing for their dreams, along with their new friends and rivals at their side!
So then, they wanted to have an Event once more, in order to put these girls, whether friends or rivals, together! This Event is called as the "School Idol Festival".
However, the different concurring activities in school can make themselves having a hard time organizing this come-together Event. Can Yu be able to put these girls together, and make their dreams come true? This is the story of Yu Takasaki and the twelve School Idols, in their quest for unity and with their rainbow-colored friendship adventures!
LoveLive! Nijigasaki High School Idol Club SEASON TWO!
Starts airing and streaming on April 2, 2022!
For overseas simulcast, check with your local Anime licensors per region for the time and availability in your area!
Also, LLSIF and ALL STARS in-game celebration campaigns now going on!
Official website:
https://lovelive-anime.jp/nijigasaki/
RETURN TO MAIN PAGE BACK TO HOME PAGE