EPISODE 13: First Mission
Now that the Idol Chasers have everything set, this is where their true path, as fans of School Idols, begins here.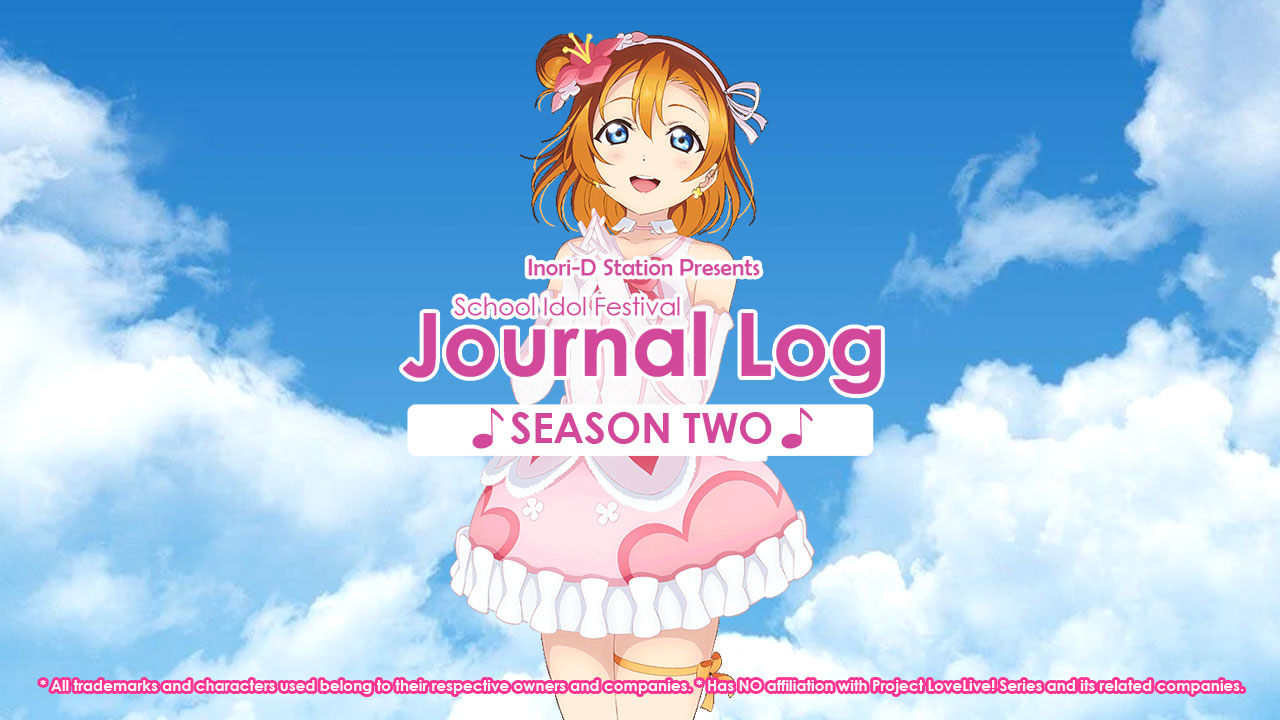 STORY EPISODE
Another morning comes, and Chiharu finally wakes up from her deep sleep. When she was about to open the door of her room, she looks on that familiar LoveLive! poster shown and stuck to her door. She finally remembers that "Legendary School Idol Group" that made almost all of the people, who watched their last live performance, be moved with their hearts.
Among the group in that LoveLive! poster, she sees Honoka. She realized that Honoka is the mysterious girl donned with an orange frilly costume and ribbons. And also, she realized that Honoka is the one in her dark dreams who keeps telling her the same sentence, yet her finishing words aren't completely understood. And then, Chiharu repeats that sentence, as said by Honoka in her dark dreams.
"You are a School Idol and… a Supporter!"
After that, she opens the door of her room, and leaves.
When Chiharu has made it downstairs up to the dining area, she saw her mother and her little sister, Chinatsu, eating breakfast. And then, she finally hears some joyful moments from them while eating.
"Absolutely delicious! It was really tasty than my cooking myself!"
"Oh… And this ramen is so delicious! I hope that she would never leave us here!"
Chiharu saw them eating with their joyful expressions in their faces, and said, "Mom, Nacchan, why are you eating so heavy in the morning?"
And then, Lierre comes out and said, "I did. I did the cooking, myself, for breakfast."
Chiharu then talks with Lierre.
"It's okay to cook breakfast, but not as heavy as that ramen!"
"I know. But your mother has told me that she wanted to eat good food. So then, I volunteered to make and cook them a breakfast."
"I see. But anyway, thank you very much!"
"Well appreciated. And then, you should be eating your breakfast first before we leave to go to the maid cafe."
"Alright. Okay, I am going to eat heavy today, since I shall be busy the entire day!"
And then, Chiharu has started to eat breakfast with her mother and Chinatsu on the dining table.
The time has passed and Chiharu and Lierre are now walking and making their way to the maid cafe in Akihabara. And then, along the way, Chiharu finally sees somebody who is talking to a girl. She then pauses her walking pace, and she observes.
Chiharu sees her friend, Haruka Konoe, talking to someone while the tears in her eyes are coming out. In that conversation, in which Chiharu has found it heart-breaking and frustrating, she secretly listens and looks at them.
"Big-sis… I am sorry…"
"It's alright, Haruka. You had already given out your best in your last live performance!"
"But then, we still lost in the finals."
"There is always a chance that you could join and to win next time! At least, you had realized your own mistakes now."
"Big-sis. I will definitely win next time! I am going to train and to practice hard with my group!"
"That's my little sister! Just don't give up and always try again if you fail. I will be always around to help and support you."
(Notes: In Japanese language, Kanata Konoe is always using her name as "pronouns" (i.e. Watashi, Boku, or Ore) along with her sentences.)
"Wait, is your upcoming live performance is on the coming next weekend?"
"Of course! Make sure to watch it!"
"If you are supporting me in my School Idol activities, then it's my turn to support you, big-sis!"
"Thank you, Haruka. Your big sister always loves you."
And then, the Konoe sisters hugged each other. A minute has passed and Haruka was unable to get out from her big sister's warm hug.
"Big-sis… It looks like we need to break out."
"Suya-suya…."
"Oh no! Big-sis is sleeping again! Help me!"
Chiharu smiled at them from the distance, and at the same time, looking at their funny yet happy moments.
"Haruka. Just enjoy what you are doing right now, as a School Idol."
And then, Lierre finally talks to Chiharu.
"Chiharu, it seems that Takayoshi's mother has finally given us our very first mission, as Idol Chasers. We need to get to the maid cafe immediately."
"Okay. But, about Haruka… I will definitely meet with her again once I got time to do so!"
"And that's a promise! Is that how it goes?"
"That's my line, Lierre! But on the other hand… Let's go to the maid cafe!"
After that, they immediately moved out and they head on to the maid cafe.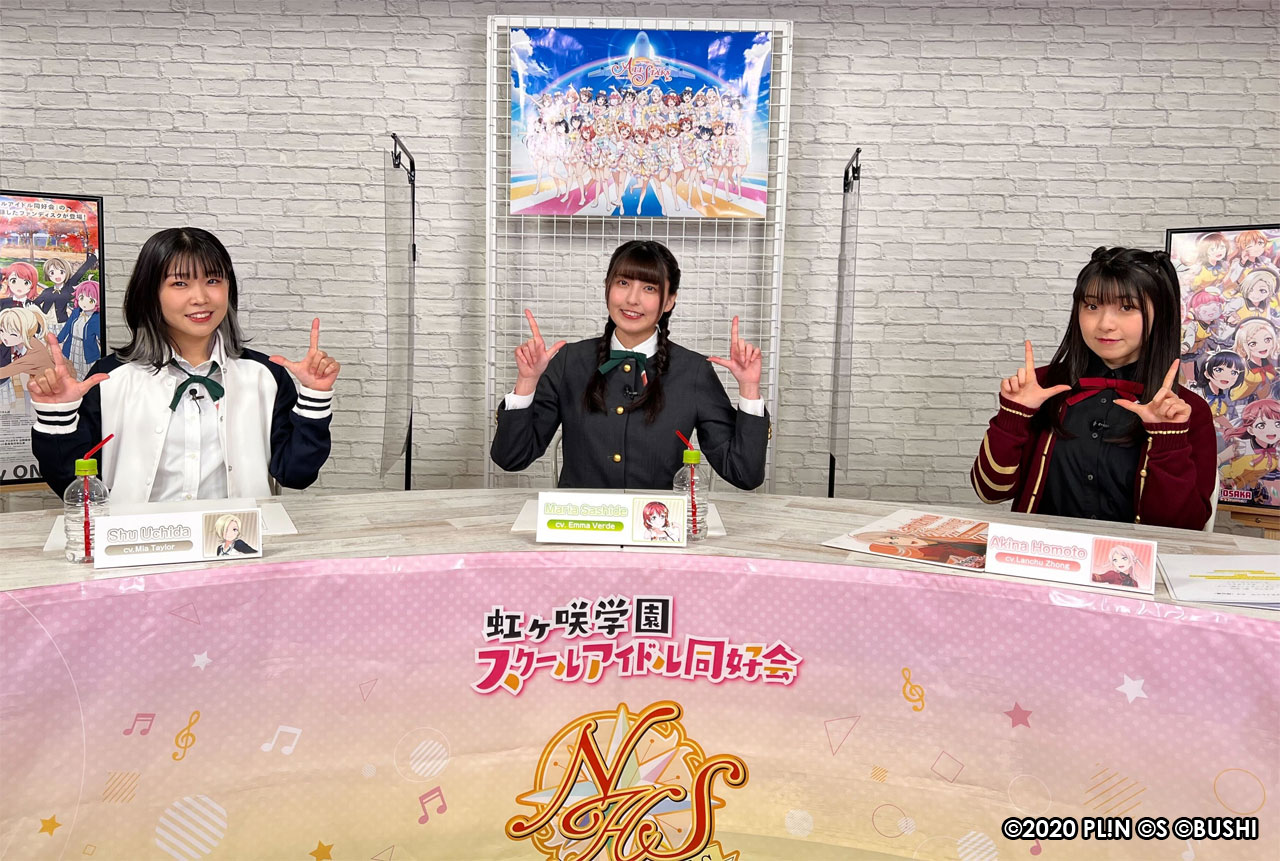 HEADLINES
The time is here! The premiere of the long-awaited second season of the Nijigasaki Anime is just a day away! This is where their adventures still continue as School Idols!
So then, we have been overlooking of things that has currently happened in the past days. Other than the upcoming premiere, what are the other things to expect to encounter tomorrow, and some of the things and highlights encountered during the past days? Check it out by reading!
Liella! 2nd LoveLive! Updates
So far, here are some updates with regards to Liella!'s 2nd LoveLive! leg tours! Please read more to continue!
TOMORROW: Part 2 – Nagoya
?ライブ配信チケット情報?
ラブライブ!スーパースター!! #Liella! 2nd LoveLive! ~What a Wonderful Dream!!~
名古屋公演の配信チケットが明日26日(土)の11時より販売開始です?

チケット購入はこちら?✨https://t.co/YQKLN8xch3

よろしくお願いいたします?#lovelive pic.twitter.com/7HQSbHj8SD

— ラブライブ!シリーズ公式 (@LoveLive_staff) March 25, 2022
Coming up tomorrow is the Part 2 of Liella!'s 2nd Live Tour! It shall be held on Nippon Gaishi Hall at Nagoya for at least two days, at weekends!
Overseas paid live streaming is also announced last week. So for those who are interested to watch, you can still buy some tickets for the paid live stream!
But then, I suggest that you should be watching on their third leg tour instead, since they shall be featuring an another group there! Please do read the next highlight below to know why!
COMING SOON: Part 3 – Osaka
Their 3rd live leg tour shall be made on the weekends again, on June 4-5, 2022, at Osaka-Jo Hall, in Osaka, Japan! This time, they shall be featuring an another group there, while replacing Sunny Passion from their cast list!
Ticket price for the on-site venue shall be costing at least 5,000 JPY per day, assuming that it is also the same ticket price for the Overseas Paid Live Streaming, if it is announced in the future!
Stay tuned for the latest updates about this!
And to note you, after this live performance, they shall be revealing the "trailer announcement video" for the upcoming SEASON TWO of LoveLive! Superstar!! Anime, and you shall be looking forward into that!
NEXT WEEK: Liella! Livestream – April 7, 2022
?生放送?
/
4/7(木)20時から?
\

次回の「ラブライブ!スーパースター!!」Liella!生放送の実施が決定しました?

現在開催中の2ndライブについてたっぷりとお届けするのでお楽しみに?
メールも募集開始!たくさんのお便りお待ちしています✉

詳細→ https://t.co/WgjWTGfTVs#lovelive #Liella

— ラブライブ!シリーズ公式 (@LoveLive_staff) March 25, 2022
Also, next week is the Liella! livestream!
They shall be talking about the highlights that happened in their previous Nagoya live performance, in their ongoing Liella! 2nd LoveLive! live performance!
And also, tune-in to their livestream for some of their upcoming announcements regarding merchandise, content updates for the LoveLive! games, and many more! This is something surprising that we should really looking forward into!
Advanced Happy Birthday to Shizuku Osaka!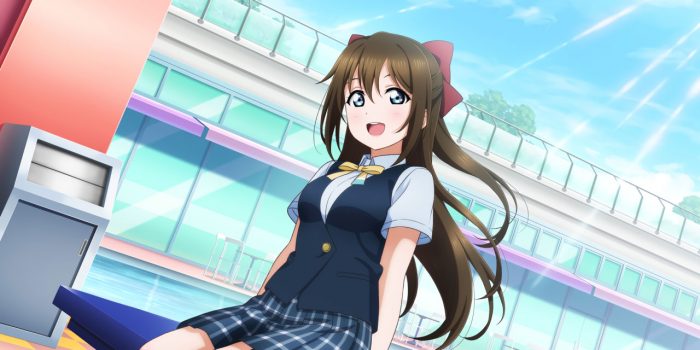 So then, let us try to greet this girl with a Happy Birthday Message! I know it's bit ahead, but I got no other choice but to celebrate, rather than it got delayed!
Dear Shizuku,
With your pretty brown long hair, and an aquatic blue eyes, you reminded me of somebody. It reminded me of someone when I was still in my younger, High School Days. And I had danced with her just before at the time that we have graduated and parted ways. And that is how I lost my own path to love.
Shizuku, you are an important asset in which you can act as a bridge to any of your friends' emotions and feelings. You could speak up by just acting on the stage, but don't get carried away by your own emotions. Sometimes, you have to shout it out on what your feelings are telling you. Shouting it out, in the sense that you are telling them on what you feel, in order for them to understand you.
You may be stuck yourself in the midst of the rains. But then, the umbrella that you are holding right now is a representation of your own friends' guidance and nurturing love for you, in order for you to grow stronger, and to overcome odds!
Happy birthday, dear Shizuku Osaka from Nijigasaki! We fans love you!
TOMORROW: Nijigasaki Anime SEASON TWO Premiere!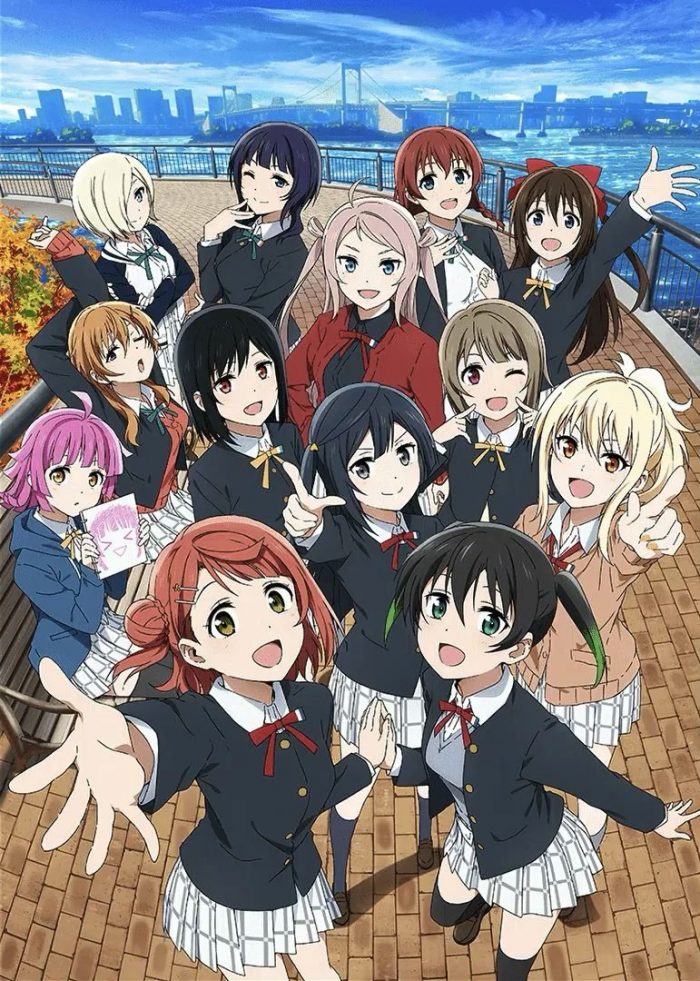 And finally, the long-awaited premiere of the first Episode of Nijigasaki Anime SEASON TWO shall be commencing tomorrow on Saturday, April 2, 2022! Take note that this would follow the story of the first season previously! If you haven't watched that yet, then you must watch that one first!
By the way, the individual Anime page has been up on IDS in the past few days! Check that one out!
And be sure to check out the ongoing campaigns which shall be made on the LLSIF and ALL STARS game, for the tie-up promotion with the Anime! Make sure to participate and don't miss any login bonus items midway!
Likewise, enjoy with the first Episode premiere of this Anime!
SIFACHM DLC Contents Are On 50% Discount
❤ #スクフェスAC わいわい!Home Meeting!! セール開催決定のお知らせ❤

スクフェス9周年を記念して、
スクフェスAC わいわい!Home Meeting!!で楽曲パック・衣装パックを販売価格より50%オフでご購入いただけるセールを開催します✨

詳細はこちら⇒https://t.co/4tHOu7xeqq#lovelive #スクフェス pic.twitter.com/sCYF5Kp6hb

— 【公式】ラブライブ!スクフェス事務局 (@lovelive_SIF) March 29, 2022
For people who owned a PS4 or PS5, as well as having SIFACHM video game bought, now it is your chance to grab these offers from the PS Store! Grab these offers now, as the game offers up to 50% discount on all "DLC" songs and costumes! Use this opportunity to complete what's missing in your game!
This promo runs from March 30 until April 13, 2022 JST! Hurry, get them while they still last!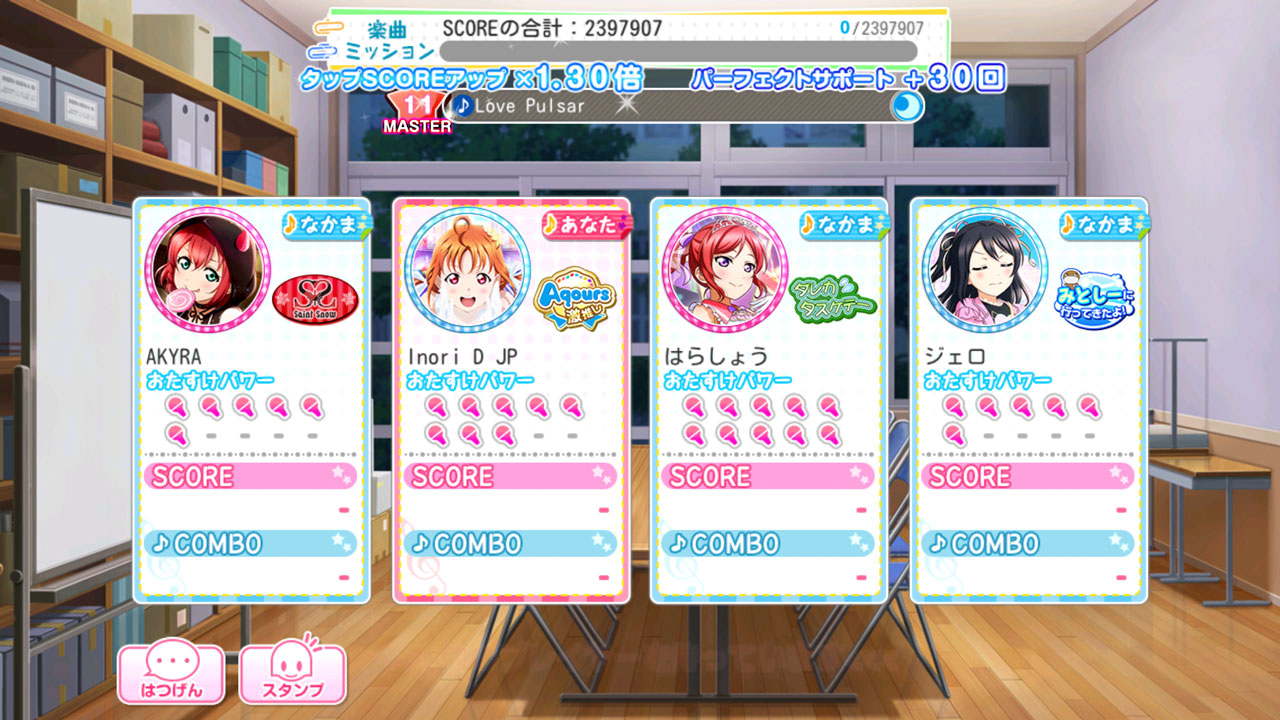 LLSIF HIGHLIGHTS
Right now, we had been hit with several Campaigns and Events, in which it shall serve as our highlights for today this Episode! So far, what has happened during the past days, and in this week? Find out by reading the highlights below!
CODE GEASS Special Limited Collab: Round 18 Live Arena
You know what's coming up today? Basically, this is their answer to their April Fools' Day Event!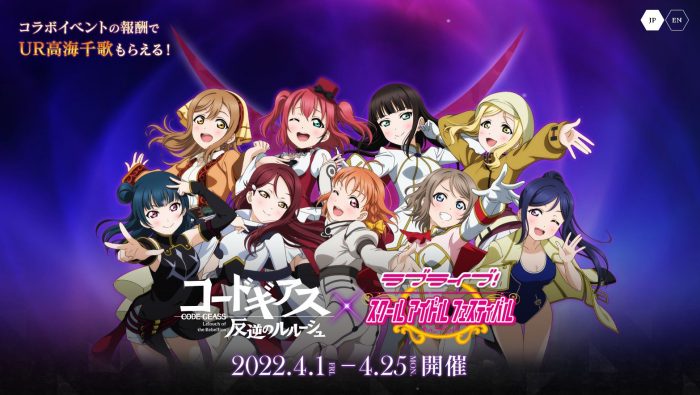 Right on today, the Collaboration Event of LLSIF with CODE GEASS: Lelouch of the Rebellion is now on! That's right, and it shall be in a form of Round 18 Live Arena Event! I hope that you won't get intimidated easily with the Aqours girls, wearing different costumes of C.C. here!
So then, what's the hype here in this April Fools' Collaboration Event, as part of their ongoing LLSIF 9th Anniversary Celebration Campaign?
Generally, as a spoiler in this campaign, it would be just almost EXACTLY the same vibe as in the previous Collaboration Event with the "Persona" video game series — mainly, featuring µ's donning as characters in that mentioned video game series as Limited URs that can be acquired by scouting, and Aqours as Limited SSR members. While Eli Ayase is the featured Event UR reward that can be acquired when you play at the Live Arena, Chika Takami, meanwhile, shall be the featured Event UR reward this time! And in this April Fools' Day Collab Event, it shall be the reverse — µ's shall be acting as Limited SSRs, while Aqours shall be acting now as Limited URs that can be scouted! Make sure to play, and reach at least EXPERT or ROYAL EXPERT Category/Class before the Live Arena duration ends — in order to get the Event UR Chika Takami!
And to add up some details, the Collab Songs were already announced! Find out what are those songs that you could really expect to encounter when you play in the Live Arena!
It seems that this Live Arena Event shall be divided into at least two (2) parts! Quite obvious enough that I should grind quickly in this Event! If that's the case, then my Global (EN) Side account shall be also caught up! Let's see what I can do — in order to have both of my JP and EN Side accounts the Event UR Chika Takami!
Not necessary as a guide, but you can use this post of mine in order to crawl into the Live Arena, just in case if you need it!
For now, you have to fight with your own will! Fight in the Live Arena, and I hope that you shall be successful in getting at least one Limited UR of Aqours in C.C.'s costume! Good luck, and be victorious!
✨ #コードギアス× #スクフェス スペシャルコラボ 新情報✨

コラボ開催に先駆けストーリーの一部とあらすじを公開!

ぜひチェックしてくださいね?https://t.co/Fj3hs4gA9V#lovelive #スクフェス pic.twitter.com/lajs2ofLBC

— 【公式】ラブライブ!スクフェス事務局 (@lovelive_SIF) March 31, 2022
And what C.C. and Nunnally are doing this time around, and they visited Aqours? Are they being fascinated by their live shows by just starring and watching them on a live stage?
To be continued in LLSIF, "Nunnally in School Idol Festival". Look forward into it!
Round 25 Companion Match (Final)
Saishuu-hen. Did you know what that means in Japanese? It means, it's the last part — Or Part Two!
Yeah, I do really grinded very hard in this Event, and I had given this one a priority. And given that I had reached for almost 4 million Event Points, still I didn't manage to beat my own record. Generally, my highest one is recorded for at least 4.4 million Event Points (Rank 87), and that was on the Round 23 Companion Match (September 2021, second-half).
So then, I really tried hard to not to get lazy, and to not lose my motivation! Basically, I had discovered a new technique where in I must grind for a certain amount of Event Points within a given day! With this method of mine, I can progress within the Event, and to grind higher ranks without even dropping or losing them. Lets say, within 24 hours, you must gain at least 150-200k Event Points per day, assuming that you can able to play and finish a lot of MASTER difficulty songs without failing! I can call this one of mine as the "Daily Event Points Grinding Quota", wherein you must grind for a certain amount of Event Points given per day. For setting a quota, or your own quota, make sure that you can finish it within a given day. Or else, that grinding strategy will be just useless, if you aren't diligent enough to play harder.
【LoveLive! SIF】

TOP 100 FINISH.

? EVENT REPORT ?

<Aqours> Round 25 Companion Match

〈Event Points〉
? 94 | 3,997,360 pts.

〈Score〉
? 2,862 | 6,609,726 Scr. (Kinmirai Happy End)#lovelive #スクフェス #LLSIF pic.twitter.com/dUAMuFoE7y

— INORI DONZ | Inori-D Station (@InoriDONZ) March 31, 2022
As of yesterday, I had finished with a Gold Tier Rank on Event Points, and a Bronze Tier Rank on Event Score. So then, this is an another Event, wherein I had managed to finish it with a higher rank — within the Top 100 Rank bracket! Congratulations to me, then!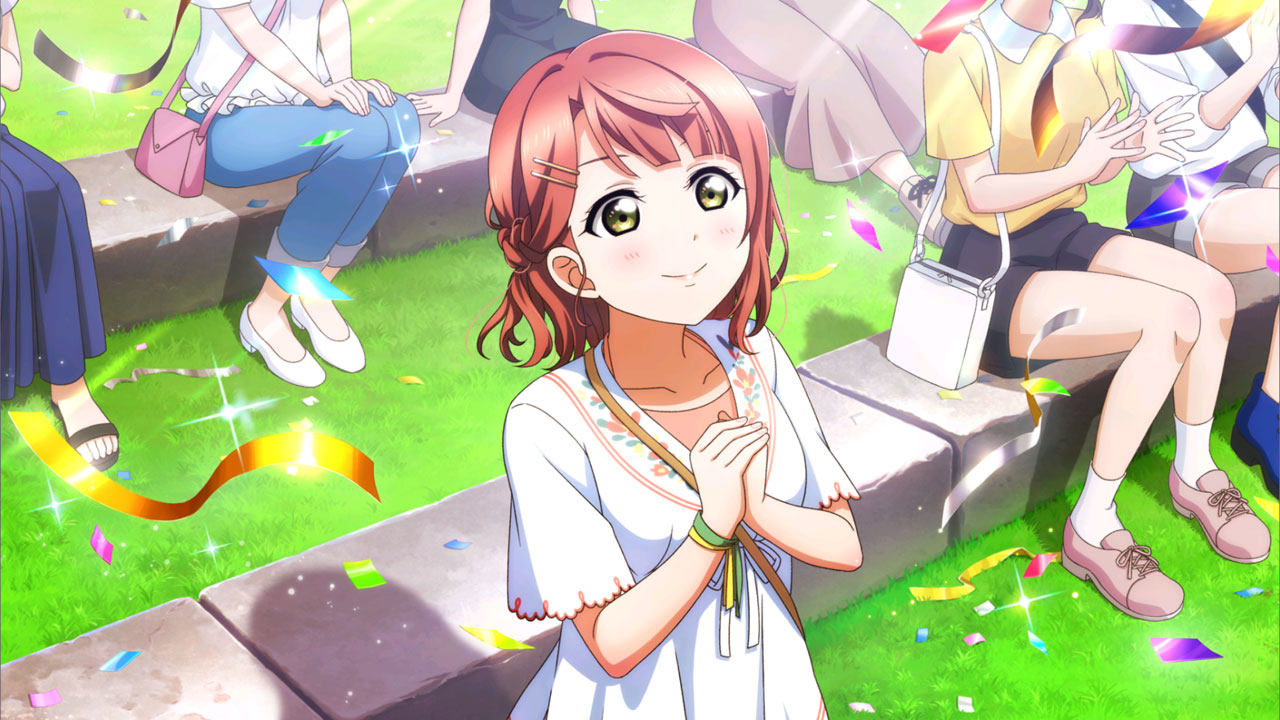 ALL STARS HIGHLIGHTS
Following the upcoming premiere of the Anime tomorrow, there are at least two things to consider! First, there would be login bonus campaigns to commemorate it. And two, there are some exciting rewards, such as getting some good things, such as getting free URs!
But other than that, what are the things recently encountered? Be sure to check this out!
STORY: Strawberry Dreams (Final)
My grinding progress for this Event is quite good, despite that I had been lazy or slacking off. And then, at the last two hours remaining before the Event ends, I had used this desperate move in order to move up into a bit of higher ranks. And since I am grinding on both sides (JP and Global ain't merged yet), my progress will be like this below.
In JP Side, what did I do is that I only play and skip, and I used as many Skip Tickets as I can. Basically, I am just only doing Dailies this time because I am too lazy to play with my thumbs, and sometimes I used Auto Play if I wanted to finish something. At the last hours of the Event, I had used already my reserved Skip Tickets in order to grind higher ranks. But then, I fell short afterward when I had run out of Star Gems and LP Candies to use to recover my lost LP when I skip. And finally, I had reached for at least 400,000 Event Points when this Event ends.
In Global Side, I had only used my Auto Play strategy twice, notably for one Auto Play sessions per day. But then, I had been lazy doing that, since that time I was writing stuffs to my blog. I had decided to just do my Dailies instead. And then, at the last minutes of the Event, I had managed to grind higher for at least about 300,000 Event Points, which is about only 100,000 points difference from my JP Side.
【LoveLive! ALL STARS】

? EVENT REPORT ?

<STORY> Strawberry Dreams

〈Event Points〉
JP: ? 2,852 | 434,143 pts.
GL: ? 1,548 | 319,968 pts.

Other highlights and details to be revealed on #IDS_SIFJL SEASON TWO EP13 on Friday.#lovelive #スクスタ #LLAS pic.twitter.com/t7yCAxz28Q

— INORI DONZ | Inori-D Station (@InoriDONZ) March 30, 2022
The Event has been concluded, while both of my Sides have finished with a Silver Tier Rank finish.
School Idol Channel Weekly Bulletin
Let us find out the latest results of the School Idol Channel Rankings this Episode! Did your best girl make it?
【LoveLive! ALL STARS】

School Idol Channel Weekly Bulletin

JP: Setsuna | 5th
GL: Kotori | 4th

Other details to be posted on #IDS_SIFJL SEASON TWO Episode 13!#lovelive #スクスタ #LLAS pic.twitter.com/lXYPFRIEp1

— INORI DONZ | Inori-D Station (@InoriDONZ) March 28, 2022
JP – #52
| RANK # | SCHOOL IDOL | GROUP | AVERAGE CHEER POINTS |
| --- | --- | --- | --- |
| 1 | Shizuku | Nijigasaki | 8,087 |
| 2 | Mari | Aqours | 6,423 |
| 3 | You | Aqours | 6,075 |
| 4 | Ruby | Aqours | 5,551 |
| 5 | Setsuna | Nijigasaki | 5,187 |
| 6 | Riko | Aqours | 4,871 |
| 7 | Umi | μ's | 4,684 |
| 8 | Kasumi | Nijigasaki | 4,564 |
| 9 | Kotori | μ's | 4,341 |
| 10 | Nico | μ's | 4,334 |
Global – #39
| RANK # | SCHOOL IDOL | GROUP | AVERAGE CHEER POINTS |
| --- | --- | --- | --- |
| 1 | Shizuku | Nijigasaki | 6,199 |
| 2 | Mari | Aqours | 5,655 |
| 3 | Umi | μ's | 5,348 |
| 4 | Kotori | μ's | 5,297 |
| 5 | Setsuna | Nijigasaki | 5,033 |
| 6 | Ayumu | Nijigasaki | 4,704 |
| 7 | Ruby | Aqours | 4,664 |
| 8 | Nico | μ's | 4,485 |
| 9 | Rina | Nijigasaki | 4,097 |
| 10 | You | Aqours | 4,093 |
So then, Shizuku gets her top one position, even if her birthday is just a week away! But then, expect her to get a second winning streak because her birthday is near!
Tune-in next time for the next School Idol Channel Weekly Bulletin! Cheers~
Round 22 SBL
SIFAS Big Live Show Round 22
Available: 2022/04/01 15:00 to 2022/04/06 14:59 JST

We are pleased to announce the start of Round 22 of the SIFAS Big Live Show (or ""SBL""), where you work with many other players to make your Live Show a success. pic.twitter.com/BAzv51m3S8

— Love Live! School idol festival All Stars Global (@LLAS_GL_STAFF) March 31, 2022
It's the monthly SBL Event again, where your luck and strength shall be your friend here to get awards!
In this 22nd Round of SBL, there would be 20% Stat Boosts to any members of all rarities who are of 2nd Years! So, use them as advantages in order to land higher Voltage Scores, and to dominate in the rankings, namely for Daily and Total Voltage Scores!
The featured songs are:
Oh, Love & Peace!
Landing action Yeah!!
L! L! L! (Love the Life We Live)
So, right now, I have to make output of my results in this Event! Let's see what I can do. Basically, there is a reason why — You must need to finish this SIFJL Episode until the very end!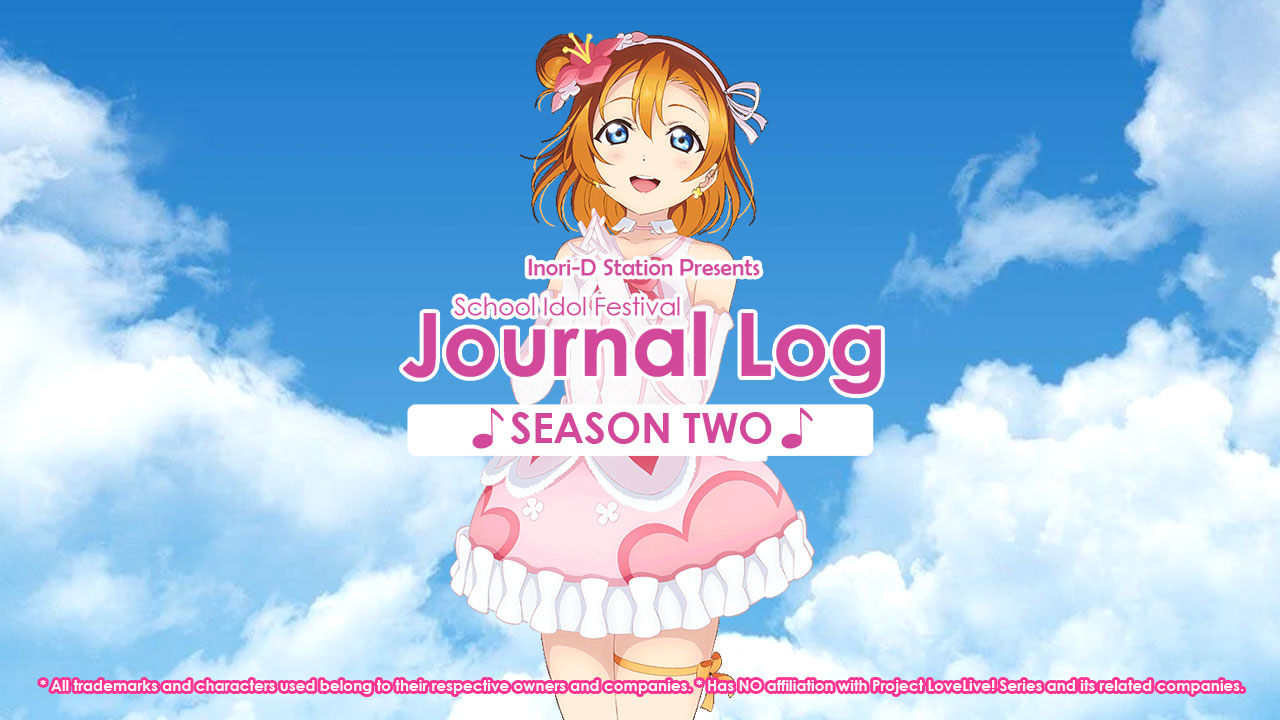 STORY EPISODE (EPILOGUE)
In the meeting room inside the maid cafe, Chiharu, Takayoshi, Aika, Sho, and Lierre are standing up. Then, Takayoshi's mother, who is the maid cafe manager, is explaining to them about their first mission.
"Your mission for today is definitely your first one! Alright, listen carefully! If you got questions, you can freely ask me at anytime."
And then, Takayoshi's mother is now briefing them about their first mission.
"Your first mission is to go to Numazu City, in Shizuoka Prefecture. I want you to go there because you have to meet with somebody on a certain place within that said region."
Aika and Sho then replied back and asked a question.
"Wow, Numazu City! I definitely know that place! In fact, it was really my first time going there!"
"It is also my first time going there! But then, are we going to do something there, aside from meeting with somebody on that place?"
The maid cafe manager finally answers Sho's last sentence that appeared as a question.
"And to answer that question, you will be meeting someone because I want you to deliver this item that I have here in my hand."
Takayoshi then replies to his mother and said, "That item… That's a normal letter in an envelope! Why not communicate with them via a text message?"
And then, the cafe manager replied to him, and explained further.
"It might be a normal letter. And to answer your question, some people there don't even know on how to use mobile phones today. You shall be delivering that envelope containing not just only my hand-written letter. It also contains a photo there that you people should not view it by any means!"
And finally, Takayoshi acknowledges his mother and said, "Okay, mom. We understand."
For some final notes, Takayoshi's mother, who is the maid cafe manager, speaks to them.
"Just right after you deliver that letter to someone, you shall be receiving something back from that person in return. You shall be bringing that item that you have received back here in this place, our maid cafe! And that could be your details of your First Mission, which shall start tomorrow morning! Got any questions?"
Chiharu got a question and asked, "Who's that person that we are meeting in Numazu City?"
And then, the maid cafe manager replied and said, "That person whom you shall be meeting to deliver this letter is a friend of mine. She is one of my supporters when I was still a School Idol in my younger years. I totally forgot her name, but she is the mother of the one of the known members of the School Idol group, called Aqours. I just wrote down her name as Mrs. Sakurauchi."
"I see. That person is a mother of Riko Sakurauchi! And her mother used to live in Tokyo before, right?"
"Absolutely. For now, you have to focus on your first mission. You have to deliver this letter to Mrs. Sakurauchi in Numazu City. And no matter what happens, do not lose that letter! Or you shall be facing some consequences! I hope that you shall be succeeding in this First Mission of yours."
As for Takayoshi's mother, the maid cafe manager, is ending the mission briefing, Lierre finally asks her a follow-up question, followed by replies.
"It seems that we are all out tomorrow because of our first mission. But then, who could be in charge in serving customers while we are all away?"
"Don't worry about that, Lierre. I have some people here already who were taking over the work shifts while you are all gone. They shall be serving as part-timers, though."
"Yeah. I hope that your part-timers won't do something stupid. In other words, take care, Mrs. Kitagawa. Or in your name, Saki Kitagawa."
"I totally acknowledged that. And from this time on, I shall be your commanding adviser, or otherwise your Captain of Idol Chasers!"
The meeting has finally ended, and Saki, Takayoshi's mother and maid cafe manager, has said her final words to them.
"Idol Chasers, Stage Start!"
"S.I.F.!!"
And this is where the true story of the Idol Chasers begins.
TO BE CONTINUED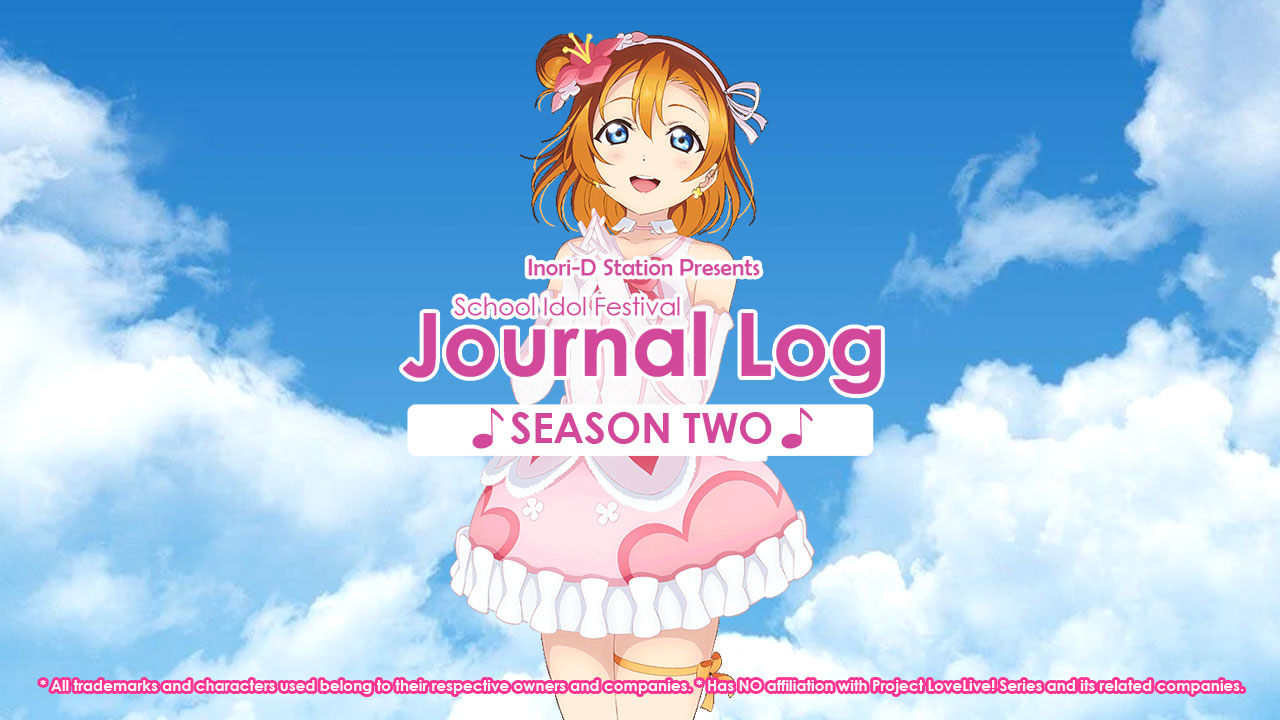 NEXT PREVIEW
The Story Episodes and the News and Updates from the LoveLive! Series shall be put into a break, as SIF Journal Log shall be off the publishing next week!
While we are on a break next week, we shall be meeting with some of the girls from the Shinonome Academy! They shall be talking about… some recaps about the Story Episodes!
On the School Idol Festival Journal Log SEASON TWO, Gaiden Episode One, "The Followers of School Idols", look forward into it!
The Bonus Stage
The girls of Nijigasaki are back in this second season! Shioriko Mifune, Mia Taylor, and Lanzhu Zhong are now added to the stable!
Once again, these girls are seeing each other — sometimes as friends or rivals everyday.
They all have one, common dreams! And that is, somebody like Yu Takasaki, can support these twelve girls in making their dreams come true!
And once more, they are chasing for their dreams, along with their new friends and rivals at their side!
So then, they wanted to have an Event once more, in order to put these girls, whether friends or rivals, together! This Event is called as the "School Idol Festival".
However, the different concurring activities in school can make themselves having a hard time organizing this come-together Event. Can Yu be able to put these girls together, and make their dreams come true? This is the story of Yu Takasaki and the twelve School Idols, in their quest for unity and with their rainbow-colored friendship adventures!
LoveLive! Nijigasaki High School Idol Club SEASON TWO!
Starts airing and streaming on April 2, 2022!
For overseas simulcast, check your local Anime licensors per region for the time and availability in your area!
Also, LLSIF and ALL STARS in-game celebration campaigns now going on!
Official website:
https://lovelive-anime.jp/nijigasaki/
RETURN TO MAIN PAGE BACK TO HOME PAGE