EPISODE 12: This is a Party!
In this world, there are group of girls who inspire people to chase for their dreams. They have splendid and beautiful performances that can touch everyone's hearts. They are just girls who started as students having their own dreams from scratch. These young and cute ladies were called as "School Idols".
As for the School Idols who had already formed a group, as well as having their group name realized, what could be some necessary steps in order for them to start from scratch? Knowing that you were all completed and assembled, you just said to yourselves in silent voices as, "Now, this is a party!" So then, knowing that somebody would like to join in your group, what could be your responses to that person who would like to join you?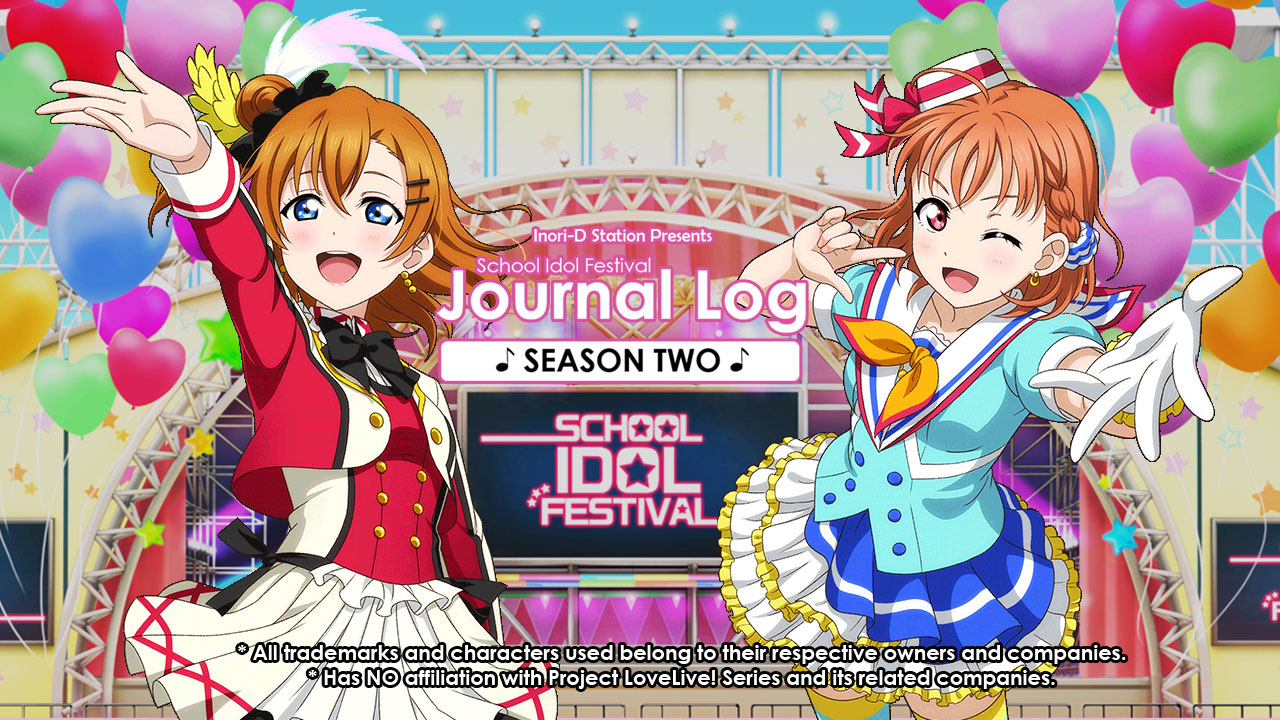 STORY EPISODE
Today was a busy day. Chiharu seems to be busy in serving food and drinks to customers who visit and drop by in their maid cafe. Meanwhile, Aika has finally took down notes on the orders made by her customer. And then, she quickly went inside to give the order list to the people inside the pantry.
Meanwhile, inside the meeting room of the maid cafe, the manager, Takayoshi, and Sho are talking inside.
"I think you got some potential to be one of our staff."
"Sho Ukiya! My mother was right. It seems that you should be joining us!"
"Really? But do I have to submit some required documents to join you guys?"
"I guess there is no need for that! Today, you shall be…"
"Wait, Mom! We had no assurance that this guy might be robbing us of our properties! In fact, we should let him submit at least one document of proof…"
"Oh man. It seems I am always ending up in a same employment situation like this…"
"Takayoshi, please go out for the meantime, okay? I shall be the one who shall talk and discuss with him."
"Okay, Mom. But please, be careful and considerate."
Takayoshi gets out from the meeting room. And then, he finally encounters Lierre along the way. And then, Lierre tries to speak up with Takayoshi.
"He looked like a newbie. But then, he got a potential to be a member of Idol Chasers."
"Lierre, I think we should think first before we could even let him join."
"But then, we had almost completed our members stable. Our team consists of variable hobbies, ranging from talents in being an idol, up to the talents of being a good merchandise hoarder."
"Hmm… I think I need some further explanations of your last sentence."
"To explain to you further, it goes like this."
"Okay. So basically, our group, called as Idol Chasers, is… what?"
"Chiharu Umiboshi got a talent, and she is a Supporter of School Idols. She said before that in her dark dreams, a girl has talked to her. She told her that she is a School Idol and a Supporter."
"Oh, wow. I can't really imagine that an actual School Idol in dreams has talked to her about it, face to face!"
"Next, you, Takayoshi Kitagawa."
"Eh? Now you are focusing on me this time around!"
"Takayoshi, you are an expertise in playing rhythm games. So then, you are trying to land a Full Combo finish on every difficult songs that you see. But then, according to your profile, you are prone in becoming more frustrated and angry because you are indeed unable to land an FC finish. And you became angry or enraged because of that only one MISS note that you had made."
"Whoa… Come on! Even a single minimalistic behavior of mine is also recorded to your history book! And that's embarrassing!"
"I am sorry about that. But what was written here in my digital tablet book cannot be erased or altered."
"Whatever. So then, what are from Aika and Sho?"
"Aika Tenkuji is basically a Cosplayer Idol. Though that she got only few followers on her social media, she got them a lot after impressing us with a dance performance with Chiharu. And then, what was written here is that she finally gets to understand on what means to have an appeal, other than showing her cute costume in the front of people."
"It is meaning that you shout out your own feelings to everyone, including your friends!"
"Absolutely. And then, for Sho Ukiya…"
Meanwhile, back in the meeting room, the maid cafe manager and Sho are talking.
"I see. So you had been supporting the LoveLive! and School Idols for at least 10 years. And you hoard a lot of merchandise and Anime character figures from the stores, right?"
"Yeah, and that's my forte of interest."
"So then, how did you manage to survive alone by yourself?"
"Well, I came from United States and I had studied English there. When I had graduated, my parents had sent me to Japan. They give me a lot of money for me to buy things in Japan. But then, when they told me to find work there, I was even scared, somehow."
"And then, what has happened when they gave you some lot of money? What did you do with that money that your parents gave to you?"
"To answer that… I used them to buy expensive and exquisite merchandise and character figures of my favorite School Idol instead."
"Oh, and your favorite is Yoshiko Tsushima, the evil Datenshi School Idol of Aqours, isn't it? Well, how unlucky you are when you got your legs in this land of the rising sun!"
"Um… And when my stash of money is getting thinner, then that's the time that I…"
"I see now. I understand. You are just doing other things that can make you happy, otherwise. Other than loving these lovely School Idols, you got nothing else to go to! But then, this is indeed your opportunity. In fact, it is just standing in front of you!"
"I know what I have to do… And that is…"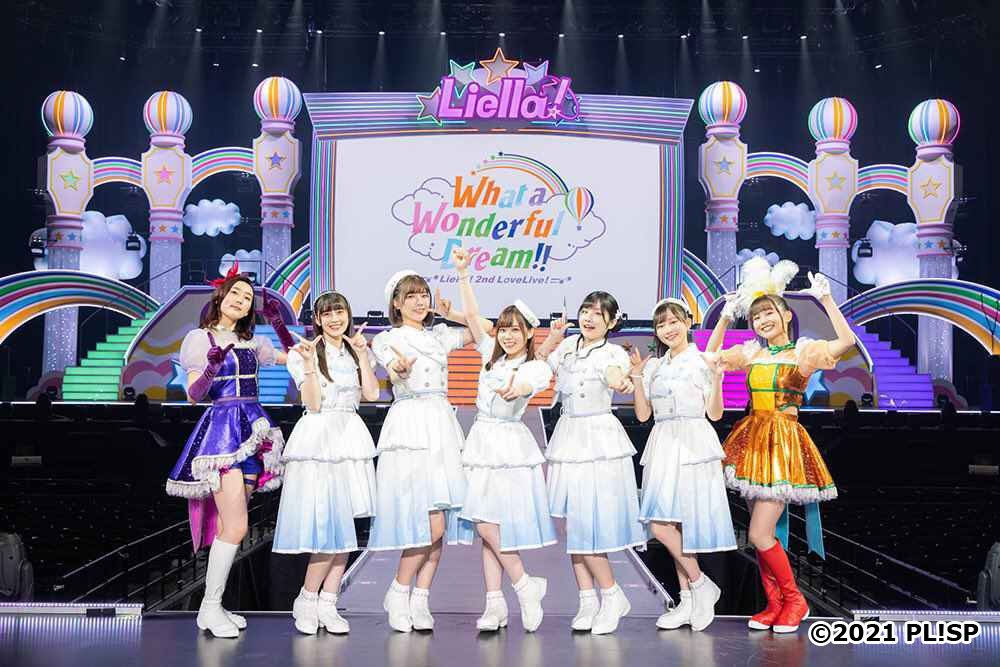 HEADLINES
Another yearly season has begun. It is already spring, and this is where some excitement will occur — where it all begins again.
So far, what were the things recently spotted in the School Idol Universe?
NEXT WEEK: Liella! 2nd LoveLive! (Part 2 – Nagoya)
For some heads up, the "Part 2" of Liella!'s 2nd Live shall be held on the weekends of April 2-3, 2022, at Nippon Gaishi Hall in Nagoya. Overseas paid live streaming is yet to be announced by the team, so stay tuned at their feed for more info!
?ライブグッズ情報?

『ラブライブ!スーパースター!! Liella! 2nd LoveLive! ~What a Wonderful Dream!!~ with Yuigaoka Girls Band』オフィシャルグッズ 事前通販は本日の23:59まで❗️?
▶️ https://t.co/b5fcY2S2v8

お届けは大阪城ホール公演前となります?
お忘れなく?#lovelive #Liella pic.twitter.com/d2Bs81Vpqu

— ラブライブ!シリーズ公式 (@LoveLive_staff) March 21, 2022
And not to mention, their additional live leg tour on June 4-5, 2022 with "Yuigaoka Girls Band" is also announced recently! The details shall be included on the next Episode! Look forward into it!
NEXT WEEK: Nijigasaki Anime SEASON TWO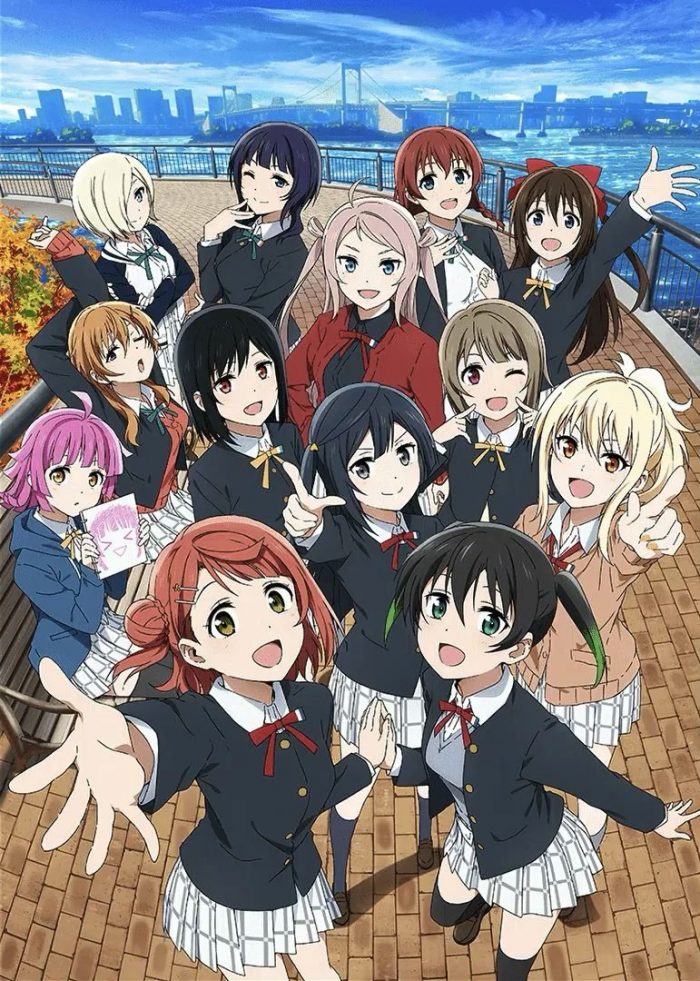 And to give you some heads up, the TV Anime of LoveLive! Nijigasaki High School Idol Club SEASON TWO shall be starting to air and stream on Japan TV networks, and on some both local and overseas streaming platforms on April 2, 2022! Be sure to check out their official website for more details, or you can watch the trailer announcement video, which is located at the end of this Episode!
By the way, its individual Anime page is now up and can be viewed!
UPCOMING: Shizuku Osaka's Birthday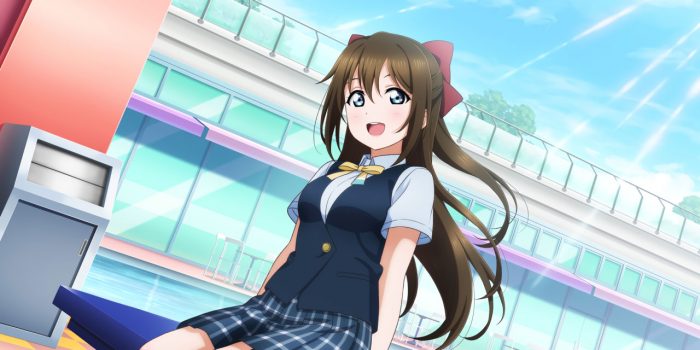 April 3 is Shizuku Osaka's birthday! And did you know that she loves acting on the stage, just like a drama queen?
You can get to know her very well by reading her Bond Episodes in the ALL STARS game! And make sure to check out her upcoming Birthday Limited UR, to come out soon on LLSIF! And not to mention that Shizuku is the last of them in the current Birthday UR set! Starting on Ai Miyashita on May, it shall be an another Birthday UR set of them once again! And be sure to check that out!
Finally, my Birthday Message for Shizuku Osaka shall be included on the next Episode, on April Fool's Day! Look forward into it! (Although that I would be celebrating her birthday in advance for at least two days early…)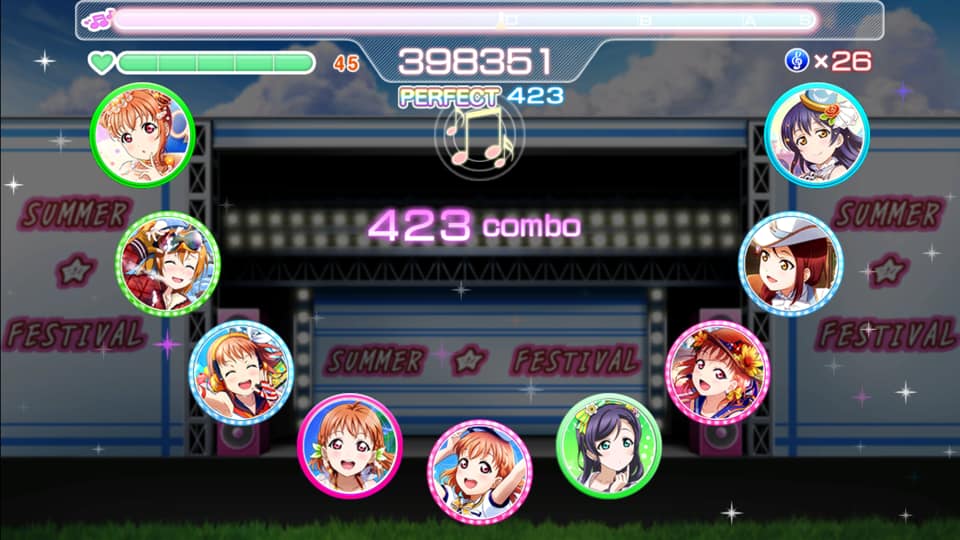 LLSIF HIGHLIGHTS
It's on! This is where the road to the game's anticipated 9th Anniversary begins!
So far, we had been hit with several exciting campaigns, which include the Limited URs Box Scouting, and some occasional reduced-LP usage in order to dominate in the ongoing Event! And guess what's back this time around in LLSIF?
Read more below for more details!
9th Anniversary Celebration: Prologue
From this day on, they are really making us to spend more of our Love Gems in this exciting campaign! Basically, this is just a tail of the lizard, since this is just the "Prologue"!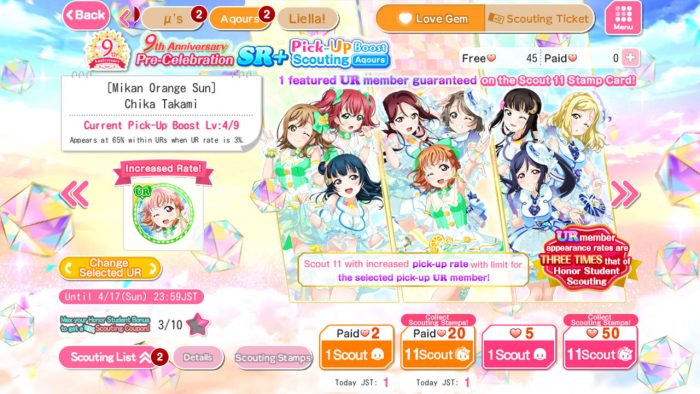 If you had managed to save enough Love Gems to snatch one of these URs as shown, why not give yourself a shot?
And also, many of the surprises, which include MASTER AC Songs, Seal Shop limited items, and the occasional reduced LP usage, are something to watch out here!
So then, there are still more to expect, since we haven't got a glimpse of the other groups, namely Nijigasaki and Liella! yet!
Special Collab Event: CODE GEASS (Live Arena Possible?)
Just at the time after the publishing of Episode 11 last week, they had teased us with this upcoming collaboration event, as seen at the final notes of their in-game announcements!
As part of their upcoming 9th Anniversary Celebration Campaign, they shall be collaborating with an another Anime series, called Code Geass: Lelouch of the Rebellion.
To give info and to minimize the details, Code Geass is produced by SUNRISE INC. (also the same animation studio who handles the LoveLive! Series, and some mecha Anime series like Energy Bomb Gambaruger or Mobile Suit Gundam), and its first Episode airing date was on October 5, 2006.
Somehow, this could be their answer to their upcoming April Fool's Day Event, which shall take place next week! So then, this collab website is currently updated with some new contents, which also include the Limited-time SSRs of µ's in their uniforms, as seen in the Code Geass Anime, Limited URs of Aqours as characters that appeared in the Anime itself (mostly dressing up as C.C. in different costumes), and some of the possible songs that would appear as "Collab Songs" soon.
✨ #コードギアス× #スクフェス スペシャルコラボ 新情報✨

今回のコラボでは、Aqoursメンバーがコードギアスに登場するC.C.の衣装を着て登場✨

本日は拘束衣を着た梨子ちゃんを初公開❤https://t.co/Fj3hs3YYLl

続報もお見逃しなく♡
#lovelive #スクフェス pic.twitter.com/S1LgUKYQit

— 【公式】ラブライブ!スクフェス事務局 (@lovelive_SIF) March 20, 2022
Who knows that this such collab event format might be the same one as in the previous Persona Series collab event? If that's so, then expect that this one might be appearing as Round 18 Live Arena Event, and that might be possible!
Stay tuned at their feed for more info if there are any changes!
IT'S BACK: Round 25 Companion Match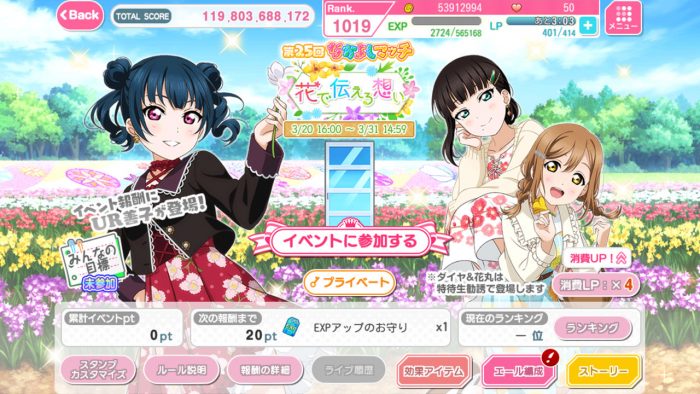 Guess who's back with a vengeance? After being out from the Event rotation for the past months, it is now finally back! Companion Match is definitely the Event which is on right now!
As usual, URs to be scouted are Dia and Hanamaru, while the Event UR to be obtained here is Yoshiko Tsushima (Stop saying that or I shall put a white bun into your mouth, lol). And to note, Riko Sakurauchi is the Secret SSR here to be obtained. Use them to increase your Event Points acquisition rate!
A guides and tips post about this has been created recently! You can read about it by clicking or tapping here!
So then, my headstart is looking good here, and I am able to grind harder in this Event without slacking off too much. But then, will I able to grind harder, and to reach higher ranks this time around? Find out next Episode!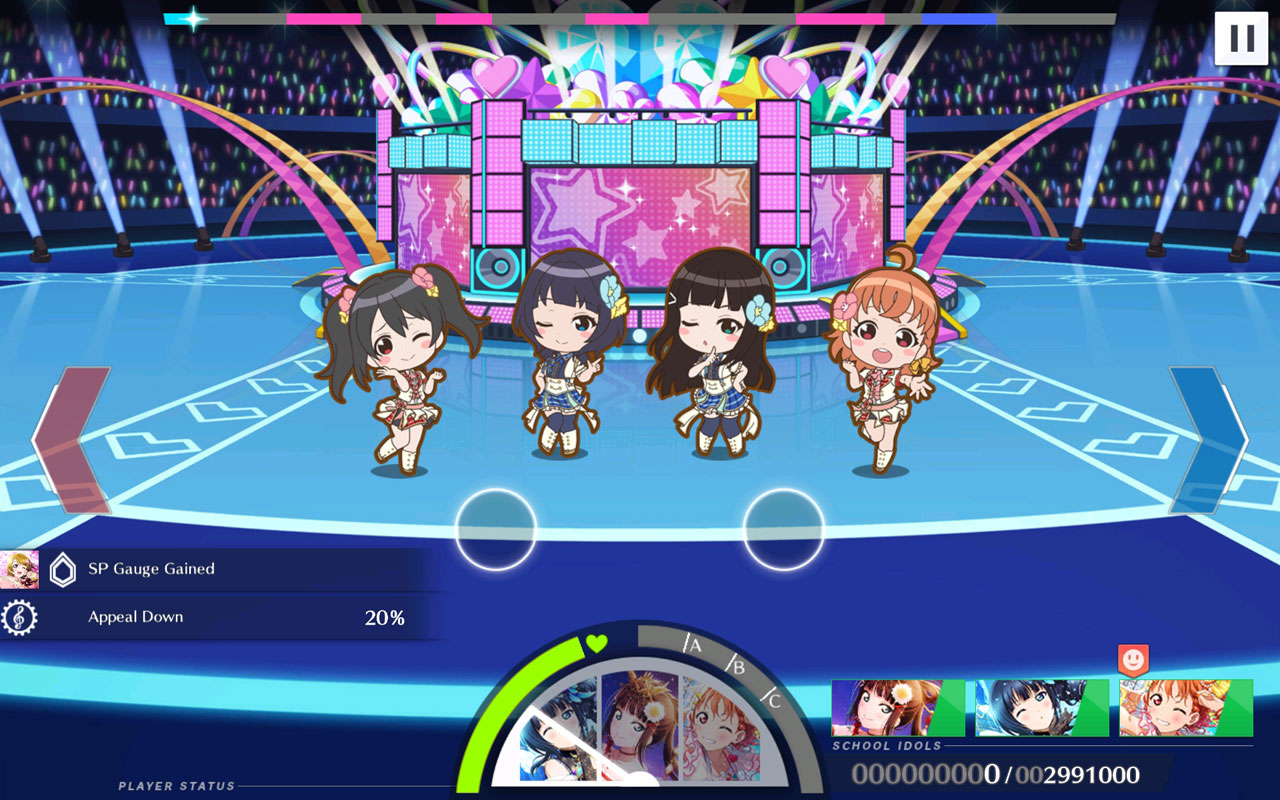 ALL STARS HIGHLIGHTS
Definitely, not my usual thing or mood to grind in the ongoing Story Event. But then, the upcoming exciting 2.5 Anniversary Celebration Campaigns make me wanna think to play more!
So far, we got one more week to go in order for things to go on smoothly — meaning that the month of March is coming to a close! What were the things recently encountered during the past weekend, and in the past few days in this game? Check it out!
School Idol Channel Weekly Bulletin
So then, who could be the top ten winners this time around? I had also mentioned last Episode that I had joined channels differently on each Side!
JP Side – #51
| RANK # | SCHOOL IDOL | GROUP | AVERAGE CHEER POINTS |
| --- | --- | --- | --- |
| 1 | Umi | μ's | 10,249 |
| 2 | You | Aqours | 5,795 |
| 3 | Setsuna | Nijigasaki | 5,622 |
| 4 | Kotori | μ's | 5,582 |
| 5 | Eli | μ's | 5,165 |
| 6 | Chika | Aqours | 4,957 |
| 7 | Shioriko | Nijigasaki | 4,859 |
| 8 | Kanata | Nijigasaki | 4,535 |
| 9 | Kanan | Aqours | 4,503 |
| 10 | Rina | Nijigasaki | 4,411 |
Global Side – #38
| RANK # | SCHOOL IDOL | GROUP | AVERAGE CHEER POINTS |
| --- | --- | --- | --- |
| 1 | Umi | μ's | 9,335 |
| 2 | Eli | μ's | 5,222 |
| 3 | Kotori | μ's | 4,368 |
| 4 | Kanata | Nijigasaki | 3,950 |
| 5 | Setsuna | Nijigasaki | 3,920 |
| 6 | Mari | Aqours | 3,716 |
| 7 | Riko | Aqours | 3,704 |
| 8 | Rina | Nijigasaki | 3,528 |
| 9 | Shizuku | Nijigasaki | 3,513 |
| 10 | Shioriko | Nijigasaki | 3,467 |
In the above table, the School Idol is which is in Italic font face means I had joined on that channel.
【LoveLive! ALL STARS】

Results of my last SIC Ranking per character per side.

To be discussed tomorrow on #IDS_SIFJL SEASON TWO EP12, on the "School Idol Channel Weekly Bulletin" Part!#lovelive #スクスタ #LLAS pic.twitter.com/ZzWwuAlq42

— INORI DONZ | Inori-D Station (@InoriDONZ) March 23, 2022
In the JP Side, I had made it through with Setsuna, who is currently on Rank 3. Sadly, my Chika in the Global Side didn't make it, thus only finishing with a Rank 28 finish.
So then, I will continue to play with the same School Idols who were usually dominating in the top ten ranks. My JP Side shall remain as Setsuna, while my Global Side shall be changing to Kotori this time.
From now on, School Idol Channel Weekly Bulletin part shall be always included in the ALL STARS Highlights every Episodes until further notice! So then, see you on the next bulletin issue!
STORY: Strawberry Dreams
?イベント「ストロベリー・ドリーム」開催?

報酬メンバーは……
UR:Aqours #小原鞠莉
SR:ニジガク #桜坂しずく
SR:ニジガク #ミア・テイラー

開催期間は3/30(水) 14:59まで?#lovelive #スクスタ pic.twitter.com/YngEYi60iN

— ラブライブ!スクスタ公式 (@LLAS_STAFF) March 23, 2022
We are in this Event again where Skip Tickets are always a best weapon to grind higher ranks!
The Event UR to be obtained is Mari Ohara, while Mia and Shizuku can be gained also as SR rewards! Try using them in order to gain more Event Points in this Event! And also, using the corresponding characters in this Event can increase the advantages in raising your rank a lot further!
So then, what could be the story this time around? It talks about strawberries and stuff. Can you find out what's happening by just reading?
Make sure to grind, progress, and get as many Event Item Rewards as you can before this Event ends! So far, what could be my own progress here? Will it be a slacking moment, just like last time? Find out as I am going to give my final results next Episode, and you shall be looking forward into that!
SIFID Data Linking No More?
It seems that we are going to lose another feature or function in this game on the next update. Ever since the changing of publishers and developers in the past few months, so does to the changes in this game forever!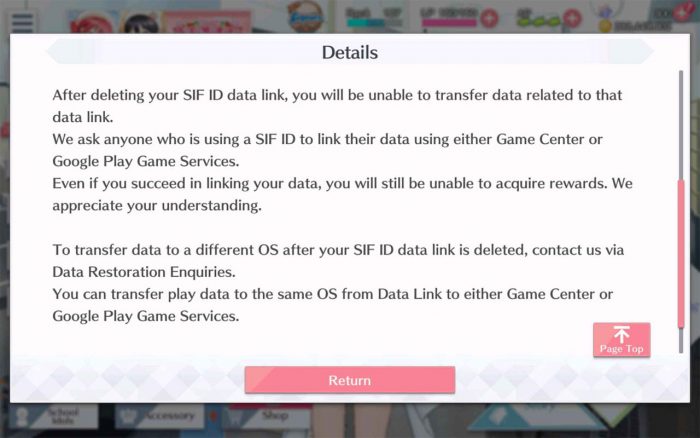 Starting on the next update on April 7, 2022, the SIFID function for the ALL STARS shall be permanently removed. What's going to happen if they are going to remove that feature? Basically, no more convenient data transfers anymore from Android OS to iOS or vice-versa. And then, the "old-fashioned" data transfer codes or some sort might return here, in which most of the players' saved game data is in risk of being lost, due to the fact that they ain't linking yet their game data to their respective Google or Apple ID accounts.
If that's the case, we are back in the era where these old-fashioned transfer codes style might be used again, when you try to transfer your game data from your current operating system to another operating system.
Just stay tuned at their feed for more info about this.
Tomorrow: Free Scouting 10 ×9!
?2.5周年キャンペーンを開催のお知らせ?#スクスタ 2.5周年を記念したキャンペーンを開催します!

マカロンや特別なガチャチケットのプレゼントなど盛りだくさんの内容となっておりますので、ぜひチェックしてみてくださいね✅

▼キャンペーンの詳細はこちらhttps://t.co/OO4ewaaUUx#lovelive

— ラブライブ!スクスタ公式 (@LLAS_STAFF) March 16, 2022
There would be exciting campaigns that will celebrate the game's two and a half anniversary! Expect something like Free Scouting, item powerups and upgrades, and the occasional Login Bonus Items!
They were recently previewed during the Nijigasaki Livestream last March 7!
That's right! And since the Prologue Login Bonus Items (Macaron items) are starting to commence as of March 17, this is the road to excitement!
And for the Free Scouting that shall be commencing soon on March 26th, as well as some other Step-Up and Rate-Up Scouting Banners, is your luck just suitable enough?
Who knows! You shall be finding them all out when you try to participate in this campaign!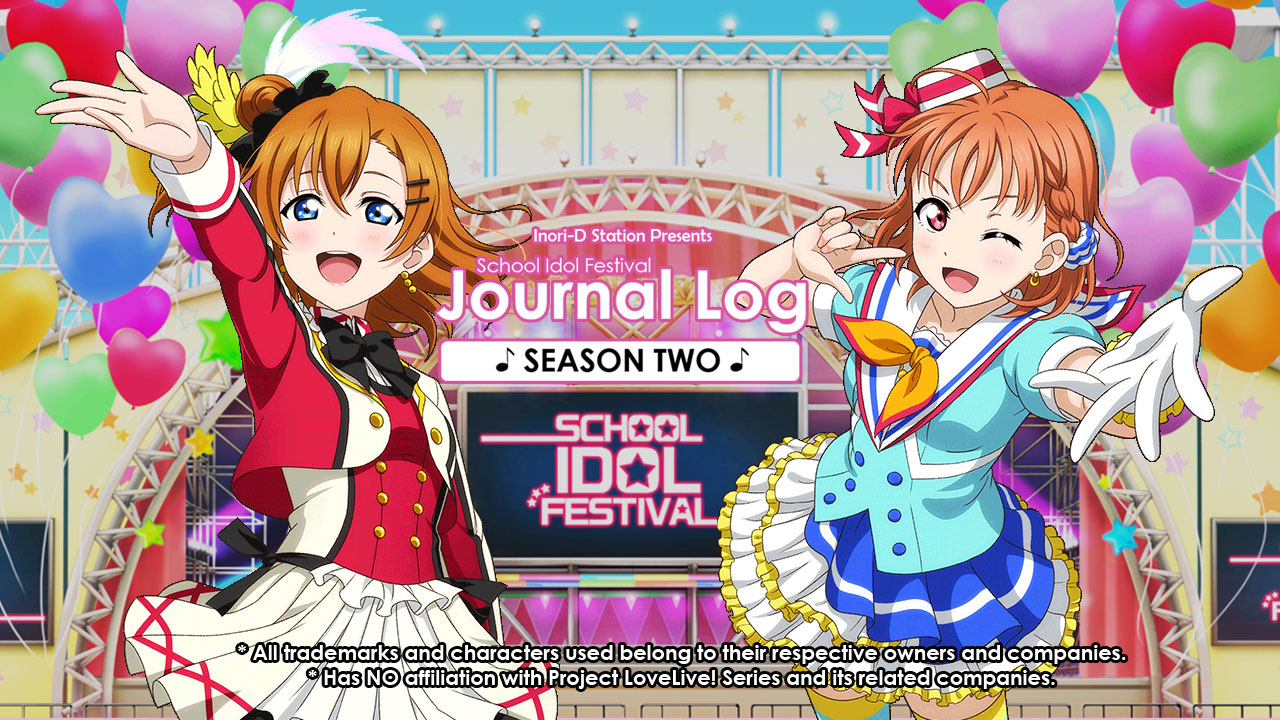 STORY EPISODE (EPILOGUE)
When the shift hours in the maid cafe are over, the manager called all of the people in the meeting room.
And then, she speaks up to Chiharu, Takayoshi, Aika, and Lierre. Sho is just also in front of the four people mentioned.
"From now on, starting tomorrow, Sho Ukiya shall be working with us!"
"Hello there! I may be a newbie. But I know that I got potential in helping you guys whenever you are in trouble. Let me work with you, and let's enjoy! I will do my best, and thank you very much!"
Sho then bows down to them. And then, they also bowed down on him.
Chiharu is cheerful and said, "Alright! We finally got a new member of Idol Chasers! Now, this is a party!"
Sho is somehow embarrassed. But then, he joined the four people anyway.
As the maid cafe manager, or Takayoshi's mother rather, is looking at them, she finally looks at the picture frame of her own memories, at the time when she was still a School Idol.
"Girls… I did it! I had finally taught them the values of School Idols. Values, in the sense that they must know on how to become with it, as well as on how to give love and support on it!"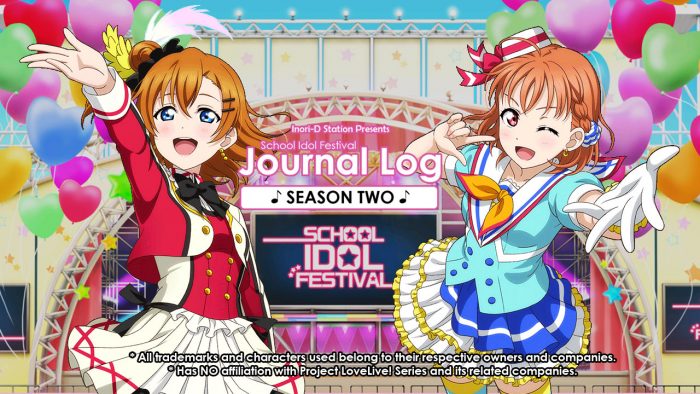 NEXT PREVIEW
Your journey as a School Idol has begun. Now, you must know the odds of your own skills. It can either affect other of your friends, rivals, or even your family! This is where you could face your own hardships and failures as a School Idol. This is where you could face your own, first "reckless challenge", and you must know what are the things that you should consider on your first try!
Next time on School Idol Festival Journal Log SEASON TWO, "First Mission".
The Bonus Stage
The girls of Nijigasaki are back in this second season! Shioriko Mifune, Mia Taylor, and Lanzhu Zhong are now added to the stable!
Once again, these girls are seeing each other — sometimes as friends or rivals everyday.
They all have one, common dreams! And that is, somebody like Yu Takasaki, can support these girls in making their dreams come true!
And once more, they are chasing for their dreams, along with their new friends and rivals at their side!
LoveLive! Nijigasaki High School Idol Club SEASON TWO!
Starts airing and streaming on April 2, 2022!
For overseas simulcast, check your local Anime licensors per region for the time and availability in your area!
Official website:
https://lovelive-anime.jp/nijigasaki/
RETURN TO MAIN PAGE BACK TO HOME PAGE