EPISODE 05: Merchandise Hunter
In this world, there are group of high school girls that formed a band or group together, and they were singing and dancing together in one stage. Their music videos and their songs had totally touched every people's hearts, and making them be inspired to follow their footsteps. These girls are dreaming about their future in terms of their popularity and stardom. These pretty girls are called as "School Idols".
You are a fan of School Idols, don't you? You really love them and you support them by buying their official merchandise, as well as buying their original character figures. While other character figures and merchandise don't really give you some benefits when you have them for luxurious purposes and desires, there are some that you could actually have and they have their own purposes, such as using them for your everyday lifestyle! But then, just be careful on what you spend, though.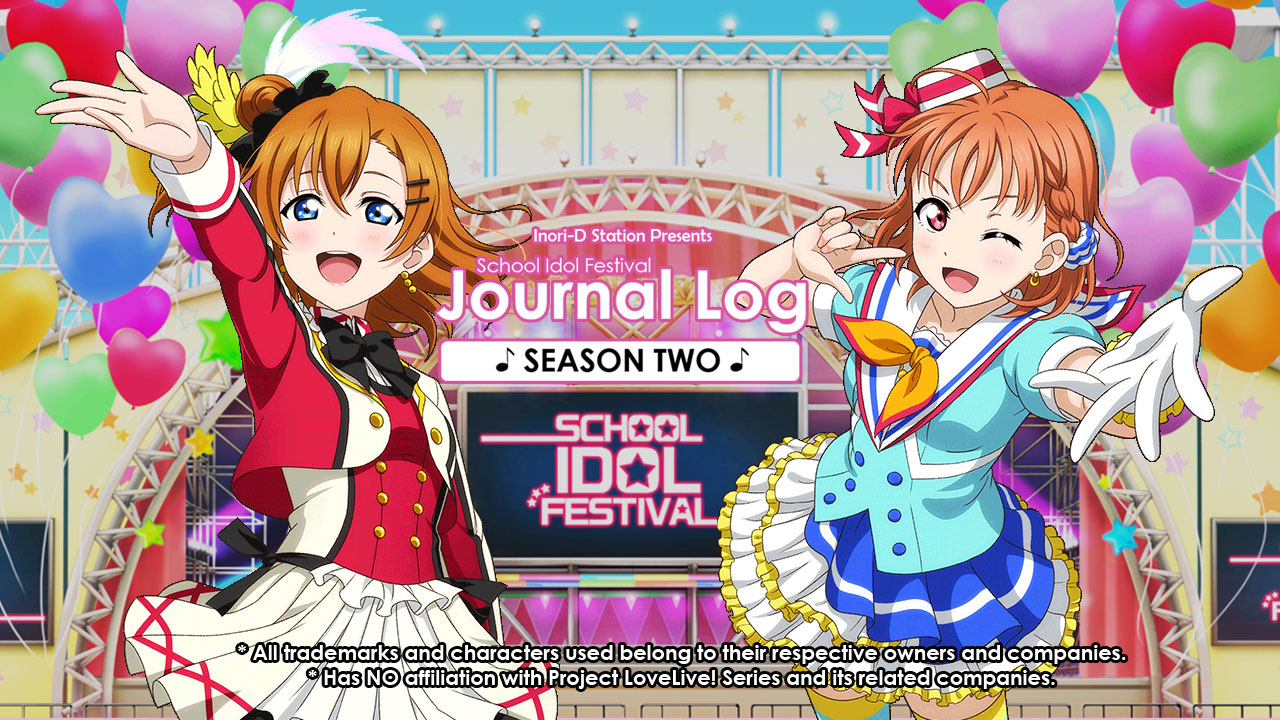 STORY EPISODE
It was early evening. And in the one of the apartment buildings in Tokyo, there lives a young man who lives alone.
There are no other people in his apartment room, aside from him. In fact, everything in his room was filled and surrounded with colorful, Anime girls.
"Wow, this could be my expensive loot for today! I am running out of my savings, soon."
Meet Sho Ukiya. His main forte was Anime figures and merchandise. He collects various Anime figures, whether a chibi, or the full-sized one (i.e. scale figures). Right now, his room is filled with many LoveLive! figures and merchandise.
And then, he finished eating his instant noodles in a cup. That was his meal every other night. Sometimes, he is just going out to dine-in on a random fastfood chain.
Sometimes, there is a chance that he is crying alone, and he just hugs his favorite giant LoveLive! plushie doll.
"Someday, time will always come and I shall be meeting these actual School Idols by myself! If only my money earnings are just enough…"
The following day, Sho wakes up from his sleep, and began taking a bath, as well as putting his clothes on. And then, he opens his secret stash containing his money.
"This is the only money that I have. I should not waste that my parents gave to me. But then, I can eventually earn them back by playing that game, either."
And after that, he closes his secret stash and he headed outside.
Meanwhile, in Shinonome Academy, the students are now taking their examinations. And Chiharu is just being cool in answering the questions in her exam paper. When there are only two items for her to answer, she looks at the clock and she starts answering it quickly as she can.
"This could be my first time in landing a perfect score in exam! And in the last question… This one is quite difficult. Maybe, I can try this one!"
When the bell rings, the students passed their papers.
"I wondered if I could get that question answered properly. But then, it was very difficult for me, since I never encountered that in our previous lectures!"
As she walks in the hallway, she saw and heard the two students talking about something.
"Yuri, that exam is hard! I almost have a hard time answering them all!"
"Me either, Coco. But then, there is always a time to try again if you fail!"
"Let's go to an accessory shop! Let's buy something for Haruka's group for their costumes!"
"That's a good idea! And their road to LoveLive! Finals is just getting closer!"
After hearing the conversation, Chiharu continues to keep moving forward until the exit.
She was walking alone, until she encounters Lierre again.
"Okay, this is getting obvious. What do you really want?"
"Basically, I want to talk to you this time around."
"Talk to you? Okay, whatever. So as long as I am free today… For this time only."
"Thank you for your reply. I just wanted to talk to you about School Idols."
"Nothing is bad with talking to somebody. But then, I wanted to ask something from you! Please tell me about my dreams! It keeps repeating everytime when I sleep."
"Alright, your question isn't bad either. To answer that, you just need to listen to my story."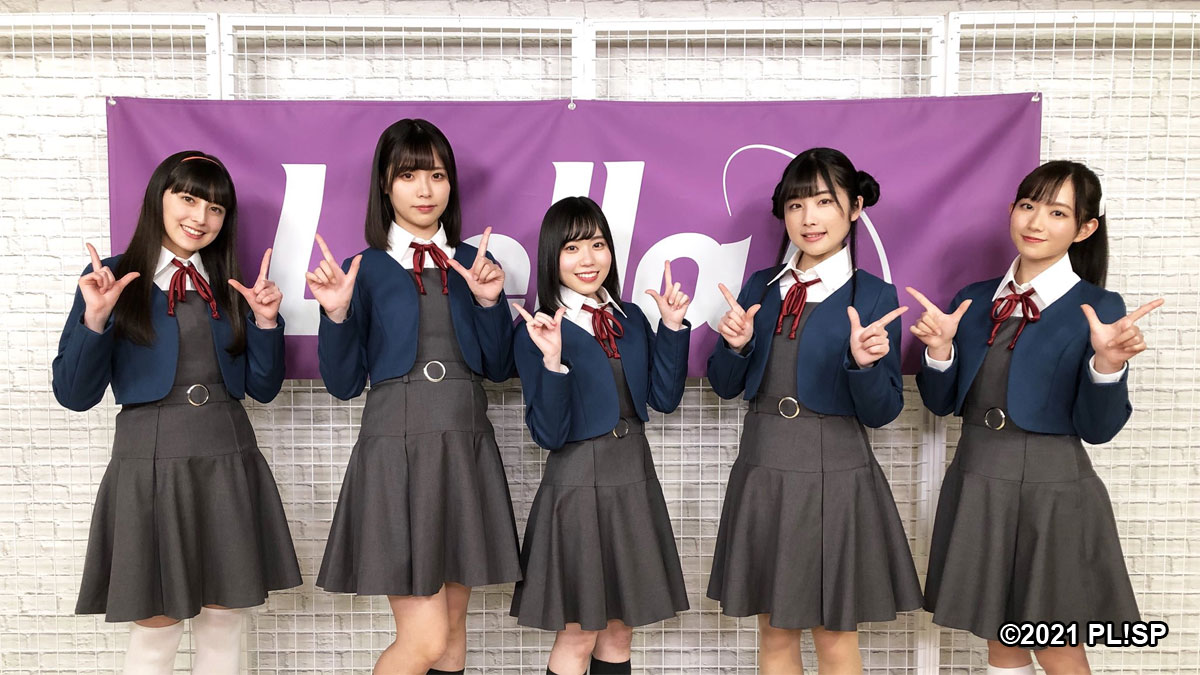 HEADLINES
So then, another month has come into a close, and the Year 2022 has finally taken its first step.
Right now, there are things that could actually disrupt the flow of time or events. But then, no matter what, we are doing everything just in order to make things go in a flow, or to go smoothly!
But then, on the other hand, what are the things that happened recently in the LoveLive! Series in this past weekend, and in this week?
Aqours 6th LoveLive! ~KU-RU-KU-RU Rock 'n' Roll TOUR~

+ Overseas Paid Streaming Announced!
\☀️本日受付スタート☀️/#Aqours 6th LoveLive!
~KU-RU-KU-RU Rock 'n' Roll TOUR~

♪2月12日(土)・13日(日)
愛知 バンテリンドーム ナゴヤ
♪3月5日(土)・6日(日)
埼玉 メットライフドーム

本日より一般発売(抽選)の申込受付がスタート?
お申込みはこちら?https://t.co/MRqsfDnBUj#lovelive pic.twitter.com/AsxojSvZMo

— ラブライブ!シリーズ公式 (@LoveLive_staff) January 6, 2022
To give you some heads up, the upcoming Aqours 6th LoveLive! live performance event is just around the corner — around next weekend!
This live performance event is scheduled on at least two (2) venues across Japan. They are labelled as Ocean Stage and Sunny Stage, and they shall be commencing on weekends, on February 12-13, 2022 (Vantelin Dome Nagoya, Aichi), and March 5-6, 2022 (Belluna Dome*, Saitama), respectively.
To explain the italicized venue name with asterisk above, Saitama Metlife Dome shall be renamed to Saitama Belluna Dome, starting on March 1, as noted by the LoveLive! Sunshine!! Team.
Everything else is already detailed on the First Episode! Be sure to read that first before asking questions!
And as seen from the header above, overseas paid streaming schedule has been revealed! The ticket price is at least 6,000 JPY per day. Be sure to keep tuning in to their feed, since there might be changes in which it can disrupt further in their commencement of their 6th Live event! In other words, follow their feed for updates!
Kanan Matsuura's Birthday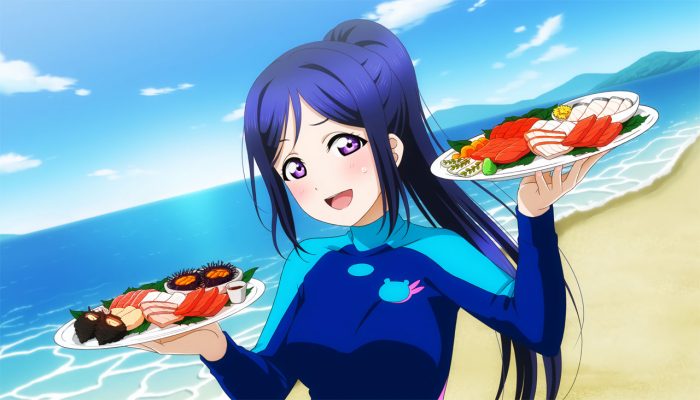 Meanwhile, Kanan Matsuura's birthday shall be celebrated next week! Her birthday is celebrated on every 10th day of February. My birthday message for her shall be posted here next week, and take that note!
Also, her birthday campaigns are now ongoing in the LLSIF game! Be sure to scout for her UR, if you are really needing her in terms of Skills. Or otherwise, scout for her if you really loved her so much, and if you are really dedicated for her birthday!
And be sure to check out the upcoming release of her album in the Second Solo Concert Album series! Likewise, they were already previewed on YouTube, which also included her new song, RUN KAKERU RUN.
Chisato's VA is Positive for COVID-19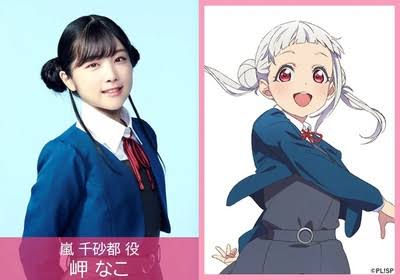 I know that she is almost recovering from that sickness. And that time, she was supposedly to appear on a recent Liella! Radio Event Show last weekend. But then, her staff from her talent agency has already declared her positive for the coronavirus. That may be a sad news last weekend, and I hope that she could be able to overcome it — for the second time around!
Read more about this news by clicking or tapping here!
Emma Verde: Happy Birthday!
Emma Verde originally came from Y.G. International School as a transfer or overseas student, before entering Nijigasaki High School. She actually came from Switzerland, and went to Japan in order to study there — and to learn more about School Idols!
Her birthday is celebrated every 5th day of February! And to mention, her birthday is actually tomorrow! Oh man, I guess my birthday greetings for her shall be late again! But then, to greet her later, I just wanna say, "Happy Birthday, dear Emma Verde from Nijigasaki High School Idol Club!"
Although it shall be late by a week, at least I had greeted her in advance! But my birthday message for her shall be posted here next Episode, along with my birthday message for Kanan Matsuura!
Meanwhile, her birthday campaigns are still ongoing in the LLSIF game (until her birthday)! Be sure to scout for her UR, if you are well dedicated for her! Or otherwise, you can scout for her UR if you are in need of her Skills in order to score efficiently in Events!
ALL STARS Global Version Special Livestream
"All Stars Global Ver. 2nd Anniversary? Nijigasaki Team-Up Activities Global Special Livestream✨" in 1 Week!

2/6 12:00 JST
Cast:
Maria Sashide (Vo. Emma Verde)
Akina Homoto (Vo. Lanzhu Zhong)
Shu Uchida (Vo. Mia Taylor)

Look forward to questions answered & English lines! pic.twitter.com/Ee3V8GDgiO

— ラブライブ!シリーズ公式 (@LoveLive_staff) January 30, 2022
Also, included in this Headline is the upcoming special livestream program of some of the girls from Nijigasaki High School Idol Club! It shall be hosted by Akina Homoto (Lanzhu Zhong VA), Maria Sashide (Emma Verde VA), and Shu Uchida (Mia Taylor VA)!
This special livestream shall be broadcasted on YouTube, and other related video streaming websites, starting on February 6, 2022, at 12:00 pm JST! In fact, it shall happen in two days from this Episode!
And did I already mention that there would be interpreters of the respective languages, namely for English, Japanese, and Traditional Chinese languages? If you already know it, then don't miss in watching this livestream live!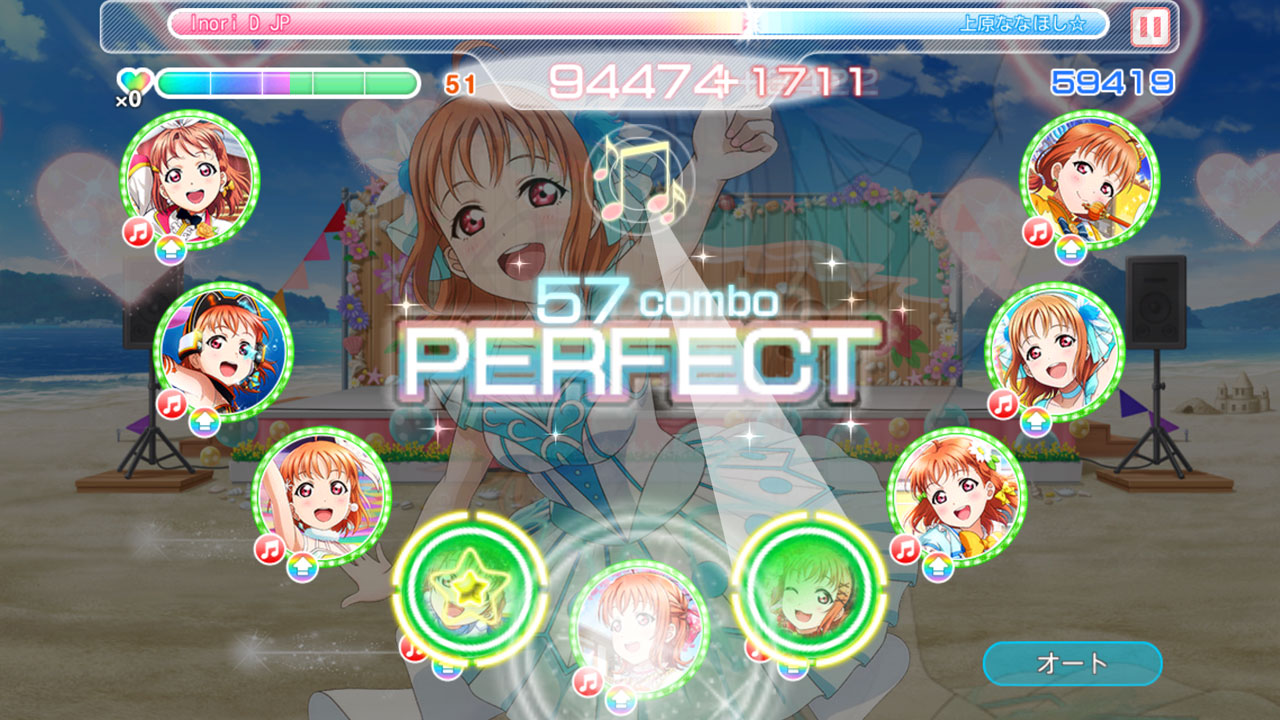 LLSIF HIGHLIGHTS
So then, I am finally out from my slumber. But then, it seems that my friends and rivals have already formed their own teams, in which they had already devised a new meta team in order to score higher on every single Events!
And finally, I have formed this new meta team. It is definitely the time to show the true power and fury of the G2-Tier Score Up URs that I have scouted!
But then, other than my comeback for my Event Grinding, there are things that are needed to give details, so that every people are well-informed! In other words, what are the things that were recently spotted during the past weekend, and this week on LLSIF? Be sure to check it out!
Round 16 Live Arena
?第16回ライブ♪アリーナ「まごころバレンタイン!」開催?

スクールアイドルたちとのセッションを勝ち抜いて報酬をゲットしよう?
報酬にはUR #近江彼方 (覚醒済)が登場?

開催期間:2/21(月)まで#lovelive #スクフェス pic.twitter.com/n7rNlCMnvR

— 【公式】ラブライブ!スクフェス事務局 (@lovelive_SIF) January 31, 2022
Yep, another round has already begun. But then, I shall try my best in order to achieve higher Special Session Stages this time around!
Be sure to place yourself in either EXPERT or ROYAL EXPERT Category/Class, when this Live Arena period ends, in order to win Kanata Konoe's love — her new UR! You already know this, right?
Live Arena Guides and Tips: https://inoridonz.com/2021/05/01/llsif-live-arena/
And to mention this: The period is shortened, and it shall end on the 21st of February, rather than its usual 25th-day deadline date slot. It is quite obvious because February has only 28 days, you know?
Birthday Limited UR Box Scouting (Emma & Kanan)
To give them in details, Emma Verde's Limited UR (Birthday Live Show set) Box Scouting banner is up until her birthday tomorrow, while Kanan Matsuura's Limited UR (Fairy Tale Princess) Box Scouting banner is up today.
【LoveLive! SIF】

<Nijigasaki> Emma's Birthday Campaign

Her Birthday UR can be obtained from this Box Scouting banner!

Remember that most Nijigasaki members of all rarities don't have a Side Story yet when maxed out of their Bond Points! Noted!#lovelive #スクフェス #LLSIF https://t.co/9C7ecjTPPj pic.twitter.com/NSLHm1TBjW

— INORI DONZ | Inori-D Station (@InoriDONZ) February 2, 2022
Be sure to scout these Waifu URs, if you are really dedicated for their birthdays! Otherwise, you could even scout for them if you are really in need of some of their powerful Skills, in which they were relevant to your current meta team builds!
And to give you some notes, regarding Emma's UR, as well as the other Nijigasaki members in stable, they don't even have Bond Side Stories, even if you had maxed out their Bond Points! Even their Birthday URs obtained from the Birthday Login Bonus don't even give you any!
Next Event?
In fact, this is something to watch out for me here. I am always prepared. So, no matter what could be the type of Event is, I am going to get more Event Points, and to grind harder for it!
And then, there are only two possible Events in which it shall be the next Event to be announced later, and to be commenced tomorrow. It can be either a Medley Festival? Or possibly, a Companion Match?
If you are wondering what could be the next Event to be announced soon on the μ's Side, tune in to your in-game-app notifications, at exactly 3:00 pm JST (UTC+9) today, to find out! Everything else shall be detailed on the next Episode!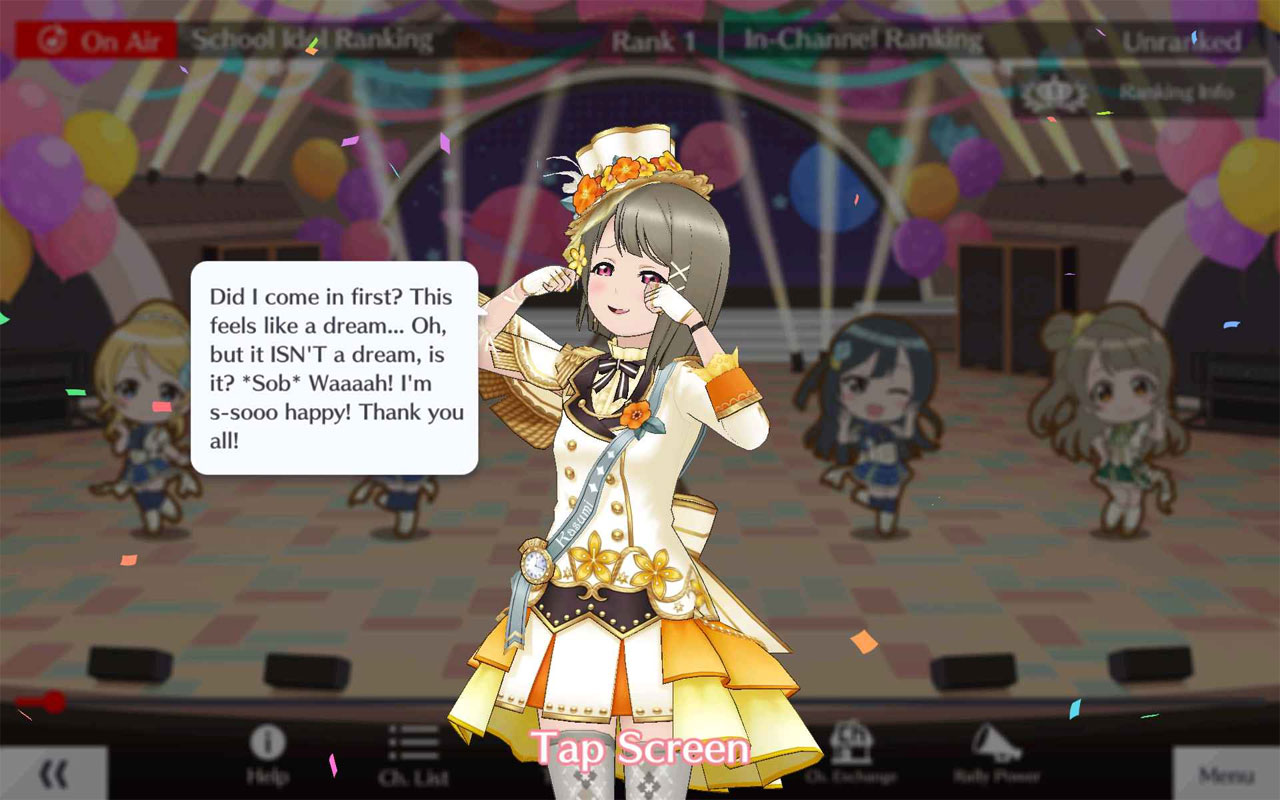 ALL STARS HIGHLIGHTS
May the School Idols shall be with you.
All seems lost now for me, but still I must fight on. Recently, I attempted to scout for the new Fest URs, Mia Taylor and Kanan Matsuura. But then, in the end, I had gotten nothing, especially the new featured SR Rin Hoshizora. I guess there is no way for me in getting stronger further in this game.
I had gotten a new UR, namely Emma Verde, meanwhile, in my JP Side, despite that I had used all of my 500 Star Gems as my first attempt in order to get either Fest UR Mia or Kanan. So then, I am just finding more ways in order to collect more free Star Gems easily, aside from the fact that I had been clearing the other songs in other lower difficulties.
But then, it's about time to use this new "autoplay" strategy of mine starting in this month, given that I am already free from my voluntary temporary suspension in LLSIF! But other than that, what are the things that recently happened in the ALL STARS game?
School Idol Channel Weekly Bulletin
First, and mostly, we shall be giving updates to this one. And then, who were the School Idols that reached the Top Ten this time around? Find out by reading!
JP Side – Round 44 (Jan 24 to 31)
| RANK | SCHOOL IDOL | GROUP | AVERAGE CHEER POINTS |
| --- | --- | --- | --- |
| 1 | Hanamaru | Aqours | 6,062 |
| 2 | Kotori | µ's | 4,341 |
| 3 | Setsuna | Nijigasaki | 4,285 |
| 4 | Chika | Aqours | 4,200 |
| 5 | Emma | Nijigasaki | 4,002 |
| 6 | Ayumu | Nijigasaki | 3,713 |
| 7 | Karin | Nijigasaki | 3,647 |
| 8 | Riko | Aqours | 3,594 |
| 9 | Kasumi | Nijigasaki | 3,521 |
| 10 | Maki | µ's | 3,496 |
Global Side – Round 31 (Jan 24 to 31)
| RANK | SCHOOL IDOL | GROUP | AVERAGE CHEER POINTS |
| --- | --- | --- | --- |
| 1 | Yoshiko | Aqours | 7,177 |
| 2 | Kotori | µ's | 5,230 |
| 3 | Chika | Aqours | 5,214 |
| 4 | Hanamaru | Aqours | 4,698 |
| 5 | Ayumu | Nijigasaki | 4,659 |
| 6 | Setsuna | Nijigasaki | 4,073 |
| 7 | Maki | µ's | 3,758 |
| 8 | Karin | Nijigasaki | 3,739 |
| 9 | Rina | Nijigasaki | 3,409 |
| 10 | Kanan | Aqours | 3,285 |
To rundown and summarize it, here it goes!
Basically, JP Side has gotten weaker than before, compared to the Global Side, in terms of Average Cheer Points per School Idol Channel.
The common School Idols that are usually topping in the charts, are Kotori Minami and Setsuna Yuki. My prediction from last week was right. Meanwhile, during that time, I am in Kotori's channel in the JP Side, while in the Global Side, I am in Setsuna's channel.
It seems we are getting in frequent increase of the number of Nijigasaki School Idols present in the top ten charts of the School Idol Channel Rankings! But then, who knows that the next School Idols to top in the first ranking is already set! We already have Kanan Matsuura (Emma Verde is ongoing), and Lanzhu Zhong next in line!
PRE-EVENT: Round 20 SBL
【LoveLive! ALL STARS】

<PRE-EVENT: Round 20 SBL>

Featured Songs:

1️⃣ It's Our Miraculous Time! (Sore wa Bokutachi no Kiseki)
2️⃣ MIRAI TICKET
3️⃣ I'm Still…

Further details soon on #IDS_SIFJL S2 this Friday.#lovelive #スクスタ #LLAS #SIFAS pic.twitter.com/TbPOsxVUGi

— INORI DONZ | Inori-D Station (@InoriDONZ) January 31, 2022
Actually, it was already started two days ago, before even this fifth Episode was published.
To give you a brief info, SBL (SIFAS Big Live Show) is done every first week of the months! And somehow, they shall be working around for at least 6 days (Or even shorter depending on some other concurring LoveLive!-related events, like the actual live performance events or some sort!). This is considered to be a "Pre-Event" period, where you shall be co-oping with the other 9 players, wherein there are always 10 players (Global Side) in total to play (Meanwhile, there are 20 players total in the JP Side)! You have to achieve the required Room Voltage Score in order to win this SBL match!
And not only that, your competitiveness shall be tested here! In fact, you shall be needing to outbest your friends and rivals by landing some featured awards! You are given some awards based on the total amount of Voltage Score that you had landed in one live show play, total Healing Skills used, total amount of Skills activated, and as well as the total amount of SP Voltage Skills used! And finally, your Best Award is only determined based on your overall performance, and basing from the any of the four SBL awards that you had made during that play.
It is very difficult to achieve some awards like these, especially if your URs, or otherwise your School Idols, aren't beefed-up enough. But then, it usually takes some of your luck in order to snatch the SBL Best Award after the live show play!
There are basic rules there on how to play. If that's so, then you can refer to that one instead in the game itself!
As of today, I am trying my own best to hang on and to play in this Pre-Event, though I ain't able to snatch some any of the four mentioned SBL Awards. And at the same time, I have to achieve higher rank in order to get some better rewards!
And then, there are always benefits when you are trying to achieve the highest rank possible in this Pre-Event. And that is, you can able to get some better rewards, such as essential upgrades for your School Idols to become stronger! And also, you could able to get some awesome items, such as Scouting-related items!
Basically, this is just the Part One of this highlight. And then, due to the fact that I am already participating in this Pre-Event, I am going to give my final results here! It shall be posted along with the second part (Final) right here, in the next Episode! Look forward into it!
EXCHANGE: Flowers for Valentine's
【LoveLive! ALL STARS】

Happy Valentine's Day!

Did you know that it is just more than a season of giving some flowers and chocolates? Of course, there would be other things to do!

Next time on LoveLive! ALL STARS, "Flowers for Valentine's". ?#lovelive #スクスタ #LLAS #SIFAS pic.twitter.com/SrqKrhDYb4

— INORI DONZ | Inori-D Station (@InoriDONZ) February 3, 2022
Yep, that's my own synopsis for the upcoming Exchange Event by the game itself!
To give further details for the upcoming Exchange Event, you can read this for reference! Also, you could even read them via your game app's in-game notifications!
So far, the featured Event UR reward to be obtained from this Event is Kanata Konoe. All you have to do is to play in this Event! Play by either skipping or even playing with some songs on any difficulties! You could earn some exchange tokens — items used in exchanging Event Items from the shop! Do you want to get all of those items from the shop? Just simply play hard and get more tokens!
By scouting the featured URs and SRs in this Event, you could increase further the advantages of your Event Points acquisition rate, as well as the tokens that you are collecting after some live show plays (Or by even skipping)! Also, the selected School Idol members can more likely be having some little acquisition rate increase — Selected School Idols featured in this Event!
Aside from grinding for more Event Points and Tokens, you must also show your competitiveness by placing higher in Voltage Score Rankings! You already know the rules of the calculations of the ranks in Voltage Scores, right? The featured songs are Bokutachi wa Hitotsu no Hikari, Genki Zenkai DAY! DAY! DAY!, and NEO SKY, NEO MAP!, and you should make higher Voltage Scores of these songs in order to place yourself higher in the rankings! The higher, the better, and you could even get more and better rewards when this Event period ends!
And finally, also in this Event, they are going to release a new song, in which it shall be released on the upcoming Main Story Chapter 36 of the game! It is none other than the μ's song, Oh, Love&Peace!
If my progress is good within this Event, I might give you some reports about it. In fact, it shall be posted right here in the next Episode! Look forward into it!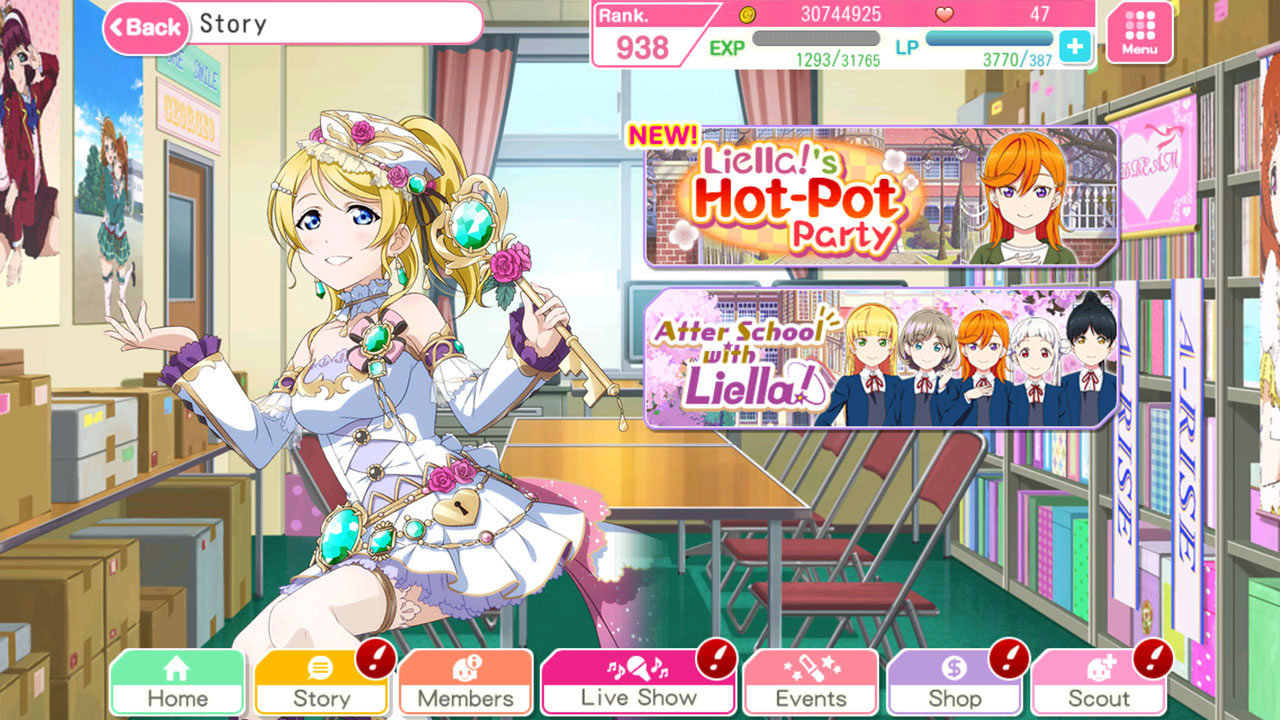 EXTRA CORNER
Time for the Extra Corner segment! This time, let us reveal the answers to the Questions that appeared in the previous Episode! At the same time, let's find out the explanations of these answers!
Are you ready? Let's begin!
Question #5: You went shopping one day with Riko Sakurauchi. She wanted to go shopping to try out some "little devils" fashion.

What was really her other reason to go out for shopping?
The correct answer is:
A. To buy sheet music for her new song compositions
You thought it was Letter C, where it was really Yohane whom she really wanted to hang out with. Maybe because of the "little devils" keywords, right?
Anyway, if you got it wrong, let me explain to you the correct answer! Please pay attention!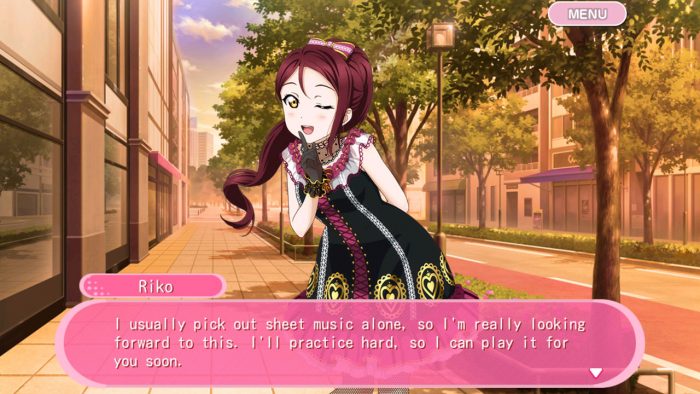 One day, she went to a shopping mall just to check and try out some "little devils" fashion, as pointed out by Yohane (Yoshiko Tsushima) who always wanted to wear them. Usually, in some of her strolling and shopping in the malls, Riko always finds and buys a new sheet music (a music composition book where musical notes are written there, as if you are writing your own song), in which she can use it to compose new music or song pieces to play them on her piano.
Riko is a soft and gentle girl, and she is like a white rabbit (Though her favorite animal is an elephant).
Alright, next!
Question #6: In ALL STARS, what did Kotori told Chika and Setsuna about the ultimate technique without resorting each other to violence?
The answer is…
C. Hugging
In fact, all of the three choices there are all kinds of "nurturing touch"! But then, the common kind of nurturing touch that is usually used if you are really caring for someone is hugging. Alright, let's explain it!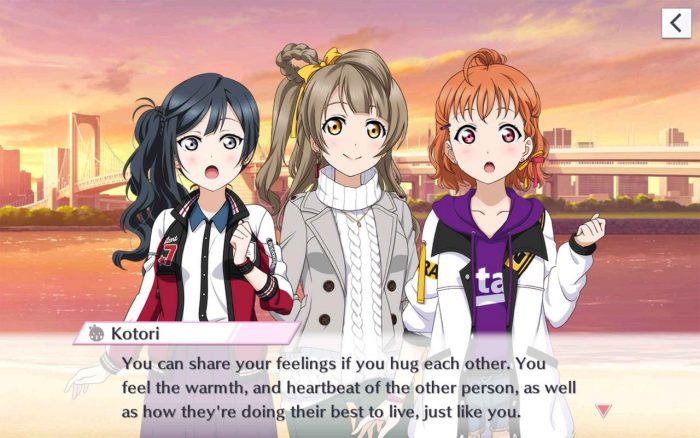 When everything is about to be settled by Chika and Setsuna by the exchange of not only just words, but by the gnashing of teeth and the exchange of fists, Kotori intervenes them. She has told the ultimate technique to Chika and Setsuna without them even resorting to violence. And Kotori told them to hug each other instead. And that is, according to her, the only way to express and exchange your own feelings to somebody.
Even the likes of Maki Nishikino can't even escape from this kind of nurturing touch!
So, do you understand now? Violence is NOT always the answer to resolve your problems.
Next SIF Quiz!
Alright, let us make it easy, a bit! Please read the next SIF Quiz Questions!
Question #7: Mari Ohara is an Uchiura Girl. On what mode of transportation she has never done often?
BUS
TRAIN
BOAT
Question #8: Emma Verde comes from Switzerland to study in Japan.

Give the EXACT name of the first school where she is studying as an "overseas student".
Answers shall be given and be explained next Episode! Look forward into it!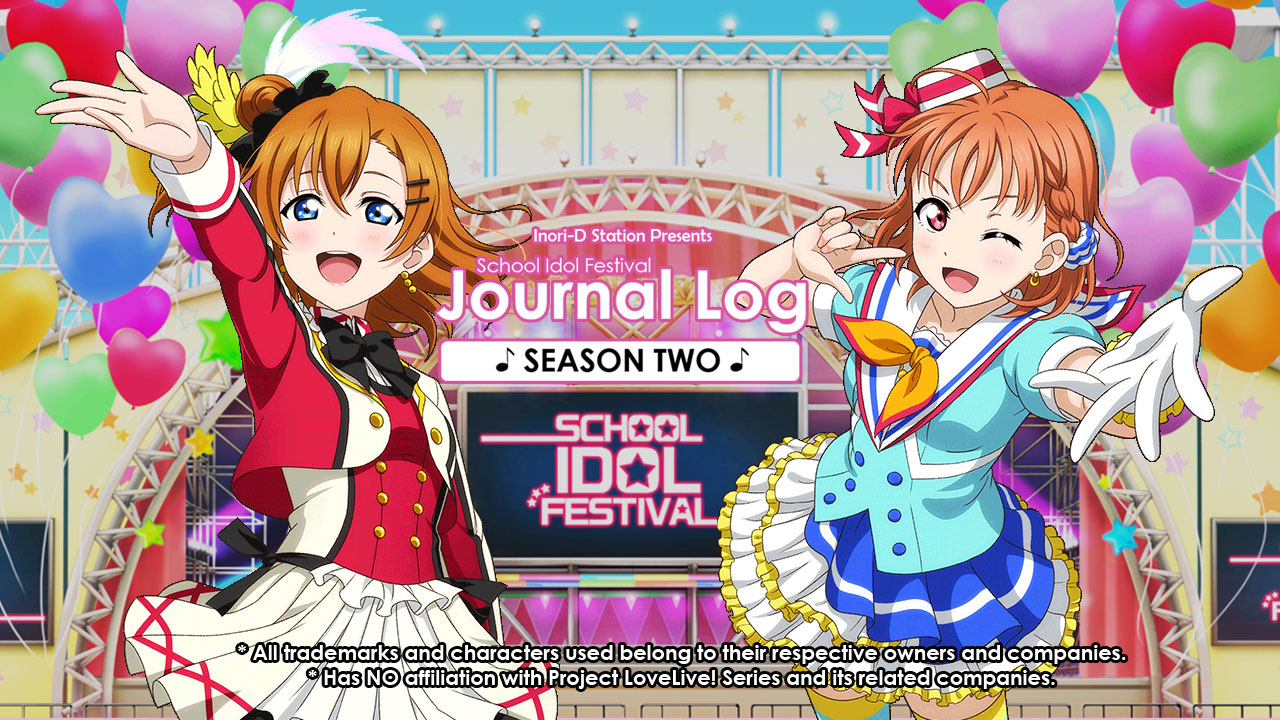 STORY EPISODE (EPILOGUE)
Sho was on an arcade center, and he founds a crane game machine there. He was surprised when he saw his favorite LoveLive! plushie doll there.
"I have to get it this time around. I only have three coins left here. If I fail, then I can no longer get that plushie anymore."
So then, he give it a try for the last time.
When the claw has successfully caught the plushie doll, it then drags it until the prize hole. Sho was surprised and excited to claim it for the first time. But then, all were lost when the claw opened, and the plushie doll was deflected from the prize hole.
"This is frustrating. Whenever you are too close to winning, you are still going to lose in the end."
When he is going to leave the crane machine with disappointment, a man came and he tries to play with the crane game machine. And then, Sho observes him playing it.
With ease, that man was able to prize out his LoveLive! plushie doll. And Sho was too unhappy about it. And then, this man came to Sho and looks at him. He then presents his prized plushie doll to him.
"I can see frustration in your eyes. If that's so, then you can have this plushie doll."
"I can't believe it. But you actually win that so that you could give it to me?"
"Just take it, and don't hesitate. Go home with this plushie doll with you."
"Oh, thanks man. Thank you very much! Take care always!"
Sho has finally left, and his frustration has faded out.
This man is a mystery. He has a black hair, and his eyes are golden.
And then, at a nearby standee, he saw something in his own eyes.
"My little sister… It's been a while."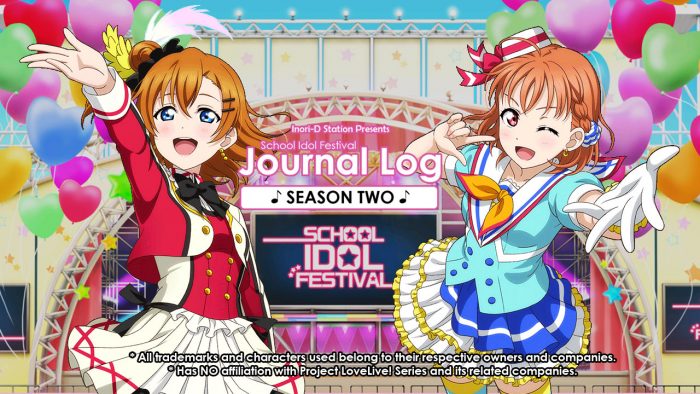 NEXT PREVIEW
If it happens that you had become a School Idol, and you have successfully won the LoveLive! Finals, it means you have finally realized your own dreams. Or likewise, you had found your true radiance in yourself. But then, when you have successfully reached for your own dreams, what shall happen afterward?
Next time on School Idol Festival Journal Log SEASON TWO, "The Other Side of the Stars".
EPISODES ARCHIVE (SEASON TWO) BACK TO HOME PAGE