EPISODE 01: Common Bonds
Hello people! It's been a while! A lot of things has happened recently!
This time around, this segment is back for real… For a second season!
Welcome to the School Idol Festival Journal Log SEASON TWO on IDS! This shall never be the same again! Alright, let's begin!
CONTENTS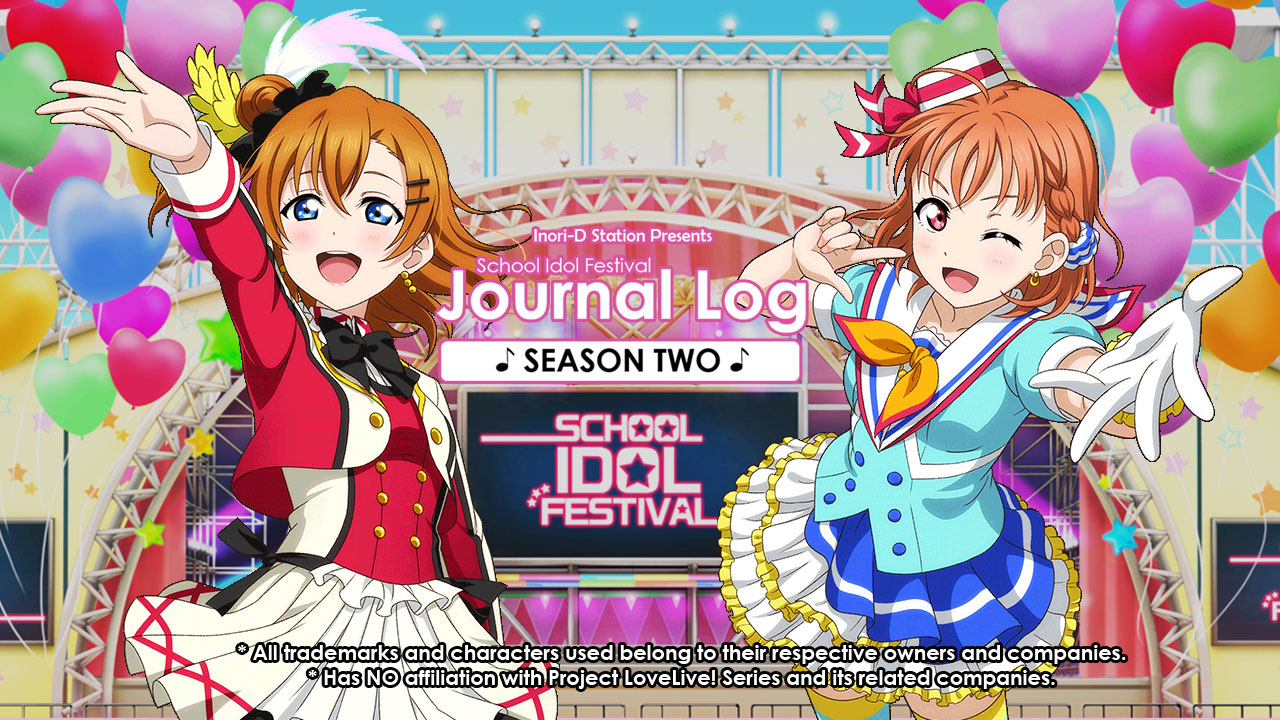 STORY EPISODE
On a vacant, empty theater somewhere, a girl is walking towards the stage platform ahead. When she reached the platform, and she steps at the top of it, the surroundings begin to illuminate.
And then, a girl donned with an orange frilly costume and ribbons has appeared before her, and she speaks.
"You are a School Idol and…"
Slowly, the lights behind her are beginning to darken one by one. Also, the stage lights, where the girl with frilly costume is standing, have also darkened. The girl doesn't have any idea on what's going on.
Suddenly, the ground cracked up and shattered. And the girl fell into the endless pitfall.
In the end, she wakes up, and she realized that it was just a nightmarish sleep.
"I wondered what's being a School Idol looked like? And I am just a supporter to them!"
After that, she gets up from her bed, and she starts taking a bath and changing to her school uniform.
Meet Chiharu Umiboshi. She is currently a sophomore student, and she is studying at Shinonome Academy.
As she was on her way to school, she met various people along the way. That also includes other girls who were in the same school as hers.
During her class, she was able to listen to her teacher's lectures until the end. And the teacher told them before she leaves and ends the class.
"I hope that you have learned something from our lesson today. Just always remember to study at all times, if you got free time!"
And then, the class has been dismissed. Chiharu was packing things up and she was ready to go.
"I wonder what does she meant by studying at all times? Anyway, if that's the case, then I should know what to do! And I don't want it to happen next time."
As she goes out from the school, she is hearing some girls talking about something.
"It seems that they are practicing very hard now than usual."
"Yeah, and they are really eager in winning the LoveLive! after all."
"Really? The more they practice, the more that I am really excited to see their live performance!"
"I wondered on what kind of performance that they are going to pull out this time around?"
"I hope that their performance shall be spectacular, which is enough to move everyone's hearts!"
"Maybe. I hope that their live performance shall allow them to snatch their first victory around…. In LoveLive! Finals."
"Let's just give our hopes and support for them!"
"I am really looking forward to their upcoming live performance!"
"LoveLive! Finals Qualifiers are just around the corner!"
"Right now, let's do what we can do to support them!"
After hearing that, she proceeds further in making her way home.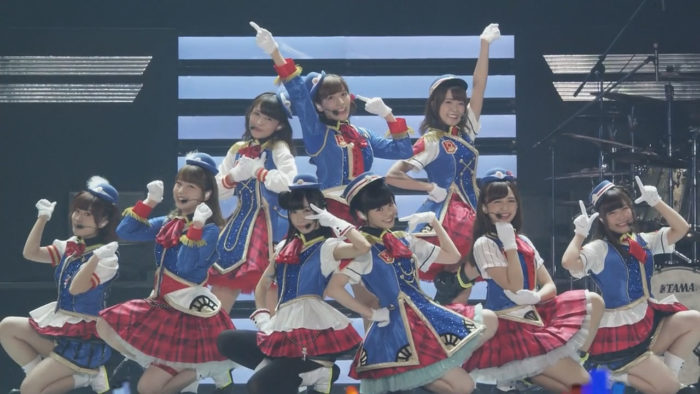 HEADLINES
What are the things spotted in this week? Today, there are lots! Please do read this one below to continue!
TOMORROW: Liella! First LoveLive! Tour 〜Starlines〜 (Miyagi)
?1stライブツアー?
/
急遽決定?
\

ラブライブ!スーパースター!! #Liella! First LoveLive! Tour ~Starlines~
東京公演Day1再配信決定?

配信期間:1/3(月)正午~1/6(木)23:59

1/8,9の宮城公演、1/15,16の東京追加公演に向けて是非ご覧ください?

☑詳細https://t.co/9GpBDFYfy6#lovelive pic.twitter.com/JD6EaR8UE5

— ラブライブ!シリーズ公式 (@LoveLive_staff) December 28, 2021
Let's fly high with Liella! this coming weekend, in their last part of their First Live Tour, where Miyagi is the 10th and the last live leg tour in the series!
I shall also mention here that an archive paid stream (Tokyo performance, Day 1) has been made available since January 3 (12 pm) until January 6 JST. But then, that archival stream has been finished since before this Episode was published.
Anyway, on the other hand, their Miyagi live leg tour shall take place on weekends, January 8 and 9, 2022! You can read here for some info regarding their overseas paid streaming announcements! Enjoy your weekend with them, if you haven't seen their live performance yet!
And also, watch out for next weekend, since they shall be having a special guest in their additional live performance (Tokyo), or otherwise the 11th live leg tour of their First Live Series! You already know who was that School Idol group, do you (If you had read the given link above)?
Nijigasaki: Unit Live & Fan Meeting Series – R3BIRTH
【?虹ヶ咲?】
ラブライブ!虹ヶ咲学園スクールアイドル同好会
UNIT LIVE & FAN MEETING vol.4 R3BIRTH 〜First DELIGHT〜

✨?いよいよ1/22(土)・23(日)に開催?✨

公演内で使用するお便りの募集を開始?

■投稿はこちら?https://t.co/z5FEQgovzZ
たくさんの投稿をお待ちしてます?#lovelive pic.twitter.com/JV5YYKv6Ri

— ラブライブ!シリーズ公式 (@LoveLive_staff) January 1, 2022
Ever wanted to see the straight and formal Shioriko Mifune, the English-fluent Mia Taylor, and the cute yet boastful Lanzhu Zhong standing and dancing altogether in one stage? Definitely, you are going to watch them just for fun, if you are a fan of them, especially when you just saw Shu Uchida (Mia Taylor VA) speaking some "simple English" where it can easily confuse anybody, especially Moeka Koizumi (Shioriko Mifune VA)! Also, give Lanzhu's VA some love, even if she has already antagonized her fellow School Idols at first.
Going back to this highlight and headline, the girls of Nijigasaki shall be back in their "Part 4" of the Unit Live and Fan Meeting this January 22 and 23, 2022 JST. Overseas paid streaming has been announced ever since, and fans can able to watch this by purchasing tickets online to watch this live performance! The ticket price is at least 4,000 Japanese Yen per day.
ABOUT R3BIRTH
Their sub-unit group name, R3BIRTH, has been debuted since at the end of the 28th Chapter of the LoveLive! ALL STARS game! They had also debuted with the release of their new song and MV from the game itself, titled as "MONSTER GIRLS".
Aqours: DREAMY CONCERT 2021 Review and Summary!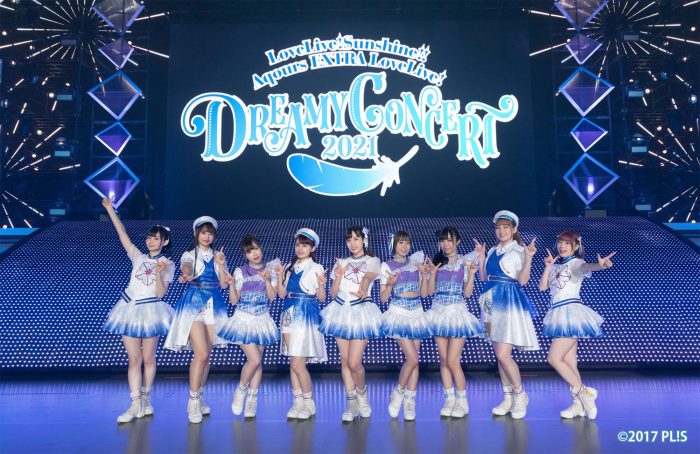 In the past couple of days, just before I publish this Episode, I had made an Event Report about this Event!
What could be the happenings around with that live performance of Aqours last week, and what are my impressions about it? You can read everything that I had written in this special blog post of mine here!
Aqours: Collaboration Announcement with Hatsune Miku
☀️ラブライブ!サンシャイン!!☀️
We Are Challengers Project 最新情報④?

?初のアーティストコラボ企画続報発表?

コラボパートナーは…初音ミク?
楽曲&アニメーションPVを制作しますので、お楽しみに?

たくさんの最新情報を発表しました?
今後の展開にもご期待ください✨#lovelive #Aqours pic.twitter.com/GmWNqgBhhl

— ラブライブ!シリーズ公式 (@LoveLive_staff) December 30, 2021
As a part of their ongoing 6th anniversary project, or known otherwise as the Aqours "We Are Challengers Project", they had announced an upcoming collaboration with an another virtual artist, named as Hatsune Miku. It was announced during at the end of their DREAMY CONCERT 2021 live performance on Day 2.
Hatsune Miku is originally a VOCALOID second generation software, created and developed by Crypton Future Media, Inc. in August 31, 2007. Her character design was done by KEI, and her voice was done by Saki Fujita.
Expect something like a collaboration event, which not only we could expect them in the LLSIF and ALL STARS games! So then, we just need to find out on what kind of collab event or a limited collaboration single or album they shall make this time around. Definitely, we could expect some further updates like these in the suceeding months or days! And don't forget that they might announce them during at the end of their upcoming 6th Live performance, or even during at their monthly livestreams on YouTube!
For Hatsune Miku fans, this is something to be rejoiced about!
Aqours: 6th LoveLive! Key Visuals Revealed
☀️ライブ情報☀️
来年2月&3月 2か所のドームで開催#Aqours 6th LoveLive!
~KU-RU-KU-RU Rock 'n' Roll TOUR~

ライブのキービジュアルが完成しました?

会場チケットの一般発売(抽選)は
【1月6日(木)正午】より申込受付スタート✨

詳細はこちら?https://t.co/iwYVLCkyOL#lovelive pic.twitter.com/Z6ZLKyHNhX

— ラブライブ!シリーズ公式 (@LoveLive_staff) December 30, 2021
Also, on their DREAMY COLOR 2021 Day 2 performance, also on the announcements part, they had revealed to us at least two (2) key visuals for their upcoming 6th LoveLive! live performance!
The title of their live show is Aqours 6th LoveLive! ~KU-RU-KU-RU Rock 'n' Roll TOUR~.
Their 6th Live Dome Tour shall occur on at least two venues across Japan. So which means, there are at least two parts of their so-called 6th LoveLive! Dome Tour Series. Labelled as Ocean Stage and Sunny Stage, these shall occur on the months of February and March 2022. And they can concurrently occur along with the other live performances of the other School Idol Groups, the Nijigasaki High School Idol Club and Liella!
I can assume that the Ocean and Sunny Stages are differing from each other, aside from the themes shown in their key visuals. But then, will their songs set list will differ from each of the two stages mentioned? We shall about to find it out, since it is just a month away from this Episode, and further details can be revealed somehow in their monthly livestreams on YouTube!
As of today, official live goods are now available for pre-orders. On-site ticket redemptions can now be availed via the serial codes found from the Fantastic Departure! CDs! And finally, overseas paid streaming is yet to be announced by the team.
So then, who's the School Idol Group that you had chosen to watch? Would you watch rather Aqours, or some other groups like Liella! or Nijigasaki? Only you can decide, and you could even watch all of them, if you got enough money to shell out from your wallet!
Aqours: Happy Birthday, Dia Kurosawa!
To celebrate Dia Kurosawa's birthday last January 1 (It's pretty late, man!), let's read a birthday message for her!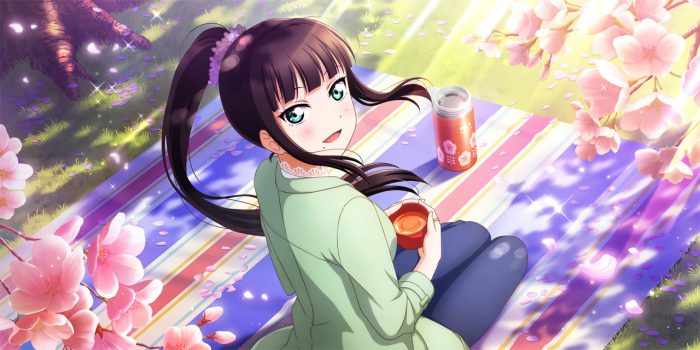 Dear Dia,
And here we are — into a New Year where it shall never be the same again.
As the time passes, so does to you who is also becoming slowly a Legend. As for you and the other Aqours members are heading towards the 7th Year of your journey as School Idols, you are indeed facing new challenges. But no matter what, or how difficult these new challenges are, you ain't surrendering, do you?
As you had said, bringing you more happiness is indeed better than just being your acquaintance. There is just more than being a strict member of Aqours.
You are indeed like a family member to us fans, and we could still follow and support you on your future endeavors.
Happy Birthday, dear brave daughter of Aqours, Dia Kurosawa!
μ's: Rin Hoshizora's Actress Announces Marriage
Riho Iida, the voice actress who voiced behind Rin Hoshizora from μ's, has posted and tweeted via her Twitter account that she has announced marriage. She had made her announcement with a hand-written message.
いつも応援してくださっている皆様にご報告です。 pic.twitter.com/CGksGQHxbG

— 飯田里穂 (@rippialoha) January 1, 2022
"I am still immature, but I would like to express my heartfelt gratitude to everyone who has supported and supported me so far, and I would like to grow further as a person and an artist. I would be grateful if you could continue to watch over me. Thank you for your continued guidance and encouragement."
Other of her friends from the LoveLive! Series, like Suzuko Mimori (Umi), Aina Suzuki (Mari), and Hinata Sato (Leah Kazuno), are congratulating her for the announcement.
We wish Riho Iida (nicknamed as Rippi) on her future endeavors, and on to her happy marriage of her true love! Best wishes!
Via: Yahoo! News Japan and Riho Iida's Twitter Account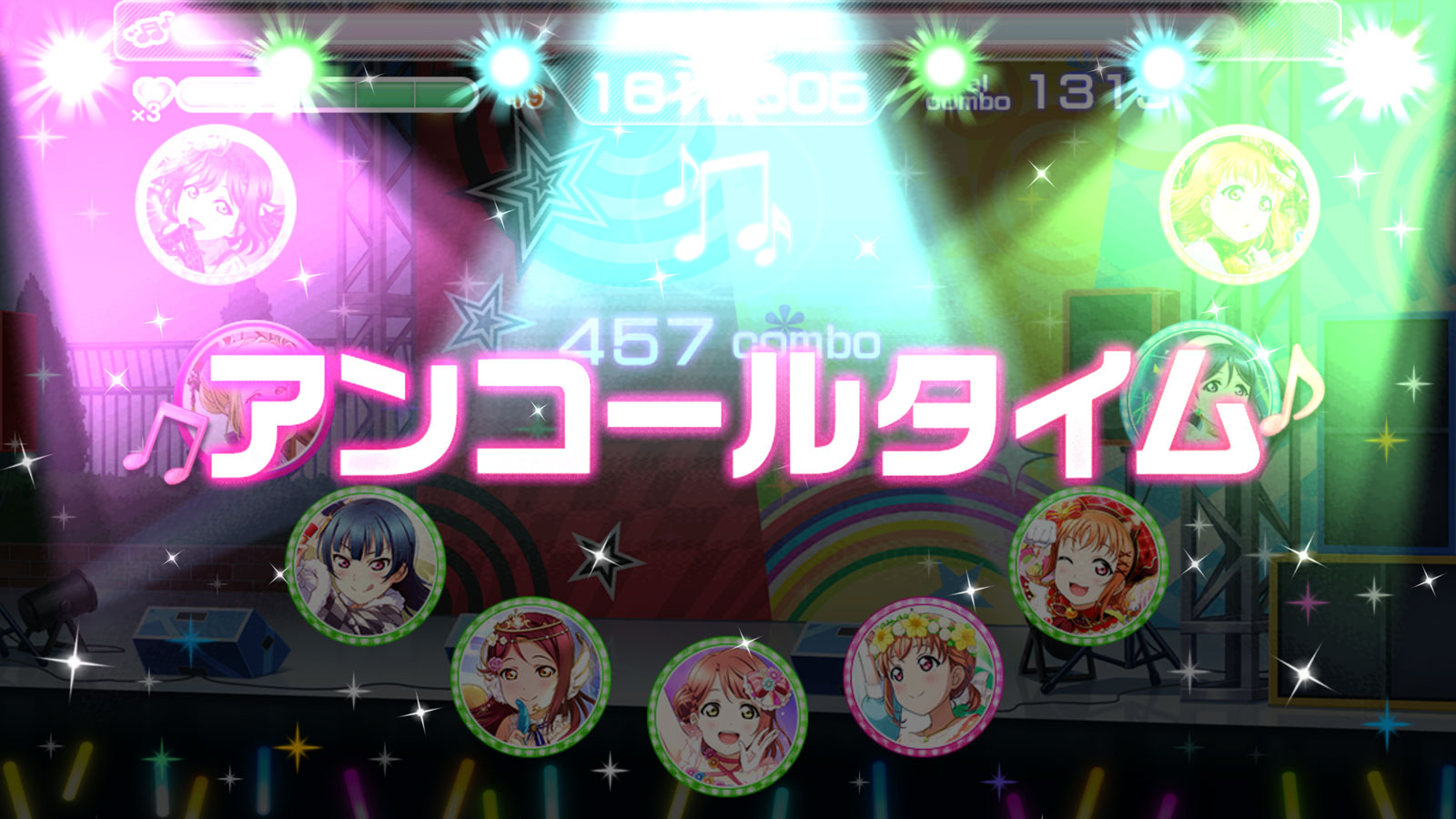 LLSIF HIGHLIGHTS
Alright, finally! Welcome to the newest edition of LLSIF Highlights, only in the SIFJL SEASON TWO! And it's been a while, isn't it?
We can get to know the happenings in the game, right away!
So far, what were the things encountered during this week on School Idol Festival rhythm game? Let's find out by continuing to read the things below!
2022 New Year's Campaign
?2022 New Year's Login Bonus Part 1?

Log in during the period til 1/8 JST for items like Love Gems & Support Members✨

Don't forget to log in?#lovelive pic.twitter.com/R61ovmVMSj

— Love Live! School idol festival Global (@lovelive_SIF_GL) January 4, 2022
As usual, these kind of campaigns can make the people be tempted to scout, as well as to participate in some areas, wherein they could even strengthen up their Base Player Ranks!
Login Bonus Items during this campaign could even give you some useful items, such as Love Gems and other Support and Skill Up members! Remember to login in all of the days within the period to receive all of the items! Missing at least one day shall never allow you to get the last item in the login bonus, so be careful!
【LoveLive! SIF】

Alright, I give up grinding Love Gems by maxing-out Bonds of members. ?

At least, I know how to purchase from the JP side (iOS) now.

I named her, "Ulforce Mikan".#lovelive #スクフェス #LLSIF pic.twitter.com/GByOZFh1ns

— INORI DONZ | Inori-D Station (@InoriDONZ) January 1, 2022
And aside from the login bonuses, players are opted to scout also for new UR members — most notably the New Year 2022 URs!
These shall include mostly, G2-Tier URs, in which it was totally explained during the Intro Episode of this segment! But then, it only covers about the powerful Scorer-Type URs! Definitely, I shall explain it to you about these new kind of URs that appeared since then — in the Next Episode!
And finally, don't forget that the EXP x 10 live show modifier is present within this campaign period. And that shall sideline along with the ongoing Icon Collection Event in the µ's Side, until it ends! Good luck in your Event Grinding, fellow!
Setlist Event: SIF New Year's Live
【LoveLive! SIF】

<Setlist: SIF New Year's Live! 2022>

Details are on the second photo of this Tweet! The rest shall be explained on #IDS_SIFJL S2 on Friday!#lovelive #スクフェス #LLSIF pic.twitter.com/QaBKNQ1vDb

— INORI DONZ | Inori-D Station (@InoriDONZ) January 5, 2022
This another kind of Event was introduced a long time ago! But then, this one is very limited, and can only occur occasionally! This new kind of Limited Event is called as Setlist Event!
The mechanics are well explained in English at the second photo of this embedded Tweet of mine.
Emotion Points are points that you can gain when you completed a Live Show. It can be determined on how well you landed a Total High Score, as well as landing a Full Combo finish on it!
To start a Setlist play, you just have to select a group or faction (Aqours, Nijigasaki, or Liella!) by tapping either left or right arrows on the left part of the window (First photo of the embedded Tweet).
Next, once you had decided a group, tap the "SELECT" button, and choose your difficulty course! It is available from EASY up to EXPERT difficulty.
Then, you have to complete the series of songs given in order. In order to unlock the last songs in Encore, you should need to accumulate the required Emotion Points indicated!
So far, the songs that shall appear exclusively in this Setlist Event are as follows. And yes, they had appeared previously from the last live performance done (Countdown LoveLive! 2021→2022) by the three School Idol Groups at the same time!
| Song Title | Attribute | Song Level |
| --- | --- | --- |
| LIVE with a smile! (Aqours/Liella/Nijigaku ver.) * | Smile | 9 |
| Fantastic Departure | Cool | 9 |
| DREAMY COLOR * | Pure | 10 |
| not ALONE not HITORI * | Cool | 10 |
| Aozora Jumping Heart | Smile | 10 |
| Mirai no Bokura wa Shitteru yo | Pure | 10 |
| Hajimari wa Kimi no Sora | Smile | 9 |
| Starlight Prologue | Pure | 9 |
| Shooting Voice!! * | Cool | 10 |
| START! True dreams | Smile | 10 |
| Mirai wa Kaze no you ni | Pure | 9 |
| Love U my friends | Smile | 9 |
| L! L! L! (Love the Life We Live) * | Smile | 9 |
| Miracle STAY TUNE! * | Pure | 9 |
| Nijiiro Passions! | Pure | 10 |
| NEO SKY, NEO MAP! | Smile | 9 |
All of these songs shown are of EXPERT difficulty. Songs indicated in asterisk (*) are limited, and are appearing within the Setlist Event only.
This limited Setlist Event shall run until January 20, at 2:59 pm JST! And not to mention that you can also gain items, such as Seasonal UR Exchange Tickets (at least 3 of them), and some SSR Countdown Live Exchange Tickets when you draw on a Gacha within the Setlist Event banner! Though that these SSRs are useless, they can be used as costumes, if it happens that you are going to use them for URs to change your visuals!
Round 15 Live Arena
?第15回ライブ♪アリーナ「キズナでつながるゆく年くる年」開催?

スクールアイドルたちとのセッションを勝ち抜いて報酬をゲットしよう?
報酬にはUR #宮下愛 (覚醒済)が登場?

開催期間:1/25(火)まで#lovelive #スクフェス pic.twitter.com/f0T5PCt5At

— 【公式】ラブライブ!スクフェス事務局 (@lovelive_SIF) December 31, 2021
We are now at the third season of this Live Arena Event! And as shown from the Intro Episode, again, it shall never be the same grinding strategy ever!
The UR to be acquired after the 25th day of this month is Ai Miyashita! How to get her? Just simply play in the Live Arena, and place yourself on either Expert or Royal Expert Category until the 25th day of this month!
How to play? Just simply read this guides and tips of mine here!
Same rules shall apply, except only for the three (3) things to be mentioned right here below!
The number of Special Sessions to acquire all of the rewards has been increased from 50 to 100. Same goes to the Dream Sessions, which was previously from 5, it became 100.
The total number of Special Sessions needed to reach Royal Expert Category is now 80, previously from 40 Special Sessions.
At least two (2) new unique LA SIS items has been added. Previously, we only have 5 of them. But as of today, since Round 13 Live Arena (Pentas Festival), it has at least 7 different unique LA SIS items for the players to use within the Live Arena!
Icon Collection: Surrounded by Sparkling Snow!
【LoveLive! SIF】

<μ's> Icon Collection: Surrounded by Sparkling Snow!

Event UR: #星空凛
Scouting: #高坂穂乃果 & #矢澤にこ

* Inori-D will NOT play in this Event until the end of January, which also included the upcoming Aqours Event.#lovelive #スクフェス #LLSIF https://t.co/ipnMY3bnJx pic.twitter.com/g9qsuo13G9

— INORI DONZ | Inori-D Station (@InoriDONZ) January 4, 2022
Finally, the first Event of this year has finally commenced! It shall last for at least 10 days, since January 5!
And then, it's an Icon Collection Event, once again! And did you know that it was the SAME type of Event that occurred last year, also on the μ's Side?
The Event UR to be acquired from this Event is Rin Hoshizora! Meanwhile, URs Honoka and Nico can be acquired from Honor Scouting, and they can be used as Yell/Cheer Units to boost up your Event Points acquisition rate! But other than that, they are now considered to be URs that are classified as G2-Tier URs, from now on, due to their Skills!
The Event Song to be used in this Event is Baby maybe Koi no Button! Remember to grind properly some Event Points in order to maintain your rankings! There are always benefits in keeping yourself staying at the top, right?
Since I had volunteered myself to temporarily suspend myself from my Event Grinding today, this is something that I must need to do in order to give myself some time for other aspects! But, from time to time, I am going to give you some minimal updates about this! While being temporarily suspended from my Event Grinding until the end of this month (also includes the upcoming Aqours Event on January 20), I got some tasks to do in this game! Don't worry, and I am not still out from the competition yet! I promise that I shall be back soon — just in a month!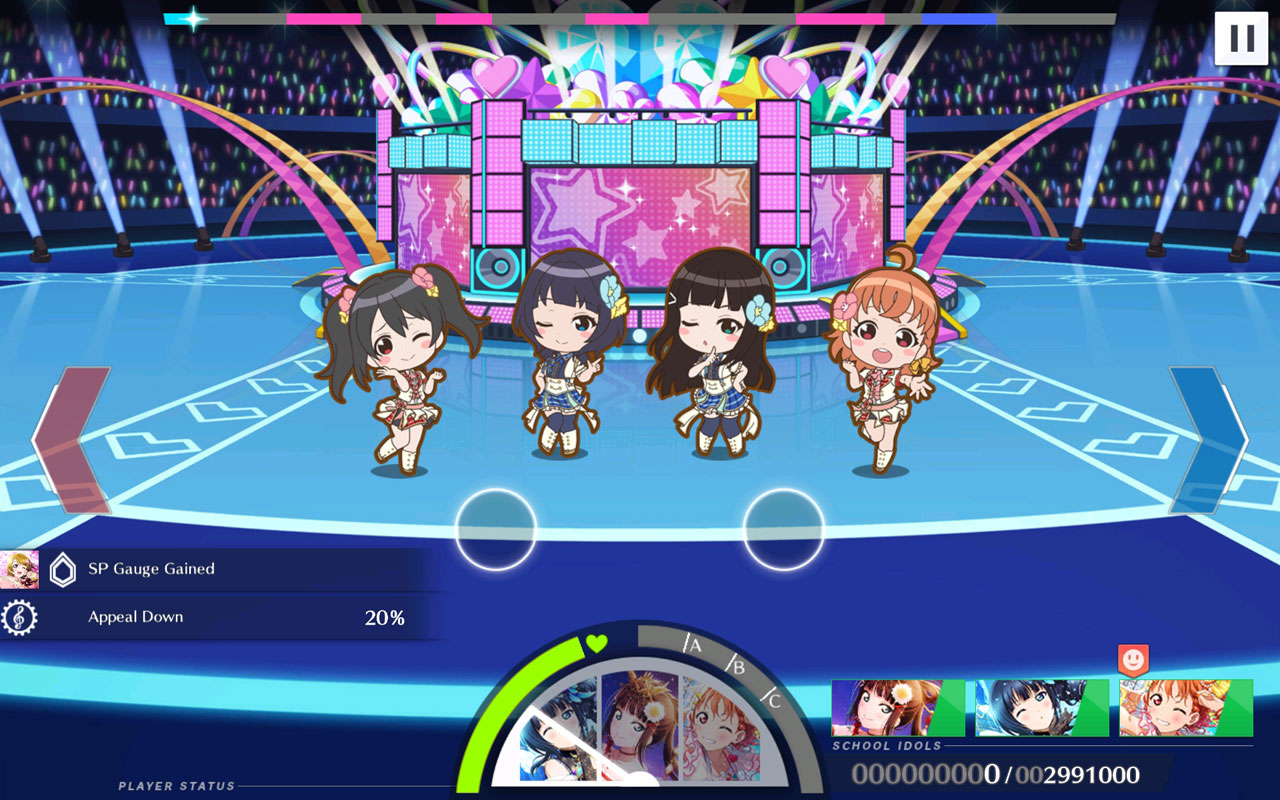 ALL STARS HIGHLIGHTS
Definitely, I am going to highlight this game for real — in this Second Season! For the first time in this season, I shall now be including LoveLive! ALL STARS as part of my weekly Episodes in SIFJL! Of course, there are lots to expect, such as my progress in this game!
So far, there are lots of changes in the gameplay, in terms of characters' unique skills and other stats and attributes, thus making this game be never the same again.
Anyway, to start the highlights, as well as giving my own current progress for this one, let us get started by finding out the current updates for this one!
Bushiroad takes over on the Game's Future Development
【重要なお知らせ】
「ラブライブ!スクールアイドルフェスティバル ALL STARS」のパブリッシャーが、1月6日(木)から変更となります。https://t.co/2DLO1qr2gw

新しい体制でも、更に楽しんでいただけることを目指して、運営一同取り組んでまいります。
今後ともよろしくお願い致します。#lovelive pic.twitter.com/MtbBeLnYcs

— ラブライブ!シリーズ公式 (@LoveLive_staff) December 23, 2021
As you have already heard the news about this from the past couple of weeks (since December 23, 2021), LoveLive! ALL STARS dev team announced from their official website via Twitter that the game's publishing, development, and operating rights shall be transferred to Bushiroad. KLab Inc. is the former publisher, developer, and the main operator for LoveLive! ALL STARS game.
Meanwhile, LLSIF is still under the operation of KLab Inc., as stated from the press announcement.
【LoveLive! ALL STARS】

<Bushiroad takes over on the Game's Future Developments>

To be included on the upcoming EP1 of #IDS_SIFJL S2 on Friday.#lovelive #スクスタ #LLAS pic.twitter.com/sptupcmeBW

— INORI DONZ | Inori-D Station (@InoriDONZ) January 3, 2022
For this time on, since January 6, 2022, Bushiroad Mobile (Bushimo) is the new operator and the publisher of this game. Wishing them a better future in the game's future developments and features!
You can read more details about this announcement in your in-game notifcations! Global Side (EN) players can able to read this announcement, in English, too!
Though that their current publisher and operator has been changed, their flow of stories are still the same. But then, something really awaits. Of course, when the publishers and developers do change, so does to the future developments of this game! I wondered on what could be something new that awaits us? Basically, expect something like a new type of Event or something like Skill Level upgrades… Something like that, perhaps?
EXCHANGE: Whoo! New Year Girls Party
【LoveLive! ALL STARS】

<EXCH.> Whoo! New Year Girls Party!

Featured Event UR: #エマ・ヴェルデ

More details in the upcoming #IDS_SIFJL SEASON TWO EP1 on IDS!#lovelive #スクスタ #LLAS pic.twitter.com/ISx6ytW2dS

— INORI DONZ | Inori-D Station (@InoriDONZ) January 4, 2022
Alright, let's tackle the very first Event that shall occur in just few hours from this Episode! It shall last until January 14th, 2022, at 3:00 pm JST!
The featured Event UR to be obtained from this Event is Emma Verde. Other two SR members to be obtained also from this Event are Setsuna Yuki and Hanayo Koizumi. Remember to obtain them, and to put them in your current teams in order to increase your Event and Exchange Points acquisition rate! Also, the featured Event URs and SRs that can be obtained by Scouting can increase further your Event and Exchange Points acquistion rate, so take advantage of them while lasting until the Event ends!
And also, aside from grinding higher ranks depending on your current Event Points, as well as getting more Exchange Points in order to obtain some Event Rewards, you have to play and compete for the Song Voltage Rankings!
The featured three (3) songs for the Song Voltage Rankings are Binetsu Kara Mystery, Mijuku DREAMER, and Nijiiro Passions!. Try playing with these songs, most likely on higher difficulties, in order to achieve higher Voltage Scores! The calculation of your rankings in the Song Voltage Ranking is determined by the average Voltage Score of the three songs that you had played! Remember to play and achieve higher Voltage Score, just before the Event ends on its last minute!
And then, upon the start of this Event later, the song, Sing & Smile!!, shall be available as a temporary song! When this month has ended, it shall be added as a new song on the upcoming Story Chapter 35 of the game!
Basically, this Event is starting later, just after this Episode was published! And then, I shall be giving you some highlights about it on the next Episode! Look forward into it!
School Idol Channel Weekly Bulletin
Hey there, you! Also, in this part, we shall post about the School Idol Channel Rankings! Yes, and this was already a new feature!
Since another week of ranking competition is now ongoing on the both sides, along with the ongoing Exchange Event, let us know what were the happenings!
Today, I am going to post the previous School Idol Channel Rankings results, which has happened previously! To know the results in both sides, please do read and view this below!
Below is the School Idol Channel Rankings, which was done previously. The results of the JP and Global Sides are different from each other.
JP SIDE
| Rank | School Idol | Group/Faction | Average Cheer Points |
| --- | --- | --- | --- |
| 1 | Dia | Aqours | 16,281 |
| 2 | Ayumu | Nijigasaki | 5,883 |
| 3 | Setsuna | Nijigasaki | 5,092 |
| 4 | Kotori | µ's | 4,895 |
| 5 | Mari | Aqours | 4,792 |
| 6 | You | Aqours | 4,772 |
| 7 | Eli | µ's | 4,683 |
| 8 | Hanamaru | Aqours | 4,396 |
| 9 | Shioriko | Nijigasaki | 4,396 |
| 10 | Shizuku | Nijigasaki | 4,372 |
GLOBAL (EN) SIDE
| Rank | School Idol | Group/Faction | Average Cheer Points |
| --- | --- | --- | --- |
| 1 | Dia | Aqours | 10,495 |
| 2 | Ayumu | Nijigasaki | 4,469 |
| 3 | Mari | Aqours | 4,200 |
| 4 | Kotori | µ's | 3,975 |
| 5 | You | Aqours | 3,779 |
| 6 | Setsuna | Nijigasaki | 3,723 |
| 7 | Kanan | Aqours | 3,679 |
| 8 | Maki | µ's | 3,587 |
| 9 | Eli | µ's | 3,389 |
| 10 | Ruby | Aqours | 3,371 |
You can also view the results of these rankings in the game!
Remember to tune-in every week for the next School Idol Channel Weekly Bulletin! See you next time!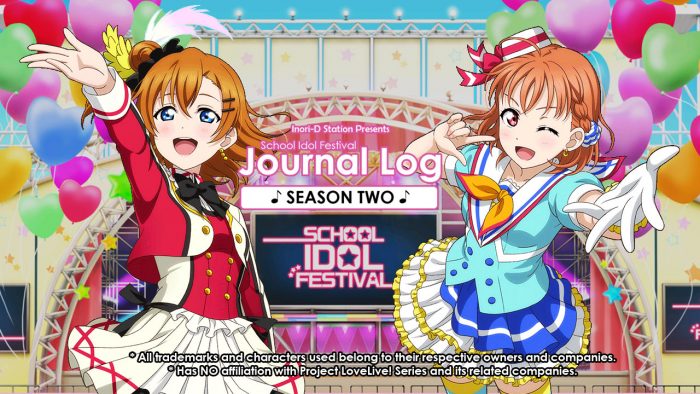 EXTRA CORNER
In this part, this can be vary! In fact, Extra Corner can be anything, like quizzes, trivia, and so on!
But then, let us introduce this part! Actually, we are going to introduce to you the type of Extra Corner that you are about to expect soon!
So then, in our Extra Corner, we shall be introducing the "SIF Quiz"! And this shall run during the first quarter of this season!
SIF Quiz asks readers and fans about LLSIF, as well as in the ALL STARS game! This corner shall start not today, but on the next Episode, next week! Look forward into that!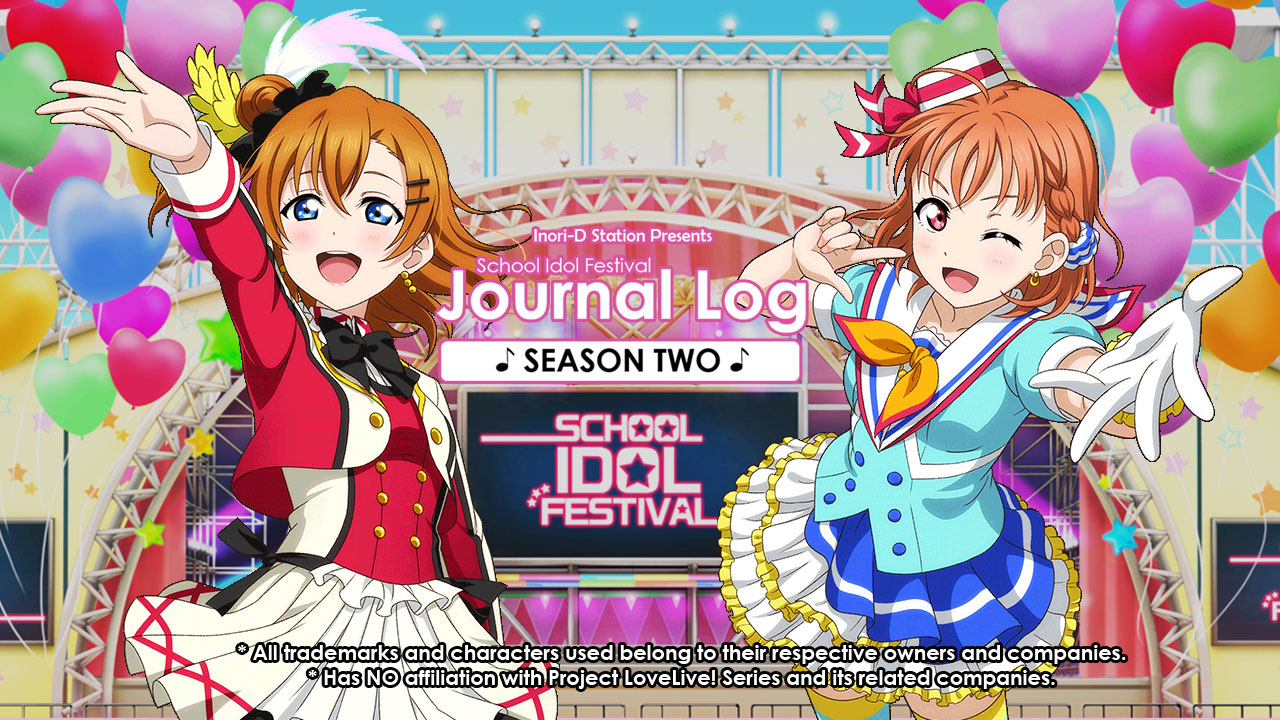 STORY EPISODE (EPILOGUE)
Later evening, in the streets of Akihabara, where the world of Anime is existing, and many people are still walking around, a mysterious girl is looking and browsing on her digital tablet, which looked like a book.
Also, in a big jumbotron screen, some live performances from various School Idols have been shown.
From far distances around her, there are various people who were walking and standing around in Akihabara.
A guy who keeps playing a rhythm game is always frustrated when he always broke his combo chain.
A girl who is serving her customers in a maid cafe was a Cosplayer.
And a guy who has used up all of his money just to draw his favorite plushie from the crane machine was frustrated and sad.
And then, the mysterious girl named Lierre said:
"Someday, only one common bond can put these people together! Time will always come."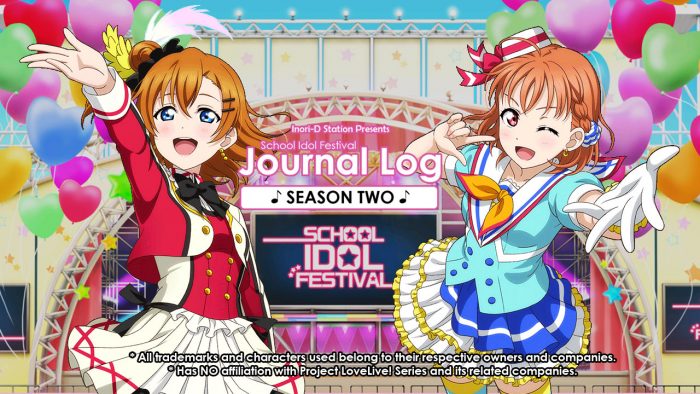 NEXT PREVIEW
Whenever we have problems, the best way is to talk to somebody, which shall include your family and friends. You can't solve out anything alone without asking for a help. Just remember that there are some kind people who are just around to help you.
Next time on School Idol Festival Journal Log SEASON TWO, "A Kind Person".