Dream Monkeys vs Snow White
This blog post may contain minimal spoilers. Please read this only if you had seen this Episode.
OVERVIEW (STORY)
It's the day of their Group B Finals of the All-Japan Ice Hockey Championships. And it's the Nikko Dream Monkeys making a face-off against Kushiro Snow White! The winner of this match shall be proceeding to the Group A Finals of the championship!
Coach Yoko is too confident to win the ice hockey game in order to fulfill her goal in making the girls to do the victory dance when they win. But then, one of the players of Kushiro Snow White, named Eri Yamanaka, has warned Yu Kiyose about their new ace player. This ace player, named Maya Walker, is very agile, and can outrun her opponents without any assistance!
Can the Nikko Dream Monkeys be able to secure the spot in the Group A Finals of the ice hockey championship, or can the Kushiro Snow White make revenge of their loss, and to go back to the Group A spot?
REVIEW
As usual, we are in the penultimate Episode, where things are always ending in cliffhanger or continuity.
Instead of highlighting each part of this Episode, including some other characters, let us proceed to the part, where I have learned something from this Episode, once again.
Maya Walker is a confident, aggressive, and agile ace player of Snow White. Basically, she was an "upgraded version" of Yu Kiyose, where Yu left her team in the first place. Of what I had observed, she is just like Yu Kiyose, only she is a lot more better ace attacker!
But then, her arrogance and confidence could be her strengths here, and at the same time, her own weaknesses. Basically, Maya can play solo without her teammates, even Eri Yamanaka.
Going to Yu Kiyose this time around. Yu Kiyose has finally learned her weakness, that attacking and shooting the puck with her own fury of frustrations can only jeopardize not only herself in the game, but the other of her teammates as well. Thanks to Manaka Mizusawa who give Yu some advice to let herself be settled down. And to pass the puck to other of her teammates in order to fool their opposing players, expecting that they can block their puck shoot.
From this Episode, remember to always rely on your team coordination! And as I had said before in a couple of Episode Reviews in the past weeks, shout out your feelings, and have a good and proper communication with your members in order to win the game! And Kaoruko is sometimes forgetting about it.
Yu has finally changed, and her humbleness, from being arrogant, has helped the girls in Dream Monkeys to achieve their first victory in their last ice hockey game. Basically, she is now a counterpart of Maya Walker, who is now the new Snow White ace player. Can her arrogance let her win, or Yu's humbleness can beat her?
ICE HOCKEY HISTORY!
Basically, we can talk more about the history of ice hockey sport! But then, it is really sad that it could be the very last one today! But anyway, I hope you readers could learn something from this review!
Last week, we had talked about Kushiro Snow White's actual, real ice hockey team counterpart. This time around, we shall be talking about the actual counterparts of these ice hockey teams in the Anime! Please do read more to continue!
Most probably, you are watching "Puraore!" Anime because of the girls!

But, did you know that their teams are based from their real, original Japanese ice hockey teams? ?

Something to expect in my next EP11 review of this Anime series! Hockey!#anime #プラオレ #IceHockey pic.twitter.com/K34aeKqeCB

— INORI DONZ | Inori-D Station (@InoriDONZ) December 14, 2021
Did you see something from the embedded Tweet above? It shows both the Anime and original versions of the ice hockey teams! Let's discuss them below!
Nikko Dream Monkeys came from a real Japanese ice hockey team, called the H.C. (Hockey Club) Tochigi Nikko Ice Bucks! Their home arena is in Nikko Kirifuri Ice Arena, in Tochigi prefecture, Japan, same as Nikko Dream Monkeys.
While Kushiro Snow White is from the East Hokkaido Cranes (also Kushiro-based ice hockey team), the new team that Mami Ono is in is called the Nishitokyo Ice Rabbits! But then, from what ice hockey team does the Nishitokyo Ice Rabbits came from? Let's answer it by reading the paragraphs below!
In my studies and research, the Nishitokyo Ice Rabbits is based from an all-women ice hockey team in Japan, called the Seibu Princess Rabbits. Therefore, this ice hockey team is based from Nishitokyo, in Tokyo, Japan.
The Seibu Princess Rabbits is a part of the "Seibu Group" company, and an all-women ice hockey team. Its ice hockey team name was acquired from its long-defunct counterpart, called the Seibu Prince Rabbits. It was formed since 1974, and its home arena was in Higashi-Fushimi Ice Arena, also in Nishitokyo, in Tokyo, Japan.
As of today, they are competing in the Women's Japan Ice Hockey League since year 2012. It is also noted for its most number of ice hockey league victories, since year 2012.
EXTRA INFO!
And to add up some spice of information, I had read somewhere that their Japanese ice hockey counterparts are having their Christmas ice hockey match, on December 25, 2021! Or rather, it is their 2021-2022 Season Asia League Ice Hockey Japan Cup! It is East Hokkaido Cranes versus Nikko Ice Bucks! That ice hockey game shall be held on the Crane's home arena, in Kushiro East Hokkaido Cranes Ice Arena, in Hokkaido, Japan!
Will this one be considered as a 'grudge match', when either Dream Monkeys or Snow White lose in their final episode match next week? Coincidentally, interesting.
Info source (Japanese): https://cranes.team/news/20211203-2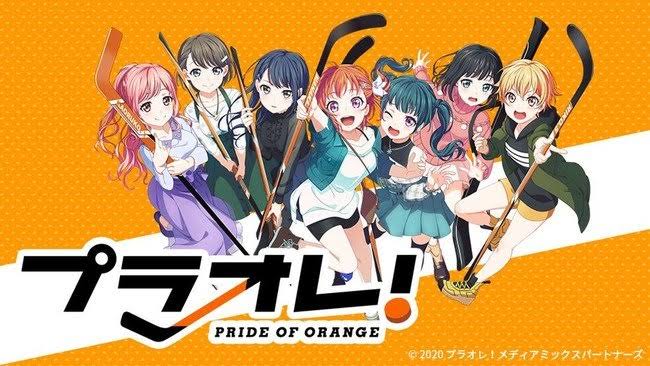 Pride of Orange (2021, dubbed: PURAORE! (プラオレ!) -Pride of Orange-) is a Japanese Anime series about ice hockey sport. This Anime series was produced by CyberAgent/EXNOA, and character designs were done by Craft Egg (known for BanG Dream! Girls Band Party smartphone video game). Animation style was done by C2C. This Anime series has been aired and streamed since October 6, 2021, with its first Episode.
In Tochigi Prefecture in Japan, at Nikko City, an ice hockey sport season has opened for girls who wanted to aim for the ice hockey world championships.
A female junior high schooler, named Manaka Mizusawa, has become interested in playing the ice hockey sport. While she invited her girls who were her friends, they entered and tried for this sport game.
Their journey for aiming their first win, indeed, begins when they had experienced the world of ice hockey sport!
©2020 プラオレ!メディアミックスパートナーズ (Official Website)