Drama Outside the Ice Hockey Arena
This blog post may contain minimal spoilers. Please read this only if you had seen this Episode.
OVERVIEW (STORY)
Mami Ono is back to visit Manaka Mizusawa and the girls of Nikko Dream Monkeys. One day, she had an ice hockey practice game with the girls to see if there is any improvement when it comes to offense plays. And she is currently joined under a new ice hockey team, called the West Tokyo Ice Rabbits. At the time when she visited them, they had a good bonding time, and they spend it altogether.
And finally, the next opponent team that Dream Monkeys shall face is now determined! And the winner shall advance to the Group A Finals!
As they were preparing for the next game for the Group A Finals in the ice hockey championships, Manaka tries to say goodbye to Mami once again at her departure, hoping to see her again to play ice hockey together.
REVIEW
While I am not going to review some details about Kushiro Snow White (Later, in the Ice Hockey History corner), I am going to review this Episode, this time, focusing on Manaka, Mami, and the other girls!
So, really, Mami isn't gone for good after all. Instead, what I had said before is that she was only transferred to Tokyo, under a new ice hockey team called the West Tokyo Ice Rabbits. Basically, she transferred there because her family moved to Tokyo (and also after her current school semester with them), and she got no other choice but to leave the girls, especially Manaka, her best and childhood friend.
From my previous Episode Three, I had written something there:
But what happens when you and your childhood friend part ways, and you never see them again? You can see each other in the future, and remember each other. But then, there is only one negative effect when you see each other again. That childhood friend of yours can still remember you. However, he or she may see you already as a 'rival' or 'enemy'. Did you see that sentence? And to mention, I had been encountering those scenes before, where childhood friends, who had been together ever since before they part ways, may become rivals and enemies at each other in the future.
Of what I had said in the above quote can be true. But that doesn't really mean it can last for a very long time. And there are also chances that best friends who became rivals before are still having a chance to team up once again, when major problems arise. They can be enemies or rivals at each other. And there is always a little chance that they can fight and team-up together, so as long as they have one common goal or enemy to finish or to defeat. And to finish it in one sentence or quote, rivals are friends themselves!
What I had learned again from this Episode is that:
Even though that your friends, relatives, or even your family members (your brothers or sisters, for example) are very far away from you, just remember that they are always there for you. Though that they are not "physically" present around, they are still "spiritually" present around you. And since we are now living in an era of digital technology, we can still see our family, friends, and relatives around!
And then, when you can feel that they are just around at your side, you can share your common emotions and feelings with them. This is what we call, "Bonds", and you and everyone should remember that!
Finally, when we talk about bonds of everyone, they should shout out their own feelings at each other in order to overcome the odds and conflicts! And this is what the quote or slogan of the Nikko Dream Monkeys, "心の絆でパックをつなげ! (The bond of our hearts shall connect with the puck!)"
ICE HOCKEY HISTORY!
So then, we are almost done with the Ice Hockey History! Right now, let us talk about some relevant info or trivia, which in fact, has some significant relations in the Anime!
Talking about Kushiro Snow White… Does it have a basis of their team in the Anime from the actual ice hockey team? Let's find it out!
They actually based from an another real ice hockey team, called the East Hokkaido Cranes (formerly called as the Nippon Paper Cranes). They only differ with the logo, but based on their current records and standings, they were known as the elite team, in which they have won a number of ice hockey league and championship victories in Japan per year.
It was previously called as the Nippon Paper Cranes, and was established since 1949 in Japan. They were based from Kushiro, in Hokkaido Circuit Prefecture, Japan. Under their team name, they had won several championships (in All Japan Ice Hockey Championships), in which their last victory was made in 2016, in Sapporo, also in Hokkaido prefecture.
Despite being a winning elite ice hockey team from the past, they have lost in Asia League Ice Hockey Finals, finishing on at least 4th place, in year 2019. And also, in the same year, they have lost to Nikko Ice Bucks with a standing of 2-3, when they have finally renamed to East Hokkaido Cranes later, after their financial conflicts.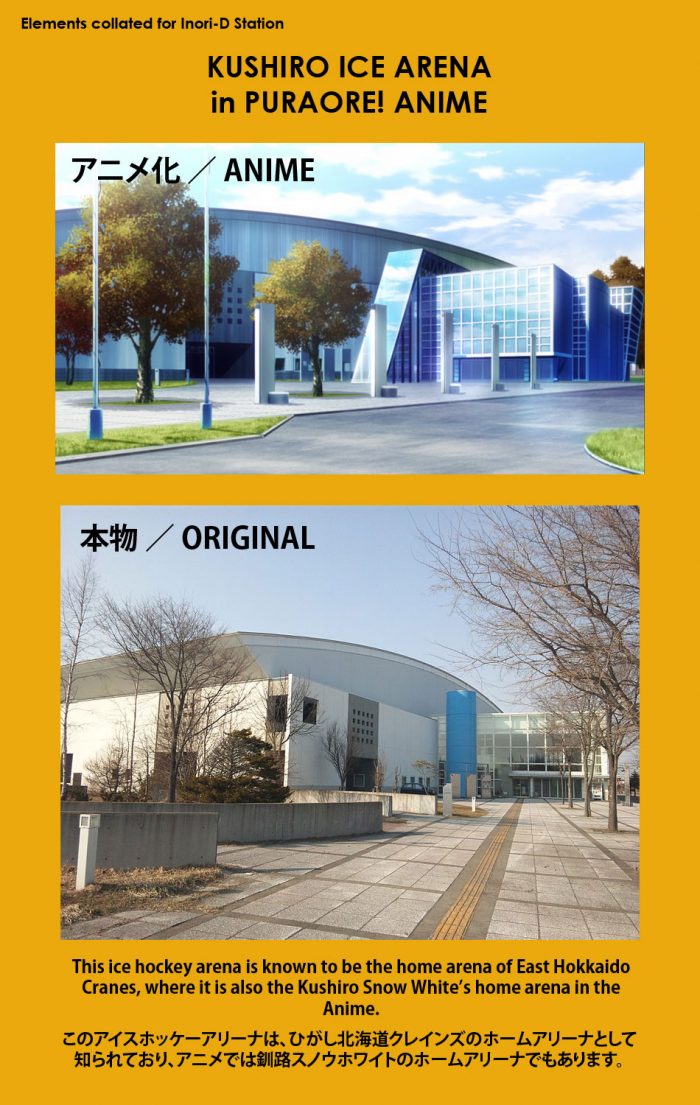 And so, it is really the Kushiro Snow White's destiny to fight Nikko Dream Monkeys for the Group A Finals in the ice hockey championships. Especially, when their new elite player, named Maya Walker, can able to outrun her opponents with ease without any assistance. Can we able to witness a parallel history where they could win once and for all, or their history in losing shall repeat itself?
Only the results from their real-life ice hockey team counterparts can able to give us some answers…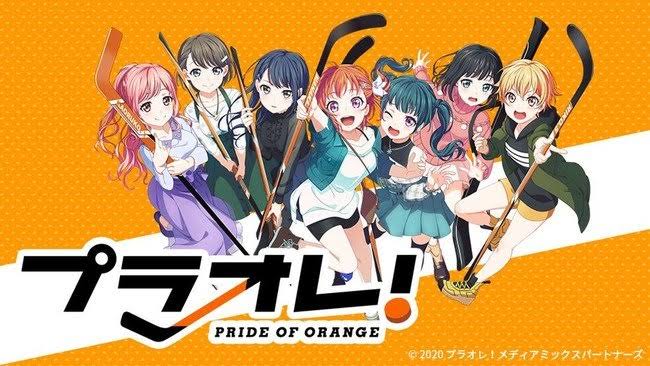 Pride of Orange (2021, dubbed: PURAORE! (プラオレ!) -Pride of Orange-) is a Japanese Anime series about ice hockey sport. This Anime series was produced by CyberAgent/EXNOA, and character designs were done by Craft Egg (known for BanG Dream! Girls Band Party smartphone video game). Animation style was done by C2C. This Anime series has been aired and streamed since October 6, 2021, with its first Episode.
In Tochigi Prefecture in Japan, at Nikko City, an ice hockey sport season has opened for girls who wanted to aim for the ice hockey world championships.
A female junior high schooler, named Manaka Mizusawa, has become interested in playing the ice hockey sport. While she invited her girls who were her friends, they entered and tried for this sport game.
Their journey for aiming their first win, indeed, begins when they had experienced the world of ice hockey sport!
©2020 プラオレ!メディアミックスパートナーズ (Official Website)