Be a Leader! Or a Loser!
This blog post may contain minimal spoilers. Please read this only if you had seen this Episode.
IMPORTANT: Please read this post for some changes in my future Episode Reviews. Starting today onwards, this rule shall apply.
EPISODE OVERVIEW
When the LoveLive! event has been announced, the Liella! group has attended an event conference. They have received their first challenge, where rap is their first one to be accomplished.
Keke, as well as Kanon and others, convinced Sumire to be their center for their first LoveLive! challenge. Sumire wants to be one, but her past experiences had caused her to back out in being the center for their new song! While Sumire tries to overcome her failures and disappointments from her past experiences when she was still in a showbiz world, Keke tries to talk and convince Sumire one more time.
EPISODE REVIEW
We are back at it again, people! In fact, we are just teleporting back to the 4th Episode of this series!
In the previous 4th Episode, Sumire had a bad experience when she was in the world of showbiz, ever since when she was a kid until at the time when she was fully grown up. She always ends up in being the 'stock character', or she is ending up in losing in a contest. In my own opinion, Sumire's high expectations in the outcome or result of her character always end up in a downside defeat. What does that mean? It means that Sumire is always expecting something big, and she is always hoping that she can eventually get it in a guaranteed 100 percent chance.
She can be genius, and she can excel in some things, and that's true. But then, her kind of attitude can sometimes let down others, especially Keke.
I can slowly notice that the SumiKeke ship (Sumire & Keke pairing) has started since Episode 5, especially at the scene where they did thumb wrestling to see who is going to sleep on a side of a bed.
Okay, going back to the Episode proper. Sumire's bad experiences in her past has caused her to turn down the offer in being the center girl for their new song for their first LoveLive! challenge.
Based from what I have heard from the sources, Keke's parents want her some results from the LoveLive! event. If she fails to do so, then she is out from the game, and you know it! Just watch that part in the Episode to find out!
From the start (in Episode 2), Chisato Arashi raps along with a song about Manmaru. But then, she discontinued to do that, assuming that her dancing skills and choreography are a lot better than her rapping.
Their blue costume is so elegant, and the jazzy song can fit to it (also the rap song can eventually blend very well).
The 10th Episode is basically a Sumire-centered Episode, and also mentioning that Episode 4 is the Part 1. Overall, I can now understand that Sumire can be a talented person, but only her expectations are quite too high to guarantee her an absolute victory.
So then, I tried understanding the EP10 of #Liella Anime without any EN subs, haha.

Basically, what the moral lesson here is that,

"If you can't find the answer to the question on why do you want to be a center or Number One, then you don't deserve to be one."#lovelive

— いのりどんず | LET'S GO #Liella (@InoriDONZ) October 3, 2021
And then, I have tried watching this Episode without any EN sub. But somehow, without transliterating of what they have exactly said, I had formed a moral lesson quote by a Tweet of mine:
If you can't find the answer to the question on why do you want to be a center or Number One, then you don't deserve to be one.
Basically, to repeat, if you don't know your reason why do you want to be number one or a leader, then you don't ever deserve it.
LOVELIVE! FEATURE CORNER
There are two things to feature right here! Alright, let's introduce them!
Sumire Heanna
Sumire Heanna! A School Idol who is beautiful, charismatic, and genius! Galaxy!!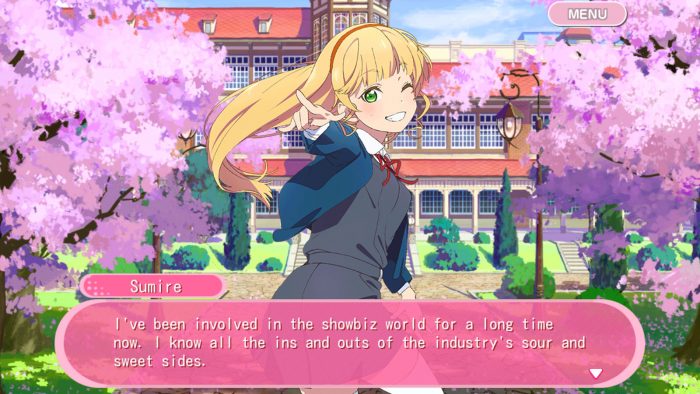 Sumire is a girl that can excel almost at anything, including singing, dancing, and acting! They were inherited since from the time that she was in the showbiz (show business) world when she was still a kid, until at the time when she was fully grown up.
One of her favorite food is melons, and her favorite animal is a peacock.
Get to know her more very well by reading her Side Stories — only in the School Idol Festival rhythm game (LLSIF)!
While she is being voiced by Naomi Payton, Sumire Heanna's birthday is celebrated every September 28 of the year!
And finally, we have introduced every members of the group, named Liella!
New Song: Nonfiction!!
Today, we shall be introducing a new song that has appeared recently along with this Episode! The title is Nonficton!!
Nonfiction!! is the title of their new song that appeared at the end of the Episode 10 of this series. It features the girls of Liella! in their blue, cinderella-like costumes, with a theme-park and colorful lights as their stage background. Somehow, their song and PV has a blend of jazz and rap genre. This song is centered on Sumire Heanna.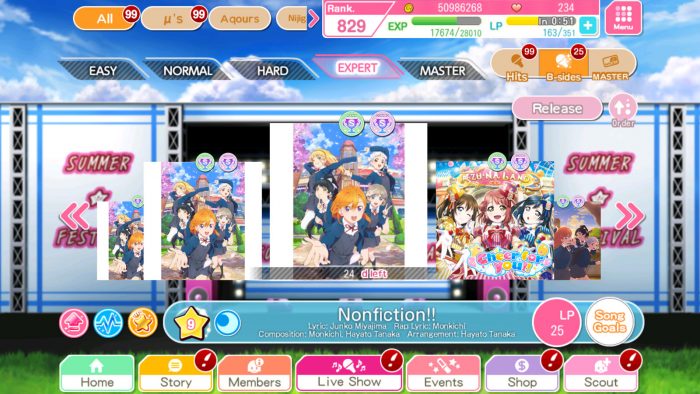 And remember to play this song on your B-Sides, which is only available in your LLSIF game! This song shall expire, along with the other Liella! songs, once the airing and streaming of this TV Anime series has ended (approximately at late October 2021)!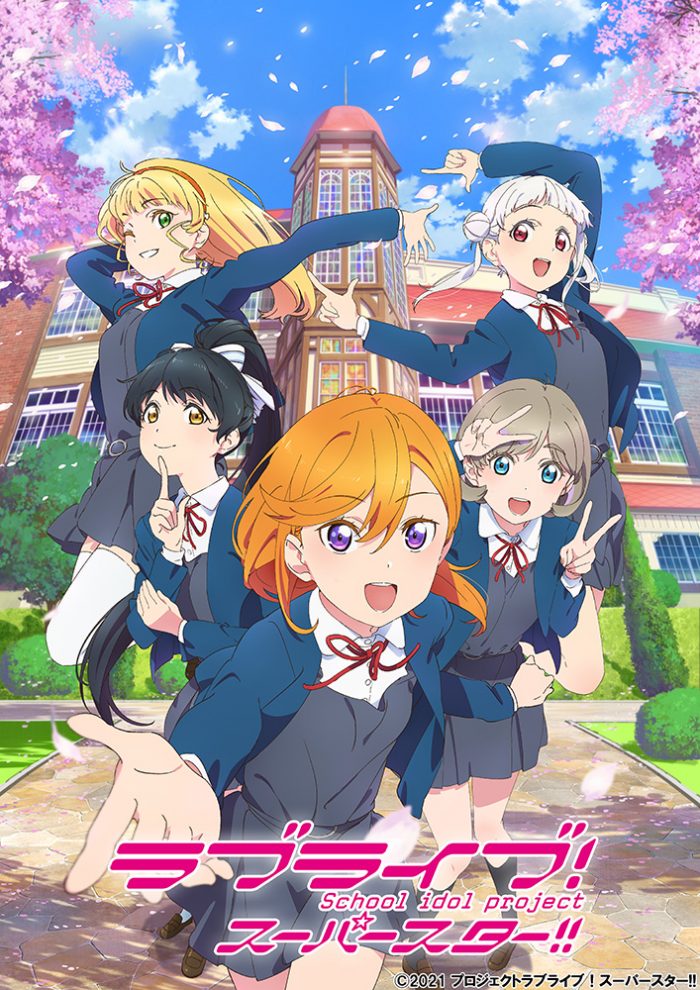 LoveLive! Superstar!! (2021) is a Japanese TV Anime series that aired since July 11, 2021 in Japanese TV networks. It is the fourth entry to the ongoing LoveLive! Series, which came out since year 2010.
Yuigaoka Girls' High School is a new school located between the cities of Omotesando, Harajuku, and Aoyama. No other students were enrolled there, even seniors. It is a story about the five girl aspirants who were beginning their steps as School Idols.
ABOUT LOVELIVE! SERIES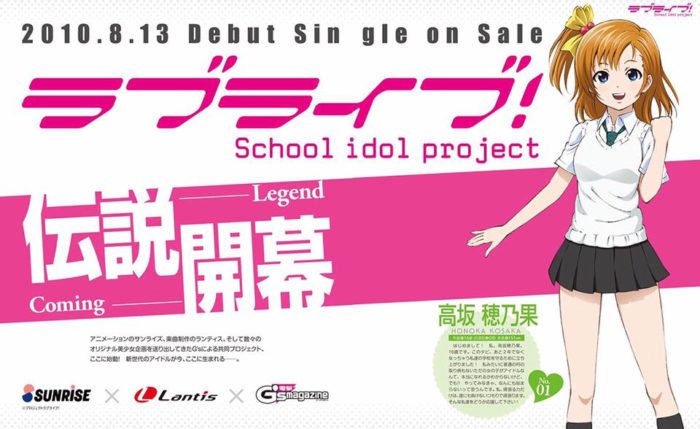 The LoveLive! Series is a Japanese Anime multimedia project. This was produced by the collaborating companies, the Japanese Anime music label Lantis, animation studio Sunrise, and Dengeki G's Magazine, a magazine by ASCII Media Works (KADOKAWA Group label).
This project began somewhere in 2010 and it starts as a multimedia project, where it introduces female high school characters who were grouped and formed a band together. This project was dubbed as the 'School Idol Project'. The girls will produce music and singles, as well as making a full music animation video out of that music.
©2021 PROJECT Lovelive! Superstar!!