Chisato Arashi
This blog post may contain minimal spoilers. Please read this only if you had seen this Episode.
EPISODE OVERVIEW
As Chisato is practicing for the dance championship, she gets to remember her childhood past. Her childhood past reveals that she is being bullied by other children, whether she is playing at their 'territory'. The child 'Kanon' shows up and make these children go away. She then later becomes Chisato's first childhood friend.
Her mysterious secret has been revealed when she accidentally dropped her form containing the notice of her withdrawal from her current school course. And Ren Hazuki pretends that she didn't even see it.
Meanwhile, the staycation of the other three girls continue at the island with the Sunny Passion. They only have a whole day left to practice for their summer live with the Sunny Passion.
All of a sudden, at the time when Chisato is ready to perform in the dance championship, Kanon gets back to see her again!
And also, featured in this Episode is the debut of Tokonatsu☆Sunshine!
EPISODE REVIEW
We are now at the second part of this two-Episode story arc, wherein Chisato is the main focus! In this part, it shows the childhood past of Chisato, where it reveals that Kanon becomes her first childhood friend! And yeah, Chisato in child form is so cute. Just don't abuse her, or you will be sent to jail.
After Ren Hazuki saw a glimpse of Chisato's form containing the notice of withdrawal from her current school course, she became acting weird and curious, and she sometimes practicing to figure skate dance in the same room as her. And then, her stress and curiosity has caused her to enter back-and-forth in the practice room where Chisato is practicing. Well, I laughed really hard in this scene!
On the other hand, the group of Kanon, Keke, and Sumire, and Sunny Passion, are practicing for their upcoming summer live performance. They got some new training format from them for the three girls to use! And as usual, Keke is still falling behind when it comes to endurance.
At the night where Kanon is communicating with Chisato via calls and text messaging, a member of Sunny Passion has come to her. And then, Kanon thought up of a strategy on how to get Chisato to join in their summer live performance, and she seeks help from her.
Well, the LoveLive! Series has somehow used their miracle 'teleportation' technique here, in which they can instantly 'teleport' some characters into a place for a very short time. Since Kanon and others are still in an island, which is very far from their home place, I wondered how and when Kanon reached back to her home place for a very short time? Usually, it takes a day and a night when riding a boat or ferry going from their home place to the island. Somehow, they used this technique in the previous LoveLive! Series Anime, notably the Anime series of the early µ's and Aqours.
And finally, we can get to see another of their animation PV, which is also the debut of their new song in their music library! The title is Tokonatsu☆Sunshine!
SCREENSHOTS (SLIDE OR SWIPE TO VIEW THEM)
"Please, give it back to me!"

"Stop bullying my Chii-chan!!" Yep, that's Chisato's nickname.

Sunny Passion has given them a hard training format.

Basically, a 'Part 2' of that screenshot from the previous Episode.

Chisato is gonna quit her current school course?

Sumire is a genius, and can cook good food.

Ren is practicing some dance moves!

Ren goes back-and-forth because of her curiosity.

First childhood friend of Chii-chan, who is Kanon. Chii-chan is so friggin' cute.

Some lyrics of their 'Tokonatsu☆Sunshine' MV.

Wisu!

Chii-chan finally joins!

A takoyaki, a circle, a smile emoji, and a star. What does that even mean?
LOVELIVE! FEATURE CORNER!
Starting in this Episode Review in this series onward, we are going to introduce some stuffs and characters which did appear along in this series! I know we had missed some of those, but then let's get started to get to know those!
New Song: Tokonatsu☆Sunshine
Tokonatsu☆Sunshine is the title of their song and animation PV which debuted at the end of the Episode 6 of LoveLive! Superstar!! Anime series! Basically, it consists of Liella! members, except Ren Hazuki. That animation PV can also be viewed on their official YouTube channel!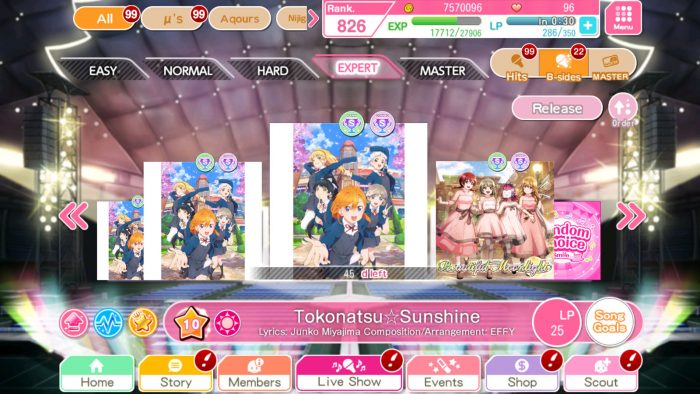 And also, this song can be played as a limited song on your B-Sides in the LoveLive! SIF rhythm game! And that song, along with the other Liella! songs, shall disappear soon once the airing of this TV Anime series has ended on its Final Episode. So try playing with them whenever you can!
Chisato Arashi
Chisato Arashi is the name of the fourth character (Third character in the official character ordering) who was introduced in the Anime.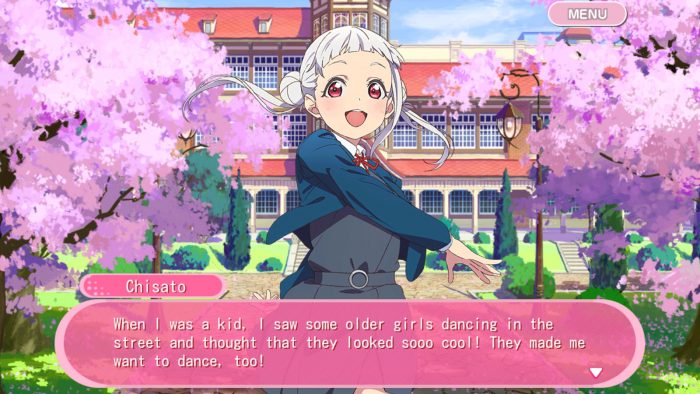 Chisato is a childhood friend of Kanon Shibuya, and she enrolled together with her on a same school. She also has a very good versatility in dancing, especially when she teaches Kanon and others some dance moves for their practice of their live performances. She also manages a takoyaki restaurant business, where takoyaki is also her favorite food.
Get to know more about Chisato by reading her Side Stories, only in the LoveLive! School Idol Festival rhythm game!
Chisato Arashi is voiced by Nako Misaki. Her birthday is celebrated on February 25.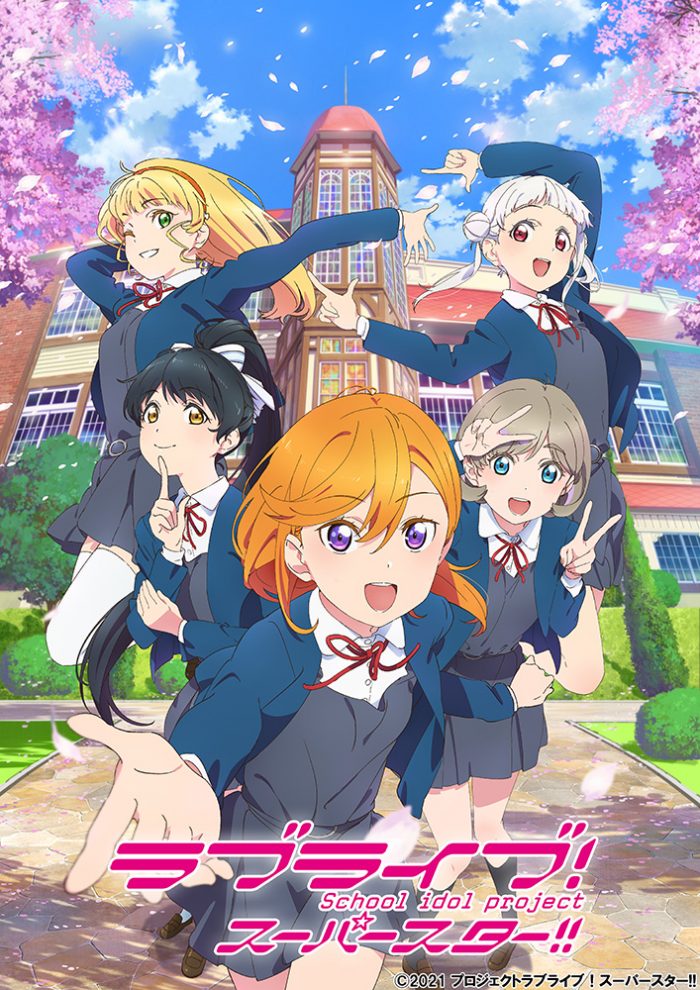 LoveLive! Superstar!! (2021) is a Japanese TV Anime series that aired since July 11, 2021 in Japanese TV networks. It is the fourth entry to the ongoing LoveLive! Series, which came out since year 2010.
Yuigaoka Girls' High School is a new school located between the cities of Omotesando, Harajuku, and Aoyama. No other students were enrolled there, even seniors. It is a story about the five girl aspirants who were beginning their steps as School Idols.
ABOUT THE LOVELIVE! SERIES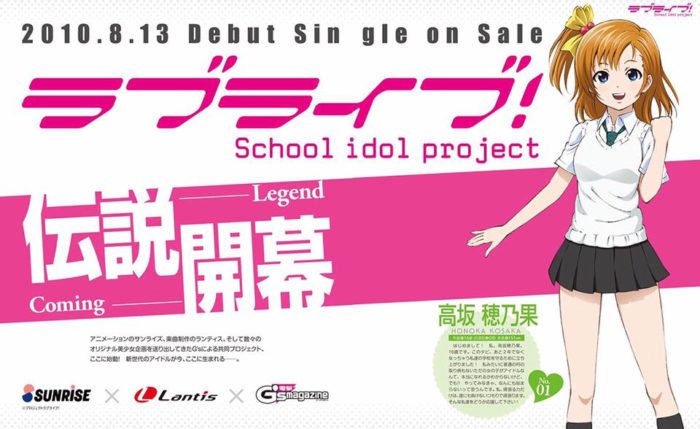 The LoveLive! Series is a Japanese Anime multimedia project. This was produced by the collaborating companies, the Japanese Anime music label Lantis, animation studio Sunrise, and Dengeki G's Magazine, a magazine by ASCII Media Works (KADOKAWA Group label).
This project began somewhere in 2010 and it starts as a multimedia project, where it introduces female high school characters who were grouped and formed a band together. This project was dubbed as the 'School Idol Project'. The girls will produce music and singles, as well as making a full music animation video out of that music.
Images: ©2021 PROJECT Lovelive! Superstar!!