The Endgame of Year 2020.
Want to watch something, aside from looking at the fireworks display when the year ends? How about an online live which shall celebrate your New Year's Eve?
LoveLive! Team has announced at their official Twitter account, and in their official website, that there would be an online live that shall happen at around New Year's Eve. Not only because of the year end, but it is because of their part of their ongoing Aqours 5th Anniversary Project.
The title of their online live is called as Aqours Countdown LoveLive! – WHITE ISLAND –. This is considered to be the 'endgame' LoveLive! event of 2020, since it falls on the December 30 and in the New Year's Eve, December 31. This online paid live streaming shall occur on the mentioned dates at the previous sentence!
【配信チケット発売中❗】
10日後に迫ったAqoursオンラインライブ第2弾
「Aqours COUNTDOWN LoveLive! ~WHITE ISLAND~」⛄

Aqours結成5周年を記念したラブライブ!シリーズ初のカウントダウンライブです✨
本公演で初披露の楽曲も…❣お見逃しなく?

▶️https://t.co/Goxm0vIGoo#lovelive #Aqours

— ラブライブ!シリーズ公式 (@LoveLive_staff) December 20, 2020
Online virtual ticket sales has been started since last week, December 19, 2020, and shall last until January 7, 2021. An archive stream shall be available if in case you paid for the stream, but missed watching it due to failure of watching it, as well as some network issues! Ticket price shall cost at least 5,555 yen per day.
Streaming platforms has been decided, and they can choose between the two: Pia Live Stream and the Streaming+ (by e-Plus). Please do note that the availability of each streaming platform depends on the region you live, and please keep that in mind! You can refer more to their official website for details about the availability of the stream in your area or region! Also, delayed viewing screenings has been announced in some countries as well.
My Predictions on Songs Set List
As teased by the narrator at the end of the Day 2 of the Aqours Online LoveLive! – LOST WORLD –, there would be a 'Part 2' of the Online LoveLive! event that shall happen. And yep, it has happened!
For my predictions in the songs set list to happen in the WHITE ISLAND online live, there are as follows. The first songs in the set which we are about to expect to encounter and to hear are the songs coming from their recently-released duo-trio collection album, the WINTER VACATION album CD. Another song to expect from them is the KOKORO Magic "A to Z", which is, in fact, that its B-Side song was performed on the LOST WORLD online live last October. As usual, they might perform some songs from the 'Over the Rainbow' movie. And remember that their bonus song, the i-n-g, I TRY!! might also appear on their live!
And finally, don't forget one song in which we never heard from them in the live before. The name of that song is… Future flight! And most likely, it may appear on their online live this December 30 and 31! Look forward into it!
And that is, my possible predictions! They might also announce some stuff at the end of their online live paid streaming, so better watch your eyes… and ears for this one!
The event, LoveLive! Sunshine!! – Aqours Countdown LoveLive! – WHITE ISLAND – shall be commencing this December 30 (7pm JST/UTC+9) and New Year's Eve (10:30pm JST/UTC+9)! Look forward into it, and celebrate your New Year's Eve with Aqours!
ABOUT LOVELIVE! SUNSHINE!! AND AQOURS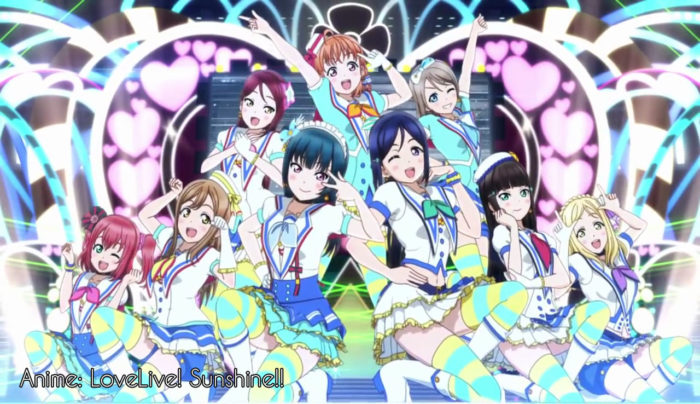 Aqours debuted in the year 2015, following the premiere of the µ's movie also in the same year. The television Anime series has been aired in Japan nationwide since July 2016 (Season 1) and October 2017 (Season 2). Its feature movie was also premiered in Japanese cinemas nationwide since January 2019.
Though that their popularity is not as popular as µ's, their singles, the Kimino Kokoro wa Kagayaiterukai?, Koini Naritai AQUARIUM, HAPPY PARTY TRAIN, and MITAIKEN HORIZON, have topped somehow in some of the music charts in Japan (i.e. Oricon).
Aqours made their very first live performance event in February 2017, while their very recent major fifth live performance was made in June 2019. As of today, this School Idol group has made over more than 60 songs since their debut in 2015.