Returning this 2023!
After the publishing of the Final Episode (Season Finale) of SIFJL SEASON TWO on IDS, it has been announced that the 3rd Season shall be publishing around year 2023.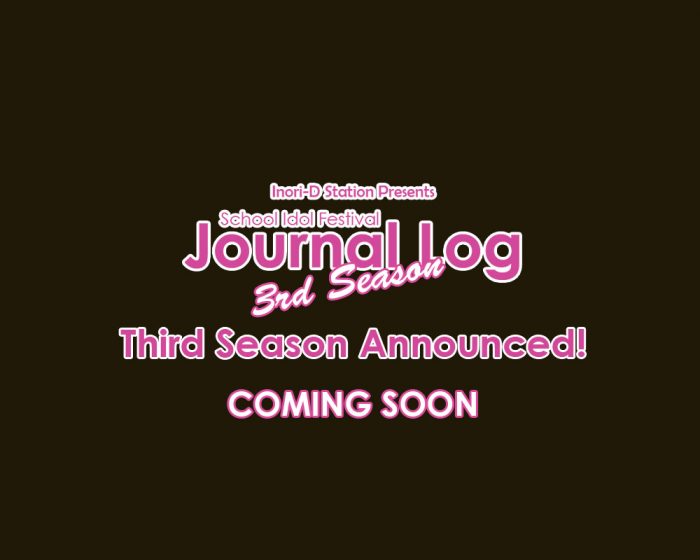 Blog Post Series Page here.
School Idol Festival Journal Log on IDS has started its blog post series publishing in July 2020. As of this post, the blog post series has spanned for at least two seasons, with a total of over 90 Episodes. SIF Journal Log tells about the news and updates, which talks about the LoveLive! Series — its updates, video games, live performances, and many more, such as the LoveLive! Series' collaborations and other related events with an another Anime series or other related media. Its Episodes (in form of written blog posts) are published weekly on Inori-D Station.
A special "Story Episodes" part is introduced at the later part of the blog post series, namely in the second season (SEASON TWO) of SIFJL. It tells about the high school girl student aspirant, Chiharu Umiboshi, and the School Idol fangroup, the Idol Chasers, who were exploring in the world of School Idols. They were experiencing the connections of that person to the another School Idol, or any girls or group that has connection with the other people or being, and so on. The Idol Chasers had integrated the storyline of School Idols, and some other exciting adventures, which would involve other characters or beings, in which they could either threaten the peace and harmony of these School Idols, or a person who is bent on conquering and destroying the timelines and dreams of the School Idols. There are still more stories, in which it would involve Chiharu and her friends! Make sure to follow their stories, especially on the upcoming second season, or otherwise at the 3rd Season of SIF Journal Log!
Notes: The title of the Story Episodes published along with the SIFJL Episodes is Idol Chasers. The Story Episodes that were published along in the SEASON TWO is considered as "First Season" of the Idol Chasers story. Likewise, the upcoming SIFJL 3rd Season Story Episodes shall be called as "Idol Chasers SEASON TWO". Make sure you don't be confused with it, though! "Season 1" of SIFJL doesn't have any Story Episodes, so it doesn't count.
Meanwhile, as the 3rd Season is coming sooner, please look forward onto the "Prologue Episode"! The Prologue Episode (blog post) shall be published on February 25, 2023, at 9:00 AM PHT, only on Inori-D Station!
Disclaimer: "School Idol Festival Journal Log" and "Idol Chasers" were published under Inori-D Station. They have NO relationship nor association with Project LoveLive! Series and its related companies, and artists in any way.
IMPORTANT ANNOUNCEMENT: Old School Idol Festival Journal Log Episodes published on Inori-D Station shall be removed after April 30, 2023. Please have some time to explore some older posts published, as they shall be removed soon from IDS after on that said date.