Gaiden Episode 01: The Followers of School Idols
Intro Part
It was already one minute remaining before their livestream starts. Coco looks so nervous as she is preparing her lines to say in the livestream.


Umnnnnn….. I can do this!

Just relax. Think of it the same as looking at the mirror!

* Inhales and exhales out *
Alright, here we go!

The stream will start in 5, 4, 3, 2, 1…
And now, their livestream show has started.

Part 1





Today, welcome to our special livestream!

We are the students from Shinonome Academy!

And we are here to meet everyone who were watching today!

This is the place where you could know more about School Idols and LoveLive!

This is… the School Idol Station!


It's my first time doing with this livestream!


It seems we can do interact with some people in our livestream today. What do you think, Yuri?

Umm… Actually, it was my first time interacting and to read comments in our livestream today, Coco.

So then, there is a reason why we did this livestream!

That's right! And that is, the SIFJL is currently on publishing break today!

What does that mean, Yuri?

That's means, no new Episodes to be published today!

I see. Now, I understand!

So, for now, as that segment is currently on a break, let's have some recap on some previous Episodes that were published!

Hmm…. So then, what has happened in the story? Was it from the "Story Episodes"?

Exactly, Coco! We are going to recap and summarize on what has happened in the Story Episodes of SIFJL SEASON TWO!

Let's begin, shall we, Yuri?

But before that, let us know the characters who were present in the Story Episodes!

I want to know them more!

Alright, let us find out and learn more about the characters in the Story Episodes of SIFJL! Coco, are you ready?


The Idol Chasers
"You are a School Idol and… a Supporter!"
So how the Idol Chasers was formed? It was formed when people who have mutual interests about School Idols have gathered.
"Idol Chasers… We are the people who were the supporters and fans of these lovely School Idols! Not only we just follow them in order for them to keep continuing to chase for their dreams, but we are also chasing for our dreams in order to see them closer face-to-face! We are definitely chasing them in order for us to realize our own true dreams, and to follow our own hearts leading to our unforeseen future!", said Chiharu.
It was formed, thanks to the two people who have shared their thoughts and feelings for each other about School Idols.
It is meaning that every people have the right to follow a School Idol who is taking her necessary steps in becoming a popular artist — making her road to total stardom. That School Idol is also following and continuing her own path of dreams leading to her own "radiance". And so, Idol Chasers are people who were called as the "supporters" or "fans" of these School Idols. They kept to continue to follow them wherever they go, while they were supporting them and giving them rightful directions in making them grow better while singing and dancing in the live stage.
Idol Chasers also give love and support to these lovely School Idols by getting and buying their merchandise and figures. Also, they were get inspired and they were covering some of their songs, as well as singing and dancing along with it! And sometimes, Idol Chasers can be like anything, just in order to follow and support these School Idols. Sometimes, they can even compete with its related video games, as well as participating in some tournaments and championships, attending live performance events and ocassional attractions, and even showcasing their own cover versions of the songs by School Idols.
When these mutual hobbies and interests of people about School Idols have combined, this is where the Idol Chasers was born.


I never thought that this group of people have existed in our universe.

But then, call it as a work of fiction!

Everyone, just to give you clarification, SIFJL segment is just fanmade, okay?

Which means, it has no relation with the original LoveLive! Series at all!

Basically, that footnote in the picture which is shown on the headers of the Story Episodes are well indicated! Take note!

I hope that you are still watching with our livestream! Please watch it until the very end!

That's right. We got still some more stuffs to reveal!

Alright, stay tuned! We shall be back for more!

This time, we shall be talking about the characters who had found the Idol Chasers!

This is the School Idol Station!
Part 2

Today, we shall be talking about…

The people who found the Idol Chasers!

Who could be the people who found it?

The question is, Coco, did you manage to read the first thirteen of the SIFJL SEASON TWO Episodes?

Oh, the Story Episodes? Somehow, I had managed to read some of them…

If you didn't somehow read them, let us find out!

I wanna know well the characters in the story!

The current characters doesn't have their illustrations yet, though that their official names and other descriptive character details were already posted.

Alright, let's get to know them better!

Let us find out the members who founded the Idol Chasers! Stage Start!
The Characters
There are at least five people who has founded this group. So then, let us find out who were those people!
Name
Chiharu Umiboshi
海星 千春
Blood Type
A
Height
152 cm
Birthday
January 6
Hobbies
Supporting School Idols
School Idol Sign
Honoka Kosaka
Chiharu Umiboshi is a student from Shinonome Academy. Chiharu was kept haunted in her dreams with a mysterious girl that says that she is both a School Idol and something that she can't even say to her. Realizing that School Idols, whether friends or rivals, must help at each other in order to make their dreams come true, Chiharu knows that she can be both a School Idol and a Supporter. Those were the exact phrases that the mysterious girl, named Honoka, is telling her in the dreams.
Name
Takayoshi Kitagawa
北側 タカヨシ
Blood Type
O
Height
163 cm
Birthday
October 2
Hobbies
Video Games (Rhythm Games)
School Idol Sign
Chika Takami
Takayoshi Kitagawa is a man who is working on his mother's maid cafe. He is well versatile in playing video games, especially if it is of "Rhythm Game" genre. Takayoshi is well determined in achieving something, in which he can actually start from something small.
Name
Aika Tenkuji
天空時 愛香
Blood Type
B
Height
154 cm
Birthday
May 25
Hobbies
Cosplay, Sewing, Singing and dancing
School Idol Sign
Kotori Minami
Aika Tenkuji is a girl who is fond of doing "Cosplay", as well as the hobby of singing and dancing in the front of people — just like a School Idol. Aika got confidence, but she can't well attract her followers and fans because she lacks appeal and charm. Aika likes to make and sew her own clothes and costumes.
Name
Sho Ukiya
浮谷 ショウ
Blood Type
A
Height
160 cm
Birthday
July 30
Hobbies
Collecting character figures and merchandise
School Idol Sign
Yoshiko Tsushima
Sho Ukiya is a boy who got transferred, on his early childhood days, to America in order to study English, as well as finishing it. After his schooling, he is then transferred back to Japan just to find a job. Sho got difficulties in finding a job. So, he wasted the money that his parents had given to him, in order to buy expensive figures and merchandise of his favorite School Idol.
Name
Lierre
リエール
Blood Type
AB
Height
152 cm
Birthday
June 13
Hobbies
Reading
School Idol Sign
Unknown
Lierre is a mysterious person who came from another dimension or parallel universe which is still unknown. She is known as the School Idol Oracle, where she reads the history about School Idols, as well as making a prediction or prophecy that a certain girl can become a School Idol in the future.
Name
Saki Kitagawa
北側 咲
Blood Type
O
Height
153 cm
Birthday
August 25
Hobbies
Managing Maid Cafe Business
School Idol Sign
Unknown
Saki Kitagawa is Takayoshi's mother, who is also the maid cafe manager. Saki is said to be a former School Idol member in a School Idol group, who also became the winners of the LoveLive! Finals in the past. She knows about the values, or likewise, everything about School Idols, at the time when she has become one.


We can get to know and see them, someday in the future, Coco.

Stay tuned! Me and Yuri shall be back! We would be talking about some things before we end our live stream!

Keep your eyes hooked. We will be back.
Epilogue

Alright, we are going to finish the last part of our live stream! This is important, and you must need to pay attention!

Okay, for the last part of the live stream, we are going to talk about…
But then, the school bell rings.


Oh no! It seems we have run out of time!

That too bad… We can't believe that time drastically runs out very fast!

It seems we need to continue this last topic on the other time! What do you think, Yuri?

It seems we got no other choice, then.

Anyway, thank you for watching this stream until the very end!

Make sure to tune-in next week for the another edition!

Once again, thank you you very much!
I am Coco Miyashita!

And I am Yuri Mido.
We can still see each other again next week!

And this is the School Idol Station!
Bye bye!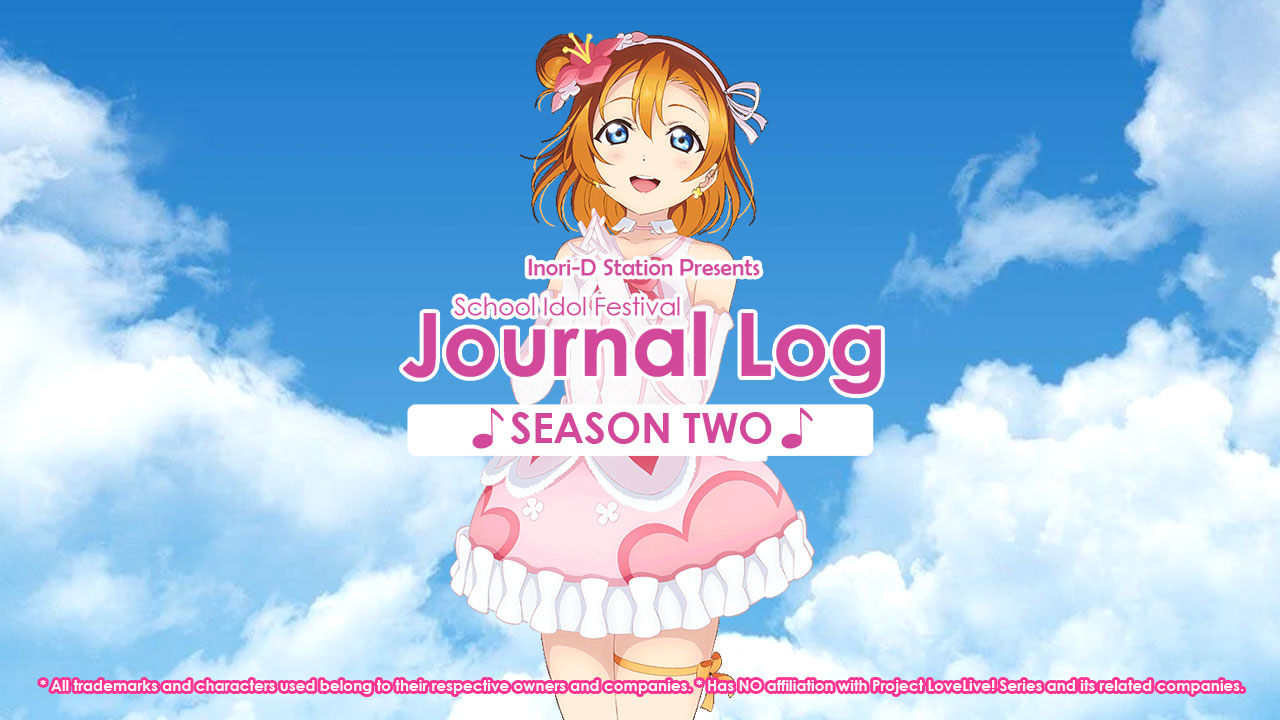 Next Preview
The girls from Shinonome Academy has more to talk about in their live stream next time! This time, what could be the things to encounter in the next part of the ongoing Story Episodes in the future in this segment? Who knows that there might be changes!
On the last part of the Gaiden Episode of SIF Journal Log SEASON TWO, "What Awaits On The Door to Future", look forward into it!
The Bonus Stage
The girls of Nijigasaki are back in this second season! Shioriko Mifune, Mia Taylor, and Lanzhu Zhong are now added to the stable!
Once again, these girls are seeing each other — sometimes as friends or rivals everyday.
They all have one, common dreams! And that is, somebody like Yu Takasaki, can support these twelve girls in making their dreams come true!
And once more, they are chasing for their dreams, along with their new friends and rivals at their side!
So then, they wanted to have an Event once more, in order to put these girls, whether friends or rivals, together! This Event is called as the "School Idol Festival".
However, the different concurring activities in school can make themselves having a hard time organizing this come-together Event. Can Yu be able to put these girls together, and make their dreams come true? This is the story of Yu Takasaki and the twelve School Idols, in their quest for unity and with their rainbow-colored friendship adventures!
LoveLive! Nijigasaki High School Idol Club SEASON TWO!
Starts airing and streaming on April 2, 2022!
For overseas simulcast, check with your local Anime licensors per region for the time and availability in your area!
Also, LLSIF and ALL STARS in-game celebration campaigns now going on!
Official website:
https://lovelive-anime.jp/nijigasaki/
RETURN TO MAIN PAGE BACK TO HOME PAGE