EPISODE 11: Parallel Universe
In this world, there are group of girls who inspire people to chase for their dreams. They have splendid and beautiful performances that can touch everyone's hearts. They are just girls who started as students having their own dreams from scratch. These young and cute ladies were called as "School Idols".
Thinking of something like changes in your identity… Just in order for your fans to recognize you, you have to change yourself. But then, there are disadvantages somehow when you do it. What can it be? When you look at yourself on the mirror, you can see your own future self. Then how about your own reflection of past that you won't ever wanted to be anymore? Will you ever hesitate to leave it alone, or you just move on to your new self?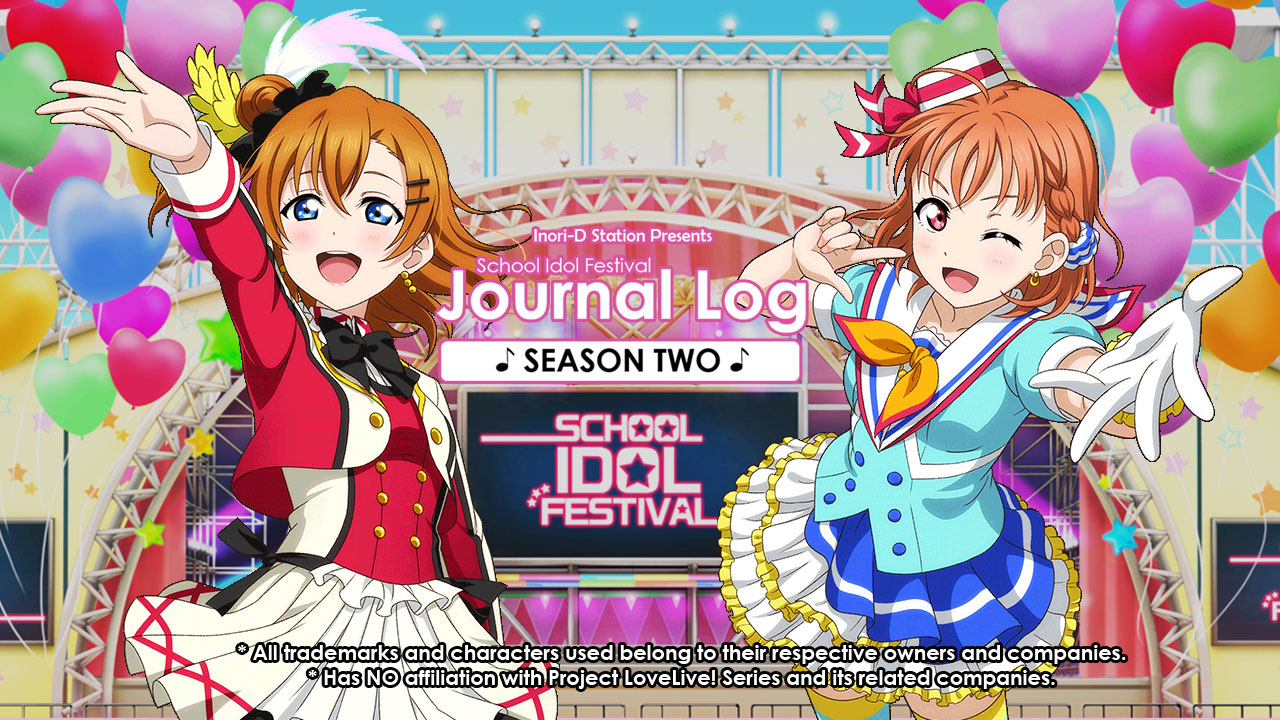 STORY EPISODE
One day, in an apartment building where Aika Tenkuji also lives, Sho Ukiya goes out just to buy his lunch from a certain convenience store. He absolutely got no idea on what to do, and he complains.
"Well, if only I knew on how to cook my own food, then I could even lessen up my chances to go outside just to buy processed food."
And so, he heads back to his apartment building home.
From a far distance, someone is watching over him. It is none other than the man whom Sho did meet on the other day. He was the mysterious man who previously helped Sho in getting his prized LoveLive! plushie from the Gacha Crane Machine.
"So what comes into your mind spying me at a time like this?" The man asked as he noticed that somebody is spying him all along from nowhere.
"Oh my! I never thought that you could easily notice me by just an air vibration!" A mysterious girl with a short, yellow hair and yellow eyes has appeared from nowhere.
"I told you already. Stop interfering with my plans, Komari Ohara."
"And I keep doing that until you quit doing it, Gen Sakurauchi!"
"I will just do everything in order to see my little sister again. She might be one of the people who can actually lead up to the person that I am looking for!"
"Oh! Are you referring to the School Idol Oracle, darling?"
"Lierre? You just easily found it out!"
"So that was truly your plan… Brilliant! You just wanted to see Lierre just in order to find your little sister!"
"Definitely, I will find my little sister, and bring her home!"
"You don't understand, do you? It is basically just as similar as peeping a girl's panties!"
Suddenly, Sho has finally shown up from nowhere, fazing the two debating individuals in no time.
"What are you guys debating about? Is that what you call as relationship breakups?"
The two people who are debating suddenly moved away from each other. Komari and Gen made their final words, and replies back to Sho before they could even leave.
"We will be settling things on the other day, sometime!"
"You can, whenever you want. But you can't stop me from doing this plan!"
"And you, lonely person who surprised us: We are not in a relationship!"
"So as do I, you lonely Otaku. We are not in a relationship!"
Sho heard their replies. And finally, they parted ways and they left in a flash.
Sho is absolutely having no idea, and just said, "I am seeing more people lately who are weirdos, just like me."
Later evening, Sho is browsing the Internet with his desktop computer. Until, he has found a video containing the live dance performance of the two girls from a maid cafe on the other day.
"Let's see… Wait a minute… Is that one of my fellow people who also lives within this apartment building as mine? I see, so it's Aika after all. These days, she has been changed, ever since when she has worked on a maid cafe in Akihabara."
After that, he browses on Aika's SNS account profile.
"She has only few followers that time. But now, her followers have increased due to that video. I had also tried following her on social media, but she ain't noticing and following me back."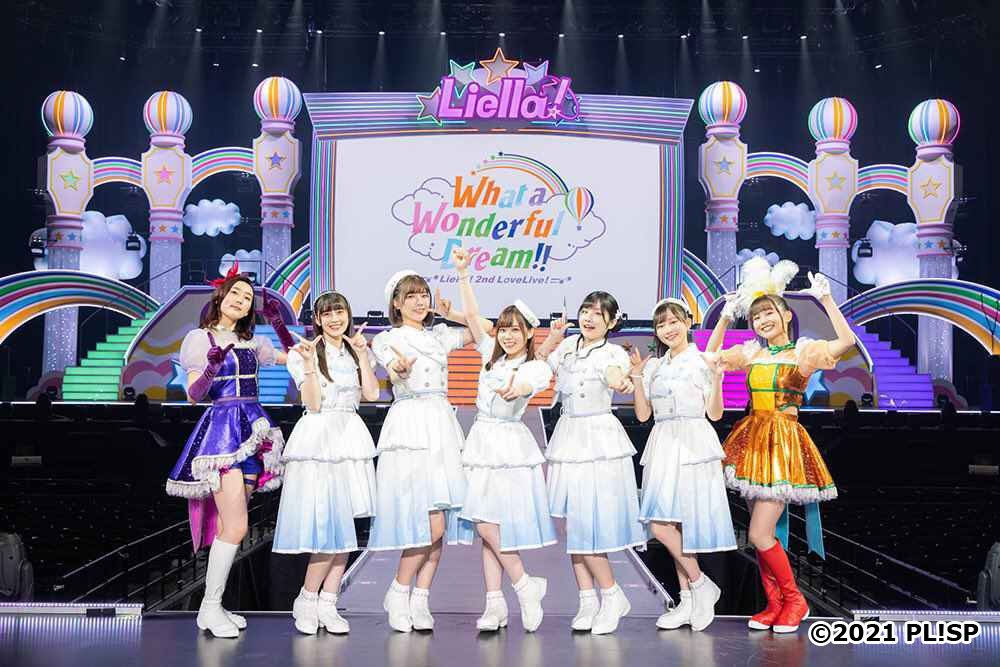 HEADLINES
Whew, there are a lot of things which were recently announced during the past week! Aqours announcing some stuffs, such as their upcoming "7th Anniversary Projects", LoveLive! Superstar!! Season Two's confirmed release date, and the nearing premiere of "Nijigasaki Anime SEASON TWO" in just few weeks away! These spine-chilling announcements coming from them can really make us lose control of ourselves, as LoveLive! fans! It is really okay to blend yourselves into them, but just don't get addicted, though.
Right now, let us find out on what has happened recently during the past weekend, and in the past few days from the School Idol Universe! Check it out!
Happy Birthday, Umi Sonoda!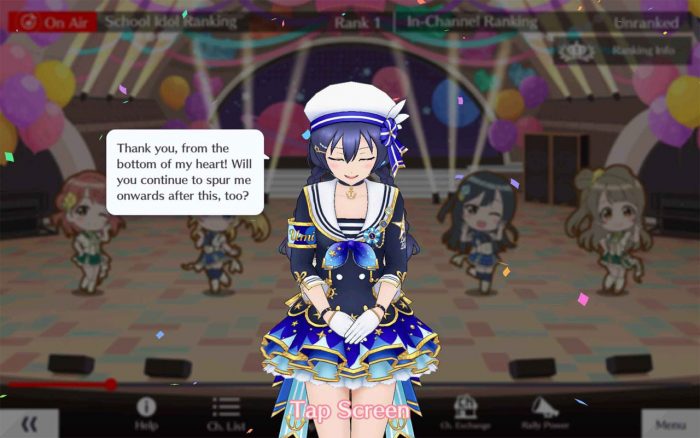 Although it's too late to celebrate her birthday on time, at least I had done my part in writing my birthday message for her! Alright, let's read it!
Dear Umi Sonoda,
You had been a good, big sister to Honoka and Kotori as a School Idol. Whenever there are problems that involve you and them, you just simply scold them a bit and you told and suggest them on what they should do and not should do. It is basically, you differentiate them between of what is right and wrong.
Just continue to work hard and keep dreaming on what you wish and desire for your future goals and endeavors. I am very sure that a lot of your fans will continue to love and support you until the very end, until the time that you retire from your School Idol missions.
We shall be continuing to root for you until the very end, as a School Idol and a Supporter!
Happy Birthday, dear Umi Sonoda! We fans love you so much!
Aqours Partnership with Azul Claro Numazu
【お知らせ】

プロジェクトラブライブ!サンシャイン!!(@LoveLive_staff)、
オフィシャルパートナー契約締結(新規)のお知らせhttps://t.co/e5A89iUCR5#アスルクラロ沼津#全力 pic.twitter.com/3D7sMFOIqc

— アスルクラロ沼津【公式】 (@azulclaro1990) March 11, 2022
A Japanese football team, the Azul Claro Numazu, has announced partnership with Aqours as their sponsor (official partners) for their current 2022 football season. This football team is also partnering with Bushiroad (publisher of LoveLive! ALL STARS) as well recently.
Who knows that sponsorship merchandise featuring Aqours with Azul Claro Numazu might appear soon in the future, along with the other collaboration event which was mentioned from the last Episode in the headlines?
LoveLive! Superstar!! Season Two Release Date Confirmed!
?TVアニメ2期?
本日発表?

「ラブライブ!スーパースター!!」TVアニメ2期、
NHK Eテレにて2022年7月放送開始予定??

新たな物語を、どうぞ楽しみにお待ちください✨#lovelive #Liella pic.twitter.com/3YzpZO67LQ

— ラブライブ!シリーズ公式 (@LoveLive_staff) March 13, 2022
It has been announced recently that the anticipated "Season Two" of LoveLive! Superstar!! has been confirmed for July 2022 release! This was announced at the end of the Day 2 of their recent "Liella! 2nd LoveLive!" live performance at Yokohama last week.
So then, this announcement has hyped the fans a lot more, including me. What's missing now is the trailer announcement video, and it shall be coming soon — Someday, at the last or FINAL part of their announced "additional" 2nd live tour leg (not on their upcoming leg tour on Nagoya on April). You just have to be staying tuned at their feed for more info and updates about this seasonal Anime! Eventually, it shall be coming right after Nijigasaki Anime SEASON TWO!
Aqours 6th Live Part Three Theme Song Previewed
【☀️CD情報☀️】
4/13(水)発売 #Aqours 6th LIVE <WINDY STAGE> テーマソングCD 「なんどだって約束!」の試聴動画を公開❗️

⏩https://t.co/q2irE8yu8o

東京ドーム公演のチケット最速先行抽選申込券を封入✨
是非ゲットしてくださいね?#lovelive #Aqours pic.twitter.com/bqAwT81ZP5

— ラブライブ!シリーズ公式 (@LoveLive_staff) March 16, 2022
Just few days before this Episode was published, Aqours has finally previewed this song during their last livestream, dated from March 16, 2022 (Wednesday). The title of the song is called as, "Nando Datte Yakusoku!" And yep, this song can be previewed on YouTube!
Someday, this might be playable on the game platforms, LLSIF and ALL STARS, as a limited song, so watch out!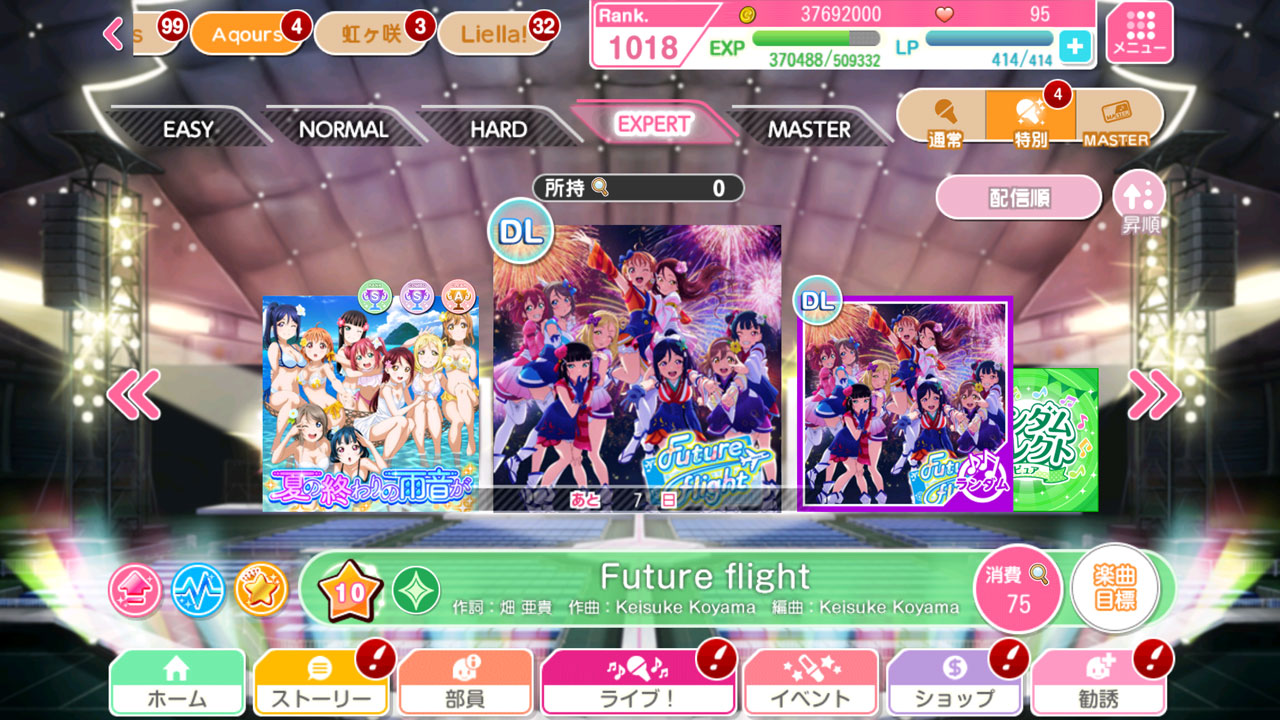 LLSIF HIGHLIGHTS
The time for the excitement for the game's "9th Anniversary" is very close at hand. LLSIF's Anniversary Celebration Campaigns are usually celebrated at or before April 15th, which also marks the game's 9th Anniversary release in the respective app stores! So then, what are your expectations for the game's 9th Anniversary? Of course, more and powerful G2-Tier URs would appear left and right, from now on! But the question: Had you well saved your precious Love Gems for the upcoming celebration Limited Box Scouting Banners, or other Scouting Boxes (Stamp Scouting/Pick-Up Scouting) equivalent?
Finally, the road to LoveLive! School Idol Festival's 9th Anniversary begins here! Let us have some highlights and happenings around!
Setlist Event: SIF White Day Live Show 2022
【LoveLive! SIF】

<Setlist Event>

SIF White Day Live Show 2022

Details on #IDS_SIFJL S2 this Friday.#lovelive #スクフェス #LLSIF pic.twitter.com/goA6IE51f9

— INORI DONZ | Inori-D Station (@InoriDONZ) March 16, 2022
In this Setlist Event, you shall be battling with the songs of Aqours again, just like last time!
You just have to achieve your best score that you can output in order to get higher Emotion Points! (HINT: You shall be needing to play with your Encore Meta Team this time around to get higher Emotion Points, and try playing on MASTER difficulty (Special) for best results!)
The set also features the limited song, "KU-RU-KU-RU Cruller!". In fact, I got some gameplay video posted to my page for some showcase!
And finally, don't forget to draw on the box when you had collected enough Points (Tokens, or whatsoever)! In this Setlist Event, you can earn some UR Exchange Tickets, in which you can exchange with the Promo URs of Aqours in their "KU-RU-KU-RU Cruller!" costumes! They might be useless, when it comes to Scoring Skills, but you can eventually use them for costume visuals for your another URs in team!
Round 30 Medley Festival (Final)
So then, I had really given my shot here — trying to clear three harder MASTER songs in consecutive orders in a medley. And also, what I had written in my guide is somehow effective, and I was able to grind efficiently without letting my rank fall drastically.
Ever since then, I had now troubles in landing higher combo counts in Kinmirai Happy End, in which there is a part in the swipe parts where I am usually screwing up my combo chain, and I always get to miss at least two notes, due to the fact that my thumb slider touches aren't fully cooperating at all.
Since this is the first time ever happened in the Medley Festival Event, where the songs of Aqours had totally mixed up with the current lineup of songs in the μ's Side, this is considered to be a once-in-a-lifetime moment where you could play this Event, with the Aqours songs included in the lineup. But then, I am getting a premonition here. What if that "moment" or "temporary game bug" is really intentional, where they are glimpsing us into the game's upcoming 9th Anniversary this coming April 15th? Was it considered as a "prologue" to that celebration? Who knows!
【LoveLive! SIF】

? EVENT REPORT ?

<μ's> Round 30 Medley Festival

Pts: ? 649 | 1,462,800 pts.
Score: ? 3,021 | 16,838,625 scr.

Songs used are on the third photo.#lovelive #スクフェス #LLSIF pic.twitter.com/xye0jR3Nlh

— INORI DONZ | Inori-D Station (@InoriDONZ) March 15, 2022
The three songs used when I tried grinding higher for Score Ranks are as follows, as seen from the third photo of my embedded Tweet:
Kinmirai Happy End, Angelic Angel, and Music S.T.A.R.T!!
Yep, they were all ended up in the last, Bronze Tier Rank, despite that I had played them really hard in their MASTER difficulties. But then, at least, I had finished this Event with a Gold Tier Rank on the Event Points Ranking.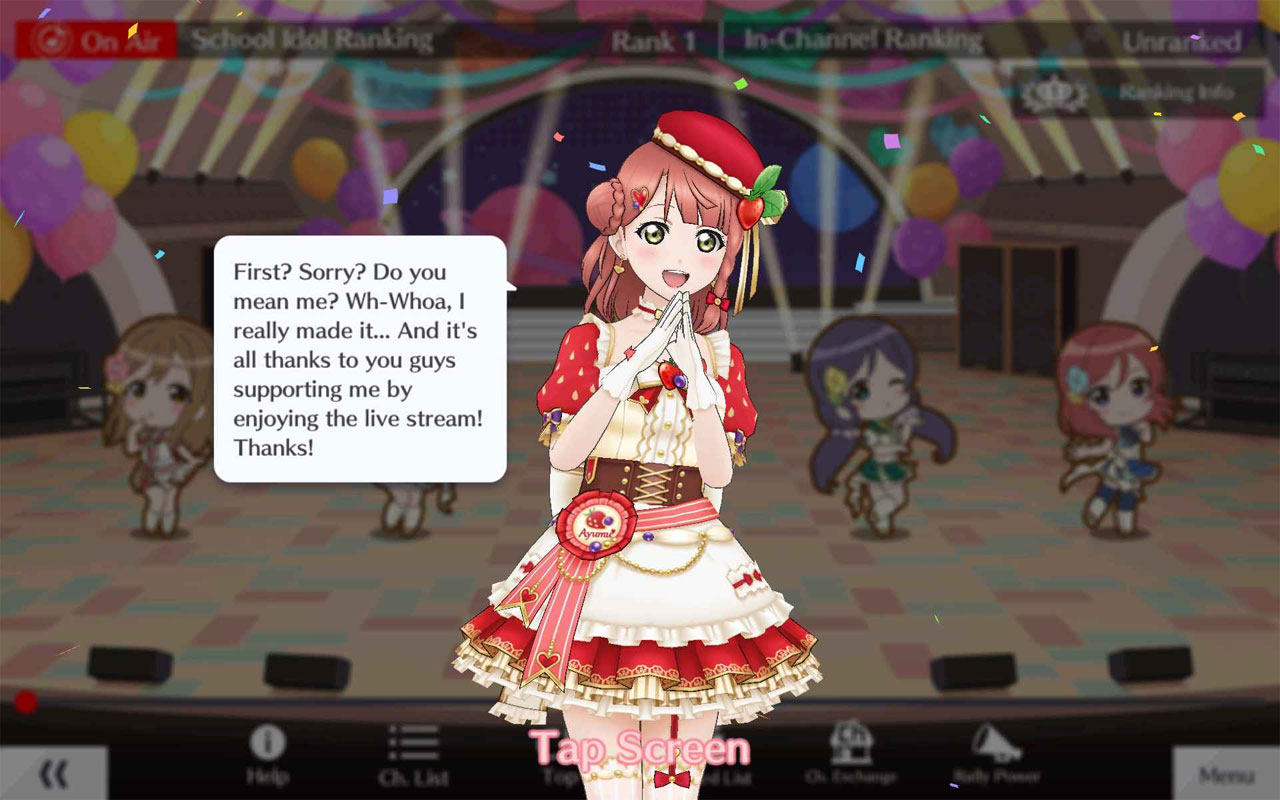 ALL STARS HIGHLIGHTS
So then, what could be happenings that occurred in the past weekend, and in the past few days from the ALL STARS game?
Apparently, I had been lazy grinding in this game. And there is really no way for me in finding some plenty of time in grinding further in some Events, especially the monthly "SBL" and "Dream Live Parade" Pre-Events.
I am just really hoping that I could find myself some time in playing with this game, from now on. Even just doing my Auto Play Strategy won't even allow me to place higher in some Events. And I haven't managed to have time in reading the game's Main Story, either. Someday, time will always come, and I could eventually read them with my own perseverance.
Again, what could be the highlights this time?
School Idol Channel Weekly Bulletin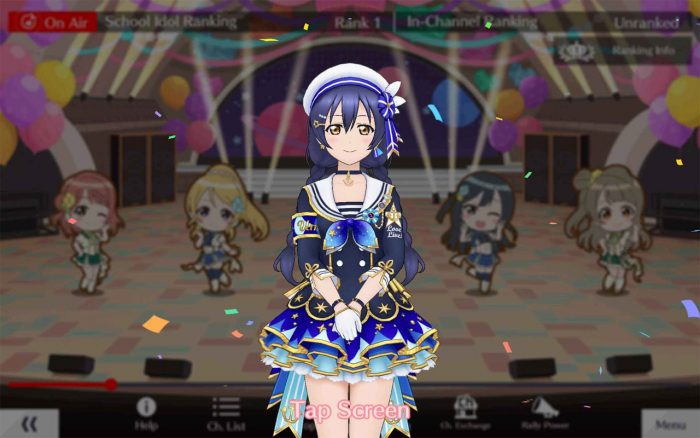 Here we go again, people! Welcome to the weekly bulletin about School Idol Channels!
This time, who could be the winners this time, aside from Umi being the first in the ranks? Did your best girl make it to the top ten?
JP Side – #50
| RANK # | SCHOOL IDOL | GROUP | AVERAGE CHEER POINTS |
| --- | --- | --- | --- |
| 1 | Umi | μ's | 16,745 |
| 2 | Setsuna | Nijigasaki | 5,022 |
| 3 | Kotori | μ's | 3,859 |
| 4 | Shizuku | Nijigasaki | 3,751 |
| 5 | Shioriko | Nijigasaki | 3,647 |
| 6 | Eli | μ's | 3,639 |
| 7 | You | Aqours | 3,449 |
| 8 | Kanata | Nijigasaki | 3,408 |
| 9 | Hanamaru | Aqours | 3,230 |
| 10 | Kanan | Aqours | 3,175 |
Global Side – #37
| RANK # | SCHOOL IDOL | GROUP | AVERAGE CHEER POINTS |
| --- | --- | --- | --- |
| 1 | Umi | μ's | 14,181 |
| 2 | Setsuna | Nijigasaki | 3,794 |
| 3 | Eli | μ's | 3,179 |
| 4 | Kotori | μ's | 3,040 |
| 5 | Ayumu | Nijigasaki | 2,971 |
| 6 | Hanayo | μ's | 2,956 |
| 7 | Maki | μ's | 2,909 |
| 8 | You | Aqours | 2,835 |
| 9 | Riko | Aqours | 2,823 |
| 10 | Kanan | Aqours | 2,744 |
| | | | |
Kanan has made it to the Rank 10, in both of the Sides! Kotori and Setsuna remained dominant in the past weeks since then.
Right now, I had randomly selected channels on my own, in my JP and Global Sides. Setsuna shall be my pick on my JP Side, while Chika shall be on my Global Side. Let's see for the results next week!
EXCHANGE: Bonding on White Day (Final)
There is nothing much to give highlight into this one, since I didn't really play seriously in this Event.
【LoveLive! ALL STARS】

? EVENT REPORT ?

<EXCH.> Bonding on White Day

〈Pts.〉
JP: ? 39,191 | 74,300 pts.
GL: ? 10,686 | 62,550 pts.

〈Score〉
JP: ? 18,403 | 1,018,337 Vlt.
GL: ? 4,435 | 3,723,251 Vlt.#lovelive #スクスタ #LLAS pic.twitter.com/eGiCAtq6tv

— INORI DONZ | Inori-D Station (@InoriDONZ) March 15, 2022
They were all ended up in Bronze Tier Ranks, except for my Global Side finishing this Event with a Silver Tier Rank on Voltage Score Rankings. At least, I am trying to effort on the Voltage Score Rankings this time around, instead of leaving it behind to be finished with a DNP result again.
And the most worst part? I almost failed in getting the featured Event UR from the Event Exchange Shop on time, due to the fact that I ain't grinding for more Event Points seriously. Otherwise, in the next suceeding Events, I must need to be careful next time, especially if I am trying to slack off.
Dream Live Parade – Pure & Smile On Stage
【LoveLive! ALL STARS】

<Dream Live Parade>

Pure & Smile On Stage!

Details on #IDS_SIFJL S2 this Friday.#lovelive #スクスタ #LLAS pic.twitter.com/VnsAs89qK9

— INORI DONZ | Inori-D Station (@InoriDONZ) March 16, 2022
In this Dream Live Parade Pre-Event, you should need to clear the stages progressively. Earn DLP Tokens when you successfully cleared the stages!
You can use the DLP Tokens that you have collected in order to exchange items from the Shop! And that is when you play on this Dream Live Parade!
This time, it features members that you can use, which is of "Smile" and "Pure" attributes! You must use them in order to last longer in the DLP Pre-Event! (+2 more PP for members of all kinds who are of either Smile and Pure attributes) Good luck! And don't forget that you should be saving your Parade Point-recovering items for later, for some harder songs in harder stages later!
This shall last until the 21st of March, just before the next Event shall begin.
2.5 Anniversary Celebration Campaign
?2.5周年キャンペーンを開催のお知らせ?#スクスタ 2.5周年を記念したキャンペーンを開催します!

マカロンや特別なガチャチケットのプレゼントなど盛りだくさんの内容となっておりますので、ぜひチェックしてみてくださいね✅

▼キャンペーンの詳細はこちらhttps://t.co/OO4ewaaUUx#lovelive

— ラブライブ!スクスタ公式 (@LLAS_STAFF) March 16, 2022
There would be exciting campaigns that will celebrate the game's two and a half anniversary! Expect something like Free Scouting, item powerups and upgrades, and the occasional Login Bonus Items!
They were recently previewed during the Nijigasaki Livestream last March 7!
That's right! And since the Prologue Login Bonus Items are starting to commence since yesterday, on March 17, this is the road to excitement!
And for the Free Scouting that shall be commencing soon on March 26th, as well as some other Step-Up and Rate-Up Scouting Banners, is your luck just suitable enough?
Who knows! You shall be finding them all out when you try to participate in this campaign!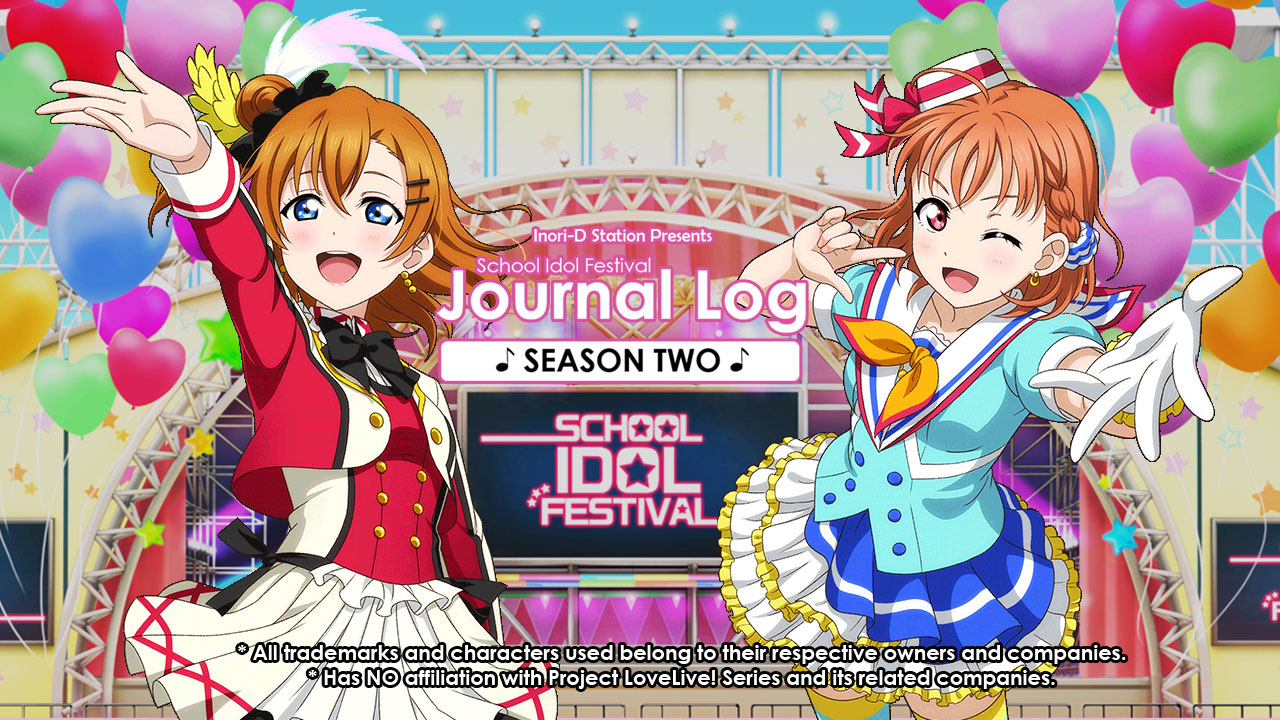 STORY EPISODE (EPILOGUE)
The next day, Sho has finally woke up from his sleep. He has also taken bath, as well as eating his breakfast. Then, he opens his secret money stash, and he is having thoughts.
"My pile of money is getting thinner. It seems that it is really the time."
After taking some few money from his stash, he tries to bring his LoveLive! plushie with him, as well as wearing a graphic T-shirt of his favorite LoveLive! character. And then, he goes outside to travel somewhere around Tokyo.
While walking and strolling around the streets, Sho said to himself, "I am going to go to that maid cafe, in order to see Aika!"
From nowhere, a thief suddenly snatched the LoveLive! plushie out from Sho, and runs away very fast. Sho was surprised seeing his plushie got stolen. He hesitates no more, and he runs very fast in order to catch the thief and save his plushie.
It seems that Sho is running slow and he is starting to pant and said, "It looks like I can't really save her! I am sorry, but…"
The thief is so arrogant and is running very fast thinking that nobody could ever catch him. And then, he was finally tripped by someone's foot out of nowhere. The thief was finally lying down facing the ground, and the plushie was also dropped away from him. He then attempted to get the plushie back with his hand, until someone has picked it up. It was none other than Aika, who has tripped the thief with her right foot!
"Don't steal things from people, in which they are very dear to them!" said Aika, and she smiles and winks while sticking her right cheek with the plushie.
Sho finally saw the thief, and the thief is trembling with fear. And then, the thief runs away from them.
Aika then walks closer to Sho, and talks to him.
"Here, have this LoveLive! plushie back in your hands!"
"Thank you very much, Aika Tenkuji!"
"Eh? Did you recognize me? But how?"
"It is because I had seen your video from the other day!"
"I see. So that's how you have discovered me."
"By the way, let me introduce myself! My name is…"
"You are Sho Ukiya, right? Yes, I know you! You are the known hoarder of most LoveLive! figures and merchandise!"
"Yeah, and that's the truth."
"By the way, where are you going now?"
"Um, my only reason why I go out today is that I wanted to go to the maid cafe!"
"Really? Why not come with me instead? In fact, my work shift is starting in just an hour!"
"Oh, thank you! Please, let me go with you!"
"Sure! Let's head on to the maid cafe now."
"Yeah!"
And then, Aika and Sho started to walk and they head on to the maid cafe in Akihabara.
On a certain jumbotron screen somewhere within Tokyo, the footage of a live performance done by a certain School Idol group has been shown. And then, Gen is looking and watching at it.
"When you are still a baby, I am always looking at your cute face. At the time when you have already grown up, I am no longer existing as your brother. Right now, I am existing within this parallel universe. In this age of mine, I am looking for a way on how I could see you again, as my little sister. But then, if I try to do so, then my existence… Yeah, just like Komari has said."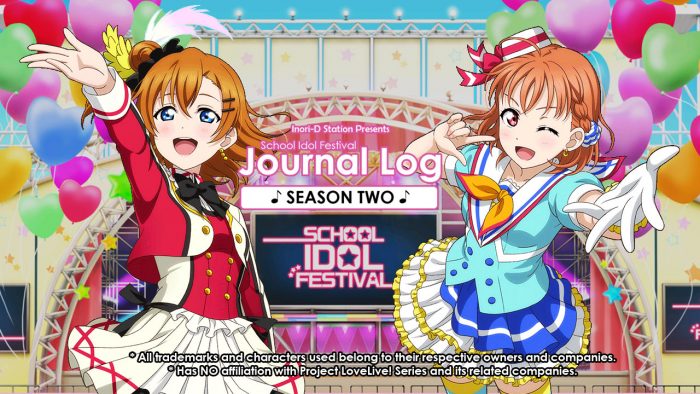 NEXT PREVIEW
Now that you have successfully formed a group or band, and you have also a group name, what could be the first thing to do? Aside from setting things up, like sound equipment, and others like lyrics and costumes, what is an "essential thing" that every School Idol Groups must ever have? And most importantly, everyone should express themselves by means of communicating and exchanging their own feelings!
Next time on School Idol Festival Journal Log SEASON TWO, "This is a Party!"
The Bonus Stage
The girls of Nijigasaki are back in this second season! Shioriko Mifune, Mia Taylor, and Lanzhu Zhong are now added to the stable!
Once again, these girls are seeing each other — sometimes as friends or rivals everyday.
They all have one, common dreams! And that is, somebody like Yu Takasaki, can support these girls in making their dreams come true!
And once more, they are chasing for their dreams, along with their new friends and rivals at their side!
LoveLive! Nijigasaki High School Idol Club SEASON TWO!
Starts airing and streaming on April 2, 2022!
For overseas simulcast, check your local Anime licensors per region for the time and availability in your area!
Official website:
https://lovelive-anime.jp/nijigasaki/
RETURN TO MAIN PAGE BACK TO HOME PAGE