EPISODE 04: The Costume Made of Dreams
In this world, there are group of high school girls that formed a band or group together, and they were singing and dancing together in one stage. Their music videos and their songs had totally touched every people's hearts, and making them be inspired to follow their footsteps. These girls are dreaming about their future in terms of their popularity and stardom. These pretty girls are called as "School Idols".
When we talk about a costume of a School Idol, there would be always meanings behind that costume's designs and colors! We all know that these costumes are made with dreams. But then, not all costumes can really attract some people around. There is indeed something missing! What could be a thing should be needed in order to get your fans' attentions?
CONTENTS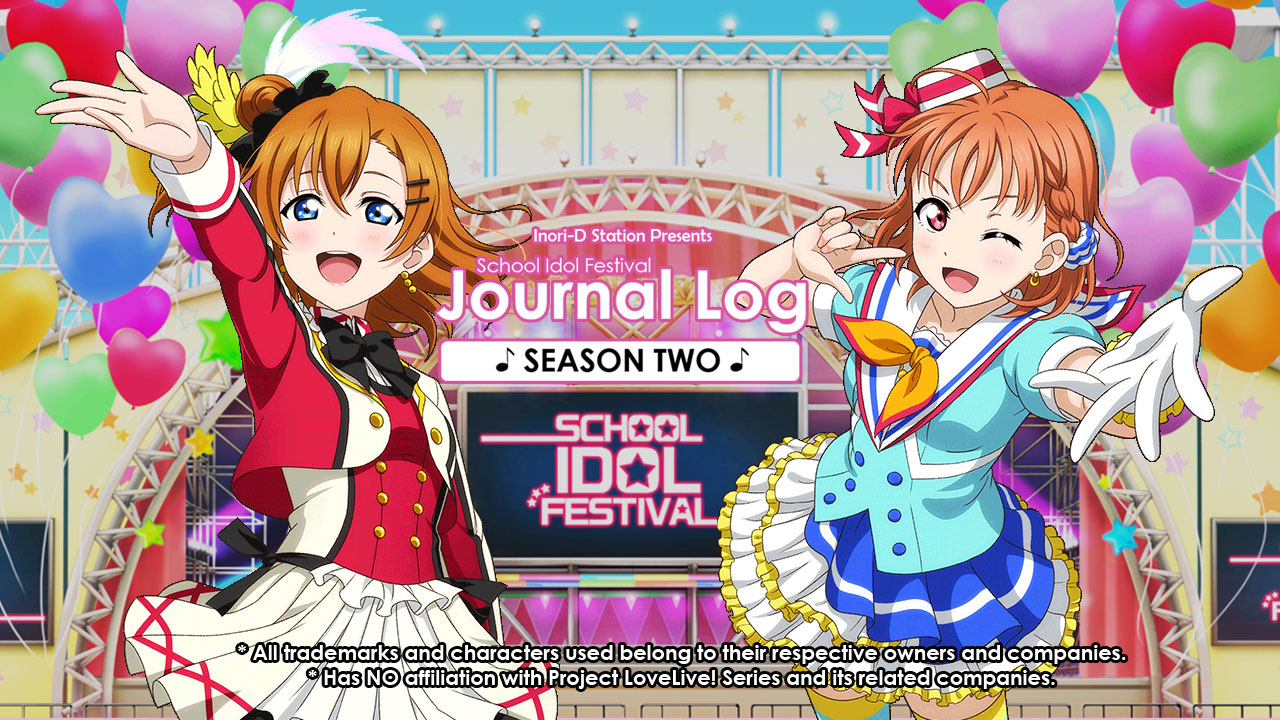 STORY EPISODE
That evening came, and Chiharu was browsing on her smartphone. And then, she visited the website about School Idols. She decided to play a video there.
"Oh, this song is about passionate Christmas. And I am amazed because the lights turned from white to orange."
After playing that video, she decided to play an another one.
"Starlight Prologue? Most probably, a copy of the first one that I had watched previously. But then, it's not bad for these girls to perform something fantastic."
Something entered on Chiharu's mind right now. So, she picked up her smartphone again, and she sends a text message to somebody.
That morning came, and the streets of Tokyo are busy once again with many walking people.
Along the streets in Akihabara, someone is standing. She is donned with a costume — something like a magical girl from a certain TV Anime series. And then, her boss tried to yell at her.
"Hey, just go inside if you can't attract any customers!"
"Okay, boss."
At the locker room, she is quite sad and frustrated. And she wasn't able to attract anyone, despite her cute appearance. And her boss finally arrives at the scene.
"I am just going to tell you something. You can't attract someone with your appearance. Irregardless if you are cute and sexy or not, you can't even attract them without it!"
"I can't attract somebody without that thing… And what is that thing are you referring to?"
"Aika, I am referring to a thing that attracts people. It is of what I call, the appeal. If you can't project your own feelings to them, they can't even go closer to you!"
"I am trying hard to achieve that! In fact, I am already doing my best to attract my customers very well in order for them to visit our maid cafe!"
"Trying your best? Just trying your own best is still not enough, Aika! That means, you are still lacking it."
"It is true that I am still lacking it, after all. But then, I will never give up in this hobby."
"I am going to let you go out early from this shift, as well as taking a day-off… For today only until tomorrow. The purpose is that you must need to clear your mind and soul. Once you are ready, you can come back here at anytime."
"Thank you, boss. I am going to have a day-off, and to go out early from my shift today!"
"Aika Tenkuji, just always remember to overcome your own weaknesses. And that is the only way for you to become stronger!"
And so, Aika packed her things up, and she leaves her own work shift early.
And then, as Aika is moving away, Lierre is looking at her from a distance.
"Oh, how frustrated her face was! I think she must learn from her own weaknesses."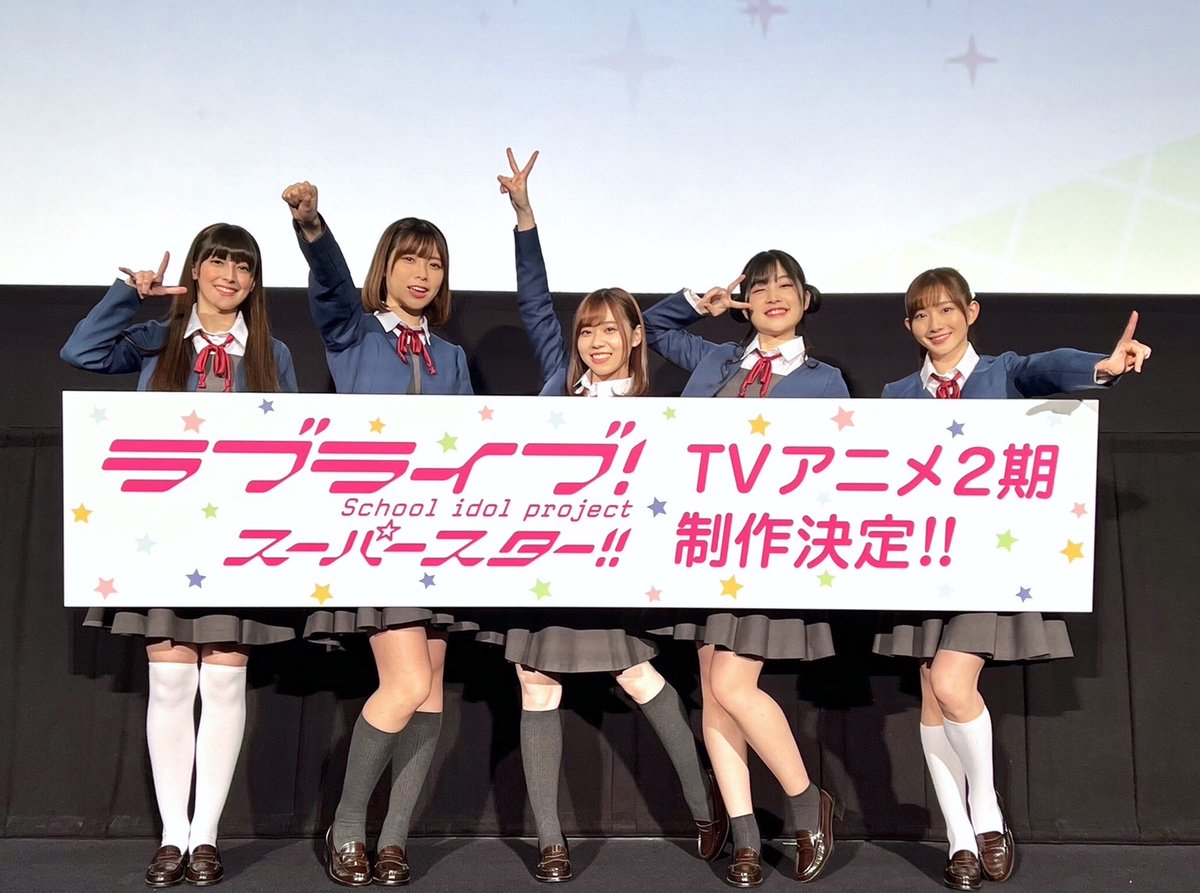 HEADLINES
Alright, let's check out the things recently happened in the past weekend, and this week, on the School Idol Universe!
I wasn't able to attend and view the Nijigasaki Unit Live and Fan Meeting Series, notably the recent R3BIRTH First Live. But then, it is said that there are rumors and updates with regards to their upcoming projects, which also included the reveal of Shioriko's upcoming SR design in the ALL STARS game!
But other than that above, what are the other things that were spotted recently?
Nijigasaki

: Happy Birthday Kasumi!
Let us now read the birthday message for Kasumi Nakasu! Her birthday was celebrated a few days ago!
And then, since Hanayo Koizumi last week, I shall be using the new kind of screenshots from the ALL STARS game, previously from the CG shots of them! And those screenshots are from the results of the School Idol Channel Rankings, wherein the celebrant character is always the spotlight, or otherwise the top ranker!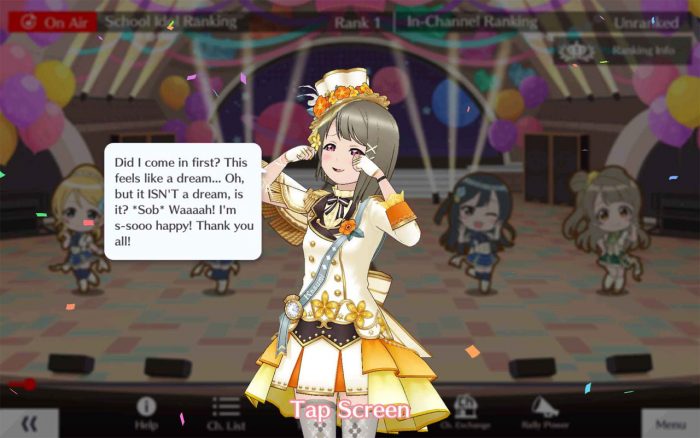 Okay, I know you are very glad and cheerful, Kasumi, but don't fake your crying tears.
It seems that as the time passes, you are getting more cuter. And at the same time, you are getting older. But then, your cute innocence has made some people around to follow and to root for you. Whatever you are doing right now, especially if you are trying to act cute and bubbly, remember to always be stronger and have a strong charismatic values that could inspire your followers, supporters, and your aspirants. I know that you cannot do them all by yourself without your friends around.
You ain't just dreaming to be the cutest of them all. You are doing it in order to be the very best School Idol in the entire Japan! Just show everything that you got, and prove that you are not an annoyance to every single people!
Happy Birthday, dear Kasumi Nakasu from Nijigasaki High School Idol Club! We fans do love you a lot! Take care and stay fit!
LoveLive! Series to Fans: Thank You for 500,000 Subscribers
【YouTube】
ラブライブ!シリーズ公式チャンネル
みなさまの応援でついに……

?\チャンネル登録者数50万人突破!!!!/?

引き続きシリーズの様々なコンテンツをお届け!
今後もラブライブ!シリーズをよろしくお願いいたします!

⇒チャンネルURLはこちらhttps://t.co/PlkccFcZXf#lovelive pic.twitter.com/YHMghawWni

— ラブライブ!シリーズ公式 (@LoveLive_staff) January 25, 2022
And then, the LoveLive! Series has finally thanked its fans when they had reached 500,000 subscribers on their YouTube channel. Somehow, their achievement is very far from expected, since they only started since around year 2010 or 2013, to be precise.
Now they had reached a half-million of their subscribers count, LoveLive! Series must strive to deliver their contents to its fans not just only within Japan, but in other parts of the world. I hope that they would make some of their ongoing shows for everyone else worldwide available for watching, as similar to the one YouTube channel that I had been following likewise that has at least 2 million subscribers.
In other words, congratulations, LoveLive! Series!
Please give your love and support to the LoveLive! Series, by subscribing to their YouTube channel! The YouTube link is already given from the source embedded Tweet above!
Nijigasaki

: Unit L&F Series – R3BIRTH ~First DELIGHT~
【#一緒にFirstDELIGHT】
「UNIT L&F vol.4 R3BIRTH 〜First DELIGHT〜」DAY.1公演同時視聴会にご参加いただきありがとうございました?
アーカイブ配信は1/30(日)まで✨
DAY.2公演の同時視聴会は1/30(日)19:00開始なのでお楽しみに?

?配信チケット↓https://t.co/FkMsEeShru pic.twitter.com/xRa68dnRB5

— ラブライブ!シリーズ公式 (@LoveLive_staff) January 25, 2022
So then, congratulations to these three girls on making their very-first sub-unit live performance a success and a hit! And then, sadly, I wasn't able to watch on their live performance last week due to my budget concerns! But anyway, that could be not my problem, for now.
Speaking of their recent Unit Live and Fan Meeting, the songs set list has been revealed, as seen from the series of Tweets from the LoveLive! Series Twitter account itself! What are those songs, in no particular order? You can see this table below!
MONSTER GIRLS
Ketsui no Hikari
I'm Still…
Toy Doll
Queendom
Ye Mingzhu
Aoi Canaria
MONSTER GIRLS (same as the first)
TOKIMEKI Runners * #1
Love U my friends
Zensoku Dreamer
Miracle STAY TUNE! * #2
Just Believe!!!
#1 – They performed it with the 9 other girls for the first time, but in short-sized version.
#2 – They performed it without the other nine girls, as a R3BIRTH sub-unit only.
All noted songs have appeared on the previous Countdown LoveLive! live performance.
【#一緒にFirstDELIGHT】
ソロパートラストを締めくくるのは栞子の第2弾ソロ楽曲?
初披露の衣装&MVにもご注目?

07.翠いカナリア / 三船栞子(CV.小泉萌香)

?楽曲試聴はこちら↓https://t.co/SxJHn02UBp

?配信チケットはこちらから↓https://t.co/FkMsEeShru#lovelive #虹ヶ咲 pic.twitter.com/TOOjH4t0mq

— ラブライブ!シリーズ公式 (@LoveLive_staff) January 25, 2022
So far, those were the information that I had gathered through the feed! There are some announcements that were made after their live performance, which also included Shioriko Mifune's upcoming SR design, in which it shall be revealed later on the ALL STARS Highlights in this Episode! So, make sure to continue reading until the very end!
And also, given that if you had purchased previously a paid streaming ticket to watch their live performance last week, you can always watch the archival replay! Make sure to rewatch it just for fun! And to mention, the archival replay of their paid streaming shall last until January 30, 2022 JST (Sunday)!
And once again, congratulations to this Nijigasaki Sub-Unit Group! You shall be seeing them soon on their upcoming Nijigasaki 4th Live this February 2022!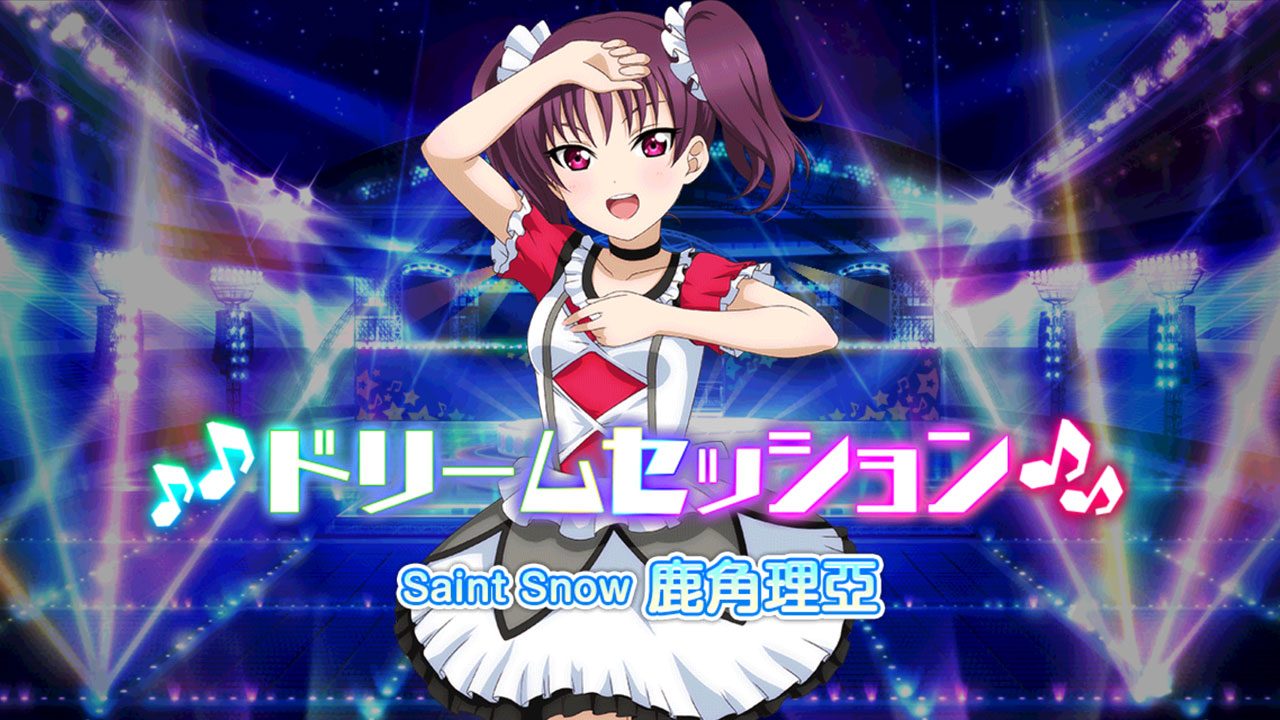 LLSIF HIGHLIGHTS
I really know about it. But then, even though that I am temporarily suspended from my Event Grinding, I am still having a hard time when it comes to my own schedules! And then, to give you a heads up, my suspension shall be lifted once this month ends!
So then, I have learned something during my suspension, and I do really observed that my strategy of mine seemed to be effective. This shall give me enough time to strengthen up and upgrade my current teams in both of my account sides in the LLSIF game!
But other than those updates of mine, what are the other things that were recently spotted during the past weekend, and this week on the LLSIF game? Be sure to check it out!
Round 32 Challenge Festival (Final)
So far, I did absolutely nothing in this Event. But then, I just keep visiting the Event page to eavesdrop with the rankings of my friends in the list!
Remember to grind for more Event Points as hard as you can, so that in order for you to sustain higher ranks and to receive better rewards when this Event ends!
Don't still have an idea on what to do in Challenge Festival Event? Read this!
And then, expect a DNP result from my JP Side soon via my Twitter account. In fact, I am already be lifted from my temporary suspension, soon, once this month ends. And this ends the highlights and updates for this Challenge Festival Event! Next week shall be an another Event, in which I shall make my comeback, soon!
Inori-D's Special Mission – The Rundown! (Final)
My conclusion to my special mission has finally came! In fact, I had finished everything on what I had to do during with my temporary suspension in my Event Grinding for this month!
But then, here are some rundowns and details on what I had done this time around.
In Round 15 Live Arena, I had only finished barely the Special Sessions. At least 53 Special Sessions were completed in the JP Side, while the Global Side got only 34 of them. It seems that I have to got to focus more on the grinding on this part, from now on. But then, I am just needing more LA SIS items through Scouting or purchasing them from the Live Arena Shop. It seems that I have thought of an idea on how to maximize my current balanced team (notably my Aqours-only Smile Team) very well. I am just needing some corresponding LA SIS items in order to use them for my said team in the Live Arena! Well, it's about time to experiment on different things.
And then, it seems that my current meta team that I had formed recently is still lacking something, though that I had already some G2-Tier Score Up URs that has matching Rhythm Icons counts to my other UR units. Been observing that lately, since the scoring output is just way too lower than my previous meta team that has only normal scoring capabilities (Non-G2-Tier Score Ups). So then, my other highlight here is that I had scouted for an another limited UR in my Global Side. Assuming that URs Maki and Yohane were already in my stable, given that they were G2-Tier URs, I am needing for an another G2-Tier UR in order to keep up with these G2-Tier Score Ups. Basically, in order to master these new powerful URs in your team, you need something powerful in order to match them! For this time around, I had scouted recently for UR Chika, who is falling under the G2-Tier already, as a Skill Level Booster. But then, that was the time that I had purchased some Scouting Ticket packs from the Shop with my cash on hand. That time, I got only about 67 remaining members in the Box Scouting to draw her out. At least, they were all consumed, and I had acquired her finally. I have learned that having this G2-Tier SLB could increase the advantages of having not just only powerful scoring output, but the advantages are also increased when it comes to activating that Scoring Skill at a given chance. My UR Eli's Skill Activation Chance Rate Up Skill is still not enough, if I don't have some G2-Tier SLB URs like Chika.
So then, this truly concludes my rundowns and highlights for this Special Mission of mine! It seems that I am done with the objectives, and I am well ready for my next move soon, in the coming month!
The New Trendy Meta Team in LLSIF
So then, what's new in LLSIF today, aside from its new features and exciting campaigns? Of course, aside from these Limited UR Box Scouting banners that has already featured "autographed" URs, especially the G2-Tier URs, grinding for higher ranks in Score can be more serious and more difficult from now on.
It is because, this new powerful meta team has become the new "trend" of LLSIF, in which you could climb up higher ranks in the Score Rankings of every Events with your tremendous Score values.
What is this new trendy team in which it has become a new meta since then? It is commonly known as the "Encore Score Team". Please refer to the embedded Tweet below for some pictures as references!
【LoveLive! SIF】

"The New Trendy Meta Team"

Almost all of the top rankers in Score Rankings on every Events are now using this trendy meta team. ?

Not anymore you could find other "chopsuey" teams used in top Event Score Rankings. ?#lovelive #スクフェス #LLSIF pic.twitter.com/1lh2QPW0Q0

— INORI DONZ | Inori-D Station (@InoriDONZ) January 27, 2022
As you can see, I had used a team consisting of the following, in no particular order:
4 Encores (Skill Repeaters), namely 3 Sumire and 1 Chika
2 G2-Tier Score Ups, UR Maki and UR Yohane
1 Skill AC Up, Eli
1 G2-Tier SLB (Skill Level Booster), Chika
1 SLB, Honoka
You see the photos for reference, from the embedded Tweet above.
For the Encores, or Skill Repeater URs, I have used at least 3 URs of Sumire Heanna here, in which I had acquired them a long time ago since their debut in the LLSIF world. Sumire has at least 27 Rhythm Icons (RI) count to activate her "Skill Repeat" Skill. And that RI count doesn't change irregardless of Skill Level. For my UR Chika, who also has the same Skill as my 3 Sumire URs, she also has the same RI count and activation chance rate as in my 3 URs of Sumire.
For the 2 G2-Tier Score Up URs, namely Yohane and Maki, they have an RI count in which they are higher than the RI counts of my Skill Repeaters. They have at least 54 RI counts, and my Skill Repeaters do have only 27. But then, they are still going to work, so as long as their RI counts will do match with the Skill Repeaters that I have. From the beginning, I had told you about these G2-Tier Score Ups, with regards to their higher RI counts. So then, going back, my URs Yohane and Maki has 54 RI counts, and my Skill Repeaters do only have 27 RI counts. If you look at those numbers, 54 is actually divisible by two. So then, the result shall be 27, and they could likely be having a chance to trigger along with these Skill Repeaters that you have in your team! Of course, they would literally be doing a "Score Bomb" effect, in which your Skill Repeaters will just repeat the Score Up skills of your URs, if it happens that they had triggered last during the live show play!
For the Skill AC Up UR that I had used (Eli Ayase, 7th Anniv. UR), her role would be just increasing the activation rate of the Skills, notably the Skill Repeaters in my team. And also, she increases the activation rate of my Score Up URs whenever necessary.
And finally, for the SLBs. This could be the main foundation of your team, in which it depends on. It is because it increases the Skill Levels of your current URs in your team. And then, aside from the fact that it increases your scoring values and capabilities, it also increases the Skill Activation Chances on a given Skill Level. If you had read previously the last Episode that explains further about G2-Tier URs, you could even understand them, when it comes to boosting your URs current Skill Level during the live show play.
And then, with this kind of team setup and the URs needed in order to build this meta team, you could really dominate in the Score Rankings of every single Events!
So then, what could be some tips on how to create your own meta team, known as the "Encore Score Team"?
Firstly, at least 4 Encore (Skill Repeaters) URs are needed. But then, it is recommended that you need 5 of them, in order to score higher and efficient. And also, having different attributes in your Encore URs can be fine, but having same attributes when you face a same attribute song (i.e. Smile Team vs Smile Song) is better if you want higher score. And also, in order for your "Score Bombs" to work properly, you must definitely match the Skill Levels of your Skill Repeaters. If the Skill Level of your one Skill Repeater UR is at Level 6, of course, the Skill Levels of your other Skill Repeater URs must be the same at each other.
And then, since your meta team is having no Perfect Lock skills of any kind, in which they can help you to avoid the odds of getting a GOOD or BAD notes, then you have to equip them with some accessories in which it can give you an "extra" Perfect Lock Skill, should their Skills failed to trigger. Equipping some accessories with Stamina Heals can be also a plus, if it happens that you want more Perfect Tap Score increase with the relative number of Stamina overflows during your live show play.
And for my last tip, always prioritize in increasing the Skill Levels of your Score Up URs first, given if your Skill Levels of your Encore URs are high enough to repeat them. Since not able to reach at least Skill Level 8 (the maximum initial Skill Level) can likely give you some disappointing and frustrating results, such as your scoring outputs being lower than the average. And don't mind of landing a Full Combo finish at all when playing. Finally, it is really recommended to play with these URs on a higher difficulty — notably in MASTER songs!
Most probably, there are lot of tutorials and YouTube videos around. So try studying with them, if you got time. And for my tips above, these were just the partial ones that I had known and observed so far when I was playing. But just in case, you may read and learn them as reference!
And this ends my highlights about this! At least, you got now an idea on what URs you should be needing in your team! And finally, don't throw away your older URs! They do still have a purpose, you know? And then, don't just rely on the power of your Encore Score Teams too much to dominate on everything.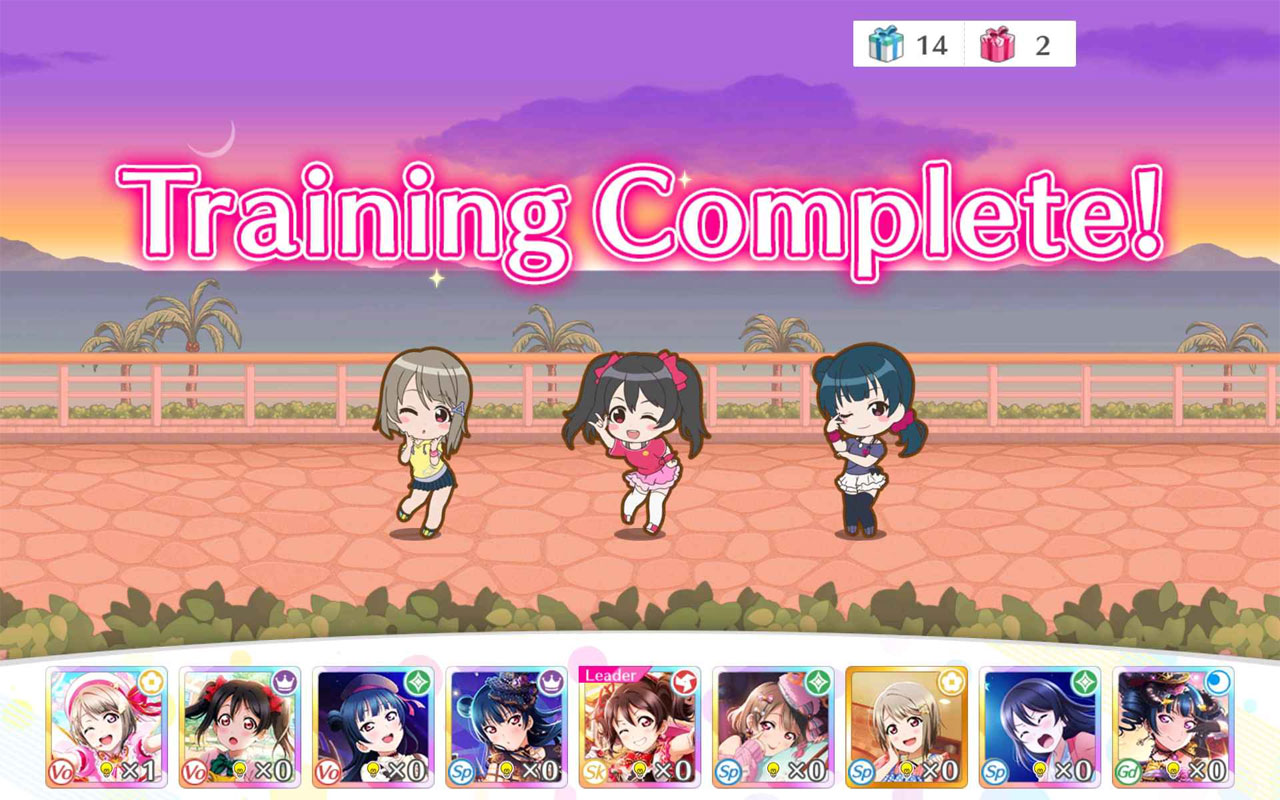 ALL STARS HIGHLIGHTS
For this part, I had observed that I am seeing no improvement at all when it comes to my Event Points Grinding strategy of mine. But then, when is the time for me to improve my Event Points Grinding strategy? I am just really hoping that I could have some extra time to do this, but my current schedules today were already preoccupying me.
So far, what were the highlights and updates that were spotted during the past weekend, and this week? Find out!
STORY: Lost Kitten (Final)
It seems I am getting used to play harder, somehow, even though that I am a bit lazy. And then, I was able to discover and realize something as I attempted to play and grind for this Event.
Right now, as written in the previous Episode, this Event shall be focusing more of the usage of your Skip Tickets, rather than playing in the Event itself in order to grind Event Points. Higher difficulties can able to give you a lot, as usual. But then, I was trying my best to strive to play harder, and to climb up higher ranks in this Event.
As of today, I am trying to do my "autoplay" strategy on some songs that I am able to finish without the usage of my SP Voltage Skill, as well as landing a perfect Voltage Rank S on those songs. And that is, for me, my only efficient way in grinding more Event Points without even using your Skip Tickets. And, at the same time, to play without even holding or touching your device. I just try to keep in mind that I must use this strategy only on some songs that don't have SP Voltage Skill ACs (Appeal Chances).
Seemingly, I am getting used in this new Event Grinding strategy of mine, given that I have already two different devices to play with. For now, I shall be focusing to grind in this Event, on the Global Side.
Meanwhile, my JP Side is just doing the usual Skip Tickets usage strategy. In other words, I am too lazy to grind in my JP Side, and I am just doing and finishing the Dailies. And I have to keep also in mind that I must need to get the featured Event UR reward before the Event duration ends.
This Event is just ending in two (2) days, just after this Episode was published. I am going to just give to you the final results of this Event through with my EVENT REPORT Tweet on Twitter, along with my JP Side! And this ends my updates and highlights with this Event!
Shioriko's Upcoming SR Rarity Design Revealed!
? #スクスタ 最新情報をお知らせ!?

◆「翠いカナリア」衣装が、SR三船栞子の覚醒後衣装として2月に登場!
◆ついに2周年キービジュアル衣装が登場? ニジガクverの販売は2/14(月)から!https://t.co/qLaMn6aysg

衣装を着せて、彼女たちの最高のパフォーマンスを見届けよう?#lovelive #虹ヶ咲 pic.twitter.com/bge3FmHyUE

— ラブライブ!シリーズ公式 (@LoveLive_staff) January 23, 2022
And then, to add up some details from the headlines above, the upcoming design for the new Shioriko SR has been revealed! This was revealed and previewed at the end of the U&F Series of Nijigasaki, namely for R3BIRTH.
This upcoming SR of Shioriko Mifune, in her "Aoi Canaria" costume, when idolized, is set for a February 2022 release! Stay tuned at their feed for more information, or by referring to your in-game notifications!
And to finish, the costumes that appeared on your game's title screen, shall be available as changeable School Idol Costumes starting on February 14, 2022 JST (Monday, probably after the patch update and the Event)! Everything else is already previewed on the embedded Tweet above, otherwise!
School Idol Channel Weekly Bulletin
Today, we shall be revealing the top rankers in this week's School Idol Channel Rankings! It is pretty obvious that the birthday girl shall always win on the top one rank! But then, who were the other School Idols that made it through the top ten this time around? Read more below to find out!
JP SIDE – ROUND 43 (January 17 to 24)
| RANK | SCHOOL IDOL | GROUP | AVERAGE CHEER POINTS |
| --- | --- | --- | --- |
| 1 | Kasumi | Nijigasaki | 19,077 |
| 2 | Setsuna | Nijigasaki | 4,397 |
| 3 | Riko | Aqours | 4,058 |
| 4 | Yoshiko | Aqours | 4,042 |
| 5 | Kotori | µ's | 3,950 |
| 6 | Ayumu | Nijigasaki | 3,811 |
| 7 | Kanan | Aqours | 3,635 |
| 8 | Shioriko | Nijigasaki | 3,524 |
| 9 | Rina | Nijigasaki | 3,376 |
| 10 | You | Aqours | 3,295 |
GLOBAL SIDE – ROUND 30 (January 17 to 24)
| RANK | SCHOOL IDOL | GROUP | AVERAGE CHEER POINTS |
| --- | --- | --- | --- |
| 1 | Kasumi | Nijigasaki | 9,165 |
| 2 | Setsuna | Nijigasaki | 3,885 |
| 3 | Shizuku | Nijigasaki | 3,712 |
| 4 | Kotori | µ's | 3,617 |
| 5 | Eli | µ's | 3,453 |
| 6 | Kanan | Aqours | 3,304 |
| 7 | Dia | Aqours | 2,942 |
| 8 | Rina | Nijigasaki | 2,811 |
| 9 | Chika | Aqours | 2,755 |
| 10 | Hanayo | µ's | 2,747 |
In the past weeks or Episodes, there are common School Idols who were always dominating in the School Idol Channel Rankings, whether in JP Side or Global Side. And that was observed when I was browsing the previous channel ranking results! Who were these School Idols?
In my observation, the common School Idols who were always dominating in the top ten ranks would be Setsuna Yuki from Nijigasaki, and Kotori Minami from µ's. But then, those were only my projections and predictions!
Since there is no nearby date on when that certain School Idol's birthday shall be yet celebrated, the players today are free to choose on which School Idol Channel they should enter. So then, whatever results I had gathered on the next School Idol Channel Weekly Bulletin, it shall be posted and be explained accordingly! Cheers and good luck!
ALL STARS Festival Gacha/Scouting
?スクスタの最新情報を紹介!?

先ほどの生放送内にてお知らせした最新情報を改めてお知らせ!
1/30(日) 15:00から、スクスタフェスを開催予定?
URは果南ちゃんとミアちゃん?https://t.co/yZgkDmaK4T

ミアちゃんのフェス限定URは初登場✨#lovelive #スクスタ pic.twitter.com/1m7I3YK6QZ

— ラブライブ!シリーズ公式 (@LoveLive_staff) January 26, 2022
As seen and previewed from a recent Nijigasaki Livestream, dated from January 26, 2022 (I wasn't able to watch it live), the upcoming Fest UR of Mia Taylor has been scheduled for a confirmed release date.
Her release date is on January 30, 2022, right after the "STORY: Lost Kitten" Event, and after the patch update. Be sure to scout for her, if you really needed her for your Voltage-related and AC-related problems in some songs! And make sure to scout also for the other Fest UR (Kanan) and the other featured SR (Rin) as well, who shall be appearing along with Mia!
Scouting for them is really optional. But there are some reports already that the "newer" Song Stages are getting more difficult and notorious, in terms of ACs and other song gimmicks or tricks. In other words, scout whenever necessary.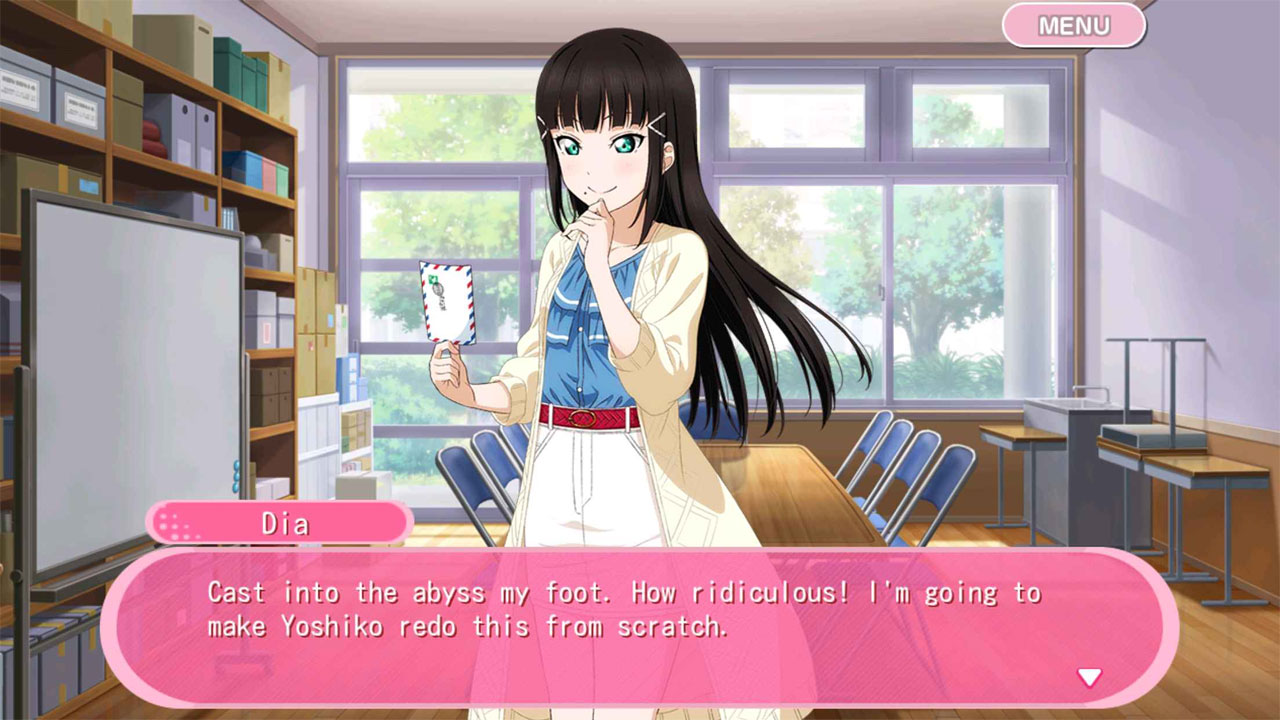 EXTRA CORNER
Today, we shall be revealing the answers to the Questions #3 and #4 of the SIF Quiz, as written and seen from the previous Episode! Alright, let's reveal and explain them each!
Question #3: Ruby Kurosawa is looking for the missing playing deck cards that were scattered everywhere. She is looking for that one missing card and you helped her!

To where did the last card go?
Answer: B. Between furnitures
Alright, let us explain it!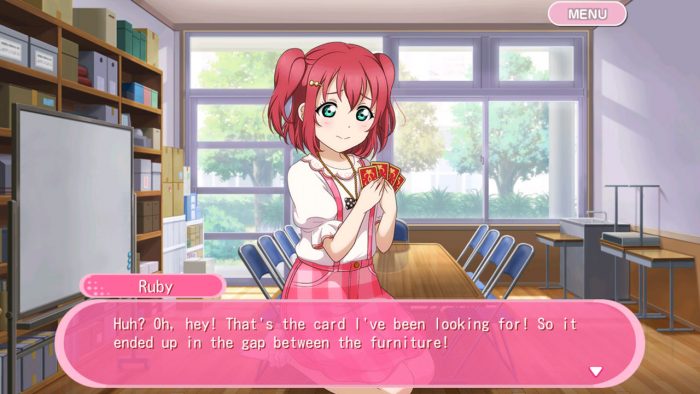 You just helped Ruby to find all of the playing cards scattered everywhere at the time when they played last. She just looked everywhere until she finds all of them! The last card was actually stuck between the gap of the furniture.
She is always playing with Hanamaru. But then, when you play with her, just let her win, okay?
For the next question, here is the answer!
Question #4: When Honoka and the members can't think of a good idea for their next PV, they decided to go on for a Hot Pot Party Session! In order to do that, they held a decision to divide themselves into three groups, just to work on different types of hot pots.

To whose group did Kotori Minami decided to go?
Answer: B. Umi's Group
For the explanation of the correct answer, please read!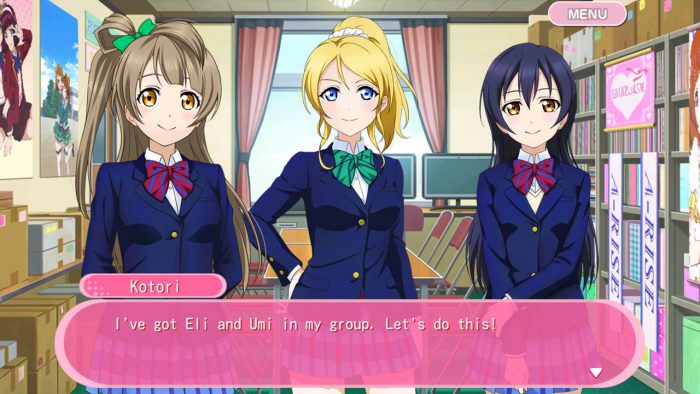 Oh yeah! I hope you got them correctly, since the hint already was on the cover pictures of their respective Event Stories in the μ's Side!
Basically, they split into groups in order to work on different types and kinds of hot pots, in which they had planned originally due to the fact that they had run out of ideas for their next PV that they are going to do and make next.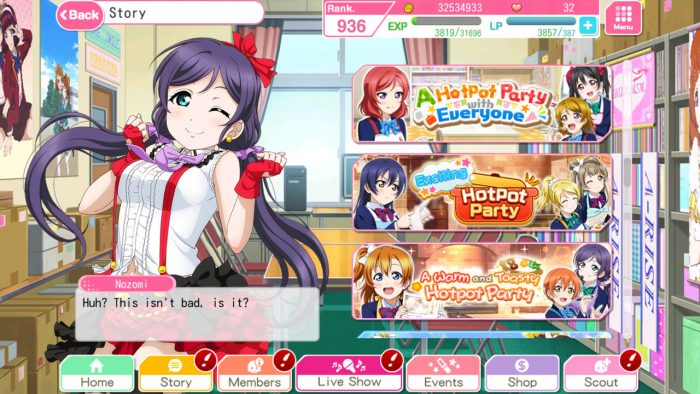 I hope that you have learned something new! And at the same time, to refresh your gaming memories with this game!
NEXT SIF QUIZ!
Do you think that you are smarter enough? One does not simply play a game by just skipping stories.
Here are the Questions for this Episode!
Question #5: You went shopping one day with Riko Sakurauchi. She wanted to go shopping to try out some "little devils" fashion. What was really her other reason to go out for shopping?
To buy sheet music for her new song compositions
To buy costume materials
To hang out with Yohane (Yoshiko Tsushima)
Question #6: In ALL STARS, what did Kotori told Chika and Setsuna about the ultimate technique without resorting each other to violence?
Patting on the head
Fist Bump
Hugging
I hope that you could answer them correctly! And as usual, the correct answers shall be revealed and explained next Episode! Look forward into it, and see you next time! And don't forget to read the last part below for the Epilogue of the Story Episode!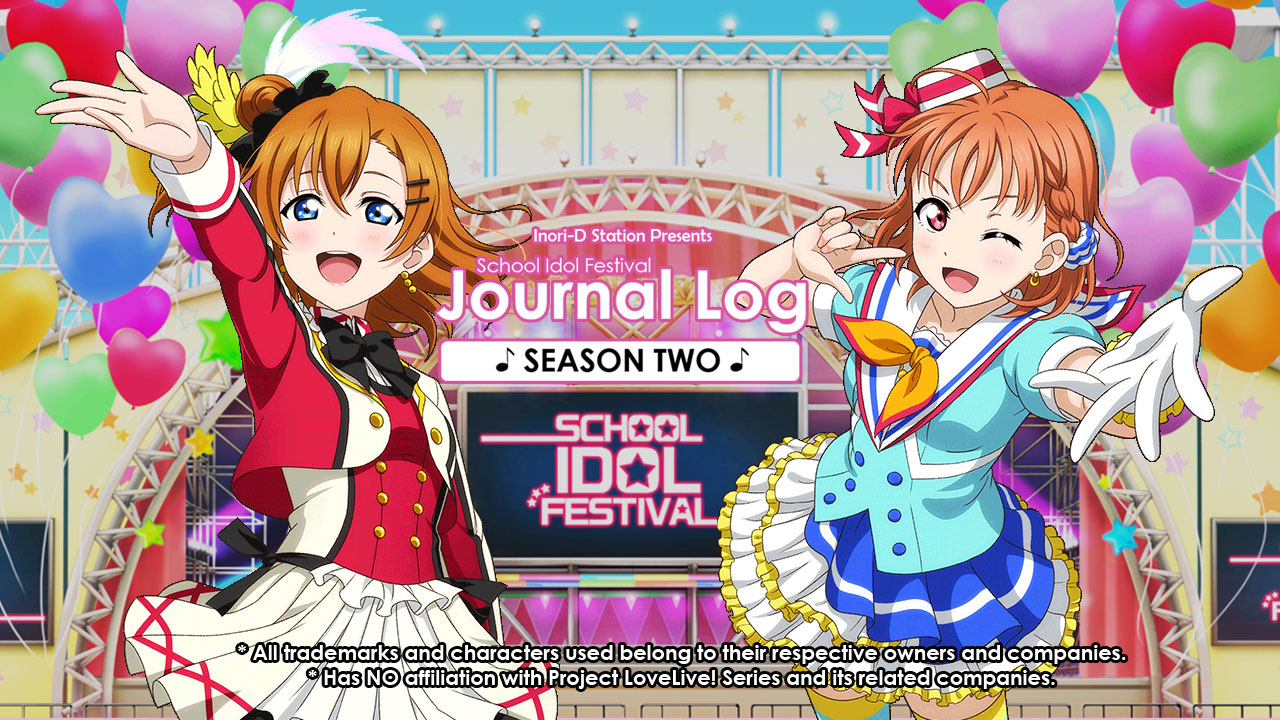 STORY EPISODE (EPILOGUE)
Earlier that time, Haruka is standing, waiting for somebody. And finally, Chiharu arrives and has found Haruka.
In a maid cafe, Haruka and Chiharu are talking, while sipping their drinks.
"What did you wish to talk and ask me about?"
"It is about my strange dream. That girl is always appearing in my dreams, and keeps telling me that I am a School Idol and a…. Um, she ain't even finishing her sentences! And after that, it is either I am falling from a higher ground, or even putting myself into danger, so as long as I am always looking at her!"
"Really? That's scary and… weird. In fact, I ain't seeing nor hearing something like that from my friends."
"That dream is always haunting me! And that person who claims to be a School Idol Oracle… She is appearing alongside!"
"School Idol Oracle… Yeah, I am hearing such weird things from you."
"Even if you said that they were not real, I can see them by myself."
"That's means your heart and mind isn't clear, right? Maybe resting yourself in the bed is the best option!"
"Anyway, thank you for answering my weird and silly questions! It looks like I just needed to consult a psychiatrist."
"I am just really preparing for our live performance, in which it can serve as our entry to the LoveLive! Finals!"
"Oh, and good luck to you in the LoveLive! Finals! I hope that your fans could even reach out to support you!"
"We are always getting our love and support from our fans, especially from our fellow School Idol friends from other groups."
"Is it possible that School Idols from other groups can support each other? I think, only the fans within your group and school can…"
Chiharu stopped her words when she had realized something. Then, Haruka asked her.
"What is it? Did you realize something? Did you find out the answer to your questions?"
"I see… Now, I understand! School Idols, whether friends or rivals, can support at each other! Which means… I finally found my answer to my question!"
"Eh??"
"Thank you, Haruka! I will definitely support you until the LoveLive! Finals! Good luck!"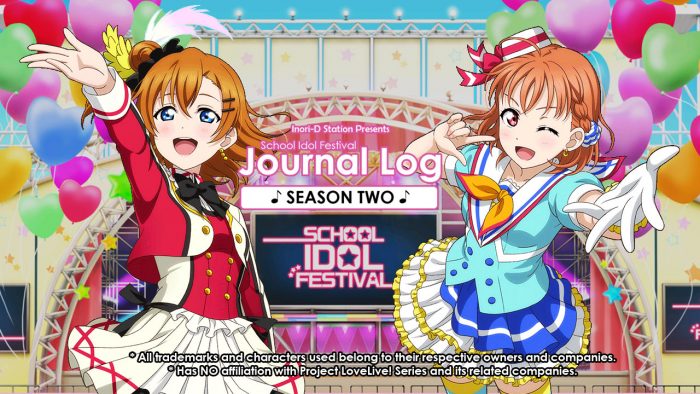 NEXT PREVIEW
Another way to support your favorite School Idol Group is by buying their official merchandise and their character figures. Somehow, they could make you happy as always, and they were always there for you! However, there shall be always some downsides whenever you get them successfully in your hands. Just be careful on what you spend, though.
Next time on School Idol Festival Journal Log SEASON TWO, "Merchandise Hunter".
EPISODES ARCHIVE (SEASON TWO) BACK TO HOME PAGE