EPISODE 03: A Passionate Player
Whenever we are disappointed or frustrated, remember that there are always people, notably your friends and family, who are just around to help you. You can't really just achieve that difficult goal of yours if you are just doing it alone by yourself.
This Episode is about being a passionate player, who will do everything to be the very best!
Let us start the third Episode of School Idol Festival Journal Log SEASON TWO on IDS! Okay, hajimemashou~!
CONTENTS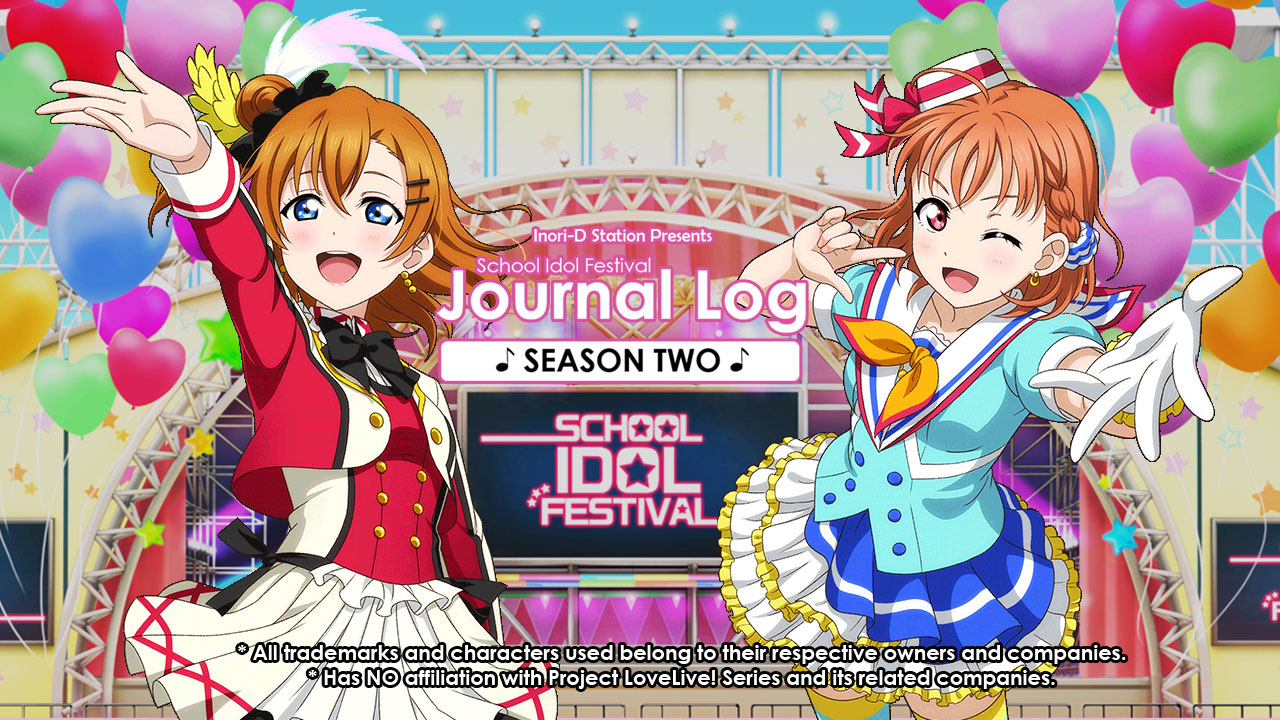 STORY EPISODE
As Chiharu and Lierre have met, they continue their conversation.
"Oh well, I am continuing to see more weird things. Just as weird as my dream last time. By the way, I am Chiharu Umiboshi. I am a student from Shinonome Academy."
"So then, how about we go somewhere else while we talk?"
"Oh, sorry. But I have to go home early because I got a lot of things to do tonight, aside from shopping and groceries."
"Okay, I am not really in a rush to talk with you. But anyway, just be careful on your way home."
"Thanks! And take good care of yourself!"
"I will. Just always watch out your surroundings."
After that, she left. Then Lierre looks on her digital tablet.
"So then, it is really fated that she will meet those people in the future."
That time, it was already a weekend, and most people are moving around and are busy.
A certain guy is sitting down on a seat inside a coffee shop. While taking a sip on his coffee after, he was playing his favorite rhythm game.
Then, his two friends are also sipping their own coffee along with him.
"Hey, how long are you going to play like that? In fact, I want to go somewhere else!"
"Basically, he was just getting frustrated when he can't indeed finish or achieve something."
And then, he has finally finished playing. Then, he talks with his two friends.
"Hah, I knew it. I am going to screw up my Full Combo Finish at the end. Is it frustrating when you are almost close in winning, yet something will eventually come out and make you lose in the end?"
"Yeah, something like that. And we call it as turning the tables around, Takayoshi."
"In my opinion, it always happens at every single matches, not just video games or at your rhythm game that you are playing."
"This is absolutely frustrating. Anyway, where are we going now next, Seiba and Mitsu?"
"Right now, we have to go to that place. And that place is where they could do a free live show!"
"Free live show? In my opinion, they shall have it for their upcoming major live performance in the next two months!"
"So then, are they teasing us with their new, explosive live performances?"
"Definitely! In fact, they have a campaign where you could obtain a certain item once you are on that venue!"
"Really? Then, I have to go to that venue in order to get that item, too!"
"I see. So, that upcoming free live show performance is on the school grounds of Nijigasaki High School. I know that there are a lot of people there later!"
"That's right! And that live show is only one time! We have to go before they go away!"
"Right now, let's go there, Takayoshi and Seiba!"
After that, they stand up and they left the coffee shop.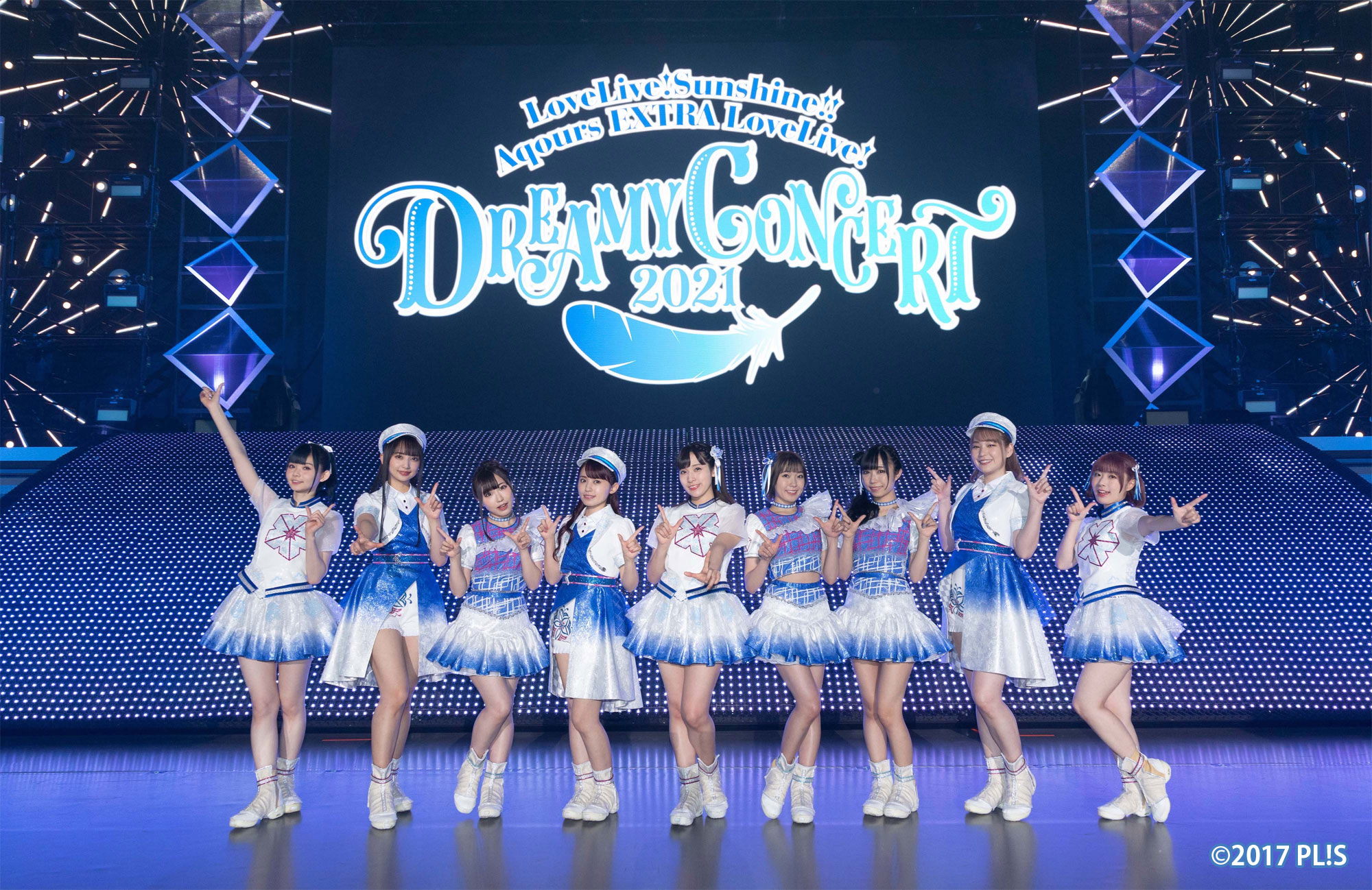 HEADLINES
The party is still not over! In fact, there are still a lot more mass-gathering live events incoming! Be sure to check them out below for some information!
Right now, let us proceed to the happenings in the School Idol Universe! Check them out!
(TOMORROW)

Nijigasaki:

Unit Live & Fan Meeting Series – R3BIRTH
Basically, this highlight is just a detail from Episode 1! Except, it is happening tomorrow at weekends!
【?Paid live streaming?】
"Love Live! Nijigasaki High School Idol Club UNIT LIVE & FAN MEETING vol.4 R3BIRTH 〜First DELIGHT〜" Ticket is now available?

Tickets for overseas↓

■PIA LIVE STREAMhttps://t.co/G233sKkH82

■eplus「Streaming+」https://t.co/DAcKHwbV2u pic.twitter.com/ch2sGY1CD1

— ラブライブ!シリーズ公式 (@LoveLive_staff) January 14, 2022
And if you had managed to purchase a ticket for the paid streaming event, enjoy! Enjoy watching these three humorous girls of Nijigasaki High School Idol Club, dancing and singing in one stage!
This could be their last Unit Live and Fan Meeting performance in a series! Their next appearance shall be on the Nijigasaki 4th Live this coming month, in February 2022!
Liella!:

Sunny Passion Appears!
【?CD情報②?】
/#SunnyPassion
TVアニメ「ラブライブ!スーパースター!!」挿入歌
「HOT PASSION!!」
2022.2.2 On Sale!
\
試聴動画を公開✨
CW曲「Till Sunrise」初公開です?https://t.co/WhRLbT6WKI

是非予約して確実にゲットしてくださいね?https://t.co/rrEnxcZzr6#lovelive pic.twitter.com/34Eq7vqRH9

— ラブライブ!シリーズ公式 (@LoveLive_staff) January 16, 2022
After the happenings on the previous Tokyo Additional Performance last week of Liella! First Live Starlines Tour, Sunny Passion has revealed their upcoming single, as main rivals of the Liella! School Idols!
The title of their single album is "HOT PASSION!!", and that was already used in the Anime series itself! That album single shall be released on February 2, 2022! That song, as well as its coupling B-Side song, has been up and can be previewed on YouTube!
And there is always a chance that these songs might appear as well, on the LLSIF and ALL STARS game!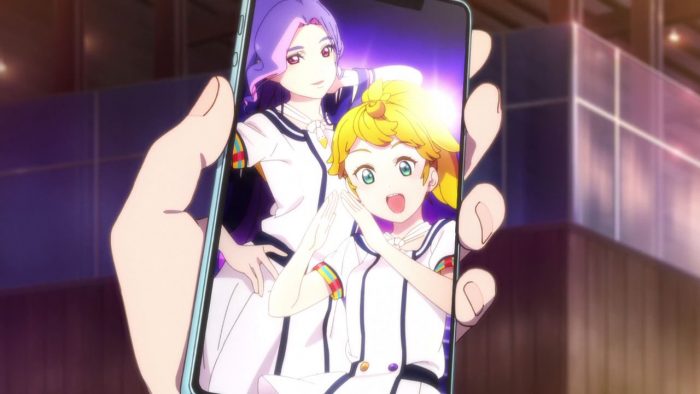 About Sunny Passion
Sunny Passion is the name of the main rival School Idol group of Liella! that appeared first in the LoveLive! Superstar!! TV Anime series. This group was only consisting of two members, and they are the following:
Yuuna Yuki as Mao Hiiragi
Chihaya Yoshitake as Yuna Hijirisawa
?#Liella_東京追加_Day2?
ラブライブ!スーパースター!! #Liella! First LoveLive! Tour ~Starlines~
東京追加公演Day2のアーカイブ配信開始?

⏰~1/23(日)23:59
?配信チケット詳細↓https://t.co/82keZoVaal

ぜひ何度も堪能してくださいね?
配信限定の特別コーナーも要チェック?#lovelive pic.twitter.com/zLdRzfiOT3

— ラブライブ!シリーズ公式 (@LoveLive_staff) January 16, 2022
Their first appearance as voice actresses was seen during the recent Liella! First LoveLive! Tour ~Starlines~ Event, on the Tokyo Additional Performance at Tokyo Garden Theater last January 15 and 16, 2022.
μ's:

Happy Birthday, Hanayo Koizumi!
And then, this was already done a few days ago, before even this Episode was published! Right now, let us read a birthday message for Hanayo, from μ's! Happy birthday!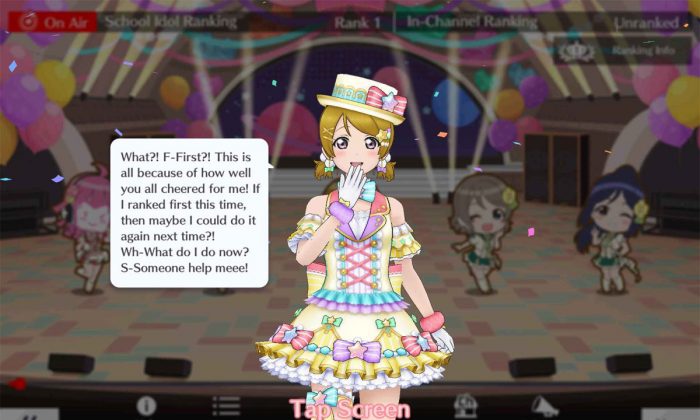 We fans love you, Hanayo, our dear School Idol!
You have proven, indeed, that you are definitely not the weakest one! In fact, you have really grown out mature so much. As you have truly become a legend now, why not share some of your good and kind values to everybody, at the time that you are still an early newbie? I am talking about your good and kind values, as a School Idol.
I hope that you could be an example to every people, and to every aspirants, who would like to try to follow your footsteps, as either School Idols or fans!
Happy birthday, dear Hanayo Koizumi! We fans do really love you. And when the time that you are always saying that you need some help, then it is our turn to seek help from you!
God Bless you, dear brave daughter of μ's!
Nijigasaki:

Kasumi Nakasu's Birthday
And also, included in this headline is the upcoming birthday of Kasumi Nakasu, from the Nijigasaki High School Idol Club! Her birthday shall be celebrated on January 23, every year!
And then, I got a birthday message for her, in which it shall be posted next Episode! Though that it shall be late, at least, I had done something rather than nothing!
Also, be sure to check out her birthday campaigns in both of the LLSIF and ALL STARS games! I am really sure that they could be useful in your team-related builds and upgrades! So make sure to scout for her, if you are really dedicated for her as a fan!
Nijigasaki:

ALL STARS Global Side (GL) Special Livestream
「スクスタGL版2周年?ニジガクテーマ別活動グローバル交流チームスペシャル生放送✨」のお知らせ

配信日:2/6(日) 12:00(日本時間)

英語セリフの投票&お便りを募集しております!
ぜひぜひこちらのフォームに記入してくださいねー!https://t.co/wbIMGKMzac

詳細は後日発表予定!#lovelive pic.twitter.com/7oArgH5CTA

— ラブライブ!シリーズ公式 (@LoveLive_staff) January 12, 2022
And finally, to finish the highlight, there shall be an upcoming special livestream dedicated for the LoveLive! ALL STARS Global (GL) version! And that special livestream shall take place on February 6, at 12:00 pm JST!
This is most likely to be streamed via YouTube, as well as on the other streaming websites! The hosts shall be Maria Sashide, Shu Uchida, and Akina Houmoto! There would be interpreters of the respective languages, so better check them out! It seems that Shu Uchida is fluent in speaking the English language, so most likely she can be an interpreter! And also, same goes to Akina Houmoto, who can speak Traditional Chinese language for fans in Mainland China, on the other hand!
This is something to watch out, since they shall be likely giving out updates regarding with the game's upcoming 2nd Anniversary, in the Global Version Side! And also, whatever updates shall the Global Side get and show to us shall be just the same as in the original JP Side of the game!
And to end, look forward into it!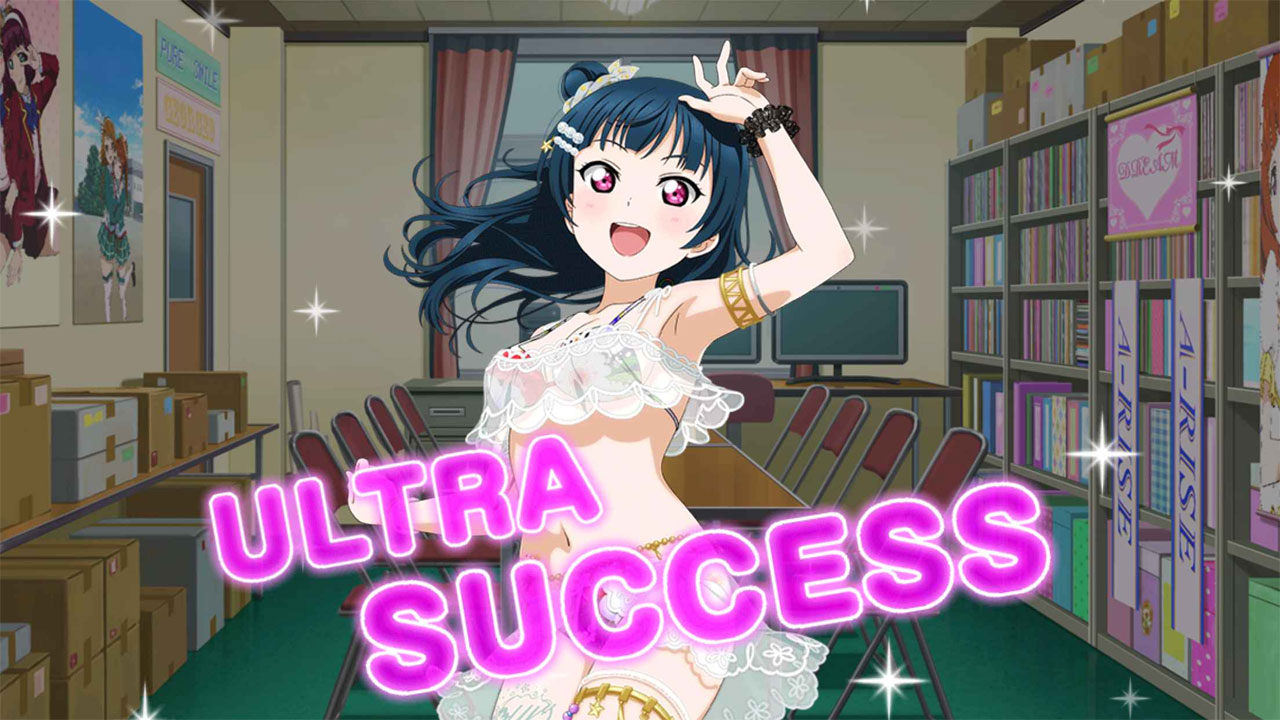 LLSIF HIGHLIGHTS
As there are lots of concurrent events and happenings that are occurring at the same time, so does to my difficulties that I am facing within this game! In fact, even though that I am currently suspended temporarily in my Event grinding for this month, I am still facing difficulties when I am trying to play just to grind for Love Gems, in order to scout for exquisite URs, especially the G2-Tier ones!
In the past weekend, and this week, it shows really on what has happened that time! Make sure to check it out by reading more below!
Round 32 Challenge Festival
【LoveLive! SIF】

<Aqours> Round 32 Challenge Festival

(1/2)

Event UR: #松浦果南
Scouting: #高海千歌 & #桜内梨子

* See next Tweet for additional details.
* Inori-D (JP) will not participate in this Event.#lovelive #スクフェス #LLSIF pic.twitter.com/gXHUjT0tjo

— INORI DONZ | Inori-D Station (@InoriDONZ) January 19, 2022
This Event in the Aqours Side has already started yesterday. And to mention, since this month has 31 days, expect it to run longer, just as same as in the last month, in December 2021!
For the Event details, it was initially revealed in the previous Aqours Livestream last January 17, 2022! The Event UR to be acquired from this Event is Kanan Matsuura, and URs Chika and Riko can be acquired through Scouting, on the other hand! Use them in order to increase your Event Points acquisition rate when you play in this Event!
Don't have still an idea on how to play in Challenge Festival? This guides and tips of mine can help you! Click here!
I repeat, this Event shall be running much longer, just like last month! And then, my temporary suspension in Event Grinding is not yet over, and shall last until this month ends! Remember to achieve higher score on your meta song, and place higher in the Score Rankings! Good luck.
Round 15 Live Arena (Final)
【LoveLive! SIF】

<Round 15 Live Arena>

As of this morning, today (Check timestamp of this Tweet), these were the total number of Special Sessions completed per account sides.

My EN Side is done with objectives. My JP Side is now my priority.#lovelive #スクフェス #LLSIF pic.twitter.com/H4SuoaF9yZ

— INORI DONZ | Inori-D Station (@InoriDONZ) January 19, 2022
For my status updates for this one, it was done through along with my ongoing Special Mission that was being carried out.
So then, in the past few days, I had been totally slacking off, even though I am not currently grinding in the ongoing Events (notably the Aqours Challenge Festival Event). But then, I had done everything that is possible to finish, for me, as of this moment.
Going back to the updates for this one, I had only done at least 27 Special Sessions for my JP Side, and only 33 for the EN Side in Live Arena. It seems not only I need some Scouting Items, like Love Gems, in order to grind and progress here. But I think grinding for more Live Arena Points, after completing a Live Session is a must here, because I shall be needing those LA SIS Items that appear monthly in the Live Arena Shop. Those would change periodically, so I must need to snatch those items, whenever I can, just before the next monthly Live Arena takes place!
So far, this is my last update for the Round 15 Live Arena part. And then, I am going to update my Guides and Tips sooner once I had made another discovery as I play! But for the meantime, use that Guides and Tips of my Live Arena Walkthrough, just for reference! Don't worry, I am gonna update it soon.
Inori-D's Special Mission – The Rundown! (Part 2)
As I had said, my Event Grinding is temporarily suspended until the end of this month. So then, I am going to rundown and highlight to you the second part of my Special Mission, while being suspended!
Mostly, my main focus right now is my JP Side, in which I have to grind harder in the Live Arena part. And I have to finish as many Special Sessions as I can! But then, aside from grinding for more completed Special Sessions, I have to get more Live Arena Points in order to get some unique LA SIS items from the Live Arena Shop. The rest are just really detailed out from the previous topic or highlight above.
Aside from Live Arena, I have to max-out as many members of other rarities (unused SRs and SSRs) as fast as I can! Maxing out their Bond Points can eventually unlock their Side Stories, in which you can get at least 1 Love Gem when you had read them! Basically, I can call this as "Love Gems Grinding" strategy, or what I call, the "Operation Kizuna Max". And then, I always remember that there are certain members and rarities that don't still have Side Stories when their Bond Points are maxed-out (Notably, almost all of the Nijigasaki members don't have Side Stories, except their Initial SRs, the TOKIMEKI Runners SRs set). And finally, to add up the details from the last sentence, Persona Series-related members, and the ones that appeared from the Countdown LoveLive! Event, don't always count with the Operation Kizuna Max strategy of mine.
And that wraps the rundown and details of this highlight, in the LLSIF Highlights! Basically, having and finishing the First and Second parts do not really mean that there will be no Third.
The G2-Tier URs – Part 2
Previously, we had talked about on what are these G2-Tier URs that are appearing, as well as the kinds of it! Also, in the previous Episode, we had explained on what are the characteristics of a typical G2-Tier UR, in terms of Score Up Skills!
Today, in this second part, we shall talk about on the other kinds of G2-Tier URs that you could expect to encounter in the future, especially on the game's upcoming 9th Anniversary Celebration Campaign.
G2-Tier Skill Level Boosters
【LoveLive! SIF】

So what are these exquisite, yet never-seen-before URs that has powerful Skill values? In the past days, I had declared them by myself by calling them as "G2-Tier URs".

To be detailed on #IDS_SIFJL S2 this Friday.#lovelive #スクフェス #LLSIF pic.twitter.com/7hKDyn15az

— INORI DONZ | Inori-D Station (@InoriDONZ) January 12, 2022
In the previous Episode, I had teased you with an embedded Tweet, which features UR You Watanabe's Skill Level Booster Skill. The fact that she is considered as falling into the G2-Tier category already is that her Skill Level Booster skill value is powerful (Plus 6 Skill Levels) than a usual Skill Level Booster that has only 3 Levels of Skill Level Boost, on its initial Skill Level. But then, there are always benefits when getting a boost of 8 Skill Levels more, especially when playing on MASTER difficulties!
Like the G2-Tier Score Up URs, they have a very low Skill Activation Rate chance, especially at Skill Level 1. But then, supplying it with corresponding URs and accessories can help you in activating them properly, especially when playing on higher difficulties.
How can you determine if that UR is a "G2-Tier"?
【LoveLive! SIF】

<The G2-Tier URs -Part 2->

I can consider also my UR Ruby to be falling under the G2-Tier category already, due to her powerful Skill output.

And also, the Birthday UR Kasumi is considered as a G2-Tier UR already. ?#lovelive #スクフェス #LLSIF pic.twitter.com/7Fw7vvw9iL

— INORI DONZ | Inori-D Station (@InoriDONZ) January 19, 2022
To answer that question, it is quite simple.
Based from my last embedded Tweet above, it shows some other examples!
Like my UR Ruby Kurosawa from my JP Side account, it shows that her Skill output is very strong for a Perfect Tap Score Up Skill, especially when she is at her Skill Level 7. Her Perfect Tap Score Value is at most 1,000 — a way more stronger than my Party UR Chika Takami (Pure, Chika/Hanamaru Party UR) that has only a value of around 330 Perfect Tap Score Points, despite that she is already at Skill Level 7. Pretty exquisite, isn't it?
And also, to spoil you further, the UR Kasumi Nakasu from her Birthday UR Box Scouting is also a G2-Tier Skill Level Booster UR. Pretty unexpecting, isn't it?
Finally, to answer that question. You can always determine that UR, whether it is a G2-Tier or not, is that when her Skill Values and outputs are way too high or deemed powerful than the usual Standard or Limited URs that you see, especially when they are already at Skill Level 8 (The maximum possible Skill Level).
And to give you a final note of mine: The maximum possible Skill Level of any URs is always at Skill Level 8. But then, it is always possible to reach a Skill Level of a UR beyond than Level 8. But with Skill Level Boosters, the maximum Skill Level of every URs, including the G2-Tier URs, is up to Level 16. Take that note!
It seems that we can get a glimpse of a new topic to be explained further in the next Episode! It talks this time around, the new and the powerful "meta" team, in which it is indeed present now, as well as becoming the new "trend" of LLSIF, in terms of placing yourself higher in the Score Rankings of every single Events. Look forward into that, then!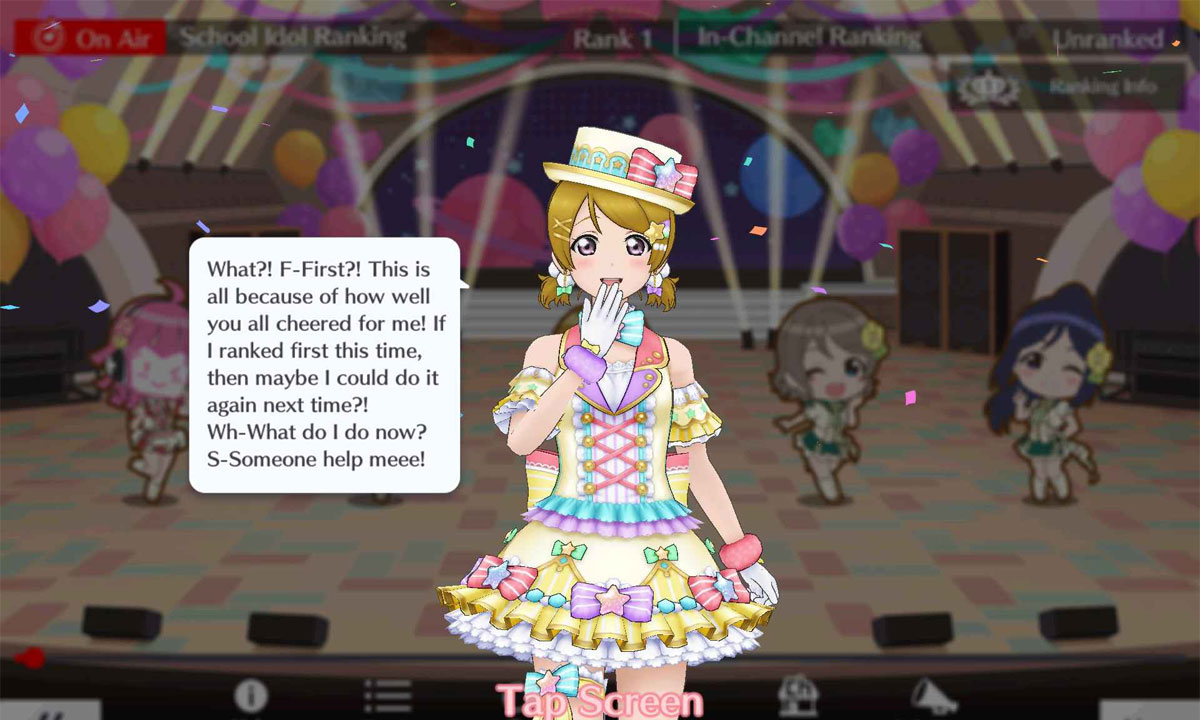 ALL STARS HIGHLIGHTS
As due to the last patch maintenance that happened last January 18th, 2022, welcome to the "new" School Idol Festival ALL STARS, kid. The publisher and developers had changed seats with KLab Inc., so does Bushiroad is now the new publisher and operator of this game. But then, while Bushiroad is the new publisher and operator, what could be the fate of the game's future?
So then, let us head on to the highlights of the ALL STARS game! What are the things spotted in this week, and in the last weekend? Check it out!
School Idol Channel Weekly Bulletin
Let us find out the results of the last School Idol Channel Rankings that were made in the past week!
JP SIDE RANKINGS (Round 42 – January 10 to 17)
| RANK | SCHOOL IDOL | GROUP | AVERAGE CHEER POINTS |
| --- | --- | --- | --- |
| 1 | Hanayo | µ's | 22,750 |
| 2 | Setsuna | Nijigasaki | 4,521 |
| 3 | You | Aqours | 4,048 |
| 4 | Ayumu | Nijigasaki | 3,694 |
| 5 | Eli | µ's | 3,524 |
| 6 | Kotori | µ's | 3,485 |
| 7 | Kanan | Aqours | 3,400 |
| 8 | Maki | µ's | 3,309 |
| 9 | Shioriko | Nijigasaki | 3,184 |
| 10 | Emma | Nijigasaki | 3,156 |
GLOBAL SIDE RANKINGS (Round 29 – January 10 to 17)
| RANK | SCHOOL IDOL | GROUP | AVERAGE CHEER POINTS |
| --- | --- | --- | --- |
| 1 | Hanayo | µ's | 12,577 |
| 2 | You | Aqours | 4,881 |
| 3 | Setsuna | Nijigasaki | 4,666 |
| 4 | Kanan | Aqours | 3,920 |
| 5 | Rina | Nijigasaki | 3,898 |
| 6 | Kanata | Nijigasaki | 3,883 |
| 7 | Kotori | µ's | 3,814 |
| 8 | Ayumu | Nijigasaki | 3,572 |
| 9 | Hanamaru | Aqours | 3,499 |
| 10 | Honoka | µ's | 3,406 |
As usual, the birthday girl always wins in the rankings! And did I already hint you before on who's the next School Idol to be the next top one ranker?
Tune-in next time for the next School Idol Channel Weekly Bulletin! Cheers~
STORY: Lost Kitten
【LoveLive! ALL STARS】

<NEXT EVENT PREVIEW>

There was a little kitten wandering around your yard. It was totally lost and hungry. If it happens that you had found one, what shall you do? ?

Next time on LoveLive! ALL STARS, "Lost Kitten". ?#lovelive #スクスタ #LLAS pic.twitter.com/1wgmt8640W

— INORI DONZ | Inori-D Station (@InoriDONZ) January 19, 2022
What had you noticed from my embedded Tweet? Instead of giving it a quick Event details summary, I had captioned it as a teaser paragraph, in which it can be a not-so-final-plot for the game's upcoming Event Episode! Yeah, just only doing imaginative things that come into my mind.
Do you want Japanese version? Here you go in this another embedded Tweet of mine!
【LoveLive! ALL STARS】

(Japanese ver.)

<次回イベント予告>

あなたの庭を彷徨う小さな子猫がいました。それは完全に失われ、空腹でした。見つけた場合はどうしますか? ?

次回、ラブライブ!スクスタ 「迷子の子猫ちゃん」?#lovelive #スクスタ #LLAS pic.twitter.com/sCmkNqrfCw

— INORI DONZ | Inori-D Station (@InoriDONZ) January 19, 2022
Going back to the details, the Event UR to be acquired is Hanamaru Kunikida, and she can be a tiger tamer when idolized! SRs to be acquired are Maki and Chika, in their respective costumes, namely Bokura wa Ima no naka de and MY Mai☆ TONIGHT, when they were idolized!
And this Event shall start on the 23rd of January, and shall last until the 30th of January, on the both JP and Global Sides of this game!
Make sure to scout for other URs and SRs featured in this Event in order to gain tremendous Event Points acquisition rate! And that is, in order for you to top-notch in the Event Points Rankings, so that you could receive a lot more and better rewards when the Event period ends!
It seems that in this "Story" Event, you are likely to be more focused in using your earned "Skip Tickets" in order to grind more Event Points quickly and easily without finishing a live show manually! Do you still have enough Skip Tickets in order for yourself to guarantee a high-ranked victory? Anything can be possible in the last minutes of this Story Event, if you dare to try your best! In other words, good luck.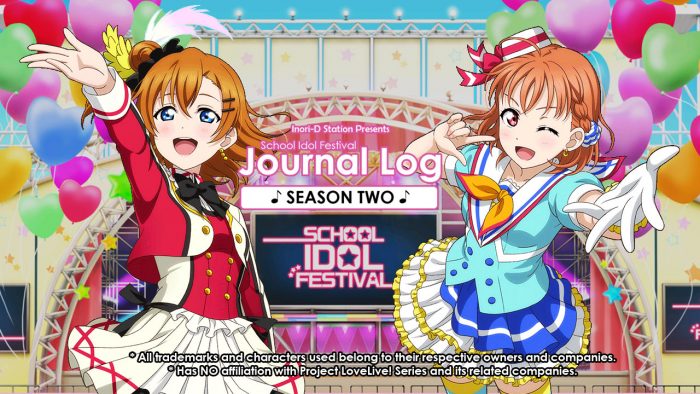 EXTRA CORNER
And so, how's the Episode going so far? In fact, we are not done yet!
So then, let us go into this Extra Corner part! We shall be revealing the answers for the first two questions in the SIF Quiz, as seen and written in the previous Episode! Here it goes!
Question #1: What was Eli Ayase's miraculous thing for her?
Answer: A. Meeting Everyone
To explain further the correct answer, please read below!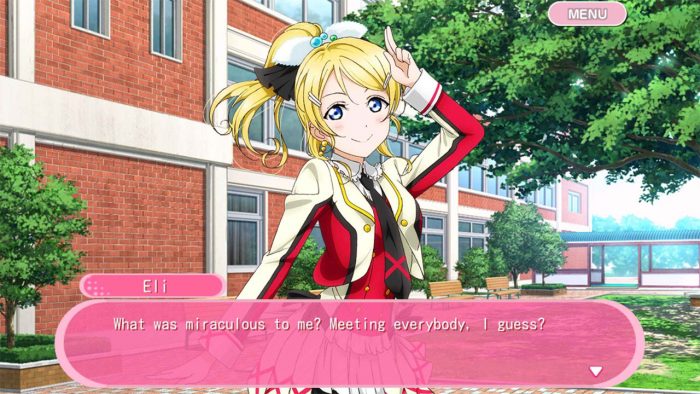 It is quite obvious when she said that, although that her response is in a guessing approach. The reason why she wanted to meet everybody is because some miracles do occur when she tries to meet and work with everyone, especially the members of μ's. Working hard, in the sense that she wanted to spend time and to bond along with her friends. But then, in the end, she knows that fun and enjoyment shall never last forever, if they keep up. And then, she realizes that as long as they were always together, they can overcome challenges.
From Eli Ayase's Bond Side Story: Small Miracles
For the second question, here is the answer!
Question #2: Who's scolding Yoshiko "Yohane" Tsushima to not write "Fallen Angel" terms when writing letters to someone?
Answer: C. Dia Kurosawa
That's right! It's her! Let's explain it further!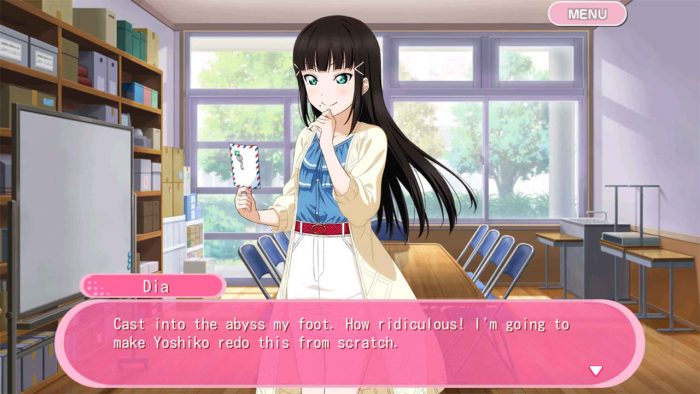 They were writing letters for people or fans who really loved to see the future live performances of Aqours. Dia is proofreading any letters written by the other Aqours members. And Yoshiko (Yohane) is the only one who is using these such "Fallen Angel" terms when writing letters to somebody, in which Dia has found it annoying and inappropriate. But then, she concluded that every people has their own style or feelings when writing letters to somebody else. And for Yoshiko who has become honest in writing them, as pointed by Dia saying that Yoshiko has become obsessed in writing and including those such terms, that's a way of feelings that she wanted because she believes that there would be some rare fan who wishes to read her letters for once in an opportunity or chance.
And to hint, when you put her corresponding SR, as shown in the picture above, in your members stable, as well as idolizing and maxing out her Bond Points, there is a random occasion or chance that she might appear in your Home Screen, saying that "scolding" messages on Yoshiko "Yohane" Tsushima.
"Yoshiko! Can you at least refrain from mentioning the underworld when writing a letter to someone?!"

Literal translation of her message when she randomly appeared in your Home Screen, when her corresponding SR card is put into your Members Stable.
From Dia Kurosawa's Bond Side Story: Letters from Aqours
So then, did you understand very well the correct answers? I hope that you could learn something from it!
NEXT SIF QUIZ!
Here it goes! Let's find out the next questions in the quiz! Make sure to answer them correctly next time!
Question #3: Ruby Kurosawa is looking for the missing playing deck cards that were scattered everywhere. She is looking for that one missing card and you helped her!

To where did the last card go?
In the books on the shelf
Between furnitures
Under the table
Question #4: When Honoka and the members can't think of a good idea for their next PV, they decided to go on for a Hot Pot Party Session! In order to do that, they held a decision to divide themselves into three groups, just to work on different types of hot pots.

To whose group did Kotori Minami decided to go?
Honoka's Group
Umi's Group
Maki's Group
Answers shall be revealed, as well as explaining them each, next Episode! And be sure to get them correct this time around! Look forward into it!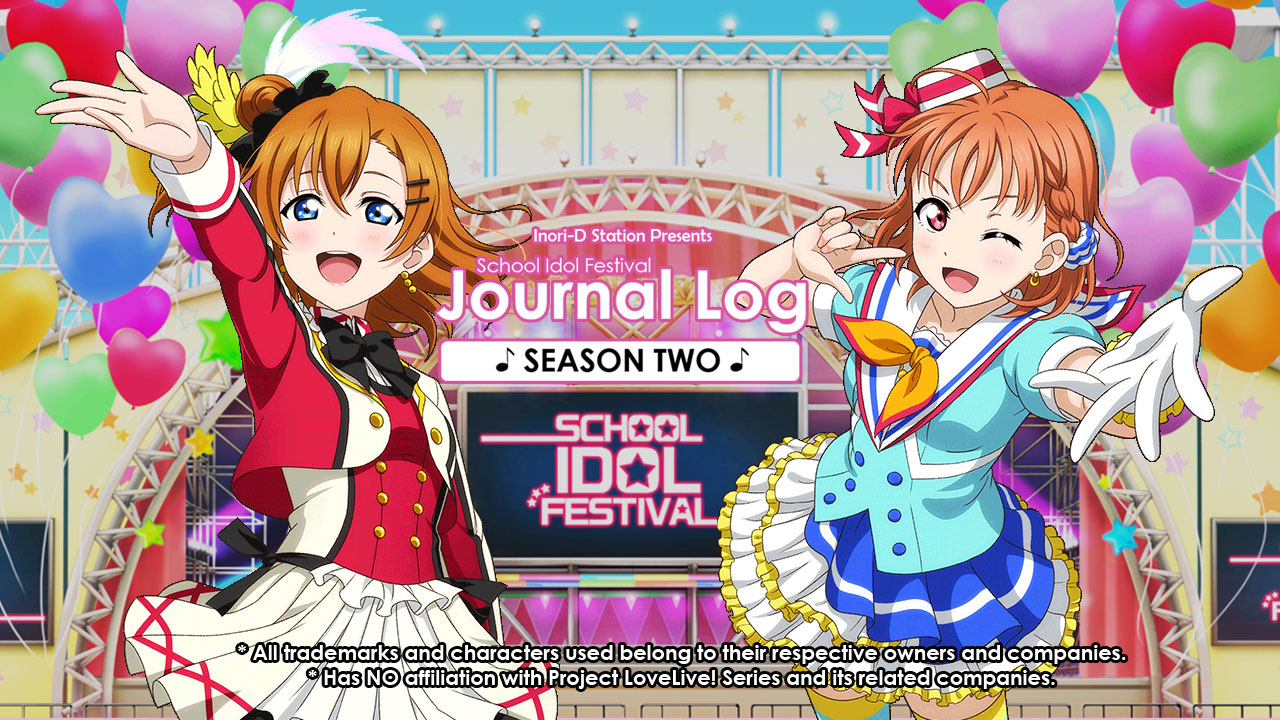 STORY EPISODE (EPILOGUE)
And so, Takayoshi and the other two guys have successfully reached Odaiba, where the Nijigasaki High School is located. And then, they saw a lot of people who were waiting for these girls to come out on the stage.
"Alright, it's time to login and get that exclusive item!"
After that, these twelve, lovely School Idols have come out from the stage! And they had given them a one-shot live performance!
When that performance is over, the twelve School Idols have thanked them very much for their never-ending support.
"We shall be waiting for you at our upcoming live performance in the next two months from now! See you soon, everyone!"
A loud cheer was made by the fans, and these girls finally left the stage.
Meanwhile, the three guys were amazed of seeing an actual School Idol live show.
"Amazing. In fact, they had made me to watch their upcoming live performance soon!"
"Definitely! In fact, I am eager in going with you once you have decided."
"In my opinion, this could be their most, yet explosive live show ever, soon on their upcoming live performance."
From a distance far away from Nijigasaki High School, Lierre was watching.
"It looks like we are about to witness another history of the School Idol Universe."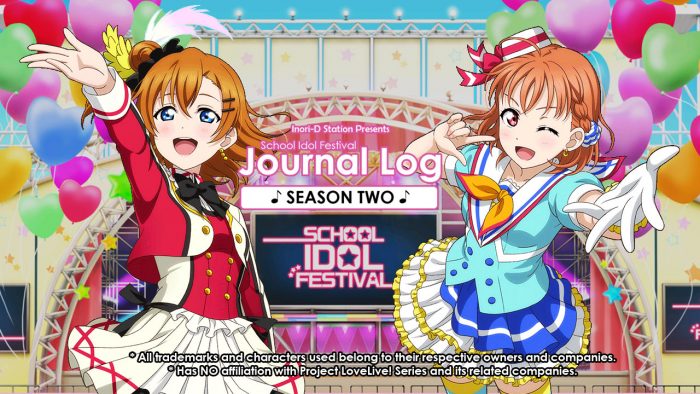 NEXT PREVIEW
You consider yourself as cute and sexy? Maybe it is because your lovely costume has infatuated your fans, and they were excited because of you. But other than that, what could be a factor in making them follow and support you? You might not have it, but will your costume be enough to make them impress more?
Next time on School Idol Festival Journal Log SEASON TWO, "The Costume Made of Dreams".
EPISODES ARCHIVE (SEASON TWO) BACK TO HOME PAGE