The Last Three Episodes!
Last three Episodes? That's right, and as seen in my previous Tweet (if you are following it), I am going to end this segment soon. It has been planned already, and it is scheduled to have at least 50 Episodes. There is no time to be sad, either. In fact, everything should go on as it is!
Maybe I am just going to write something else on my IDS website, after I am finished writing my 'School Idol Festival Journal Log' segment.

That's right. School Idol Festival Journal Log on IDS shall be ending on its 50th Episode. Well, that's a good run, for me, in one year.

— いのりどんず (INORI DONZ NETWORK) (@InoriDONZ) June 7, 2021
As time passes, everything should come and go, just as written in the long previous Episode!
As we are approaching towards the true ending of School Idol Festival Journal Log, we have some bunch of stuff incoming from the LoveLive! Universe! Alright, let's get in to business! Let's begin the 48th Episode!
CONTENTS
PRE-EPISODE HEADLINES
We are finally at the segment's true ending! But then, there are lots of stuffs that happened recently in the LoveLive! Universe! What are those highlights encountered? Read more to find out!
Anison Premium: LoveLive! Series Special
【アニソンP】#アニソンプレミアム
ラブライブ!SP 放送決定?

TV初!#ラブライブ!シリーズ4作品の
キャストが集結✨

歴史と魅力をひもときます
あの名曲披露も ?

放送は
?6/28(月)午前0:40 総合
  ※日曜深夜#lovelive #ミューズ μ's #Aqours#虹ヶ咲#Liellahttps://t.co/b7vCADVoPz pic.twitter.com/VRujRekELP

— NHKアニソン (@anison_nhk) June 14, 2021
A special broadcast of NHK's Anison Premium shall be broadcast on NHK TV in Japan, starting on June 28, at 12:40am JST! It features LoveLive! Series, ranging from µ's up to Liella!
Happy Birthday, Mari Ohara!
I know its late already, but… I shall never fail to give her a birthday message, somehow! Alright, let's read it for her!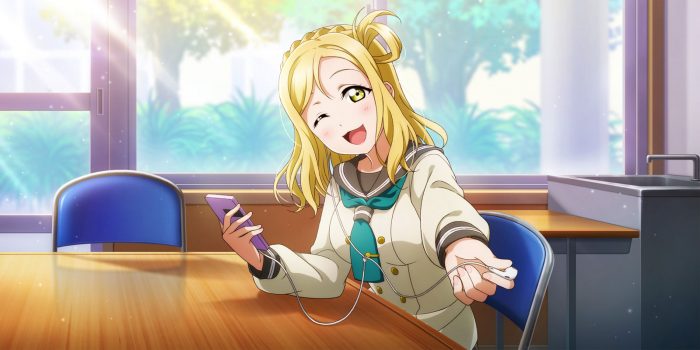 Dear Mari Ohara,
I know that you were perfect in all things, but I am not perfect in saying something to you! Your smile is shining and glittering like a karat gold. And at least, you were always together with Kanan and Dia, who used to be your group mates, and started as 'pioneers' of Aqours.
I hope that your future endeavors will make you happy, at least. Since because you were moving away a bit in being a School Idol, don't forget to make your fans happy with your shining and happy songs. And cheer up those people who were failing to get your Birthday UR at their scouting attempts!
Happy birthday, dear Mari Ohara! I hope that you could sing more for me, and for us, fans! We love you and we continue to support for you!
Aqours 5th Anniversary LoveLive! Totally Cancelled
【重要】「ラブライブ!サンシャイン!! Aqours 5th Anniversary LoveLive! ~LET'S GO WONDER TRIP~」公演中止のお知らせと払い戻しに関するご案内

詳細はこちらよりご確認くださいhttps://t.co/v0qcCS97uK#lovelive pic.twitter.com/0nUkcRo8GU

— ラブライブ!シリーズ公式 (@LoveLive_staff) June 15, 2021
Let's just admit their defeat. We had totally lost hope in having their 5th anniversary live which was supposedly scheduled at this month.
The LoveLive! Sunshine!! team has further announced and ordered the total cancellation of the Aqours 5th Anniversary LoveLive! -LET'S GO WONDER TRIP-. It is due because of the series of the nation's state of emergency which happened recently when the surging cases of COVID-19 are still happening and rising in numbers.
Both the on-site venue and paid streaming purchases shall be refunded accordingly to the customers. Meanwhile, the serial codes that can be found in their Fantastic Departure! CD can still be valid, and can be used in the future live events.
Let's just hope that this deadly pandemic shall be over. Unless we, the staff, and Aqours are fully vaccinated against COVID-19, there shall be no live performances will happen.
Not only because they cancelled the event due to the pandemic, but they did it for the sake of their future projects and their new upcoming live performances (to be headlined next later) in the near future months. Also, the cancellation was done due to the fact that some Aqours members have their own schedules in which they can intercept their presence in the live.
Again, let us hope that this coronavirus pandemic must be over.
AZALEA First Full Album Previewed
【☀️CD情報☀️】
6/23(水) #AZALEA 1st フルアルバム「We'll get the next dream!!!」の試聴動画を公開?
新曲3曲を含む全14曲を収録❗️

⏩https://t.co/xUP1xHhkgz

是非ゲットしてくださいね✨#lovelive #Aqours pic.twitter.com/iUxy43vNeg

— ラブライブ!シリーズ公式 (@LoveLive_staff) June 14, 2021
That's right. Release dates of the Aqours Sub-Unit Full Albums were revealed at the last week's Episode! At least, we have CYaRon! already released, so far!
This time, we shall be having AZALEA to have their first full album to be released in the near date next week! The title of their full album is We'll get the next dream!!!, and it is scheduled for a June 23 release in Japan music stores nationwide! It can be available elsewhere in the music streaming sites online!
There are a total of 14 songs included on their full album, which also include 3 new songs! And that's right, their music previews are already available for listening on YouTube!
Aqours Sub-Units Live Performance Dates Revealed
ラブライブ!サンシャイン!!
We Are Challengers Project?

☀️ライブ新情報☀️
CYaRon!、AZALEA、Guilty Kiss
それぞれのワンマンライブが
開催決定???

8月14日(土)・15日(日)
AZALEAワンマンライブ
@ゼビオアリーナ仙台 を皮切りにスタート?

▶️https://t.co/FKsl0B93SD#lovelive #Aqours pic.twitter.com/92Kseo2rUb

— ラブライブ!シリーズ公式 (@LoveLive_staff) June 14, 2021
With the fall of their 5th Anniversary Live, we got some tons of upcoming live performances which shall happen soon in the future months! The team has announced three sub-unit lives which shall happen soon in two months from now. CYaRon! and Guilty Kiss shall be having their second live, while AZALEA shall be having their first live which shall take place in mid-August 2021.
The dates revealed are as follows:
AZALEA 1L – August 14-15
Guilty Kiss 2L – September 25-26
CYaRon! 2L – October 16-17
Are you well looking forward at their upcoming live performances? If so, then have your money prepared for this!
What a truckload of announcements there! In fact, they were longer than the actual Episode today! Well, that's madness! In fact, they are just farming more money from us, for them to make new and exciting projects for us!
Alright, we are now done with the headlines! So far, what are the things spotted in the past weekend, and this week on the LLSIF rhythm game? Please do read this Episode until the very end!
LLSIF HIGHLIGHTS
Today, I got both of my accounts ported onto the same server! Which means, this is going to be an alternate grinding! But then, I got my own rules. Because starting next month, I shall be alternating between with my two accounts from my JP and Global Sides! This month, this shall be a tough battle between with my JP Side account and me. But then, starting next month, if the Event is a µ's Side, I shall be going to play with my Global Side account. Otherwise, if it is an Aqours Event, then my JP Side account shall be in favor!
Alright, let's head on to the things that were spotted during the past weekend and this week on this part!
µ's – Round 48 Score Match (Final)
【LoveLive! SIF】

<μ's> Round 48 Score Match (Results)

? Points: Rank 401 | 2,490,944 pts.
? SMP: Rank 366 | 25,560 SMP

This is my first μ's Event Tier 1-1 victory ever recorded in the JP Side.#lovelive #スクフェス #LLSIF pic.twitter.com/hLpc1lkXps

— いのりどんず (INORI DONZ NETWORK) (@InoriDONZ) June 15, 2021
Somehow, I do look good when I attempted to land a Tier 1-1 finish with this Event. Somehow, at the last minutes of the Score Match Event, I had lost so much SMP (Score Match Points), due to the fact that I am always running to some opponents (with CPU players) that has higher scoring power than mine. I struggled to get these lost points back, just in order to maintain my SMP rankings in the Event. Especially if I am playing on Random Technical Expert difficulty, I do still encountering strong players there, haha.
I had ended this 48th Score Match Event, which resulted me in a Tier 1-1 finish. Somehow, this is my first Tier 1-1 victory in the µ's Side for the first time, using my JP Side account. I had never landed a Tier 1-1 finish in the JP Side, but at least, I gave it a try just for once.
Round 8 Live Arena (Final)
【LoveLive! SIF】

Round 8 Live Arena

Cleared all 50 Special Sessions. Still, I haven't encountered any Dream Session matches, so far ?#lovelive #スクフェス #LLSIF pic.twitter.com/cmC5Gt5FgG

— いのりどんず (INORI DONZ NETWORK) (@InoriDONZ) June 14, 2021
I got some good news and bad news to share. The bad news is that I didn't encounter any Dream Session matches along the way during when this Live Arena is on. The good news is that I had finished all of the 50 Special Sessions to get the title.
Remember to participate in this Live Arena Event, and try reaching at least Expert or Royal Expert Category until June 25th in order to win a UR Emma Verde! As of now, this is my final update with this part, since I am done with this! I don't think if I could clear this again with my EN Side account counterpart.
Costume Change Makeover Feature!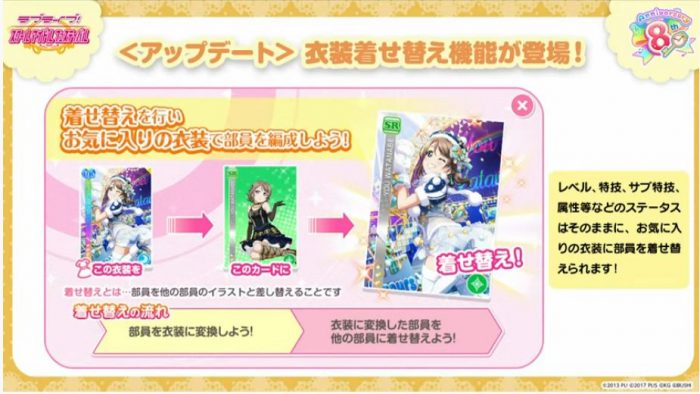 To continue this last week, this update somehow can improve your gaming visuals! So then, it's time for the Costume Change Makeover feature!
This feature allows you to use your existing members on SR rarity onwards, utilizing their feature idolized costume!
Take a look at this picture slide below! Slide either left or right to see the changes!
You can see there that you had seen something different from my current team above!
Basically, to do this, you have to look at this slideshow again below!
To explain this from the slide above, you shall have to read this below!
The first photo from the slide shows the available costumes or members (under the same member) to be used as costumes for the selected member.
At the second photo from the slide, you can pick up a member to choose her for the costume makeover. Tap confirm (pink button) to proceed. That member shall be created as a costume makeover item, in which you can use for that selected member (i.e. UR or SSR member) to have that costume with.
The third photo shows that a member is using a costume item that is made by makeover.
Fourth photo shown from the slide is a current UR that is using a costume of an existing SSR which was made by makeover.
Finally, the fifth photo shown is the closet, where makeover members are there (In which you can use them for costume change of a certain existing UR or other rarity members up to SR).
It's up to you on how to master this new feature! Somehow, this feature is good if you have some good and beautiful promo URs in your stable! And you can use them for makeover for your existing URs to use! The only thing is that the UR to be used for makeover should reach Level 120 and should be idolized.
8th Anniversary Limited UR Scouting Returns!
So then, I am just scouting not just to get new URs, but I needed to scout in order to get powerful Live Arena SIS items, just in order to improve my scoring progress in the Live Arena.
Right now, the 8th Anniversary URs are back on their 2nd run! They have been returned just for players to scout again if they failed to get their desired UR for the first time. Just remember to scout on these boxes if you need some URs which were relevant to your current teams' builds!
And yes, they shall last on certain dates! Please refer to your in-game's notifications for more details!
As they had been returned at their second run, I had managed to get two URs! One from my Global Side account, and the other from my JP Side!
【LoveLive! SIF】

Got 8th Anniv. Honoka! Faito dayo~#lovelive #スクフェス #LLSIF #高坂穂乃果 pic.twitter.com/yibEk1rkSj

— いのりどんず (INORI DONZ NETWORK) (@InoriDONZ) June 10, 2021
【LoveLive! SIF】

Gotcha! I got Mumu-chan, people! ?#lovelive #スクフェス #LLSIF pic.twitter.com/HrIzrEFBAU

— いのりどんず (INORI DONZ NETWORK) (@InoriDONZ) June 12, 2021
I got a UR Honoka from my Global Side, which serves as the start of my collection of the µ's URs! Meanwhile, in the JP Side account, I got UR Ayumu, which indicates my first-ever Nijigasaki UR ever scouted. And did you know that I failed to get her for the first time when she first appeared during the LLSIF's 8th Anniversary celebration campaign? At least, my revenge has been fulfilled. I hope that I could use her UR for my future team builds, when I can!
FEATURE OF THE WEEK!
Guess who's gonna be featured today in this Episode? Well, you know it!
In this today's feature of the week, the group to be featured is…
Liella!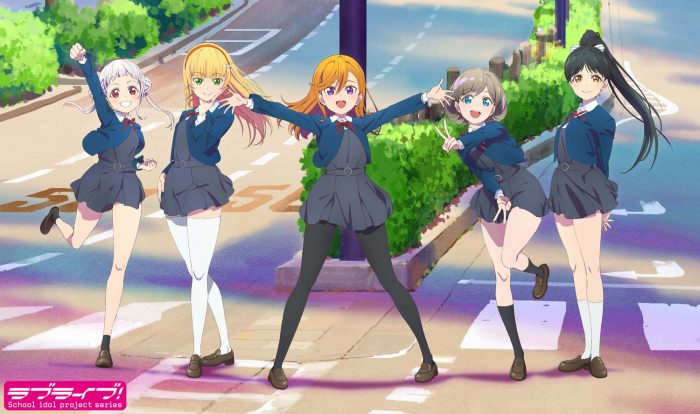 Liella! is the name of the next generation School Idol group! And they had made debut in the LoveLive! Universe since April 2021, with the release of their debut PV and single, 'Hajimari wa Kimi no Sora'.
This new School Idol group has been revealed since last year 2020, ever since the celebration of the LoveLive! Series' 10th anniversary. The School Idol group name has been decided through with an online poll and voting. Also, the VAs had been picked up and chosen through with an audition.
Meanwhile, the upcoming TV Anime series, the LoveLive! Superstar!!, is finally scheduled to air around July 11th in Japan. Witness the rise of these new five girls making their first step in being a School Idol!
So nice! Please do look forward in supporting LoveLive! Superstar!! and Liella!
We are nearing to the Finale! Don't miss the last two Episodes!
That's right, I am about to end this soon!
Thank you for reading School Idol Festival Journal Log! I had never made this possible without the help and support from you, guys! I am almost reaching a year in writing this segment! For the last two Episodes of this segment, I am now enjoying the last moments of my journal writing here on IDS.
And that's it for the 48th Episode of School Idol Festival Journal Log! Tune-in next time for more! Anything happened today, after this Episode was being published today, shall be included next week!
See you next time and cheers! Happy weekend to all of you!
Back to Episodes Archive | Return to Home Page