A New Chapter begins.
A new chapter for the LoveLive! Universe has just begun. In fact, there is no need for an introductory sentence to start this Episode! Let's begin the 47th Episode of School Idol Festival Journal Log!
CONTENTS
PRE-EPISODE HEADLINES
Alright, let us go to the highlights that happened recently in the LoveLive! Universe! So far, what were the things that encountered before?
Happy Birthday, Nozomi Tojo!
For the first highlight, let us greet one of the girls from the µ's Side! It's none other than Nozomi Tojo! Her birthday is celebrated every 9th day of June! Alright, let us read the birthday message for her!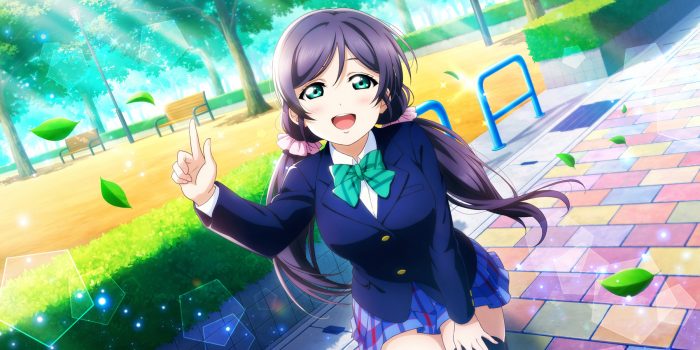 Hello, Nozomi Tojo,
Your birthday is awesome, yet the quiet one. You are indeed gentle and soft-spoken. You are predicting everyone's fate through with your tarot card fortune telling. I know it's a late celebration, but at least I had tried instead of nothing.
I hope that your fate in the future is warm-loving, as for the µ's members will definitely continue to love you more, especially with your very best friend, Eli. You may be lonely, but we fans are always definitely here for you to support you with your future endeavors.
With all heart and blessings, Happy Birthday to you, dear Nozomi Tojo from µ's!
And finally, don't forget that her birthday campaigns are still ongoing on the LLSIF rhythm game! Better scout for her birthday UR if you are a fan of hers, and show dedication! And that shall last until the 17th of June, for the players in the Global Side to catch up due to a recent major maintenance and a server merge!
Mari Ohara's Birthday
So then, Mari Ohara's birthday shall be celebrated on the 13th of June, and as usual, her birthday campaigns are now ongoing in the LLSIF rhythm game! You can go check out the LLSIF highlights later in this Episode for more!
【☀️CD情報☀️】
6/13(日)発売『LoveLive! Sunshine!! Ohara Mari First Solo Concert Album 〜New winding road〜』のリリースを記念してJR秋葉原駅にて広告を展開中です!
お近くにお立ち寄りの際は是非チェックしてみて下さい?

詳細はこちら✅https://t.co/6XFY9AG2Z1#lovelive #Aqours pic.twitter.com/O1ItqQ3ogV

— ラブライブ!シリーズ公式 (@LoveLive_staff) June 7, 2021
Don't forget about her First Solo Concert Album CD which will come out at her birthday on June 13th! Remember to watch and listen to her solo preview tracks which was uploaded recently on YouTube! And then, some billboard ads of her upcoming First Solo Concert Album CD is now being displayed at some streets and landmarks in Japan!
And finally, I am going to give her a birthday message, to be included next Episode! Look forward into it!
Aqours Club CD Set 2021
【☀️CD情報☀️】
6/30(水)発売 #Aqours CLUB CD SET 2021に収録されるWe Are Challengers Project テーマソングCD「DREAMY COLOR」ジャケットを公開!?

PV⏩https://t.co/MySM7rqaZk
是非予約してゲットしてくださいね✨#lovelive pic.twitter.com/wKfaD5C1bC

— ラブライブ!シリーズ公式 (@LoveLive_staff) June 6, 2021
As part of their ongoing "We Are Challengers" project, Aqours shall be releasing a new Aqours Club CD on June 30th, 2021 JST. The jacket design was finally revealed. The name of their song is DREAMY COLOR.
And also, their live-action PV has already surpassed the 3 million views mark on YouTube! Thanks to the support of its fans worldwide!
More details about their upcoming Aqours Club CD release shall be tackled somehow at their future livestream, if there's any! Just stay tuned at their feed for updates about this!
Aqours 'Unit First Full Album' Series Release Dates Revealed
【✨特典情報✨】
『ラブライブ!サンシャイン!! ユニット 1stフルアルバム』が続々発売!
こちらのCDのゲーマーズ限定特典は、A4クリアファイル!
さらに全ユニット連動購入特典として、オリジナル収納BOX「Guilty Kiss」ver.が付いてきます!#lovelive #Aqours pic.twitter.com/NMMpZvTuU4

— ラブライブ!シリーズ公式 (@LoveLive_staff) June 4, 2021
The team has finally revealed the release dates of the other two Aqours sub-units full albums, namely AZALEA and Guilty Kiss.
AZALEA's First Full Album shall be released on June 23rd, 2021 JST, and Guilty Kiss shall be released on July 28th, 2021 JST.
By purchasing via pre-orders, you can get some exclusive freebies, such as some A4 clear files, and an exclusive item which can be obtained when you managed to purchase all of the sub-units' released full albums!
So what's up with the new chapter filled with surprises? Of course, we shall never fail to bring you some more highlights in the LLSIF rhythm game! So far, what were the highlights encountered during the past weekend, and this week? Read more to find out!
LLSIF HIGHLIGHTS
A new chapter has finally begun in the School Idol Festival rhythm game! This is due to the fact that a recent major maintenance time and update has been made! Now, the Global Side players have to face a whole new level of challenge! So far, what are the things encountered?
µ's – Round 48 Score Match
【ラブライブ!スクフェス】

【μ's】Round 48 Score Match

Somehow, looking good here. I hope that I could reach higher tier rankings by just playing on one difficulty.#lovelive #スクフェス pic.twitter.com/Kik2hGwG67

— いのりどんず (INORI DONZ NETWORK) (@InoriDONZ) June 8, 2021
It has begun since the 5th day of June, and shall last until June 15th next week! Right now, I shall make my first move in landing a Tier 1-1 finish in this Event! And I am hoping for that!
The Event UR to be acquired from this Event is Rin Hoshizora, and URs Kotori and Maki can be acquired by scouting! Remember to use them as Cheer/Yell Units to increase your Event Points acquisition when you play at the Score Match Event!
For my recent grind, I had been always aiming for a higher tier ranking in this Score Match Event. The thing is that I am playing on the Expert/Technical difficulty just to make things easier. Playing also on the Master difficulty is a plus, and you can get more Event Points when you win.
If you are aiming for a higher Score Match Points, and to survive in the rankings, you just need to stuck yourself in one difficulty. For me, I would advise that I should play only on Expert/Technical difficulty because only few players are playing on that difficulty. The only downside in playing that difficulty is that it gives you only a little Event Points, ranging from around 5-6k points per round (with LP usage x4 and at 300% Cheer Units power). But then, you can always go on a Master difficulty at anytime. And just play it safe, since it can drastically lose your Score Match Points if you keep losing in either 3rd or 4th places.
Somehow, I am looking good in grinding with this Event (due to the absence of the Global Side). Will I able to snatch my very first Tier 1-1 win in the µ's Side in my JP Side account? Find out as I am going to give my final results of this Event in the next Episode! Look forward into it!
Nozomi Tojo and Mari Ohara Birthday Scouting
It's time for the Global Side players to catch up, especially they had missed the birthday UR Scouting of Nozomi Tojo, due to a major maintenance! Right now, it is still ongoing and shall last until the 17th of June! Be sure to scout if you got enough Love Gems and Tickets on hand!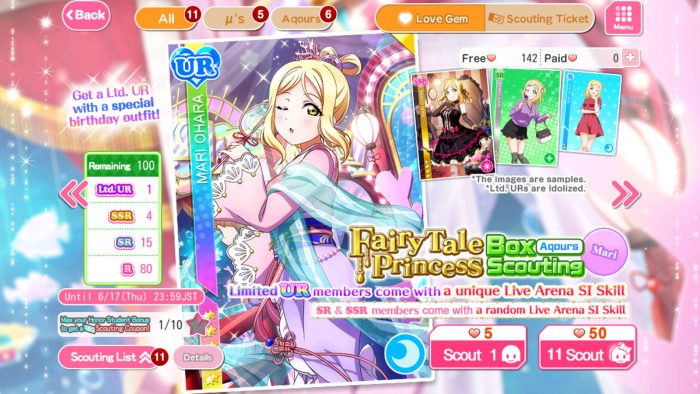 Meanwhile, Mari Ohara's birthday box scouting is also up, along with Nozomi's birthday box scouting! That's right, you can choose to scout for her new UR, or her previous birthday URs released! And then, it shall last until the 17th of June!
An All-New Feature: Costume Makeover!
Right now, this is something new for LLSIF fans like me. This is a part of their major update! Can you see the difference below?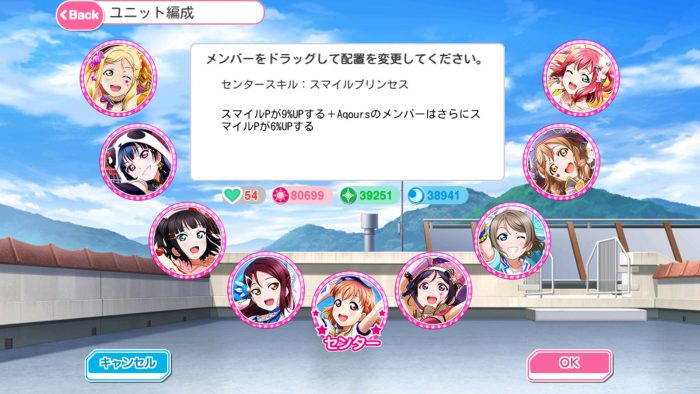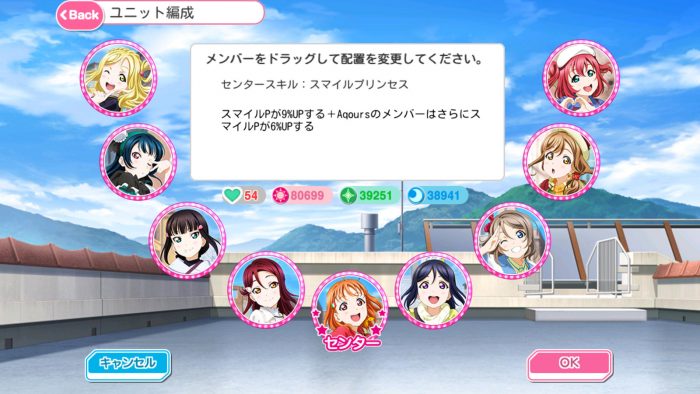 Introducing, the Costume Change Makeover! To be continued in the next Episode!
FEATURE OF THE WEEK!
So, in this Episode, we shall feature a different School Idol group this time around! It is none other than…
Nijigasaki High School Idol Club! Yay!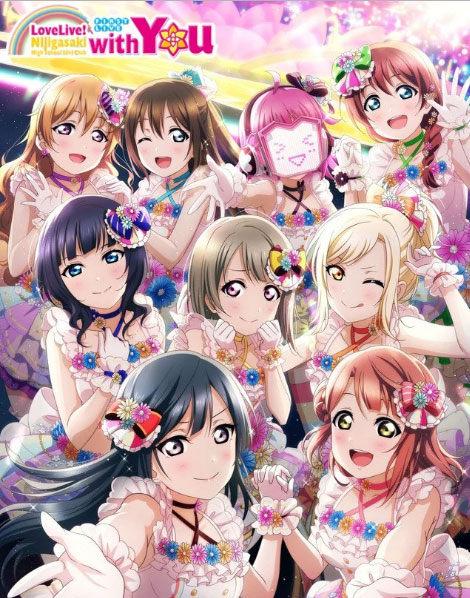 Nijigasaki High School Idol Club is a different kind of School Idol group, which is not actually a group! In fact, all of them are acting as 'solo' School Idols having different characteristics of their own selves (like variation of songs, voices, etc).
To shorten the group name, 'Nijigaku' debuted in the LoveLive! Universe since year 2018, with the release of their first single album, TOKIMEKI Runners. They are the main characters of the LoveLive! ALL STARS game.
With the success of their first live last December 2019, they had finally expanded their universe in the LoveLive! Series. They had made their TV Anime series in October 2020. They had released various albums and singles, and they were recently added and released also in the ALL STARS game counterpart. Meanwhile, things are getting exciting for them, since the most awaited 2nd Season of their TV Anime series is coming a little bit closer.
The Nijigasaki High School Idol Club is consisted of:
Ayumu Uehara
Kasumi Nakasu
Shizuku Osaka
Karin Asaka
Ai Miyashita
Kanata Konoe
Setsuna Yuki
Emma Verde
Rina Tennoji
Meanwhile, the other people included are Shioriko Mifune and Yu Takasaki, and they are appearing separately, in the ALL STARS game and in the TV Anime, respectively. I don't know if Shioriko Mifune is scheduled and set to appear in the upcoming Season 2 of the Nijigaku Anime. But then, I am really expecting that to happen!
Towards the New Future, Towards the Next Episode!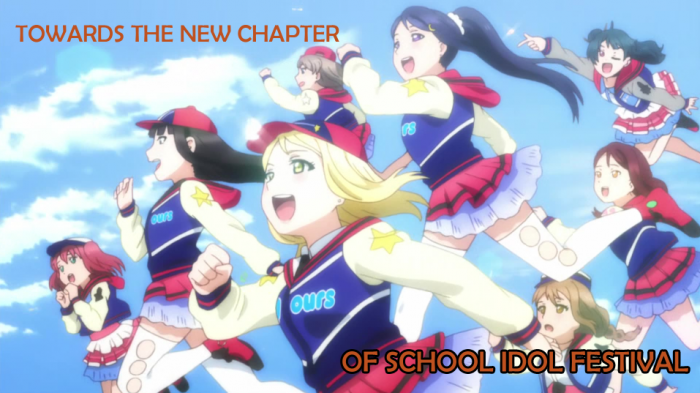 And this ends the latest Episode of School Idol Festival Journal Log! I hope that you had enjoyed reading it, and thank you very much! Enjoy the happenings in the LLSIF world after its recent server merge!
Anything shall happen today, after this Episode being published, shall be included next Episode!
See you next Episode and cheers! Happy weekend!
Back to Episodes Archive | Return to Home Page