EPISODE 17: Fiction vs Reality
Disclaimer and Reader Warning
All actual real-life people, places, things, and events were having their names replaced with something else. So that in order to protect the privacy, integrity, and rights of those things mentioned in this blog post series.
Some phrases and/or paragraphs may trigger an individual, group, or ethnicity. And some parts of this blog post series may contain profanity, which is not suitable for young readers and audiences. Viewer and reader discretion is advised.
---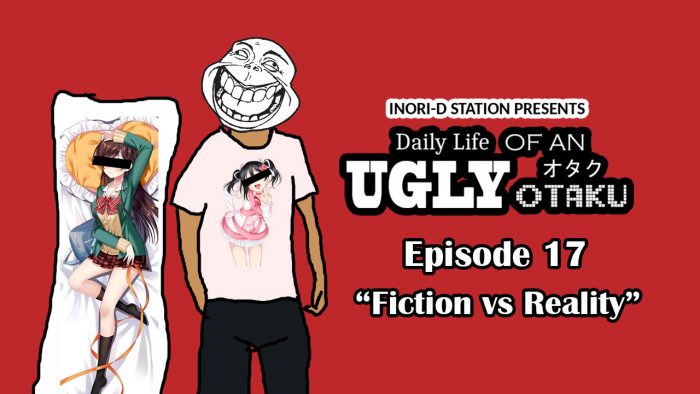 Hello people! This me, Slob, speaking! Let's talk about Anime and Otaku things! In fact, I am just your usual, Ugly Otaku.
Let's talk about something which most people are still being confused about — Differentiating between fiction and reality!
Fiction is a work of literature. It is just a literary work where elements coming from an "imagination" of an author is being told. Fictitious literature or works are usually in a genre of fantasy, science fiction, supernatural, or even others like romance or drama. When we say fiction, they are "not real", or otherwise, they are coming from the "imagination" of the author who wrote or created that series or literature (like Manga or Light Novel series).
Reality is something like a media or literature which is based from the "actual" people, things, or events, and they were written according to that author. Something, for example, a biographic film or movie written and directed by an another person or company. And some scenes are based from the actual people, places, and events.
Okay, this is the most confusing part here, since some people would really associate fictitious things with real things.
In Anime, some scenes were drawn according to the things which are from the actual things, people, or event. Like for example, that drawing is based from a popular video gaming console. However, instead of that name, it was named as "Sunny" instead. And that is, in order not just to avoid copyright violation (Unless if they got permission to use that trademark name), they just really make it different from that actual thing. And that's why, it is already written in the credits part of that movie or Episode that says, "All characters, things, places, and events made in making this series are fictitious. Any such elements which resemble these actual things are purely coincidental and unintentional.", or other equivalent disclaimer statements.
In some point, some people are still quite aware that some Anime series that they watch are looking for the scenes or events which is somehow looking similar to that actual things! Yeah, and some people do really like to explore that place (We call it pilgrimage) in order to really find out on what it is really like in the Anime. But then, people should be careful when they explore some things or events, which are seen in the Anime. And just remember that Anime is a work of fiction. And therefore, associating things found from the Anime to the actual people, things, places, or events, must be moderated. In the sense that people should avoid "trespassing" that place, especially "private property" places.
Another thing is that most people do like associating some scenes. Like that Anime character who appears to be a gentle "Mother" for that main Anime character. Something like breast-groping should never be done in real life. Or else, you know the consequences, don't you?
And what was done in the Anime, by scenes, should NEVER be done in real life. Basically, on what the characters are speaking via their quotes may be done in real life. However, not all quotes from Anime characters can really help you. In fact, those quotes are coming from that real, original author himself or herself, and not from those Anime characters who speak that quote. The authors themselves are just making quotes for us, and they just put them into their characters in order to speak them out.
Remember. Not all of the things which are seen from the Anime can be done in real life. Manga is a work of fiction. Literative art (graphic light novels) is a work of fiction. And Anime is a work of fiction. Therefore, they are both works of fiction under the literature. And any literature which are written under fiction is considered as "not real" or fictitious, in the sense that they have nothing to do with the actual people and other living things, objects, and other actual events. And to speak that sentence again, everything that was seen in the Anime should never be done in real life. It is the matter of fact that it could represent something. But still, we should not believe that it can be true. But, it is okay that we could learn from it, in the sense that you could eventually use them as a reference to create your own literative fictitious story!
Next Episode!
A drawing or fan art that can be cool and badass? Or some fan arts that can be cute, sexy, and voluptuous?
Next time, "Fun in the Fan Art". See you next Episode!
RETURN TO MAIN PAGE BACK TO HOME PAGE