EPISODE 14: Anime Figure Collector
Disclaimer and Reader Warning
All actual real-life people, places, things, and events were having their names replaced with something else. So that in order to protect the privacy, integrity, and rights of those things mentioned in this blog post series.
Some phrases and/or paragraphs may trigger an individual, group, or ethnicity. And some parts of this blog post series may contain profanity, which is not suitable for young readers and audiences. Viewer and reader discretion is advised.
---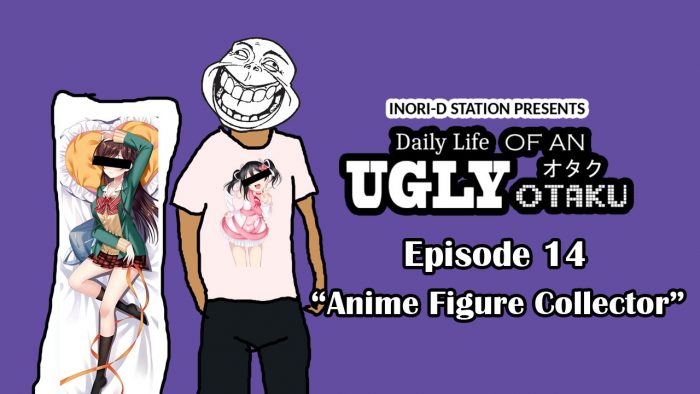 Hello guys! This is me, Slob! And this is your usual Ugly Otaku speaking!
Today, let's talk about some things which some usual ugly Otakus like me do enjoy. It's none other than collecting these expensive Anime figures!
Anime figures are usually ranging from badass guys, up to the cute and sexy babes! It varies per Anime series, so collecting them is absolutely infinite or endless!
So then, if you got some figure line or certain Anime series that you are collecting and aftering, then it's your job to collect these for your current collection, after all. For example, if you are collecting some chibi-looking Anime figures, then you are obliged to buy and collect Anime figures which are of chibi-types only. But then, that rule is sometimes broken, especially if you are fascinated with some random Anime figure that catches your eyes!
Other than chibi-type figures, there are many variations of Anime figures. One is an articulated "action figures", and the other is the "static figures", wherein that Anime figure isn't poseable or movable at all. Static figures can be either some cheap "prize figures", or even the most expensive ones, the "scale figures".
Action figures are my favorite Anime figure line here, wherein you can freely pose that figure in any poses that you want. You can do some action scenes, or even making the figure go run into some situations where he or she is doing some jobs (like carrying a box, and so on). And those action figures can be either a full body scale, or a chibi one.
Static figures are really either badass, or even sexy. However, their disadvantage is that they are static and unmovable. On how they had been painted and designed, that's it. That's the static Anime figure that you had deserved. But then, they are more detailed than in the usual action figures.
Prices? Yep, we can talk about this now! Prices of them depend on the variant and type of that Anime figure. Usually, it costs for more than a thousand bucks, or sometimes they are cheaper from one another. It's up to you on which combination of Anime figures you should buy, and it shall depend on how much money that you have! Of course, you should buy the ones that interests you a lot, and not everything that you see along the way.
Sometimes, the only way to be interested in buying those Anime figures, and collecting them, is by watching an Anime show. It is somehow your gateway to the world of Anime figures, wherein you will get to know those characters very well, especially girls and women. If you really loved that character, then you are just hoping for that Anime character to have his or her Anime figure version to come out as an announcement.
And sometimes, our own desires in wanting these Anime figures won't even stop us from buying them. Usually, those eye-candy images and eyes would never stop taunting you, and it will always come into our minds whenever we expect them.
So, who's your favorite Anime character, and what kind of Anime figure line is your favorite? Remember that it is not very bad in liking and loving them a lot, however, controlling your money and expenses are really important, so that you could save up for something better than Anime figures.
Next Episode!
In the next Episode, there is one thing that most Anime Otakus don't ever do before. It is none other than… Celebrating birthdays of their favorite Anime character!
Next time, "Anime Character Birthdays"! See you next Episode!
RETURN TO MAIN PAGE BACK TO HOME PAGE