A Goalkeeper's Trial
This blog post may contain minimal spoilers. Please read this only if you had seen this Episode.
OVERVIEW (STORY)
Coach Yoko (Yoko Matsunaga) has given the girls a training assignment, and a choreography for their victory dance, in which they can use during their summer vacation trip to one of the resort hotels in Okinawa prefecture. Meanwhile, she had noticed Kaoruko Yanagida's goalkeeping skills that need improvement. The girls play in a form of beach volleyball game, which is considered to be one of their training assignments. And knowing about that issue, Kaoruko tries to understand that proper communication and feelings to her teammates are needed in order to control the game!
REVIEW
We are in an intermission Episode where usually it's a common tradition to most Anime shows that we have watched! Intermission Episodes include beach and pool scenes, and the infamous onsen or hot spring bath scenes.
In this Episode, we can finally get to know Kaoruko Yanagida, that girl with a pink long hair (as seen on the cover or featured image)! She takes the position in the Nikko Dream Monkeys as the goalkeeper, in which she was considered as the cornerstone of the ice hockey team that she was currently in.
Girls with pink hair, like Kaoruko, can be sometimes described as soft-spoken and gentle-hearted. But they are described as sometimes being the 'least', or even the type of person who is usually more on the defensive side rather than the offensive side. Defensive, in the sense that she is more of a support type — Usually a type of player that is present in all teams in any kinds and types of games (Usually MOBA and other multiplayer PVP games).
One thing that I had learned from this Episode is that proper communication and coordination with your teammates are an important aspect in every single games, whether it's an E-Sport, or any other outdoor physical sporting games, like this ice hockey sport! For example, if your team plans to gank a lone player in the battle field, you shall be having an inter-communication with your teammates by means of chat or voice functions! If one of your members told you to gank that lone player, and they will back you up, will you do it? Of course, and you will surely respond! Again, proper communication and coordination are an important aspect in any competitive multiplayer games and sports!
Every player in a team knows how to communicate with his or her teammates properly. And one does not simply communicate on the last minute of the moment, where things are in a pinch.
ICE HOCKEY HISTORY!
Right now, we have finished reviewing this Episode! But then, how about some little education about the history of ice hockey? Please read to continue!
Last time, we had talked about on how this ice hockey sport became an official sport in most leagues or championships, and Olympics! Right now, let's talk about some known ice hockey teams that are existing today, and in the past. And I am going to pick one by myself and discuss it right here in this corner!
In the previous Episode, the Nikko Dream Monkeys had hosted a practice game with an another ice hockey team, called the Ice Bucks. And did you know that this team is actually an ice hockey team in real life? Let's read more further below!
The Nikko Ice Bucks (H.C. Nikko Ice Bucks) is actually a real-life Japanese ice hockey team that was established in 1999, and they were based in Nikko City, at Tochigi Prefecture in Japan.
Ice Bucks has competed at several ice hockey leagues in Japan every year, but they were always being at the lowest rank, sometimes being second to the last in rankings per season. As of present, they were competing in Asia League Ice Hockey since year 2003. This ice hockey team has imported several players coming from various regions, which also include USA and Finland.
In January 29, 2020, this ice hockey team has announced that they are going to participate in the upcoming 2022 Winter Olympics (Beijing 2022 Olympics), which shall take place in Beijing, China, in February 2022. They had announced 5 players from their team who were going to compete for that said upcoming event. Yutaka Fukufuji, Hiroto Sato, Yusei Otsu, Makuru Furuhashi, and Hiromichi Terao were selected to play in the qualifiers for the 2022 Winter Olympics.
And for the final notes, in the Anime that is named as Nikko Dream Monkeys, they actually came from this real ice hockey team!
Source (Posted since January 29, 2020): https://www.icebucks.jp/news/14446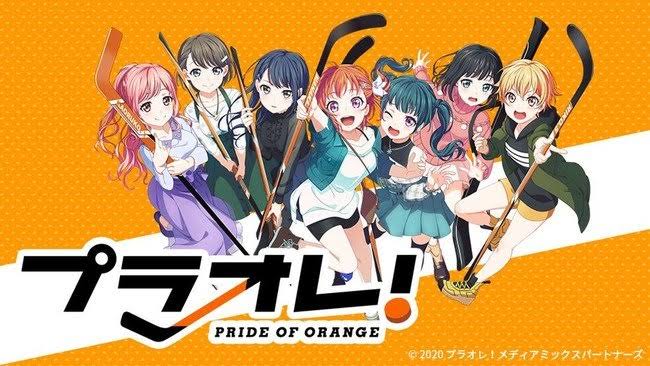 Pride of Orange (2021, dubbed: PURAORE! (プラオレ!) -Pride of Orange-) is a Japanese Anime series about ice hockey sport. This Anime series was produced by CyberAgent/EXNOA, and character designs were done by Craft Egg (known for BanG Dream! Girls Band Party smartphone video game). Animation style was done by C2C. This Anime series has been aired and streamed since October 6, 2021, with its first Episode.
In Tochigi Prefecture in Japan, at Nikko City, an ice hockey sport season has opened for girls who wanted to aim for the ice hockey world championships.
A female junior high schooler, named Manaka Mizusawa, has become interested in playing the ice hockey sport. While she invited her girls who were her friends, they entered and tried for this sport game.
Their journey for aiming their first win, indeed, begins when they had experienced the world of ice hockey sport!
©2020 プラオレ!メディアミックスパートナーズ (Official Website)