A Reckless Game
This blog post may contain minimal spoilers. Please read them only if you had seen this Episode.
OVERVIEW (STORY)
Yu Kiyose is now a team member of Nikko Dream Monkeys. Right now, they are beginning their first strike in making through the top spots of the All-Japan Championships. They start by hosting a practice game with Ice Bucks, an another ice hockey team! Yu seems to be doing her usual habits in playing ice hockey to score. But there is something that bothers her in which it prevented her from outbesting her opponents!
What could be some words of advice from the Coach of Ice Bucks that Yu must need to understand?
REVIEW
While this Episode is titled as "Debut", I call my own Episode Review of this Episode as "A Reckless Game". My own Episode Review title has something to do with the current Episode's scenes that show a moral lesson to learn.
I really like Manaka being the 'main' and supportive character for Yu. Although that Yu is always having her usual, depressed facial expressions, Manaka is still eager in agreeing with her actions, though that Yu is always bringing her teammates down in the game. At the same time, she has also helped Manaka to give her some suggestions on what could be their tagline in their ice hockey team (Assuming that Manaka is always lacking in her academic knowledge). And finally, Manaka is always encouraging her to help her teammates by means of passing the puck, though that Yu is always doing the solo offensive shots ahead without passing the puck to her teammates to score a goal.
What could be some lessons to learn from this Episode afterward? Basically, one quote from a certain Anime character from a certain Anime series said, "We need to fight altogether. Without everyone, we cannot win!" If you are going into a solo battle (or we call it as one-on-one), you can simply have to win alone with your own power and might. And this ice hockey sport is a game of teamwork. For every games that you play, aside from ice hockey, that features more than 4 players (2 or more players in one side or team), each player must help each other in order to score and to win! Especially on some popular multiplayer online battle arena (MOBA) games, the players in a team must devise their own strategies in order to score and to achieve total victory. If your team is shorthanded, or if you try playing solo ahead from your teammates recklessly without any help or assistance, more likely, your team will lose. At the same time, you are bringing your teammates down.
At the last part, I am impressed with their 'victory dance' PV. And yep, this is something for you to discover when you watch this Episode until the very end! Unless, if they had already uploaded them on YouTube! Basically, I had mentioned this a long time ago since Episode One of this Episode Review.
ICE HOCKEY HISTORY!
Now that we have finished reviewing this Episode. So, let's proceed with some ice hockey history!
Did you know that the first-ever, yet unofficial, Women's Ice Hockey World Championship was held in 1987, in Toronto, Canada? It was then followed afterwards when this sport was officially added as a medal sport for the first time in the 1998 Winter Olympics, which was done in Nagano, Japan.
At least 6 countries had competed for the Gold Medal, while Japan is one of them, and is being the hosting country. Japan got a devastating loss and ended in the last sixth place, with a record of 0-5. USA got a record of 5-0, and has won a Gold Medal, while Canada and Finland got a Silver and Bronze Medals, respectively.
And then, in year 2003, the Asia League Ice Hockey was formed after the most dissolution of ice hockey teams in Asia region, which includes South Korea and Japan. Also, it was formed in order to promote the ice hockey sport to most young people, especially Japan. Its purpose was really not just to promote this sport, but it also encourages the people to play in order to increase the popularity of ice hockey sport, especially if they are competing in any highest forms of leagues or championships internationally, especially Olympics.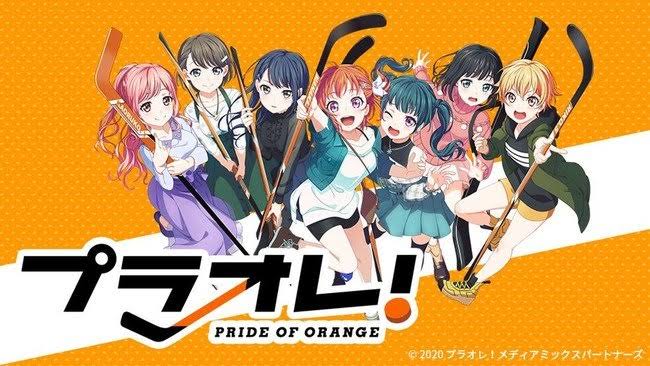 Pride of Orange (2021, dubbed: PURAORE! (プラオレ!) -Pride of Orange-) is Japanese Anime series about ice hockey sport. This Anime series was produced by CyberAgent/EXNOA, and character designs were done by Craft Egg (known for BanG Dream! Girls Band Party smartphone video game). Animation style was done by C2C. This Anime series has been aired and streamed since October 6, 2021, with its first Episode.
In Tochigi Prefecture in Japan, at Nikko City, an ice hockey sport season has opened for girls who wanted to aim for the ice hockey world championships.
A female junior high schooler, named Manaka Mizusawa, has become interested in playing the ice hockey sport. While she invited her girls who were her friends, they entered and tried for this sport game.
Their journey for aiming their first win, indeed, begins when they had experienced the world of ice hockey sport!
©2020 プラオレ!メディアミックスパートナーズ