Saishukai: The True Ending
Omega. It is the last letter of the Greek alphabet. It also means that this segment is also ending now. Thank you for supporting this segment for the entire 1 year! 1 year means that I am celebrating, and at the same time, I am ending this segment!
Although that no one is eager in reading my Episodes, I still made an achievement by posting at least once per week! And that is almost similar in watching my favorite Anime show that is being shown once per week.
But then, all things must be put into an end, for now. Since I got other priorities to make, such as other of my activities like sewing and biking, I had to concentrate on those just in order to maintain my pace. But then, I was thinking on what segment in IDS I should make in order to replace School Idol Festival Journal Log. Well, it is up to me to decide on what could be that new segment for me to do!
For now, I do not want to be sad on something which is indeed temporary, for me. In fact, I should learn on how to move on from things.
But then, let us not delay any further! Let me finish my one last battle — I mean, Episode! Ladies and gentlemen, welcome to the Final Episode of Inori-D Station's segment, the School Idol Festival Journal Log! Okay, Final Mission Start.
CONTENTS
HEADLINES
Today, we got some headlines and highlights to share from the LoveLive! Universe! In this Final Episode of mine, I am going to give what I got! So far, what were the things spotted from the past days?
Happy Birthday, Karin Asaka!
Since June 29, it was the birthday of the sexy School Idol, Karin Asaka! Alright, let's greet her with a birthday message in this Final Episode!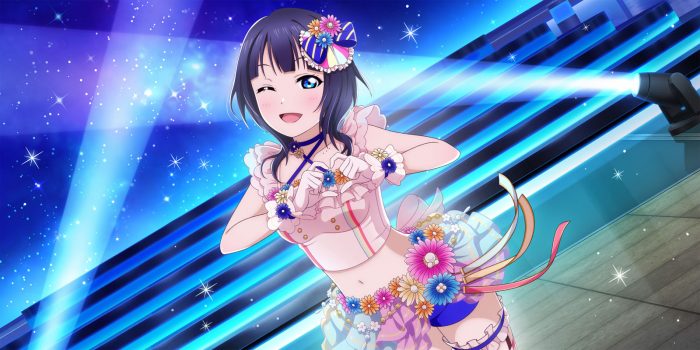 Dear Karin Asaka,
It seems you were feeling good today, especially in the past days or years since we met. With your calm voices, you feel that everything is going on smoothly as you go.
Don't let your wild feelings inside you make you to go to nowhere. I know that you were finding your true self, but don't make yourself be too confident. And don't be lost like you don't know your direction.
We all know that we have our own ambitions in life, and we must know also our own limitations. But then, don't stop believing in your own endeavors. There are still more for you to reach, and don't just stick into one aspect that you already know.
We are all having feelings for you, Karin. And use all of our feelings into a power that you can use to withstand any trials! We all know that you have limitations, but we believe that you can overcome it together with your friends and rivals, and with us!
So then, there are still more for you to explore, as a School Idol. We all wish that you should be courageous and willing to do anything. Never back down if you lose!
Many fans are cheering for you all along, and you cheer up also for us if we fail to get your featured URs in both LLSIF and ALL STARS games.
And we are wishing you a Happy Birthday, dear Karin Asaka! We fans love you very much! And we shall continue to support you and to your future endeavors!
Nijigasaki Unit Live and Fan Meeting Event Dates Revealed
【?Overseas?】
Love Live! Nijigasaki High School Idol Club UNIT LIVE & FAN MEETING official merchandise pre-order is now available! https://t.co/16dYXshM7X#lovelive

— ラブライブ!シリーズ公式 (@LoveLive_staff) June 28, 2021
So far, for the Nijigasaki Side, they had recently announced their Unit Live and Fan Meeting Event which shall occur in the future months! That's right, they are in series and they shall occur on weekends!
Dates have been revealed for the following sub-units of Nijigasaki High School Idol Club, and they are as follows:
DiverDiva: September 11-12, 2021
QU4RTZ: October 9-10, 2021
A ZU NA: October 23-24, 2021
Furthermore, official live goods of these were also up for preorders! Please contact with your local Anime licensor per country for more information!
Yoshiko Tsushima First Solo Concert Album
【☀️CD情報☀️】
7/13(火)発売 「LoveLive! Sunshine!! Tsushima Yoshiko First Solo Concert Album ~in this unstable world ~」試聴動画を公開?https://t.co/UrmpKrBIhH
新曲「タテホコツバサ」を含む16曲を収録❗️#lovelive #Aqours #津島善子 pic.twitter.com/I4f85NqjCU

— ラブライブ!シリーズ公式 (@LoveLive_staff) June 29, 2021
Finally, the last School Idol of the First Solo Concert Album Series has been revealed and previewed! Yoshiko Tsushima's solo album shall be released on her birthday on July 13!
This last solo concert album in the series shall feature 16 songs, which also include her new song, titled, "Tatehoko Tsubasa". And those songs were already previewed on YouTube!
Sadly, I won't be able to catch her up on her birthday on July 13, since this is already the Final Episode. But then, I could find a way on how to celebrate her birthday by means of a message, or even figure photography! And they shall somehow be posted into my Twitter account or to my Facebook account separately! I am gonna inform you about that through with a Twitter update of mine!
Aqours "We Are Challengers" Projects and 6th LoveLive! Revealed
Recently, during the June 30th Livestream of Aqours, they had announced several truckload of announcements there!
I am going to name some few from there, since they are bit too long to fit right here in this Episode! But then, instead of giving them in details, I am going to name some in which I had found! The best way is to look for the others, by going at their Twitter account, or at their official website!
Maboroshibi no Yohane – SUNSHINE IN THE MIRROR gets comicalization
"Today's Aqours" announced
Animation PV and Collaboration with an Another Artist
One of the Five Aqours Songs Can Get an MV Version
Aqours Club Challenge (for people who subscribed for Aqours Club 2021)
Aqours Chronicle 2018-2020 Album
ラブライブ!サンシャイン!!
We Are Challengers Project?
?新情報?

Aqours 6th LoveLive! 開催決定☀️

?2022年2月12日(土)・13日(日)
 バンテリンドーム ナゴヤ

?2022年3月5日(土)・6日(日) 
 メットライフドーム

チケット情報等はこちら?https://t.co/ibP04tRRFQ#lovelive #Aqours pic.twitter.com/1JEpIXOXVc

— ラブライブ!シリーズ公式 (@LoveLive_staff) June 30, 2021
And then, for their main course! The date of their upcoming 6th LoveLive! Event has been announced! That's right, and it shall occur on two-part stage tours!
First part shall be on Vantelin Dome Nagoya, on February 12-13, 2022! While for their second stage tour, it shall be on MetLife Dome on March 5-6, 2022. Will they able to pull their major live off, after being cancelled many times due to the pandemic? Let's pray that it shall happen this time around! And as a fan of Aqours, I should… No, we should stand for them to happen! Let's cheer for them, and support them!
And finally, Happy 6th Anniversary, Aqours!
Well, that's it. These were the headlines and highlights encountered. Since this is the Final Episode, I won't be giving those updates anymore. I can't give out those updates, but the other pages and news websites you follow can.
Well, the fact that the upcoming TV Anime of Liella! (to be shown at the end of this Episode) is getting closer in the next weekend, we are all excited to see them in action. As it starts, it shall mark another story and history in the LoveLive! Universe, where most of the people I know shall start shifting their previous best girls of LoveLive! into the new ones that they are about to see soon. But then, everything shall be shifted into the new gears, and history of the LoveLive! Universe shall change.
The Episode headlines are now over in this Final Episode! I hope that you were all reading well. In fact, I can't do this stuff anymore when this Episode ends.
Going now into this Episode proper, let us go into the LLSIF Highlights! Please read this Episode to continue!
LLSIF HIGHLIGHTS
As we are in this Final Episode proper, there are things that happened recently in this game. So far, the players out there are feeling good in their playing progress, when the Global Side has been merged recently in the past couple of weeks. But then, the Event grinding shall never fade from that, either.
So, in the future weeks or months, we shall be having new of its features, which can change our playing experiences forever. Due to the fact that they are going to feature the 'Accessory' function, this is going to be a challenging moment, especially when grinding for Score Ranks can be more difficult to achieve now. In short, it may become a Pay-to-Win game.
This is my final report or coverage of my progress in the LLSIF rhythm game in this Final Episode. I know that there are lots of stuffs that shall be announced at a later date. But then, after this, there shall be no more. Maybe the other pages and websites that you follow can give out updates.
Right now, let's move on into this Final Episode proper! So far, what were the things spotted in the past week, and this week on this part? Please read more to continue!
Persona Series Collaboration Event Results
✨ペルソナシリーズ×スクフェススペシャルコラボキャンペーンガール投票結果発表✨

投票の結果、コラボキャンペーンガールは #絢瀬絵里 ちゃんに決定?
特別なUR部員として #スクフェス に登場します?
コラボ開催をお楽しみに❣

結果はこちらから
⇒https://t.co/2pbjZWPvwD#lovelive #ペルソナ

— 【公式】ラブライブ!スクフェス事務局 (@lovelive_SIF) June 28, 2021
This poll event was done recently, and today we finally have the winner! The winning µ's member shall be the image girl for the collaboration event! The winner of this event is Eli Ayase!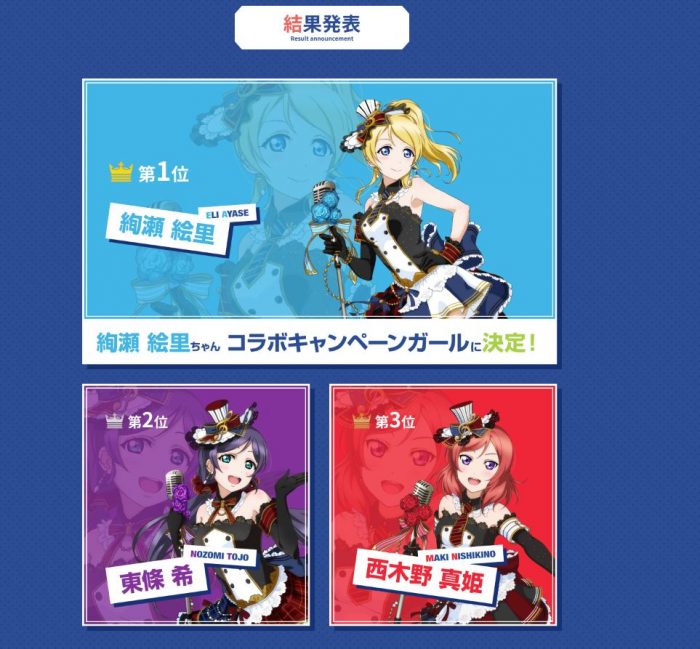 Eli Ayase won the top spot in the poll. Meanwhile, Nozomi Tojo and Maki Nishikino landed in 2nd and 3rd places respectively! So then, we just wait for the LLSIF team on when this collaboration event shall take place. Be sure to follow on their feed for the upcoming updates regarding this collaboration event with the Persona Series!
So far, I wonder if they gonna do it the same, similar of what they did to Aqours with the past Shadowverse collaboration event? We shall find out in the succeeding days to come!
SIF Series Thanksgiving 2021 Event Revealed
✨ #スクフェスシリーズ感謝祭2021 開催決定!!!✨

今年も開催しちゃいます?

詳細は後日お知らせ?

お楽しみに!

▼ティザーサイトはこちらから!https://t.co/lYdXQATIGo#lovelive #スクフェス #スクスタ pic.twitter.com/m5AHfVj5sk

— ラブライブ!シリーズ公式 (@LoveLive_staff) June 30, 2021
Every year, there's thanksgiving event! And every thanksgiving events there are many surprises!
The LLSIF team has finally revealed the key visual of their upcoming SIF Series Thanksgiving 2021 event! The official website of this event is finally open, and you can go to the link given in this embedded Tweet!
Be sure to follow at their feed again for more details! Furthermore, details about this, such as the dates, shall be announced separately at a later date.
Round 9 Live Arena
?第9回ライブ♪アリーナ「届いて!短冊レター」開催?

スクールアイドルたちとのセッションを勝ち抜いて報酬をゲットしよう?
報酬にはUR #天王寺璃奈 (覚醒済)が登場?

開催期間:7/25(日)まで#lovelive #スクフェス pic.twitter.com/of2M9bzOGi

— 【公式】ラブライブ!スクフェス事務局 (@lovelive_SIF) June 30, 2021
This is the last of them… I mean, the last of the Nijigasaki UR set that you can obtain from the Live Arena! And that's right, the Round 9 Live Arena is already starting!
Complete more Special Sessions, and achieve at least Expert or Royal Expert category in order to win a UR Rina Tennoji!
It seems you had already known the rules of Live Arena, isn't it? If so, reach for the stars, and be victorious!
Aqours – Round 29 Challenge Festival (Final)
Finally, I had landed my victory once again in the Aqours Side! Right now, it has finally changed my playing experience, and my scoring capabilities, forever.
As I am progressing and grinding through with this concluded Challenge Festival Event, I had tried playing through continuously by opening more boxes when I completed a live show. In fact, I am using my score team to get higher scores and to open high-level boxes. With them, I can sometimes obtain Skill Level Up cards, in which I can use to strengthen up my School Idol's personal skills.
As of today, I am testing a new meta-team in which most of my friends, as well as some top players in the Score Rankings, are using right now. And yep, I am using some powerful Scorers and at least 4 Skill Repeaters that have the same rhythm notes count as Scorers. Also, I am using a Skill Chance Booster to increase the effectiveness of my Scoring capabilities. Those are one of the members in the team that I am using for the meta.
【LoveLive! SIF】

Touchdown, 3 MILLIONNNNNNNNNNNNNN~ ?#lovelive #スクフェス #LLSIF pic.twitter.com/7REgzu1Zss

— いのりどんず (INORI DONZ NETWORK) (@InoriDONZ) June 22, 2021
And due to the fact that one of my last plays have landed a tremendous 3 million score, I am very happy with the result! In fact, I should keep this up in order to stand up a chance, and to beat my rivals in the Score Rankings! Yep, there is still room for improvement for me, and I got still a long way to improve my rhythm playing skills.
And for the final progress in this Event in which I am going to highlight in this Final Episode, it has made me feel relaxed and happy. If you had read the previous Episode which highlights this Challenge Festival, you might know the reason why the grinding in Events now has slightly eased.
For the song grinding and playthrough, I am still screwing up in some songs, especially the 12's Master songs. Some of them are very insane, in which my thumbs are already hurting and paralyzing in process. Notably on Ultimate difficulty course (Level 11-12 Master bracket), WATER BLUE NEW WORLD and Mirai no Bokura wa Shitteru yo on Round 5, Deep Resonance, Genki Zenkai DAY! DAY! DAY!, and Jingle Bells ga Tomaranai on Round 4, and WONDERFUL STORIES on Round 3 are my worst songs that can easily wreck my thumb fingers. And also, don't forget about Hajimari Road in which is also present and lurking around to get me, too.
But then, all of those songs had greatly changed me the way that I am playing LLSIF. In fact, I am already yelling while playing (especially on mid-difficulty Category 4 Master song like Yume no Tobira), which in fact that my family members are also scolding me because I am too noisy in playing! So then, I should avoid playing in the night, because during that time, they are easily getting irritated with my voices while playing, lol.
【LoveLive! SIF】

The End of the Old LLSIF.

<Aqours> Round 29 Challenge Festival (Results)

? Points: Rank 260 | 3,411,852 pts.
? Score: Rank 3,661 | 3,070,587 scr (Kinmirai Happy End)#lovelive #スクフェス #LLSIF pic.twitter.com/lmXTD95rAx

— いのりどんず (INORI DONZ NETWORK) (@InoriDONZ) June 30, 2021
And finally, for the final results of this Event progress of mine, I had finally reached another Tier 1-1 victory.
So then, my Global Side (EN) account is totally absent throughout the entire month, doing nothing but login bonuses. But then, expect for my Global Side account to make its comeback at the next upcoming µ's Event on the 5th of July! That's right, it is finally returning, and it is ready for action once again, soon!
LoveLive! Superstar!! TV Anime Campaigns
【TVアニメ放送まで11日!新トピックその①☆】
スクフェスでは7/12よりTVアニメ「ラブライブ!スーパースター!!」応援キャンペーン第1弾を開催❗️?
「始まりは君の空」衣装の #Liella!メンバーがGETできるログインボーナスを実施する他、Liella!の楽曲もプレイ可能?要チェックです?#lovelive pic.twitter.com/IJ9koelm7Q

— ラブライブ!シリーズ公式 (@LoveLive_staff) July 1, 2021
And finally, we were able to receive this upcoming campaign soon in this game!
As mentioned before, there shall be commemorative campaigns which shall celebrate the release of the LoveLive! Superstar!! TV Anime series! Expect some login bonus items in which you can get by logging in! And also, songs from that TV Anime and from Liella! can be unlocked and can be played!
This commemorative TV Anime campaign shall start on July 12, as seen in the embedded Tweet above! Look forward into it!
And this ends my highlights for this part! Thank you very much!
Airing Soon… LoveLive! Superstar!!
We are about to end this Final Episode! But before that, you must watch this trailer of the upcoming TV Anime, LoveLive! Superstar!!
This new school, called the Yuigaoka Girls' High School, is located between the three towns of Omotesando, Harajuku, and Aoyama. No other students were enrolled there, even seniors.
Five girls, which shall include Kanon Shibuya, has finally meet the path of being a School Idol.
"I like to sing! All I want is to make something to come true by singing a song!"
And it all starts with little stars shining from nothing to brightness. This is where the journey for these young girls shall begin.
LoveLive! Superstar!! shall begin airing in Japan TV networks, and on some on-demand streaming sites starting on July 11, 2021! Witness the rise of these new-generation School Idols! Meanwhile, overseas licensors per country can receive simulcast of this Anime, soon! Please stay tuned at their feed for more info!
Please, support LoveLive! Superstar!! and Liella! at their future projects and endeavors!
It is done! Thank you for reading School Idol Festival Journal Log!!
Finally, we had reached the end of the road, the end of this Episode, and the end of this segment on Inori-D Station. Time flies really fast, isn't it?
But then, I had enjoyed very well in writing this segment throughout the entire one year. In fact, it's just like writing a novel, and it is just like producing my own TV series.
And that is for the School Idol Festival Journal Log! Thank you for those who read this segment of mine from the very start since Episode One until the very end! Without you, I won't be able to make this far.
As of today, I got lots of projects to make, as well as some of my planned future segments in this website. I don't know what are those and I can't name them for now. But if there is anything that come into my mind, I will try my best to make it materialize as soon as possible! For now, I got other plans other than just writing here.
For the updates in the LoveLive! Universe, and in the current LoveLive! games, it's all in the hands of my fellows! So then, following their official Twitter accounts and/or SNS accounts can help you get these updates in your hands.
Finishing this segment doesn't mean that I ain't going to follow LoveLive! Series anymore. In fact, I am just following them and I sometimes retweet those announcements from them, if there's any!
Is there any plan for a 'Season 2' of SIF Journal Log? Definitely, I got no plans in continuing or making another season of this segment. For now, it is totally finished for good. But if you want to see and read my Episodes in the archive one more time, then you may read them for memories!
And once again, thank you guys for reading School Idol Festival Journal Log! And this wraps up the 50th and the Final Episode!
Wherever you are, µ's, Aqours, Nijigasaki High School Idol Club, and Liella! shall always be at your side.
Please look forward at the upcoming LoveLive! Superstar!! TV Anime, and support it with love!
See you again… Someday. We shall meet again in the future. And because of the support of the fans worldwide, LoveLive! shall still continue.
Indeed. They are the future of LoveLive!
THE END
Back to Episodes Archive | Return to Home Page