The Final Boss Stage.
Now that every conflicts of every single characters have been resolved, and climax has been intensified as ever! What's left now is the last enemy which is hiding on his or her lair. Considering that our heroes and idols have defeated their foes and their own conflicts, they are now heading towards to the final battle. They are heading likewise into the 'Final Stage' where everything must end. And that is considered also to be the 'endgame' of the story where everything should return as normal.
As they are heading into the final stage, they had to revisit and overcome their own conflicts once again before facing their very true final boss of the story. One they had passed their own border, then this is the time that they should be facing their very true enemy! And that is going to be the final battle for victory and peace!
Right now, let us making the road to the final stage exciting, as we are going to head on to the Episode 43 of School Idol Festival Journal Log!
CONTENTS
PRE-EPISODE HEADLINES
For last weekend, we had encountered some surprises! What could it be? Please do read more below to find out!
Nijigasaki Anime Season 2 Announced
【聞こえる、新しい音ーー。】

皆さまの応援のおかげで、
本日、TVアニメ『ラブライブ!虹ヶ咲学園スクールアイドル同好会』2期制作決定を発表させて頂くことができました!✨

放送は2022年を予定しています。
続報を楽しみにお待ちください?#lovelive #虹ヶ咲 #虹ヶ咲3rd_DAY2 pic.twitter.com/37Gr3jkdel

— ラブライブ!シリーズ公式 (@LoveLive_staff) May 9, 2021
"You can hear a new sound."
At the end of the recent Nijigasaki 3rd Live Day 2, they had announced the Season 2 of the NijiGaku Anime. This second season was set to be due on year 2022, but they don't mention which month. Since we also got LoveLive! Superstar!! TV Anime series to air in just a month remaining, this will change the flow and the history of the LoveLive! Universe, indeed!
We do not know which storyline of that second season shall be having. I am just really hoping that Shioriko Mifune shall be appearing on that season, and I am really expecting that!
Meanwhile, expect some campaigns and events commemorating this TV Anime second season announcement in the LLSIF and ALL STARS games!
Later: Nijigasaki Livestream (May 14, 2021)
【?#虹ヶ咲?】
「虹ヶ咲学園スクールアイドル同好会生放送 with You!! 3rd Live! School Idol Festival後夜祭♪夢はまだまだ終わらNight☆」のお知らせ?

5月14日(金)20:00~

3rd Live!の感想メール、
イラストお待ちしています✨

詳細はこちら?https://t.co/v9d46aWaqf#lovelive pic.twitter.com/vSCyKQlzSM

— ラブライブ!シリーズ公式 (@LoveLive_staff) May 11, 2021
Their party is not over yet! An upcoming livestream shall be occurring at 8pm JST (UTC+9)! They shall be talking about their experiences and highlights in their recently concluded Nijigasaki 3rd Live last weekend!
Expect some upcoming updates and contents announcement in the ALL STARS game! Also, they might announce some stuffs, like their upcoming albums, merch, or even some other contents from their magazine!
It seems that the final battle in the final stage isn't over yet. They shall continuously come out left and right until all of our lives were run out!
Putting now these in the corner, let us now move into the next part! What were the things that were spotted during the past weekend, and this week on School Idol Festival rhythm game?
JP SIDE HIGHLIGHTS
In this side, I shall be covering and highlighting only the important things here, since they were covered already in the past couple of Episodes! Right now, let us move on to the things that happened recently! Please do read to continue!
【ラブライブ!スクフェス】

Round 28 Challenge Festival

Seems this Event is so brutal, since the EXP x 5 modifier is tagging along. ?#lovelive #スクフェス pic.twitter.com/TyjHWk5vdd

— いのりどんず (INORI DONZ NETWORK) (@InoriDONZ) May 12, 2021
The domination still continues, and it's so brutal than ever! EXP x 5 modifier is tagging along with this Event, thus making and defending to the Tier 1 points cutoff seems to be impossible. If you try playing harder, especially on the Ultimate difficulty level, your fingers and thumbs will start hurting a lot. In that condition, you can hardly land an FC finish to some Master songs, especially the harder ones.
Still screwing up in some songs like COLORFUL VOICE, Fuyu ga Kureta Yokan, Zurui yo Magnetic Today, and Yuki no Reason. There are other songs that require me to have more speed and dexterity, especially on some songs that have faster 'swipe' movements. But then, either if you are tired or your device got a low battery energy, you should rest for at least a couple of hours.
Somehow, I am just needed to defend my Tier 2 position here in order to complete this mission of mine. This Event shall be ending tomorrow after this Episode, and final results shall be posted here next week!
GLOBAL SIDE HIGHLIGHTS
And so, one of the devil's horns had been snapped. I got one more horn to snap and it is over! It is basically the fact that the Global Side is now approaching to the final boss battle! Please read more of the highlights to continue!
Round 22 Medley Festival (Final)
【LoveLive! SIF】

Round 22 Medley Festival (Results)

? Points: Rank 44 | 1,690,007 pts.
? Score: Rank 465 | 5,067,607 scr

Songs used are in the third photo.

* Previous Results are on the RT.#lovelive #LLSIF https://t.co/elpBlvoW7F pic.twitter.com/Npb3wVE97j

— いのりどんず (INORI DONZ NETWORK) (@InoriDONZ) May 10, 2021
At last, I had snapped one of the devil's horns, and it is now my third winning streak in the Global Side, landing a Tier 1-1 finish! On the last minutes of the Event, my ranks keep going down. So then, I had played hard until the Event duration is over (maybe five minutes before the maintenance time). And after that, I immediately went grinding to the JP Side to reach the Tier 2 cutoff in Event Points!
But then, finishing this one doesn't mean it's over. In fact, we got some one more Event to finish! And as well as some remaining campaigns and limited scoutings, it is indeed that we are still a bit far from the server merging.
Final Battle? Round 22 Challenge Festival

In three days from this Episode, this Round 22 Challenge Festival Event shall take place! It shall occur on May 17, and shall last until May 26!
The Event UR to be obtained is Riko, while Chika and Yohane can be acquired by scouting! Be sure to grind more Event Points to get a Secret SSR and some other items!
So then, we are almost at the endgame of the Global Side. Will it be the final battle?
FEATURE OF THE WEEK!
For the feature of the week, I wondered who could it be? This time it is…
BiBi!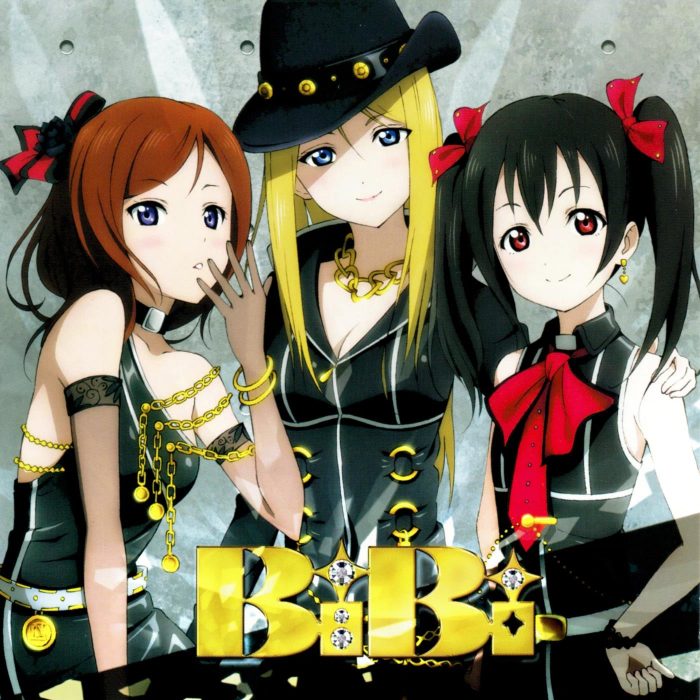 Formed and consisted of Eli Ayase, Maki Nishikino, and Nico Yazawa, BiBi is a sub-unit of the legendary School Idol µ's. Just like Lily White, their variety of song genres depend on their range of their voices. They can be cute, seductive, or even make you 'genki' when you hear some beat formation which suits you very well (commonly when you listen to some other music, mostly from other type of J-Pop songs).
This sub-unit group has over five different songs, and their 'solo' voice versions were also released. My favorite song so far from this group is Cutie Panther. Which song from this sub-unit group was your favorite?
Finally, the Final Battle! What shall happen next?
You had defeated anyone who is in your way to the final boss. Now, you are on his or her final stage battleground. Your final boss is ready, are you? You had already made it this far, and don't give up now!
Finally, thank you for reading this 43rd Episode of School Idol Festival Journal Log! We shall see each other next week for the another new Episode publishing! Take note that anything that happened today, after this Episode was published, shall be included next week!
See you next Episode and cheers! Happy weekend!
Back to Episodes archive | Return to Home Page