The Acronym of Power -Part 1-
Power. This is something that is neither good nor evil. In order to get power, there are five words to remember! Let us discuss this acronym!
Letter P is for Perseverance. It is something that you need in order to gain power. That's right! It is what we call hardwork, in the other word around! Without it, you can't have power. The real power in you can be gained by working hard in order to achieve the dreams you wanted! Just don't forget to rest, though.
Letter O is for Observation. In the sense that you are observing your power, you should learn on how to use it very well. You can tell and observe on how your power works. If you are able to use it by good strategy, you can achieve victory. However, if you weren't observant with your power, then it's useless and you can't win no matter how hard you try.
These are just the first part of this theme! I can give you more next week!
Welcome to the 38th Episode of School Idol Festival Journal Log! Let's begin, shall we?
CONTENTS
PRE-EPISODE HEADLINES
There are things that happened while I am off from publishing due to a holiday! So far, here are the things below!
You Watanabe's Birthday and First Solo Concert Album
Next week, on April 17, it is the birthday of one of the Aqours members, You Watanabe! Birthday Campaigns and Scouting shall come soon to LLSIF in all branches, and look forward into that! Also, next Episode, I shall be greeting You Watanabe with a birthday message!
【☀️CD情報☀️】
4/17(土)発売「LoveLive! Sunshine!! Watanabe You First Solo Concert Album ~Beginner's Sailing~」試聴動画を公開❗️
新曲「突然GIRL」を含む全16曲を収録✨
ご予約をお忘れなく❗️
⏩https://t.co/xyvvw4UvjT#lovelive #Aqours #渡辺曜 pic.twitter.com/0J3pQpzWqW

— ラブライブ!シリーズ公式 (@LoveLive_staff) April 3, 2021
Also, coming up along with her birthday is the upcoming release of her solo album! And yes, it shall be released on her birthday on April 17! The music tracks were already previewed on YouTube!
LoveLive! Superstar!! Airs in July
【?新情報?】

本日NHK Eテレにて放送された
「そうだ!春アニメ見よう」にて
TVアニメ「ラブライブ!スーパースター!!」
キービジュアルを公開しました?

7月よりNHK Eテレにて放送開始予定?
お楽しみに✨

はじまれ!新しい「私」――。

▼公式HPhttps://t.co/h1JCpO3tu6#lovelive #Liella pic.twitter.com/K6kbWh5Enm

— ラブライブ!シリーズ公式 (@LoveLive_staff) April 4, 2021
Announced recently in the couple of days is the confirmed airing date of LoveLive! Superstar!!, a TV Anime series of the newest School Idol group, Liella! That Anime series shall start airing in July, in Japan TV-related networks! The key visual is already revealed at their official website.
Also, along with the announcement is their recent release of their debut single, Hajimari wa Kimi no Sora since April 7! And yes, it is now available in Apple Music, Japan music stores nationwide, and some online music streaming platforms like Spotify.
Remember that there are campaigns and events which will commemorate this TV Anime pre-release, such as reruns of the Anime series in the LoveLive! Universe (i.e. Aqours and Nijigasaki), in order to promote LoveLive! Superstar!! Anime series. Expect also some in-game campaigns and events commemorating the pre-release of this Anime in the LLSIF rhythm game, and in ALL STARS, soon!
Nijigasaki 3rd Live Update
【?BD情報?】
TVアニメ『ラブライブ!虹ヶ咲学園スクールアイドル同好会』Blu-ray第4巻好評発売中?

封入特典・3rdライブDAY.2チケット最速先行抽選申込券の申込受付は【4月11日(日)23:59】までなのでお忘れなく✨

BD詳細⇒https://t.co/pzcoVXgwo7#lovelive #虹ヶ咲 pic.twitter.com/QRs5slMMtH

— ラブライブ!シリーズ公式 (@LoveLive_staff) April 4, 2021
On the other hand, the online ticket lottery applications for the Day 2 of Nijigasaki's 3rd Live performance (Nijigasaki High School Idol Club 3rd Live! – School Idol Festival: The Beginning of Dreams) is still ongoing for folks in Japan. The ticket lottery can be found from the Blu-Ray Volume 4 of the Nijigasaki Anime, and the deadline of this is until April 11th!
The live performance, the Nijigasaki High School Idol Club 3rd Live! – School Idol Festival: The Begnining of Dreams, shall be held on May 8 and 9, 2021 (weekends).
So right now, there are many things to discuss, especially when this segment was off last week! It seems that we are on the way to the game's 8th Anniversary right now, and expect things to go wild and exciting! Please do read the highlights in the JP and Global Sides of LLSIF rhythm game! What has happened recently? Find out by continuing to read!
JP SIDE HIGHLIGHTS
There are things that happened in the past two weeks, and in the past week during the time when I am off from the publishing! Please do read, thanks!
So then, I had effortlessly grinded in the Score Match Event by playing always on either the Expert or Technical Expert difficulties. I had observed that some players are just playing on that difficulty in order to defend their Score Match Points, preventing them to drop drastically when they lose. Basically, the players who play in the Master difficulty are insanely powerful, and your SMP will drop drastically if you keep losing. So then, since it never records your rankings for score, I decided that I should be playing in the Technical Expert difficulty, as advised. This should help me to build up more SMP if needed, in order to survive the SMP Rankings. Remember that if you encounter a very strong opponent, together with the other computer-controlled players, expect that you are going to lose!
It is safe, actually, to play on Expert or Technical Expert. But, just remember to mind your Event Points Rank to survive in the rankings!
【ラブライブ!スクフェス】

✨The Streak Continues ✨

Round 47 Score Match (Results)

? Event Pts.: Rank 433 | 2,172,500 pts.
? SMP: Rank 306 | 25,883 pts.

Notes: Highest Score Match Points ever recorded (previously 25,134 pts on Score Match #45).#lovelive #スクフェス pic.twitter.com/GimBuOyieO

— いのりどんず (INORI DONZ NETWORK) (@InoriDONZ) March 31, 2021
To make up with my loss in the Global Side, ending in Tier 2-1 last two weeks ago, I had finished this Event with a Tier 1-1 standing. Looks like I am ready to catch up all of the things that will happen soon in the game's 8th Anniversary!
?第6回ライブ♪アリーナ「ポラリスショータイム!」開催?

スクールアイドルたちとのセッションを勝ち抜いて報酬をゲットしよう?
報酬にはUR #近江彼方 (覚醒済)が登場?

開催期間:4/25(日)まで#lovelive #スクフェス pic.twitter.com/UKKCnkUENu

— 【公式】ラブライブ!スクフェス事務局 (@lovelive_SIF) March 31, 2021
We are finally in the new season of Live Arena! We are indeed in the second season!
The sub-title of this event is Polaris Showtime!
Same rules will apply. You just need to do 50 Special Sessions, and finish them all to get the Special Title! Reach at least Expert or Royal Expert Category in order to win the UR Kanata Konoe, and some other items!
Remember that there is an ongoing campaign or challenges that require you to play in the Live Arena, in order to get those featured items! Please do read the next highlight!
【ラブライブ!スクフェス】

Remember to do Special and regular Live Sessions in the Live Arena to obtain these rewards below!

There are two kinds of rewards. One is for group rewards, and the other is for your own individual rewards!#lovelive #スクフェス pic.twitter.com/xlt9VHjUHT

— いのりどんず (INORI DONZ NETWORK) (@InoriDONZ) April 3, 2021
The reason that you must do regular Live Sessions in Live Arena is because of these! You can win some rewards, such as some items that can be used to exchange with some exciting items, like Support Members! There are two rewards types, one is for group rewards (entire players who were playing in the JP Side) and the other is your individual rewards! Clear more Live Sessions (at least 50 of them) to get awesome rewards!
During the past week, as this segment was off from the publishing, an April Fool's Day collaboration was made with an another Anime series! LLSIF collaborates with Crayon Shin-Chan, a children's Anime series!
【ラブライブ!スクフェス】

LLSIF Gets 'Crayon Shin-Chan' April Fool Collaborationhttps://t.co/XlKePU1HgO#lovelive #スクフェス

— いのりどんず (INORI DONZ NETWORK) (@InoriDONZ) March 31, 2021
I got some report post with regards to this! You can go to the link on the embedded Tweet for more details! Or you can go to this link instead if in case the embedded Tweet doesn't work.
Related: LLSIF Gets 'Crayon Shin-Chan' April Fool Collaboration
【ラブライブ!スクフェス】

Icon Collection Event Songs Restart?

Icon Collection: A Gorgeous Part-Time Job Experience for μ's

Event UR is Eli, and Umi & Honoka are for Scouting.#lovelive #スクフェス pic.twitter.com/KExhvWEIBR

— いのりどんず (INORI DONZ NETWORK) (@InoriDONZ) April 4, 2021
This Icon Collection Event is in the favor of µ's this time around! But wait, µ's already got one since January, and why is it µ's again? This Event has begun since the 5th of April, and will last until the 15th of April.
The Event UR to be acquired this time is Eli Ayase, and the other URs to be acquired from Scouting are Umi Sonoda and Honoka Kosaka! By playing and grinding more Event Points within this Event period, you can get a Secret SSR member, as well as some previous Event SRs that appeared in the past Events! Try to play more and get all of the item rewards from the Event! And also, if you are aiming for Tier 1 Event Points Ranking, make sure to play hard and defend it!
The Event Song in this Icon Collection Event is Yujo No-Change! Similar to the previous Icon Collection Event in the µ's Side, it features the 'Song Melody' mode gimmick! You know what this means, right? Also, along with the Event Song is a 5-Icon mode Master song, and it was Cutie Panther! Try to test your skills by clearing that song and land an FC finish in it! Are you dexterous and fast enough?
For the final highlights and results, it shall be posted next Episode! Look forward into it!
【ラブライブ!スクフェス】

What waits at the other side of the door to the 8th Anniversary is…

This lottery ticket can be used right after the patch update on April 15th, which is also the LLSIF's 8th Anniversary!#lovelive #スクフェス pic.twitter.com/S8tjzcGpf2

— いのりどんず (INORI DONZ NETWORK) (@InoriDONZ) April 8, 2021
So then, we are just a few days away from the game's 8th Anniversary! Right after the Icon Collection Event, this is going to be explosive as ever.
But then, what awaits us at the other side of this lottery ticket that we have in our item lists?
GLOBAL SIDE HIGHLIGHTS
After the sad defeat since the last Score Match Event, it is about time for me to do my counter-offensive! This is going to be intense as ever, and I shall give my full power into this Event!
Round 16 Companion Match
【LoveLive! SIF】

? Revenge Grind ?

Round 16 Companion Match#lovelive #LLSIF pic.twitter.com/JOC2frMJxz

— いのりどんず (INORI DONZ NETWORK) (@InoriDONZ) April 1, 2021
This Event has begun just a week ago! Right now, it is expected to end in just few days! Let me give you the details right away!
The Event UR to be obtained is Rin, and the URs to be scouted to gain more Event Points are Umi and Maki. Secret SSR, meanwhile, is Hanayo, and she can be obtained by playing through in this Event!
For the details and my experiences in the Event, it seems that I am more powered up than ever! So then, I was able to land an FC finish to some other Master songs. Back then, I was still a bummer, after all. But right now, after all of the years, I am well-experienced in playing School Idol Festival! If it is a Companion Match, you can do always play at Master difficulty, given if your fingers are well-experienced enough! Just remember to take a rest in between if you think that your fingers can't take it anymore. You can grind hard, but don't forget to rest as well.
Use the greater mic numbers by your other players in the room to gain score advantage! And that is in order to survive in the Score Rankings in this Event! If you got a meta-song in which it is your primary target (i.e. Binetsu Kara Mystery), then you should wish and pray for some players to have higher mics than you (also you should have higher mic numbers). And those mic numbers can determine by your team members' Skill Level, and remember that! That can affect your Tap Score bonus when you land Perfects!
The Perfects Missions can be a pain in the butt, especially if it goes with your target meta song. If that happens, you must sacrifice your result ranking for your meta song score!
And finally, this Event shall be ending soon in just a few days. Final results shall be posted on my Twitter account and on the next Episode next week!
FEATURE OF THE WEEK!
【School Idol Festival Journal Log】

Starting in the upcoming Episode, as well as in the succeeding ones, it shall be introducing the 'Feature of the Week' sub-segment! It shall be featuring about the things and groups in the LoveLive! Series!

— いのりどんず (INORI DONZ NETWORK) (@InoriDONZ) April 5, 2021
As announced in my Twitter account, this shall be the new sub-segment in the future SIF Journal Log Episodes! And this shall replace the LLSIF Tip of the Week sub-segment! For our first feature of the week, here it goes!
The Legendary School Idol: µ's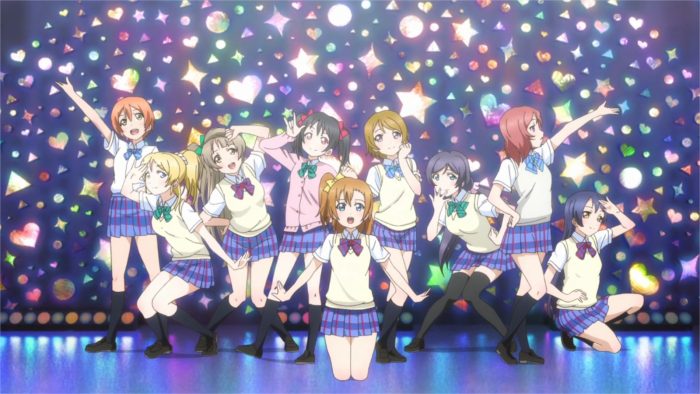 The first flagship School Idols of the LoveLive! Series, µ's (Muse), had made debut on year 2010. They had made their debut with their first animation PV single, entitled "Bokura no LIVE Kimi to no LIFE". µ's has become the primary foundation of the LoveLive! Series, thus continuing their legacy, with the succeeding new flagship School Idols, like Aqours, Saint Snow, and Nijigasaki High School Idol Club.
This School Idol group has produced more than 200 songs, including their sub-unit songs, as well as some solo-versions of their songs, and some other collaborative songs. Their most-requested songs, such as Snow Halation, has somehow topped into the Japan music charts during the past.
True Power Awakens Next Week!
And that's it for this week! I hope that you had enjoyed reading this Episode! For the POWER acronym, we had mentioned the first two letters! What could be the next letters to be given, and what could be their meanings? We shall find out next week!
Be sure to tune-in every week in IDS for the School Idol Festival Journal Log! See you next week! Anything happened after this Episode was published shall be included next week! Happy weekend, people!