EPISODE 36: Aika on Stage
In order for Takayoshi to master his rhythm game skills, and to beat Hyoshiro next time, he must go in the farthest north in Japan, where he is in a search for a martial artist to train him.
Meanwhile, the rest of the Idol Chasers are having their own, separate missions, as they were assigned to them by Saki. And now that they were separated from each other, this is where they need to prove themselves as Idol Chasers, in order to beat their enemy, the Black Lace Ribbons!
This time, the current focus is on Aika Tenkuji! What is she now doing in her progress of her mission as an Idol Chaser?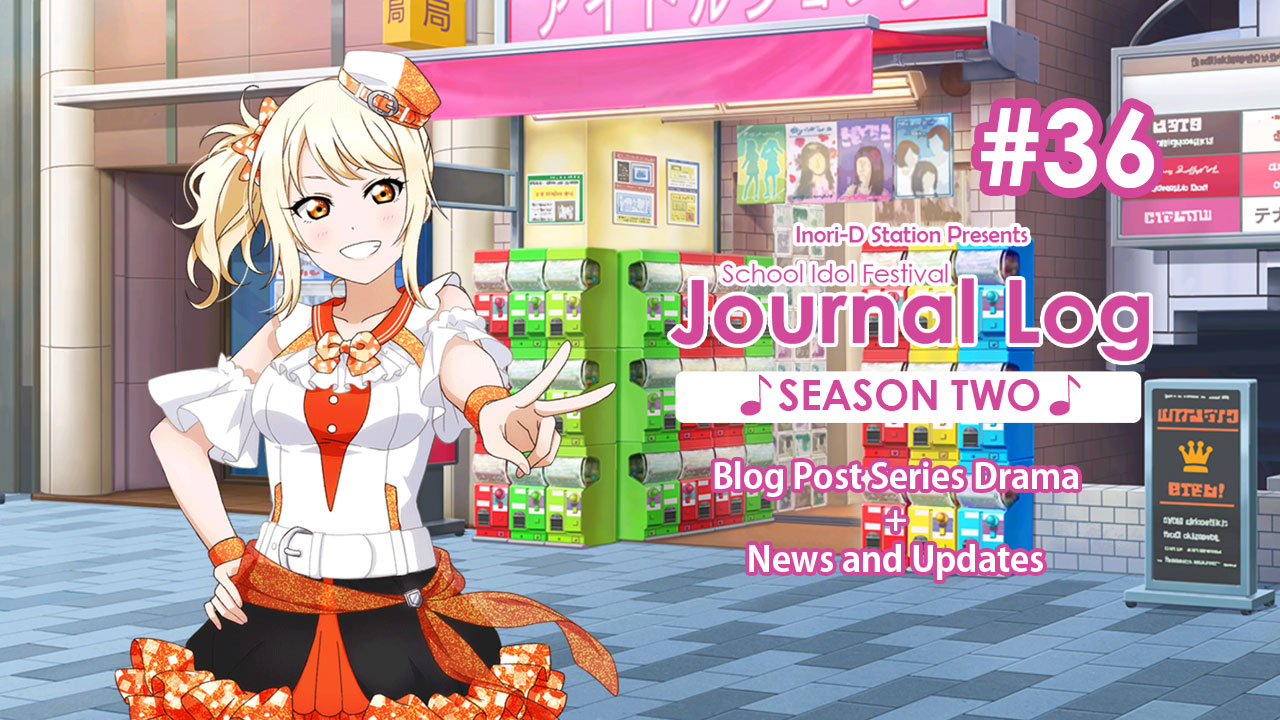 STORY EPISODE
That time, Takayoshi and Gen have arrived, and they were walking around the streets in Hakodate. Finally, they have found a building, which it happens to be a dojo.
When they entered inside the entrance, Takayoshi knocked on the door. Later on, the door opens. And finally, they have met the person that they are looking for.
"Are you… Kougi Haneda?" asked Takayoshi.
"Yes, I am, kid," replied him.
"Well, I am here to —"
"You are here to learn some martial arts, do you?"
"Kind of. But then, did you use to be an SIF player in the past? You go by the player name, Omegamira."
"SIF? Haha… Yep, I used to play that game in the past. But then, I am no longer an active player of that game."
"It is true that you didn't participate with any yearly championships. And your student before, Jun Kiriyama, has told me everything about you."
"I see… So my student before has referred you into me to train."
Gen finally adds into the conversation and said, "Actually, his real purpose was to train himself under you, Kougi. It is because he wanted to defeat his own rival, Hyoshiro Kiriyama, who is currently the reigning champion in every SIF National Tournaments."
"Is that all?" asked and replied Kougi. "Now, you got your purpose on why you guys wanted to visit me to train."
And so, Takayoshi begs and said, "Kougi Haneda! I want to train under you so that I could play better in the rhythm game for the next National Tournament Finals! And also, I want to avenge my own loss."
Kougi then pauses, and said, "Alright, I am going to train you. But remember. Patience is required in order to master everything! And your revenge is not always the answer to resolve your problems."
"Thank you, Kougi!"
"Starting today, you shall be starting to do your regular training regimen. You shall follow my training format as well. And remember this. My training for you is definitely not 100 percent guaranteed that you can win in the National Tournament!"
And so, Takayoshi has begun training under Kougi in a dojo. And then, Gen is just around who is supervising with Takayoshi in his training sessions.
And back at a stadium in Tokyo, Aika was looking on a mirror inside at the women's comfort room. It seems that her face can tell that she is really joining in the contest. And also, she thinks about the sister rivals, El and Aru, who also used to be the members of Mikako Kira's group, the Black Lace Ribbons.
So then, Kotori went also inside the same women's comfort room where Aika was. And then, she talks to Aika.
"It seems that those girls are indeed strong! But then, I won't stop believing in you, Aika."
"Kotori…"
"Just always believe on who you are. And never take any words from others that can let you down. No matter what they speak, just continue! And that's how I am always having fun when I was a School Idol back then!"
"I see. The reason why I am already with the Idol Chasers is that… They were always around me! And they helped me to reach for that dream!"
"Same! It's all thanks to everyone who kept rooting for us until the end, and they were the reason why we are at the top!"
"But then, about my rivals, El and Aru… I know they may be strong, but I cannot back down!"
"Whether you win or lose, just never lose the fun in you! And that was one of the things in being a School Idol!"
And then, Aika's Charm item in her hands is beginning to resonate, and said, "Kotori, let's sing and dance together… As one!"
Kotori gives a warm hug to Aika from behind and said, "I shall be always at your side. Open up your heart and soul to everybody!"
And so, Aika is now engulfed with courage and resolve, and she steps outside from the comfort room.
Some tons of announcements have been announced recently at the end of the SIF Series Thanksgiving 2022! While not revealing almost all of them, I am going to reveal some of the most important and principal parts here.
Speaking of the Headlines, what are the things that were encountered during the past weekend, and in this week on the School Idol Universe?
---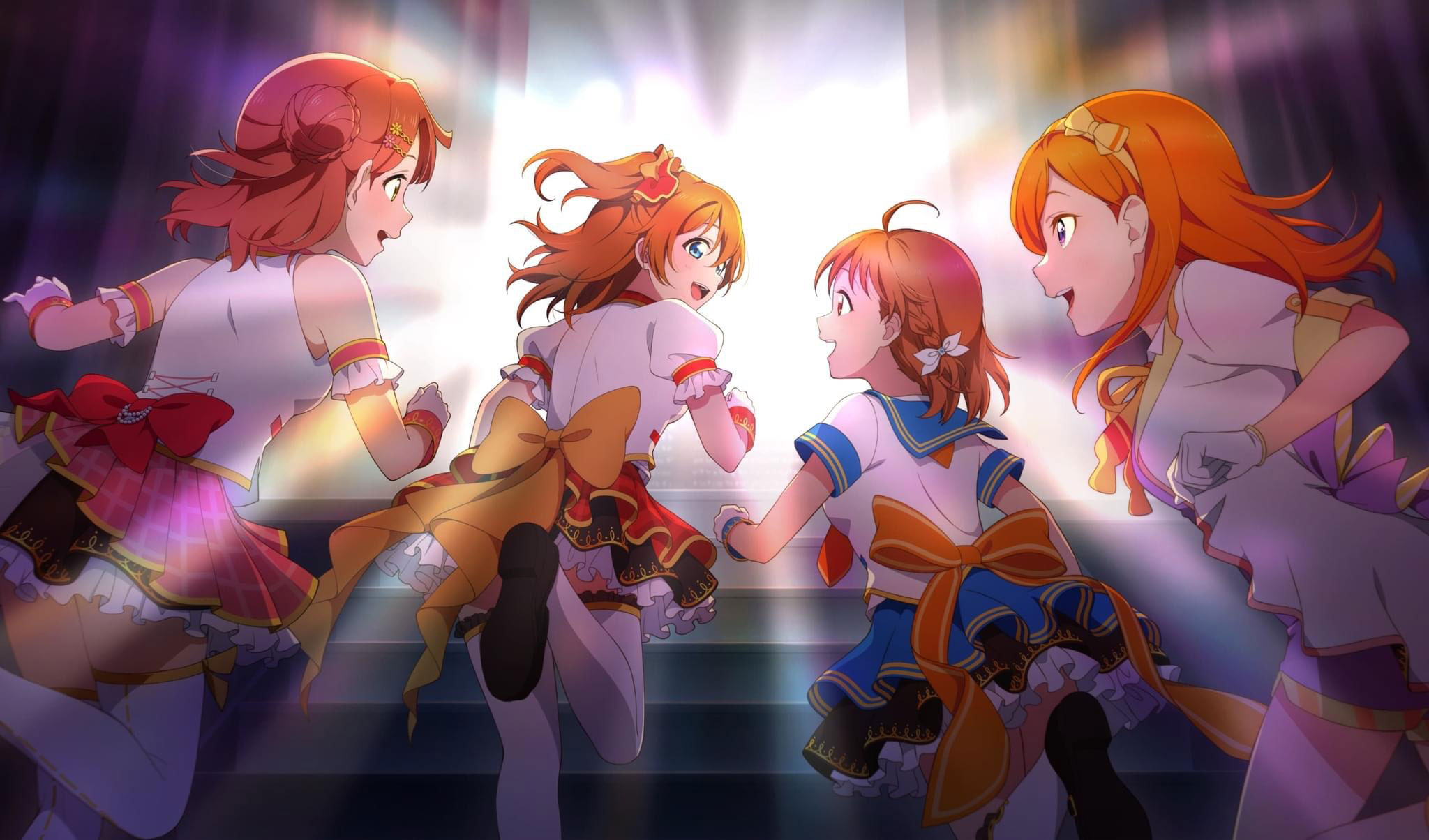 LLSIF HIGHLIGHTS
What awaits the Idol Chasers is the fate of the School Idol Festival rhythm game that stands for at least 9 years. As it is about to step on its 10th year on April 2023, many fans are wondering if they could give themselves an another shot for one more time in the School Idol Universe.
This is due to the fact that the new derivative game, the LoveLive! SIF2 has been announced at the end of the SIF Series Thanksgiving 2022 Event.
And while putting that aside above, what are the news and updates of what are we going to expect to encounter on the LLSIF rhythm game? Stage Start!
LoveLive! SIF2 Announced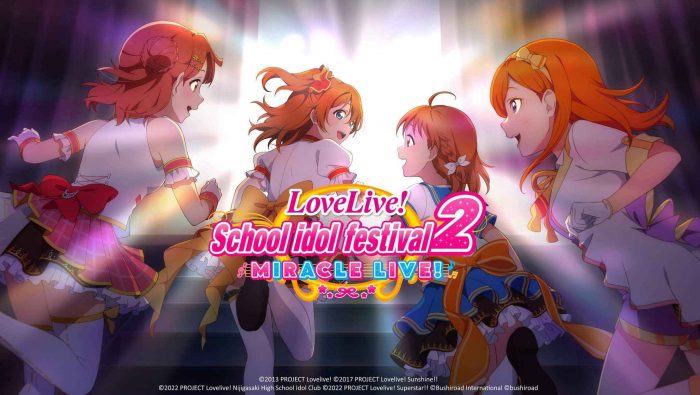 At the end of the SIF Series Thanksgiving 2022 Event, there goes their announcement of their new upcoming game, which shall be the "future" LLSIF rhythm game.
The full title is LoveLive! School Idol Festival 2: MIRACLE LIVE!. The game is scheduled to be released sometime in the future date. Definitely, we just hope that its gameplay shall be revealed somehow in the upcoming "10th Anniversary" of the original LLSIF rhythm game. Or maybe, in the next SIF Series Thanksgiving Event next year? Who knows!
This time, the handling publisher of this new-gen SIF game shall not be KLab Inc. Instead, like ALL STARS, it shall be handled by Bushiroad (Bushiroad Mobile sector). The game is also expected to have an English version, just same with the other LoveLive! games, which are currently synching at each other, in terms of updates and contents (LLSIF JP and EN are currently merged at each other).
Stay tuned at their feeds for future updates!
Official Website [Japanese Ver.]:
https://lovelive-sif2.bushimo.jp/ 
"Aqours Unit Live Battle II" Limiteds Coming Soon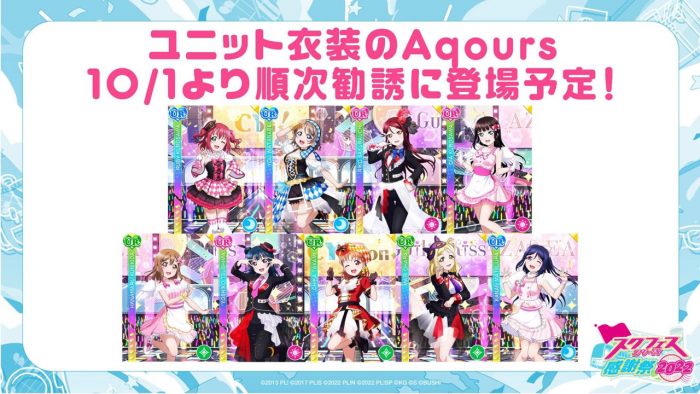 This was recently announced and previewed during the LLSIF Stage with Aqours, within the SIF Series Thanksgiving 2022 Event!
Their expected appearance shall be around October 2022. Make sure that you have saved enough Love Gems and Tickets, as they are going to release them as Limiteds that can be scouted through rate-up scouting box banners, or at any Box Scouting banners (Free or Paid)! Just stay tuned at their feeds for more updates about this!
Round 24 Live Arena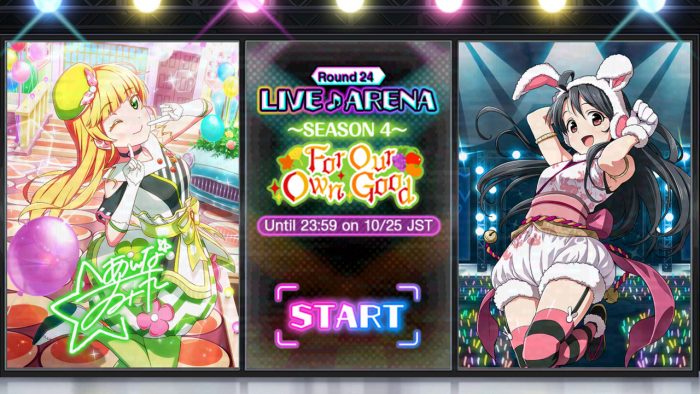 In order to win a UR Karin Asaka, you must reach EXPERT or ROYAL EXPERT Category Class at the end of October 25th! Basically, you already know what to do, right?
Then, start grinding and be victorious!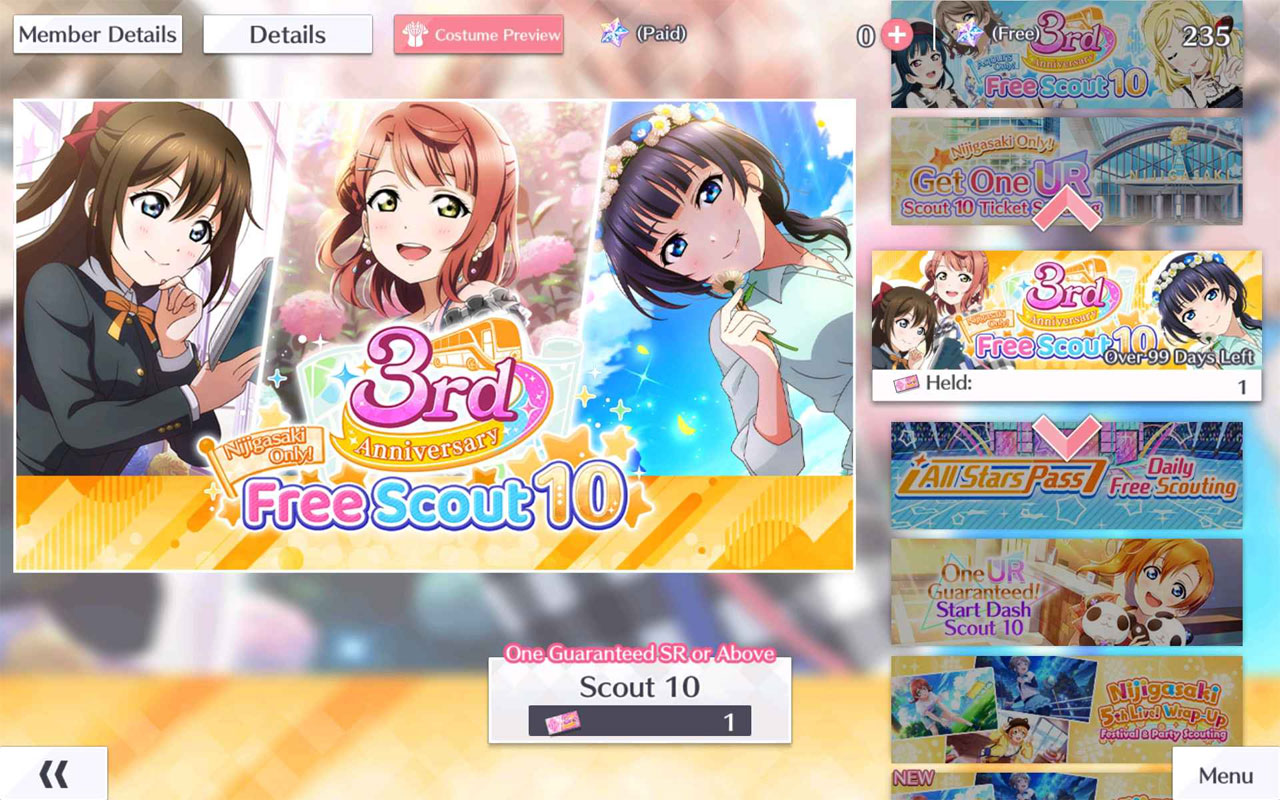 ALL STARS HIGHLIGHTS
It's on! The Season 4 of the ALL STARS game is now live! In fact, there are more surprises to expect here! Such as the fact that this new "shady" character is being foreshadowed at the trailer part of the upcoming Main Story chapter! Will she become a new member of the Nijigasaki High School Idol Club?
Speaking of the ALL STARS Highlights, what are some things to expect here soon? S.I.F. !!
School Idol Channel Weekly Bulletin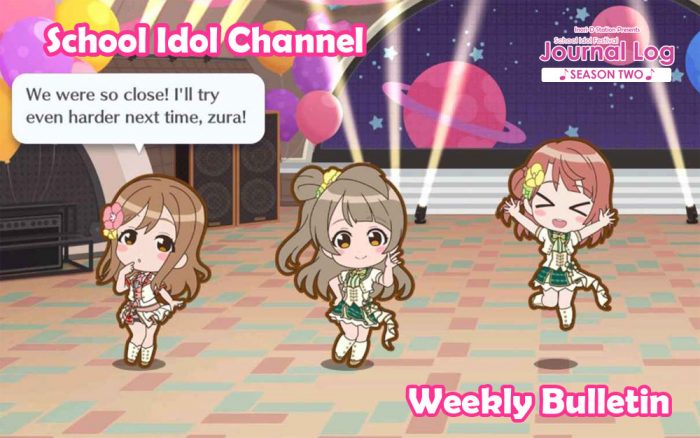 Ruby Kurosawa got her weekly win this time, due to her birthday being celebrated last week! So far, let us find out on who are the girls who had managed to make it to the top ten!
And then later, as a part of this weekly bulletin special, we are going to tally some Birthday Girls from the Team Aqours to see on who is notably the "Aqours Best Girl of the Year 2022"! Do you want to know the results? Of course, you must need to read this entire report first to find out!
JP Side – #78
RANK #
SCHOOL IDOL
GROUP
AVERAGE CHEER POINTS
(RALLY POWER)
1
Ruby
Aqours
33,363
2
Kasumi
Nijigasaki
9,648
3
Setsuna
Nijigasaki
9,040
4
Ayumu
Nijigasaki
8,974
5
Karin
Nijigasaki
8,139
6
Shizuku
Nijigasaki
7,416
7
Kotori
μ's
7,238
8
Shioriko
Nijigasaki
7,179
9
Hanayo
μ's
6,914
10
Dia
Aqours
6,911
Global Side – #65
RANK #
SCHOOL IDOL
GROUP
AVERAGE CHEER POINTS
(RALLY POWER)
1
Ruby
Aqours
30,306
2
Setsuna
Nijigasaki
6,982
3
Dia
Aqours
6,695
4
Maki
μ's
6,656
5
Eli
μ's
6,400
6
Mari
Aqours
6,255
7
Kotori
μ's
6,142
8
Nozomi
μ's
5,377
9
Karin
Nijigasaki
5,161
10
Hanamaru
Aqours
5,131
And then, for our Aqours Best Girl of the Year this 2022, here are the results, which came from various channel ranks from the two server sides!
SCHOOL IDOL
(AQOURS)
RANKING ROUND
(JP)
TOP #1
RALLY POWER
RANKING ROUND
(EN/GLOBAL)
TOP #1
RALLY POWER
Dia
#40
16,281
#27
10,495
Kanan
#46
20,631
#33
12,371
Hanamaru
#49
14,256
#36
9,623
You
#55
21,016
#42
10,448
Mari
#63
13,439
#51
6,554
Yohane
#67
11,328
#55
13,435
Chika
#70
21,871
#57
14,530
Riko
#77
47,097
#64
25,190
Ruby
#78
33,363
#65
30,306
And then, the "Aqours Best Girl of the Year 2022" award goes to…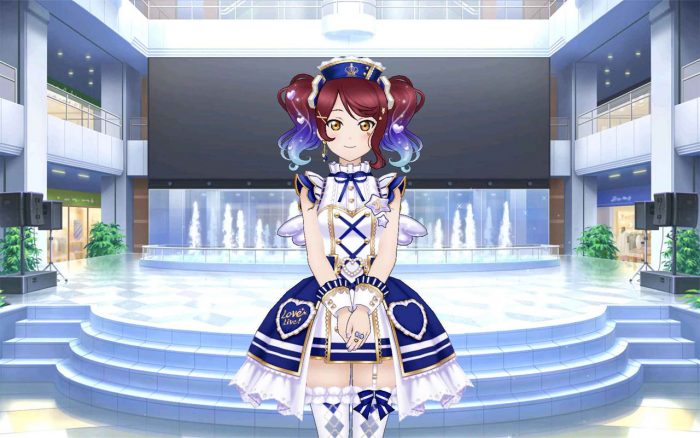 So then, I might do this next year. But this time, on the other School Idol Group! Notably μ's, next time!
And that is for this week's School Idol Channel Weekly Bulletin! See you next time!
3rd Anniversary SBL Series II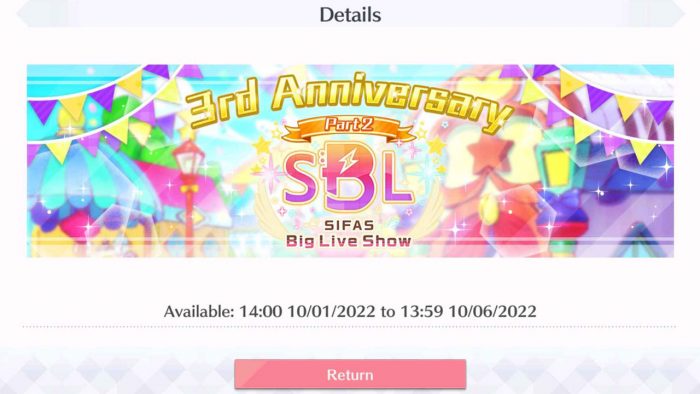 It's the second part! The part one is already finished since yesterday!
I am not going to give out my Event Report yet, since there is one more, and it shall start in just few hours from this Episode!
The featured songs below are as follows:
Kitto Seishun ga Kikoeru
Step! ZERO to ONE
Love U My Friends
And the SBL awards are:
Voltage Award
SP Skill Award
Skills Act. Award
Since the Part 1 of the 3rd Anniversary SBL Series is done, both Part 1 and Part 2 Results of mine shall be given details on the next Episode! Look forward into it!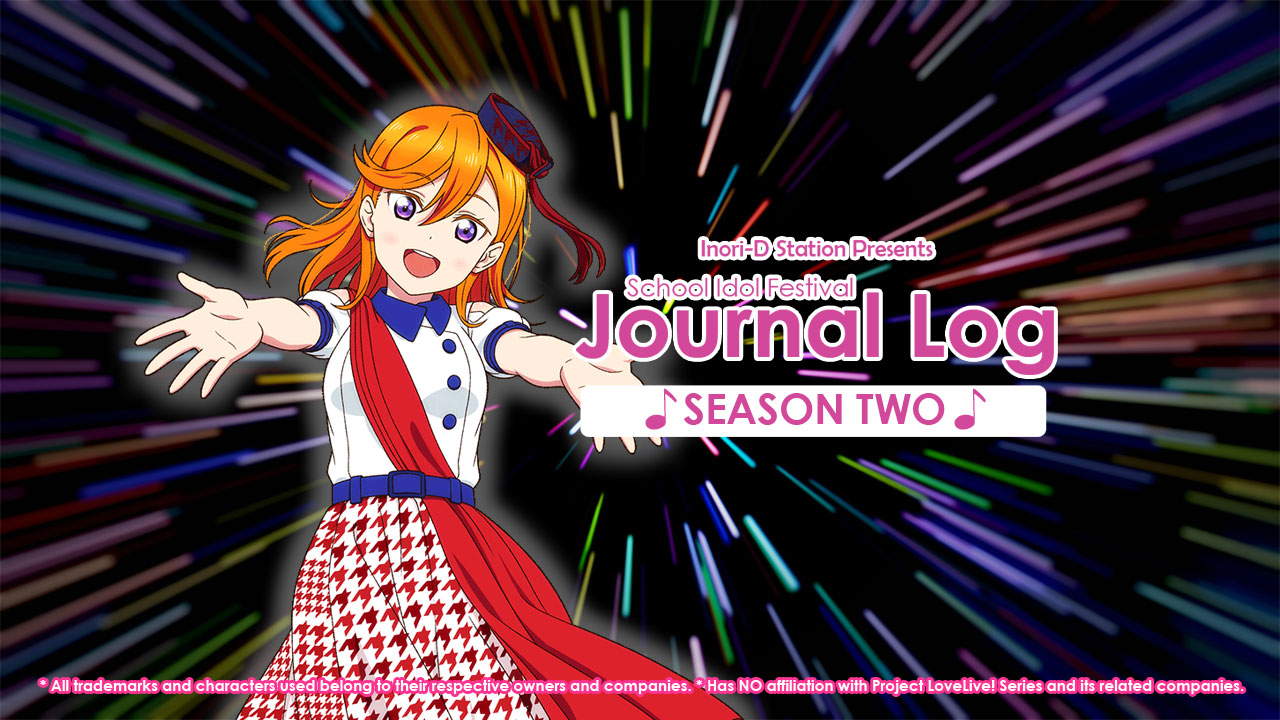 STORY EPISODE (EPILOGUE)
Minutes later, the contestants have already made their own presentation of their own costumes, as well as performing on the live stage wearing them. El and Aru have already finished their presentation as well, and the audiences have been impressed. They said with these words.
"Amazing! I had never seen that kind of live performance before!"
"Their costumes have matched with the song as well."
"I wonder if they could be the winners around…"
"Hoping that they could win, and yet the contest period is not yet over!"
"Wait girls! It seems the last contestant is ready to present! I wonder what could it be?"
"Huh? Was that Aika Tenkuji? She was a dropout student from Chitosebashi High School!"
"But then, just don't judge her like that. In fact, we had talked to her already."
"Huh??"
The MC finally announced the last contestant to perform and present on the stage. It was none other than Aika Tenkuji.
Aika finally steps on the stage. In a whispering voice of hers, she said, "Kotori, let's do this. This live performance is for you!"
And so, Aika begins to sing and dance on the stage while she is wearing her own cute costume. She is singing her own song, titled as "Eternity Feather".
While performing, she remembered her past time again, when she was a student in Chitosebashi High School. And then, her surroundings have darkened and she was only standing alone.
"I have finally realized that I have my own dreams to make it come true! It is because… I want to make people around smile! I want them to believe on who they are! I totally believe on who really I am! I am Aika Tenkuji! Someday, I want to become a School Idol who wants every people to smile everyday!"
Finally, the surroundings around her have brightened up. And then, her song continues.
Aika finally sings the last part of the song lyrics until the very end. After that, the audiences have clapped their hands while waving their light sticks. Aika can't believe that the people in front of her are already giving their loud cheers for her. And then, Aika finally smiled.
At the back stage, the sisters, El and Aru, can't believe on what they saw, and they gave comments.
"Wow, that live performance…"
"That song is so beautiful to hear!"
"And that white and pink costume…"
"Is that really School Idols are made of?"
Finally, the MC announces the winner for the costume and live show contest and said, "The winner is… Aika Tenkuji! Congratulations!"
The audiences have gave their cheers for Aika Tenkuji, at last.
Even the contestants in the back stage are being moved with Aika's spectacular live performance, while wearing her cute white and pink costume.
And so, everyone are looking at Aika now, and they are chanting her name.
Then the sisters have come into the stage, facing at Aika. Then El and Aru talk to her.
"That live show of yours is great! But still, we are rivals and we can always compete and clash at anytime."
"Definitely, our next win shall be going right to us!"
"Yes, you can always face me at anytime! So as long as you don't lose your cool and fun factor."
"Fun factor? Well, we guess that there are so many things for us to learn."
"Aika… Now, I do really know what means of being a School Idol."
"You would know it sooner if you try! And I haven't tried that for myself, though."
And so, the sisters have parted ways from Aika.
"This is not over yet, Aika!" said El. "We will definitely win next time! Let's go, Aru!"
"Wait for me! And… good bye, Aika…"
El and Aru have finally left Aika on the stage.
"Sure thing!" said Aika. "Next time, we shall be meeting and be competing… Really soon!"
It was already afternoon, and both Aika and Kotori were looking at the setting sun. And they talk to each other.
"Kotori, I guess there are lots of things for me to learn from you."
"Well… You don't really need to learn more things from me, though. In fact, the only secret to greatness is just you, Aika."
"I see. Everything that I do… It is just only me who do it, and that really defines me… As myself."
"Count in also your friends who helped you to make that thing possible!"
"Yeah, and that includes you, Kotori. You have helped me in winning the contest!"
"I guess it is really the time that we, Legendary School Idols, should start moving right away!"
"What did you mean?"
"Apparently, our own world is under attack by this group who dwells within the darkness."
"I see now… Black Lace Ribbons have attacked your world!"
"Definitely, we must need to hide ourselves from them, and we just escaped from our world from them!"
"Kotori, the Idol Chasers are ready to protect you, and I know that! We can definitely save your world from those Black Lace Ribbons!"
"Aika, you must take care of yourselves as well. Now, it is time for me to go!"
"Wait, Kotori! Please stay with us instead! You will definitely —"
"Don't worry about me and us. Even though that we are apart, just remember that we are always be in your hearts… Forever! Good bye, Aika!"
"Kotori!"
And then, Kotori have disappeared in the light along with the feathers.
And when a lone feather is floating towards Aika, she grabs and looks at it.
"Kotori, I can be a School Idol… But right now, I am an Idol Chaser. It is because we wanted to keep supporting you, School Idols, in your journey! We are going to put a stop into Black Lace Ribbons from further spreading madness towards School Idols!"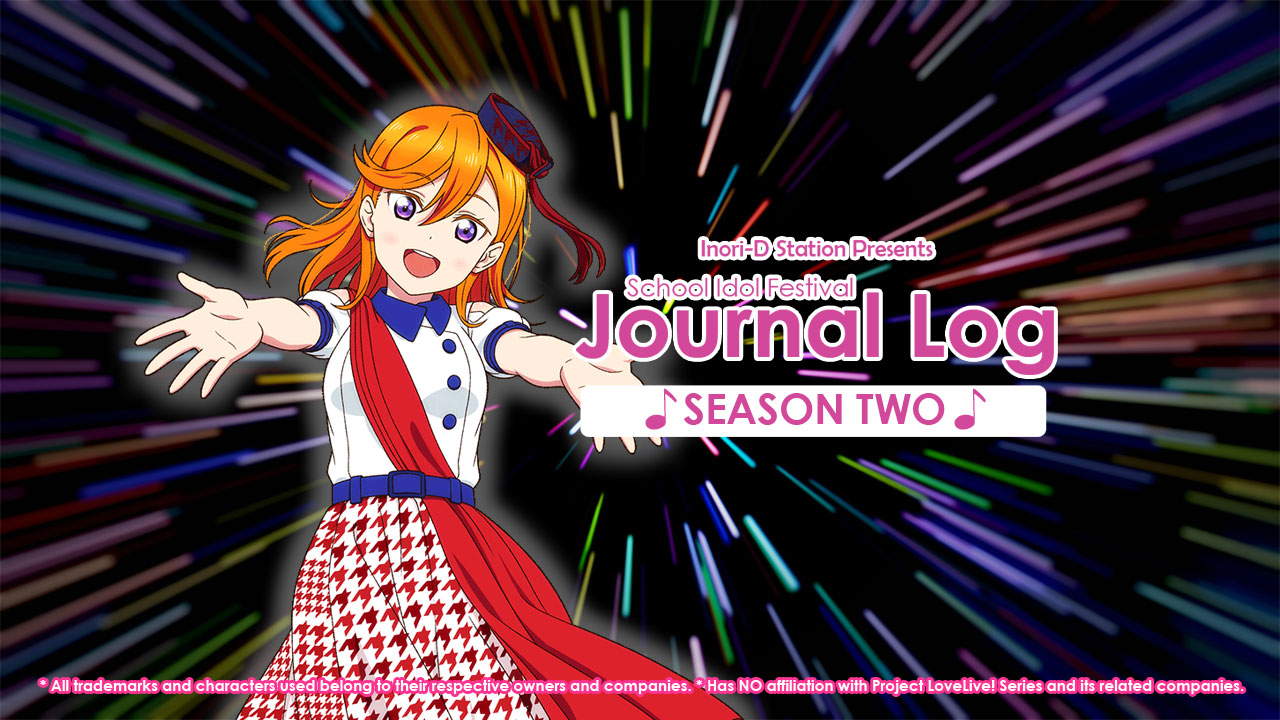 NEXT PREVIEW
Every people, whether a boy or a girl, can be School Idol fans. Yep, and we follow them wherever they go.
But sometimes, there are limitations when you try to mingle yourself with them.
Especially for boys and men, we can act as "Heroes", who could eventually stand up and to protect the dreams of these "Idols"! Remember, NO public display of relationship is allowed, and that's a rule for School Idols!
Next time on SIF Journal Log SEASON TWO, "Sho's Girlfriend".
Now, let's make our dreams come true together!
The Bonus Stage
"Here we go, the new us!"
Will they able to find out their reason why they wanted to achieve their dreams, and win? Along with those four new girls, they are fated to perform together in one big stage.
And so, their stories still continue… In the other side of the countless stars.
"Aim for the win!"
LoveLive! Superstar!! SEASON TWO!
Every Sunday at 7:00 pm JST, on NHK E-TV Network in Japan!
Check your local Anime licensors per country or region for the time and availability!
LLSIF TV Anime in-game campaigns now going on!
Official Website:
https://lovelive-anime.jp/yuigaoka/ 
RETURN TO MAIN PAGE BACK TO HOME PAGE