EPISODE 20: The Destined Bond
Idol Chasers — These are the group of people who were the followers and supporters of these lovely School Idols. They buy ranging from character figures, merchandise, and other items like plushies — a way on how they give love and support to them! Because of these people, the legacy and the continuity of School Idols are still continuing to become popular.
Gen Sakurauchi has finally captured Lierre, after the Idol Chasers had found and rescued her. And then, Lierre has sent them back to their homes by means of a teleportation ability, telling them that they could find her again. Chiharu is now standing in her room, thinking of how she could rescue Lierre once again from Gen, who has captured her!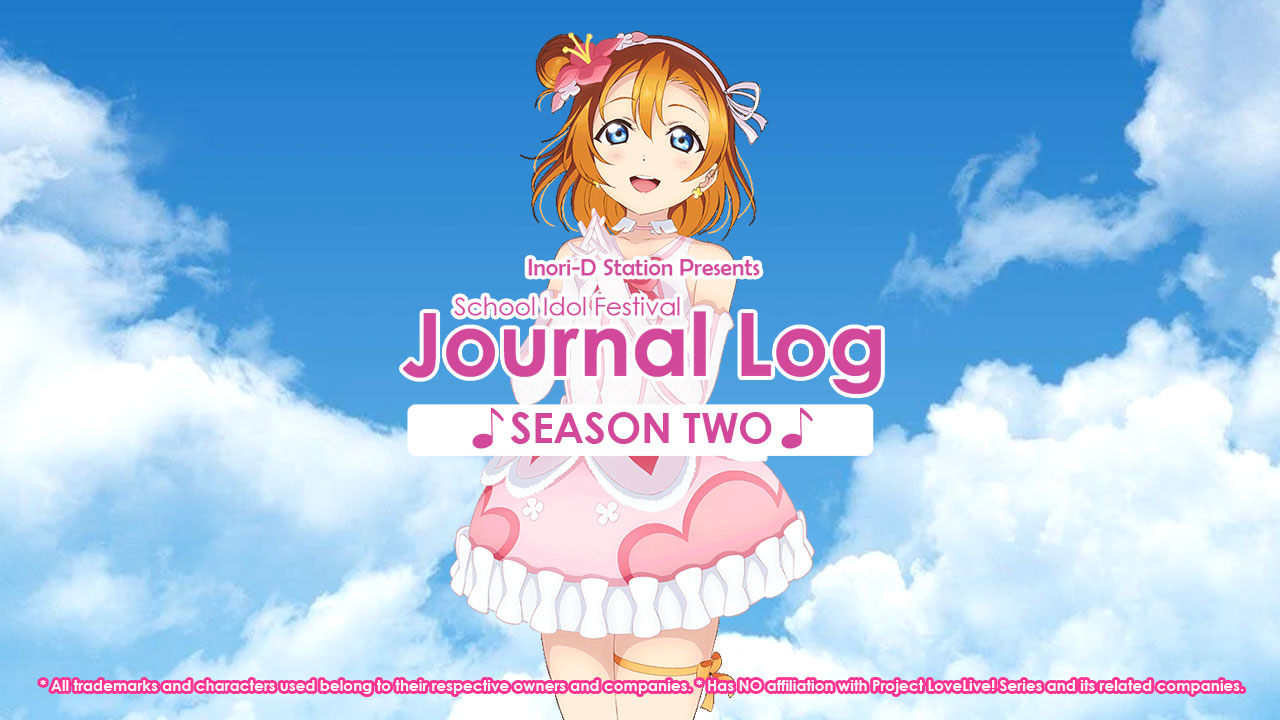 STORY EPISODE
It was already midnight, and Chiharu is just within her room. She is thinking of what to do in order to save Lierre.
And then, she finally recalls way back on what Lierre has said before they were being teleported back to their respective homes.
"Chiharu, just always sing and hum! You can definitely find me!" Those were the last words that Lierre has said to her.
Chiharu got an idea, just after she has realized it.
"I am going to sing… But then, what song should I sing?"
She absolutely got no idea on what song she must sing.
Meanwhile, Gen and Lierre were on a place somewhere far. They were on an abandoned construction site.
"It looks like this is already the place."
"No matter what your plan is, I am really sure that you won't ever succeed."
"Shut up. I want you to use your powers to activate this pedestal."
"Before I could use my powers to activate it, just ask yourself: Who really are you?"
Gen was fazed by Lierre's words, and somehow got intimidated. But then, he said to her, "I don't need questions. What I wanted is to see my sister again!"
"If you really can't answer that question, as well as finding out your true reason why, then there's no way…"
Gen finally shouts and said, "I JUST WANTED TO SEE MY SISTER!! THIS IS WHAT I WANTED!!"
"I know! But your temper just can't solve any problems that you have!"
"I just wanted to… My… Return to that place…"
Lierre moves closer to Gen. As Gen is beginning to kneel down, Lierre used her powers to feel something for Gen. And this is where Lierre has found Gen's memories.
And then, Lierre said, "Wait a minute… You are with Aqours? Don't tell me…"
Gen finally breaks out and she pushed Lierre away. And he said, "All I just wanted is to bring me to that Parallel Universe! So that, in order to see my sister!"
"You ain't really surrendering, do you?" said Lierre.
Gen is now very angry and he is beginning to walk towards to Lierre to hurt her.
"This resonating voice… Chiharu…" said Lierre as she is beginning to feel something in her chest.
A way back to Chiharu's home, Chiharu was singing Honoka's song, "Mou Hitori Ja Nai yo", in an acapella manner. And then, an orange light is beginning to resonate within her.
Finally, Lierre can feel Chiharu's singing voice and she started to sing along with her. And then, a purple light is beginning to light up and resonate.
Meanwhile, Gen has no idea on what's going on. So, he just watched the two girls appeared in front of him.
And then, finally, Chiharu and Lierre have met.
"Lierre, shall we continue singing that song?"
"Of course! We just need to save Gen from his darkness!"
And then, they continued the last part of Honoka's song, "Mou Hitori Ja Nai yo".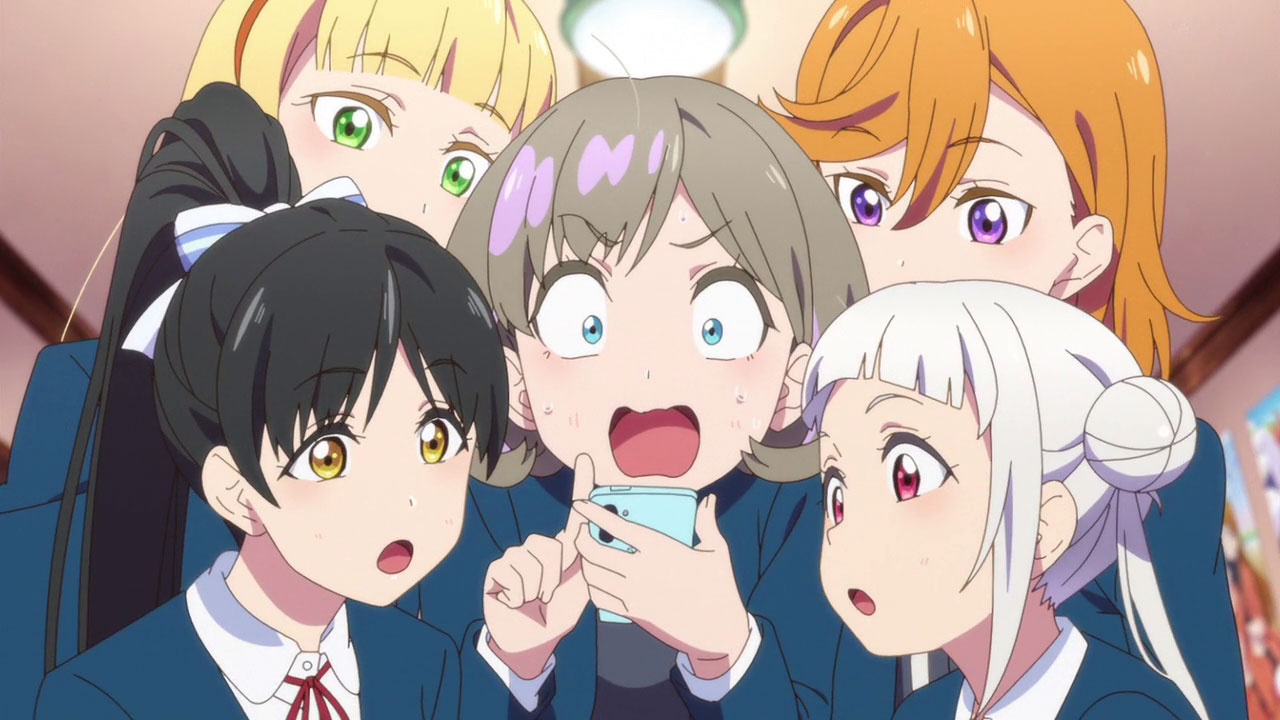 HEADLINES
While the second season of Nijigasaki High School Idol Club is almost nearing to its Final Episode, the newest second season of LoveLive! Superstar!! is also nearing to its First Episode premiere on July 17th! And then, to tell you this from the start, the month of June 2022 is called as the Liella! Month. Why? It is because of the series of live and fan meeting events (and livestreams), which shall be done in a series per weekends, right after their 2nd Live Event, which shall start later, just hours after this Episode was published! And that shall be the road leading to the second season of the Anime! And also, we could get to know the four (4) new members of Liella!, really soon — To be detailed further later in the Headlines, so keep reading!
Other than Liella!, what else have been encountered and spotted during this week on the LoveLive! Universe? Check it out!
Liella! News and Updates! (VERY LONG!)
There are truckload of updates coming from Team Liella! this time around! In fact, I can already call June 2022 as the "Liella! Month".
Please do read more on what you could expect to encounter today, and in the succeeding weeks!
TODAY: Liella! 2nd LoveLive! – Part 3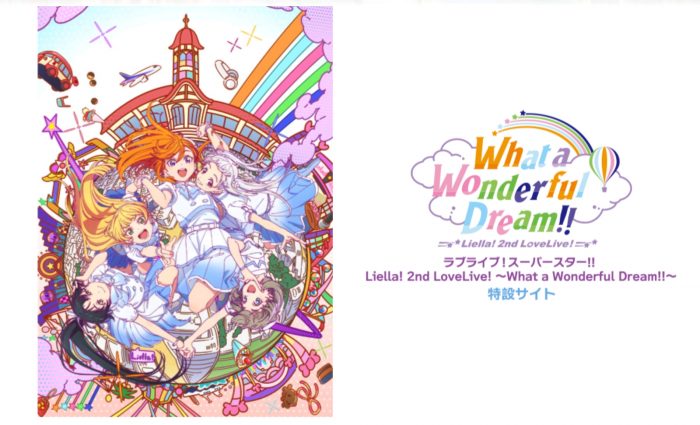 Their live performance shall be commencing today, at Osaka-Jo Hall, later at 6:00 pm JST, just only few hours away from this Episode. When you had bought your tickets online for the paid live streaming, enjoy watching them on the live stage!
Watch out for the trailer announcement video of the upcoming LoveLive! Superstar!! SEASON TWO Anime, which is to be shown and revealed at the end of their live performance (usually Day 2)! This is something to look forward, people!
LoveLive! Superstar!! SEASON TWO Release Date Confirmed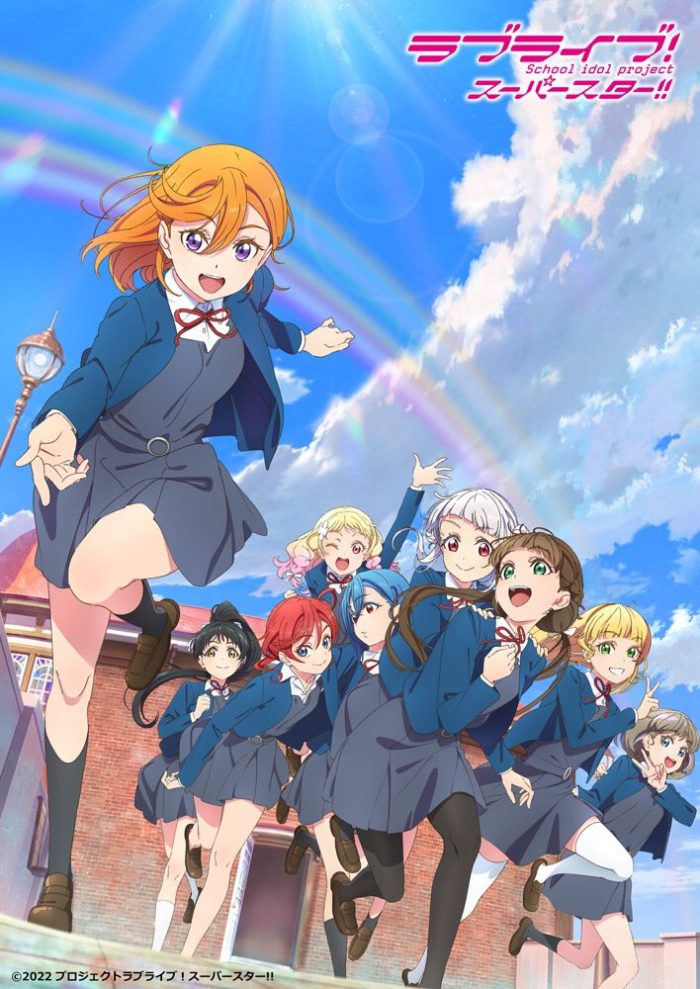 ---
Team Liella! finally announced the release date of the second season of this Anime series! It was initially revealed during the screening of the recap Episodes in a live viewing event!
Trailer announcement video shall be likely revealed at the end of their 2nd Live Part 3, as noted in the sub-highlight above.
Kanon and the other four girls of Liella! are now in their sophomore years. And then, these four new girls have appeared and they are interested in joining with the girls to reach in the countless stars of dreams! The drama and adventures of these girls still continue.
LoveLive! Superstar!! SEASON TWO shall be released, aired, and streamed starting on July 17, 2022 (Sunday), on NHK E-TV Network! Stay tuned and follow at their feeds for updates! Meanwhile, the Series Info page in this website is also updated!
Also, celebration campaigns of this Anime in LLSIF and ALL STARS shall more likely to be included, too! Be sure to follow their feeds, also!
Liella! Livestream (June 8, 2022)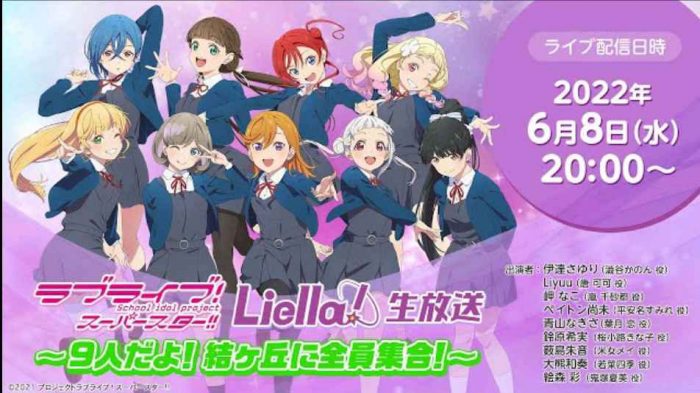 A week after their 2nd Live Part 3, and just three days before their Live and Fan Meeting Series, there would be an upcoming livestream! This shall feature the original Liella! cast, while including the other four (4) ladies in their side!
This shall be streamed on YouTube and other of its related streaming networks on June 8, 2022 at 8:00 pm JST!
Be sure to tune-in to their stream, if in case you haven't seen the trailer announcement video of their upcoming SEASON TWO of the Anime, as well as having some updates regarding their upcoming CDs and merchandise! They might also give out some content updates in the respective LoveLive! games, so watch out.
Liella! Live and Fan Meeting Tour Series
?ライブチケット情報?#Liella!?

ラブライブ!スーパースター!! Liella! LIVE&FAN Meeting Tour ~Welcome to Yuigaoka!!~
一般発売(先着)のお知らせです。
明日28日(土)午前10時より開始となります。
→ https://t.co/lubeZU6UZV

有料生配信の詳細は後日ご案内予定です#lovelive pic.twitter.com/bMo6mR5zMt

— ラブライブ!シリーズ公式 (@LoveLive_staff) May 27, 2022
In a couple of Episodes ago, I had given this one as a highlight in my Headlines! In fact, I shall try to give it a detail once again!
Their upcoming live event, namely the Liella! Live and Fan Meeting Tour ~Welcome to Yuigaoka!!~ shall be held in a series, at every weekends of June 2022. Refer to the table below for the venues and schedules!
| | | |
| --- | --- | --- |
| Part 1 – Osaka | Orix Theater | June 11-12, 2022 JST |
| Part 2 – Tokyo | Tokyo Garden Theater | June 18-19, 2022 JST |
| Part 3 – Nagoya | NTK Forest Hall | June 25-26, 2022 JST |
So then, the first part of their Live and Fan Meeting Tour Series shall be happening next weekend! Be sure to follow their feeds for any announcements regarding the availability of any overseas paid live streaming! So far, in this Episode, nothing is announced yet.
While the Parts 1 and 2 have at least two sessions per day, only the Nagoya (Part 3) has only one session on Day 1. It is because of the concurring live performance Event of Aqours, which shall be also happening on the same weekend!
This is something to look forward into, Liella! Fans! And this is definitely the road leading to the Anime SEASON TWO's First Episode!
---
And this ends the main headlines for Liella! That was quite long!
Nijigasaki Anime SEASON TWO Episode 9 Review!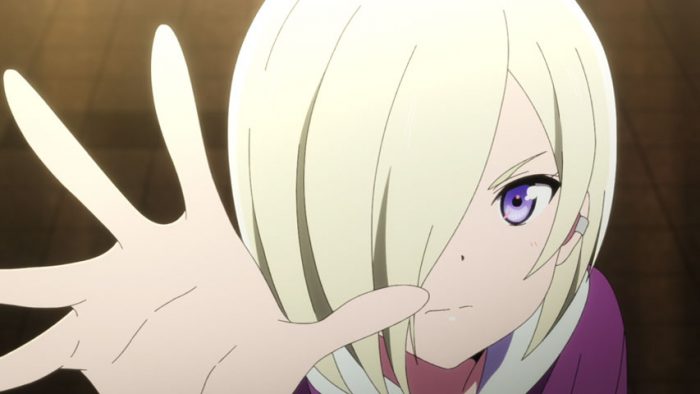 Mia Taylor is a sweet type of School Idol who also speak sweet English. Her animation music video (MV) is also sweet, too, and the first ever LoveLive! MV that was all in English music! So then, it really shows that inferior School Idols aren't weak and boastful!
Happy Birthday, Ai Miyashita!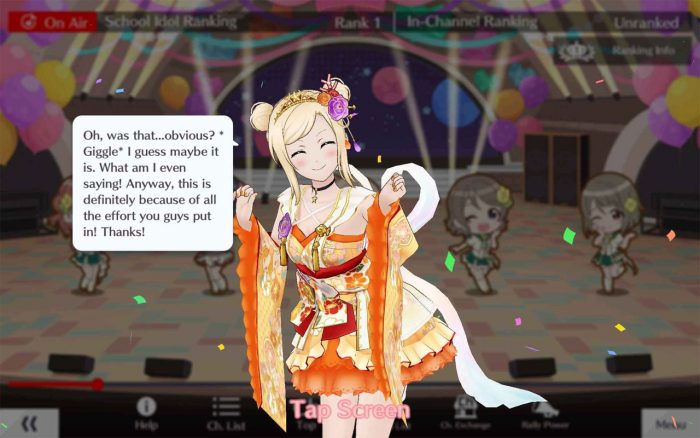 Her birthday was celebrated last May 30, which is kind of late, but that's okay! And did you able to scout successfully her Birthday UR, and also scouting on her Birthday Banner in the ALL STARS?
Well then, let us read a birthday message for her!
Dear Ai Miyashita,
You are a cute, yet bubbly person I have ever met! So then, you are keeping to traverse your own zigzag path to total stardom. We all know that you have still a long way to go, just keep going and don't lose hope! Your friends are just around you, and that's why you are still standing right now.
It is basically more than meets the Ai, right?
Happy Birthday, dear Ai Miyashita from the stable of School Idol Club Girls in the Nijigasaki High School! We fans love you!
Upcoming Birthdays!
After Ai Miyashita, there would be at least two (2) School Idols who were about to celebrate their upcoming birthdays next week, after this Episode was published! Please do read below!
Nozomi Tojo (June 9)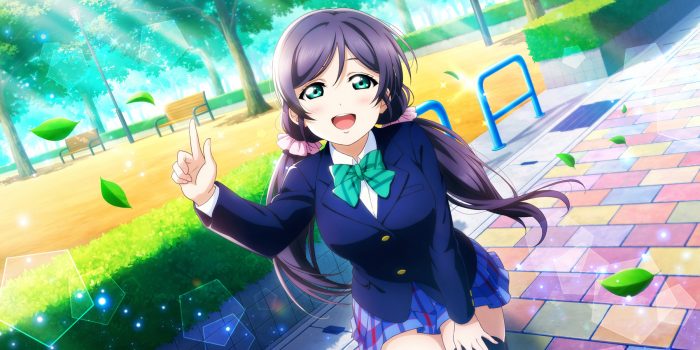 Nozomi is a sweet girl from μ's, and sometimes act as a "mother" of the members there.
My birthday message for Nozomi shall be included in the next Episode of the Headlines, and look forward into it!
And be sure to switch to her School Idol Channel next time because she is more likely to be in the top one! You can find out the details later in the School Idol Channel Weekly Bulletin, in the ALL STARS Highlights!
Finally, don't forget to scout also on her new "Brilliant Jewelry" Birthday UR until her birthday on June 9 on LLSIF!
Mari Ohara (June 13)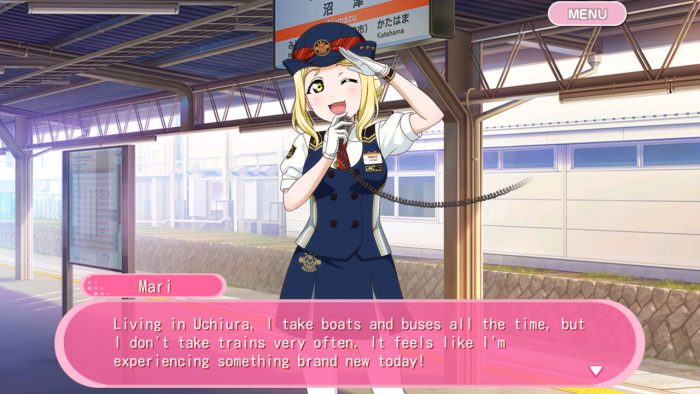 Voiced by the cute actress, Aina Suzuki, Mari Ohara is a third-year member of the group, Aqours.
As a girl from Uchiura, her mode of transportation are usually helicopters, buses, and boats. And not to mention, she is a car driver, too.
【☀️CD情報☀️】
6/13(月)発売「LoveLive! Sunshine!! Second Solo Concert Album ~THE STORY OF FEATHER~ starring Ohara Mari」ジャケット画像を公開?

新曲1曲を含む全16曲を収録✨
是非ゲットしてくださいね!

店舗特典情報はこちら⏬https://t.co/2OAuaIkouE#lovelive #Aqours #小原鞠莉 pic.twitter.com/jxfiUypFq6

— ラブライブ!シリーズ公式 (@LoveLive_staff) May 20, 2022
Be sure to check out also her upcoming album in the "Second Solo Concert Album Series", which shall be released on the day of her birthday! The format is always 16 songs, which also included one new song from the album! The title of that new song from Mari is already announced! Can you find out what title is it?
And don't forget to show your love for her by scouting on the featured Birthday UR Scouting banners, on the LLSIF and ALL STARS games!
Finally, my birthday message shall be written soon for her, in the other Episode! Look forward to it!
Umi Sonoda's VA Announces Pregnancy
May 30, 2022
Congratulations to Suzuko Mimori (voices as Umi Sonoda from the Team μ's) in announcing her motherhood (pregnancy)! She is then expected to deliver birth of her first child in just few more days and months away. This was announced via her blog at the end of May 2022.
Suzuko Mimori is married to a Japanese professional wrestler, Kazuchika Okada, in 2019. Besides being a VA for the School Idol, Umi Sonoda, she also voiced other characters, like the video game characters from the Bushiroad Games Universe, like Hikari Kagura (Revue Starlight), and the voice of the Fraxinus AI, MARIA, from "DATE A LIVE IV" Series. She has also made some cameo appearances in some other TV shows, like Ultraman Series.
Several artists from the other genres have congratulated her via Tweet replies. These shall include some of her fellow School Idol friends, like Riho Iida (Rin Hoshizora) and Hinata Sato (Leah Kazuno), and some other female VAs like Aina Aiba (from "Bushiroad" Games Universe) who had congratulated her via Tweet replies. And some other male artists like Masayoshi Oishi (Singer of some shows like Dynazenon and Earth Granner) have also congratulated her, in which he was also with her in some variety shows. And the Aqours musician, Tatsuya Kato, has congratulated her, too.
Do your best in your new life as a mother, Mimorin!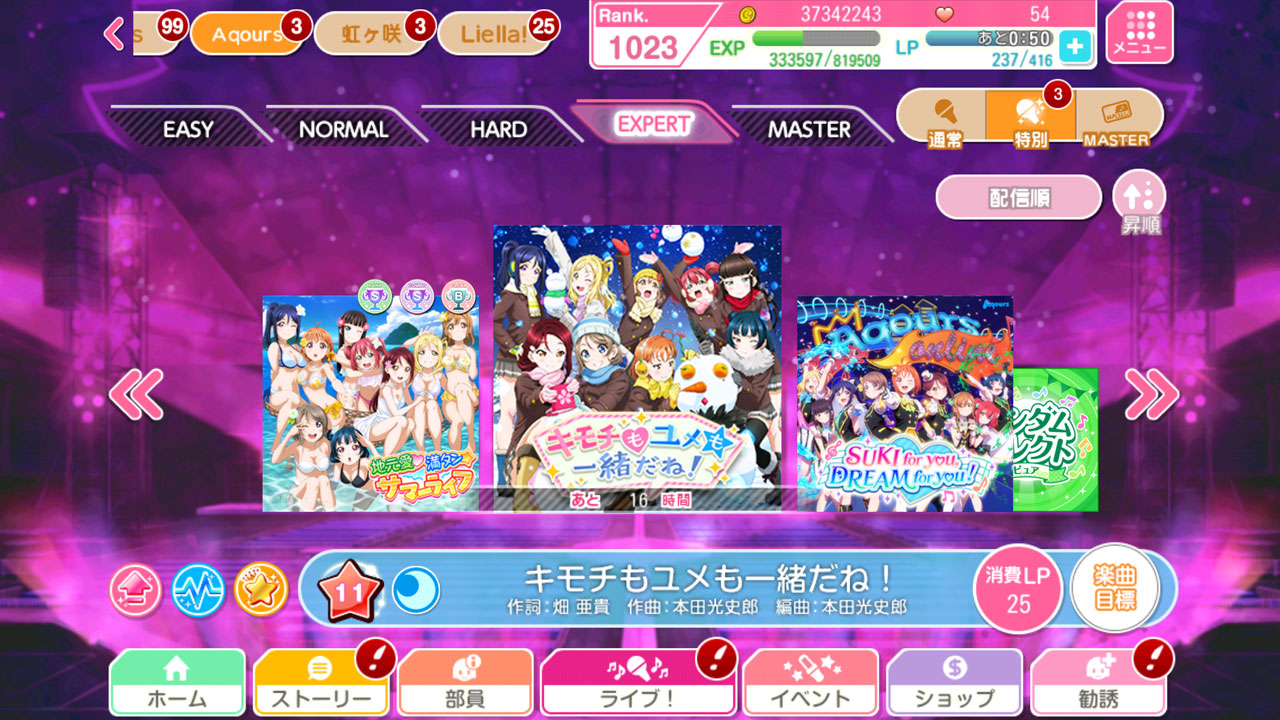 LLSIF HIGHLIGHTS
The second month of the LLSIF 9th Anniversary Celebration is now over. And then, the battle is not yet over! In fact, we still got one more to go before it goes with its happy celebration closing! And this time, we are now in the Month 3 of the celebration campaign!
Despite that it has already released its featured colorful URs for the fans to scout with their Love Gems and Tickets, what else it might bring to its fans, including me? And in this week on LLSIF, there are some key highlights and pointers for us fans to note and look!
Idol Chasers, Stage START! S.I.F. !!
Round 34 Challenge Festival (Results)
Seemingly, I was able to reach for that goal. And then, this could be an another record-breaking grind here, for me!
For the first-time ever, I was able to break in finally in the 10 million mark, when it comes to Total Event Points! Somehow, this could be my highest one in any of my previous Challenge Festival Events ever. However, I could get any higher if my emergency errands and chores aren't in my way. Add in also my weekly blogging here!
There is nothing to talk much about here, since they were all detailed in the previous Episode, except the fact that I had encountered New Romantic Sailors at the Round 5 of the play, in the God/Legend difficulty. But then, my score isn't still enough to beat my own rivals in my list, and to sustain higher Score Rankings.
【LoveLive! SIF】

? EVENT REPORT ?

LLSIF 9th Anniversary Month 2 (2nd Half)

<Aqours> Round 34 Challenge Festival

Pts.: ? 328 | 10,033,224 pts.
Score: ? 2,280 | 10,657,328 scr. (New Romantic Sailors)#lovelive #スクフェス #スクフェス9周年 #LLSIF pic.twitter.com/EPNV7q4sQB

— INORI DONZ | Inori-D Station (@InoriDONZ) May 31, 2022
This Event has been finished, and I had finished with a Gold-Silver Tier Ranking finish, as usual. I could still outbest other rivals if the Cheer Points Acquisition power isn't a factor to place higher in the rankings.
And to note, ALL of the top score rankers are using that Encore team, which is now the "trendy" meta team used in LLSIF. So in order to survive higher in the Score Rankings, I suggest that you should build one now.
MASTER Challenge: Aqours 6th Live Songs!
【LoveLive! SIF】

Be sure to check out these limited time B-Side songs of #Aqours in the MASTER difficulty!

There are no lower difficulties available. Win by Full Combo Finish!#lovelive #スクフェス #LLSIF pic.twitter.com/haAQbMU88q

— INORI DONZ | Inori-D Station (@InoriDONZ) June 1, 2022
Just right after the Challenge Festival Event, these limited B-Side Songs have appeared in the Aqours Side. So then, these songs have appeared during the "Aqours 6th LoveLive!", in which they might be appearing again in the upcoming 6th Live Part 3 (WINDY STAGE) on June 25-26. They only have limited time duration, so challenge them, and land a Full Combo Finish in order to get a 5 Love Gem-guaranteed victory per song!
They have no lower difficulties available. So, play them for your honor!
Setlist Event Part 5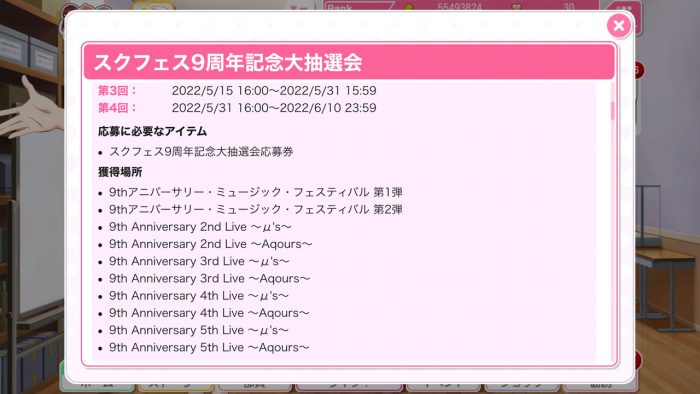 Yep, and this could be the last part of their Setlist Events within the 9th Anniversary Celebration campaigns!
This shall somehow cover the songs within their respective lives, namely the μ's Final LoveLive!, and the Aqours "Next SPARKLING!!" 5th LoveLive! live performance events.
The details on how to grind in these kind of mini-events are well explained in the previous Episode 15, in the LLSIF Highlights. If this has become a regular pre-Event before every Event starts, I might create a guides and tips post about this.
Round 20 (Season 4) Live Arena
?第20回ライブ♪アリーナ「ミライへアクセス」開催?

スクールアイドルたちとのセッションを勝ち抜いて報酬をゲットしよう?
報酬にはUR #天王寺璃奈 (覚醒済)が登場?

開催期間は6/25(土)まで?#lovelive #スクフェス pic.twitter.com/wHfKojAiHd

— 【公式】ラブライブ!スクフェス事務局 (@lovelive_SIF) May 31, 2022
You already know the drill. You must reach EXPERT or ROYAL EXPERT Category Class until the end of June 25 (Sat) JST in order to win UR Rina Tennoji! Who knows that after her, Shioriko, Mia, and Lanzhu shall be included now as rewards in the succeeding Live Arena Rounds?
Live Arena Guide here.
Next Event?! Headliner is My JP Side
Talking about the next Event, which shall take place tomorrow, you can find out what could be the next Event! It shall be announced at exactly 3:00 pm JST in your in-game notifications! Stay tuned!
And then, that next Event shall be on the μ's Side this time, and the Event UR rewards are the μ's Third Years! While the fact that the 2nd Half of June 2022 are the Aqours 3rd Years, this shall be the "Month 3" or otherwise, the final part of the LLSIF 9th Anniversary Celebration Campaign! It has finally come to a close, and now, time for the final blow in this month!
My Global (EN) Side has finally done its role in soloing the two previous Events in the month of May 2022 (Month 2). And now, in the upcoming μ's Event and Aqours Event this month, it is indeed my JP Side's turn to be in favor in soloing the Events for this month!
So then, Stage Clear for my Global (EN) Side, and it shall now be resting until the end of June 2022. Stage Start for my JP Side, then, for this month!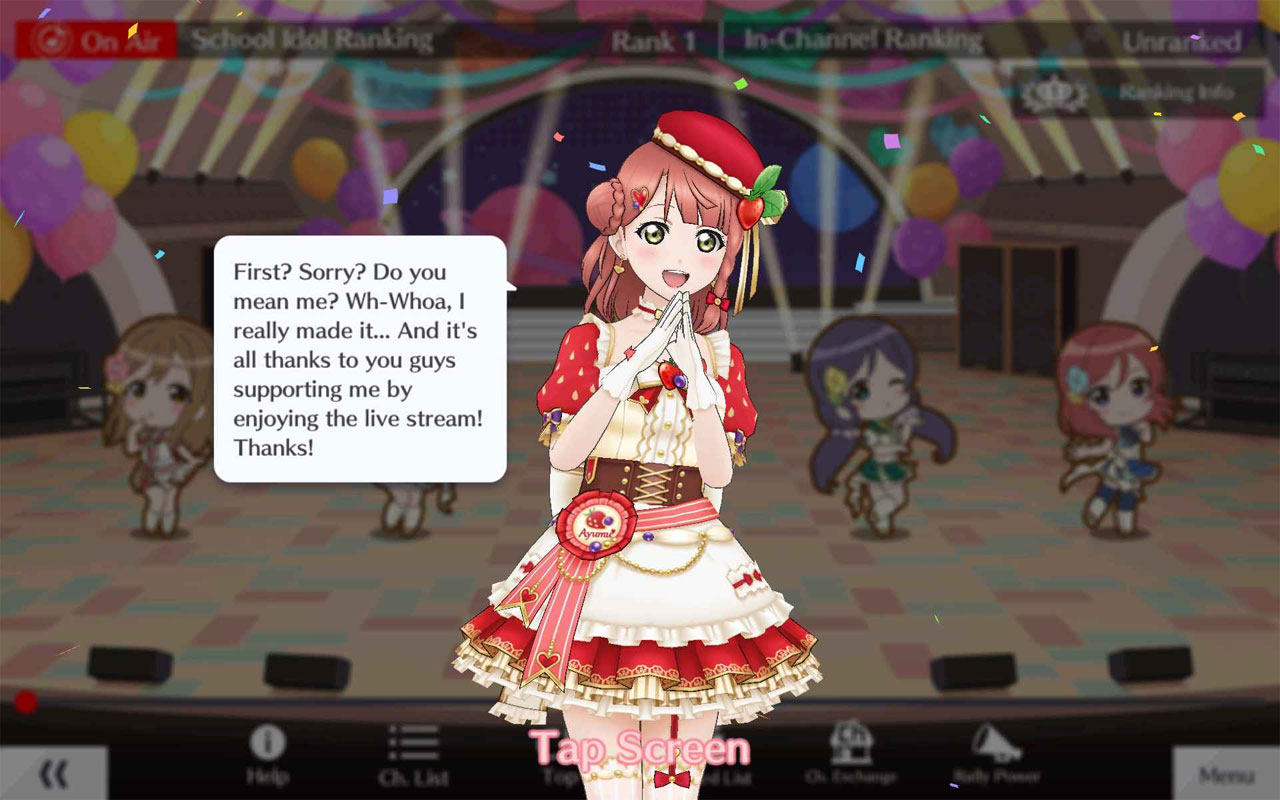 ALL STARS HIGHLIGHTS
So then, I try to play casual in this game only, while getting some featured rewards, like the UR and SRs, from the Event. But then, my tight schedules are literally hindering me from grinding and playing through with this game! Sometimes, I forgot to do and read the weekly concurring "TV Anime Season 2" stories, in which it could give me some Star Gems by reading them! But no matter what, it is indeed my obligation to do them if I got extra time!
So far, on LoveLive! ALL STARS, what are some key notes and highlights that were encountered, so far? Find out by reading!
STORY: Cutie Wonderland (Final)
In this part, I didn't do much action. Instead, I had just played casually, and I had only acquired the featured Event rewards there, such as the UR and SRs.
But then, it seems that my Global (EN) Side is doing great here, since it can almost beat my JP Side counterpart, in terms of School Idol upgrades, as well as some number of URs present in my members stable.
Just remember that Skip Tickets are always your best weapons in order to grind higher ranks. Keep also in mind to save them by doing daily quests. And then, in order to get higher Event Points acquisition, you have to use members in the party that has an Event Points acquisition rate increase. Such as, this Story Event uses some featured characters, like Chika, Rin, and Shioriko. Then, you must form a team consisting of only one character, like Chika, in this Story Event! With this, you can somehow boost up your Event Points acquisition rate ups. And using also the members that are acquired through Scouting can more likely to increase your points further.
【LoveLive! ALL STARS】

? EVENT REPORT ?

<STORY> Cutie Wonderland

〈Event Points Rank〉
JP: ? 32,376 | 140,317 pts.
GL: ? 7,566 | 143,989 pts.#lovelive #スクスタ #LLAS pic.twitter.com/yZXmlltI94

— INORI DONZ | Inori-D Station (@InoriDONZ) May 31, 2022
This Event has been finished. My JP Side is just falling somewhere in the lower rank bracket, and then it has only received few and poor rewards. And my Global (EN) Side somehow reached on a Silver Tier Rank, receiving more rewards than my JP Side. Quite obvious enough that the JP Side has more player base than in the Global Side, in which both of my account sides have finished with the same Total Event Points. And still, the JP Side is very difficult to reach higher ranks, and I can't even touch in the Gold Tier Rank for once.
Round 24 SBL
This pre-Event is now underway! You just have to get higher Total Voltage in order to stand higher in the Rankings, and to get better rewards!
This time, you have to take on to these following three (3) songs in order to stand out:
Yume no Tobira
Kimi no Kokoro wa Kagayaiterukai?
Nijiiro Passions!
In my case, only my Global (EN) Side is going to play, while my JP Side shall be standing aside to standby for the next Event.
This pre-Event is ending in 2 days, after this Episode! Results and highlights shall be posted via my Twitter account, as well as giving it some details on the next Episode!
School Idol Channel Weekly Bulletin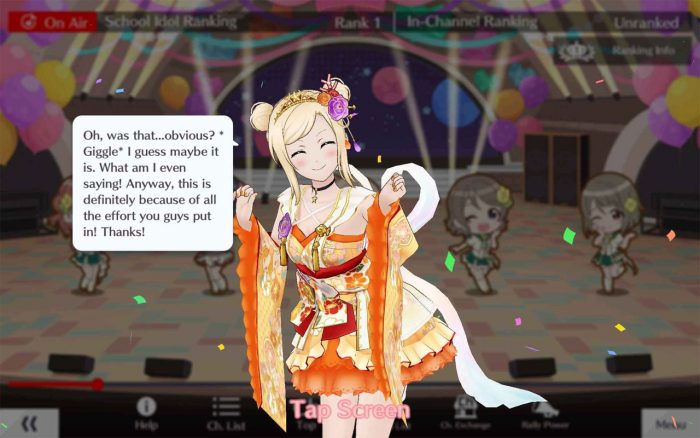 As expected, the birthday girl always wins at the EXACT date of when her birthday is celebrated! Because of your fruitful efforts, you took the top spot, and she loves you!
If you are not aftering for the birthday girl, you can check this weekly ranking table just for fun! Did your best idol make it to the top ten?
JP Side – #61
| RANK # | SCHOOL IDOL | GROUP | AVERAGE CHEER POINTS |
| --- | --- | --- | --- |
| 1 | Ai | Nijigasaki | 15,697 |
| 2 | Mari | Aqours | 6,083 |
| 3 | Rin | µ's | 5,511 |
| 4 | Shioriko | Nijigasaki | 5,352 |
| 5 | You | Aqours | 5,135 |
| 6 | Chika | Aqours | 5,042 |
| 7 | Kasumi | Nijigasaki | 4,631 |
| 8 | Setsuna | Nijigasaki | 4,491 |
| 9 | Kanata | Nijigasaki | 4,287 |
| 10 | Kotori | µ's | 4,060 |
Global Side – #48
| RANK # | SCHOOL IDOL | GROUP | AVERAGE CHEER POINTS |
| --- | --- | --- | --- |
| 1 | Ai | Nijigasaki | 11,516 |
| 2 | You | Aqours | 3,801 |
| 3 | Shioriko | Nijigasaki | 3,710 |
| 4 | Kasumi | Nijigasaki | 3,600 |
| 5 | Ayumu | Nijigasaki | 3,598 |
| 6 | Rin | µ's | 3,511 |
| 7 | Nozomi | µ's | 3,344 |
| 8 | Honoka | µ's | 3,007 |
| 9 | Mari | Aqours | 2,938 |
| 10 | Kotori | µ's | 2,832 |
Setsuna's top ten winning streak is finally over!
Average Cheer Points in the JP Side are way too higher than in the Global Side, while both of them can able to reach a total of over 10k Points on their respective Top Ones.
The Kotori and Setsuna duo are still dominating in the JP Side. However, it seems that Setsuna's winning top ten streak is over in the Global Side, while Kotori was able to make it barely in the top ten!
More likely than not, Nozomi Tojo shall be the next girl who shall be in the top ten this time because her birthday is just around the corner! Maybe not once, but twice, she shall be dominating in the top ten!
That's it for the weekly channel rankings for this Episode! Tune-in next week for the another one! Cheers~
EXCHANGE: Hear the Sound of My Soul!
Yep, this Event was already announced just before this Episode was published. Just in time posting and including this!

---
I am just going to tabulate the Event UR and SRs Rewards to be acquired from this Event, as well as some songs to appear in this Exchange Event.
Featured UR
Karin Asaka (Powerful Rock Girls)
Featured SRs
Honoka Kosaka (A song for You! You? You!!)
Dia Kurosawa (Mirai no Bokura wa Shitteru yo)
These can be acquired from the Exchange Shop, during the Event Period (See above)
Voltage Score Ranking Songs
(μ's) KiRa-KiRa Sensation!
(Aqours) Brightest Melody
(Nijigasaki) Toy Doll
Pre-Release Song
(Aqours) Aqours★HEROES
The pre-release song shall be available on the upcoming Main Story Chapter 40 next month.
Finally, my progress report with this Event shall be written on the next Episode! See you next time!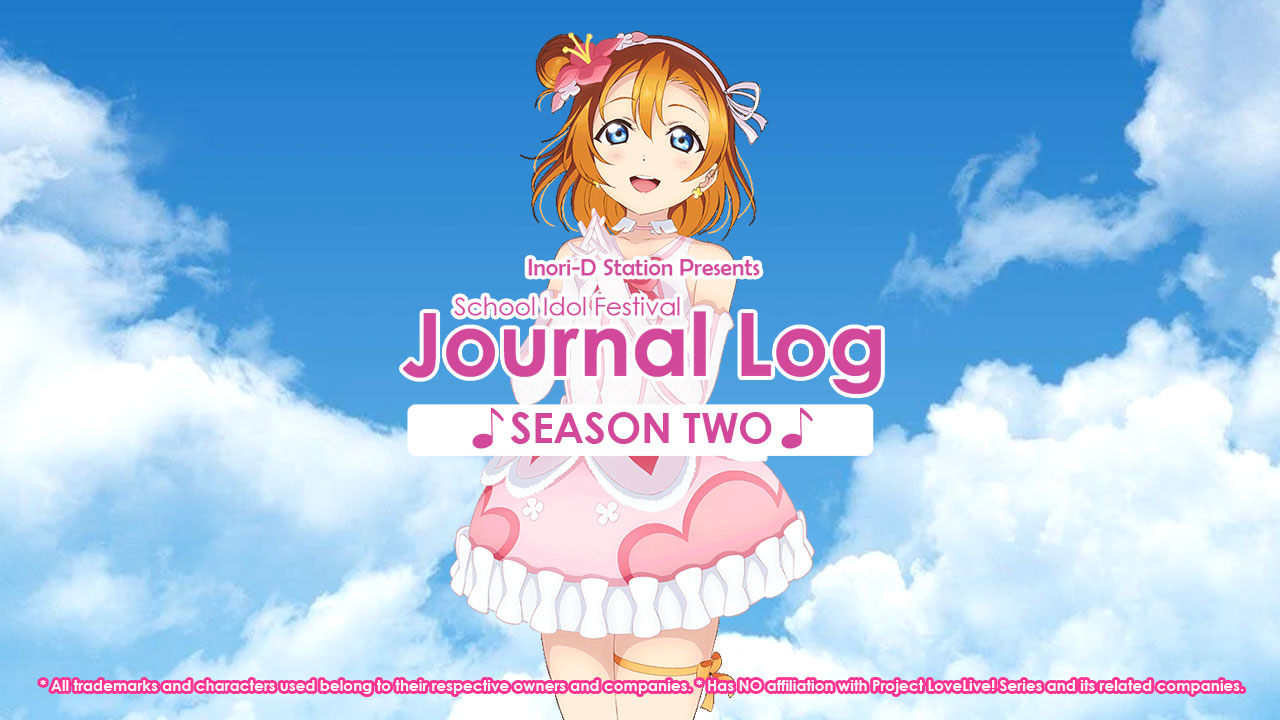 STORY EPISODE (EPILOGUE)
Little by little, they moved and surronded Gen side by side. And then, the two had sung that last part of the song.
"You don't have to be alone anymore"
Finally, they smiled and they touched Gen's shoulders. And then, Gen has felt the light within him. However, it has greatly reacted to his body, and he is now beginning to struggle.
Chiharu and Lierre are observing Gen — on what is happening to him.
As Gen is already struggling, a faint pink light is resonating at him. In just few seconds, the light faded.
After that, Gen said to them, "What did you do to me!?"
And then, he used his powers to escape from Chiharu and Lierre. Finally, he has disappeared from sight.
"I can see a faint pink light within him." said Chiharu.
"His memories…" said Lierre. "I can see Aqours members around him. Don't tell me…"
"Lierre? Did you see anything within Gen's memories?"
"I am not sure. But then, there is something about Gen, in which I can't even get it nor understand it."
"Don't worry, Lierre. As an Idol Chaser, I am going to solve and unravel that mystery!"
"Thank you, Chiharu. It is my fault, and that's why you were all involved in this mess of mine."
"Don't say that! We are indeed just around to help you in solving your own problems!"
"But then… Wait a minute… How did you manage to get here, though that you were so far after I had sent you away when I got captured by Gen?"
"Eh?? You said to me before that I must always sing and hum, so that I could find you! And I did sing and hum! And that's why I had easily found you!"
"I see. I understand now. I understand now the meaning of Bonds."
"That's right! Our Bonds have really put us together in one page! And that time when we have sung that song, it is all possible because of our Bonds!"
"Thank you, Chiharu. And because of you, I can now traverse properly the hardships that I am going through."
"Same to you, Lierre! Thank you because I am now filled with motivation to try to become a School Idol… Someday!"
"School Idol… Someday? Why not now or tomorrow?"
"Not really. Actually, I am going to take my first step, from this time on!"
"Well, is that a promise, huh? When you become one, I am going to record your history right here!"
"You can do whatever you want! But then, I just wanted to be with you, and with the other members of Idol Chasers!"
"Well, it can take a while so that you can become a School Idol in the future."
"That's right! I am going to begin my adventures here… As a School Idol myself!"
"Chiharu, let's go home now. Our friends are waiting for us!"
"Sure!"
"Alright, activating my Teleportation System."
"Finally! We can now go home!"
And after that, they had successfully returned back home.
From a far distance just after Chiharu and Lierre have teleported back to their home, Komari steps out.
And she said, "Girls. No, Idol Chasers. You are the only people who can save Gen Sakurauchi. You guys must help him!"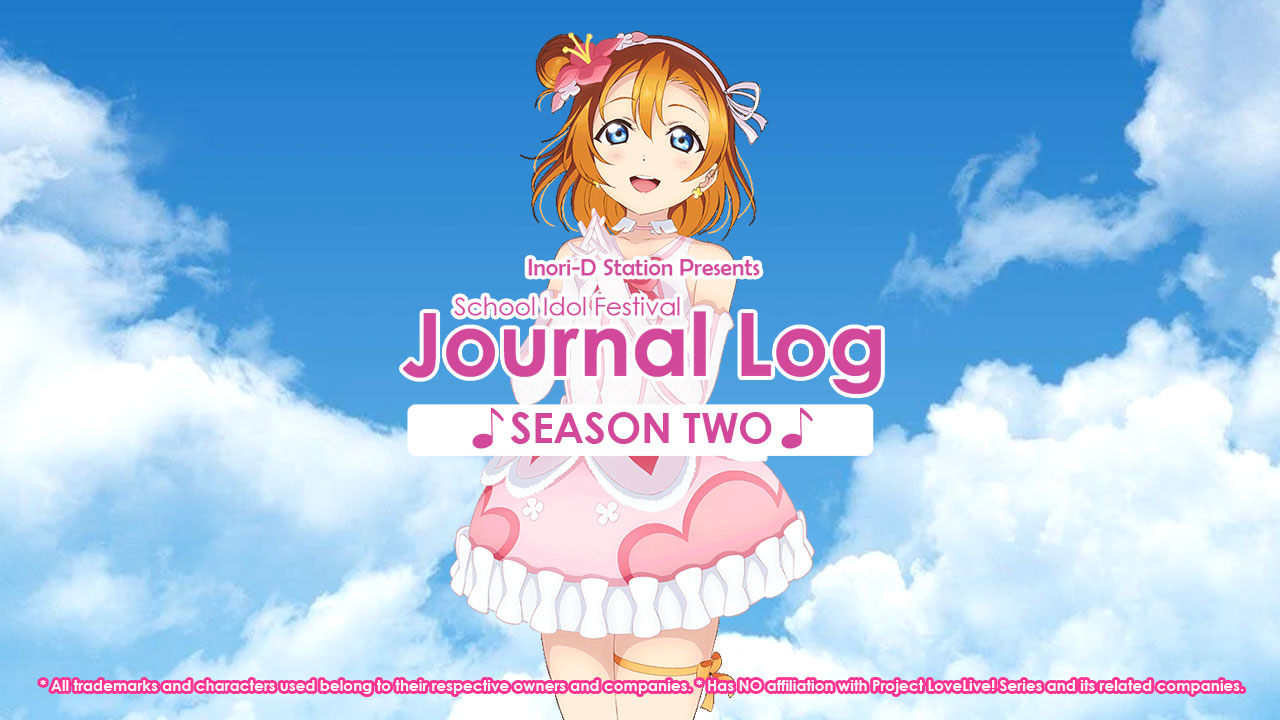 NEXT PREVIEW
Sometimes, School Idols use their "Stage Names" in order to hide their true identity from their fans. And that is, in order to protect their own privacies, such as exposing their true names to the public. But then, there can be a downside, especially if your closer friend of yours has finally exposed your identity, at the time that you had finally revealed your own "True Colors"!
Next time on School Idol Festival Journal Log SEASON TWO, "The Split Identity".
Now, let's make our dreams come true together!
The Bonus Stage
---
The girls of Nijigasaki are back in this second season! Shioriko Mifune, Mia Taylor, and Lanzhu Zhong are now added to the stable!
Once again, these girls are seeing each other — sometimes as friends or rivals everyday.
They all have one, common dreams! And that is, somebody like Yu Takasaki, can support these twelve girls in making their dreams come true!
And once more, they are chasing for their dreams, along with their new friends and rivals at their side!
So then, they wanted to have an Event once more, in order to put these girls, whether friends or rivals, together! This Event is called as the "School Idol Festival".
However, the different concurring activities in school can make themselves having a hard time organizing this come-together Event. Can Yu be able to put these girls together, and make their dreams come true? This is the story of Yu Takasaki and the twelve School Idols, in their quest for unity and with their rainbow-colored friendship adventures!
LoveLive! Nijigasaki High School Idol Club SEASON TWO!
Starts airing and streaming on April 2, 2022!
For overseas simulcast, check with your local Anime licensors per region for the time and availability in your area!
Also, LLSIF and ALL STARS in-game celebration campaigns now going on!
Official website:
https://lovelive-anime.jp/nijigasaki/
RETURN TO MAIN PAGE BACK TO HOME PAGE