The Acronym of Power -Part 3-
In the last two Episodes, we had talked about the first four letters in the acronym, power. They are P for Perseverance, O for Observation, W for Wisdom, and E for Experience.
So what could be the letter R stands for? In fact, this one is a very popular quote! With great power comes great… blank! Can you guess it?
Alright! The letter R stands for Responsibility! With great power comes great responsibility!
With responsibility, you must know your role. You must know your obligations when you are at home with your family, at school, at work, or at elsewhere! You must know that your responsibility at everything can make you a great person, which in fact, makes you a different mature person! So then, with the power that you have, it comes with great responsibility! Don't ever forget your daily duties, such as helping in the house, or even helping someone who is in need.
Oh yeah! The acronym is finally complete!
P: Perseverance
O: Observation
W: Wisdom
E: Experience
R: Responsibility
You must know these five aspects! And then, you can well master the power that you have! And this ends the Episode theme!
Okay, now that you have known your power. It is time to proceed with the things that happened recently in the LoveLive! Series! What are those happenings? Unless you read the 40th Episode of School Idol Festival Journal Log, you do not know what are those!
CONTENTS
PRE-EPISODE HEADLINES
There are highlights encountered! Please read more to continue!
Happy Birthday, Maki Nishikino!
Today, I know it's very late. But it is better this way than never! Anyway, let us greet Maki with a birthday message! Her birthday was celebrated last April 19!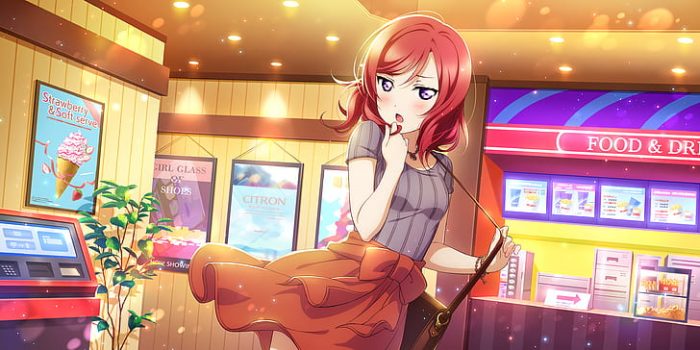 Dear Maki Nishikino,
You hair is red, and it has a same color as tomatoes. In fact, you like eating tomatoes, do you? You put them on a sandwich with other veggies.
For my birthday message to you, I hope that you could excel more not just in your singing career, but on other aspects, such as knowing you very well through with your gravure photo sets and any of your other photobooks featured in magazines.
Are you going to pursue your dreams of being a doctor? Just remember to know your responsibilities very well and don't forget that everyone loves you, after all, especially your 'older' fans.
Happy birthday, dear Maki Nishikino, the gorgeous 'Scarlet Princess' of µ's, and a member of the sub-unit, BiBi!
Aqours 5th Anniversary LoveLive! -LET'S GO WONDER TRIP-
【☀️ライブ情報☀️】
5/1(土)・2(日)開催‼️#Aqours 結成5周年記念での初野外ライブ
「Aqours 5th Anniversary LoveLive!
~LET'S GO WONDER TRIP~」
キービジュアルが完成しました✨

▼公演情報https://t.co/TId9ScEP12

本公演は有料生配信も実施予定です?
詳細は後日ご案内いたします#lovelive pic.twitter.com/QsbiUQLLV7

— ラブライブ!シリーズ公式 (@LoveLive_staff) April 13, 2021
This was already highlighted last week! The Aqours 5th Anniversary Live shall be held at Tsumagoi Resort Sai no Sato on May 1 and 2, 2021 (weekends)! Each day shall be having three sessions, at 2pm, 4pm, and 7pm JST (UTC+9) slots! The venue shall be open at 12:30pm JST.
There are detailed information for folks in Japan who would like to attend in this Event, and it is already posted at their official site event page! Details, such as travelling through the venue by bus or boat, are some of the details there! It is written in Japanese, but if you are a foreigner residing around, then you can ask someone or use a translator!
Official live goods are still up for preorders, and dates per region may vary.
Stay tuned at their feed for more information. I shall be posting separately if there are any changes or disruptions on this Event!
【Overseas】「[Paid live streaming concert] Love Live! Sunshine!! Aqours 5th Anniversary LoveLive! ~LET'S GO WONDER TRIP~」Streaming information for overseashttps://t.co/4hTxesLMrB#lovelive #Aqours pic.twitter.com/2smv8o0UbA

— ラブライブ!シリーズ公式 (@LoveLive_staff) April 22, 2021
Meanwhile, overseas paid streaming has been posted yesterday, as per announcement from the LoveLive! Sunshine!! team. The paid stream shall be utilizing the 4PM JST slots per day!
Golden Week Special: Two LoveLive! Movies Airing Next Week!
Eテレで大型連休に、劇場版アニメ5作品を放送❗
どうぞお楽しみに~~?✨

5/1 ラブライブ!The School Idol Movie
5/2 ラブライブ!サンシャイン!!The School Idol Movie Over the Rainbow
5/3 映画 きかんしゃトーマス
5/4 映画 ねこねこ日本史
5/5 映画 おしりたんてい https://t.co/T6v6I97ckF

— NHKアニメ (@nhk_animeworld) April 19, 2021
The Golden Week in Japan this year shall be celebrated on April 29 until May 5, 2021. NHK ETV announced the lineup of movies or films to be aired on their TV network. This shall be airing five movies, one for each day, and that includes LoveLive! The School Idol Movie and LoveLive! Sunshine!! The School Idol Movie Over the Rainbow.
Finally, we are finished with the highlights! But then, the celebration for the LLSIF's 8th anniversary last week is just not over! So then, we have to proceed to the next part! What are the things that were encountered during the past week and this week on the LLSIF rhythm game? Please read this Episode until the very end!
JP SIDE HIGHLIGHTS
In this part, we had an ongoing 8th Anniversary Celebration Campaigns (like limited UR scoutings, etc.), as well as the ongoing Event! Please do read more of the highlights below to continue!
During the time when the previous µ's Event was over, I rushed in finishing this Live Arena Event. When I reached the Royal Expert Category and cleared at least 40 Special Sessions, this is where my conflict has started.
That's right! I do even sweat in this, either! The Live Arena now is very difficult to finish! And there is not much strategy if you don't have the appropriate URs and Skill Items used in order to survive! The thing is that when you have a full UR team, you must have them all of their Skill Slots open. It is because this is where you could put more Live Arena SIS items to them. The effects of those Live Arena SIS items will cause your total score to be increased higher when the live show ends. If in case that if you can't beat your rival's intended score, then your Live Arena SIS items are the only ones that can save you from losing.
My only tip here is that you must be capable in landing higher combo counts at songs in Master difficulty, especially the harder ones. Otherwise, it will be a tough battle for you no matter how strong your teams are.
For my experiences, so far, I got a hard time passing through with Stage 49, or the 49th Special Session, where my Cool Team is always the victim (due to weak Skill Levels and unopened Skill Slots). But then, I was able to pull off when I was able to open and maximize the Skill Slots of the URs in my Cool Team.
【ラブライブ!スクフェス】

Round 6 Live Arena defeated!#lovelive #スクフェス pic.twitter.com/6YTWdixRCO

— いのりどんず (INORI DONZ NETWORK) (@InoriDONZ) April 15, 2021
And finally, I had defeated the Round 6 Live Arena by clearing all of the 50 Special Sessions. Yeah, and that one is very harder than before!
On top of that, I had encountered 2 Dream Session matches. And that makes me clear at least two Dream Sessions in the Live Arena!
【ラブライブ!スクフェス】

✨Sparkling Event Match✨

Next Event: Round 21 Companion Match

UR Scouting: Chika and Hanamaru (What, I got recently the Pair UR)
Event UR: Mari#lovelive #スクフェス pic.twitter.com/6cSPBKr7h5

— いのりどんず (INORI DONZ NETWORK) (@InoriDONZ) April 19, 2021
With the Companion Match Event being started since the 20th of April, I am going to give you some details about this one! In fact, this Aqours Event is now parallel with the Global Side which is also an Aqours Event (later in the Global Side highlights)!
The Event UR to be obtained from this Event is Mari Ohara, while Chika and Hanamaru can be obtained by Scouting. Secret SSR Yoshiko Tsushima can be acquired when you play and grind for more Event Points during the duration period! As usual, returning Event SRs that appeared before in the previous past Events shall be acquired as rewards!
Seriously, I had to play and earn my Tier 1-1 finish on this Event. Since I am also aiming for Tier 1-1 in the Global Side, then this is going to be a warzone. Further highlights shall be given to you in the next Episode! Look forward into it!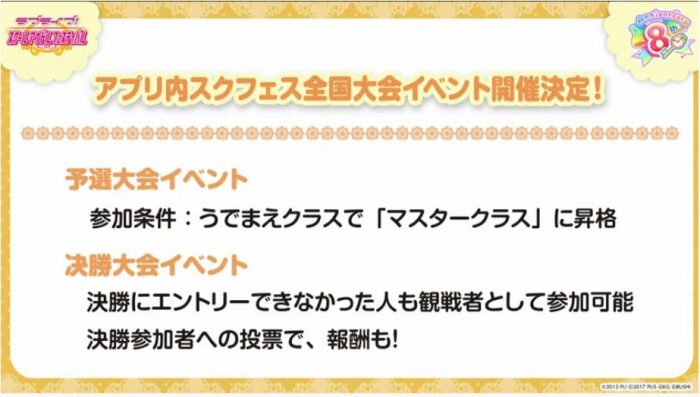 To translate and summarize, the game is going to have a national tournament, which shall be held for the residents and players within Japan only. Given if you are residing in Japan, were you strong enough? Then why not you shall give it a try? Maybe you could be the next champion!
The only requirement is that you must achieve the 'Master' class (next to Royal Expert class) by clearing the missions in the Performance Class mode. Once you earn and achieve the Master class, then you are eligible in the national tournament entry. For people in Japan, please stay tuned at their feed for their updates about this!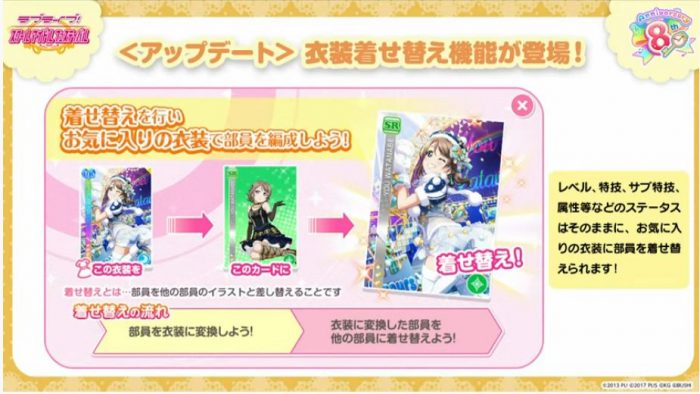 As seen in the previous Aqours livestream last Saturday, this upcoming update allows you to convert your previous SR members into SRs with art cover! I don't think it could be a useful feature, but then, you shall find out in the succeeding days to come! Stay tuned at their feed, or by staying tuned at your in-game notifications about this upcoming update!
GLOBAL SIDE HIGHLIGHTS
This time, this is going to be a showdown! What could be the experiences for me in this highlight, especially on the ongoing Event which is ending soon? Read more to find out!
Icon Collection: Aqours at the Community Festival
This Event is still ongoing, and it is expected to end in just a few days. But then, let me give you my experiences and highlights for this one!
I got some useful tip for you if you are bored in playing some same songs in your head. Why not use the Random Song feature that appears on your B-Sides? And that is, in order for you to be more challenged, as you can play random songs without repeating them! Just don't risk of losing your LP by failing or quitting it especially if you are using the LP consumption multiplier.
So then, I was able to stand up and make it almost to the Tier 1 Event Points position. Will I able to become victorious and claim the Tier 1 spot? Final results shall be posted here next week! Look forward into it!
FEATURE OF THE WEEK!
For the feature of the week, here it goes!
The feature today is… Saint Snow!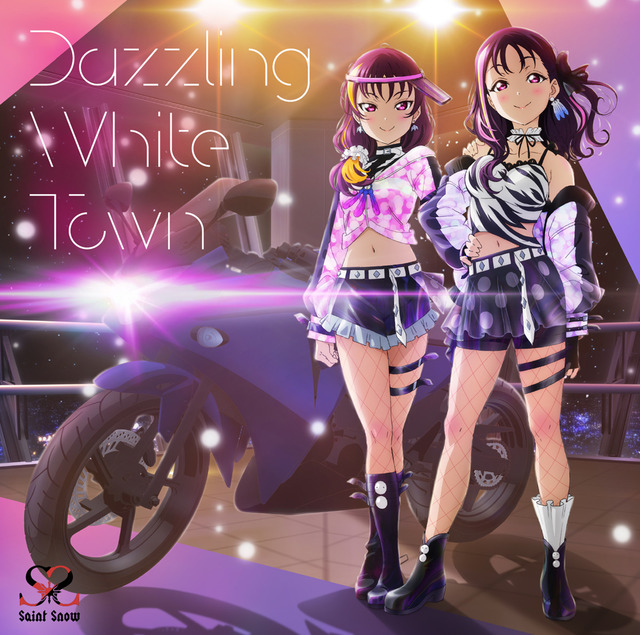 Saint Snow debuted at the time when the LoveLive! Sunshine!! Anime was premiered. They are the rival group of Aqours, and it consists the Kazuno sisters, named Leah and Sarah. Their popularity, thanks to their loyal fans, has risen up, and they can even join live performances with Aqours, at their last 5th Live (Next SPARKLING!!), and on the recent LoveLive! Fest last January 2020. They even made their very first live performance last October 2020, where their first single, the Dazzling White Town, has become popular.
Leah Kazuno is voiced by Hinata Sato, and Sarah Kazuno is voiced by Asami Tano.
Are we nearing to the Finale? What will happen next week?
As we are going farther and farther, the more the conflicts and stakes are rising up higher. But then, as we are proceeding further, the more we get stronger. And at the same time, our enemies are also getting stronger! But then, as we are nearing at the climax of this segment, we are taking more of the conflicts and stakes.
Does it mean that I am nearing at my end of this segment, too? Maybe.
Thank you for reading this Episode! I hope that you had enjoyed well reading the parts of this Episode. Well, we shall see each other again on the next Episode! Anything that has happened right now shall be included next Episode!
See you next week and happy weekend!
Back to Episodes archive | Return to Home Page