The Acronym of Power -Part 2-
In the previous Episode, we had talked about the first two letters of the acronym, POWER. P stands for perseverance, and O stands for observation.
In the second part of this Episode theme, we shall talk about the next two letters, W and E. What could be their meanings?
W is for Wisdom. Wisdom is something that we have in order to have and master our powers greatly. Because without it, we can't have the power. For its meaning, wisdom, it is something that we know between good and evil. It is about not only we know on how to use it, but we must know on how to use it in good or evil way. It really defines that power is neither good nor evil, and it depends really on the user who uses it. For wisdom, you should know on how to use it in a rightful way, otherwise, this power is useless. Relatively, it is somehow almost similar to observation (Letter O), but in Wisdom, you should know on how to regulate it, and you should know how to use it in a wise way. To repeat, your power is evil if you use it in an evil way or abuse it, and your power is considered as good if you use it for justice and to protect and save your friends.
Letter E is for Experience. Obviously, you need some considerable experience in order to master the power that you have. Basically, you need to be stronger in order to use the power that you have. But then, how can you have and master that great power? Simply train. Train your mind, body, and soul by exercising, reading, or whatever that you have just in order for you to be physically and mentally active. And then, if you don't have experience, then you can't have this great power.
We had talked about the two letters in the acronym! Previously, we had P and O last week, and W and E today in this Episode! That makes four! But then, we have one remaining letter in the acronym! What could be the meaning of that letter? Find out next week!
Alright, the true power of LLSIF gaming awakens as it celebrates its 8th Anniversary since April 15th yesterday! What could be the celebration like? Find out, as I am going to give you some highlights that happened last week and this week right here, on the 39th Episode of IDS' segment, the School Idol Festival Journal Log!
CONTENTS
PRE-EPISODE HEADLINES
Oh yeah! As the LLSIF rhythm game celebrates its 8th anniversary, let us go to the headlines! And yeah, there are so much to talk about! Please do read below to continue!
Maki Nishikino's Birthday
Coming up next week is the birthday of the gorgeous µ's member, Maki Nishikino! Her birthday is celebrated every 19th of April, and her birthday campaigns are still ongoing on the both sides of LLSIF rhythm game! Be sure to check that one out, and scout for her new Birthday Limited UR! That's right, scout for Maki if you are really a fan of hers!
I am gonna greet her with a birthday message on the next week's Episode, although I shall be late in just few days!
Happy Birthday, You Watanabe!
You Watanabe's birthday shall be celebrated every 17th of April! How old is she, hmm? It seems we were repeating on her same age all over again, I think. Yep, some things never get older easily, though.
Okay, let us greet You Watanabe today in this Episode, since her birthday is just later midnight!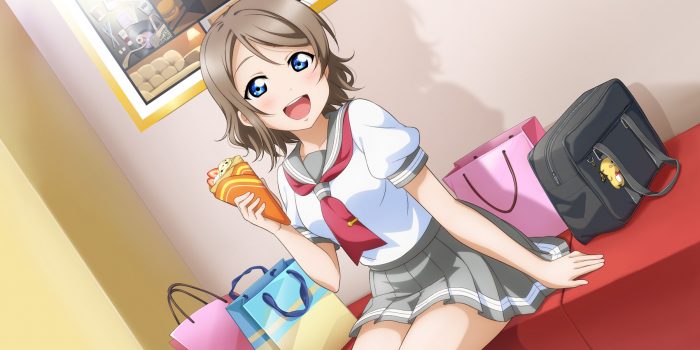 Dear You Watanabe,
You are a brave-hearted, strong girl among the Aqours members. You are one of Chika's closest friends. You were always cheering Chika up when she's down, and you are giving her some ideas on how to make your School Idol bonds stronger.
For my birthday wish for you, I hope that you could create something that your best friend Chika can use on her everyday life. How about something that she can use so that she could inspire everybody? Indeed, because of you, you have become one of my inspirations, and I create clothes for my Nendoroid Dolls.
Today, you should be a role-model for people who were adoring you, because people wanted to feel of what's being like a School Idol just like you.
Happy Birthday, dear You Watanabe, a member of the CYaRon! sub-unit, and the 5th member (official character ordering) of Chika's group, called the Aqours! As fans, we love you!
On top of that, her First Solo Concert Album shall be released later, or tomorrow, on her birthday!
Updates on Aqours' 5th Anniversary Live
【☀️ライブ情報☀️】
5/1(土)・2(日)開催‼️#Aqours 結成5周年記念での初野外ライブ
「Aqours 5th Anniversary LoveLive!
~LET'S GO WONDER TRIP~」
キービジュアルが完成しました✨

▼公演情報https://t.co/TId9ScEP12

本公演は有料生配信も実施予定です?
詳細は後日ご案内いたします#lovelive pic.twitter.com/QsbiUQLLV7

— ラブライブ!シリーズ公式 (@LoveLive_staff) April 13, 2021
The upcoming performance of Aqours 5th Anniversary Live, entitled LET'S GO WONDER TRIP, shall be commenced at the first week of May. The live performance shall be held at Tsumagoi Resort Sai no Sato this coming May 1 and 2 (weekends). The key visual was already revealed at their official website via their Twitter account.
The official live goods are also up for pre-orders and availability date per region varies.
Please do note that this Event might get cancelled due to the ongoing COVID-19 pandemic.
There might be an overseas paid streaming that shall be announced soon at a later date! Please stay tuned at their feed for updates about this!
Tomorrow: Aqours Livestream – April 17, 2021
【?生放送?】
「Aqours浦の星女学院生放送!!!」
次回日程が決定?✨

開催目前のAqours野外ライブやスクフェス8周年などを大特集した90分拡大版でお届けします☀️

⏰日時:4月17日(土) 20:00~
?出演:斉藤朱夏・高槻かなこ

詳細&お便りはこちらから?https://t.co/sLOk0iViTA#lovelive #Aqours pic.twitter.com/IcT7QjEKmT

— ラブライブ!シリーズ公式 (@LoveLive_staff) April 9, 2021
We got some upcoming livestream featuring Aqours tomorrow night at 8PM JST (UTC+9)! Kanako Takatsuki and Shuka Saito shall be hosting the stream, and they gonna talk about the details of their upcoming major live, their 5th Anniversary live! Also, they shall be celebrating the LLSIF's 8th anniversary, and they can do Live Arena Session game on their stream! Make sure to tune-in right at their stream, as they might give out more info and details about the game's 8th Anniversary Celebration Campaigns, as well as some upcoming contents and updates! And not only that, they gonna celebrate You Watanabe's birthday on that date!
This is something that fans are looking forward into!
Happy 8th Anniversary, School Idol Festival!
?本日で #スクフェス 8周年 ?

皆さまのおかげでスクフェスは本日8周年を迎えました。本当にありがとうございます!

これからもスクフェスは、より一層皆さまに楽しんでいただけるアプリゲームを目指してまいります。

これからもよろしくお願いいたします?#lovelive #スクフェス8周年

— 【公式】ラブライブ!スクフェス事務局 (@lovelive_SIF) April 14, 2021
And finally, Happy 8th Anniversary to LoveLive! School Idol Festival rhythm game! That's right, since 2013.
On April 15, yesterday, LLSIF celebrates its 8th anniversary, since year 2013. The game is still up and ongoing, and it never stops because there are lots of campaigns and events in which it can make players be excited and to play more! Definitely, it is not yet the time for LLSIF rhythm game to retire from the lineup of LoveLive! games, along with ALL STARS.
Whew, there are a lot of surprises, and they were so exciting!
But then, the celebration feature is not over yet! There are still more to highlight! Please read this Episode until the very end! As we are about to move on to the next part, what are the things that were encountered during the past weekend, and this week on the LLSIF rhythm game?
JP SIDE HIGHLIGHTS
As the JP Side is celebrating its 8th Anniversary, there are lots of exciting Events and campaigns to enjoy about! Please read these below so that you could have an idea on what are those!
Since I am a great fan of Chika and the Aqours 2nd Years, I decided to give my shot on these limited UR boxes. This has been started when the Icon Collection Event has started ever since!
This Limited UR box can be reset a multiple times. It is because you can choose 1 featured UR for you to scout. There are two URs to pick. One is the featured UR, and the other is a UR that appeared before in the past years! So, try your luck by scouting on this limited UR box!
It contains mostly SRs, and there are no Rs anymore. In fact, this can be applied to the future and the succeeding upcoming limited URs in the future (i.e. µ's and Aqours 1st years)!
This limited UR box shall last until the 20th of April, after the patch update! Try to give it your shot, if you can!
【ラブライブ!スクフェス】

Got these, for now…#lovelive #スクフェス #高海千歌 #桜内梨子 pic.twitter.com/2XTXXMOamX

— いのりどんず (INORI DONZ NETWORK) (@InoriDONZ) April 5, 2021
On my login, when the Event has started, I started to blow my Love Gems and Tickets right away to get Chika and Riko. I had no problem in getting those two. That's right, I may consider myself as a Chika-Riko fan because Riko is my second best girl next to Chika. When I had acquired those two URs, I still have enough Scouting Tickets. And then, my scouting is not over. Please read the next paragraph along with the embedded Tweet!
【ラブライブ!スクフェス】

JUST IN: I had acquired Limited 8th Anniv. UR You Watanabe to complete the 8th Anniv. Aqours Second Years set.#lovelive #スクフェス #渡辺曜 pic.twitter.com/J3g6xWc28I

— いのりどんず (INORI DONZ NETWORK) (@InoriDONZ) April 5, 2021
When I scouted for You Watanabe, the turnout doesn't look good at all. I had consumed all of my tickets and gems in hand. I got her random UR, but still I haven't acquired her featured UR.
So then, I became stressed and I tried to harvest more Love Gems by landing an FC finish to some Master songs, playing in the Live Arena, and even reading the Side Stories of some members that I had max-bonded with. With this effort, I had drawn You Watanabe out from the limited UR box, finally!
As of now, I had all of the Aqours 2nd Years URs in stable. Take note that this is not my first time scouting and getting all of these Aqours 2nd Year URs at once!
In this Event, I had used this opportunity to max-out the Bond Points of some of my SSRs and SRs in stable. Since that time is x5 Bond Points bonus, I had used that opportunity!
【ラブライブ!スクフェス】

Another Master song takedown on the B-Side! ?#lovelive #スクフェス pic.twitter.com/imiC9U9dMT

— いのりどんず (INORI DONZ NETWORK) (@InoriDONZ) April 12, 2021
And also, there are selected Master songs that appeared on the µ's B-Sides! Some of the songs, like Happy maker! in Master difficulty, are samples! I had landed finally some Full Combo finish on some Master songs in which I am able to land an FC finish. It is because of the fact that I am practicing very well in the previous Events, with songs are now in Master difficulty.
And for the Event Song, Yujo No-Change, I can land some FC finish frequently, but not if I am using my powerful Pure team! Yeah, sometimes it happens, when I am getting too overexcited with the song!
【ラブライブ!スクフェス】

Icon Collection: A Gorgeous Part-Time Job Experience for μ's (Results)

?Event Pts.: Rank 1,219 | 419,648 pts.
?Event Score: Rank 4,705 | 1,401,386 scr#lovelive #スクフェス pic.twitter.com/YfkUYZtLdl

— いのりどんず (INORI DONZ NETWORK) (@InoriDONZ) April 15, 2021
This Event was concluded since yesterday. I can able to land a Tier 1-1 finish here if I had burnt my midnight oil, and I grind for more Event Icons to play the Event Song continuously. But then, my laziness was still there, and I had ended up with a Tier 2-1 finish again. Still, no Tier 1-1 finish in the µ's Side, for me.
【ラブライブ!スクフェス】

Included in this campaign event are the URs for 2nd and 1st years of Nijigasaki!

2nd years: After patch on April 15 (tomorrow) until 21st!

1st years: April 22 until 28!#lovelive #スクフェス https://t.co/ezFAZaFUvt pic.twitter.com/RRVmcanHNb

— いのりどんず (INORI DONZ NETWORK) (@InoriDONZ) April 14, 2021
Right now, the new set of Rs, SRs, and URs (no SSRs yet) of Nijigasaki High School Idol Club are starting to appear in the LLSIF world! Today, the second years of Nijigasaki are now available as limited URs to be scouted! And from the embedded Tweet, they have dates now on when these boxes shall be appearing, and when are their deadlines to disappear.
For new players of LLSIF, it's now your turn to scout these Nijigasaki members! Scout them if you are lucky enough, and add them into your stable!
GLOBAL SIDE HIGHLIGHTS
We are nearing at the upcoming server merge! But then, there are still remaining campaigns and Events to be finished first before this would happen! What could be those things to be encountered? And also, we are nearing to the Global Version's 7th Anniversary! Will it be a new chapter for School Idol Festival Global Version, or will it be a goodbye? Find out in the succeeding days! What are the highlights first to be encountered in the past week? Read more!
Round 16 Companion Match (Final)
There are no more things to highlight here, since almost all of them were highlighted in the past week! Today, I am going to give to you my results in this Event!
【LoveLive! SIF】

? Revenge Grind Victory ?

Round 16 Companion Match (Results)

? Event Pts.: Rank 43 | 2,940,630 pts.
? Event Score: Rank 360 | 2,821,583 (Music S.T.A.R.T!!)

Previous results on RT.#lovelive #LLSIF https://t.co/C5aQ1KzT0A pic.twitter.com/B0EPS4CKS5

— いのりどんず (INORI DONZ NETWORK) (@InoriDONZ) April 12, 2021
And that's it! I had finished with a Tier 1-1 standing on the µ's Side! Yep, this is my second victory in the µ's Side Event!
Icon Collection: Aqours at the Community Festival
【ラブライブ!スクフェス】

T.C. Event: Aqours and the Touching Sports Day – Results

? Event Pts.: Rank 393 at 2,186,914 pts.
? Event Score: Rank 7,496 at 1,243,828 scr

Final Standing: Tier 1-1

Notes: 4th Tier 1 Victory in the Aqours Event Side!#lovelive #スクフェス pic.twitter.com/uhYxoKGeek

— いのりどんず (INORI DONZ NETWORK) (@InoriDONZ) November 30, 2020
The embedded Tweet above shows my previous result from the JP Side.
Yep, this next Event was already named, and it shall be taking place in less than 8 hours from this Episode!
The Event UR to be acquired from this Icon Collection Event shall be Kanan! And the Event URs to be acquired by scouting are Ruby and Mari! A Secret SSR can be acquired by playing and grinding through with this Event!
The Event Song to be used is CHANGELESS, and it is a B-Side song of CYaRon!'s Braveheart Coaster. More highlights shall be tackled next week! Good luck and be victorious!
Global Side's 7th Anniversary Campaigns: Possible?
Definitely, it may happen in the Global Side, soon! The campaigns, such as getting the 8th Anniversary Limited URs from the JP Side, can be possible! And they may come forth sooner or later when the Icon Collection Event starts! Yep, and they can be a possibility!
FEATURE OF THE WEEK!
For the feature of the week, here it goes!
Today's feature of the week is… Aqours!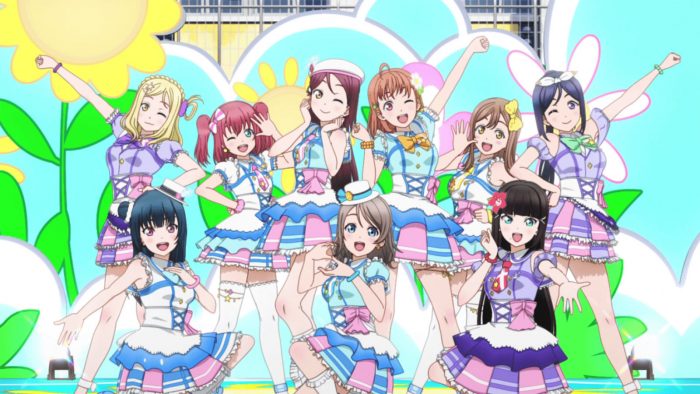 Aqours debuted in year 2015, with their first animation PV single entitled, "Kimi no Kokoro wa Kagayaiterukai?". It is believed that they are going to be a 'bootleg version' of µ's. But then, Aqours had taken a different direction from µ's, thus making it further popular and appealing to new people who were about to enter to the LoveLive! Universe for the very first time, that time.
They had released over 150 songs, including solo versions of the songs. As of today, they are still active in the LoveLive! Universe. Since their debut, they are still continuing to bring smiles to the people not just only in Japan, but to everyone around the world.
Awaken the Power~! Yeah! Are You Ready Next Week?
Now, we had talked about the 4 letters of the acronym! What could be the last letter, and what could be its meaning? You shall find it out next week, and that one is very easy to remember!
Thank you for reading this Episode! I hope that you could come back for more! Anything that shall happen later shall be included next week! See you next time, and see you on the next Episode of School Idol Festival Journal Log! Happy weekend, people!
Back to Episodes archive | Return to Home Page