EPISODE 31: Fan Thanksgiving Festival
Friends and rivals may work and win together. But sometimes, they clash at each other to see who's the best.
The Idol Chasers are currently facing this new enemy in the darkness. This rival in the darkness is hopping from timeline to timeline, and their disturbance is the reason on why did they want to stop them.
This known enemy group, or likewise, the enemy in the darkness, who shows hatred towards School Idols, are called as… the Black Lace Ribbons.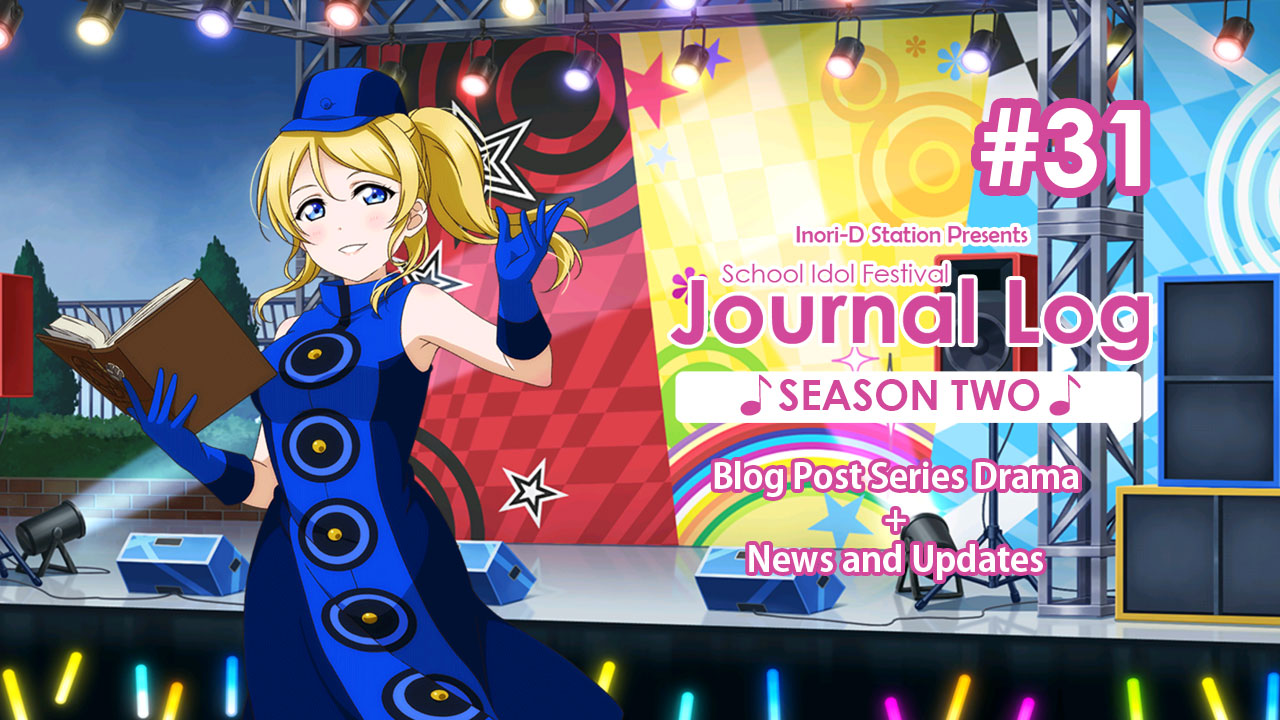 STORY EPISODE
The exciting weekend has finally came, and the students in Shinonome Academy are already having a festival event. And then, the girls who are walking in the campus are talking about it.
"Great! We can't believe that we are the hosting school!"
"Our school is currently hosting this Fan Thanksgiving Festival Event this year!"
"Yeah, and this Event is about showcasing School Idols, and the video games about School Idols."
"Girls, where do you want to go next?"
"Ah, I know! We can go to the auditorium! I want to see some players who had qualified for the final round of the national tournament!"
"I see. To whom you girls are cheering for?"
"For me. I guess it's Hyoshiro Kiriyama."
"That guy? He may be a champ, but inside, he's a total sucker!"
"A total sucker? Maybe he is just having issues with the community, that's all."
"I think this new player, Takayoshi Kitagawa, is also a good player. He may be not as good as Hyoshiro, but he got also potential in becoming this year's champion."
"Whoever he is, just remember that we should give love and support to these competing players! It is just the same as we give love and support to the School Idol Groups that we follow!"
"Girls, I think it is already beginning now! Let's go inside!"
And then, these girls from Shinonome Academy are running quick to get inside the school auditorium.
The campus itself is hosting this kind of event. It is a yearly event, where they showcase everything about School Idols — much like a convention or an expo, rather. This event is called as the School Idol Fan Thanksgiving Festival.
The Idol Chasers are moving around the Shinonome Academy campus.
"So you guys entered and visited our school for the first time?" asked Chiharu.
"Actually, yes…" said Aika. "This school is so amazing!"
"It seems that they are showing everything here," said Takayoshi. "It's ranging from merchandise, video games, and um… Eye-candy-appealing School Idol live shows."
"I hope that I could find my another Yohane plushie doll here!" said Sho.
"I can't believe that they have events like this," said Komari. "And they were usually held at every girls' high school campus… But not all, at least."
"A festive event of School Idols, huh?" said Gen. "Maybe looked so interesting, but let me take myself a time to explore."
"Lierre and Mrs. Saki may be not here today, but they were just observing us on what we do!"
"And then, we should be extra vigilant! For the Black Lace Ribbons may be around creeping along with us!"
"Ah, just like my mother has said. Anyway, I have to go now. I am going to prepare myself for the upcoming match today at the auditorium! Make sure to watch for me, okay?"
"Sure! Good luck in winning, Taka-Bro!"
"Go for it! And winning in a national tournament is just like winning a LoveLive! Event!"
"I think we should start splitting up here. But then, just beware of the Black Lace Ribbons' sudden attack. I shall tell you guys immediately if I have sensed something abnormal!"
And so, when the Idol Chasers are about to split their group, Komari said, "Be sure to use those earpieces equipped to your ears! Just remember that when you see something suspicious, then try to use it and communicate!"
"Thanks, Komari!" said Chiharu, "Alright, let's go, Idol Chasers!"
"S.I.F. !!" They replied. And then, they had finally split their group.
Chiharu meets with her friends along the way. And then, she finally meets Haruka Konoe and her School Idol Group.
"Haruka, what's up?"
"I am okay, Chiharu!"
"Did your big sister's sleep-hug powers give you motivation?"
"Yeah, of course! I am filled with excitement today in being a part of this Fan Thanksgiving Festival Event!"
"Are you going to perform on the live stage today?"
"Yep! And be sure to watch our live performance this time, okay!"
"Like I said, we are definitely going to watch your live performance — right here, today! We will be looking forward into that!"
"Thank you, Chiharu! See you later!"
As Haruka's group have left, Chiharu's earpiece have beeped, receiving a call transmission. And so, Chiharu has answered the call.
Aika has visited an area where some costumes used by the famous School Idols from the past are being displayed there.
"Wow, these costumes are so pretty! At least, I have them for reference to be used for my new upcoming costume!"
Aika has looked at that MIRAI TICKET costume which is displayed on that area. A few seconds later, her earpiece communicator has beeped, and Aika decides to answer it.
Gen is walking around the hall. He kept walking until he has ended up in a booth, showcasing the rhythm video game that Takayoshi is playing.
He is seeing some icons going through the line, and they were popped out by tapping. And when he understands the flow of the game, he said, "Let me try playing it."
And so, he picked up a song to play with. He first tried the easiest difficulty. When he has finished the song, he said, "This one is easy."
And then, he tried playing the hardest difficulty. It seems that Gen was able to follow with the rhythm icons, and was able to tap properly in a timely manner. Finally, he finished the difficult song in a Full Combo Finish. And the exhibitors were surprised and said, "Wow, that was amazing! You just landed a Full Combo Finish! Hooray!"
"It's fun playing this game, somehow. Maybe I can play along with this, next time."
After that, his earpiece communicator has beeped, and he answered it.
And finally, the last scene goes to Sho and Komari. Komari was finding on where did Sho went, and said, "Oh come on… You are just like a kid who is lost in a crowd! Now, where did he go?"
When Komari is about to use her earpiece communicator, she finally saw Sho standing while two girls are talking to him.
"Ara… You do love collecting School Idol figures and merch!" said the Girl A.
"Be sure to watch our live show later! Bye!" said the Girl B.
"Oh, thank you! Bye girls!" said Sho as he saw the two girls leaving.
Komari finally come closer, and talks to Sho.
"With that appearance of yours, I am sure that the School Idols will come closer to you like magnets!"
"Oh, don't say that! It's embarrassing…"
"But remember. Do you know the rules about meeting with idols?"
"Well… Yep."
"Rule number one: Don't flirt with an idol, even if they are trying to flirt with you."
"Ah… Okay. But then, where did you read that rule?"
"Of course! I am reading a history book about School Idols, at the time when I am still an Interdimensional Policewoman. And I am just like Lierre, after all, but not exactly as of what is she doing."
"I am looking everywhere in this hall, yet I can't find any Yohane plush doll, darn…"
"Don't worry, you can finally find it soon! Just believe with your Yohane-sama's words!"
"I see… Thanks! Do you want to walk along with me?"
"Of course! Let's see… Where we should go next?"
And then, finally, their earpiece communicators have beeped and they heard it. After that, they immediately begin to move out and run.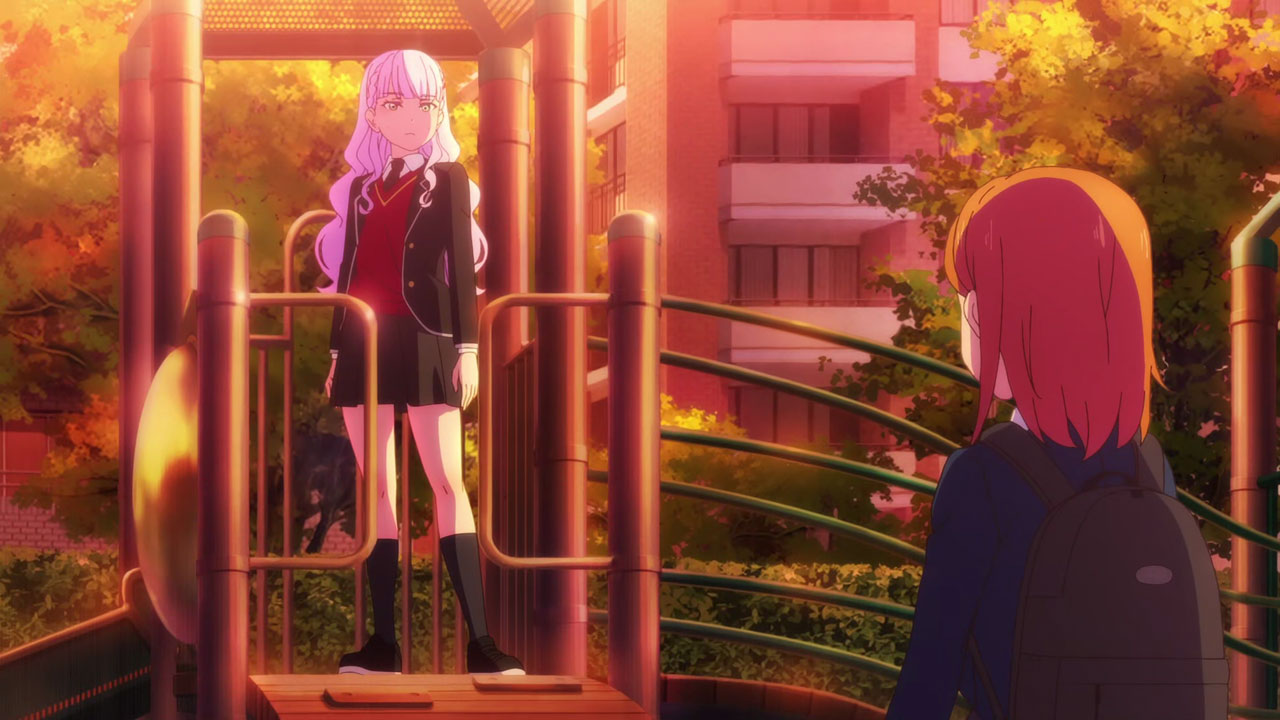 HEADLINES
The weekend today is exciting! Since there are some stuffs announced for this week, from the respective School Idol Groups, what are those to encounter in the future?
So far, what has happened recently in this week? Find out by reading more below!
Other Updates
SIF Series Thanksgiving 2022 Schedule Details (Part 1 of 4)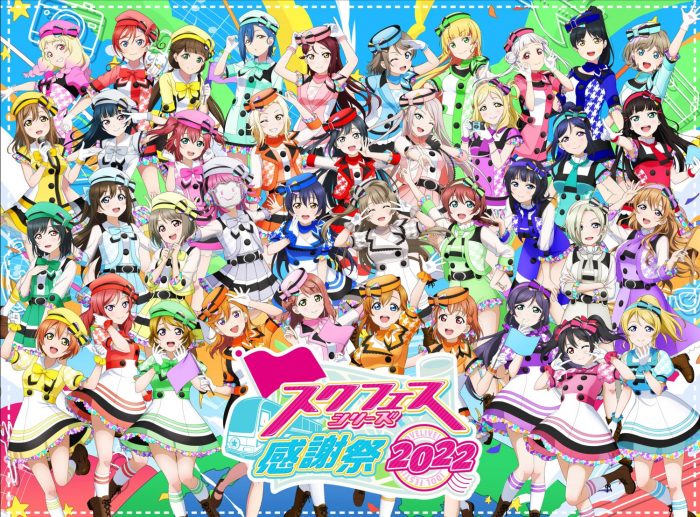 So then, I shall be highlighting the details of each schedules for the upcoming SIF Series Thanksgiving 2022 this coming September 24-25, 2022 JST! And these shall be done consecutively every Episode, until it's time for it to commence!
Every Episode in the "Other Headlines", I shall be detailing the details of every schedule in this Event! So don't miss the next Episode for the other schedules!
So here is the first two of the five upcoming livestreams to be done on the event itself!
Day 1 – Livestream No. 1 of 5
μ's Opening Ceremonies Special
Date and Time
September 24, 2022 (Sat), 2:00 pm JST
Hosts
Emi Nitta (Honoka)
Riho Iida (Rin)
Pile (Maki)
The three members of the Legendary School Idol Group is back, and they shall be appearing in this Event!
So then, what could be their thoughts in having LoveLive! Series, as well as its ongoing LLSIF and ALL STARS games, going so far? These are something for them to talk about in their opening ceremonies special! Don't miss this opportunity to see them once more on the stage!
Day 1 – Livestream No. 2 of 5
LLSIF Stage
Date and Time
September 24, 2022 (Sat), 4:00 pm JST
Hosts
Nanaka Suwa (Kanan)
Aina Suzuki (Mari)
Ai Furihata (Ruby)
The celebration for the ongoing LLSIF 9th Anniversary is not yet over!
The three representatives of the Team Aqours shall be hosting in the second part of the livestream series within this Event! And who knows that there might be new features in this game that they might announce soon? Who knows? Will it be some new colorful Limiteds, new MASTER songs? We don't know them!
And be sure to keep your eyes in this stream, since they would be hosting a Rhythmic Carnival Play! So, are you lucky enough to get inside their lobby, and to input the six-digit room lobby as quick as you can? Why not? Maybe you could be one of the lucky people to get inside and play along with them!
---
So then, the rest of the schedule details shall be posted and included on the succeeding Episodes! Or you could refer to the official website page for more details!
Official Page:
https://lovelive-sif-fes.bushimo.jp/2022/ 
Aqours Updates
Riko & Ruby "Third Solo Concert Album" Art Covers Revealed
As revealed from the last Aqours Livestream (August 22, 2022), the jacket art cover designs for the respective Third Solo Concert Album Series of Riko Sakurauchi and Ruby Kurosawa have been revealed. These albums shall be released at their respective character birthdays!
The featured songs for these two shall be revealed at a later date, so stay tuned! Therefore, they shall be included on their upcoming Birthday Headlines, which shall be included on the succeeding future weeks — next month in September!
Nijigasaki Updates
Nijigasaki Anime SEASON TWO Blu-Ray Vol. 4 Song Previewed
The Blu-Ray Vol. 4 of the Nijigasaki Anime SEASON TWO is scheduled to be released on September 28, 2022. The featured song included in the Blu-Ray Volume is "Look at me now", and was performed by R3BIRTH. And that song can be previewed on YouTube.
But then, the chances to appear in LLAS can be high, so stay tuned! That song can become a playable song in the future!
Liella! Updates
Anime SEASON TWO Episode 6 Review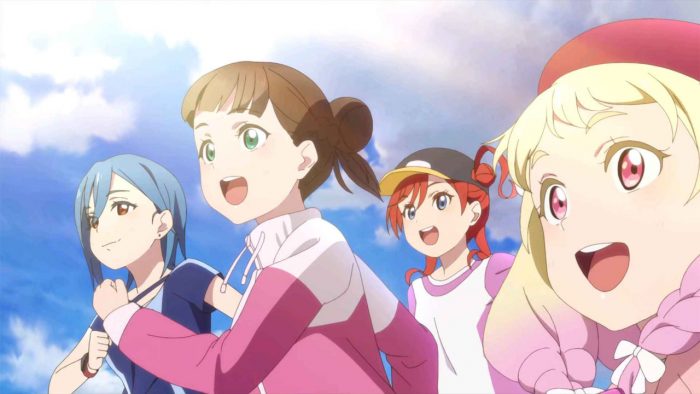 Advisory on Visiting Key Places as Depicted in Anime
Liella! Anime Production Team (PL!SP / Project LoveLive! Superstar!!) has issued an advisory warning for people who are visiting some key places or locations, as shown and depicted in the Anime series.
Recently, last August 23, 2022, they had noticed the amount of visitors or tourists in a local hotel, called Northern Star Lodge. And to translate the news below, it says:
Regarding the building that appeared in the story, we have confirmed that there are many direct visits and inquiries to the "Northern Star Lodge" in Nakafurano Town, but we have not reproduced the appearance of the Northern Star Lodge in this work. Please refrain from visiting the facility directly and entering private property or taking pictures, etc., as it may cause trouble.

Even if you are visiting as a guest, please respect the intentions of the facility manager. We would like to inform you in advance, as the facility manager does not require excessive photography within the facility or posting on SNS.

We sincerely apologize for the concern and inconvenience caused to Northern Star Lodge, local residents and other related parties, as well as everyone who supports "LoveLive! Superstar!!".

Retrieved and translated from: https://www.lovelive-anime.jp/yuigaoka/topics/detail.php?p=01_981
A word of advice for everyone that everything which was produced and depicted in the Anime are totally fictitious and coincidental. And remember that trespassing is a crime, you know? Don't make a work of fiction a reality, and that's idiotic.
TODAY: Liella! Livestream
This livestream later Saturday evening, at 8:00 pm JST, shall be hosted by the following people:
Sayuri Date (Kanon)
Nako Misaki (Chisato)
Akane Yabushima (Mei)
Wakana Ookuma (Shiki)
Aya Emori (Natsumi)
They shall be talking about the highlights of the LoveLive! Superstar!! SEASON TWO Anime, as well as talking about the latest Episode! And we are now half way of this series! But other than that, what they shall be talking about?
Be sure to tune-in to get latest info about their stuff, entertainment live events, and some other content updates in the respective LoveLive! games!
This is definitely the livestream of Liella! that you shouldn't miss watching on YouTube later evening!
---
And that's it for the Headlines for this Episode! Be sure to read this Episode until the very end!
Don't close your browser window yet, since LLSIF and ALL STARS Highlights are next after this one!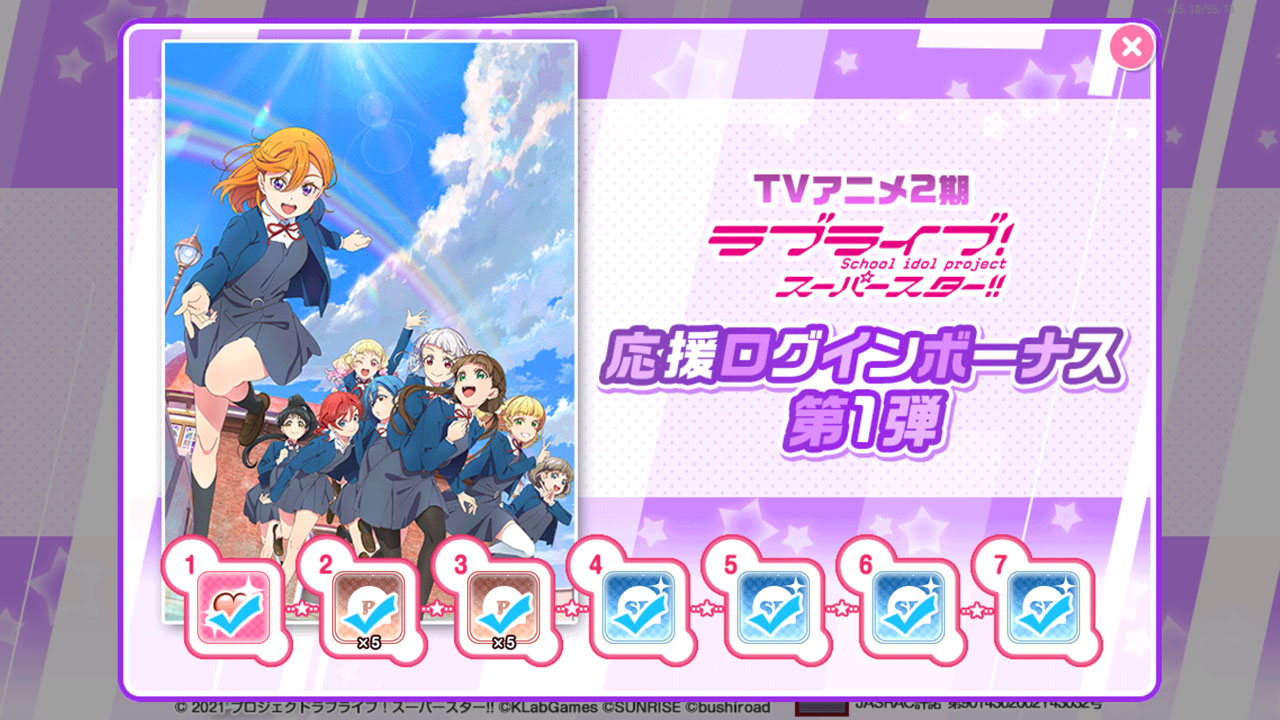 LLSIF HIGHLIGHTS
The action continues, especially with the Setlist Event, wherein you have to get more Skill Up Cards to buff up your Skill Levels! And do you know what that means, right?
At least, I have to be prepared for the next Event, which shall take place next month, on the 5th of September!
Other than that, what are the things in which they were encountered previously on LLSIF? Stage Start!
Limited B-Side Song!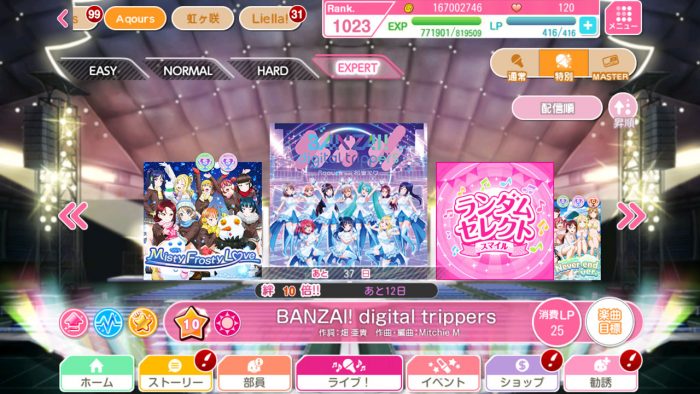 Guess what song has been added as a playable song on your B-Sides?
The collab song, BANZAI! digital trippers, shall be available on your Aqours B-Sides until the end of September 2022! Try playing it whenever you got the time!
This song shall be available in all difficulties, except MASTER.
Setlist: SIF Summer Festival Vol. 2 feat. Liella!
It's Liella!'s turn all over again in this Setlist Event! You know basically what to do, right?
Guide here.
So then, you have noticed something different, isn't it? There are some new songs that you haven't heard before! And aside from that, there are at least four (4) songs which are available to play on MASTER difficulty!
Find out which are the songs to appear this time in this tabulated list below!
SONG
ATTRIBUTE
MASTER?
(WHEN SET TO SPECIAL DIFF.)
Mirai wa Kaze no you ni
Pure
NO
Dakara Bokura wa Narasunda!
Smile
NO
1.2.3 !
Pure
NO
Tokonatsu✩Sunshine
Smile
YES
Wish Song
Pure
YES
WE WILL!!
Pure
NO
Nonficton!!
Cool
YES
Starlight Prologue
Pure
YES
Welcome to Bokura no Sekai
Smile
NO
Go!! Restart
Cool
NO
This Setlist Event shall last until this month ends! Good luck in grinding, Idol Chaser.
SoLL! Challenge 2022 Results
And here are the results of the recent SoLL! (Summer of LoveLive! 2022) Challenge, that was made last August 5 until August 21, 2022 JST!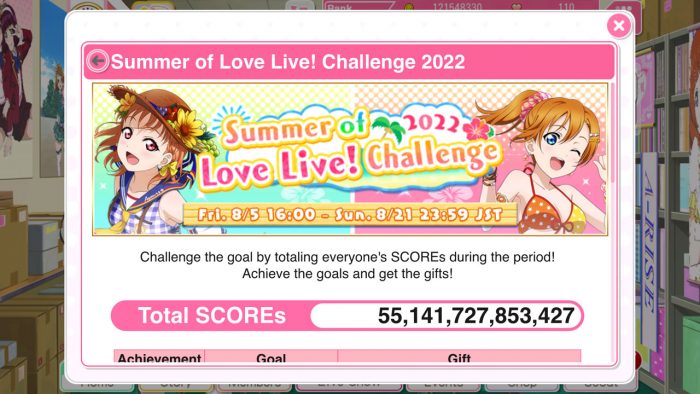 The total score achieved in live show plays is 55,141,727,853,427! Thanks to everyone who participated!
Make sure to check out your Present Box for the gifts, if you haven't got them!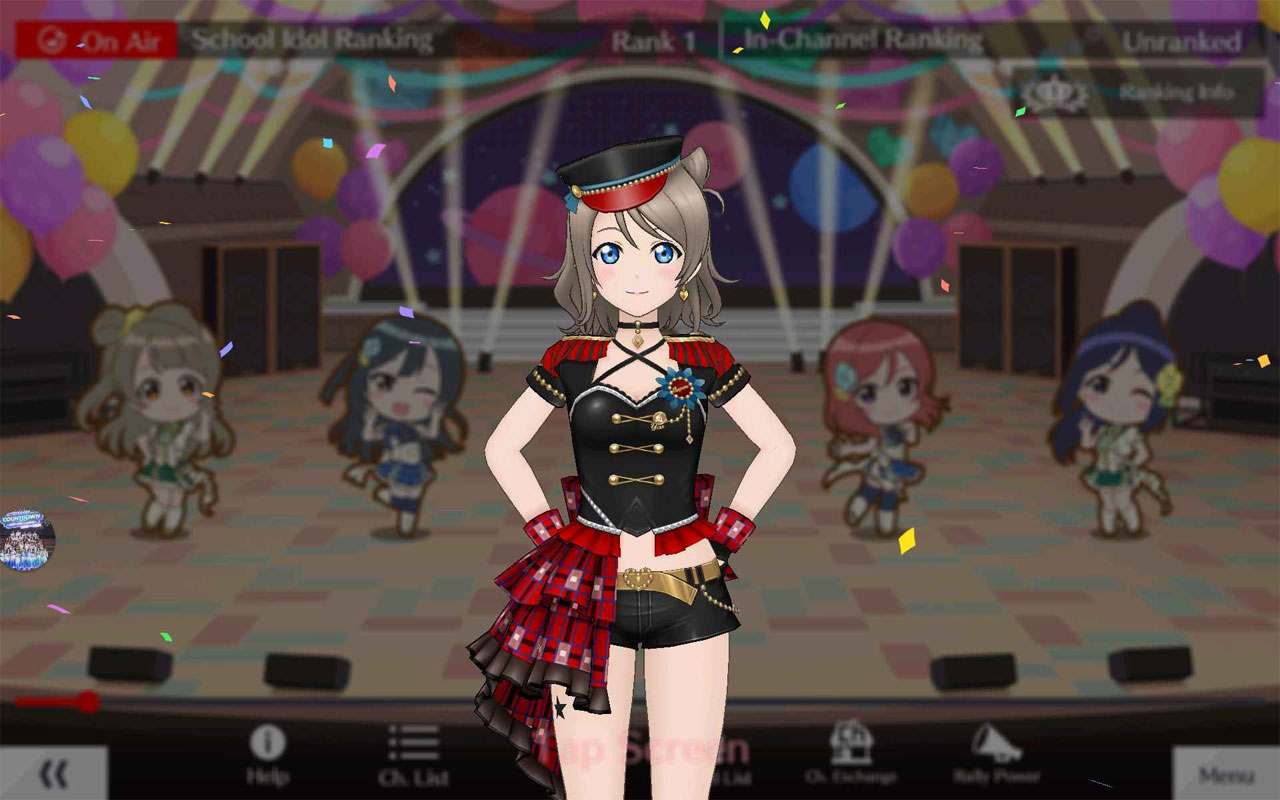 ALL STARS HIGHLIGHTS
So right now, I am getting more lazy when I find out that I haven't logged in for the day. However, my motivation to play isn't fading out yet.
However, starting next month, there could be changes when I am going to play in this game! And that should be announced right here!
Aside from that, what are the things which were encountered reccently in LLAS? Let's go, and S.I.F. !!
FEATURE: Password-based Data Transfer
Actually, this is not a new feature. But this feature was used by LLSIF before in transferring between two platforms. Therefore, this shall be a feature used as a replacement for their SIFID feature.
In transferring or saving your data, you can go to the "Menu", and then choose "Data Link". Choose the SIFAS Link (Transfer with Password) option, and then tap "Link".

You just need to input your password there, and your password should meet with the total characters (letters and numbers) count. Tap OK to confirm, and then follow instructions.

Therefore, upon creating your password, you shall be generated with a new Transfer ID along with your created password. So, use them whenever you are playing on a new device. Input the necessary fields, and follow instructions.
If in case you lost your game data, due to carelessness, or even reformatting or losing your device for no apparent reason, then you shall need to contact your game admin for assistance.
Again, this is NOT a new feature. This was used by LLSIF before.
STORY: A Midsummer Night's Hopes (Highlights)
Actually, I am making progress here. But then, how can I able to grind higher without even getting lazy? So, my only chance here is to put any featured event members in team, and then I skip as harder as I can. But then, I have to be careful too, since I am also running out of Skip Tickets here, and I have to do my Daily Missions in order to restore them in numbers.
This is my only highlight and progress that I can tell. In fact, I should not forget to read also the Story Episodes in the Event!
Final results and event report shall be posted here next Episode! Look forward into it!
School Idol Channel Weekly Bulletin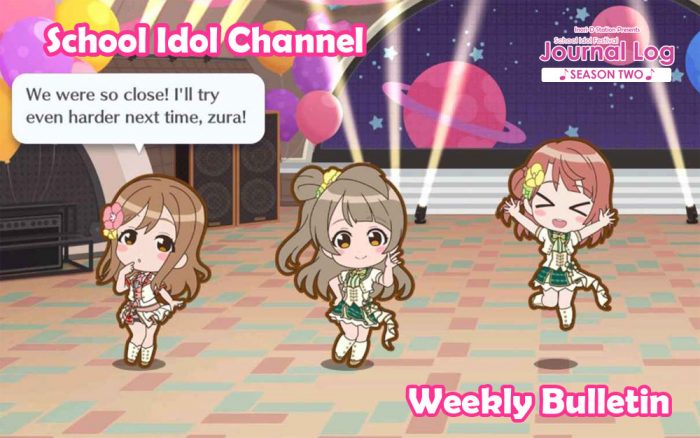 In this part, did your best girl make it to the top ten? Find out by looking at the tabulated rankings below!
JP Side – #73
| RANK # | SCHOOL IDOL | GROUP | AVERAGE CHEER POINTS |
| --- | --- | --- | --- |
| 1 | Kasumi | Nijigasaki | 6,976 |
| 2 | Mari | Aqours | 6,006 |
| 3 | Setsuna | Nijigasaki | 5,906 |
| 4 | Kotori | μ's | 5,380 |
| 5 | Eli | μ's | 5,238 |
| 6 | Mia | Nijigasaki | 4,793 |
| 7 | Umi | μ's | 4,785 |
| 8 | Kanata | Nijigasaki | 4,710 |
| 9 | Shizuku | Nijigasaki | 4,679 |
| 10 | You | Aqours | 4,527 |
Global Side – #60
| RANK # | SCHOOL IDOL | GROUP | AVERAGE CHEER POINTS |
| --- | --- | --- | --- |
| 1 | Mia | Nijigasaki | 5,131 |
| 2 | Kotori | μ's | 4,352 |
| 3 | Mari | Aqours | 3,601 |
| 4 | Maki | μ's | 3,293 |
| 5 | Rina | Nijigasaki | 3,200 |
| 6 | Kanan | Aqours | 3,135 |
| 7 | Ayumu | Nijigasaki | 2,947 |
| 8 | Eli | μ's | 2,936 |
| 9 | Chika | Aqours | 2,891 |
| 10 | Setsuna | Nijigasaki | 2,697 |
For the first time ever, Mia Taylor got her win this time! So then, what are your thoughts for your School Idol who made it to the top ten?
So far, there is no nearby School Idol yet to celebrate her birthday, so choosing any girl until the first week of September is just right.
And that's it for the School Idol Channel Weekly Bulletin for this Episode! Tune-in next weekend for the next one!
Changes in my Event Grinding in the Next Future Months
Yep, I had told you before that I am going to make my announcement here! In fact, this shall be proceeding in the succeeding future months!
Please do read the replies in my "Event Report" Tweet, which shall be posted on my Twitter account, when the ongoing Story Event has ended! I got something to tell by reading the replies on that Tweet!
Coming soon.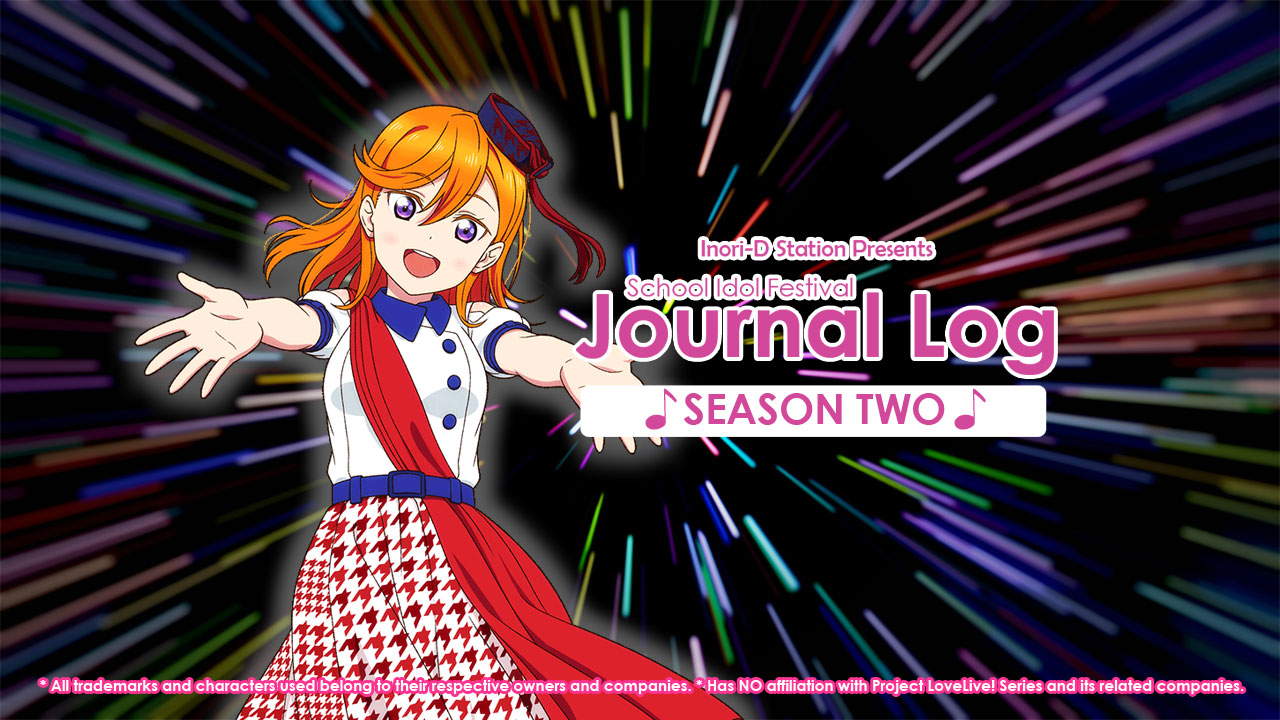 STORY EPISODE (EPILOGUE)
In the auditorium of the Shinonome Academy campus, the audience are waiting and they were excited to see the players in action today.
And the announcer said, "Welcome to the national tournament finals of this School Idol Fan Thanksgiving Festival Event! Today, we have our four finalists who will be competing today to become this year's champion!"
And then, the fans are already cheering in their seats.
At the backstage, Takayoshi is meditating and is well-focused for the finals. He has learned everything of what he has learned from his past experiences, as a rhythm game player.
Finally, his long-awaited rival has shown up to him.
"Congratulations in making to the finals spot, Takayoshi Kitagawa!" said him. "You are known as Takamin, in your Player Name."
"Yeah," said Takayoshi. "And it's a pleasure to meet and challenge a champion like you, Hyogane, a.k.a. Hyoshiro Kiriyama!"
"Finally, I can get to challenge a challenger like you. Don't underestimate my rhythm gaming skills!"
"It doesn't matter. So as long as your arrogance is still ahead of you, I doubt that you could snatch your victory easily!"
"Haha… Keep in mind that I have these two on my side. And they shall be competing along with us!"
And then, Takayoshi's own former friends, Seiba and Mitsu, have shown up.
"Surprised? I think we are ready to become champions!"
"Takayoshi, let's compete! I think this national tournament finals shall be the fun place for us!"
"It's all thanks to Hyoshiro for training us, though."
"Generally, we don't think that you could last against us in the first round."
And then, Hyoshiro made final words to Takayoshi, and said, "Just keep cool in playing this finals very well, Takayoshi."
"Sure thing! I am just wanting a fun game, and that's all!"
Finally, the three has left him.
When they have left, this is the time that Takayoshi has used his earpiece communicator to contact the other Idol Chasers.
Meanwhile, outside of the school campus, Lierre observes it. And then, she noticed a purple barrier formed around the school. And then, she said, "Finally, the Black Lace Ribbons are here. I just hope that Chiharu and others are safe inside. I can't get in there easily through that barrier."
And back at the maid cafe, in the Idol Chasers HQ, Saki is observing the Shinonome campus being enclosed with a transparent, purple barrier.
"It looks like they had made their move now, isn't it?" the girl named Rika Kamiya said, as she was also inside the HQ with Saki watching.
"It seems," said Saki. "Looks like we just wait for these evil rivals to come out soon… Really soon."
"Are you sure that they are okay inside?"
"Don't worry. The School Idols whom these Idol Chasers have met are already in their side to fight."
"What did you mean by that statement?"
"Their bonds shall never be broken. And it is their bonds that makes them always together. Remember that our rivals shall never win, if they are just thinking about themselves."
"Okay. Let's just hope that their School Idol Fan Thanksgiving Festival Event is just safe and sound."
"Mikako. We shall be meeting face-to-face, really soon! And this is going to be an exciting meetup!"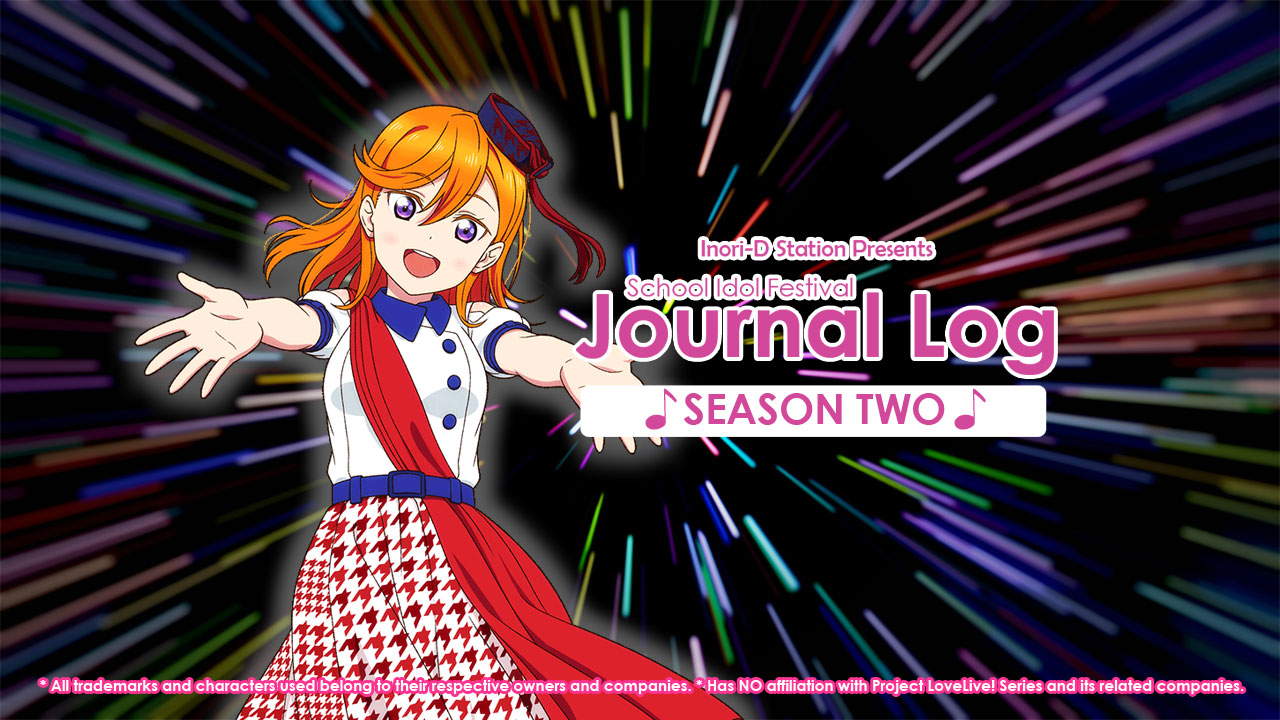 NEXT PREVIEW
As a School Idol, you got your own talents and skills to showcase for your fans. But aside from the fact that you have your own known talents, there is only one or more things that makes you a different person from anybody else. You may be have one common talent or traits, but what makes you different or unique from one another?
Next time on SIF Journal Log SEASON TWO, "Secret Talent".
Now, let's make our dreams come true together!
The Bonus Stage
"Here we go, the new us!"
Will they able to find out their reason why they wanted to achieve their dreams, and win? Along with those four new girls, they are fated to perform together in one big stage.
And so, their stories still continue… In the other side of the countless stars.
LoveLive! Superstar!! SEASON TWO!
Every Sunday at 7:00 pm JST, on NHK E-TV Network in Japan!
Check your local Anime licensors per country or region for the time and availability!
LLSIF TV Anime in-game campaigns now going on!
Official Website:
https://lovelive-anime.jp/yuigaoka/ 
RETURN TO MAIN PAGE BACK TO HOME PAGE