EPISODE 39: Takayoshi's Family
In order for Takayoshi to master his rhythm game skills, and to beat Hyoshiro next time, he must go in the farthest north in Japan, where he is in a search for a martial artist to train him.
Meanwhile, the rest of the Idol Chasers are having their own, separate missions, as they were assigned to them by Saki. And now that they were separated from each other, this is where they need to prove themselves as Idol Chasers, in order to beat their enemy, the Black Lace Ribbons!
It seems that Aika, Sho, and Komari were done in their respective missions given by Saki! So then, we got only Takayoshi and Chiharu remaining!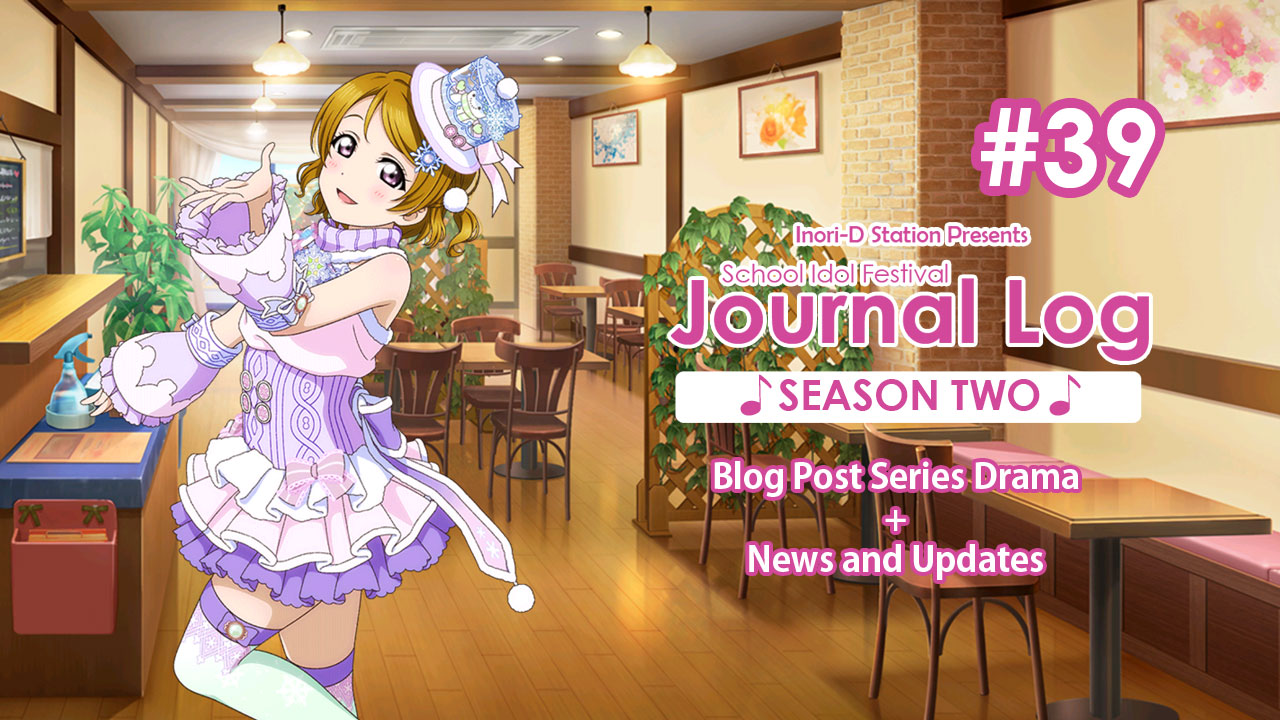 STORY EPISODE
In Hakodate, at Kougi's Dojo, Takayoshi was finished on his daily training. It was already Day 7 of his training.
When Takayoshi has finally changed his clothes, just after he took his bath, Kougi has talked to him.
"Well done in passing my final test, Takayoshi."
"Yeah, thank you very much! And that training is very hard."
"That's really natural that you must need to struggle in order to achieve greatness."
"It's true. Now, I just need to see my effortful results!"
Kougi finally leads Takayoshi into a room somewhere in his house. And then, he talks to Takayoshi, again.
"Actually, this room is my former base when I became a fan of School Idols."
"Yeah, and your room has finally changed."
"That is because I have moved on from being a fan into just a normal person."
"You used to be a School Idol Fan in the past, and you played the rhythm game, right?"
"Yeah. However, I just quitted because I had already enough."
"Enough of what?"
"Those School Idol things… I know we do really love them very much. But then, nothing will last forever."
"Nothing lasts forever… Been hearing that lately on some TV shows that I had previously watched before."
"You will soon understand of what I am saying here, Takayoshi. You can't just be a School Idol Fan, forever, when you are still alive."
"Tell me. Why you had quitted being a School Idol Fan to just being a normal man? A dojo guy, rather?"
"It is because… I have finally realized my own dreams now. And that School Idol whom I had been following all along… She had finally graduated, and she was married to a happy guy whom I don't even know."
"I see… Just being a School Idol Fan is just like being a School Idol, right? Sometimes, when we grew up, we are no longer on what we are used to be."
"And that's what I am talking about to you in the first place!"
"Oh, and that's it?"
"By the way, your mind and body has been trained properly now. I think it is now the time — To do this special test of mine, as your Master."
"A special test?"
"That's right. You are going to play along with me… On a rhythm game match!"
"Eh?? Right here? Right now?"
"That's right, Takayoshi! I am going in the player name as Omegamira. You had been hearing me in that player name, right?"
"Yeah, and my player name is Takamin."
"So then, as your Master, are you willing to accept my challenge?"
"I am ready. I will ACCEPT your challenge."
"Well then. We just have to play this more difficult MASTER song. And the player who gets less total number of greats shall be the winner. This is your ultimate, special test. Are you ready?"
"Um, can I have a bit of time, please?"
"Oh? Don't tell me that you are holding back, Takayoshi."
"I ain't holding back. I am just needing some few minutes to prepare myself. Then, I am going back to you immediately when I am ready!"
"I will be waiting here. Just take your time."
"Thank you very much!"
Takayoshi steps out from Kougi's room in a moment. And then, as he is preparing himself for the ultimate special test, which is a rhythm game match, Gen suddenly talks to him for a moment.
"Takayoshi, I suggest that you should calm down in facing him."
"I know. I am just needing to concentrate, and to clear up my mind and thoughts."
"I know that you were really desperate, and you want to settle your revenge against Hyoshiro Kiriyama."
"I know about it! Basically, I am not just aftering for revenge here. It is because…"
"It is because you have a goal or dream that you wanted to come true, right? Is that it?"
"That's right. And then, thank you for everything, Gen. Thank you for supervising me until the very end in my entire training days."
"It is been a pleasure to have me around. And it is because you are an Idol Chaser. We should, therefore, help out at each other to overcome the odds!"
"And no matter what, we shall continue to love and support those School Idols, until at the time that they retire or graduate! And we, ourselves, must protect the dreams of these School Idols!"
"And you made that promise to Chika, right? Don't forsake her, because you treat her as your sister. And you had been saying that always that…"
"School Idols are just like my little sisters."
"Hah, your vision has never changed, do you?"
"Right now, I have to do this. All I need to do is to win this ultimate special match against him."
"Good luck in facing him. Just remember: Keep yourself calm. And I think Chika has already told you to use it whenever trouble comes, right?"
"I see! Thanks, Gen!"
And so, Takayoshi is now ready to face Kougi in a special rhythm game match.
"Are you ready for your final challenge, Takayoshi? Or let me say… Takamin?"
"I am ready for my final destination, Omegamira, one of the top players in SIF!"
"Okay, then. Let's play this song. This song is called, PSYCHIC FIRE."
"I am an Idol Chaser. I am Takayoshi Kitagawa! Takamin!"
And so, they had begun their match.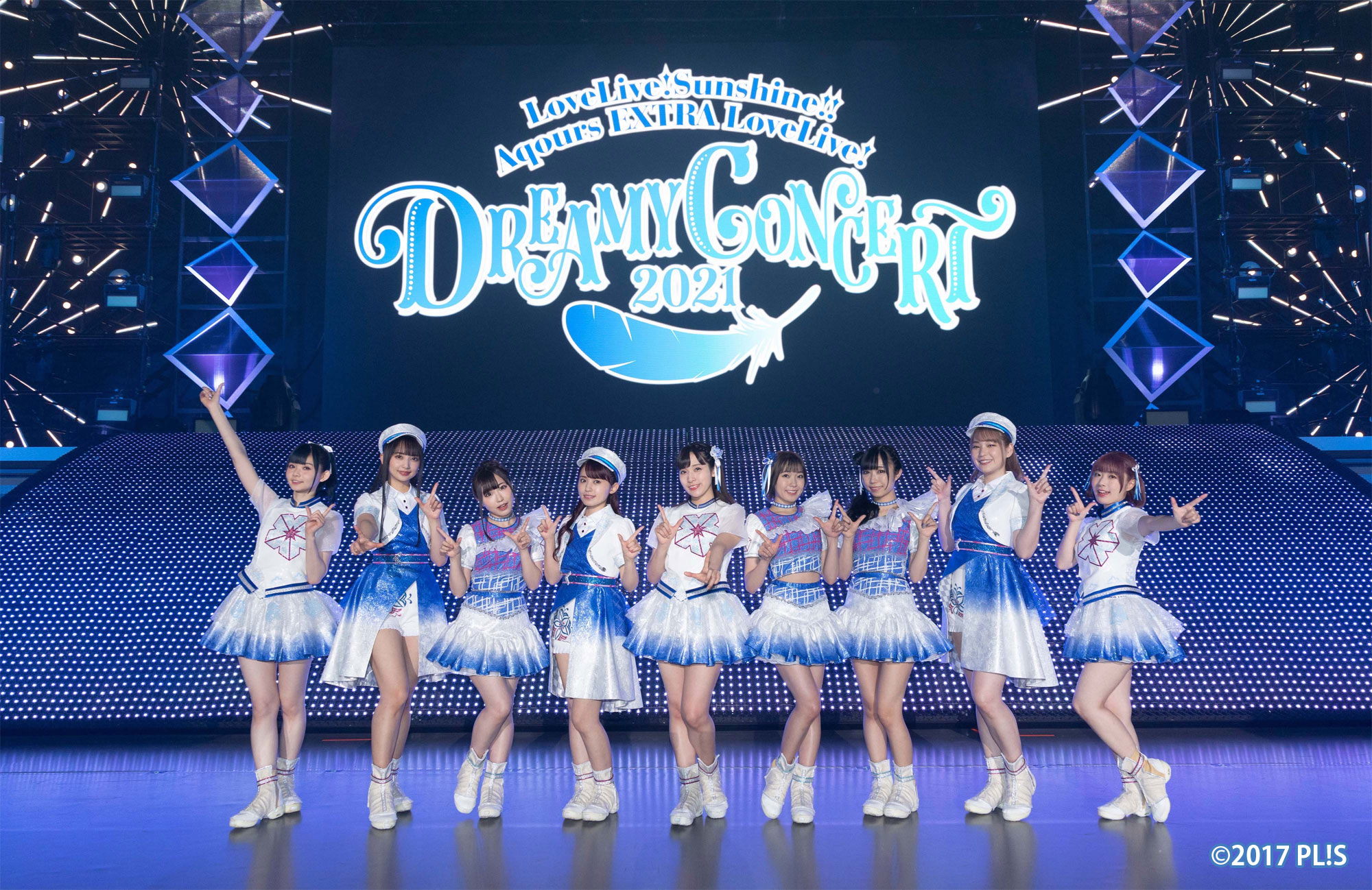 HEADLINES
Here we are! We are in the remaining Episodes for this Season, before the finale! And that's why I took a one-week break because of that (Not only due to a vacation)! And so, the adventure of the Idol Chasers in the world of School Idols will still continue, even after the Season Finale.
Speaking of the Headlines, there are lots that happened, in which I wasn't able to make a documentation nor highlight. But anyway, here are some of the things to be encountered soon in the future! So then, what are those to expect, soon? Find it out!
μ's UPDATES
Rin Hoshizora's Birthday! Message on Next Episode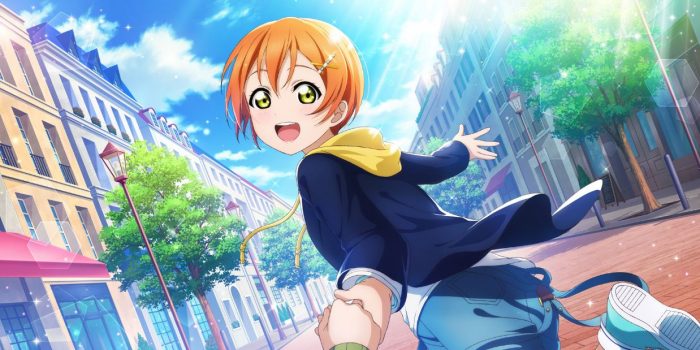 Rin Hoshizora is a student from the school called as the Otonokizaka Girls' High School, and one of the members of the Legendary School Idol Group, called as the μ's.
Rin got her character or mannerism wherein she is always uttering the word nya, as in a sound of a cat, in order to finish her sentences. While being just like a cute cat in actions might be her appeal, Rin is striving to be more womanly, thanks to her friends who are making her dreams, as a School Idol, to come true.
Her birthday is celebrated on November 1, every year, and she was voiced by Riho Iida! Remember to scout on her new UR or Limited, only on LLSIF rhythm game! And my birthday message for her shall be included on the next Episode, so look forward into it!
Aqours Updates
"Waiwaiwai Waiwaiwai!" Song Previewed
Their song is dedicated for their weekly Aqours Urajo Radio which was happening in their late night schedules on local radio stations in Japan. The song title is "Waiwaiwai Waiwaiwai!" (わーいわいわい わいわいわい!). Something like "Hurray! Hurray!", or even "Yeah yeah yeah!", as my own understanding in translation!
Anyway, this song or single (with a B-Side song) is scheduled for November 9, 2022 release! The vocals shall be composing of Shuka Saito (You), Aika Kobayashi (Yohane), and Ai Furihata (Ruby). Yep, and those songs can be previewed already on their YouTube Channel (from the embedded Tweet above)! And they shall be previewing it on their upcoming livestream soon (To be detailed next after this)!
More likely, this might appear as a playable song on LLSIF, someday, so be prepared!
Aqours Livestream (October 31, 2022)
HAPPY HALLOWEEN. BWAHAHAHA!! (And Ruby goes pigya~!)
This upcoming livestream shall be hosted by at least three people, namely Shuka Saito (You), Aika Kobayashi (Yohane), and Ai Furihata (Ruby). And this shall be commencing on Monday night, on October 31, 2022, at 8:00 pm JST! Witness their Halloween livestream special!
Tune-in to get some "spooky" content updates for the respective LoveLive! games, as well as some other media and merch updates! And don't forget that they might give out some info, with regards to their upcoming "Aqours Extra LoveLive!" Event in February-March 2023, here!
Nijigasaki Updates
Nijigasaki Unit Live 2023 Series Key Visual Revealed
At last, their key visual for their upcoming Unit Live 2023 Series has been revealed! And then, in some of my previous Episodes around, I had given out some details or information about the schedules!
ALL of these four unit lives shall be happening at Tokyo Garden Theater, in Tokyo, Japan.
Stay tuned at their feeds for more updates about this. Maybe in some of their future livestreams, you could get a glimpse about them!
Page:
https://www.lovelive-anime.jp/nijigasaki/sp_unitlive2023.php 
QU4RTZ 3rd Single: PASTEL
At least, you got a glimpse of it, right?
Their upcoming 3rd Single shall be released on the 23rd of November 2022, and it shall feature the sub-unit of Nijigasaki, QU4RTZ (Composed of Kasumi, Kanata, Emma, and Rina). More likely, this shall be played on their upcoming Nijigasaki Unit Live 2023 Series, on year 2023 (As noted from the previous headline above)!
Liella! Updates
Liella! Songs Now Available on Spotify
Spotify now has created a playlist, which would showcase all of the songs coming from Team Liella!, or otherwise, from the LoveLive! Superstar!! Anime series. Be sure to check that one out, if in case you got a Spotify account!
Other Updates
"Virtual School Idol" Project Details Revealed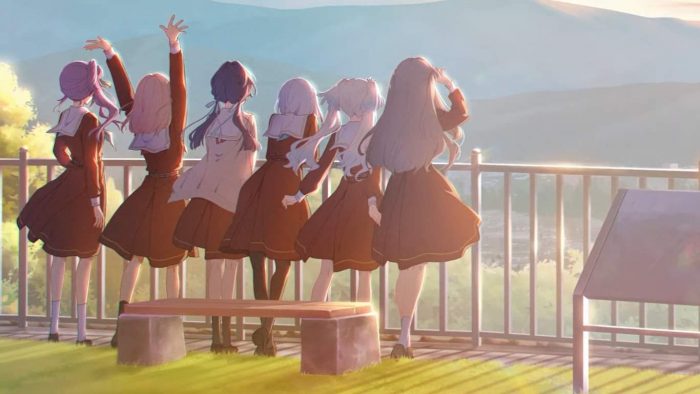 Read this news below for more details!
LoveLive! Series' "Virtual School Idol" Project Details Revealed
---
And that's it for the Headlines! There are still more left to read in this Episode!
Keep reading, because LLSIF and ALL STARS Highlights are next!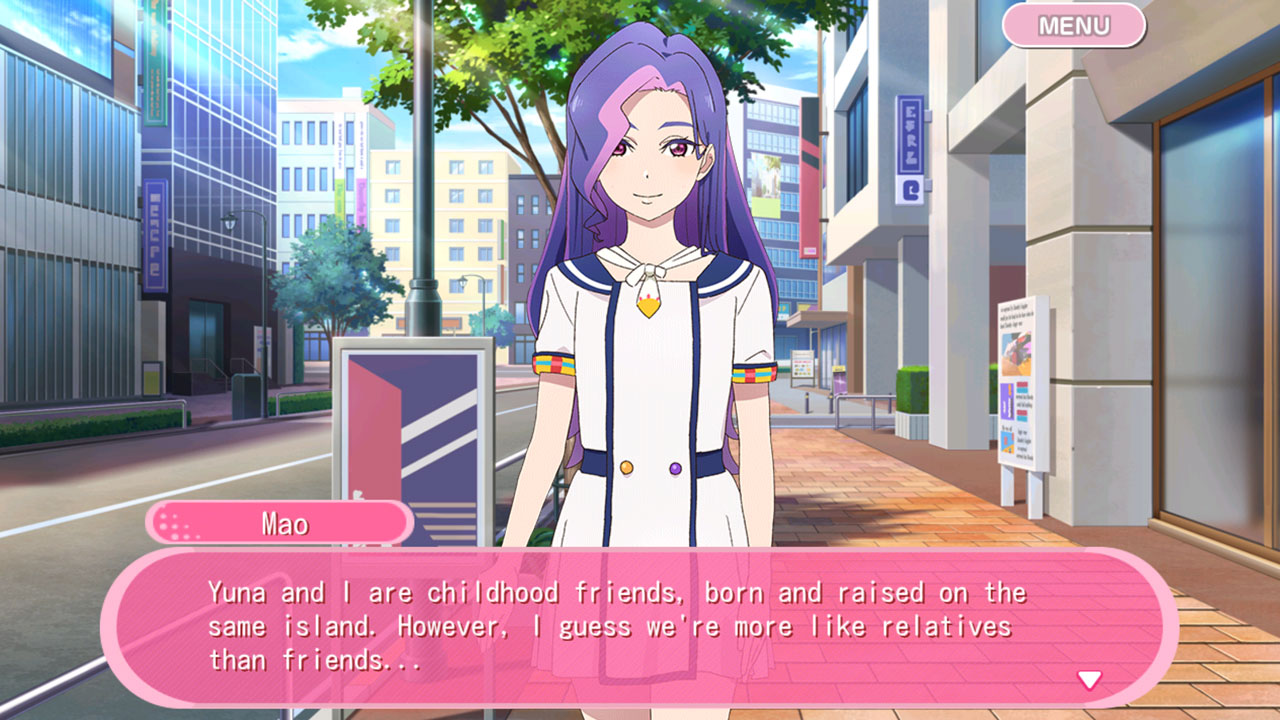 LLSIF HIGHLIGHTS
Nothing seems to be significant to highlight here, especially when this month is almost ending. But then, to give you some idea on what has recently happened at the time when I am off from the weekly publishing, here are some of the things to see below! Stage Start!
Setlist Event: SIF Autumn Festival Vol. 2 – Liella!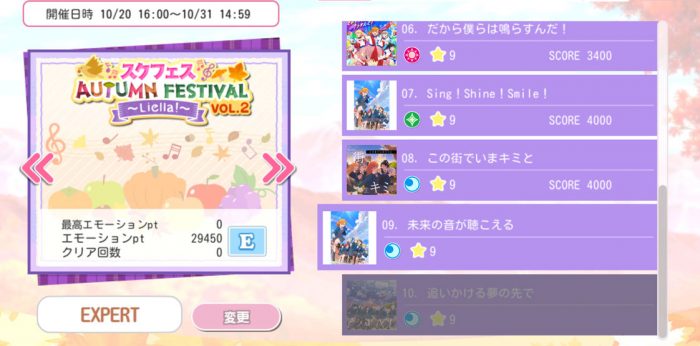 You know what to do, right? And can you identify which songs are new, and some that have MASTER difficulty?
And then, as of their current update (via App Version update), they had added and updated their Setlist Box Draw feature, which would allow you to draw 100 items from the Box Draw in one go! Indeed, it's a great help, so that you could deplete the items easier and faster!
Make sure to participate, and to land an AA finish in order to win 15 Love Gems at the end of its duration! And don't forget to deplete the Setlist Box Draw items first before resetting.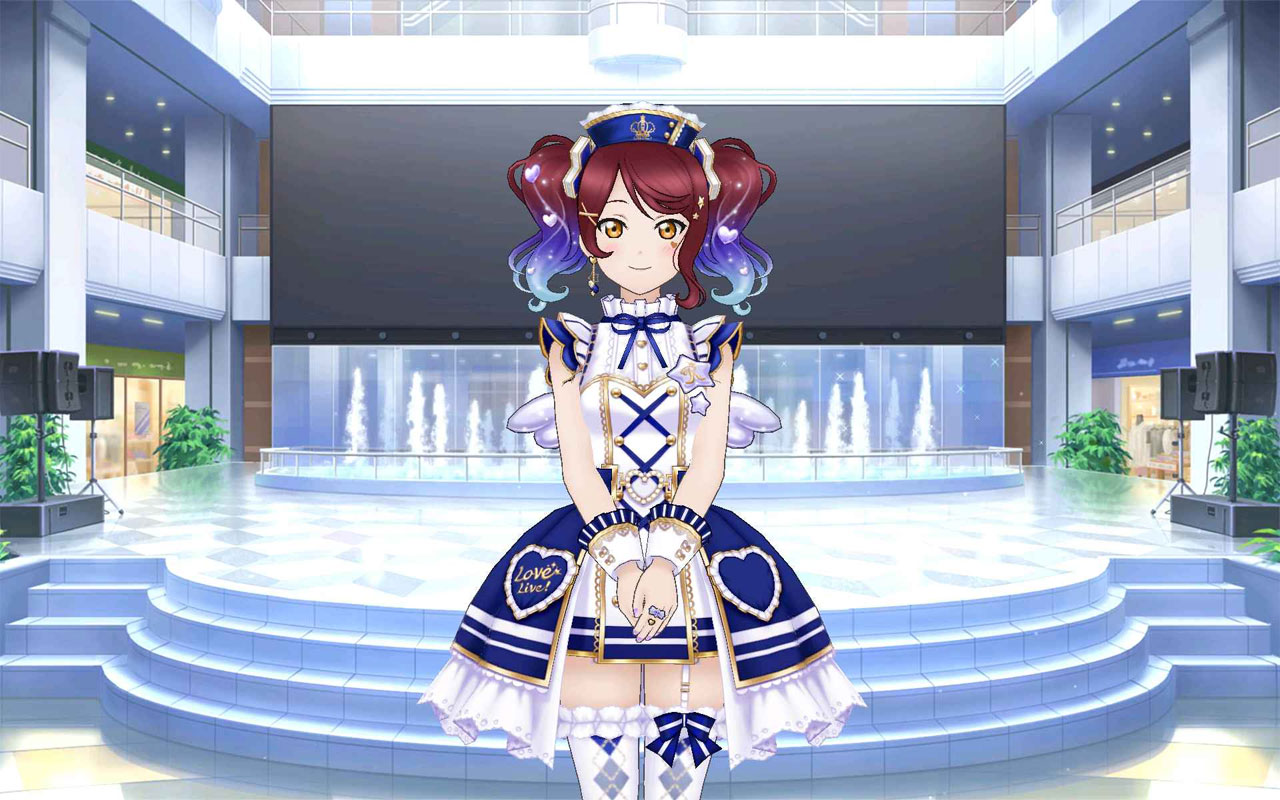 ALL STARS HIGHLIGHTS
And so, what could be my own highlights for this one? In fact, I am just too lazy again to grind due to many matters!
Alright, here comes the ALL STARS Highlights! S.I.F. !!
STORY: Tricky Witch's Candy Party

Happy Halloween! Refer to the tabulated list for some members to be obtained from this Event!
RARITY
SCHOOL IDOL
OBTAINED FROM
EVENT POINTS UP
ACQUISITION RATE
UR
Nozomi Tojo
Event Points Gain
Event Points Ranking (End Period)
+30% (+50% Maximum)
SR
Chika Takami
Honoka Kosaka
Event Points Gain
Event Points Ranking (End Period)
+15% (+30% Maximum)
UR
Emma Verde
Ruby Kurosawa
Scouting
+100%
SR
Shioriko Mifune
Scouting
+50%
Featured School Idols within this Story Event shall have a 10% Event Points Up each.
You got until one day tomorrow to grind up higher ranks, and to get all of the featured members and rewards! Hurry up and grind now! And as usual, my final results in this Event shall be on the next Episode, along with my event highlights!
School Idol Channel Weekly Bulletin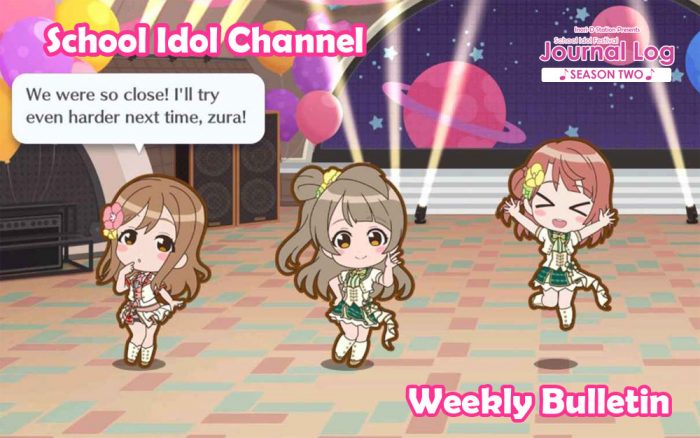 At last, Eli Ayase has won two times in a row! Congratulations!
And then, did your best girl make it to the top ten list?
JP Side – #82
RANK #
SCHOOL IDOL
GROUP
AVERAGE CHEER POINTS
(RALLY POWER)
1
Eli
μ's
78,204
2
Ayumu
Nijigasaki
24,373
3
Kotori
μ's
22,293
4
Setsuna
Nijigasaki
22,114
5
Shioriko
Nijigasaki
21,324
6
Chika
Aqours
19,516
7
Ruby
Aqours
18,359
8
Umi
μ's
17,910
9
You
Aqours
17,891
10
Mari
Aqours
17,825
Global Side – #69
RANK #
SCHOOL IDOL
GROUP
AVERAGE CHEER POINTS
(RALLY POWER)
1
Eli
μ's
34,450
2
Setsuna
Nijigasaki
14,511
3
Chika
Aqours
14,428
4
Riko
Aqours
13,833
5
Ruby
Aqours
13,321
6
Kotori
μ's
13,073
7
You
Aqours
12,605
8
Maki
μ's
12,314
9
Shioriko
Nijigasaki
12,083
10
Honoka
μ's
11,818
You already know who's next, right? If that's so, then switch your channel to Rin Hoshizora next time until November 7! Then, after Rin, switch to Rina Tennoji next! More likely, Rina Tennoji might win two times in a row here, right after Rin Hoshizora.
And that's it for this week's School Idol Channel Ranking report! See you next Episode!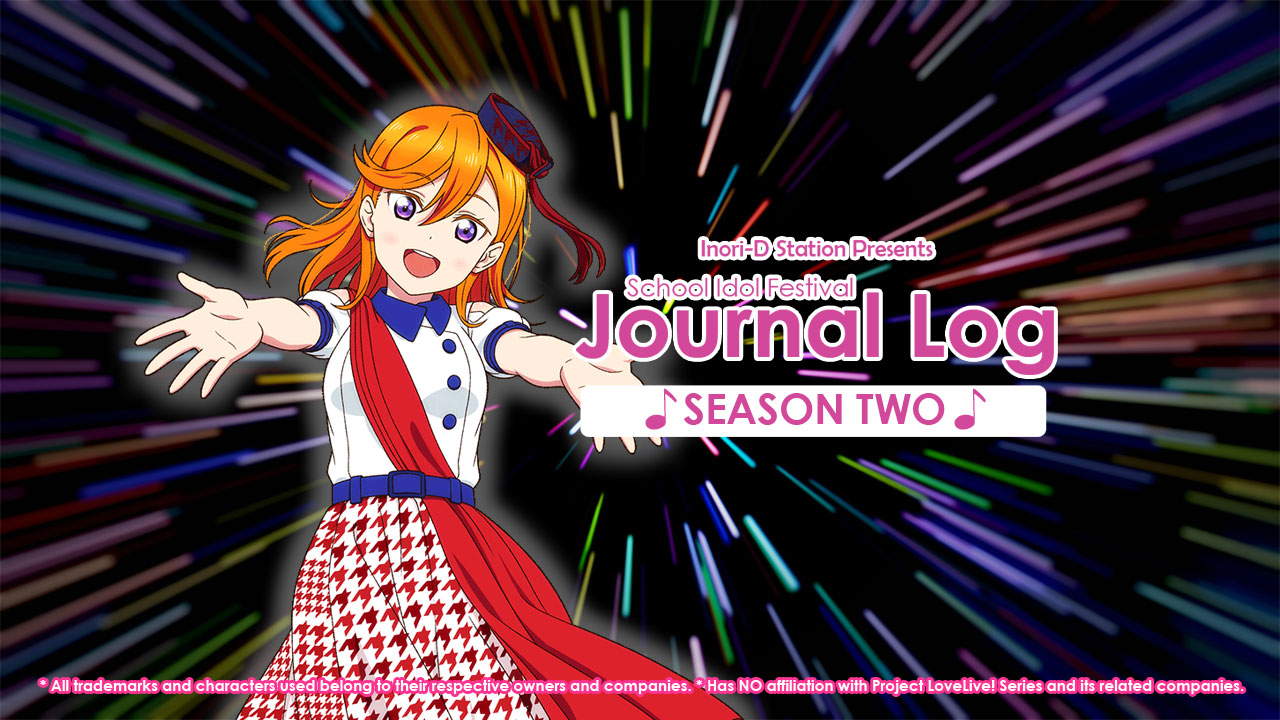 STORY EPISODE (EPILOGUE)
It seems that Takayoshi was able to navigate around with the song in its MASTER difficulty, especially on some complex, swiping notes. Both of the players are in their serious and calming states.
Kougi, on the other hand, was able to perfectly pass through with the swiping notes, since it is because, it was his favorite MASTER song. And then, he was able to almost All-Perfect the song, and he got only 2 greats, and a Full Combo Finish. But then, will Takayoshi be able to win against him?
"All done," said Kougi. "I had landed a Full Combo Finish, and landed only two Great notes! What's yours, Takayoshi?"
"I am also done, Master Kougi," replied Takayoshi. "I had never landed a Full Combo Finish. However, I have zero Great notes."
And then, he has shown his results at Kougi as a proof. He has some zero Great notes, but he has one Miss note as a result.
"Congratulations. You have finally got your answer to your resolve," said Kougi.
"You're welcome!" said Takayoshi. "It's a great opportunity to meet and to play with a top SIF player, just like you!"
And so, both of them has bowed their heads down as a sign of thanks to each other.
Takayoshi was about to stand and leave. But then, Kougi tries to tell him something by talking to him more.
"Takayoshi, let me tell you some things before you leave."
"I am eager to listen on what do you want to talk about."
"It is about… Saki Kitagawa. She was a former School Idol, and your mother, right?"
"Yes, she is. But then, how did you know about my mother?"
"Actually, she is a popular member of the group, called the D3LTA. Because of her, a lot of aspiring girls wanted to follow their own dreams, and they become School Idols in the present."
"I see. And I have heard her story while she was telling us our current mission."
"Takayoshi, let me tell you some small thing that you don't even know. I am sure that you would be surprised, if I tell it to you right now."
"That's okay. It's quite normal for me if I could find out —"
"Takayoshi Kitagawa. Saki is NOT your true mother."
"Saki… Eh? Why did you even tell me that Saki isn't my mother!?"
"Believe me. Whether you could deny that fact or not, it is really the truth that you, as an individual, is just a baby found somewhere that I don't even know."
"What? … No…. This can't be."
"Do you want some proof? Then go and ask Saki by yourself. Actually, I had met her a long time ago, and she is always telling me that she wanted to have a baby or child. And that time, she has never got any boyfriend yet, nor being married."
Takayoshi was somehow shocked of the truth. And so, he made his final statement, before leaving, and said, "Thank you for your time, Master Kougi Haneda! Thank you for everything that you have taught to me!"
"Your welcome, Takayoshi Kitagawa. Just remember the things that I have taught to you. Now, that you have finally realized your goal, let that be your weapon in order to win the next National Tournament!"
And so, they had dismissed their conversation, and both of them had bowed down their heads as a sign to say goodbye. Takayoshi, finally, has left.
Kougi has looked at the departing Takayoshi from the dojo. And he said, "Don't be depressed on what I have said to you, Takayoshi. But then, that's the truth. I am utterly sorry for what I have said. Even if you talk to Saki right now, she might be also answering you the same answer!"
And one evening, the maid cafe is already closed because the operating hours are over.
And on Saki's bedroom, which is located at the top floor of the maid cafe building, Saki was looking at a picture, with her younger self with the younger boy, Takayoshi. She touches it, and she was already missing him.
And finally, someone knocks on the door of her bedroom. She then replied to enter, and the door opens. It was none other than Takayoshi.
"I am back, Mom," said Takayoshi to her.
"Welcome back, my dear Takayoshi!" said Saki, his mother.
"Mom, I had completed my training under Master Kougi! That was tough, though!"
"Good thing you had returned safe and sound, my dear!"
"Mom, I wanted to tell you something."
"Tell me… What is it?"
"Mom. Actually, I am not —"
"You are not my son. Is that what you wanted to say?"
"You are right. And Master Kougi has told me everything about you. And me as well."
"Actually, at the time when I had retired being a School Idol, I was wishing to have a baby. That baby shall be my companion in my future activities, until I grow up old, and until the present time when I was able to establish this maid cafe in Akihabara."
"Tell me! Where did you find me? And who are my real parents?"
"And that's the question that I also needed to answer for myself, either."
And then, Saki told Takayoshi everything that she remembered.
"At the time when I go outside to buy some vegetables, I saw a mysterious capsule-like baby carriage. And then, I am hearing that crying baby voice, and it appears that it came from that carriage itself! And that baby appears to be you, Takayoshi!"
"I see. So, I was found and picked up somewhere that I don't even remember… When I was little."
"And then, I had read a note which is not quite readable. I think it tells me to take care of that baby, who is you!"
"Mom… No, Saki. Don't you still have any idea on who are my real parents?"
"I don't know either, my dear Takayoshi. But soon enough in the future, you can meet with them… Someday."
Later, Takayoshi is beginning to release his sadness in his heart, while clenching his fists. And so, he is beginning to cry and shed tears, and said, "Who really am I? Why did my real parents left me behind?"
"My dear Takayoshi…" said Saki and she cries also. "I am so sorry that I have lied to you all along in these years."
"I am not your real son… I am just a poor child who is found somewhere!"
"I am so sorry… I just wanted to have a baby a way back then in order to be with me all along until I grow up old!"
"Mother… Do you still… love me… As your… fake son…?"
"It is because… You grow up, and I raised you to become a great man! A great man who could… love and support School Idols!"
"Mother… I love you…"
"I love you, too… My dear Takayoshi… My son."
And then, these two heavily hugged at each other, while shedding tears of sadness.
Now that Takayoshi finds out that he is just a fake son of Saki. Rather, he is a child who is found somewhere in the middle of a city, having no idea on who really he was.
And finally, Saki said to him, "It doesn't really matter, whether you could be my son or not. The important is… You are just a member of my own family, from now on. And that family is… The Idol Chasers. And that's us!"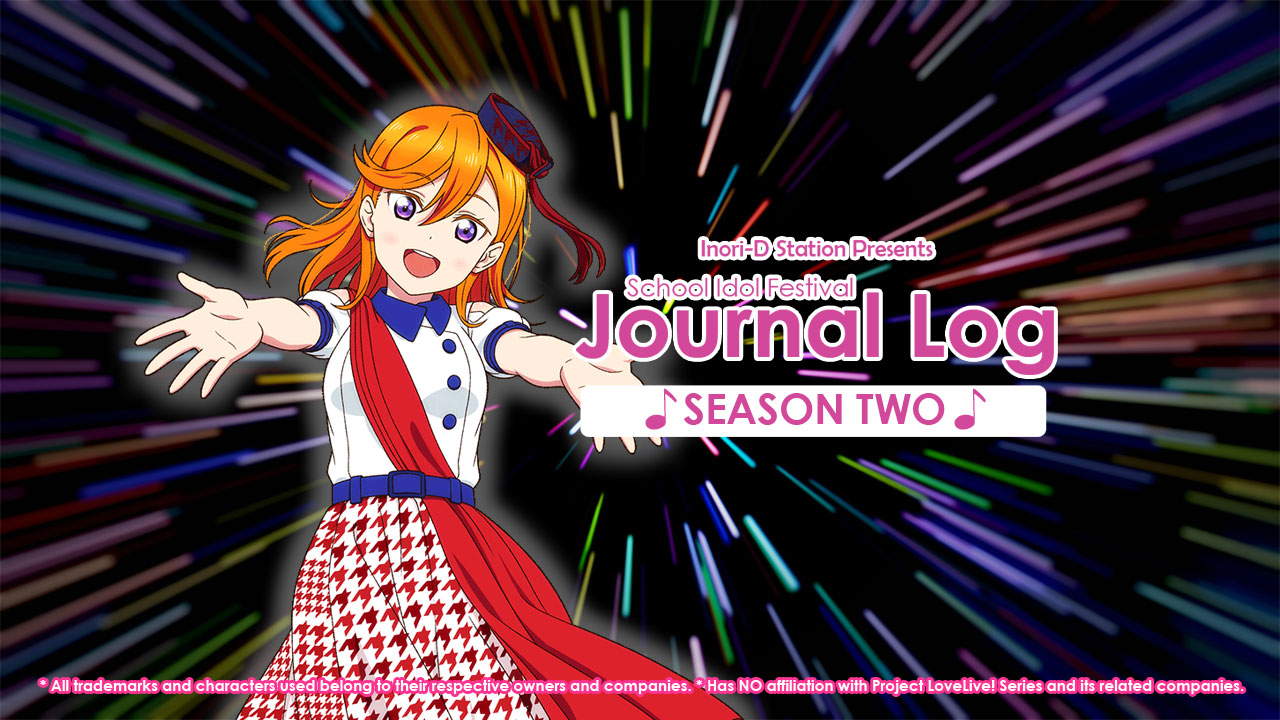 NEXT PREVIEW
The Season Finale is near! We only have 2 Episodes remaining for this season! Make sure to follow the stories of the Idol Chasers until the Final Episode! Who knows that there would be a continuity?
Chiharu and Lierre shall be their turn to step into the spotlight! And… Honoka was captured by Inverse Lierre?
Next time on SIF Journal Log SEASON TWO, "Save Honoka – Part 1".
Now, let's make our dreams come true together!
RETURN TO MAIN PAGE BACK TO HOME PAGE