EPISODE 27: Negative Colors
There are the group of people who were the followers and supporters of these lovely School Idols. They buy ranging from character figures, merchandise, and other items like plushies — a way on how they give love and support to them! Because of these people, the legacy and the continuity of School Idols are still continuing to become popular.
This group of people is called as, Idol Chasers.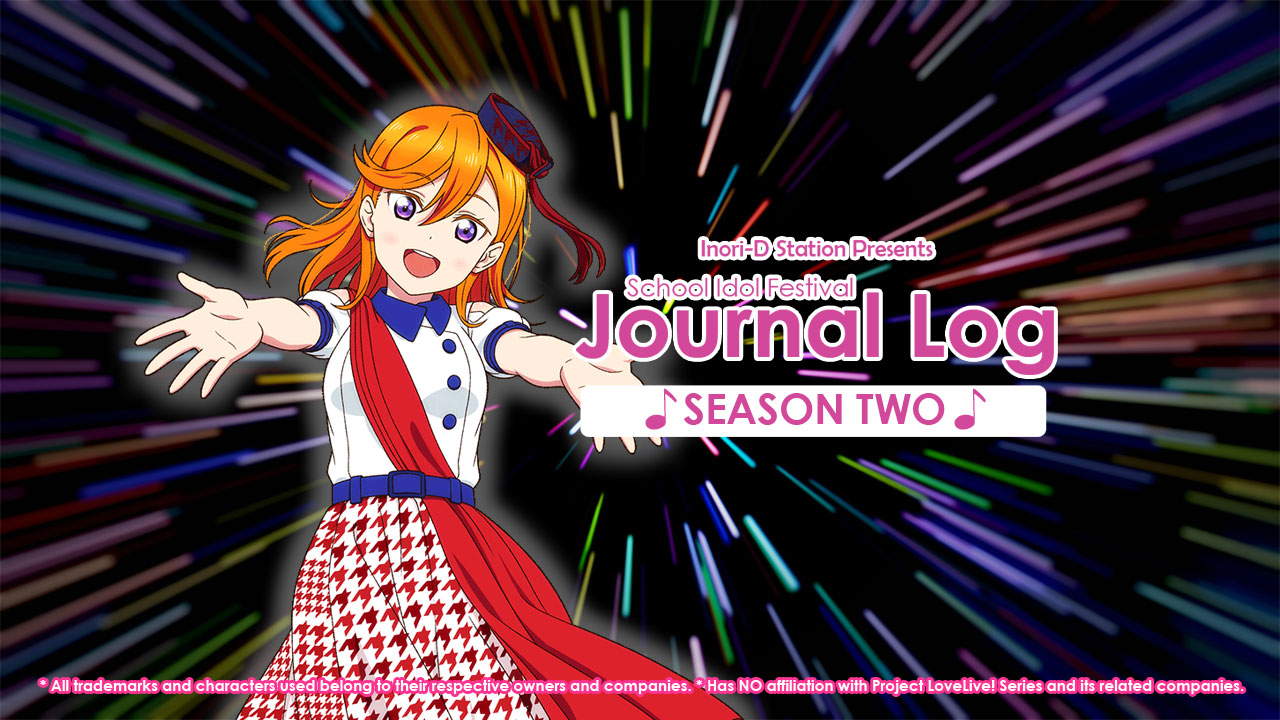 STORY EPISODE
Aika was being surrounded by a group of boys and men. And then, a man stood behind Aika and said, "I am getting excited! I have you now!"
Aika got no other choice but to scream loud with her voice.
From behind, Takayoshi did a kick at the man's back who is about to hold and grab Aika. He was knocked down and dissolved digitally. Komari used her gun to shoot the boys and the other men surrounding her. And they were all annihilated and dissolved.
"Virtual people?" asked Sho. "They were dissolved digitally when defeated!"
"Guys, thank you for saving me on time!" said Aika. "Never thought that these men would eventually rape me!"
"Good thing you are safe now," said Chiharu. "Now that we are complete, we must find a way on how we could get out from this place!"
"I have really noticed that the environment around us is just like a digital space or some sort," said Takayoshi.
"No doubt that we are trapped in the Parody Universe," said Komari.
As they are talking, Lierre saw some tall building tower which is standing not far from their location. And she saw a glowing violet light at the top.
And then, Lierre said, "It seems we have to go to that tower, and we must find our way to climb to that top!"
Chiharu and others did hesitate no more. And Chiharu finally said, "Let's go everyone! We have to climb to the top of that tower!"
Finally, the Idol Chasers are in the bottom entrance of the tower. They had made their way in.
Aika noticed the signage written at the entrance of the tower, and she reads:
"One does not resort herself into violence in order to gain victory. One must sing and dance in order for them to smile."
"What does this mean?" Aika got no idea on what could be the meaning behind with those signages. So, she proceeds inside the tower entrance.
When they have reached the first floor, there are two people who are standing and waiting. And then…
"Let's see if you could continue on the next floor."
"You should win against us, first!"
The Idol Chasers don't have any idea on what to do in order to proceed to the next floor of the tower.
"What's this? Dungeon bosses?" asked Takayoshi.
"And they were dressed up in their School Idol costumes!" said Aika.
"Hmm…" said and asked Chiharu. "Does it mean that we are going to do our live performance here? Right now?"
Lierre used her Digitariel to find out some information. And then, she explains it to the Idol Chasers.
"I think we are here in this tower building, called the Live Arena Tower. Basically, you are right, Chiharu. We must do our live performance here, and we need to impress these people in order to climb up by a floor."
"Oh no…" said Chiharu. "I am not prepared yet with my lyrics and my own dance steps! What are we going to do?"
"Now, that's a problem…"
Suddenly, the Charm that Chiharu is having is beginning to resonate. And she said, "This Charm item… Yeah, I remember now!"
She remembered the time that Honoka has said to her that she would be using the Charm item in the near future when the time comes. And when Chiharu has hold and used the Charm item, her emotions have changed suddenly. From being shy, her emotions have changed into a cheerful style.
Aika's Charm item has resonated, too. And she said, "It's shining, too! Let me try this!"
And so, Aika used the Charm item that Kotori has given to her. And then, Aika's emotion have changed from normal to cute expressions and gestures!
Finally, Chiharu and Aika have stood up in the front against with the other two School Idol Rivals.
When their rivals have performed and finished up their own short live performance, the numbers have appeared at the side of their live stage in the area. It is labelled as Emotion Points. Their rivals' Emotion Point Score is at 7,900.
"I see," said Lierre. "We have to get higher Emotion Points by performing properly in the live stage! We just need to beat their Emotion Points in order for us to proceed on to the next floor! Chiharu! Aika! You have to dance and sing along with this song!"
"Okay! Let's do our best, Aika!" said Chiharu with a cheerful emotion.
"Yeah! Let's be on the top!" said Aika with a cute expression.
Lierre uses her Digitariel to decide on the song. The song picked is "No Brand Girls" by μ's. And the live show has started.
When the live show ended, the results were decided. Chiharu and Aika got Emotion Points Score of 8,000.
Which means, they have won against with their rivals. And then, they talked to them.
"Great job! But then, it's not over!"
"You shall be facing a lot more harder Session Opponents on the top floors! We doubt that you could win against the 100th Session opponent, who is at the top part of this Live Arena Tower!"
After that, they were dissolved from sight. And then, the door leading to the next floor has opened.
"Let's go, people!" said Lierre. "We have still a lot more floors to go! Basically, we just need to do the same as in the next floors!"
And then, they begin to move.
Takayoshi, on the other hand, was looking at his Charm item that Chika has given to him. And he said, "Chika, I think the time has finally come, and I shall have to use this!"
Sho was looking also at his Charm item that Yohane has given to him. And he said, "Well, it is time for me to be on the spotlight!"
Komari talks to Sho while running to the next floor.
"So then, I might turn something just like Chiharu and Aika were like now!"
"I wondered what is it like when I became a male School Idol…"
"But then, I am dressing up as a guy right now. And the girly clothes won't even suited me very well."
"That's fine! But then, it doesn't matter on who you are, so as long as you don't squish others' feelings!"
"Huh? I see! That's what my mother has told me before!"
"Oh… That's great!"
"Thank you, Sho."
"You are welcome. And now, running with you like this…"
"Yup! Actually, I have already found my group of friends. And one of them is you!"
"Aww…. Komari, so as long as we are together, we come overcome any odds!"
"For now, we have to save our smiles for later."
"That's right, and we are not done with our stage yet!"
When they have reached the second floor, they had done their same strategy as in the first floor. As they are progressing the tower by floors, they kept winning every live performance with higher Emotion Points than their rivals. Sometimes, they change their songs in order to win in a different way.
A lot of hours have passed, and they have finally defeated the 99th Session Rivals in the Live Arena Tower.
And then, their rivals have said to them, "Beware on the 100th or the last Session Rival! I am sure you can be sent back to the first floor again if you lose!"
Finally, their rivals have been dissolved. And the Idol Chasers have proceeded to the last floor, or otherwise at the top floor of the Live Arena Tower.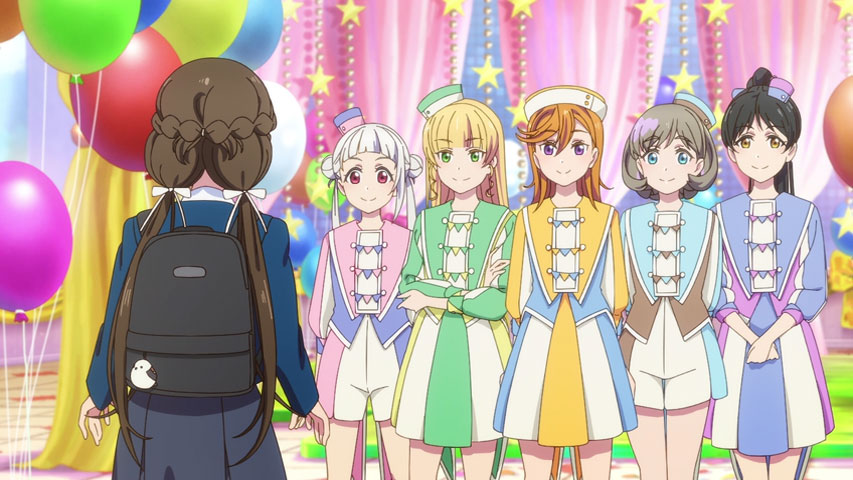 HEADLINES
We are now in the second Episode of the Liella! Anime SEASON TWO! And in this blog post series segment, we are now in the second Episode, too, of the Cour 3! Will the third cour shall be the last for the SEASON TWO?
Speaking of the Headlines, what were the updates and news spotted so far? Stage Start!
μ's UPDATES
Honoka Kosaka's Birthday!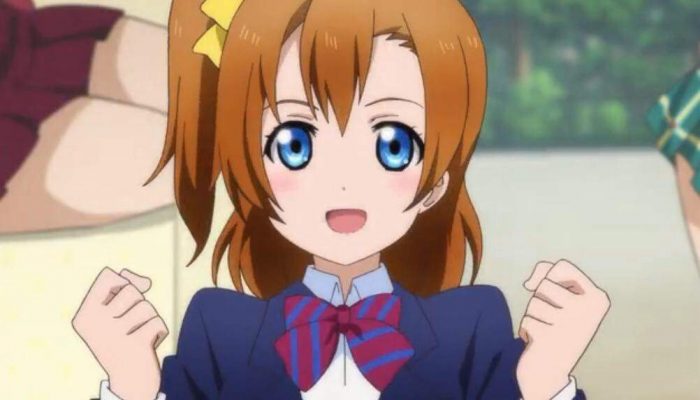 Honoka Kosaka is a brave girl, and she would always cheer for you whenever you are down. In fact, she wanted to be your companion in your School Idol adventures!
Her birthday is celebrated on August 3, every year. And she was voiced by Emi Nitta, who made her final performance appearance in the μ's Final LoveLive!, and in the history-changing LoveLive! Fest last January 2020.
Be sure to scout on her birthday box, for a chance to draw and to win her new Brilliant Jewelry UR on LLSIF! And then, is your money well-prepared enough to scout on her Paid Box Scouting until her birthday?
My birthday message for Honoka Kosaka shall be included next Episode, and my heart is ready to tell her about it!
Aqours Updates
Chika Takami's Birthday! Message Next Week!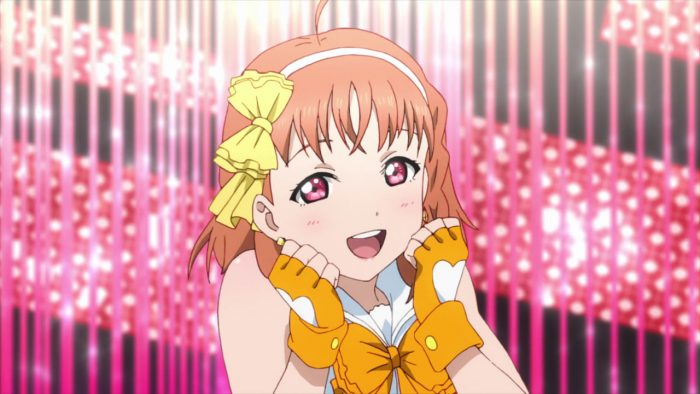 Chika Takami is a sweet girl, and she would like to guide you along with your heartful adventures in the School Idol Universe. Basically, she can be Honoka's junior, for me. In fact, I am just treating Chika as my little sister now.
Her birthday is celebrated on August 1st, every year. She was voiced by the awesome Anju Inami, and she can let you cheer "Kan Kan Mikan!". Remember that Mandarin Oranges are quite different than your usual oranges found in your country.
Remember that she is the first in line to have her new Third Solo Concert Album CD to be released on her birthday! And then, her new song can now be previewed along with the other music tracks on YouTube! And be sure to check that one out!
Finally, show your love to Chika Takami by scouting for her new Brilliant Jewelry UR on LLSIF! You can go with the paid one (Easy Way), or with the free one (Hard Way), where you could draw her previous Birthday URs in a fixed chance! Good luck! And then, I am going to show to you my scouting results later on the LLSIF Highlights!
Numazu Jimo-Ai Matsuri (Overseas Paid Live Streaming)
Having absolutely no idea on how to watch these live shows without even going to the venue itself, or otherwise going to Japan?
No problem! Since the Team Aqours has announced already some Paid Live Streaming stuff — for Overseas fans, as well as for Japanese folks who lived outside of Japan!
The Numazu Jimo-Ai Matsuri shall be held on at least two parts: One is a two-part radio show, and the other is a two-day Live and Fan Meeting live event on the venue itself.
The radio show shall be hosted by Shuka Saito (You-chan), Aika Kobayashi (Yohane), and Ai Furihata (Ruby) on August 11, 2022 JST.
And then, that two-day live and fan meeting event shall be held on Kiramesse Numazu, on August 13-14, 2022 JST. Hosts shall be different from both two days, so attending them is really important, if you really wanna see all of the Aqours members in action!
And as stated in the previous Episode in the Headlines, all Aqours members, except Anju Inami (Chika), shall be present on all of the parts of the Numazu Jimo-Ai Matsuri event.
The Event costs for at least 2,000 JPY for the radio show, and 4,000 JPY (per day) for the Live and Fan Meeting Event.
Official Page (Overseas Fans Paid Live Streaming):
https://www.lovelive-anime.jp/uranohoshi/sp_jimoai2022-overseas.php 
Nijigasaki Updates
So then, there are lots of announcements had been made, due to their previous livestream last Thursday, July 28, 2022. But then, since there are so many of them to fit altogether in this Episode, I shall be highlighting the principal parts only! The rest are for you to explore!
R3BIRTH 2nd Single: Vroom Vroom
It was then revealed at their livestream that the new single of the Niji Sub Unit, R3BIRTH, shall be released on September 28, 2022. The title is Vroom Vroom, as in the sound of a car's engine (lol). Maybe they had run out of ideas, though.
Liella! Updates
LoveLive! Superstar!! SEASON TWO Episode 2 Review!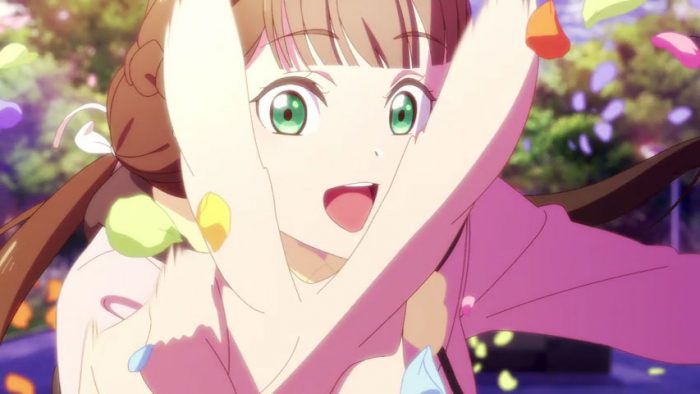 Kinako officially joins as the sixth member of Team Liella! And, a new rival?
TV Anime SEASON TWO Opening and Ending Themes
Heads up to those who collect audio CDs of these School Idols!
The Opening and Ending Theme Singles now have a confirmed release date!
On August 3, 2022, the Opening Theme, titled as WE WILL!!, shall be released. Chances to be released on LLSIF shall be high, so stay tuned!
And on August 10, 2022, the ending theme, titled as Oikakeru Yume no Saki de, shall be released!
As of this Episode, there would be some freebie posters campaign to be given out when you purchase them. Only, if you are in Japan to buy them!
Otherwise, enjoy having these songs at your hands! They are more likely to appear on LLSIF, really soon!
Liella! Livestream (July 31, 2022)
There is an upcoming livestream which shall take place around 5:00 pm JST, on July 31, 2022.
Hosts shall be Wakana Ookuma (Shiki), Naomi Payton (Sumire), Sayuri Date, (Kanon), Nozomi Suzuhara (Kinako), and Aya Emori (Natsumi). They shall be talking about the highlights that happen in the first two Episodes of the TV Anime SEASON TWO! But other than that, what else they shall be talking about?
Be sure to tune-in for some latest announcements, as well as some other game content updates in LLSIF (or ALL STARS maybe)!
The third Episode shall be coming right after their livestream, so get ready for some watch party!
---
And that's it for the Headlines of the Episode!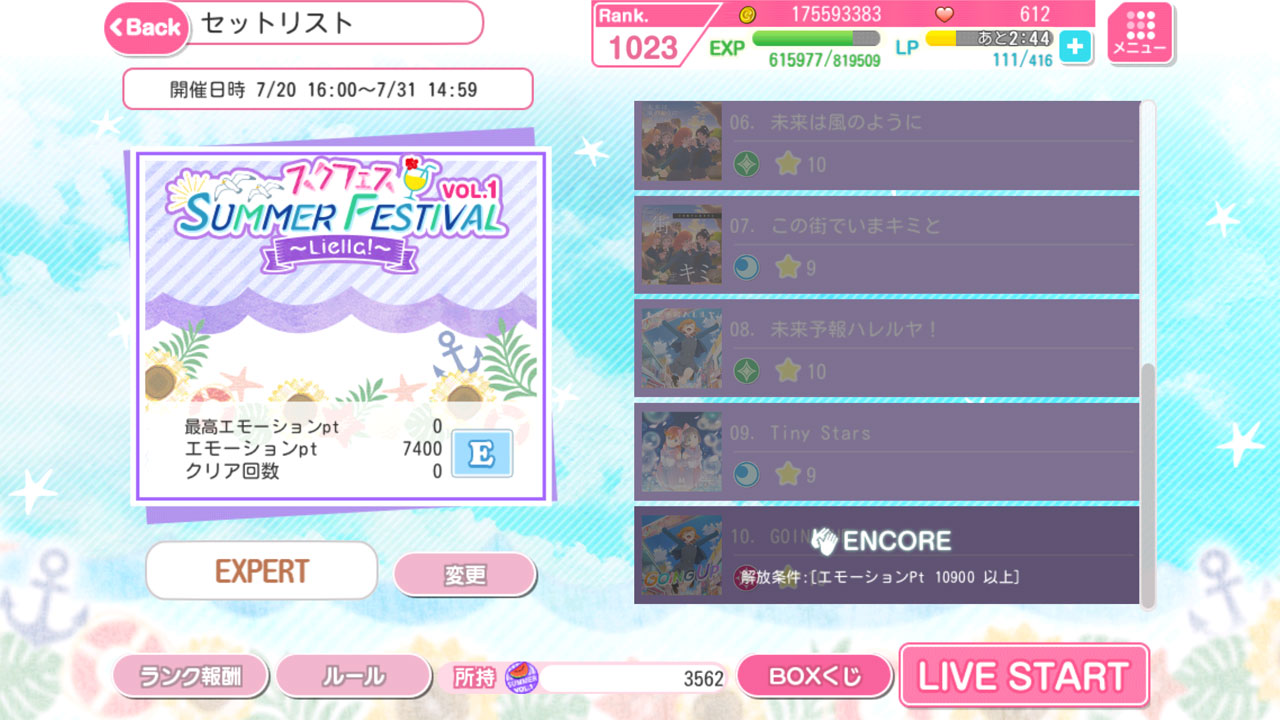 LLSIF HIGHLIGHTS
What's new in LLSIF? Basically, it is more fun when we were always bombarded with some colorful Limited URs, as well as some exciting TV Anime Season Two Campaigns!
What else to watch out here, so far? In fact, we are almost in the month of August in order to wrap things up! So far, what are the things which were spotted in this week's Episode? Check it out on the LLSIF Highlights!
Liella! TV Anime Season Two Weekly Campaigns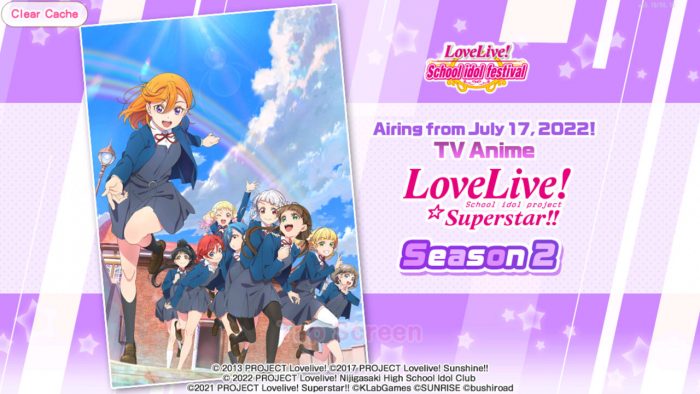 As you have noticed, the LLSIF Team has begun doing this weekly campaign, in order to commemorate the Liella! Anime (LoveLive! Superstar!!) SEASON TWO's release! And this shall be done weekly until it is finished airing!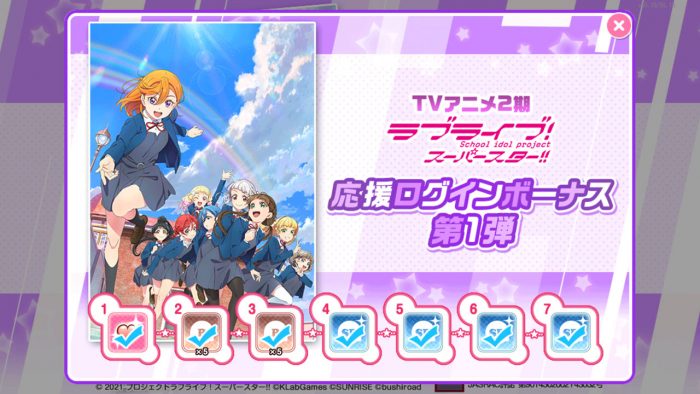 You can encounter some Weekly Login Bonus Campaigns, just right after an Episode is finished airing (A day after an Episode is aired on NHK E-TV, its original TV network in Japan). It contains at least seven items, which shall include a Liella! member SR on the 7th day. Make sure to login in ALL of the seven (7) days straight to get all of the seven items! And basically, you cannot get the last item on the 7th day, if you missed at least one day of your login streak, so be careful! Good luck, have fun, and make history!
And finally, not just Login Bonus Items within this campaign shall be present! Make sure to watch out, since of what I had heard or understood is that there would be some Limited B-Side Songs that shall appear in the Liella! Songs Library! They might be releasing new songs in the B-Sides soon, which had appeared in the TV Anime SEASON TWO before! Make sure to look forward into those!
Whatever the date is, make sure to stay in their feed for some updates about this!
Limited UR Scouting?
And the Scout for Chika Takami
They had been surprising us with more of their colorful Limiteds! Yes, and they were tagging along with the Brilliant Jewelry URs, notably on Honoka and Chika side.
The recent Limiteds are coming from the cover jacket of their respective First Solo Concert Album Series CDs. Such as that, the costumes used are from their featured songs from the TV Anime Blu-Ray Box volume sets. One example is Chika Takami wearing her One More Sunshine Story costume, that appeared before in their previous major lives (notably Aqours 3rd Live Tour Series).
For my scouting report, I had scouted at least five (5) UR You Watanabes in her Beginner's Sailing costume, while getting Chika Takami in her One More Sunshine Story costume as a bonus on the fifth Stamp Scout! You know really the reason why I scouted those 5 UR You-chans in that scouting box, don't you?
Make sure to scout those Limited URs before their respective durations have been expired! As of today, only the 2nd Years are current available for scouting. I don't know if they could have a re-run on the last period of their campaign, though. Just stay tuned if there are changes!
And at the time when the Limited UR of Chika in her Brilliant Jewelry costume has appeared since July 26th, I had attempted to scout on her "Paid" box. That time, in a few days before her birthday box has appeared, I had stocked up with my 3 Paid Scout 11 Tickets, and some 50 Paid Love Gems. And that makes at least 4 draws in order to get her new Birthday UR. And there is a chance that you could draw her signed version at a fixed chance, if you got lucky!
Unfortunately, I failed to draw her Signed version. But at least, I am having this as my new UR in my stable of URs in my JP Side account. So then, I am really ready to celebrate Chika's birthday on August 1!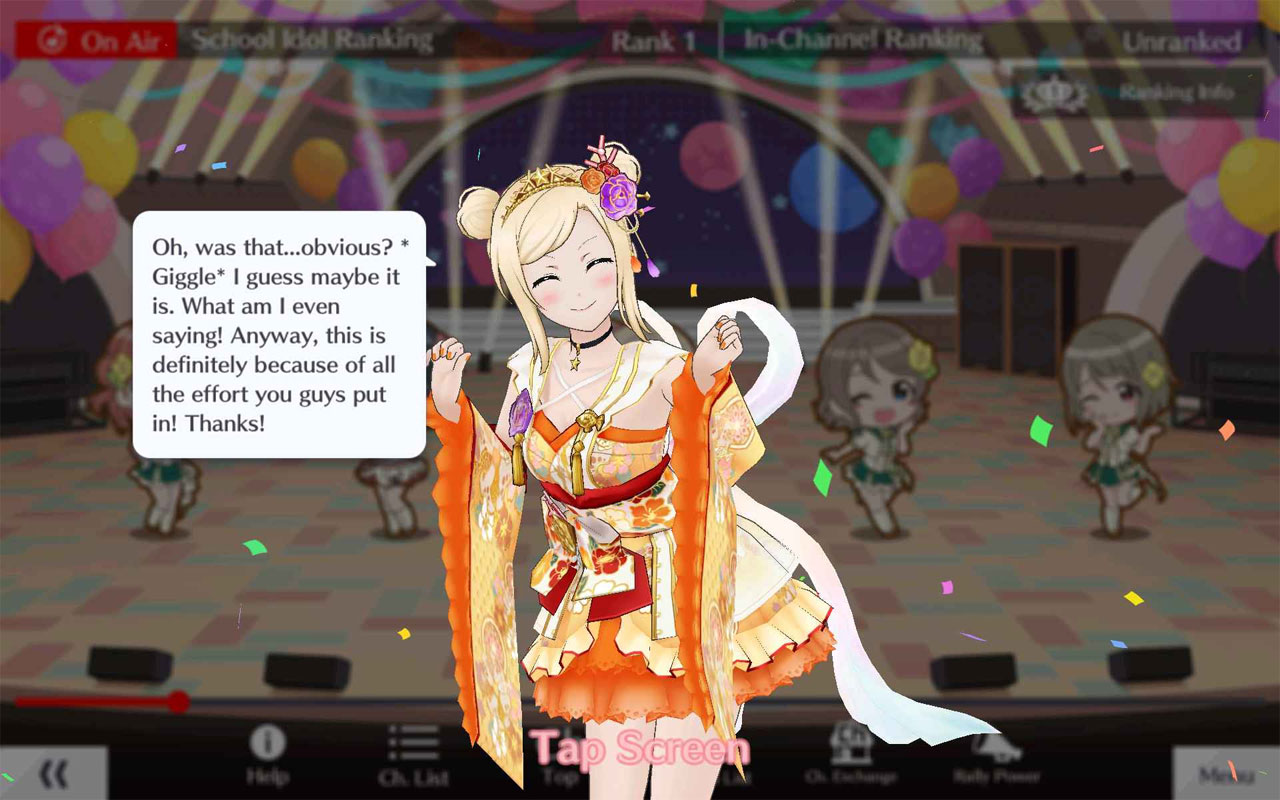 ALL STARS HIGHLIGHTS
It's about time when I am going to compete for the first time, especially when I am in the School Idol Channel of my best girl in Aqours… It's finally the TIME.
Otherwise, what else encountered in this week's highlight or update? Stage Start!
School Idol Channel Weekly Bulletin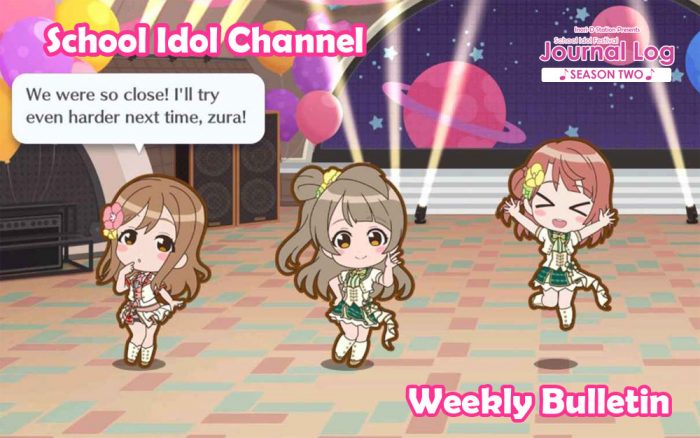 Let's find out in this latest School Idol Channel Weekly Bulletin! Nico Yazawa got her Top One victory, due to the fact that I had predicted also her win that time.
Anything else in this bulletin, did your best girl School Idol win the rankings? Find out!
JP Side – #69
| RANK # | SCHOOL IDOL | GROUP | AVERAGE CHEER POINTS |
| --- | --- | --- | --- |
| 1 | Nico | μ's | 20,404 |
| 2 | Kanan | Aqours | 4,948 |
| 3 | Hanamaru | Aqours | 4,817 |
| 4 | Shioriko | Nijigasaki | 3,821 |
| 5 | Kasumi | Nijigasaki | 3,787 |
| 6 | You | Aqours | 3,421 |
| 7 | Setsuna | Nijigasaki | 3,394 |
| 8 | Hanayo | μ's | 3,337 |
| 9 | Kanata | Nijigasaki | 3,329 |
| 10 | Shizuku | Nijigasaki | 3,288 |
Kotori's Top 10 Winning Streak is over in this side!
Global Side – #56
| RANK # | SCHOOL IDOL | GROUP | AVERAGE CHEER POINTS |
| --- | --- | --- | --- |
| 1 | Nico | μ's | 15,870 |
| 2 | Hanamaru | Aqours | 3,241 |
| 3 | Eli | μ's | 3,097 |
| 4 | Shioriko | Nijigasaki | 3,002 |
| 5 | Kanan | Aqours | 2,910 |
| 6 | Kasumi | Nijigasaki | 2,891 |
| 7 | Maki | μ's | 2,852 |
| 8 | Setsuna | Nijigasaki | 2,816 |
| 9 | Kotori | μ's | 2,778 |
| 10 | Mari | Aqours | 2,753 |
And then, Kotori's winning streak is finally over in the JP Side. Probably, she is now crying in the corner, and that's sad. On the other hand, Shioriko is beginning to dominate, also.
And so… The power of Nico Nico-Nii chant has totally overpowered everything, including the Global (EN) Side! That is what I call… the Nico Nico Domination!
Chika Takami is already predicted to win in the next channel ranking period, so no questions asked.
And also, after Chika, try switching to Honoka Kosaka next, and then Setsuna Yuki right after Honoka got her win!
And that's it for this weekly bulletin of School Idol Channels! See you next Episode!
Main Story "Season 4" Coming Soon?
Their last update came early, just at the few days when the current Event is almost ending. Main Story Chapter 41 shall be releasing on July 30, at 3:00 pm JST, after the patch update! In short, it shall be happening in a few hours after this Episode has been published!
And also, their last Tweet says that the Main Story 3rd Season is coming into a Climax! Which means, we are almost at the end of the 3rd Season! And also, Season 4 of the game is coming soon? Who knows that we shall be all finding them out when the game celebrates its upcoming 3rd Anniversary on September 2022, really soon!
In other words… Stay tuned.
3rd Anniversary Key Visual Revealed
Also, to continue from the Nijigasaki Highlights, the key visual for the upcoming third anniversary of this game is finally revealed. Also known as the "Season 4", this shall be coming around September 2022, or in the date of when the LoveLive! ALL STARS has been officially released as a game.
Stay tuned at their feed for more of their exciting updates!
STORY: Summer, Sea, Training! (Final)
I don't know if I could laugh or to be sad on this one. I haven't tried reading yet its featured Event Story Episodes, and as well as grinding harder on it.
But then, this Event is ending in a few hours, just after this Episode was published. Let's see if I could try to grind harder for this one, as promised.
Finally, my Event Report shall be posted via my Twitter account. And there is no need for me to include it on my highlights next Episode, since everything is already given on that Tweet of mine.
And this is my final highlights of this Event. Make sure to get those featured Event SRs and URs on time, before this Event ends!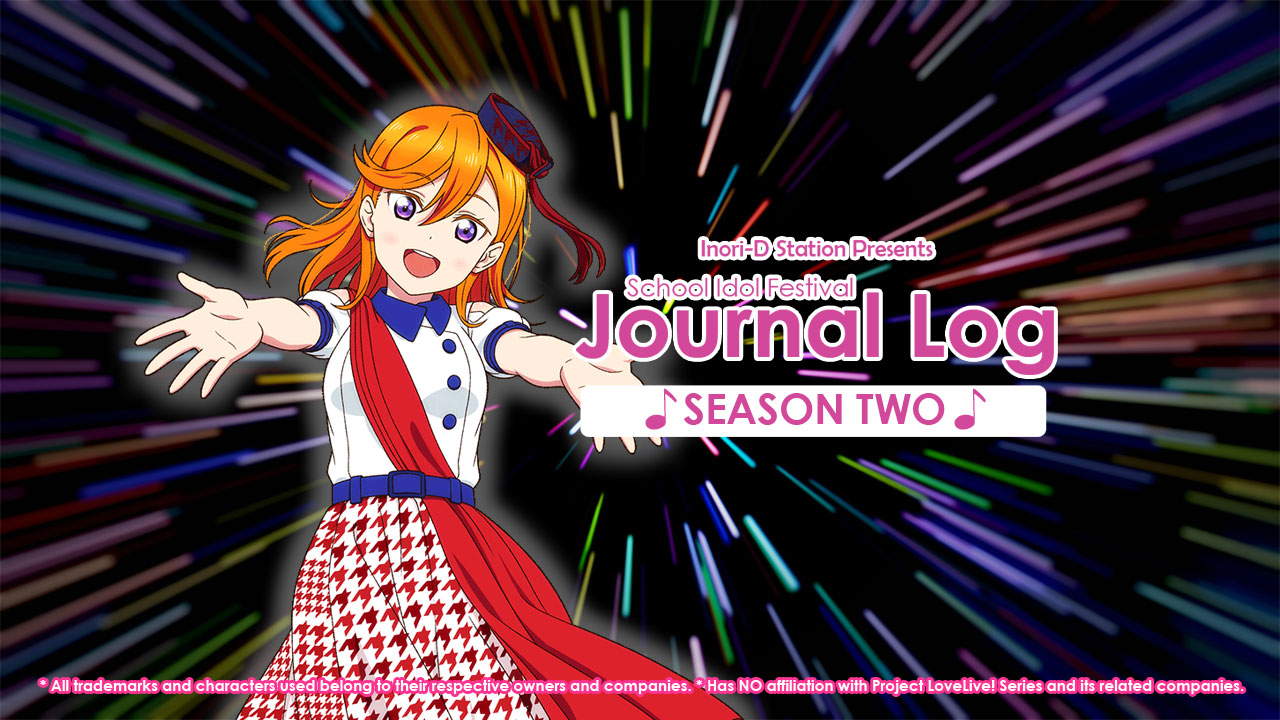 STORY EPISODE (EPILOGUE)
The area is open and windy, and the Idol Chasers are feeling the breeze. And then, Lierre is feeling the presence of somebody.
Finally, a person has appeared before the Idol Chasers.
"It's been a while meeting you, my other self!"
"Inverse Lierre…" said Lierre. "No, my other self with negative colors!"
"It seems you got a lot of companions with you. And I guess my experiment with that School Idol has failed, somehow."
"Wait a minute… You are the one who turned Riko Sakurauchi into Gen Sakurauchi, into her man form! You altered her memories and you made that School Idol do some such horrible things!"
"(Chuckles) Well, I guess that Mikako is already screwing up now, because I know that you are going to win against me in this Live Arena Tower that I have made!"
"I guess so. So then, get ready for your own consequences!"
"Game on. Session Start."
And so, the final live session is about to begin.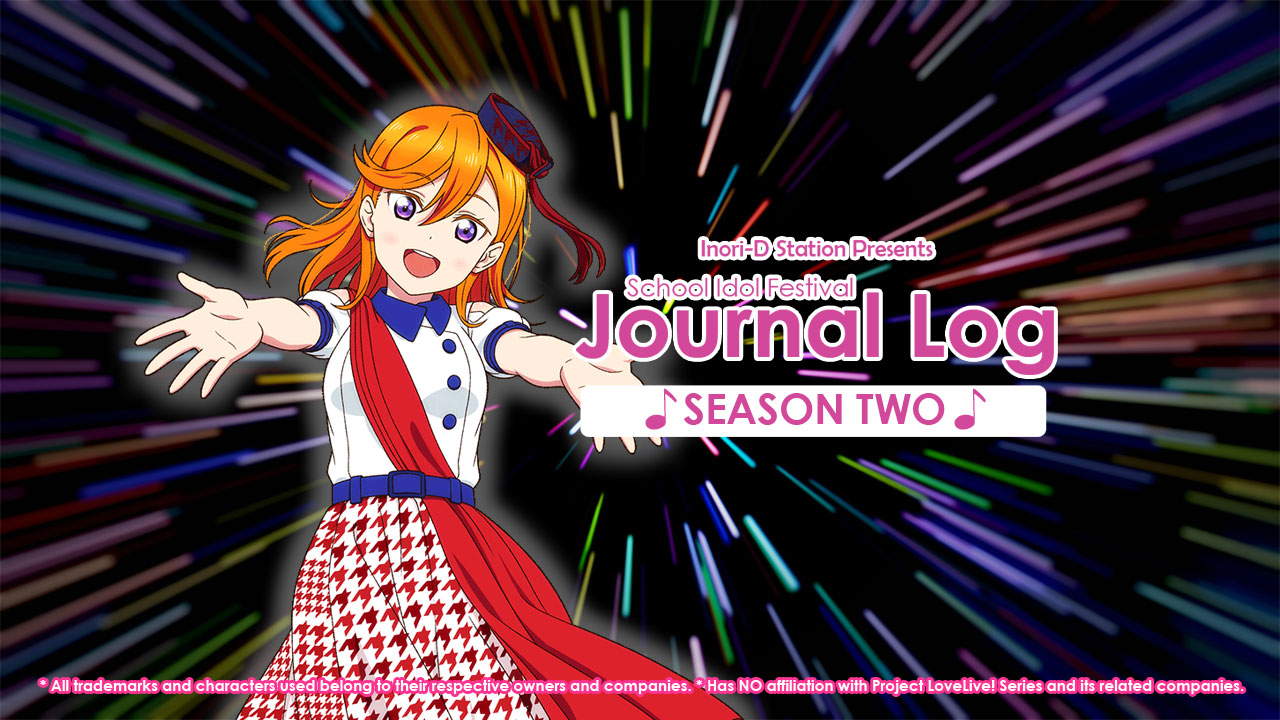 NEXT PREVIEW
Prediction of your own future? One of the ways to predict it is the use of the tarot cards. Your fate can be really decided depending on the cards being drawn. And did you know that a certain School Idol from the Legendary Group is always using those tarot cards to predict also your luck for the future? But then, not all of the predictions are indeed correct, and one should not really rely on these.
Next time on SIF Journal Log SEASON TWO, "Tarot Card Prediction".
Now, let's make our dreams come true together!
The Bonus Stage
"Here we go, the new us!"
In this second season, Kanon and the other four girls of the original "Liella!" are in their sophomore years. In their next semester of their schooling in the Yuigaoka Girls' High School, they have met the four new girls, who were in their new fresh years.
What else awaits them? Will they able to find out their reason why they wanted to achieve their dreams, and win? Along with those four new girls, they are fated to perform together in one big stage.
And so, their stories still continue… In the other side of the countless stars.
LoveLive! Superstar!! SEASON TWO!
Every Sunday at 7:00 pm JST, on NHK E-TV Network in Japan!
Check your local Anime licensors per country or region for the time and availability!
LLSIF TV Anime in-game campaigns now going on!
Official Website:
https://lovelive-anime.jp/yuigaoka/ 
RETURN TO MAIN PAGE BACK TO HOME PAGE