EPISODE 24: Party Night
The Idol Chasers' mission was a success, so does to Aqours in pulling off their best in performing on the live stage!
It was already evening, and they were already exhausted together! Right now, what could be some other surprises that await them in the end?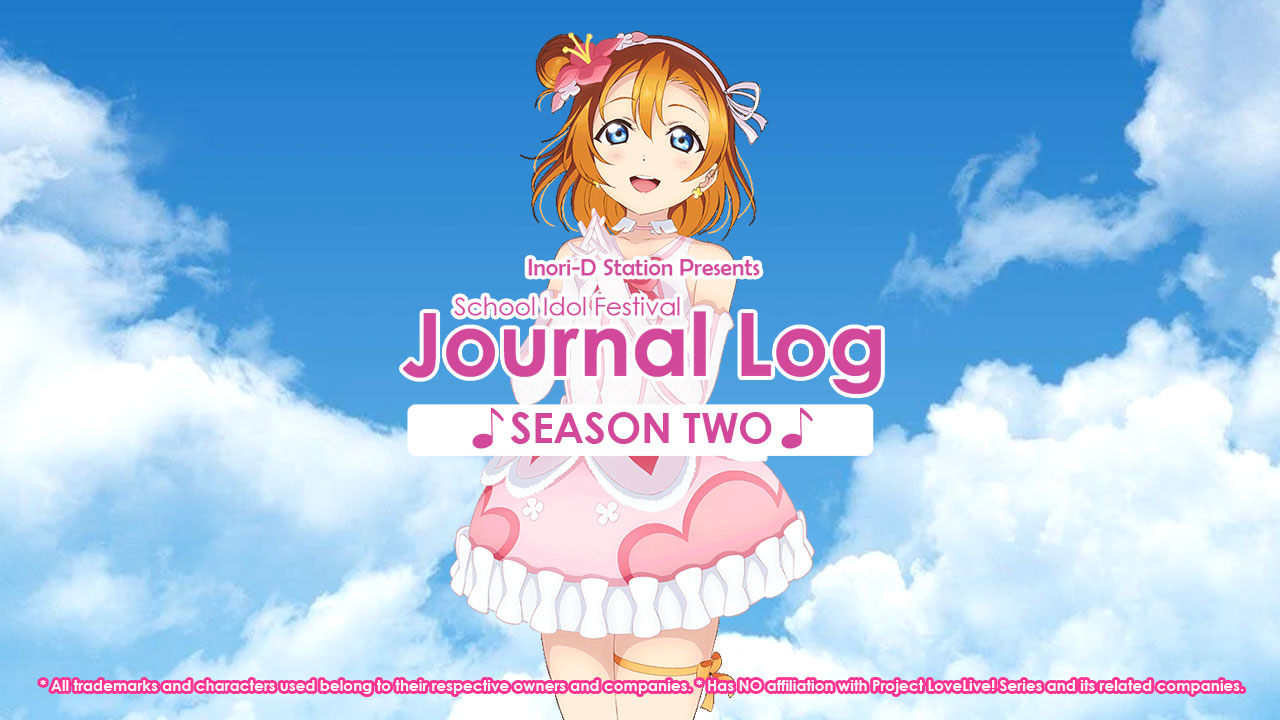 STORY EPISODE
At the night when the Aqours' live performance is over, the Idol Chasers were inside their maid cafe HQ, also known as the Idol Chasers HQ.
"That live performance is awesome as ever!" said Takayoshi. "I love seeing Chika on stage!"
"We are happy, and exhausted at the same time," said Lierre.
"Same here, Lierre," said Chiharu. "I can't even shout my voices anymore."
"This is actually my first time seeing and watching an actual live performance in my own eyes!" said Aika.
"Datenshi Yohane-sama…" said Sho as he is out of himself. "Please allow me to be your slave!"
Komari is kept silent, though that she is exhausted by watching that live performance. And when her communicator has beeped, she then stands up and she went outside.
Just few minutes later, after Komari has went out, Saki has finally entered the HQ.
"Idol Chasers, we got some urgent news!"
They were all surprised because they heard it.
"Tonight, we are going to have a special guest! And it is none other than the School Idol Group, Aqours!"
"Eh?" asked Chiharu. "Why are they here?"
"You know the reason why," said Saki. "It is simply they give us thanks for saving them, and they really thanked us because we watched their live performance!"
And so, the members of Aqours have shown and entered the Idol Chasers' HQ. Chika then said and asked, "Thank you for watching over us! Shall we have an after-party here?"
Since the maid cafe is already closed at its closing time at night, it was then finally half-open for Aqours as guests.
And then, they have a good time together, while they do fun activities, such as singing in a karaoke box.
And then, the crew were eventually split among with these School Idols.
Takayoshi is talking with Chika, as they sat down while sipping their own ice coffee drinks.
"Your live performance is awesome as ever! We shall be definitely missing you a lot!"
"Thank you very much! Next time, we could add you up to the stage, hehe"
"Oh… Don't say that! It's too embarrassing for us, though."
"Just kidding. By the way, just continue to play that game! I hope that you could get more URs of other members, not just me."
"Of course! I shall be working hard and to do my best to be the next SIF Champion!"
"Good luck! Just remember that I am just always around for you… As a School Idol."
"And a sister as well. Like I said, I treat these School Idols as my little sisters in a family!"
"Really? I am so glad! But then, let me give you this item."
Chika then gave Takayoshi an item, in which it was almost similar to Chiharu before.
"This Charm item… I shall treasure this in my hands!"
"You shall be needing that in the future! When the time comes, just use that item and shout my name!"
"Chika, thank you. I shall definitely call you when the time comes!"
"Let's enjoy this one night while we are still together… And with Aqours as well!"
Meanwhile, Chiharu and Lierre are talking with Riko.
"Riko, your voice is so lovely! I do really like it!"
"That's the Riko which is exactly written here in my digital tablet book!"
"Thank you girls for saving me. I think Aqours won't be the same if I don't exist there on the stage."
"You're welcome! In fact, the missing case has been finally solved… By the Idol Chasers!"
"Riko, this is the darkness that you have created while you are in your man form, as Gen Sakurauchi."
"Really? Did I produce this kind of thing? And I… A man? A guy?"
"It's kind of long story, I think."
"I think that this darkness that is trapped inside the jar is somehow looking for a living host to touch with."
Riko then asks permission from Lierre and said, "Can I touch that jar?"
"Wait, are you going to indulge yourself in your manly self again?" replied and asked Lierre.
"Don't worry, I can communicate with that dark cloud by just touching that jar. I can talk to it spiritually."
"Alright, but be careful on the consequences!"
Lierre then allows Riko to touch the glass jar containing the darkness. Riko then closes her eyes while holding the glass jar. And then, her deep thoughts are starting to reach to that darkness cloud. Later, Riko's eyes are beginning to shed tears.
And after few minutes, Riko opened her eyes and she gave back the glass jar to Lierre.
"I understand now. There is an ongoing threat which is bent on conquering our own parallel world."
"That's right. The Black Lace Ribbons are definitely behind all of this!"
"He also mentioned that. I can't believe that I have… a big brother."
"He was actually born from your own existence. Don't worry, he isn't really existing in your own parallel world."
"But then, I do really enjoyed the time that I was in my man form, hehe…"
"Eh? What did you mean by that?"
"I could actually do anything impossible, and to peep in a guy's bathroom!"
"Maybe that could be out of the question, though…"
And meanwhile, Aika is talking with You Watanabe.
"These designs… Your clothes and costumes are so cool!"
"Yep! I do really design and sew clothes for Aqours!"
"So beautiful! I want an inspiration!"
"Want any? I am going to show to you my photos of my works! Hope you get some inspiration!"
"Thanks, You!"
Outside, at the back alley of the maid cafe, Komari is somehow frozen with fear, seeing Mari Ohara in sight. She was caught by Kanan from behind.
"Wait! This is a misunderstanding!" said Komari.
"Oh, I can't believe that you are actually… My tomboy daughter?!?" said Mari to her.
"Wait! I can explain! Please, let me go!"
Mari comes closer and she grabs Komari's face, as if she is like massaging her face. And then, she finally stopped grabbing Komari's face after a few seconds.
"I see…" said Mari. "This is really my fate in the future."
"And you used to scold me a lot when I was a little kid," said Komari. "You are always telling me to dress properly like a decent girl, but I just only ignore."
"Just continue of what you are now, my dear future daughter. So as long as you can't hurt someone else with those feelings."
"Thank you, Mari… No… My future mother!"
And then, they hugged at each other.
Kanan is very happy with the mother and daughter who are hugging at each other.
And then, Komari comes closer to Kanan and said, "Kanan, someday, you can find the one who truly loves you a lot! And then, you can have babies soon!"
"Oh…" said Kanan. "Don't even say that! It's embarrassing!"
And then, the Ohara mother and daughter said, "We know it. Because, it's joke!!"
Meanwhile, Saki and Dia are having conversation.
"I can't believe that our Party Night is coming to a close, soon."
"Yeah, and time is just too short."
"In fact, I have learned something new from you, Dia Kurosawa."
"So, as do I, Mrs. Saki Kitagawa."
"So then, we can call it a live success now?"
"I think so!"
And then, the two both shaked hands as a sign of their thanks.
Suddenly, Hanamaru and Ruby just budged over with Saki and Dia, asking some questions.
"Have you seen Yoshiko lately?"
"Me and Hanamaru are looking for her, and we can't still find her in this maid cafe!"
"I think that one guy before is somehow flirting with her -zura!"
"Please, help us find Yoshiko! And that one member of yours who is with her all along!"
Saki then said to them, "Don't worry. That one is very easy to spot and solve. I think I can leave this all along to Lierre."
And Dia said, "First, we need to call everybody."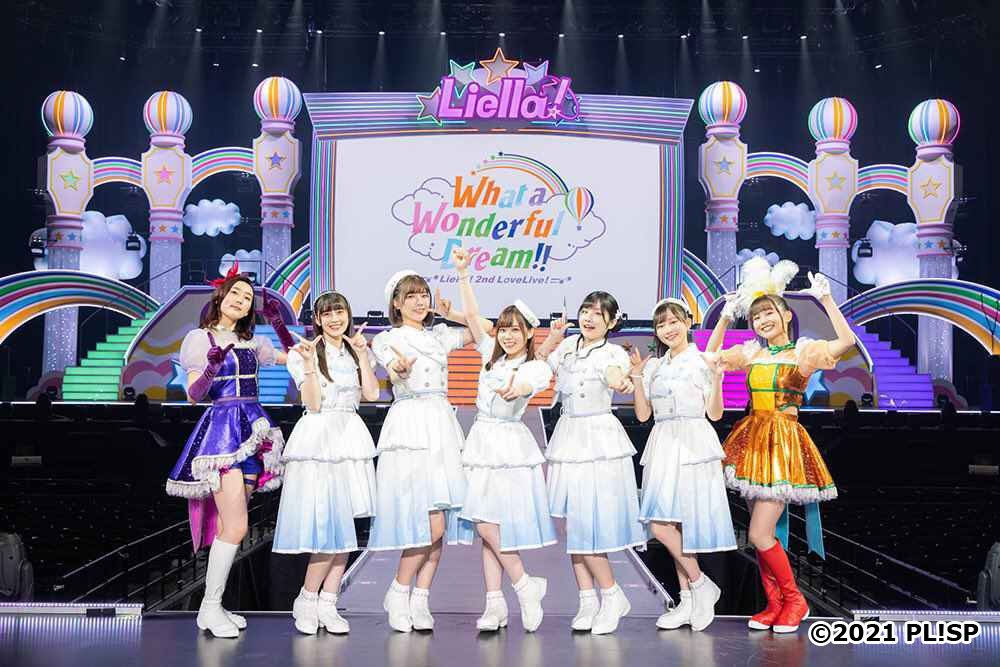 HEADLINES
LoveLive! Series Triple Events Success!
Right now, everything's on the floor wrapped for the next School Idol Mission!
Starting in this Episode, the Headlines shall be divided into parts — News and updates coming from different School Idol Groups shall be grouped and arranged accordingly! So that, when you are looking for a particular update, you can find that group, and search for that update right away! You can do it likewise by going to the Contents Navigation of this Episode!
When the fact that this one has been changed slightly, expect that it can be a bit longer than in any of the previous Episodes published!
And going back, what are some of the things which were spotted this week on the School Idol Universe? Stage Start!
Liella! Updates
LoveLive! Superstar!! Official Watch Party (Anime EXPO 2022)
Team Liella! and LoveLive! Superstar!! Anime shall be appearing at Anime EXPO 2022! They had already made a campaign where they have to vote for one Episode to be screened on the Event!
This watch party shall be on July 3, 2022, only on the Anime EXPO 2022 Event! You just need to guess which Episode in LoveLive! Superstar!! shall be appearing on the Watch Party!
Liella! Livestream (July 9, 2022)
As the other door closes for its TV Anime SEASON TWO Season Finale, another door opens. Next week, there would be an upcoming livestream, which shall be hosted by the girls in Team Liella!
The livestream shall be made on July 9, 2022 (Sat), at 8:00 pm JST! I am going to give you reminder about this on the next Episode! And this shall be hosted by the entire 9 girls of Team Liella!, and they shall be talking about the "prologue" leading to their TV Anime SEASON TWO gates! Count in also their recently-concluded Live and Fan Meeting Tour Series here!
What else they shall be talking about in their livestream next week? Be sure to not miss this! And also, be sure to tune-in, since they might be giving out content updates in the LLSIF rhythm game, or if possible, in the ALL STARS game, too! Stay tuned for some any unforeseen announcements.
Nijigasaki Updates
Happy Birthday, Karin Asaka!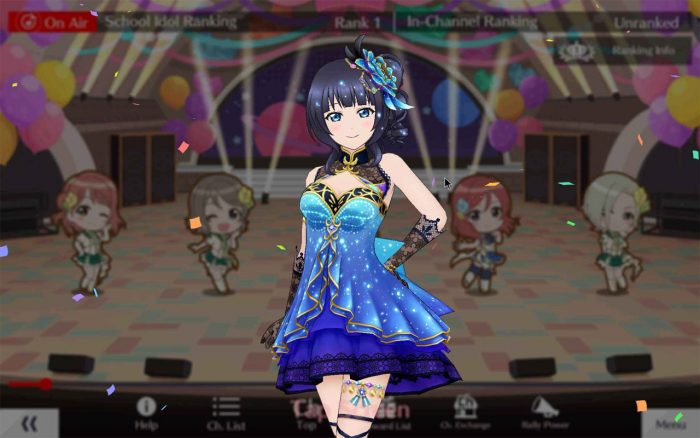 ---
Today, we are going to greet her with a birthday message! Her birthday was celebrated since June 29th, which is pretty late in this Episode! Anyway, let's greet her!
Dear Karin,
It's been a while since I had celebrated and greeted you with a birthday message since last year. And then, I can't believe that time really flies fast, isn't it?
So then, keep up on your fruitful journey, as a School Idol. Basically, you got a very long way to go.
And the best way? Don't ever give up on your dreams.
Happy Birthday, Karin Asaka from Team Nijigasaki! We fans love you!
TODAY: Nijigasaki Livestream (July 2, 2022)
Tonight, after from this Episode, there would be an upcoming livestream later!
The Nijigasaki Livestream shall take place on YouTube, and on other related-streaming networks! It shall be hosted by the entire Nijigasaki High School Idol Club actresses, which also include Hinaki Yano as the 13th member!
What are some stuffs that they are going to talk about, aside from the TV Anime SEASON TWO being ended with some questions in mind? Just be sure to tune-in later to their livestream tonight to find out!
Nijigasaki Anime SEASON TWO Season Finale Review!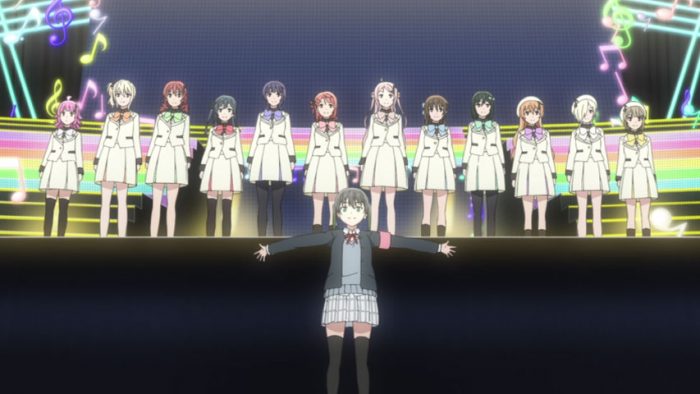 It's the Season Finale! So far, whose song from a School Idol was your favorite?
This is my final Episode Review of this Anime Series, and thank you for reading them until the very end!
If you could find out whose song is my favorite, then you can read my Episode Review about it!
Aqours Updates
EXTRA LoveLive! Event Announced
Part of their Aqours MUGENDAI WORLD✩PROJECT is the announcement of their upcoming live performance next year, in late Winter 2023!
The title is just "EXTRA Live", and the title of that event is yet to be announced — most probably at their upcoming livestream sometime! And it shall be occurring on at least two venues in Japan, again. In other words, this is going to be an another live performance series by Aqours.
Stay tuned to their feeds for more updates, or you can go to their MUGENDAI WORLD page here!
Numazu Jimo-Ai Matsuri
There are at least two parts of the Event. One is a Radio Podcast Show on August 11, 2022 JST, and the other is a Live and Fan Meeting Event!
The second part of this Event is a Live and Fan Meeting Event, which is exclusive for "Aqours Club" subscribers and members. All of the actresses there, except Anju Inami (Chika), shall be present on that Event. And then, each day shall be having a different set of cast who shall be appearing on the Live and Fan Meeting Event days.
You can go to this page, as well as staying at their feeds for more updated information about this! Who knows that there might be changes?
Anime Series: Genjitsu no YOHANE -SUNSHINE in the MIRROR-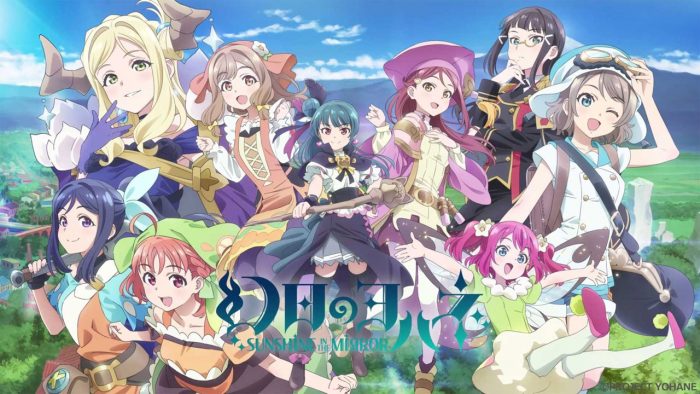 This was initially revealed at the end of the Aqours 6th LoveLive! WINDY STAGE last week!
Check out the trailer video here below via YouTube!
Genjitsu no YOHANE -SUNSHINE in the MIRROR-
This Anime series is planned and scheduled for year 2023 release! Stay tuned at their feeds for more updates and information!
Official Website:
https://yohane.net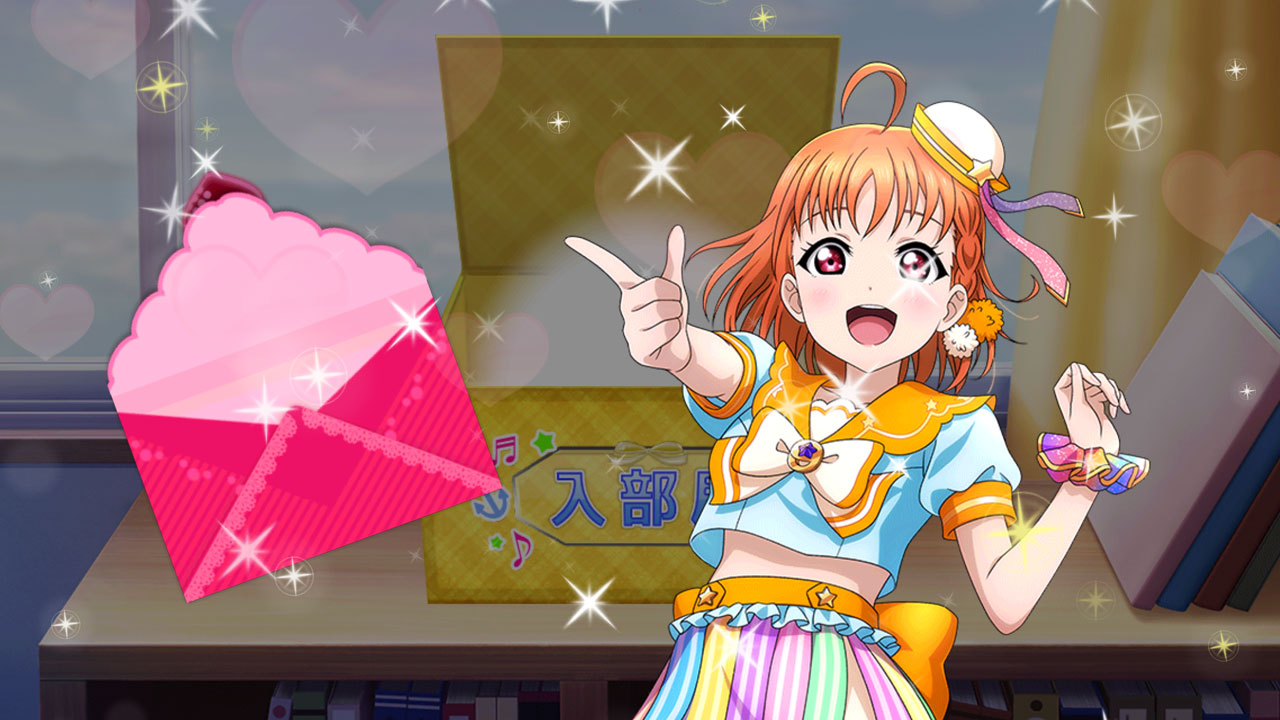 LLSIF HIGHLIGHTS
Let us not make it longer for it to start giving out weekly updates! So far, what has happened on this week on LLSIF rhythm game? Stage Start! S.I.F. !!
LoveLive! 12th! And Aqours 7th Anniversary Campaigns
As of June 30th, it actually marks the "12th Anniversary of LoveLive! Series", as well as the "7th Debut Anniversary of Aqours"! Happy Anniversary!
If you had managed to login within June 30th, 2022, you can receive 12 Love Gems and 7 Love Gems from them — for a total of 19 Love Gems!
And so, they are going to bombard us with their "colorful" limited URs again, in which we can use to score higher in some Events!
And be sure to check out the Aqours B-Sides for some new Limited Songs that appear there! In fact, there are at least two (2) of them, and they shall all be lasting until the end of July 2022! Challenge these songs up to their EXPERT difficulty, if you got time!
Round 21 (Season 4) Live Arena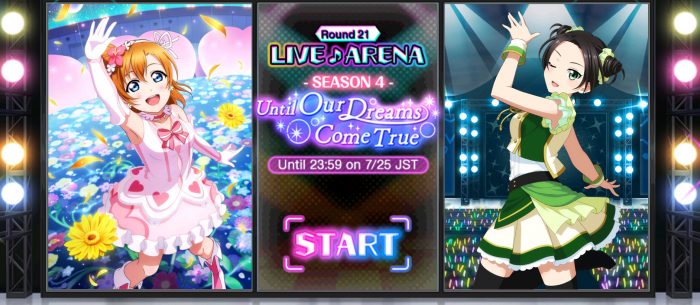 So then, we are back with an another Nijigasaki Character Rotation, starting with Ayumu Uehara, again!
Therefore, an another Live Arena battle has begun!
Reach EXPERT or ROYAL EXPERT Category Class at the end of July 25th, 2022 in order to win UR Ayumu Uehara! And you already know what to do, right?
Round 52 Score Match (Final)
This Event has been finished, thus I had finally reached with a Gold Tier Ranking (Rank 1-500 bracket) in Score Match Points (SMP) Ranking, at last! But then, I fell off short in time grinding for higher ranks anymore in Event Points, due to the fact that I am already doing my heavy house chores at home, and some other concurrent important real-life tasks!
So then, I am going to make my announcement here, by continuing to read this LLSIF Highlights!
During in some of my Score Match plays, I am always placed in lower ranking results, more likely on either 3rd and 4th places in MASTER difficulty! Yeah, and trying to beat those bad rivals can give you some angry grudges. While it can give you more Event Points when you cleared it, the more SMP you can gain when you placed 1st in every ranking results. But then, you should try to be careful in facing powerful rivals who were using those meta "Encore Teams", especially when you face them in MASTER difficulty. Otherwise, you are going to have a hard time in recovering your lost SMP, especially if you got matchmaked with some rivals with lower SMP than you. And you could lost some more SMP drastically, if you lose.
And I had been hearing some reports that there are some "hackers" who were able to occupy the top spots in the Score Match Points Rankings, most likely in the highest Rank 1-20 bracket, where the best items can be won if you are on that ranking bracket. So then, that persisted in a while, especially when the Event Ranking results were released. And finally, those "hack bot" accounts were finally removed from the rankings, in just few minutes later after the results were released. Basically, this could be some of the instances, where hacking incidents in some Events may occur.
And this ends with my report in the Score Match Event! Stage Clear!
My Event Grinding Hiatus
When I am about to end the highlights and updates in this part of this Episode, I am going to make my announcement now!
It is because, due to the number of tasks that I am going to prioritize first, I had decided that I am going to take my one-month hiatus in grinding for higher ranks in the next Events.
So then, starting from this month, I am going to take my one month break. And that is, in order for me to focus on my real-life private activities, wherein I should prioritize anything around me first! That's right, and this is a family-related stuff, you know?
While not grinding for the Events, I am going to continue to login to the game daily for some login bonus items! Of course, I shall be doing that while I am out from the competition in a while!
I am going to announce via my SNS soon on when is my comeback! Definitely, I shall be back, when I am finished at everything.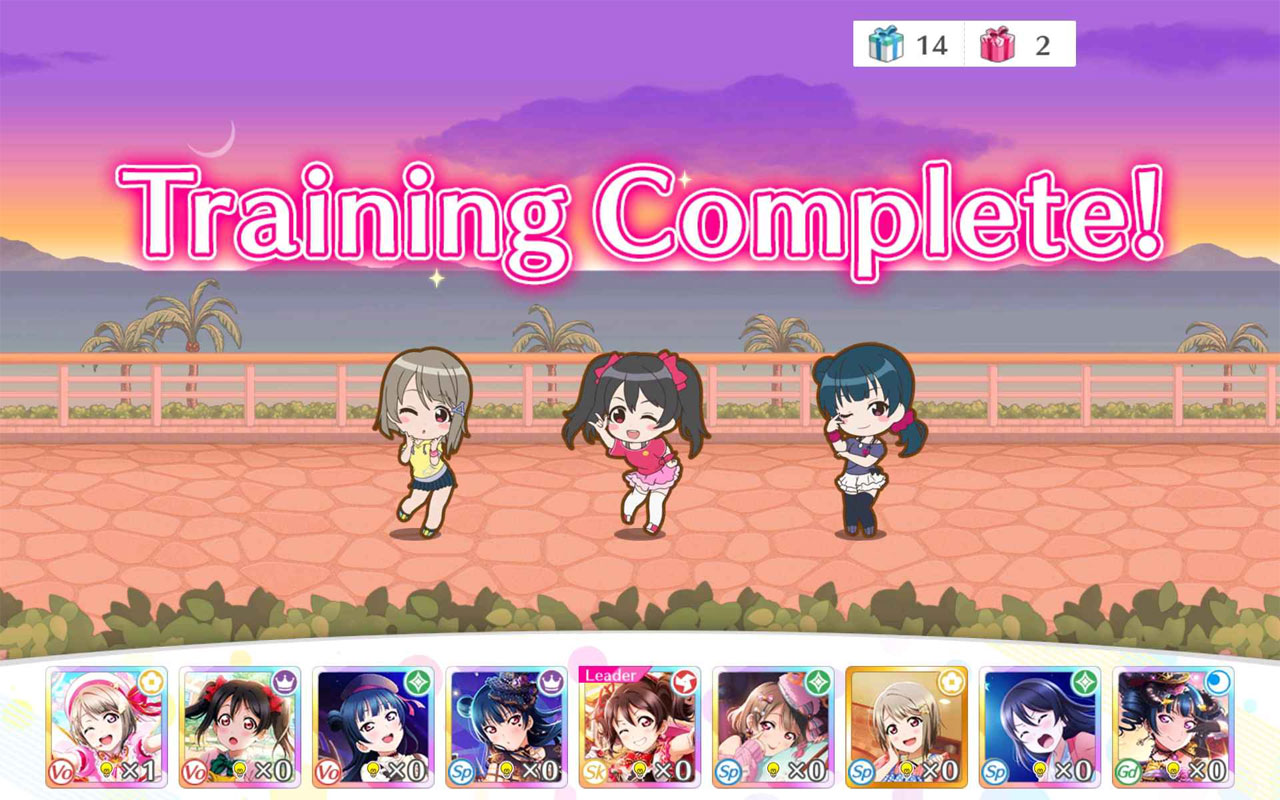 ALL STARS HIGHLIGHTS
At last, we are in a new month of the Season!
Things have been changed drastically here, such as the addition of the new Expert and Challenge Difficulty songs, and some new URs that you can use to beat those songs!
So far, what are some of my status in this game, as well as some news and updates that were encountered? This week, on LoveLive! ALL STARS, we got…
School Idol Channel Weekly Bulletin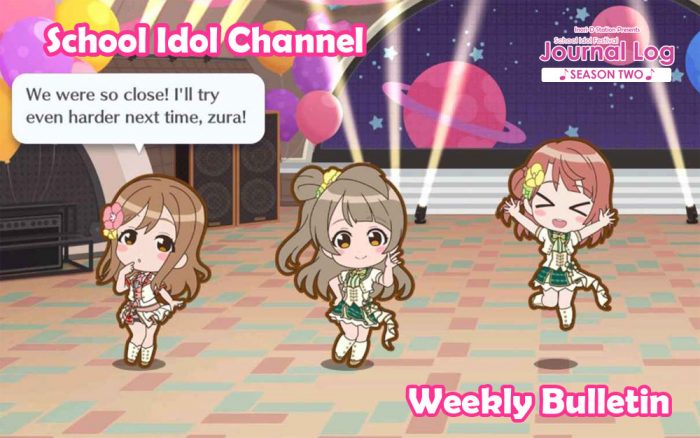 Wow, that was a new banner! Impressive.
So then, talking about the rankings, Karin Asaka got her top one victory, as predicted last week! And Happy Birthday to that sexy School Idol!
So far, did your best girl make it to the top, or did she flop again?
JP Side – #65
| RANK # | SCHOOL IDOL | GROUP | AVERAGE CHEER POINTS |
| --- | --- | --- | --- |
| 1 | Karin | Nijigasaki | 11,560 |
| 2 | Ayumu | Nijigasaki | 3,917 |
| 3 | You | Aqours | 3,848 |
| 4 | Kotori | µ's | 3,797 |
| 5 | Mari | Aqours | 3,667 |
| 6 | Maki | µ's | 3,506 |
| 7 | Chika | Aqours | 3,453 |
| 8 | Setsuna | Nijigasaki | 3,296 |
| 9 | Kanan | Aqours | 3,221 |
| 10 | Rin | µ's | 3,196 |
Global Side – #52
| RANK # | SCHOOL IDOL | GROUP | AVERAGE CHEER POINTS |
| --- | --- | --- | --- |
| 1 | Karin | Nijigasaki | 4,516 |
| 2 | Maki | µ's | 4,263 |
| 3 | You | Aqours | 4,244 |
| 4 | Mia | Nijigasaki | 4,001 |
| 5 | Ayumu | Nijigasaki | 3,713 |
| 6 | Kotori | µ's | 3,485 |
| 7 | Setsuna | Nijigasaki | 3,226 |
| 8 | Riko | Aqours | 3,151 |
| 9 | Eli | µ's | 3,069 |
| 10 | Mari | Aqours | 2,965 |
Despite that Karin's birthday is still a couple of days left when the ranking period has finished, she got her first place victory! And then, the JP Side got twice as much of the Average Cheer Points gained than in the Global Side that has only 4,516 Average Cheer Points. And Karin in the Global (EN) Side has barely made it to the top, while the likes of Maki and You are also struggling to overtake and dethrone her from the Top One position!
As usual, the Kotori and Setsuna duo still prevailed until at the end of this ranking period, as of this Episode.
And that's it for this Episode's School Idol Channel Weekly Bulletin! So then, you might already know who's the School Idol to be in the Top One next time, do you? After Karin Asaka, you just look up in your calendar on whose birthday is next to be celebrated. Who was she?
HINT: Fallen Angel.
Nijigasaki Livestream (ALL STARS Global/EN Edition)
This is still fairly far from this Episode, and you got still time to prepare!
And to remind you again, there shall be an upcoming livestream, which shall be hosted by some girls from Team Nijigasaki!
There would be Chinese and English language interpreters in this livestream, so don't worry, if in case you guys don't even understand some Japanese language!
Be sure to tune-in to their upcoming livestream, especially if you are aftering for some content updates in the ALL STARS game!
STORY: A Heartfelt Wedding (Final)
In the end, I just only grinded for the Event SRs and UR Rewards. Not only I have become lazy grinding here. But then, the concurring tasks and chores have prevented me to grind higher in this Event. And also, count in the Score Match Event in LLSIF, that time, in which it has also prevented me to do so.
However, I had managed to get those rewards on time, at least, on the last minutes of the Event, which also included in reading and skipping some Event Stories there. So then, both of my JP and Global Sides have gained almost an equal amount of Event Points, but placing differently in Ranking Tiers or Brackets.
This Event has been ended, thus placing me in a Bronze Tier Ranking in the JP Side, while placing me in the Silver Tier Ranking in my Global (EN) Side.
Round 25 SBL
NOTE: The song and contents are just the SAME as in the JP Side.
Make sure to participate and fight in SBL to get some awards victory, and to receive better items and other rewards!
The three songs are in this tabulated list:
| GROUP | SONG |
| --- | --- |
| μ's | No brand girls |
| Aqours | My Mai✩TONIGHT |
| Nijigasaki | Yume e no Ippo |
Difficulty shall be determined based from your current team's stats used.
Somehow, my Event Report shall be posted here next Episode, if ever I could participate!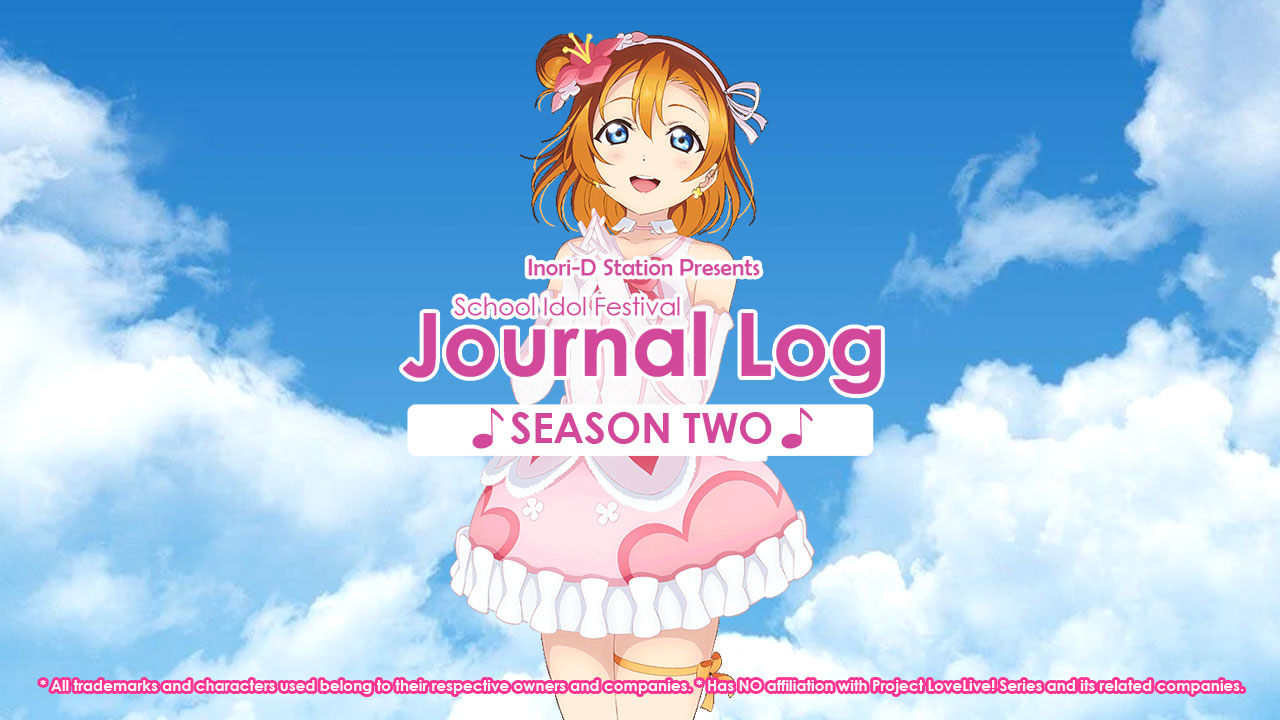 STORY EPISODE (EPILOGUE)
And then, at the apartment building room, where Sho currently lives, Sho is now facing to Yoshiko, while holding her waist.
"I am somehow… getting nervous to this…" said Yoshiko.
"Datenshi Yohane…Let's make love!" said Sho.
Suddenly, a portal circle has appeared beneath them. And then, they were disappeared in sight. Finally, they were transported back to the Idol Chasers HQ. Knowing and unaware of what's happening, they saw their angry faces around them! Yoshiko and Sho are scared and embarrassed, and they even screamed!
At the time of dawn, the Idol Chasers and Aqours are facing towards at each other.
"It's nice to have you as our special audience," said Dia. "But then, it's really our time to go."
"Thanks everybody," said Saki. "We hope that we could get to see you again someday, really soon in the future."
Lierre prepares to perform the process of warping the group back into their own dimensional timeline and said, "I am going to use this Dimension Shift process in order to bring Aqours back to their original timeline!"
And so, Chika steps in and said, "Thank you very much, Idol Chasers, for supporting us!"
And then, they all bowed down at each other.
"Initialization complete," said Lierre. "Dimension Shift, activate!"
The Aqours smiled at them and they chanted, "Aqours… Sunshine!!"
After that, they all disappeared while leaving sparkling stars around them.
"Aw… They're gone…" said Takayoshi.
"Don't worry!" said Chiharu. "They are not gone yet! They just returned to their own, original parallel world!"
"Idol Chasers," said Saki to them. "This could be it. We can finally get a trail leading to our true enemy soon!"
"That's right," said Lierre. "Our enemies are just around us, and they are just ready to interfere us at any place, at any time."
And so, the Idol Chasers are looking at the sun which is already rising and shining. And Chiharu said, "No matter what, we can continue to love and support these School Idols until the very end! We are Idol Chasers!"
"This is where we could continue our own story," said Saki. "Idol Chasers! Stage Start!"
And everybody else said, "S.I.F. !!"
Meanwhile, from a far, distant place, a group of people are standing. This included the leader of the Black Lace Ribbons, named as Mikako Kira, and said, "Finally, the time has come to conquer these parallel timelines! This is getting exciting!"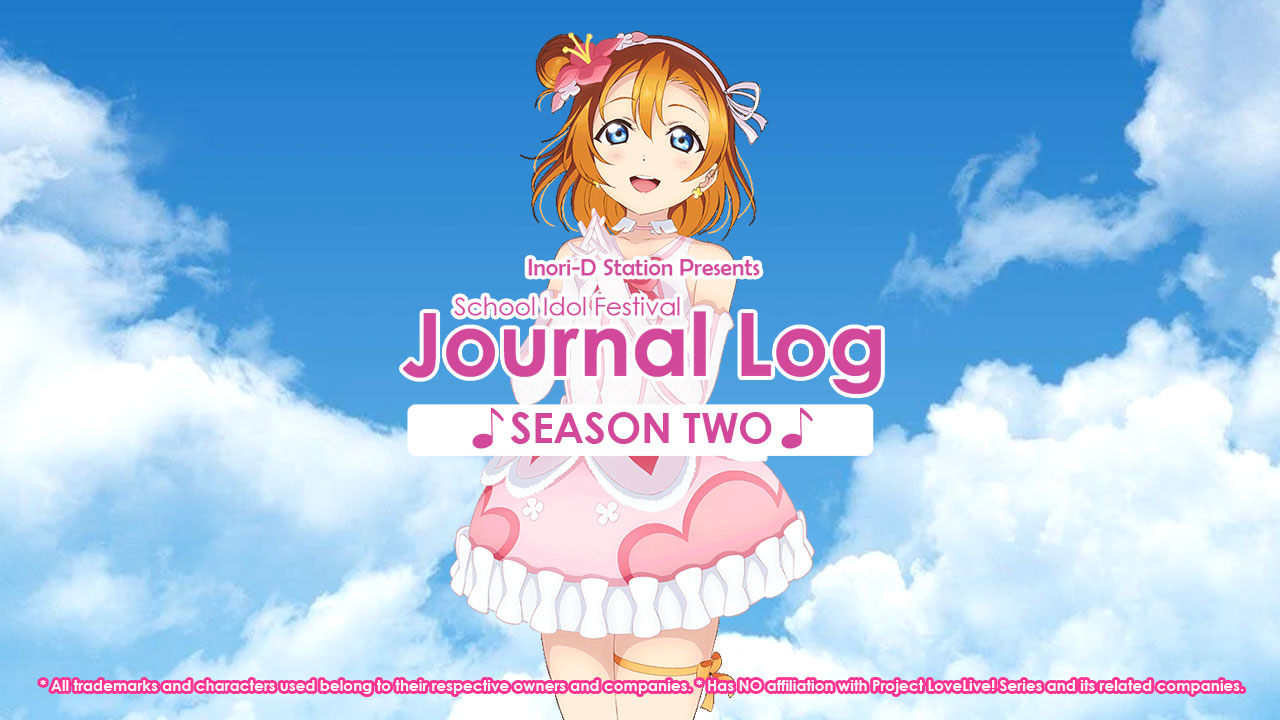 NEXT PREVIEW
You had finished your mission, and become victorious. Your group can eventually relax. However, as you had defeated a certain rival or enemy, another one emerges. This is how you could endlessly fight to become stronger. Definitely, this shall be a new challenge for us to face!
Next time on SIF Journal Log SEASON TWO, "Rivals in the Darkness".
Now, let's make our dreams come true together!
The Bonus Stage
"Here we go, the new us!"
In this second season, Kanon and the other four girls of the original "Liella!" are in their sophomore years. In their next semester of their schooling in the Yuigaoka Girls' High School, they have met the four new girls, who were in their new fresh years.
Their stories still continue… In the other side of the countless stars.
LoveLive! Superstar SEASON TWO!
Starts airing on July 17, 2022, on NHK E-TV Network in Japan!
Overseas streaming coming soon! Stay tuned at their feeds for more updates.
Also, celebration campaigns for LLSIF rhythm game is coming soon!
Official Website:
https://lovelive-anime.jp/yuigaoka/
RETURN TO MAIN PAGE BACK TO HOME PAGE