EPISODE 23: The New Aqours
The plan has been set! The Idol Chasers has finally teamed up with Aqours in order to do their mission — to find Gen and turn him back into normal. It was initially revealed that Gen is actually a girl, who revealed to be as Riko Sakurauchi, the girl who believed to be missing for several days!
And now, it seems that they are ready for the final showdown. Will they able to save Aqours' upcoming live performance from getting cancelled?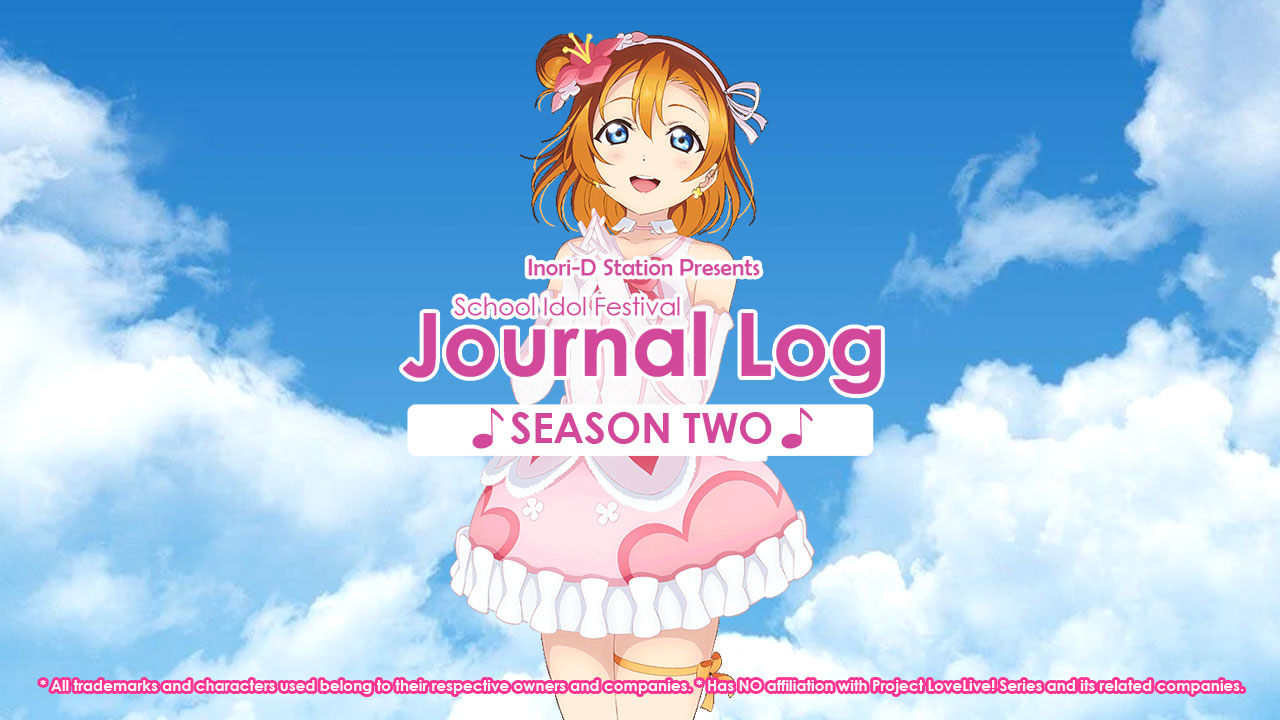 STORY EPISODE
At the early dawn, Chiharu's smartphone is ringing because of a phone call. And then she answers it. Her mother is calling her on the phone.
"My dear, where are you now?"
"I am still in the maid cafe, Mom! My manager got a serious urgent task for us to do!"
"I see. That's why I called because me and Chinatsu are worried for you."
"Don't worry, Mom! I am in good hands! I will be back soon once our urgent tasks are finished!"
"See you soon, my dear!"
"Okay Mom! See you!"
The phone call conversation has ended.
And then, the Idol Chasers, Komari, and Tsuki are in the meeting room.
"We have decided that our venue shall be at the Aqours' school, the Uranohoshi Girls' High School," said Saki. "Me and Dia had agreed in this plan!"
"Uranohoshi…" said Chiharu. "I heard that school!"
"According to the history written here," said Lierre, "this school has been closed down due to the lack of enrollees that time."
"And after they had won the LoveLive! Finals, this school is totally closed down… Forever."
"How sad… Imagining that you have won something big, yet you lose something important."
"This is how Aqours got their potential in getting so far… Yes, a lot more far than the Legendary School Idols."
Tsuki adds in the conversation and said, "I had also made my role in assisting them in their School Idol activities, so far!"
"Well, it looks like I am going to meet "her" soon…" said the spine-chilled Komari.
And then, Saki wondered and asked, "If all of us are going to that place at the same time, I can't guarantee that I can bring all of you by just using my van!"
"But then, my teleportation ability shall be my solution here," said Lierre.
"Wait, that's possible?"
"Of course. As a School Idol Oracle, I can do some tricky things."
"Alright! Our mission has been decided!"
Saki then confirms the mission, "Idol Chasers! Stage Start!"
"S.I.F. !!" replied the Idol Chasers.
And then, Lierre has prepared her digital tablet book and she said, "Preparing Teleportation System. Initialize."
When the magic circle of light has appeared beneath them, they all hold hands. After that, Lierre activated it, and they were disappeared in sight.
In just few seconds, they have reached the Aqours' school, the Uranohoshi Girls' High School.
"It seems we are all here in an instant," said Saki. "Thanks to Lierre's teleportation powers."
"While we got all teleported here," said and asked Sho, "why I can't see Tsuki anywhere?"
"The question is… Where is Tsuki?" asked Aika.
"Strange…" Lierre wondered why her Teleportation System got screwed up by missing at least one person.
"Guys, don't worry," said Takayoshi. "Tsuki has intentionally left our party. And she has told me that before our Teleportation System process has begun."
That time before their teleportation starts, Tsuki talks to Takayoshi and said, "Thank you guys. It looks like I had already did my part. Please have my regards to my sister, You Watanabe."
"Oh, good grief," said Sho.
"We hope that we could get to see Tsuki again, soon," said Aika.
"Alright, time to proceed with our mission!" said Saki. "We are going inside the school's auditorium!"
Other than Lierre, everyone has went inside the school.
And then, Lierre finally acts herself as a bait for Gen. She then used her Teleport ability and disappears.
At the hills somewhere, Lierre is calling out on Gen and said, "Gen, I am here! Do you still want to see your little sister, right?"
Finally, Gen appears and said, "I absolutely… Have lost control of myself!"
"Why don't you come and chase after me?"
And then, Lierre used her Teleport ability in order to urge Gen to chase after her. Gen also used his Teleport ability to chase Lierre.
Finally, Lierre reached back to the school and said, "It seems that I had used up all of my energy. I can't use my Teleport ability anymore!"
And then, Lierre just runs fast and she enters the school. Gen, on the other hand, has seen Lierre entering the school. So then, he follows her inside.
Gen continues to run around the school until he reaches the auditorium. When he entered inside the auditorium, she saw Lierre there.
"Gen, I know you were desperate," said Lierre. "But it has to be put into an end."
As Gen begins to make his first step to Lierre, Takayoshi and Sho ambushes him from behind, and they grabbed him.
Chiharu then appears and shouted, "Girls, now it's your chance!"
And then, Chika and the other Aqours members have appeared. They have formed a circle and they surrounded Gen. Takayoshi and Sho finally gets out from the circle, thus only Gen is remaining surrounded.
"Riko, we will definitely save you!" said Chika.
Gen was frightened seeing the girls around him. And the girls have chanted their names.
"Chika Takami!"
"You Watanabe!"
"Yoshiko Tsushima! Yohane descends!"
"Hanamaru Kunikida! … Zura~!"
"Ruby Kurosawa!"
And then, Chika said, "Please, listen to our song!"
They sang the song, Omoi yo Hitotsu ni Nare.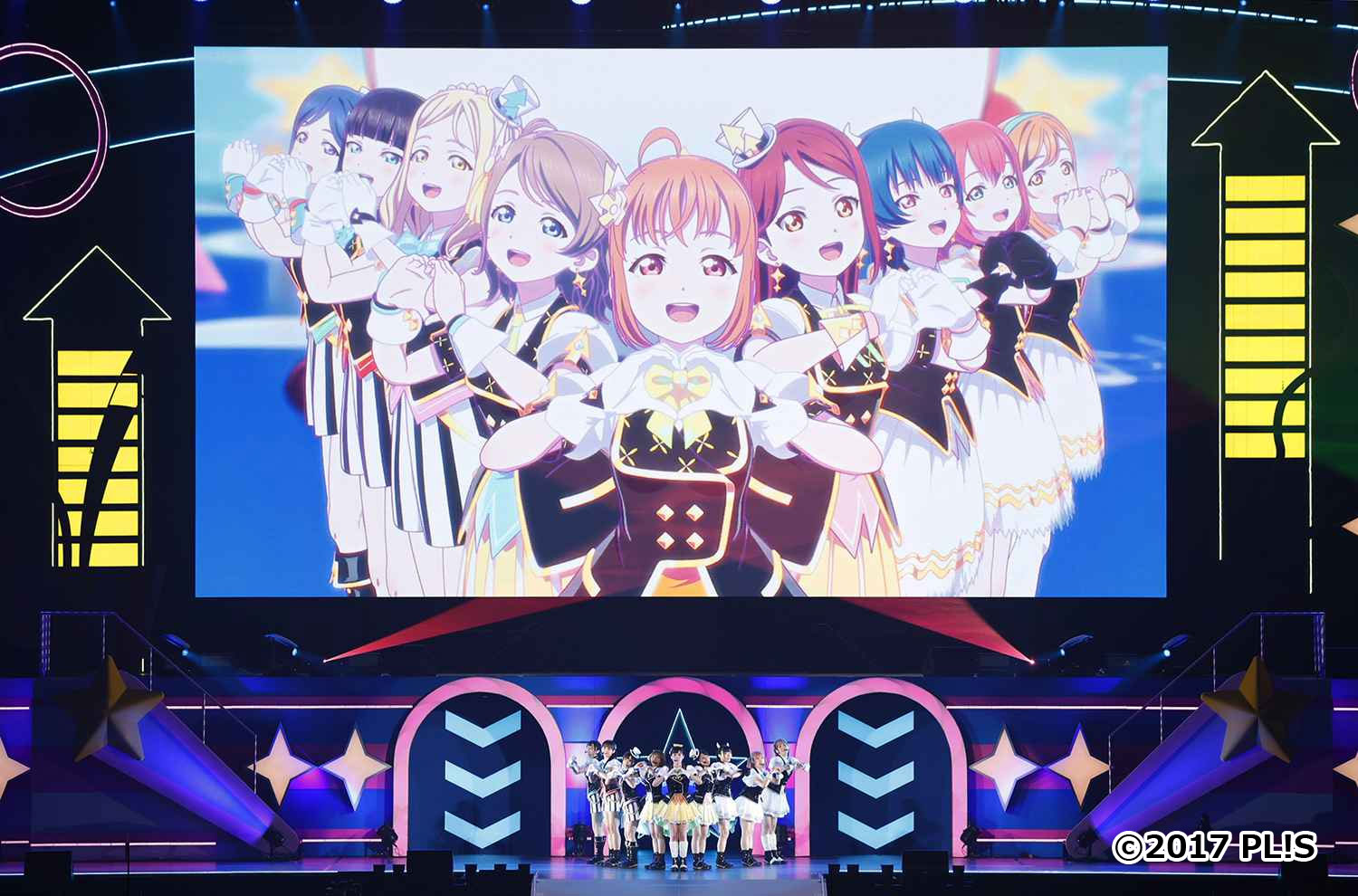 HEADLINES
Today is the Main Event! You know already what that means, right? There are at least three things to happen here!
First. Nijigasaki High School Idol Club SEASON TWO is nearing to a close, thus its Final Episode shall be aired and streamed later tonight! Witness the conclusion, and… The "London" Story Continuity?
Second. Today is the final part of Liella! Live and Fan Meeting Tour Series, in Nagoya! Be sure to catch it up, since there would be some big announcements to be made there, right after their live (Most probably at Day 2)! And we are just about three weeks away from the First Episode premiere of the most-awaited LoveLive! Superstar!! SEASON TWO Anime, and we should be looking forward into that!
And lastly, the Main Event! Today is the day, where we could have our final showdown with Team Aqours, with their last part of their KU-RU-KU-RU Cruller! Rock 'n' Roll Tour Series, the WINDY STAGE! And did I mention that on the previous "Episode Preview" already?
Right now, let's head on to the latest updates in the Headlines! Stage Start!
Nijigasaki Anime SEASON TWO Episode 12 Review!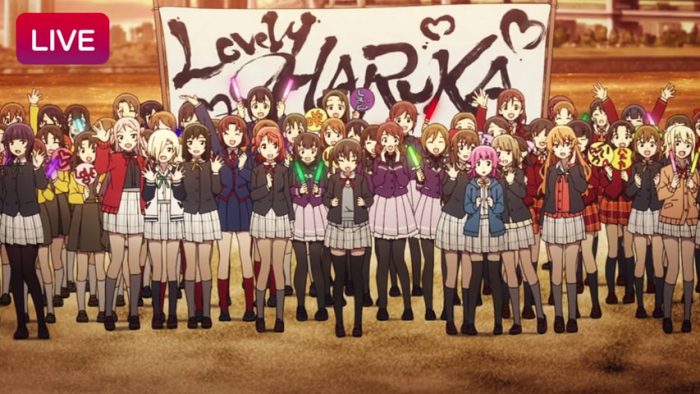 We are just at the penultimate part!
And then, the season finale is airing and streaming soon! My final Episode Review shall be written, and shall be included here next Episode! Witness the conclusion… And the "prologue" to the upcoming "London Arc" of Ayumu Uehara and Yu Takasaki?
Karin Asaka's Birthday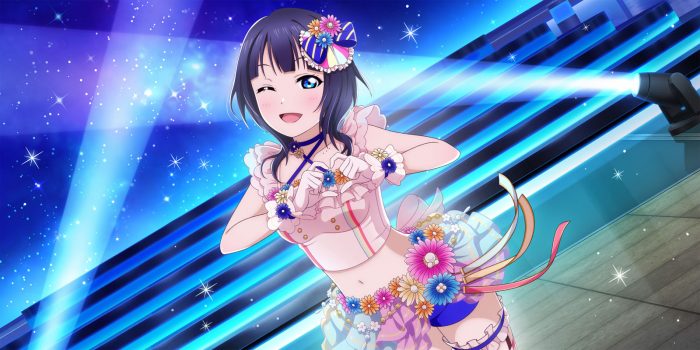 Karin Asaka's birthday shall be celebrated on June 29th, every year! She is currently voiced by Miyu Kubota.
As usual, birthday campaigns, such as her new "Brilliant Jewelry" UR, can be obtained via Paid Box Scouting only on the LLSIF rhythm game! Are you lucky enough to win her heart, if you go on the other Box Scouting, where you could get her previous "Birthday Live Show" UR by chance?
Finally, my birthday message for this girl shall be written and be included here on the next Episode!
TODAY: Liella! Live and Fan Meeting Tour Series – Part 3
Today, it is also happening! The third and last part of their Live and Fan Meeting Tour Series is about to happen just hours later after this Episode! Yep, and it shall be happening at NTK Forest Hall, at Nagoya! Take note that you can also watch overseas paid live streaming of this one!
I suggest you to take on to the Day 2 of their Fan Meeting, since most likely, they are going to announce bigger stuffs there, such as the fact that they might release the full trailer video of the anticipated LoveLive! Superstar!! SEASON TWO Anime, which was scheduled to be broadcasted and streamed on July 17, 2022!
Otherwise, enjoy watching this one, while waiting for the "Main Event", which shall take place right after this one — To be headlined later!
Aqours 7th: Aqours MUGENDAI WORLD PROJECT
It seems that they had announced it during their previous livestream last week. And here it is!
Their new title of their 7th Anniversary Project is called as the Aqours MUGENDAI WORLD✩PROJECT!
To give you some summary, here are some of their contents of their 7th Anniv. Project.
Their upcoming Aqours Club CD Set 2022 album shall be released on June 30, 2022, which is next week from this Episode! The main title of the song is also revealed, and it is called, Yume to MIRAI de MUGENDAI. Those tracks were already up for preview on YouTube. And again, as per rumors that I have been hearing, will their song PV of theirs shall be in a live action setting again, just like DREAMY COLOR last year? This is definitely something to find out!
And also, their Live and Fan Meeting Event there has been announced, and it shall take place in the land of Numazu, the hometown of Aqours, this coming August 2022! Stay tuned at their feeds for more updates about this! And the title of this is called as, Numazu Jimo-Ai Matsuri.
MAIN EVENT: Aqours 6th LoveLive! WINDY STAGE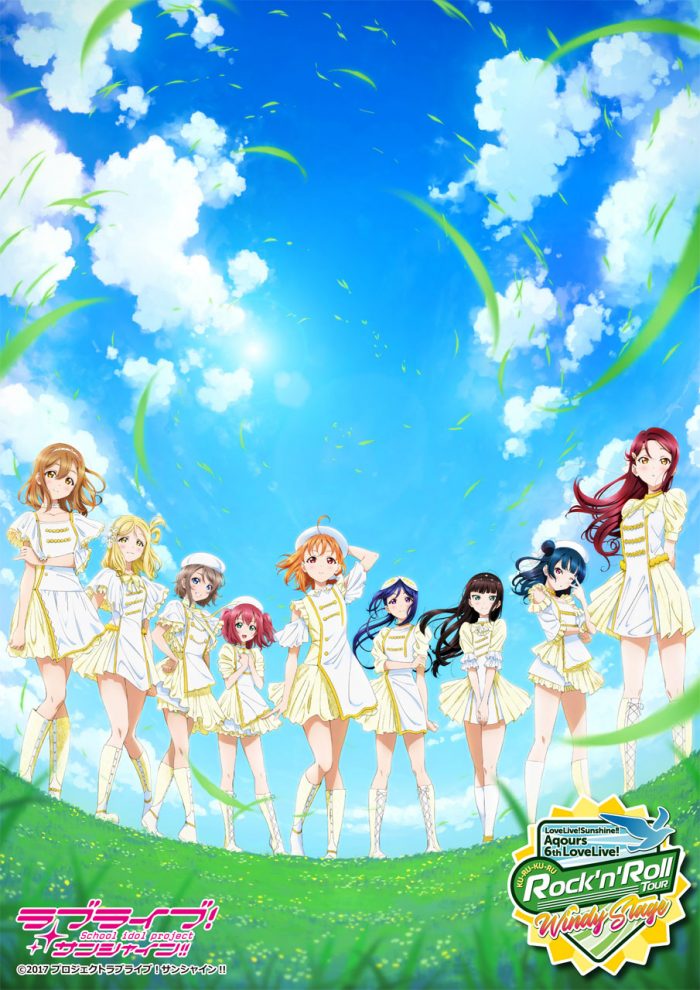 I know you guys are waiting for this… Somehow, the current Story Episode is tied to this one! Finally, it's time for the…. MAIN EVENTTTTTTTTTT~!!
We are now at the final showdown, or otherwise at the third part of their 6th LoveLive! Tour Series! So then, are you ready to party with Aqours… For the last time in their 6th Live Series?
Their 6th LoveLive! Tour Series, called as the WINDY STAGE, shall be happening at Tokyo Dome, in Tokyo Japan, tonight! So far, what are the list of songs that you are expecting from them later? I bet this one is totally different from the previous OCEAN STAGE and SUNNY STAGE tours!
Otherwise, just watch this until the very end. And be sure to keep your eyes and ears open, since they might be announcing something very big right at the end of their live performance (Most likely at Day 2). Call it as the "Oshirase" or the announcements part! Yep, and their major "7th LoveLive!" live performance announcement shall be possible here.
Enjoy people, if you have bought your online ticket for the paid stream! See you all in their live performance!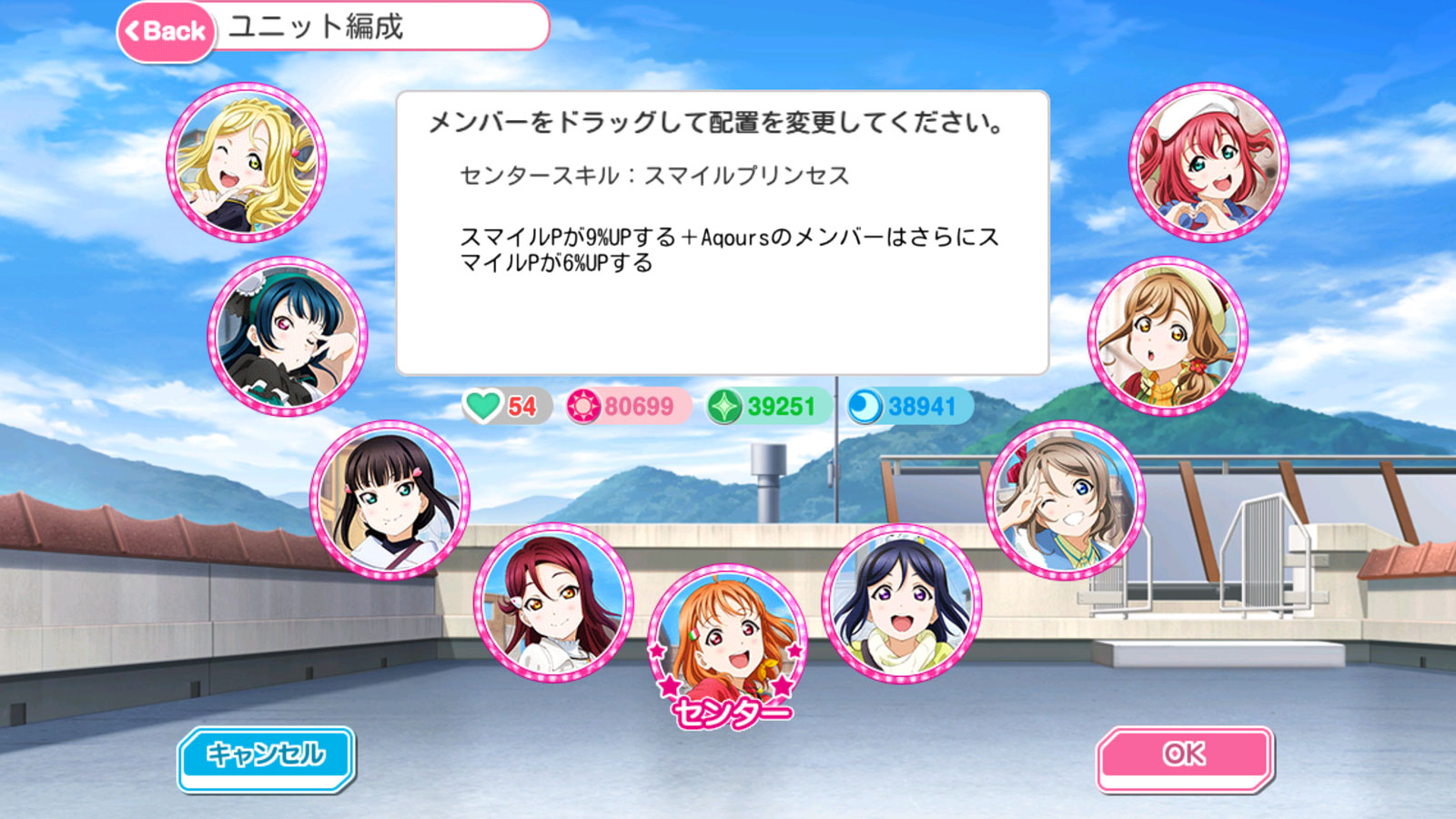 LLSIF HIGHLIGHTS
We are now at the Month 3, or otherwise at the Final Part of the LLSIF 9th Anniversary Celebration Event! So far, this is going to be more intense than ever, since the ongoing Score Match Event won't even allow me to relax until it's over! In fact, there are still more exciting Event Campaigns which awaits us at the end of this road.
So far, what else has happened during this week, on LLSIF? Stage Start!
Round 52 Score Match
The Score Match can be intense as ever! In fact, it tells me something… "This is going to be your Final Showdown".
The Event URs to be obtained here are the Aqours 3rd Years (Kanan, Dia, and Mari). Use everything that you have learned in the previous Events in order to grind up higher ranks! It is indeed your time to prove yourself!
Score Match Guides and Tips here.
My final highlights and results shall be Tweeted as an Event Report, as well as including them on the next Episode! Look forward into it!
This Score Match grind isn't going to be very easy, for me. To be continued on the Next Episode!
LoveLive! 12th! And the Aqours 7th Anniv. Campaigns!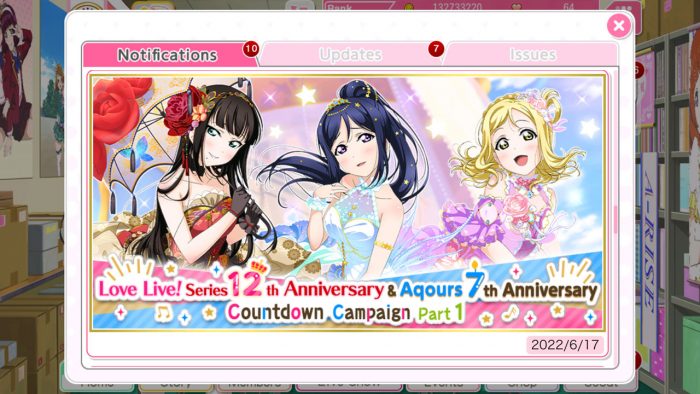 Don't forget to login in all of the days within the period to receive all of the items — Like Love Gems and other support items!
As a countdown campaign for the LoveLive! Series' 12th Anniversary, as well as Aqours' 7th Anniversary of their debut, they are now surprising us more with their new colorful Limited URs! In which most of them are coming from their SIFACHM video game counterpart, you shall have to scout them whenever you can, if you are currently building your own meta team — Not just Encore Scorer Teams, but something for Live Arena as well!
While in fact it is just the "Part 1" of their so-called campaign, there are at least "3 parts" that you could encounter in the future! So then, this is something to watch out, though. And make sure to save enough of your Love Gems and Scouting Tickets for these!
Liella! School Idol Costume Contest 2022 (Little Devil)
As part of their almost-ending LLSIF 9th Anniversary Celebration Campaign, as well as being also a part of their TV Anime Season Two Campaigns, Team Liella! are holding a voting period event! You shall have to choose one costume per member in order to vote!
Simply access this Event banner if you are in your Home Screen. You just have to find and scroll between banners until you find the "School Idol Costume Contest 2022" event banner, then tap it!
From my embedded Tweet above, choose one Liella! character. And then, you have to decide which of their three (3) costumes is the best! You can preview that costume of theirs by tapping that costume design! When you have decided your best costume for that girl, you can tap the vote button at the bottom of that costume design, then confirm! Take note that you cannot change your vote once selected, and they were indicated with a check mark, which means it was already voted.
You can vote for one costume per character, and you can receive one (1) Love Gem each. You can receive a total of nine (9) Love Gems if you had voted for one each!
This voting event shall last until June 30th, after the Score Match Event duration. Make sure to place your votes right away before the period ends!
Summary: Event and Scouting New Duration System
Starting next month, we are back to our usual regular gaming schedule. Party URs, Event URs, and many more, shall return to its original state!
I am going to summarize of what is going to happen soon next month!
Starting on July 5, 2022, next month, changes to Event schedules shall be changed. The usual 5-15 (1st-Half) and 20-28/30/31 (2nd-Half) Events shall be reduced to only one, which is only 5-15 period. The month second half shall be replaced with the new Setlist Event (G&T Post coming soon, if I got motivation to do it!). Meanwhile, the 5-15 (Month 1st Half) Event shall be alternating between μ's and Aqours, one for each month.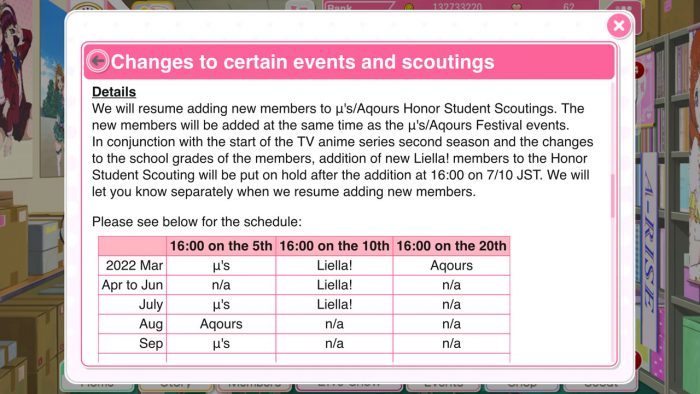 And then, changes in schedules for the Honor Scouting Banners (μ's, Aqours, and Liella!) shall be implemented starting on July 5th, 2022, next month. You can refer to your in-game notifications for more information about these new release timeframes! And also, Scouting Rates shall be slightly increased and modified (UR Rate is increased to 3%, previously from 1%).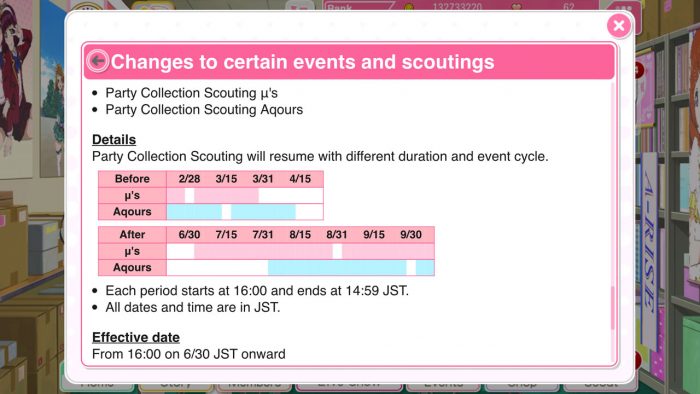 ---
And then, adjustments and improvements shall be made on all URs that possess the COMBO FEVER Skill. Will it be a new meta along with the trendy Encore Meta Scorer Teams? To be somehow highlighted soon next Episode! This implementation shall happen right after the Score Match Event, or patch update rather, on June 30th!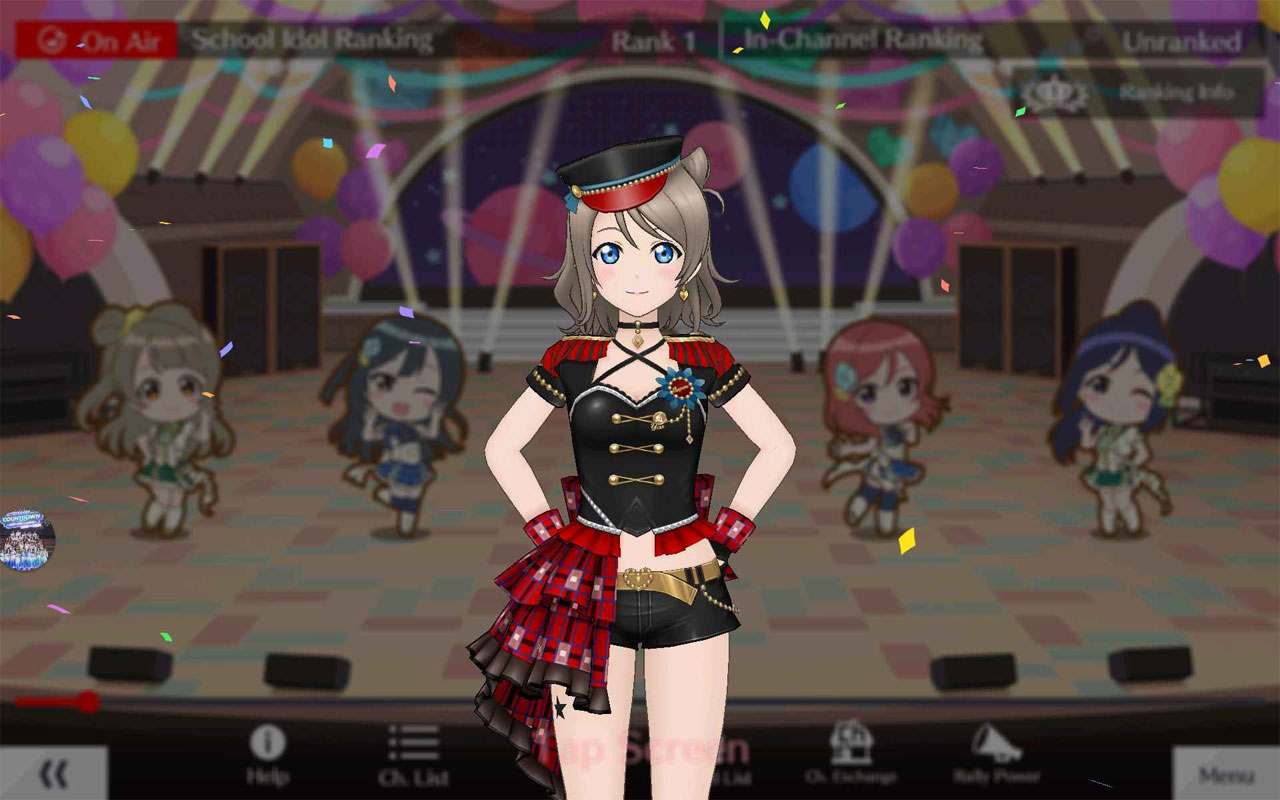 ALL STARS HIGHLIGHTS
So then, another Event has been commenced, and it shall be just the same as in the previous months! What else do awaits us at the other side of the shining light?
In this highlight, we shall find out on the things which happened recently in this game. Stage Start!
STORY: A Heartfelt Wedding
The contents in the JP Side are just the SAME as in the Global (EN) Side of this game.
This Event is now on! In fact, it is just the same procedure that you can do, when you are grinding with this Story Event!
The members that can be obtained are as follows in this tabulated list:
RARITY
CHARACTER
OBTAINED FROM
UR
Chika Takami
Maki Nishikino
Scouting
SR
Rin Hoshizora
Scouting
UR
Mia Taylor
Event Point Rewards
SR
Ayumu Uehara
You Watanabe
Event Point Rewards
Put the corresponding featured characters in this Event Story to your teams to increase your Event Points acquisition rate, especially if you try skipping many times on higher difficulties!
Just remember that you must have a LOT more Skip Tickets — You should have saved that from the start! And that is the only way in order to grind up higher ranks in this Story Event!
For my progress, let's see if I could grind up higher this time. I haven't started reading the stories, nor having to start grinding Event Points in this Event.
And as usual, my final results and Event Report shall be included next Episode! Look forward into it!
School Idol Channel Weekly Bulletin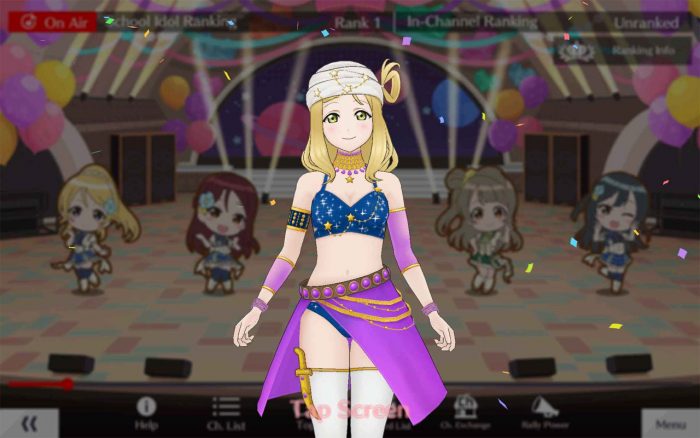 SEXY WIN!
Mari got her win in both of the sides! So far, this is the only farthest part that Mari can go. Thank you very much, Mari!
If you are not on her channel, but on the channel of your best girl, did she make it to the TOP, or did she FLOP?
JP Side – #64
| RANK # | SCHOOL IDOL | GROUP | AVERAGE CHEER POINTS |
| --- | --- | --- | --- |
| 1 | Mari | Aqours | 5,824 |
| 2 | Setsuna | Nijigasaki | 5,569 |
| 3 | Ayumu | Nijigasaki | 5,132 |
| 4 | Kotori | µ's | 4,766 |
| 5 | Riko | Aqours | 4,500 |
| 6 | Kanata | Nijigasaki | 4,402 |
| 7 | Shioriko | Nijigasaki | 4,284 |
| 8 | Kasumi | Nijigasaki | 4,190 |
| 9 | Eli | µ's | 4,019 |
| 10 | You | Aqours | 4,012 |
Global Side – #51
| RANK # | SCHOOL IDOL | GROUP | AVERAGE CHEER POINTS |
| --- | --- | --- | --- |
| 1 | Mari | Aqours | 6,554 |
| 2 | Kotori | µ's | 4,365 |
| 3 | Riko | Aqours | 4,303 |
| 4 | Setsuna | Nijigasaki | 3,605 |
| 5 | Eli | µ's | 3,575 |
| 6 | Maki | µ's | 3,493 |
| 7 | Shioriko | Nijigasaki | 3,431 |
| 8 | You | Aqours | 3,380 |
| 9 | Shizuku | Nijigasaki | 3,318 |
| 10 | Dia | Aqours | 3,141 |
Mari got her victory twice in a row in the JP Side, as opposed from Nozomi last week who won twice in the Global Side.
Kotori and Setsuna, as usual, have retained their Top 10 dominating streaks. And Shioriko, on the other hand, is also beginning to make her dominating streak there!
This time around, in the next ranking period, you should be all switching to Karin Asaka's channel right away, since she is the next girl to be in the top one!
And that's it for the weekly bulletin! Tune-in next time!
Nijigasaki Livestream (ALL STARS Global/EN Edition)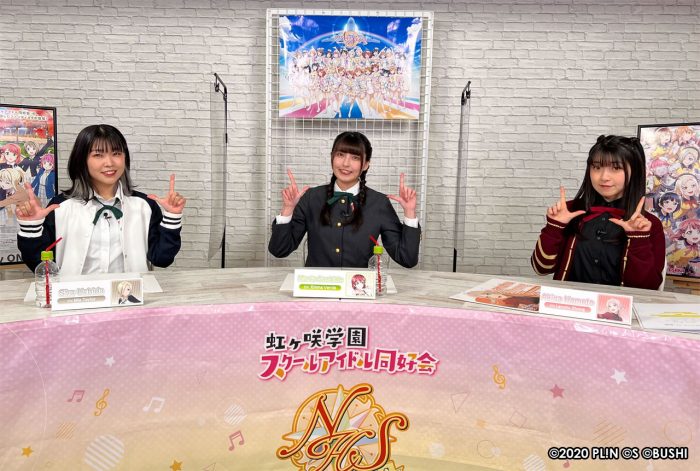 This was supposedly to be included as a Headline update. But then, this livestream shall be considered to be falling under the ALL STARS Highlights already, because it was mostly dedicated in this game!
Be sure to tune-in to their upcoming livestream this coming July 16th, 2022, at 12:00 pm JST, which is fairly far from this Episode!
The hosts shall be Akina Homoto (Lanzhu), Chiemi Tanaka (Rina), and Shu Uchida (Mia)! They shall be talking about the game's 2.5 Anniversary, as well as some other "Oshirase" contents! The livestream contents shall be mostly Japanese, but there are interpreters, like Shu and Akina, for English and Chinese viewers, respectively!
And don't forget to participate by answering the query request via Google Forms given in the embedded Twitter Tweet post above!
Shall it be the road leading to the foreshadowed "3rd Anniversary" of LoveLive! ALL STARS? Be sure to watch this livestream soon to find out!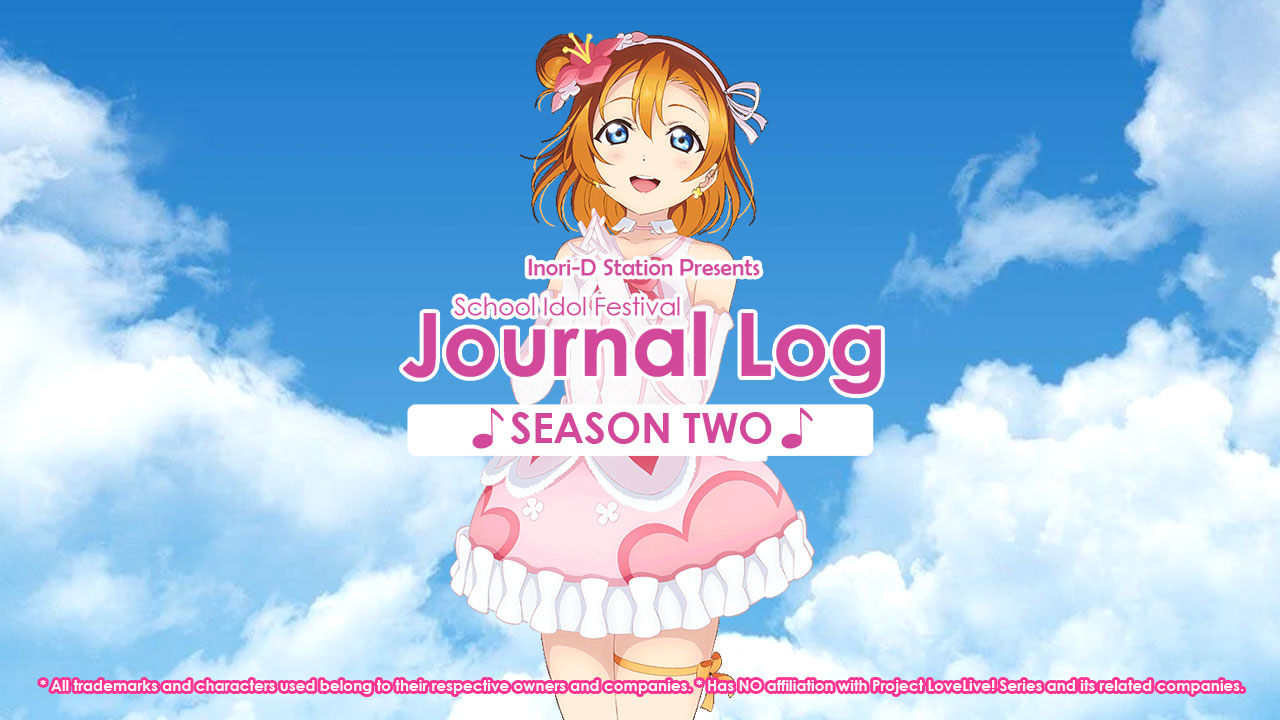 STORY EPISODE (EPILOGUE)
As they are singing that song, Gen is beginning to struggle. His own light is beginning to shine up as well.
"That pink light…" said Chiharu. "It's working! Keep it up, girls!"
And then, the Aqours continued to sing.
On the other hand, Dia, Saki, Komari, and Aika are watching.
"It seems that their acapella practice earlier is a success!"
"Good job in training your girls properly, Dia."
"So that is the power of… Bonds, isn't it?"
"So beautiful!!"
When the Aqours have finally sung the last line of their own song, Gen finally releases the darkness within his body. As the pink light is now embedding on his body, his struggle has ended.
Lierre finally used her ability to capture the darkness which is beginning to escape from Gen's body. She trapped it into a glass jar. And she said, "Rescue Mission success. Riko Sakurauchi has been rescued."
And then, the pink light has been faded out. From being a man, it turned into being a girl. Riko is back into her original self.
As she is losing her balance and falling, Chika finally catches her.
"Riko, are you alright?"
"Chika… I am back."
"Welcome back!"
The other members speak up as well.
"Good thing you came back! You made us worried!" said You.
"Without you, our upcoming live show performance this weekend shall be cancelled forever!" said Ruby.
"It's quite a mystery why Riko turned into a man," said Hanamaru. "Maybe Yoshiko's dark spell has worked on her -zura!"
"I am quite fallen in love with that "man" form of yours, Lily!" said Yoshiko and then looks at Hanamaru. "Also, it's Yohane!"
Saki finally talks to Aqours and said, "Girls, thank you! I think we won't be able to succeed in our mission without your help."
"No, we should be thanking you a lot, Mrs. Saki Kitagawa!" said Dia. "You just finally saved our upcoming live show performance from getting cancelled!"
"Alright!" said Chiharu. "It seems we can call this… a Stage Clear!"
And then, the two other girls have also arrived in the scene. Those two girls are Kanan and Mari.
"Dia, it's been a while! How are things going so far?"
"Wow, and there are a lots of guests here! Who are they?"
"It's been a while, Kanan Matsuura and Mari Ohara," said Dia. "It seems we got no other choice, but…"
And then, at the stage platform of the school auditorium, all of the nine members of Aqours are standing in front of the Idol Chasers.
"The Uranohoshi Girls' High School Idols, Aqours…" said Saki. "At last, we have finally met."
"Chika, it's so fun meeting you a way back then," said Takayoshi.
"So, they are Aqours, right? Amazing!" said Chiharu. "I am looking forward to your live performance this weekend!"
And the center of Aqours, Chika, finally said, "Please, look forward into our live performance! We are going to shine up again… As the new Aqours!"
And so, the weekend has finally came, and they were all standing in the stage. And they have introduced themselves.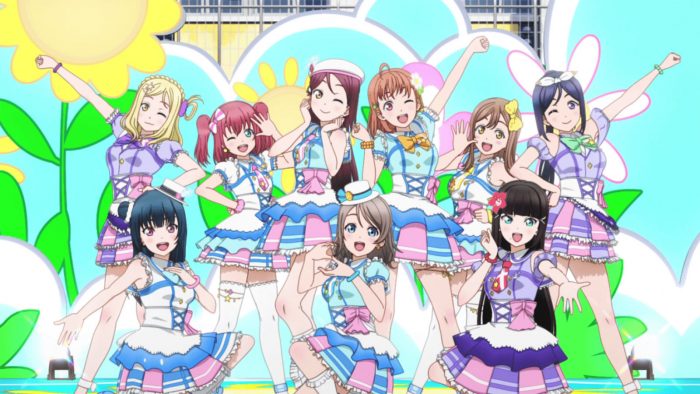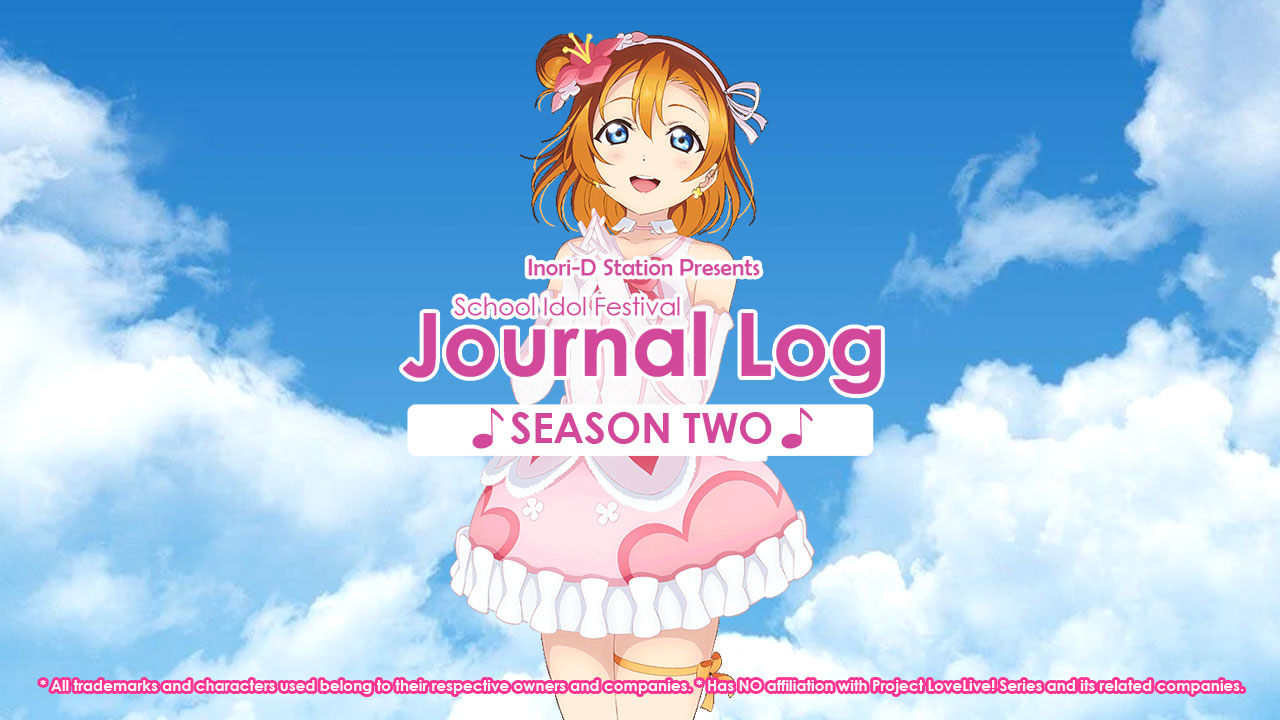 NEXT PREVIEW
The Idol Chasers can finally relax after their difficult mission in saving Aqours' weekend of their live performance! When they can celebrate their successful mission, it's time for a party! And who could be that guest who finally visited their maid cafe and their HQ? Aqours? And then, will this party of theirs be their first and final meeting?
Next time on School Idol Festival Journal Log SEASON TWO, "Party Night".
Now, let's make our dreams come true together!
The Bonus Stage
In this second season, Kanon and the other four girls of the original "Liella!" are in their sophomore years. In their next semester of their schooling in the Yuigaoka Girls' High School, they have met the four new girls, who were in their new fresh years.
Their stories still continue… In the other side of the countless stars.
LoveLive! Superstar SEASON TWO!
Starts airing on July 17, 2022, on NHK E-TV Network in Japan!
Overseas streaming coming soon! Stay tuned at their feeds for more updates.
Also, celebration campaigns for LLSIF rhythm game is coming soon!
Official Website:
https://lovelive-anime.jp/yuigaoka/
RETURN TO MAIN PAGE BACK TO HOME PAGE