The Alternative Endings: Good Ending
Now that we had defeated the very boss enemy, there are many possibilities that the story shall end. In video games, mostly RPGs, they have of what they call the 'alternative' endings, wherein the ending of the game shall depend on how the player had finished the game. There are certain conditions that a player must do in order to achieve that ending.
We talk about the good ending, in this Episode theme. Good ending is that you finished the game, and the outcome of the story and the ending is good. Good ending is that some protagonist characters had survived the conflict, though some others had been killed at the end. It can be determined when you do things that can affect the game's storyline.
How about the other kinds of endings present in the story? We shall talk about this in the next Episode.
For the meantime, let us go and highlight everything that is spotted during the last weekend, and this week on the LoveLive! Universe! Let us begin the 44th Episode of Inori-D Station's segment, the School Idol Festival Journal Log!
CONTENTS
PRE-EPISODE HEADLINES
We had witnessed the end part where things still have possibilities! For the meantime, please do read the headlines below!
Aqours: We Are Challengers Project PV Released
6/30発売「 #Aqours CLUB CD SET 2021 HOLOGRAM EDITION」収録「DREAMY COLOR」PV&Index公開?
⏩ https://t.co/MySM7rqaZk
プレミア公開をご覧いただきありがとうございました❗️
⏩https://t.co/svnsT37Nj8
本日公開のPVに加えディレクターズカット版,ダンス映像,メイキング映像も収録✨
#lovelive pic.twitter.com/dnMR3qdv3u

— ラブライブ!シリーズ公式 (@LoveLive_staff) May 15, 2021
For the Aqours Side, these were possibly one of the things to be announced at the end of their deferred 5th Anniversary Live. As part of their ongoing 'We Are Challengers' project, Aqours had released their PV for their upcoming Aqours Club 2021 CD Set.
The title of their song is DREAMY COLOR, and instead of their usual animation PV, it is made and released as a 'live action' setting! And I, myself, had seen that PV and I am amazed! Somehow, it is the usual music video that I am seeing in some other J-Pop artists as well!
Release date is at the end of June (June 30), and the Aqours Club CD Set shall include some footages on how that PV was made, and some behind the scenes!
And finally, congratulations to their live action PV, which has reached over 1 million views on YouTube!
Coming Soon: CYaRon!'s New Song Album
【☀️CD情報☀️】
6/2発売 #CYaRon! 1st フルアルバム「ある日…永遠みたいに!」のジャケット・試聴動画・Indexを公開?
⏩https://t.co/y9fO3ttLPz
JUDY AND MARYのギタリストTAKUYAが手がけ、本間昭光、ミト (クラムボン)も参加した豪華作家陣による新曲3曲を収録❗️#Aqours #lovelive pic.twitter.com/4POZeD8PJU

— ラブライブ!シリーズ公式 (@LoveLive_staff) May 18, 2021
Coming soon to be released on June 2 next month is the new song album of Aqours sub-unit, CYaRon! The song title of their album is Aru Hi… Eien Mitai Ni!, and also included are two more B-Side songs! Composers and arrangers were coming from various Anime and other TV shows in Japan, and that includes TAKUYA, who is also known for composing the theme song for Kamen Rider W.
Remixed songs of their previous singles were also included, and they were already previewed on YouTube since May 18th.
Not just only CYaRon!, but expect also AZALEA and Guilty Kiss to join in the action, too, soon!
Sunday Event: Nijigasaki Paid Streaming Event
【?Paid live streaming?】
""Love Live! Nijigasaki High School~Lunch Break & Good Morning Broadcasting Room~" Public Recording Event~NijigaListen♪Tomichiririri-zu!~ " Ticket is now available!?

Tickets for overseas↓https://t.co/g8oWTftufx#lovelive #虹ヶ咲

— ラブライブ!シリーズ公式 (@LoveLive_staff) May 19, 2021
We got some paid streaming event coming up in two days from this Episode! The title is very long, and you can refer to the embedded Tweet above!
For the details of this event, it shall occur on May 23rd, Sunday, and it shall be a three-part streaming. Parts 1 and 2 costs 3,000 yen, while the part 3 costs 3,500 yen. The ticket prices are different from the overseas paid streaming, which was announced days ago.
You can refer more details by going to the external link which was included on the embedded Tweet above!
You thought it was over? Today, we are going to highlight some important things that happened in the past weekend, and this week on the LLSIF rhythm game. Please do read this Episode carefully until the very end!
JP SIDE HIGHLIGHTS
The fight must go on! In fact, I should focus more in gaining Tier 1 victories in the Aqours Side! And this time, it is going to be a long grinding battle, for me. Please do read the highlights to continue!
【ラブライブ!スクフェス】

Round 7 Live Arena

Still got enough time to finish this. I want everything to be settled down before the great grinding again tomorrow.#lovelive #スクフェス pic.twitter.com/EetHGcGvTU

— いのりどんず (INORI DONZ NETWORK) (@InoriDONZ) May 19, 2021
Remember to do your daily live sessions, as well as progressing higher by clearing special sessions in the Live Arena! You can win a UR Setsuna by reaching into Expert or Royal Expert Category, and you can win it at the end of May 25th!
Again, you can read my guide on how Live Arena works, and as well as on how to survive and win!
【ラブライブ!スクフェス】

Icon Collection: Aqours' Incubation Strategy

Event song is Aqours Pirates Desire! And also, there is a 5-Icon Master song tagging along!#lovelive #スクフェス https://t.co/XnrVAiJ9ZF pic.twitter.com/iA5ht0QnUP

— いのりどんず (INORI DONZ NETWORK) (@InoriDONZ) May 20, 2021
This is going to be a long grind again, since it falls on a month that has 31 days. In fact, I got 11 days to defend my Event Points Ranking!
The Event UR to be acquired from this Icon Collection Event is Ruby, and Yohane and You can be acquired from Scouting! Secret SSR and some returning Event SRs can be acquired by grinding more Event Points!
The Event Song to be used in this Event is Aqours Pirates Desire, and it is of Smile attribute. Be sure to attain higher score in its Master difficulty to survive in the Score Rankings! Aqours Pirates Desire first appeared in the LOST WORLD online live paid streaming, and it is the B-Side song of Fantastic Departure!, which was supposely the theme song of their failed 2020 Live Dome Tour.
This Event is gonna be a total warzone, since an ongoing Event also in the Global Side was also tagging along, thus making my schedules tight. I should be tightening up my seat belts for this situation! Otherwise, it shall be the end of my reigning streak!
What shall happen in my progress next time? Further highlights shall be tackled next Episode, and you shall be looking forward into that!
GLOBAL SIDE HIGHLIGHTS
Alright! This final battle isn't going to be easy. In fact, this may be the last Event! But then, I should never let my guards down, since the JP Side is also having an Aqours Event! This time, it will be my ultimate grinding experience, which shall occur at the both sides of LLSIF! Please do read some highlights below to continue!
Round 22 Challenge Festival
This battle isn't going to be easy, since we are almost at the 'endgame' where Global Side is about to join forces with the JP Side!
This highlight is basically the same as in Episodes 25 and 26 of this segment!
Though that there is no EXP modifiers present in this Event, still I am forced to use my wits and strategy to place higher in the Event Points Rankings. And since this might be the last Event before the server merge, I am using this chance to show off on how it is done. Now or never, I must achieve my last Tier 1-1 victory in the Aqours Side!
This Event is ending soon next week, and final results shall be highlighted next Episode!
FEATURE OF THE WEEK
Now we are done with the µ's Side! Guess who were the next ones to be featured in this Episode? Today's Episode is…
CYaRon!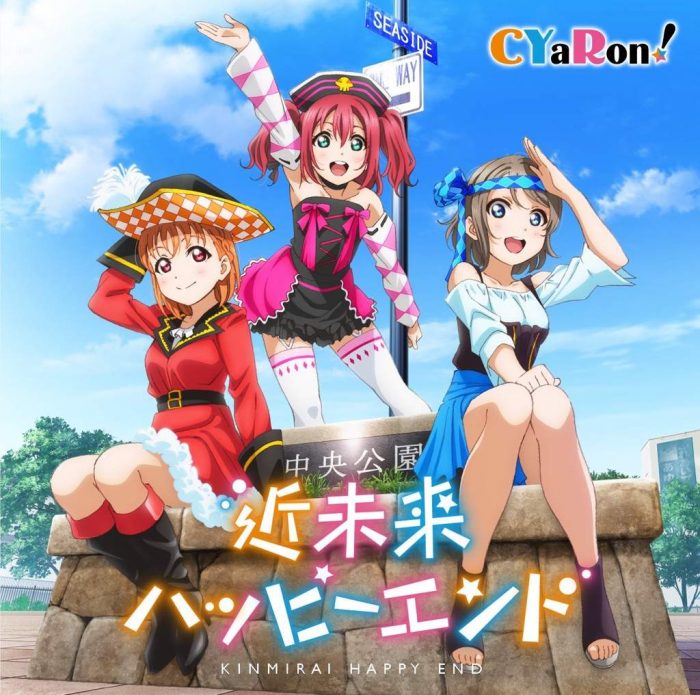 CYaRon! is the sub-unit trio consisting of Chika Takami, You Watanabe, and Ruby Rurosawa. They were formed and decided via the poll, at the time when they are still debuting in the LoveLive! Universe.
Like Printemps, a µ's sub-unit, CYaRon!'s song lineups are catchy, and their voices are cute as chipmunks (Haha, it's joke!). Somehow, some of their songs can be used as a opening theme song for an Anime or video game (example: Kinmirai Happy End). As of today, more than five songs were produced by this sub-unit of Aqours!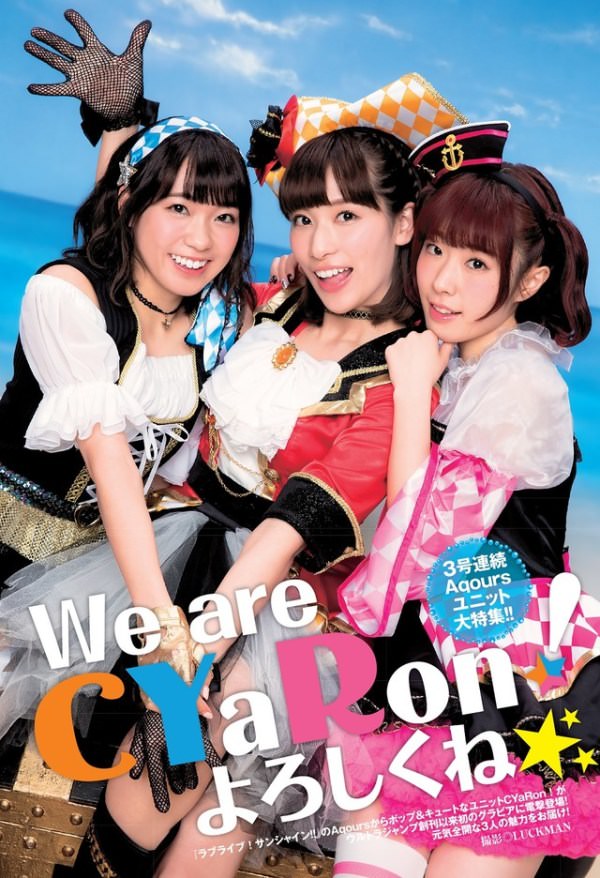 What are the other Alternative Endings? To be revealed next week!
What are the other endings to be revealed, to be continued from the introductory paragraph above? Those shall be answered next week!
Anyway, I had already made it this far, and I am almost reaching a year in writing this segment on Inori-D Station! There are many things to expect, especially when the season two of the NijiGaku Anime has been announced, as as well inching closer to the premiere of the LoveLive! Superstar!! in July. So lot of possibilities, and there are many possibilities that dreams may happen at all.
And that's all for the latest Episode of the School Idol Festival Journal Log! Thank you for reading! See you all next week and happy weekend! Cheers!
Back to Episodes Archive | Return to Home Page